Your answers to the reader survey are totally making my day (another gentle reminder to please fill it out if you haven't already. It takes less than 5 minutes and will be so helpful in planning 2017 content!) but the one that made me laugh the hardest was the overwhelming number of you that say you skip the article and go straight to the recipe.
So that means…. I could say anything here…. and no one will ever know. 
I ONCE KILLED A MAN IN RENO.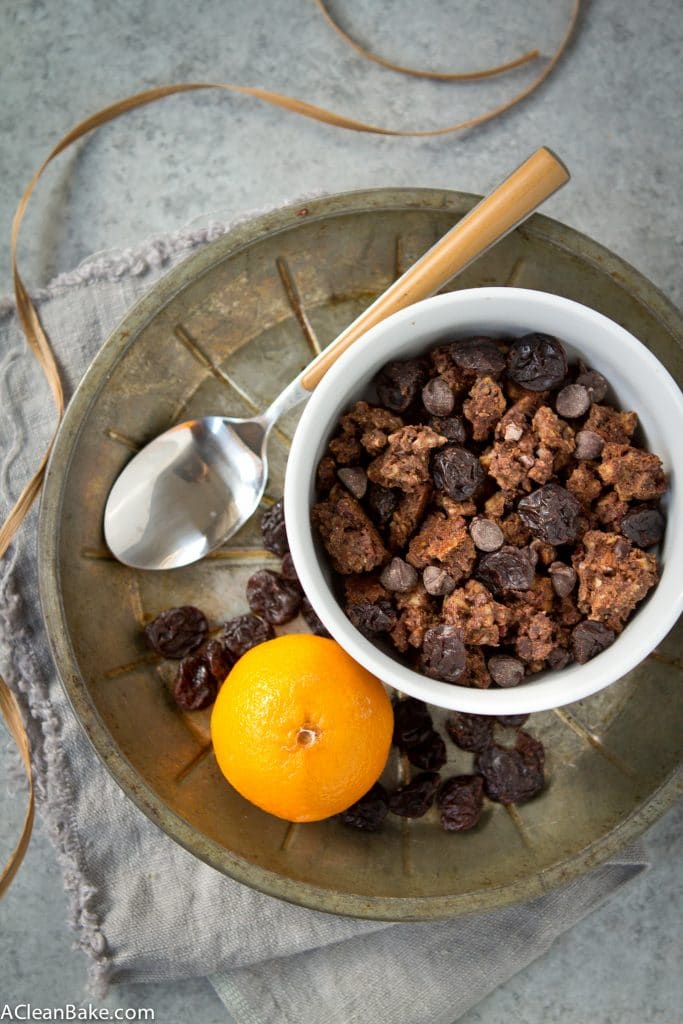 Kidding, kidding. I don't even like killing bugs, but I just wanted to see how many of you who say you read actually do.
What was I saying? Something-something-sleep-deprivation-is-making-me-looney? Oh, yes: granola! (<—how's that for a transition? :-p)
If there's one thing this granola has to offer – and there are many, but I'll get to that in a second – it's clusters. Life is too short for flimsy, weak, crumbly granola that sits in your bowl like a pile of dirt. My method for making grain free granola (including the original version and this tropical version) always involves baking it in a thick slab on a cookie sheet so that it breaks apart in giant clusters. And who doesn't love eating those huge satisfying clumps of chocolatey granola?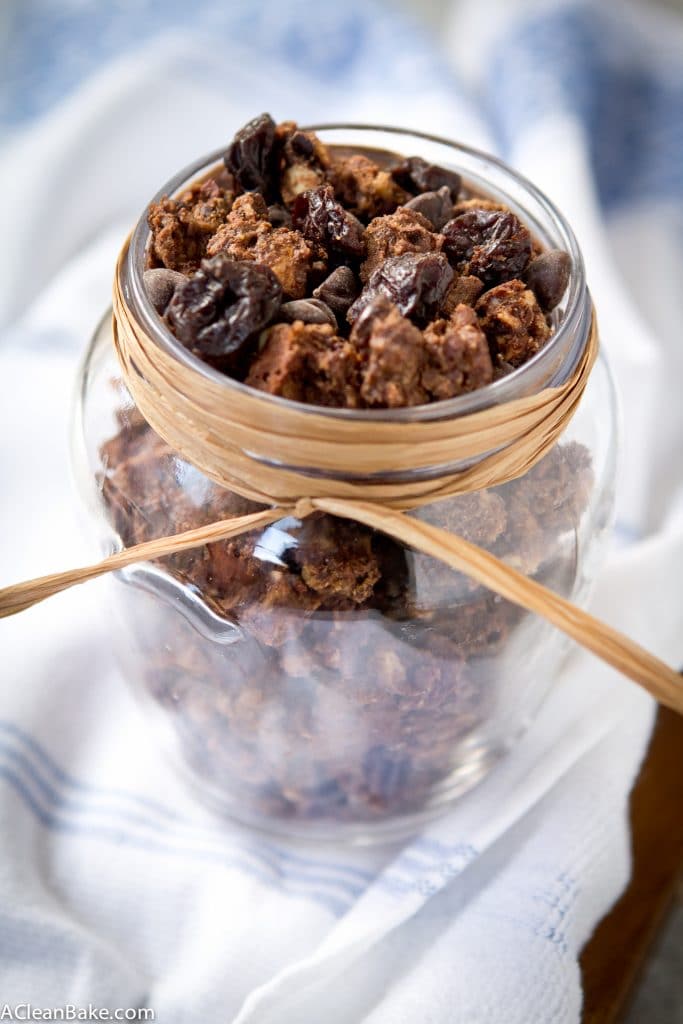 But there's much more to love about this granola:
The giant clumps are great for snacking. They're basically little energy clusters that you can eat with your hands when hunger strikes.
It has 2 kinds of chocolate built in (cocoa powder and cocoa nibs) and you can even add chocolate chips after baking if you need more chocolate. Who doesn't?
Well, I know who doesn't need more chocolate: those of you who are detoxing for the holidays. I'm sure this would be frowned upon by you Whole30-ers but technically, if you remove the maple syrup (replace it with an equal amount of nut or seed butter), it is compliant. Make sure you're using natural nut or seed butter, great quality cocoa powder, and unsweetened cacao nibs. I highly recommend this kind.
You can, but don't have to, add more chocolate (either chips or chunks) and dried fruit after baking if you'd like, but you don't have to. I used dark chocolate chips and dried sweet cherries, (<—definitely not Whole30 compliant) but use what you have around the house!
And since most of you probably are looking for the recipe anyway, I'll quit yapping and let you get to it!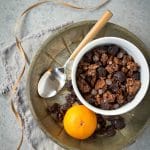 Chocolate Paleola
Spice up your breakfast routine with this grain free, gluten free, and vegan chocolate grain free granola! It's a hearty, healthy way to start your day.
Ingredients
1

cup

raw walnut halves

1 1/2

cup

whole raw almonds

3/4

cup

unsweetened cacao nibs

1/2

cup

unsweetened cocoa powder

1/2

cup

unsweetened shredded coconut

1/4

teaspoon

fine sea salt

or to taste

1/2

cup

almond butter

or your favorite nut/seed butter

1/2

cup

maple syrup

2

Tablespoons

melted coconut oil

Dried cherries or other fruit

optional

Dark chocolate chips or chunks

optional
Instructions
Preheat the oven to 350. Line a baking sheet with parchment or a

nonstick pad

and set aside.

Chop the walnuts and almonds (the easiest way is to pulse them in the food processor 10-15 times).

In a large mixing bowl, stir the nuts together with the cacao nibs, cocoa, shredded coconut and salt.

In a medium mixing bowl, whisk together the almond (or other nut/seed) butter, maple syrup, and oil.

Pour the wet (nut butter, etc.) mixture over the dry and stir to combine.

Turn the mixture out onto the prepared baking pan and pat into a solid, thick slab. Do your best to avoid the slab thinning out at the ends to avoid burning.

Bake for about 20-25 minutes, then remove from the oven and allow to cool on the pan, during which time the granola will crisp up.

Once cooled, use your hands to break the granola slab into bite sized chunks.

If you are adding dried fruit or chocolate, simple sprinkle the add-ins over the granola once it has been broken up, and use your hands to gently mix everything together before serving or transferring it to an airtight container to store.
Recipe Notes
Warm your nut butter slightly (20-30 seconds in the microwave) to make it easier to stir, if necessary.
If you remove the maple syrup (replace it with an equal amount of nut or seed butter), it is Whole30 compliant. Make sure you're using natural nut or seed butter, great quality cocoa powder, and unsweetened cacao nibs.
Store in an airtight container at room temperature for up to a week, or in the freezer for up to 3 months.
Yield: Approximately 6-7 cups
Nutrition Facts
Chocolate Paleola
Amount Per Serving
Calories 620
Calories from Fat 459
% Daily Value*
Total Fat 51g 78%
Cholesterol 0mg 0%
Sodium 90mg 4%
Potassium 604mg 17%
Total Carbohydrates 35g 12%
Protein 16g 32%
* Percent Daily Values are based on a 2000 calorie diet.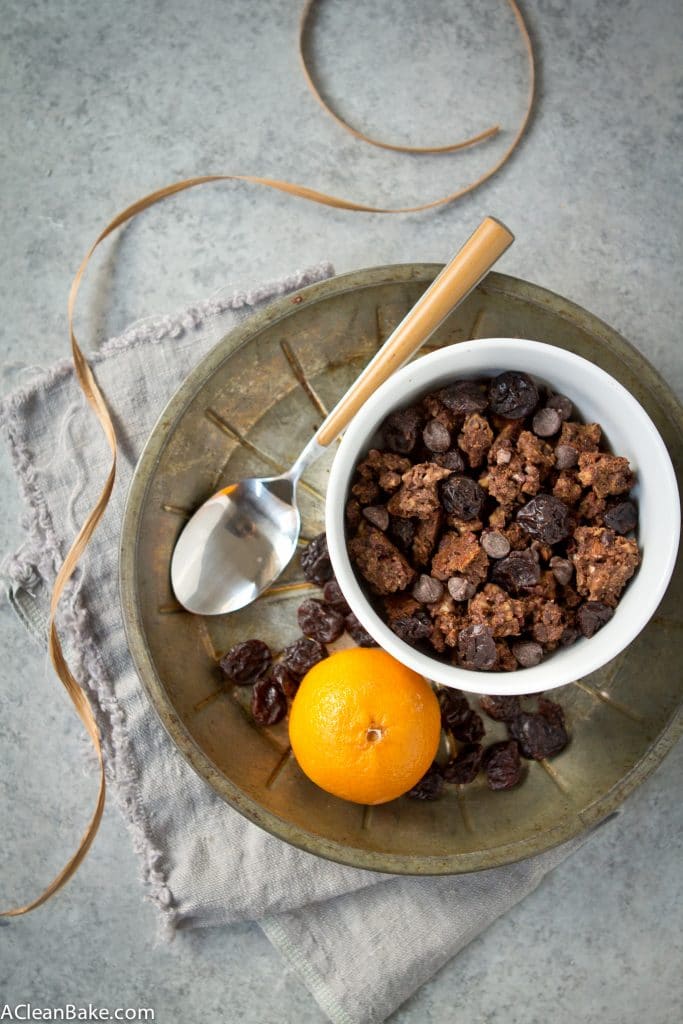 Thank you to Now Foods for providing the ingredients that inspired this delicious recipe. This post contains affiliate links, which means that if you click through and purchase a product, A Clean Bake receives a small commission, which goes toward continuing to bring you delicious, healthy recipes every week. This does not affect the price you pay. Thanks for supporting A Clean Bake!