Throwing some chicken into my slow cooker is my #1 easy meal prep strategy! There are so many ways to use this versatile protein throughout the week., and I've rounded up my 9 favorites here.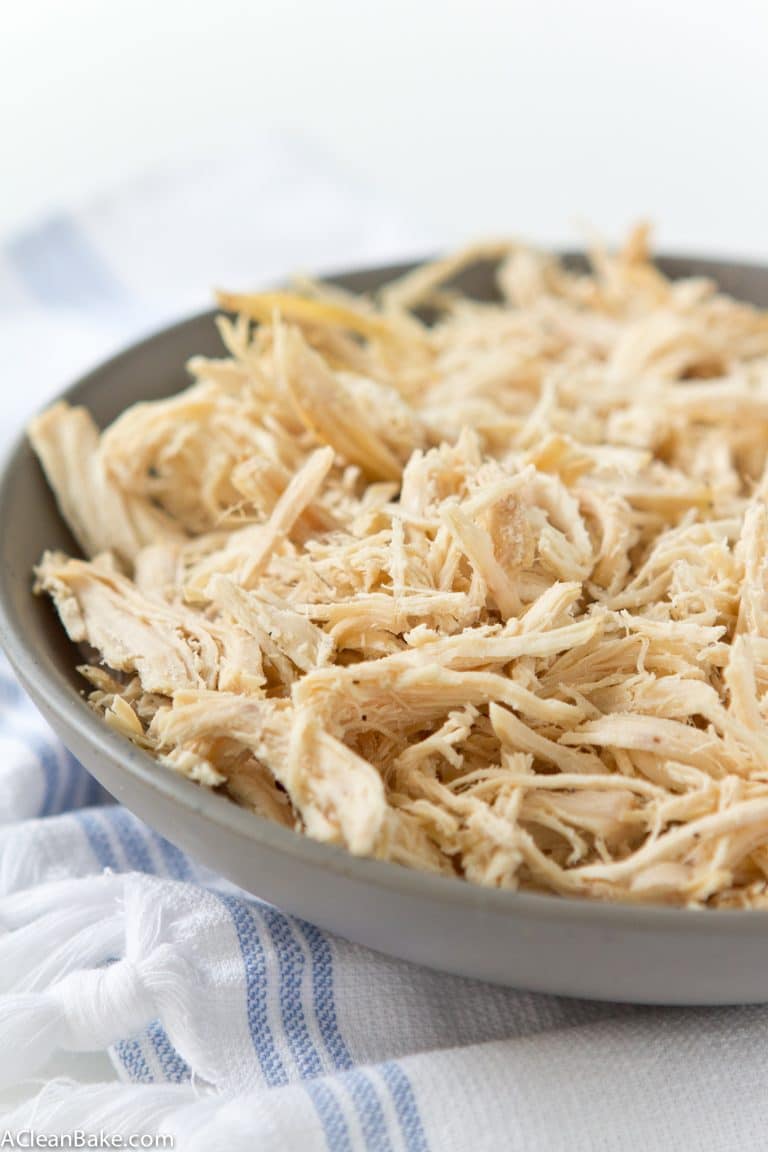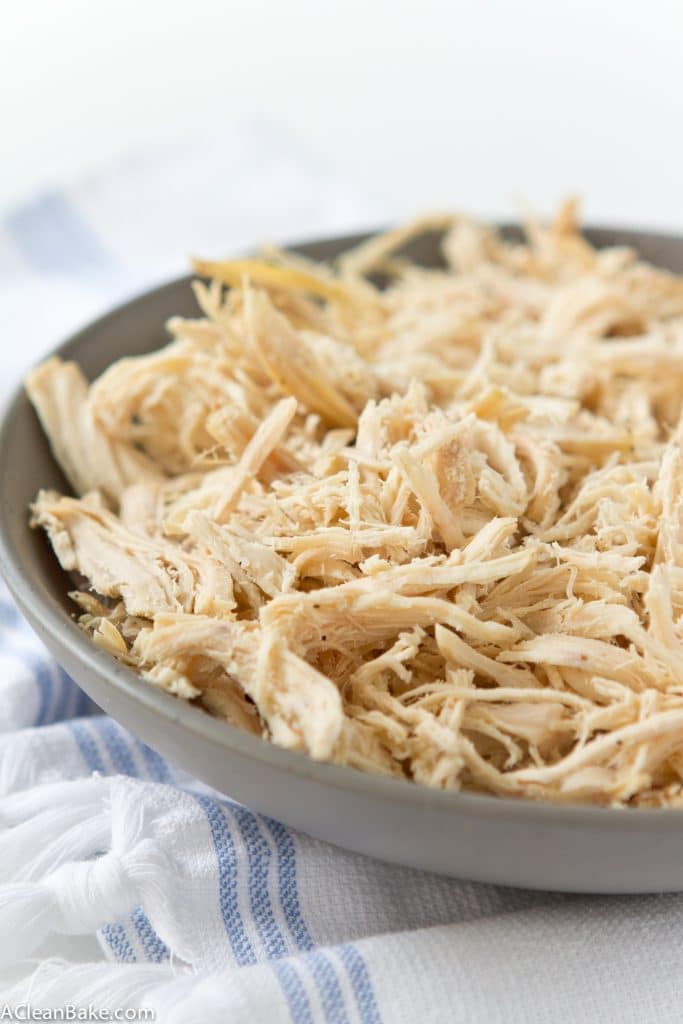 I hope you're sitting down, because I have some upsetting news: chicken has officially gotten a really bad rap.
It wasn't until I saw the pleasantly surprised faces of my sister-in-law and her fiance at Christmas, when they bit into the chicken dish I made and realized they actually liked it (and didn't have to choke down a few bites through a strained smile just to be polite), that I realized what a terrible reputation poor chicken has developed: one of blandness, dryness, and overall repulsiveness. One of diet food and only-if-forced-ness.
OK fine, yes, there is some bad chicken out there, the mass-produced, rubbery, airplane food ("food") type chicken. You know what I'm talking about.
But let's not forget all of the potential chicken offers. How juicy it can be. How easy it is to cook with. How versatile it is, and how gentle it is on my limited meal-prep schedule (especially now). How flexible it is about being whatever you need it to be and adapting to whatever flavors are forced on it. And how you can make a metric ton of it in the slow cooker, shred it and have dinner bases for the entire work week without more than 5 minutes of actual work.
When prepared correctly, chicken can completely redeem itself and reclaim its seat (er, plate?) at the dinner table.
How to Make Crock-Pot Shredded Chicken
Yes, this recipe states eight hours as a cooking time, but no, you will not be doing any real "work" after the first five minutes. If this method required me to stand idly by the oven for half of my waking day, there's no way it would hold a recurring position in my weekly kitchen line-up (which is certainly does).
To make this easy slow cooker chicken, you'll place 1.5 pounds of chicken at the bottom of your Crock-Pot. Cover with water, then season with salt and pepper. Set your slow cooker to low, then leave it cook for 6–8 hours. Your chicken will be ready to enjoy when it can easily shred with a fork.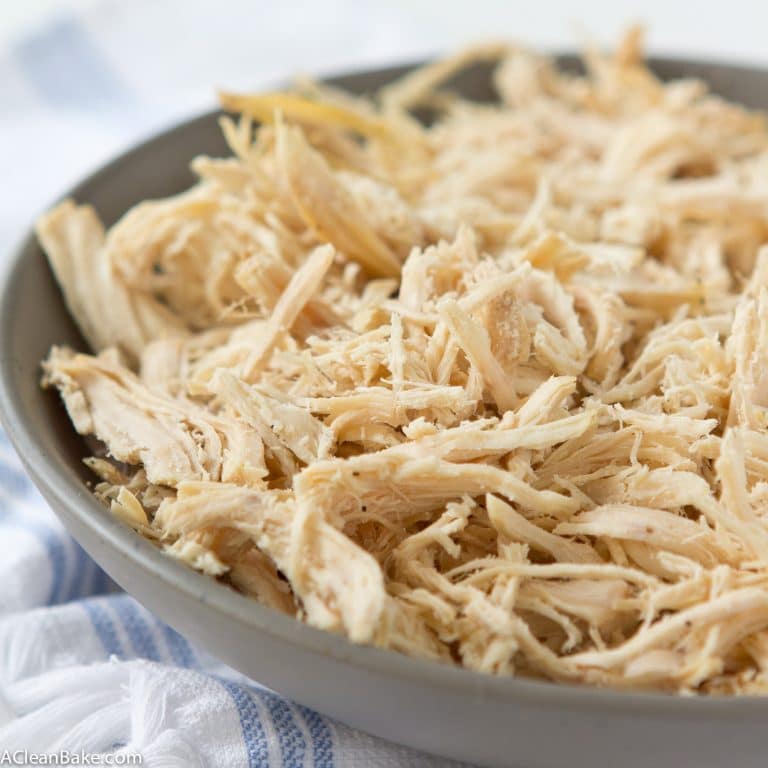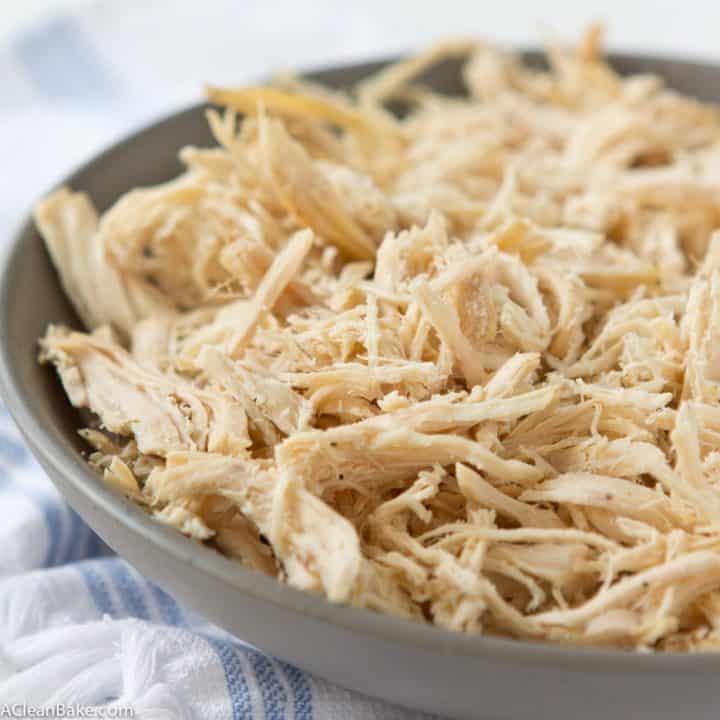 Slow Cooker Shredded Chicken
Total Time:
8 hours
10 minutes
The slow cooker (crockpot) makes large batches of shredded chicken so easy to make. Good thing, because it is so versatile! Dinner is done!
Ingredients
1.5 lb boneless skinless chicken breasts
1 cup water, enough to cover the breasts halfway
pinch Salt and pepper to taste
Instructions
Place chicken breasts in the bowl of a 4-quart slow cooker. Add the water, then season the breasts with salt and pepper.
Cover and cook chicken on low 6-8 hours until fork tender.
Remove chicken from the bowl, discard the water and rendered fat, and allow to cool.
Once cooled, shred chicken using two forks.
Notes
Store in an airtight container in the fridge for up to a week.
This is the slow cooker I use.
Yield: about 4 cups shredded chicken
Recommended Products
As an Amazon Associate and member of other affiliate programs, I earn from qualifying purchases.
Nutrition Information:
Yield:

4
Serving Size:

1 cup
Amount Per Serving:
Calories:

281
Total Fat:

6g
Saturated Fat:

2g
Trans Fat:

0g
Unsaturated Fat:

3g
Cholesterol:

145mg
Sodium:

147mg
Carbohydrates:

0g
Fiber:

0g
Sugar:

0g
Protein:

53g
Shredded Chicken 9 Ways: Recipes to Make with Shredded Chicken
I've fallen off the meal prep bandwagon and, heck, I barely even meal plan anymore — but making a batch of slow cooker shredded chicken at the beginning of the week to rescue us from takeout and leftovers has been such a lifesaver!
So here are plus nine mouth-watering favorite recipes you can whip up using this one core ingredient.
1. BBQ Chicken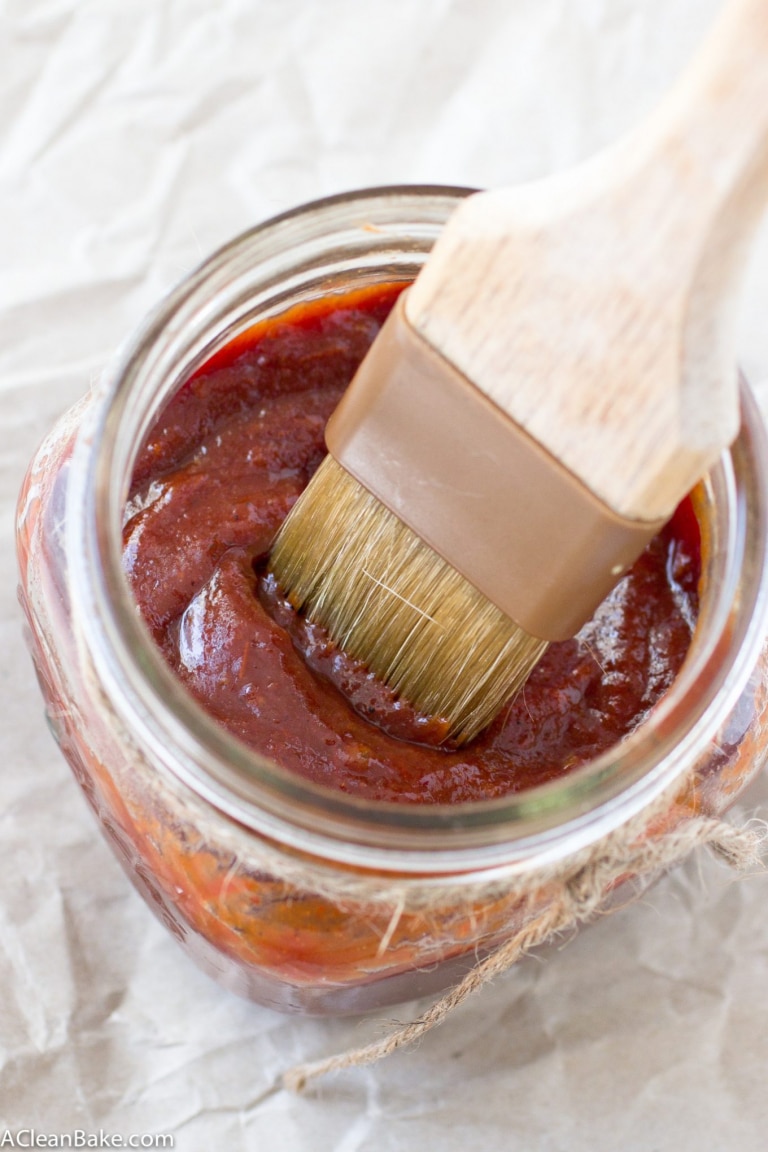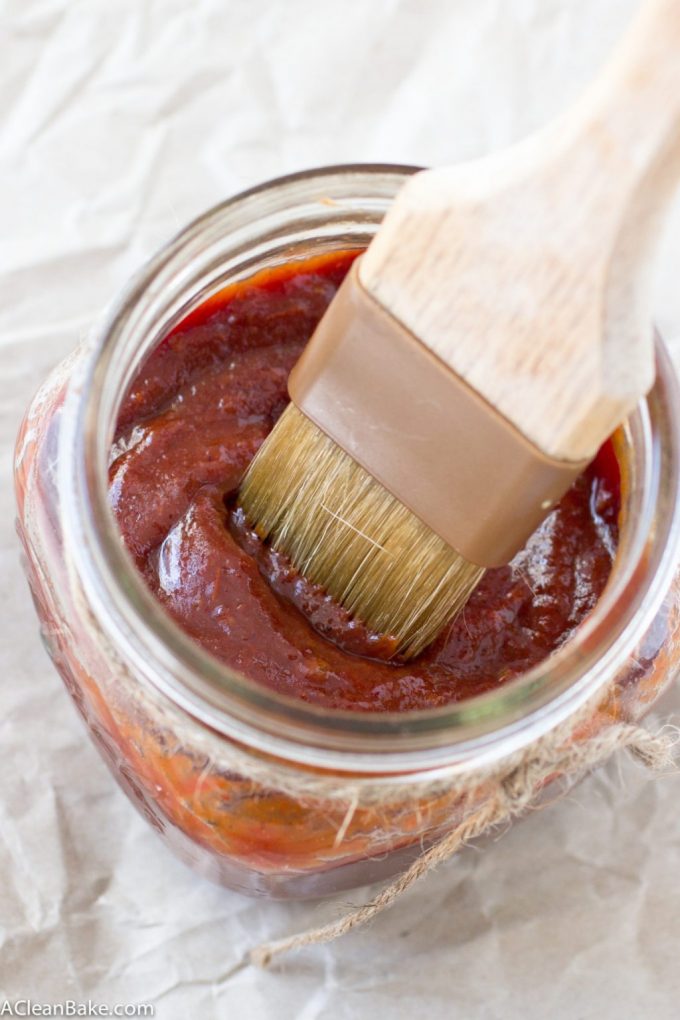 To make incredible BBQ chicken sandwiches, mix the shredded cooked chicken with one batch of homemade barbecue sauce (heat before adding if you'd like the final product to be warm).
If you like it saucy, add a few tablespoons of water if necessary to moisten the mixture.
Place your BBQ chicken between sliced grain free biscuits, grain free sandwich bread, or butter lettuce leaves, then pair with your favorite slaw, if desired.
2. Chicken Nachos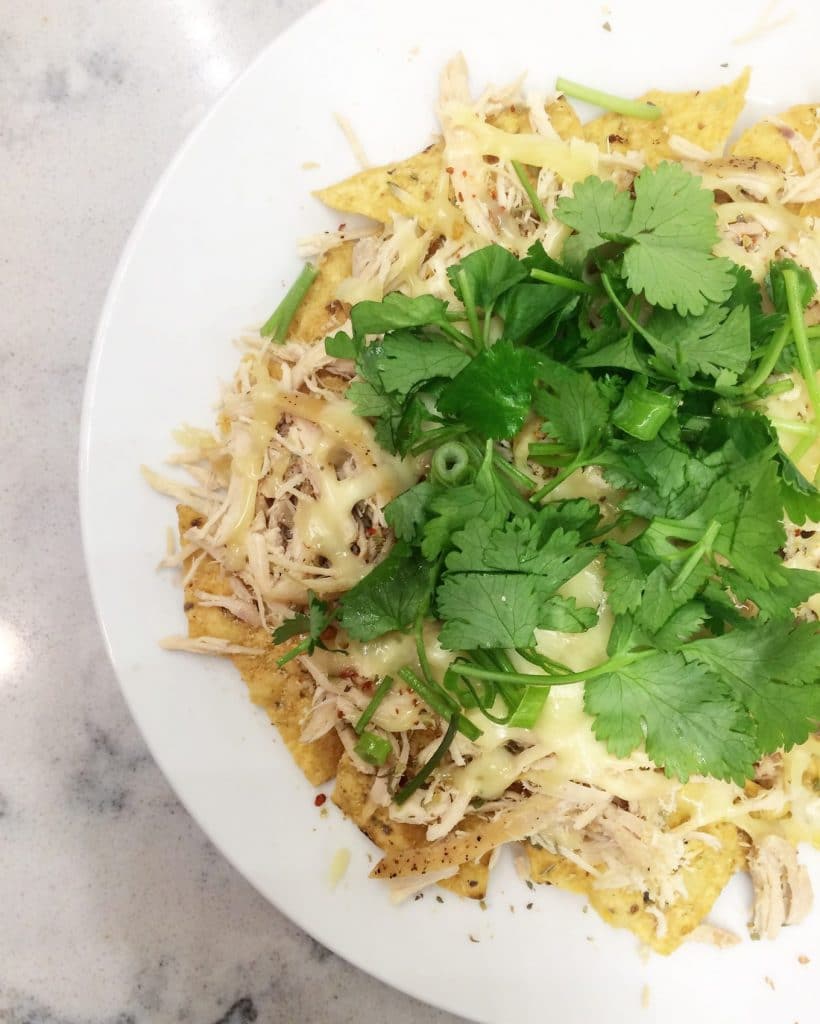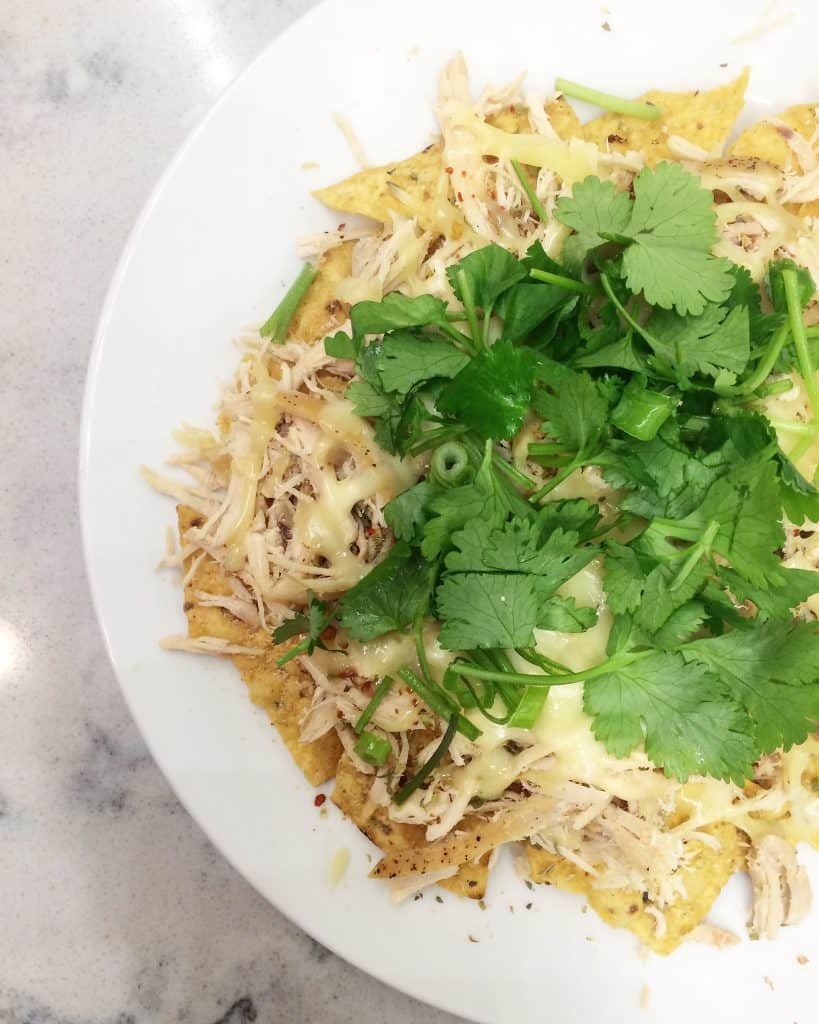 The next time you're craving nachos from that Mexican restaurant down the street, here's what you do:
Top a layer of your favorite gluten free or grain free tortilla chips with a generous layer of shredded chicken. Sprinkle with garlic powder, oregano, and Tabasco or salsa (if desired).
Add your favorite shredded cheese and heat in the microwave for 30–60 seconds on high until cheese is melted.
Top with a handful of roughly chopped cilantro and sliced scallions, then serve.
3. Chicken Tortilla Soup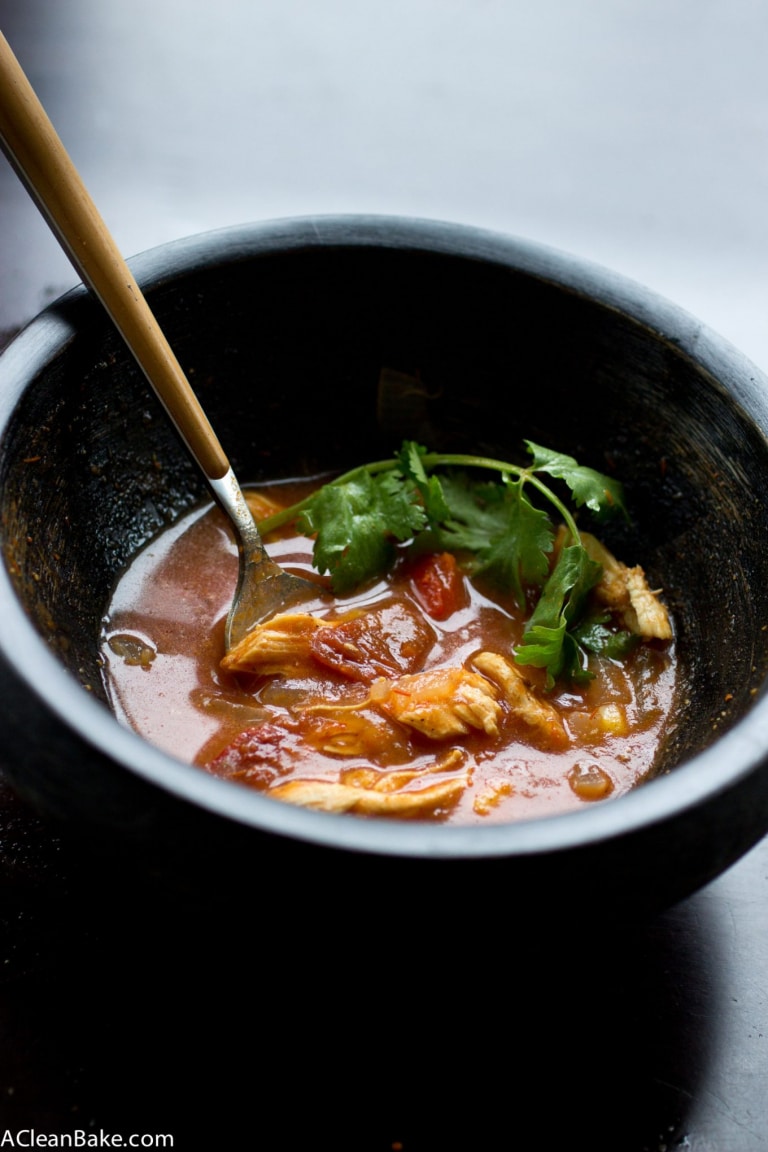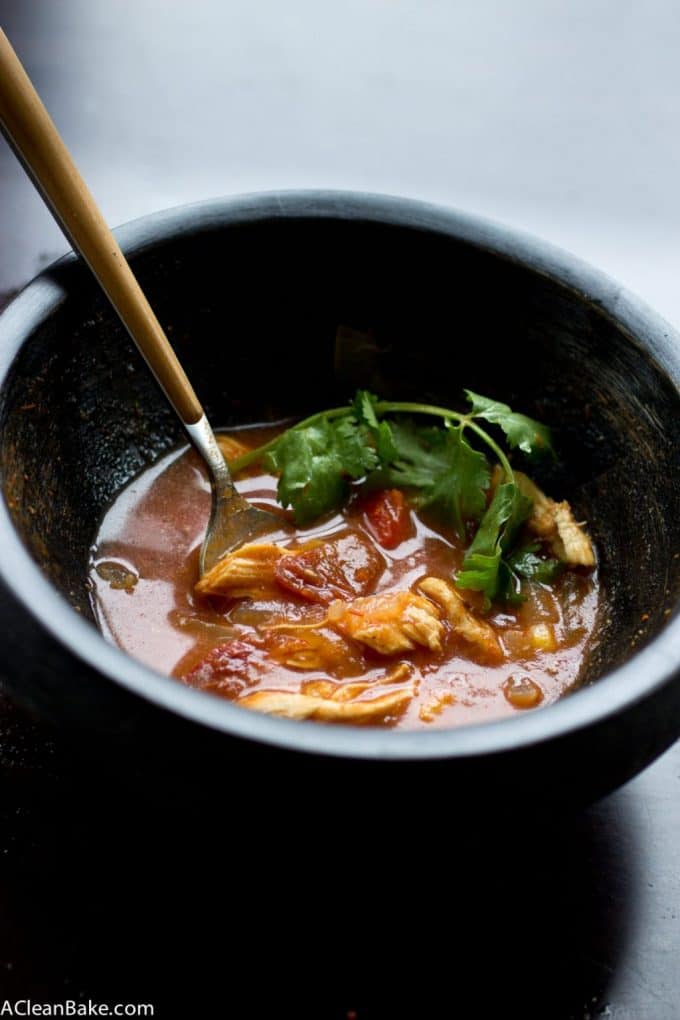 This chicken tortilla soup recipe is made even easier with the addition of shredded chicken.
Follow this recipe, replacing the chicken breasts with the pre-cooked shredded chicken. In other words, skip step #3, and add the shredded chicken as part of step #5 (with the veggies).
4. Chicken Enchiladas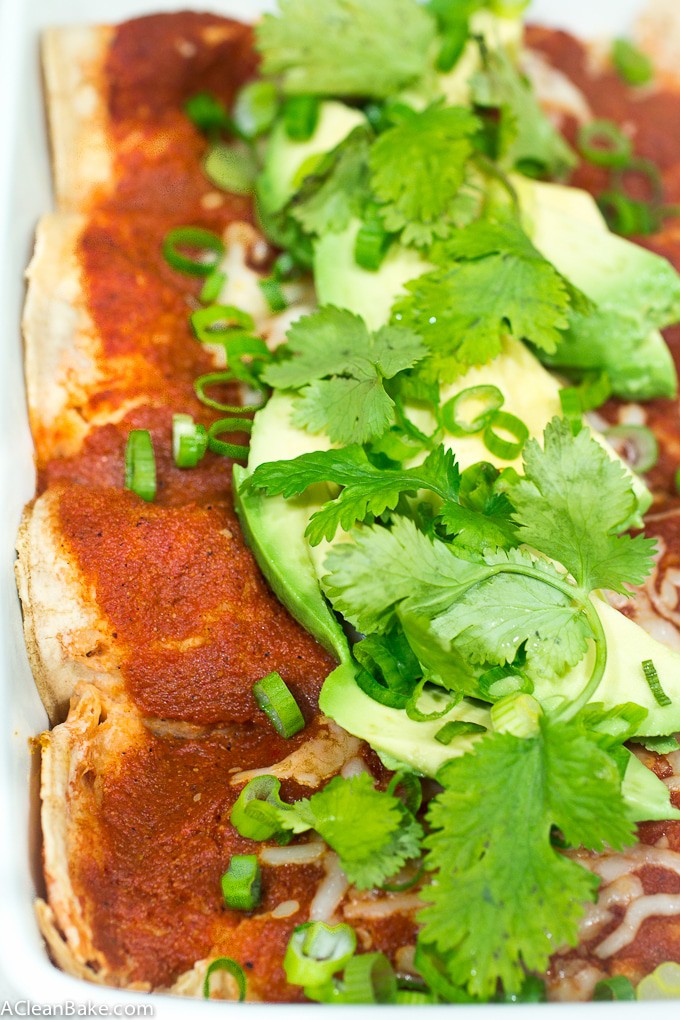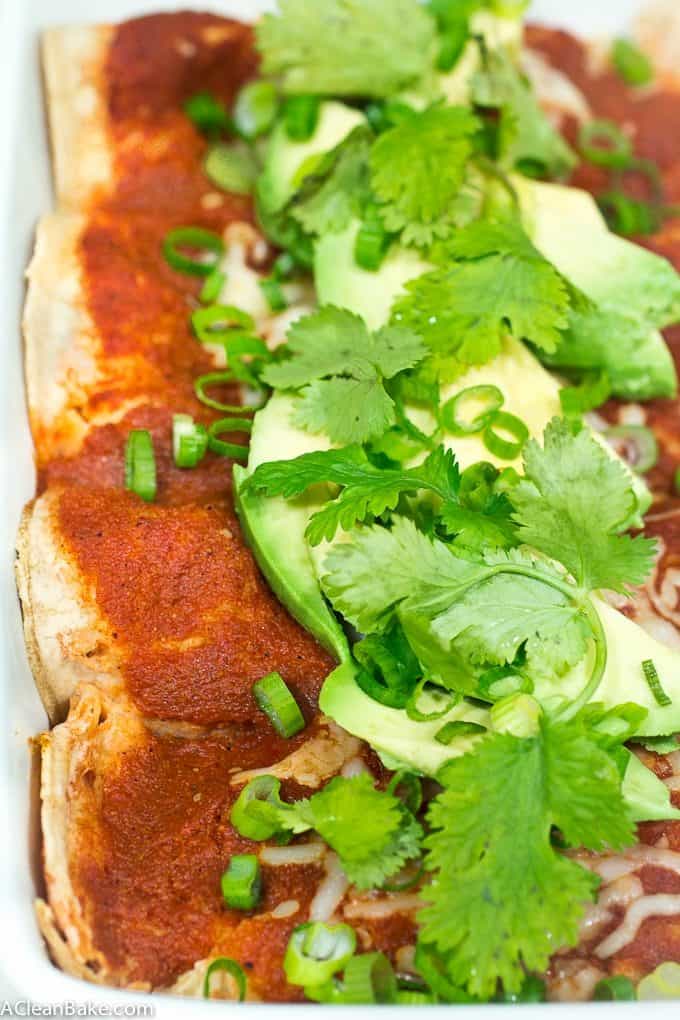 To make homemade enchiladas, mix the shredded Crock-Pot chicken with shredded cheese, chopped cooked spinach, garlic powder, dried oregano, dried red pepper flakes, and salt and pepper to taste.
Add about 1/4 cup homemade enchilada sauce (just enough to moisten the mixture). Divide the chicken mixture between 6-8 corn or grain free tortillas.
Roll, tucking the seam underneath and place in a greased 8″x8″ pan. Top with remaining enchilada sauce and bake at 350 until heated through.
Top with chopped cilantro, green onions and sliced avocado and serve.
5. Chicken Marinara-Stuffed Sweet Potatoes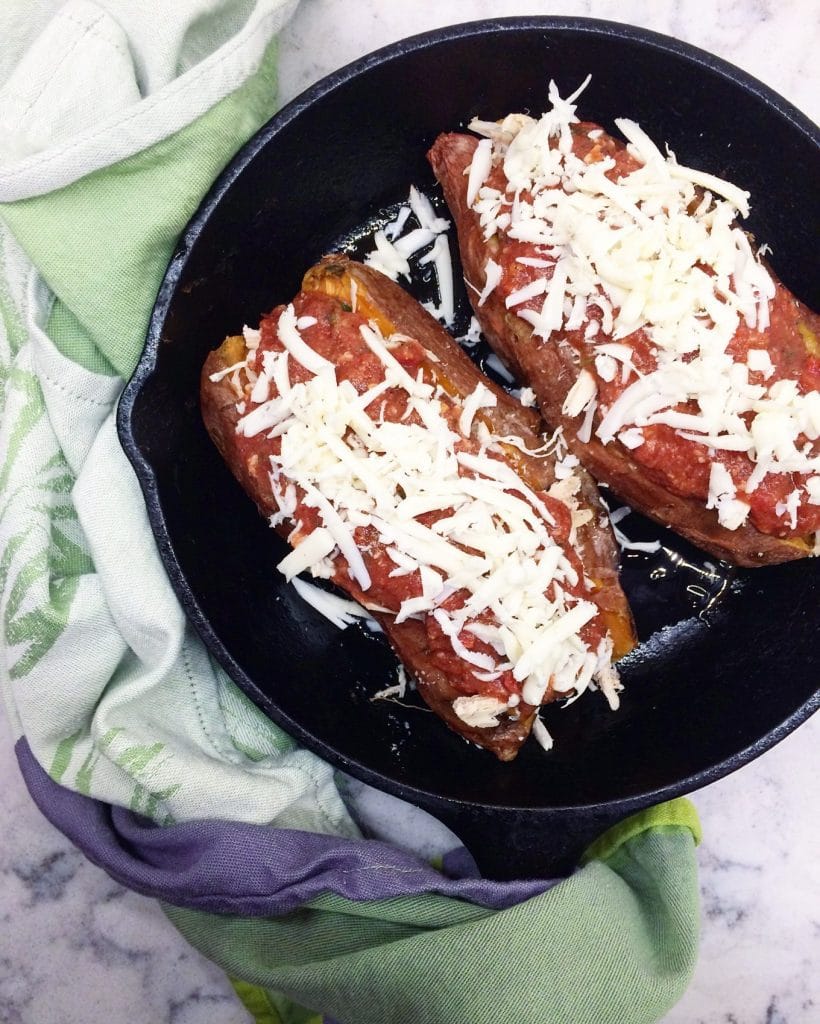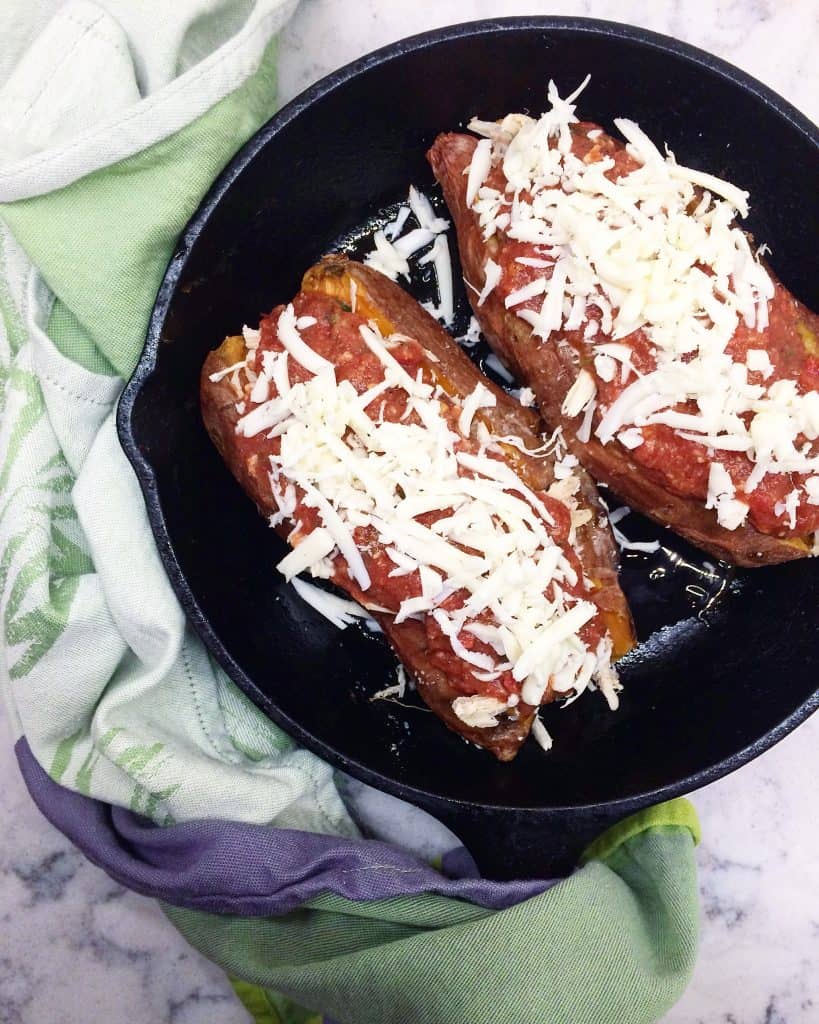 Stuffed sweet potatoes are an easy, grain-free dish that easily work into your weekly meal prep.
Wrap two whole sweet potatoes in aluminum foil and bake at 350F for 30-45 minutes until soft. Split them open lengthwise and fill with shredded chicken.
Top with your favorite sugar-free marinara sauce, season with salt, pepper, garlic powder and basil to taste (optional) and finish with shredded mozzarella cheese, if desired (omit for Whole30 compliance).
Place back in the oven to melt cheese before serving.
6. Tahini, Walnut and Caramelized Onion Chicken Salad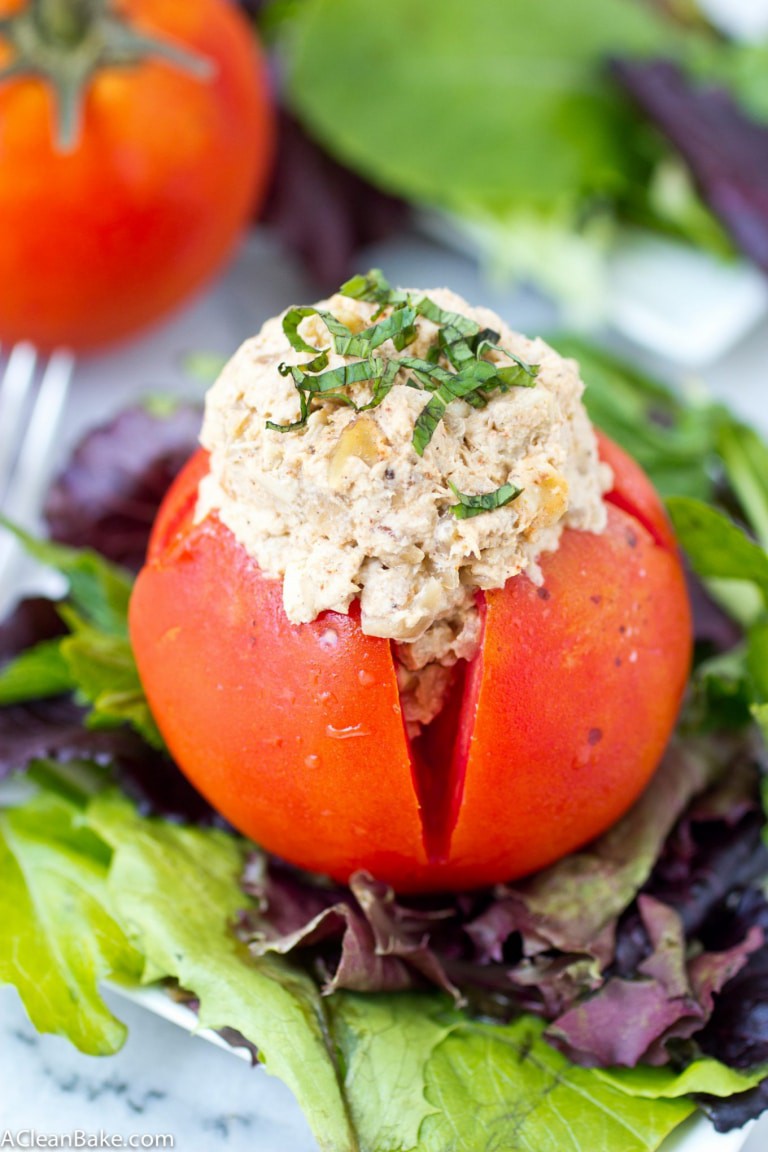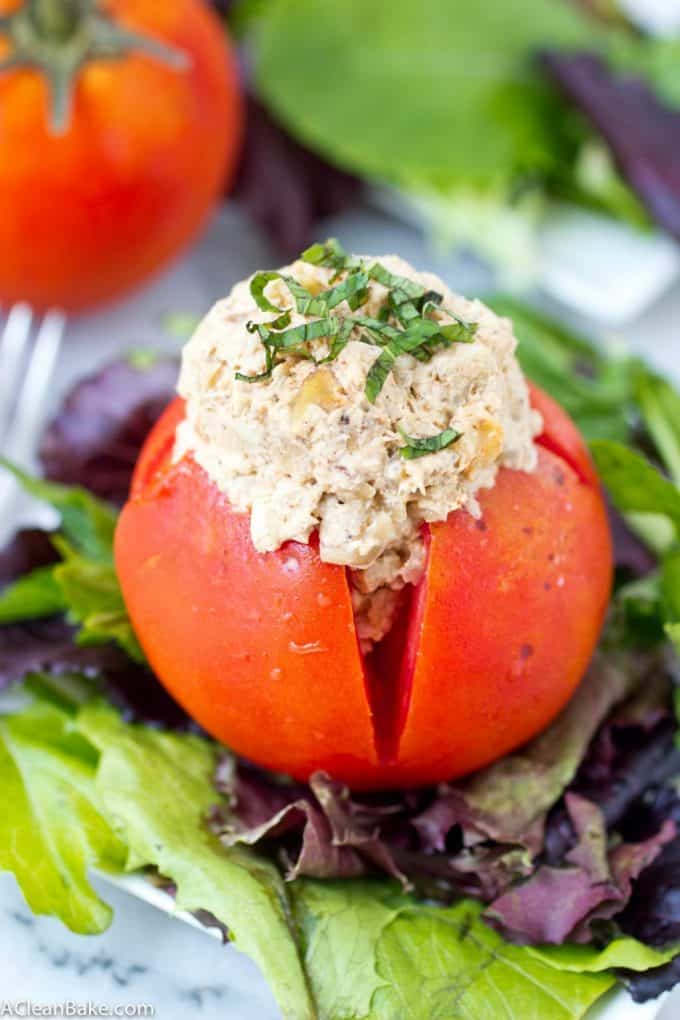 Anyone who knows me knows I love a good salad for lunch — they're easily transportable, don't need reheating, and give me a daily dose of veggies.
This chicken salad is the latest recipe to be added to my weekly lunch rotation, combining shredded chicken, walnuts, caramelized onions, tahini, and seasonings.
To incorporate your shredded chicken, follow the recipe to the letter, mixing the chicken with walnuts and onions in step #1.
7. Chicken Shawarma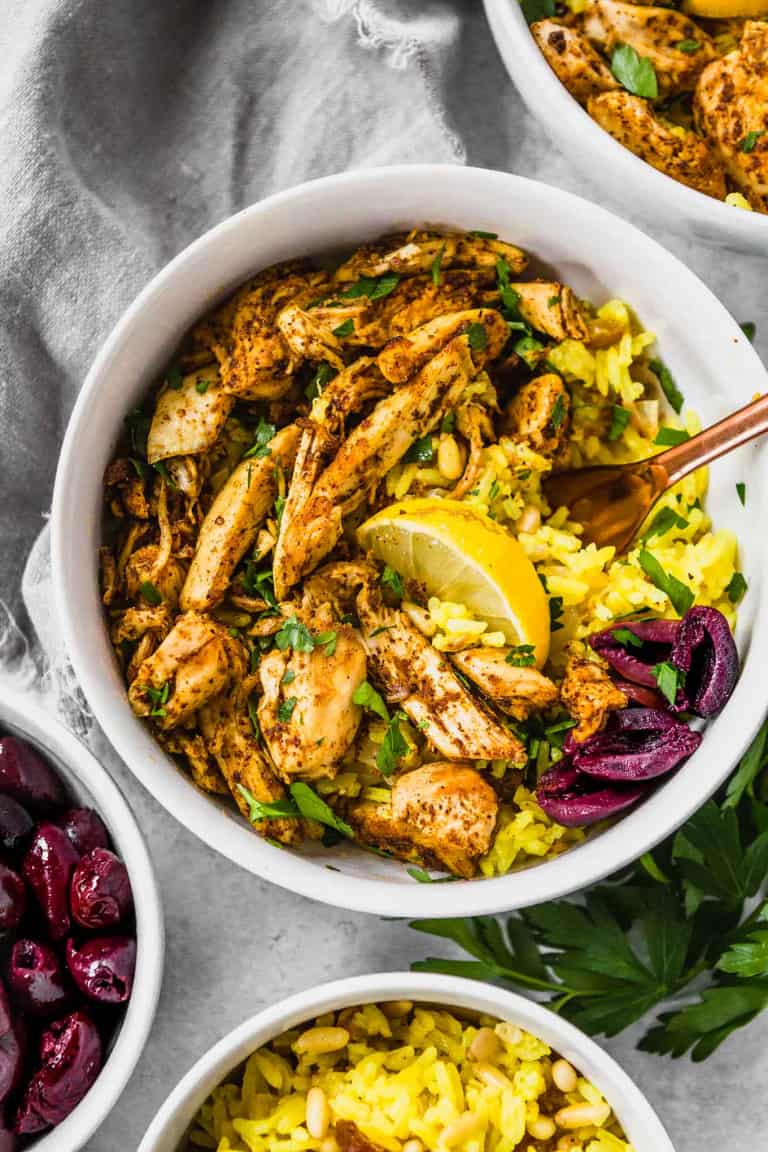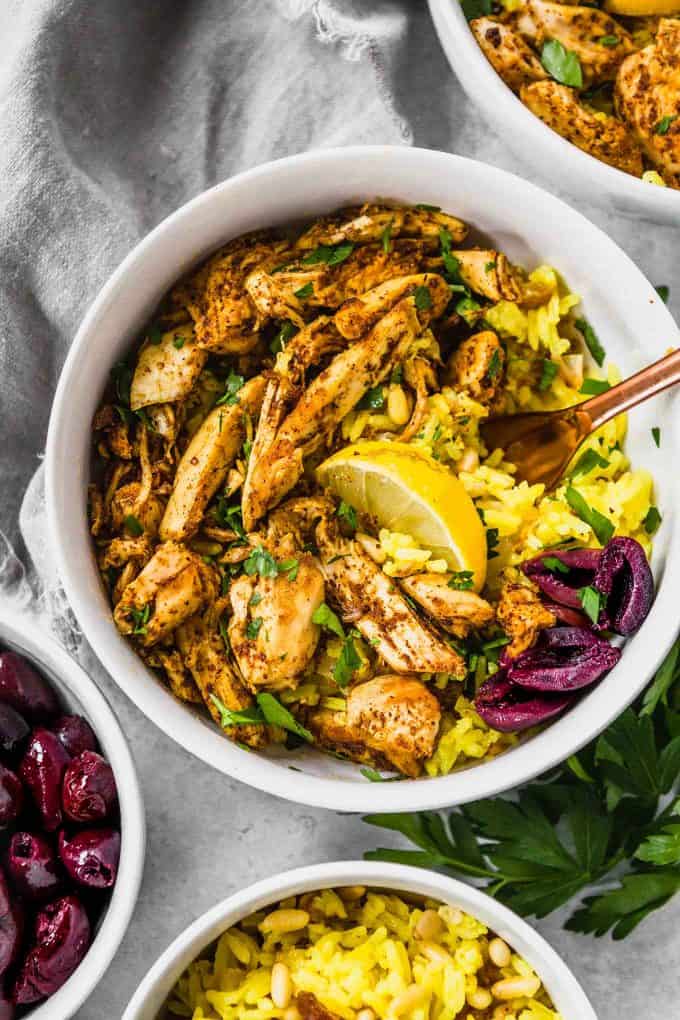 Chicken shawarma is one of my favorite, tasty Middle Eastern recipes, and easily incorporates this shredded chicken.
Using this recipe, you'll skip directly to Step #3, mixing all your spices in a bowl. Place a large skillet over the stovetop with a generous amount of oil, and fry your chicken with the spices until crisp.
When the chicken is cooked to your liking, remove and serve with the lemon tahini sauce.
8. Chicken Tacos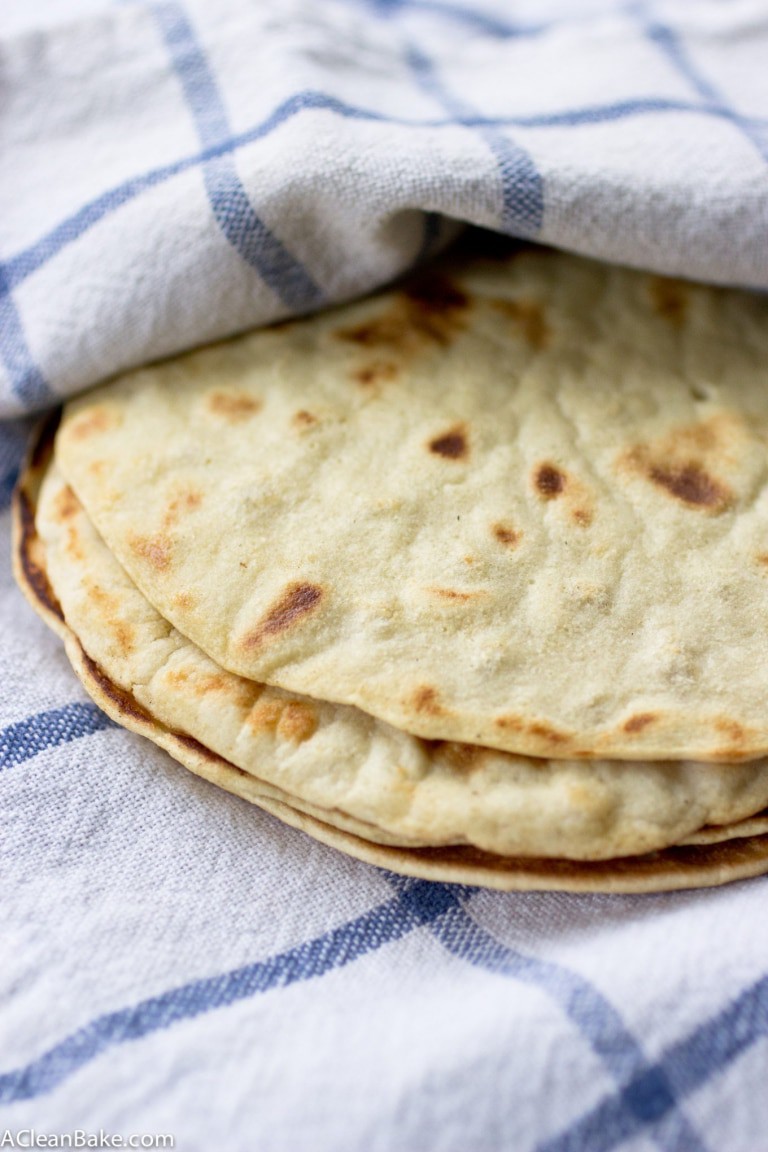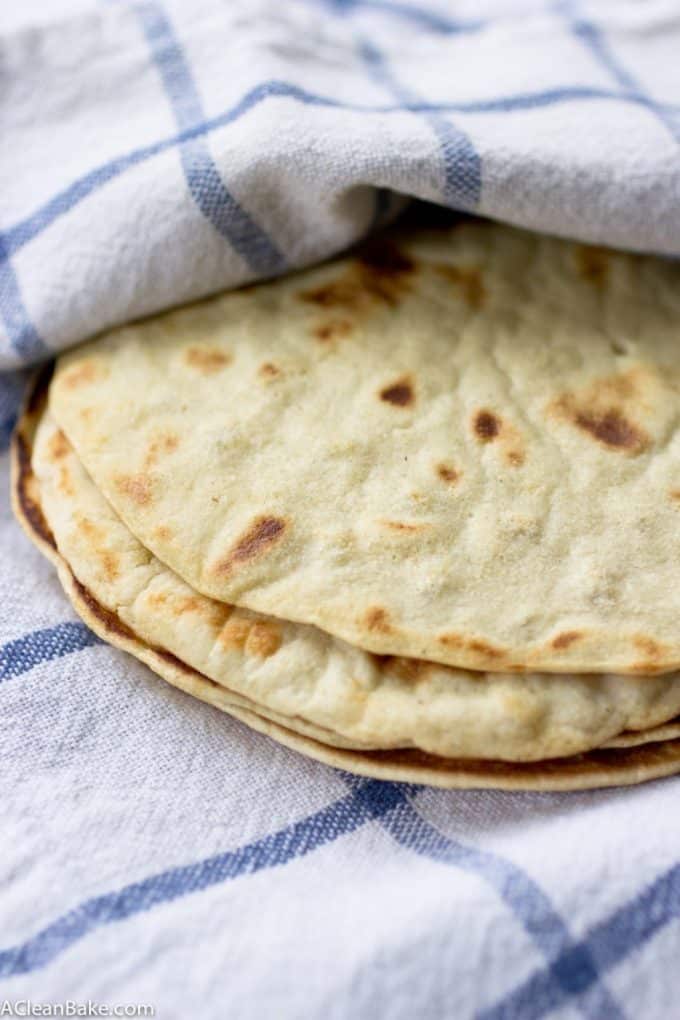 Tacos come together in less than 10 minutes using your pre-cooked shredded chicken.
Simply prepare these grain-free tortillas according to the recipe instructions, then set aside.
Sprinkle 2 tablespoons of taco seasoning (or make your own using the spices listed in this recipe) over your chicken, adding a tablespoon or two of water to prevent it from it from drying out.
Reheat your seasoned chicken in the microwave or stovetop, then stuff inside the tortillas. Top with diced onions, cilantro, and avocado, then serve.
9. Buffalo Chicken Dip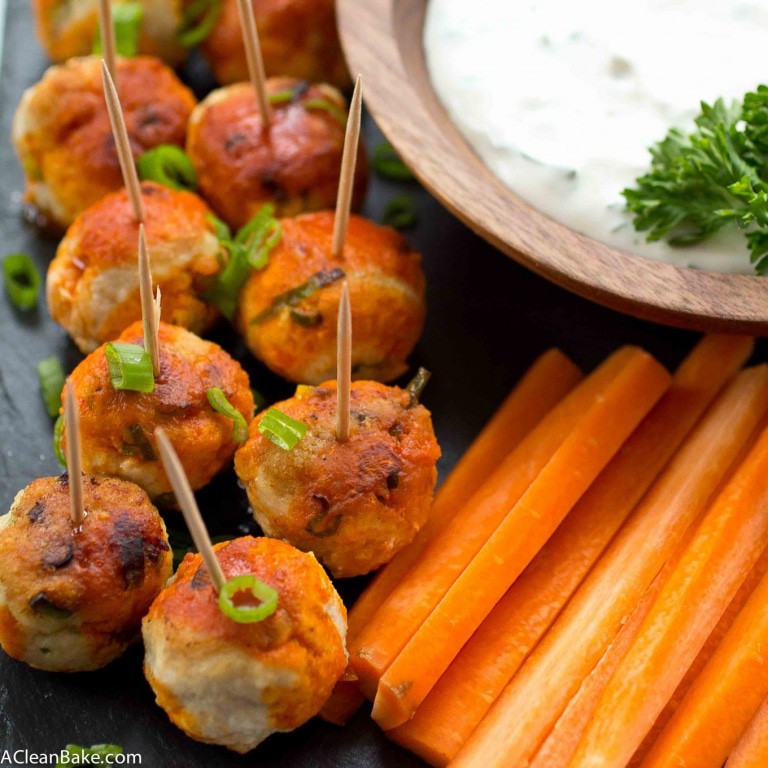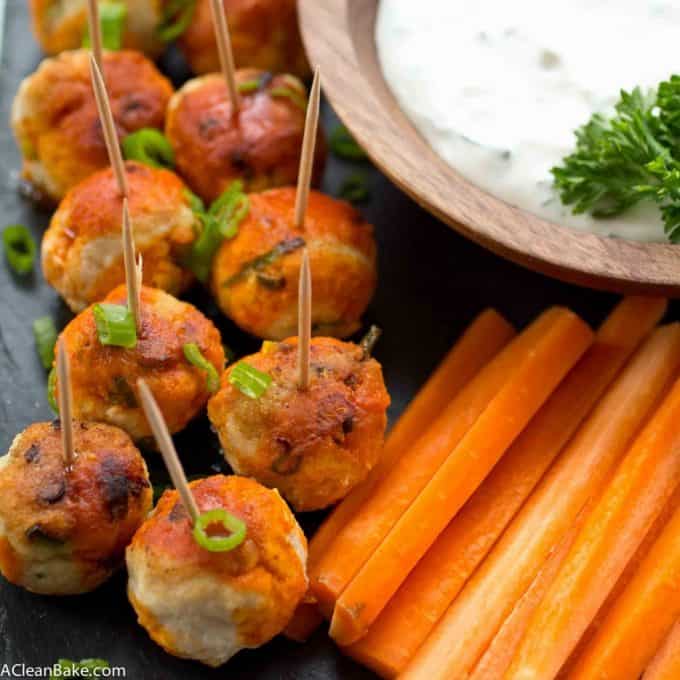 If you need an easy appetizer, you can create buffalo chicken dip using your shredded chicken and just two other ingredients.
Combine the shredded chicken, one package of dairy or dairy-free cream cheese, and buffalo sauce (to taste; I like this one, which is pretty close to paleo-friendly, except for the canola oil) inside a large mixing bowl and mix thoroughly.
Place the mixing bowl in the microwave for 1-2 minutes, or until the cream cheese is completely melted. Serve with chopped celery sticks or homemade tortilla chips at your next gathering.
Note: The recipe pictured is Buffalo Chicken Meatballs.
Tips for Slow Cooker Chicken Success
The beauty of this recipe is in its simplicity. It's designed to be fool-proof, and you shouldn't need to keep a watchful eye on it. That being said, here are some (hopefully) helpful tips and tricks, based on questions I get from friends, family, and each of you in the comments:
What Cuts Work Best for Easy Crock-Pot Chicken?
I designed this recipe to be as easy as humanly possible, so I use boneless, skinless chicken breasts. That being said, any cut of chicken will shred if you cook it properly — even a whole chicken, if you're feeling daring.
Obviously, adjust the cooking time to make sure the chicken cooks through; a whole bird will take longer than a few breasts.
Just remember that the more bones, skin, and cartilage; the more work involved, as you will have to separate the meat prior to serving. For simplicity reasons, I always recommend a boneless skinless chicken thighs or breasts over a bone-in, skin-on cut.
Can I Use Frozen Chicken Breasts for this Recipe?
Absolutely! Just make sure you thaw the chicken breasts prior to serving. The best way to thaw chicken is as slowly and safely as possible. Either remove your chicken from the freezer and place in the fridge at least 24-hours before you plan to cook it, or run it under a cold water bath until just defrosted immediately before cooking.
What Should I use to Shred the Chicken?
If you have two forks, I assure you that's all you need to make this shredded chicken recipe. Just make sure you allow your chicken to cool slightly so you don't burn yourself. Some people like to get a little fancy and use a hand or stand mixer (which certainly speeds up the process!), but it's not necessary.
Can I Substitute Chicken Broth for Water in this Recipe?
Absolutely. You can use water, low-sodium chicken broth, or chicken stock in this recipe. No matter what liquid you use, it accomplishes the same thing: it keeps the chicken moist and easily shred-able.
Can I Use an Instant Pot Instead of a Slow Cooker?
You can absolutely use a pressure cooker instead, but I have not personally experimented with this method.
You will have to cut your cook time down considerably. Most recipes online suggest you cook on high pressure for 10–20 minutes.
Slow Cooker Shredded Chicken: The Secret to Lazy Meal Prep
I've fallen off the meal prep bandwagon and, heck, I barely even meal plan anymore – but making a batch of slow cooker shredded chicken at the beginning of the week to rescue us from take out and leftovers has been such a lifesaver!
I hope you'll find it helpful, too!