Homemade enchilada sauce comes together in about 30 minutes in one pan, or in the slow cooker with 5 minutes or less of work. Just add a few clean, gluten free, vegan, and paleo ingredients, and stir to make your own Whole30 and gluten free enchilada sauce! (Stovetop and slow cooker instructions in the recipe.)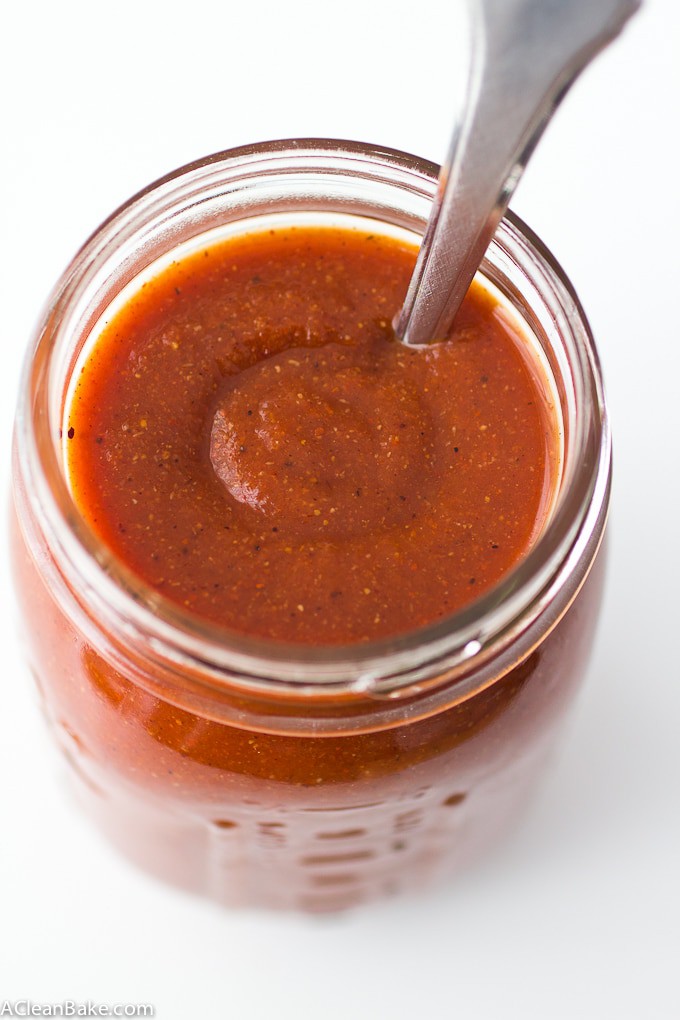 Gluten free enchilada sauce recipe that comes together in about 30 minutes in one pan. Just add a few clean, gluten free, vegan, and paleo ingredients, and stir! (Stovetop and slow cooker instructions in the recipe.)
Mexican food is, to me, an anytime-comfort food, but especially in the summer when you can eat it on a patio with a cold margarita and a few gallons of guacamole. If, like me, you have an unhealthy preoccupation with making your own condiments just the way you like them – free of added sugar, preservatives and artificial flavors – then this is this (gluten free) enchilada sauce for you.
The point of this recipe isn't the enchiladas themselves, although I do share a quick semi-recipe for my favorite gluten free chicken enchiladas (with bonus spinach) below. Today we'll focus solely on the sauce which, really, can make or break an enchilada.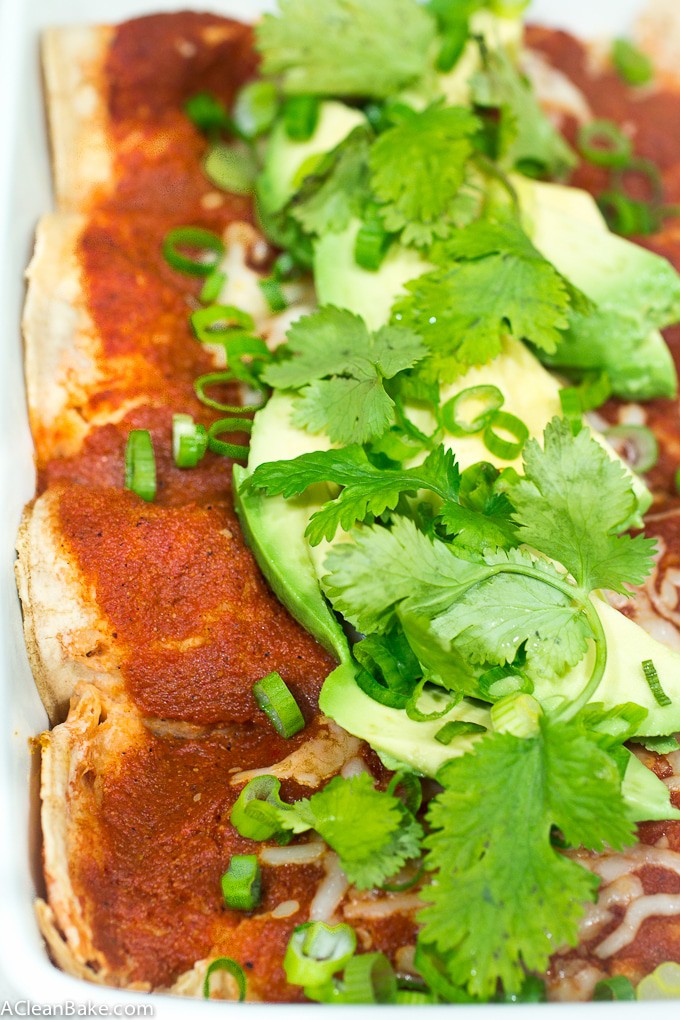 How to Make Homemade Red Enchilada Sauce
Enchilada sauce is an easy tomato sauce that is seasoned with a simple spice mix containing chili powder, cayenne pepper, ground cumin, granulated garlic (or garlic powder) and onion powder. You can also add black pepper and/or red pepper flakes, to taste, if you want a little bit of heat. You'll thin it out, slightly, with water (or vegetable broth or chicken stock/chicken broth).
You can make this sauce quickly and with a little stirring, on the stove top, or with nearly no effort, using the slow cooker. Instructions for both are included in the recipe below. Making it at home is unbelievably easy, tastes just like your favorite Mexican restaurant's version, and is unbelievably better and more personalized to your tastes than the canned stuff.
Homemade enchilada sauce* is gluten free, vegan, paleo-friendly, dairy-free, and Whole30 compliant. You can use it for traditional enchiladas, enchilada casserole, or an enchilada filling that you can stuff into zucchini boats or butter lettuce for a low carb and Whole30 version.
(*Technically, this is a red enchilada sauce recipe, since a green enchilada sauce also exists. But we'll just call it, generally, enchilada sauce for now)
One of the many benefits of making enchilada sauce yourself is that you can tweak it to your liking: make it milder, spicier, thicker, or thinner – whatever suits your fancy.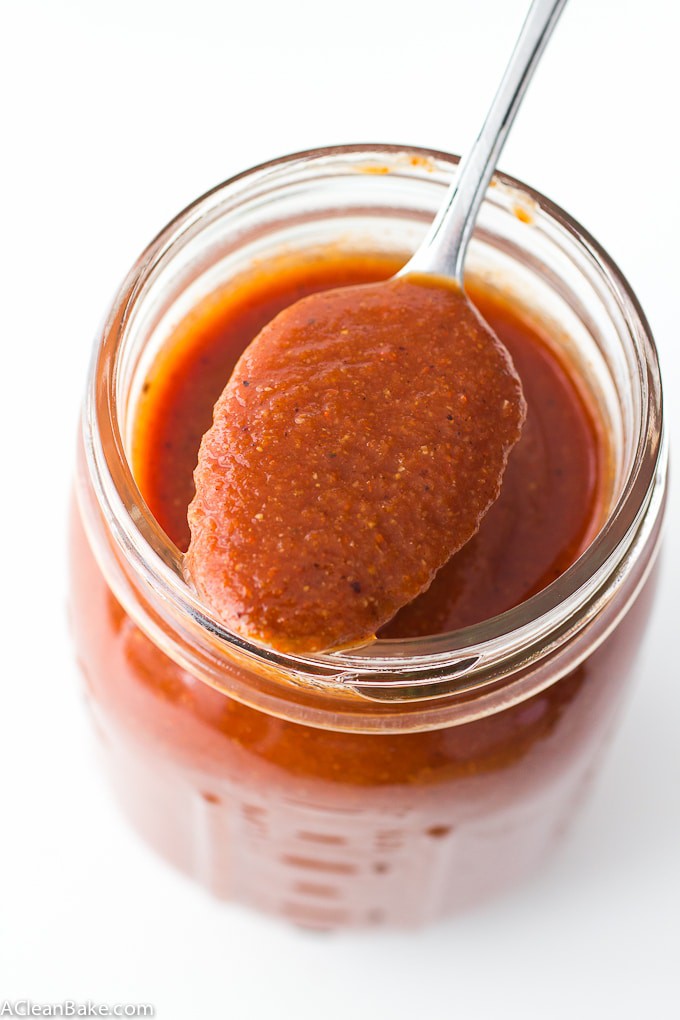 What to do with your homemade enchilada sauce
Once you've perfected the sauce, use it liberally next time you make enchiladas.
I like to make easy chicken enchiladas. Here's my go-to enchilada recipe:
In a small bowl, stir pulled chicken with defrosted frozen spinach, shredded cheese, salt, pepper, garlic, and cumin to taste.
Pour a generous layer of enchilada sauce on the bottom of a baking pan.
Dip the tortillas (gluten free corn tortillas are my preference. Grain free, if you prefer, but the grain free ones don't soak up the sauce as well, I've found) in the sauce before filling and rolling them. Place them snugly in the pan.
Finally, drizzle a little bit more sauce over the top of the enchiladas – Use plenty of sauce. No bland or dry enchiladas here! – before you pop them in the oven to make until the cheese is melted and bubbly.
Customize it to your family's needs:
For beef enchiladas: use ground beef instead of chicken
For vegetarian enchiladas: sub tofu, black beans, or chickpeas for the chicken
For veggie enchiladas: just add finely chopped mixed veggies, like zucchini, bell pepper, and summer squash, in place of the chicken
This gluten free enchilada sauce is the real deal: not only is it delicious, customizable, gluten free, vegan, paleo and easy, it also takes less than 30 minutes to make!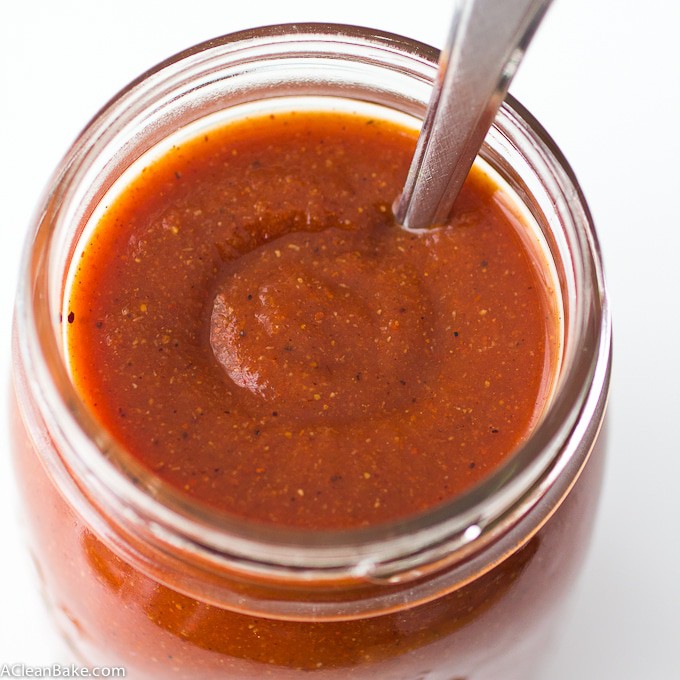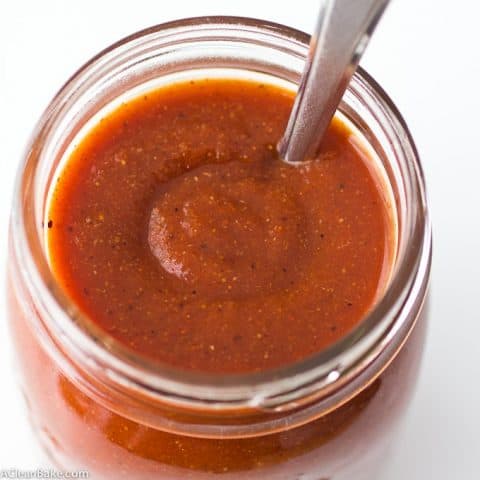 Homemade Enchilada Sauce
Homemade enchilada sauce comes together in about 30 minutes in one pan, or in the slow cooker with 5 minutes or less of work. Just add a few clean, gluten free, vegan, and paleo ingredients, and stir to make your own Whole30 and gluten free enchilada sauce! Stovetop and slow cooker instructions are included.
Ingredients
28 ounces tomato puree, (not crushed tomatoes)
1/4 cup water or chicken broth, (more or less as needed; omit for slow cooker)
1 tablespoons chili powder
1/2 teaspoon cayenne pepper
1 tablespoon granulated garlic
1 1/2 teaspoons cumin
1 1/2 teaspoons onion powder
1/2 teaspoon fine sea salt, (to taste)
1-2 pinches red pepper flakes, (optional, or to taste)
Instructions
Whisk together all of the ingredients in a small saucepan over medium heat.
Cover and bring to a simmer.
Remove the top and simmer gently, stirring occasionally, until thickened.
Taste and adjust seasonings and/or add water to thin out the sauce if desired.
Cool completely before serving or storing.
Notes
Yield: 3 - 3 1/2 cups, depending on how much you let it thicken.
1 serving calculated as 1/4 cup of sauce from a 3-cup yield.
If you'd like to make this in the slow cooker, omit the water and cook on low heat 2-3 hours until it reaches your preferred flavor and consistency. A longer cook time will yield a slightly thicker, more potently-flavored sauce. If it is too thick after cooking, add up to 1/4 cup of water, one tablespoon at a time, until it reaches your desired consistency.
If your sauce becomes too thin, stir in tomato paste, 1 tablespoon at a time, until you get the consistency you prefer. Many commercial sauces use cornstarch to thicken, but using tomato paste keeps the sauce grain free and Whole30 compliant.
Store leftovers in an airtight container in the fridge for up to two weeks, or in the freezer for up to three months.  
Nutrition Information:
Yield:

12
Amount Per Serving:
Calories:

30
Sodium:

116mg
Carbohydrates:

6g
Fiber:

1g
Sugar:

3g
Protein:

1g
PS: If you like homemade Mexican food, try my crowd-pleasing slow cooker fajitas!