Gluten free enchilada sauce recipe that comes together in about 30 minutes in one pan. Just add a few clean, gluten free, vegan, and paleo ingredients, and stir!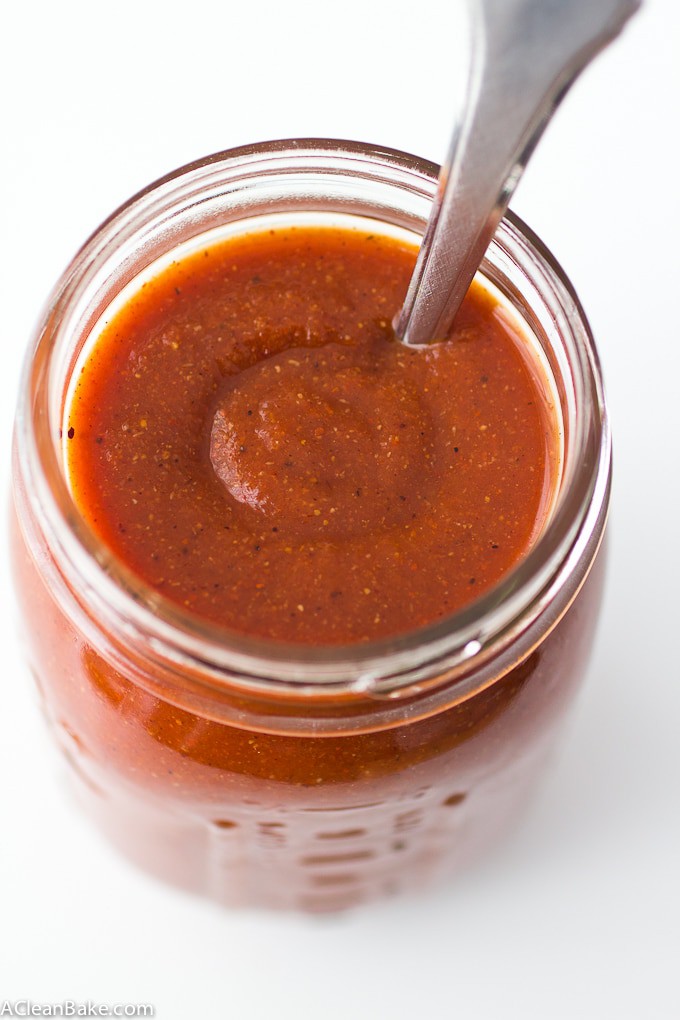 Mexican food is, to me, an anytime-comfort food, but especially in the summer when you can eat it on a patio with a cold margarita and a few gallons of guacamole. If, like me, you have an unhealthy preoccupation with making your own condiments* just the way you like them – free of added sugar, preservatives and artificial flavors – then this is this (gluten free) enchilada sauce for you.
*Other homemade condiments on this site:
BBQ sauce | Pesto | Tapenade | Salad Dressing | Chocolate Hazelnut Spread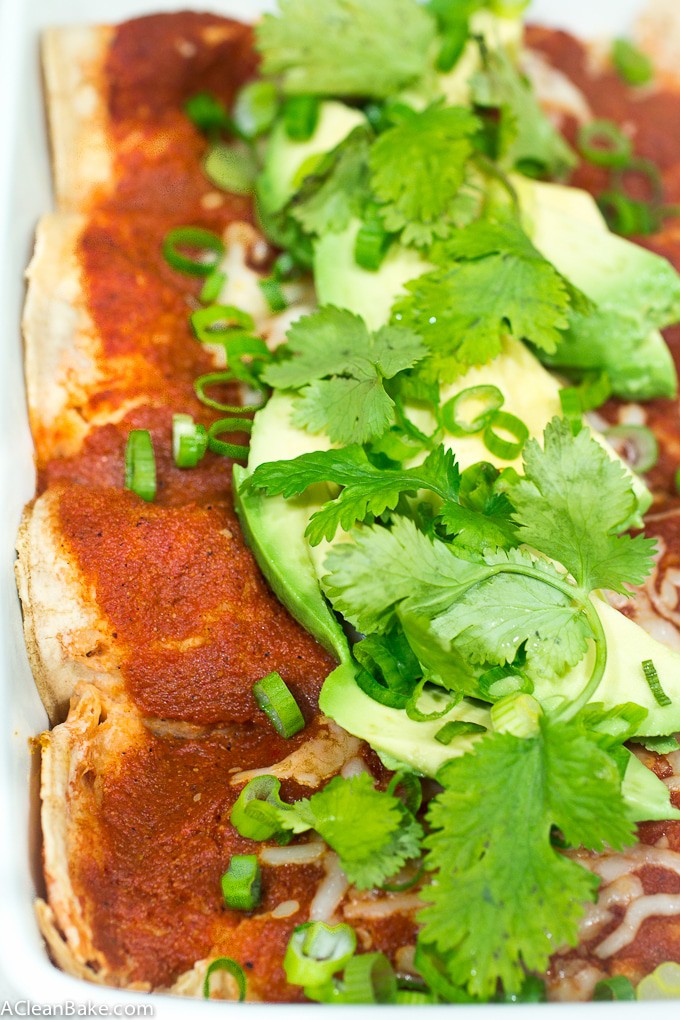 The point of this recipe isn't the enchiladas themselves because far be it for me to tell you how to make your enchiladas <— ok that's a bit of an overstatement; I'll probably post my recipe for my favorite chicken and spinach enchiladas for you sometime, but not today. Today we'll focus solely on the sauce which, really, can make or break an enchilada.
Why DIY?
One of the many benefits of making enchilada sauce yourself is that you can tweak it to your liking: make it smokier, or sweeter, or spicier or saltier if that's what makes your enchiladas perfect.
What to do with your batch of gluten free enchilada sauce.
Once you've perfected the sauce, use it liberally. Pour a generous layer on the bottom of the pan, then dip the tortillas (gluten free or grain free, if you prefer, but the grain free ones don't soak up the sauce as well, I've found) in the sauce before filling and rolling them, and finally, drizzle a little bit more sauce over the top of the enchiladas before you pop them in the oven. No chance of bland or dry enchiladas here.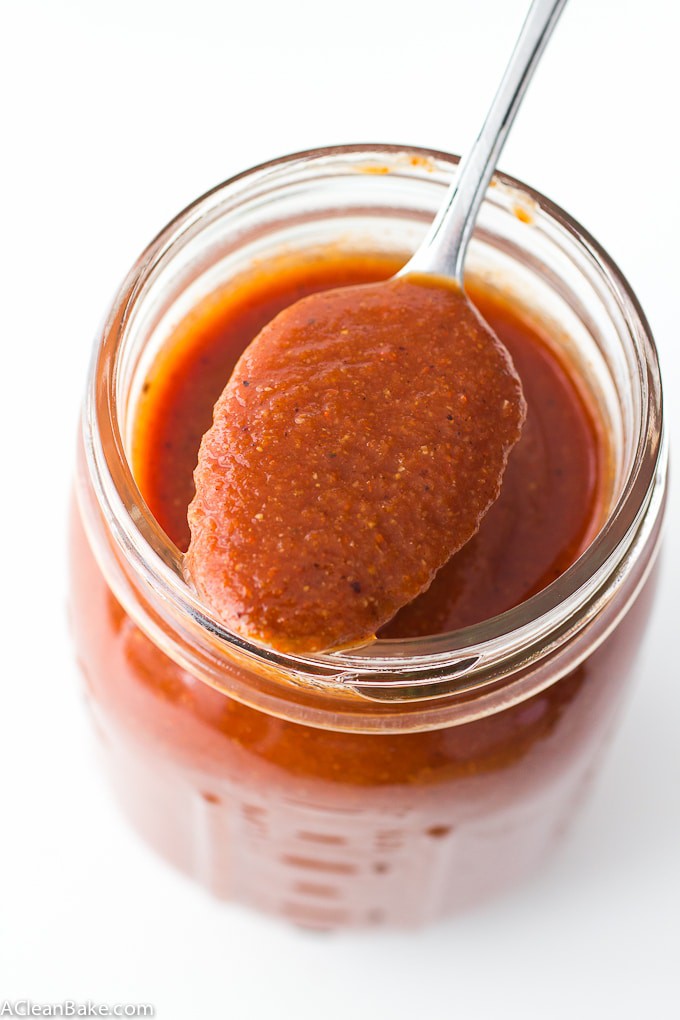 So, I'll bet I know what you're thinking right now: that this magical gluten free enchilada sauce must take hours of slaving over a hot stove in the blazing heat of summer to make.
Well, gee. That's harsh! I thought you knew that I would never perform such a cruel bait-and-switch on you. This gluten free enchilada sauce is the real deal: not only is it delicious, customizable, gluten free, vegan, paleo and easy, it also takes less than 30 minutes to make!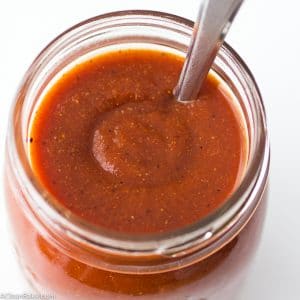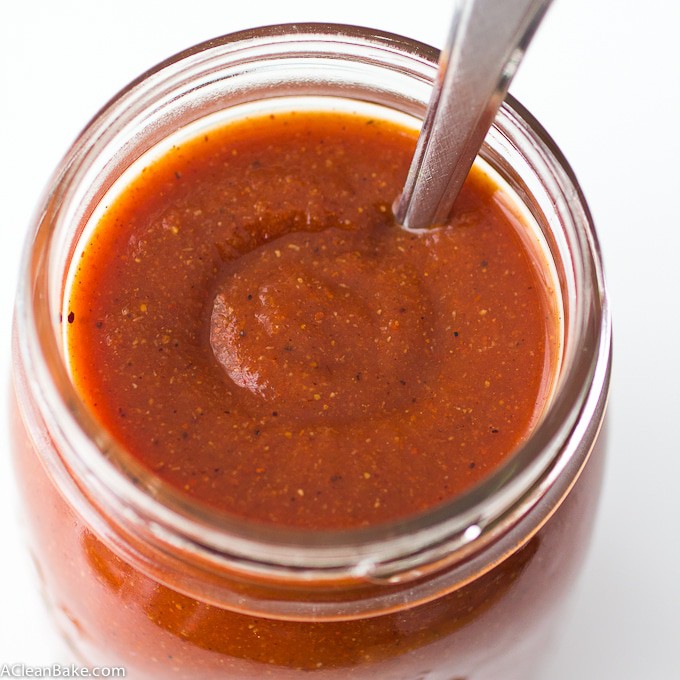 Homemade Enchilada Sauce
Gluten free enchilada sauce recipe that comes together in about 30 minutes in one pan. Just add a few clean, gluten free, vegan, and paleo ingredients, and stir! (paleo, vegan, Whole30 compliant, and sugar free)
Print
Pin
Rate
Instructions
Whisk together all of the ingredients in a small saucepan over medium heat.

Cover and bring to a simmer.

Remove the top and simmer gently, stirring occasionally, until thickened.

Taste and adjust seasonings if desired.

Cool completely before serving or storing.
Notes
Yield: 3 - 3 1/2 cups, depending on how much you let it thicken. 1 serving calculated as 1/4 cup of sauce from a 3-cup yield.  
Nutrition
Calories:
30
kcal
|
Carbohydrates:
6
g
|
Protein:
1
g
|
Sodium:
116
mg
|
Potassium:
308
mg
|
Fiber:
1
g
|
Sugar:
3
g
|
Vitamin A:
6.7
%
|
Vitamin C:
8.7
%
|
Calcium:
1.6
%
|
Iron:
7.8
%
Nutrition Facts
Homemade Enchilada Sauce
Amount Per Serving
Calories 30
% Daily Value*
Sodium 116mg 5%
Potassium 308mg 9%
Total Carbohydrates 6g 2%
Dietary Fiber 1g 4%
Sugars 3g
Protein 1g 2%
Vitamin A 6.7%
Vitamin C 8.7%
Calcium 1.6%
Iron 7.8%
* Percent Daily Values are based on a 2000 calorie diet.
PS: Follow my Taco & Mexican Food Recipes board on Pinterest for more recipes like this!
This post contains affiliate links, which means that if you click through and purchase a product, A Clean Bake receives a small commission, which goes toward continuing to bring you delicious, healthy recipes every week. This does not affect the price you pay. Thanks for supporting A Clean Bake!