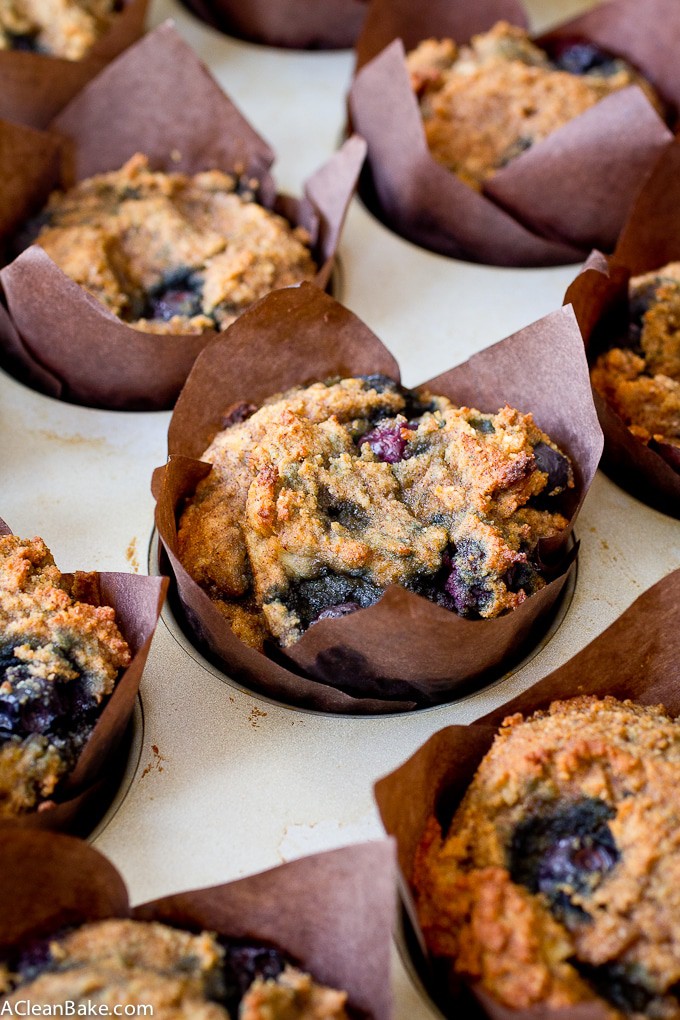 After what feels like entire month of travel, I am finally home. And I need comfort food. Whatever you've been up to this month, don't you need comfort food, too? To some, comfort food might mean deep fried or dangerously cheesy, but in my world, it means pillowy-soft, carby and just warm enough to melt a layer of butter spread liberally across the top. These banana blueberry muffins fit the bill just perfectly.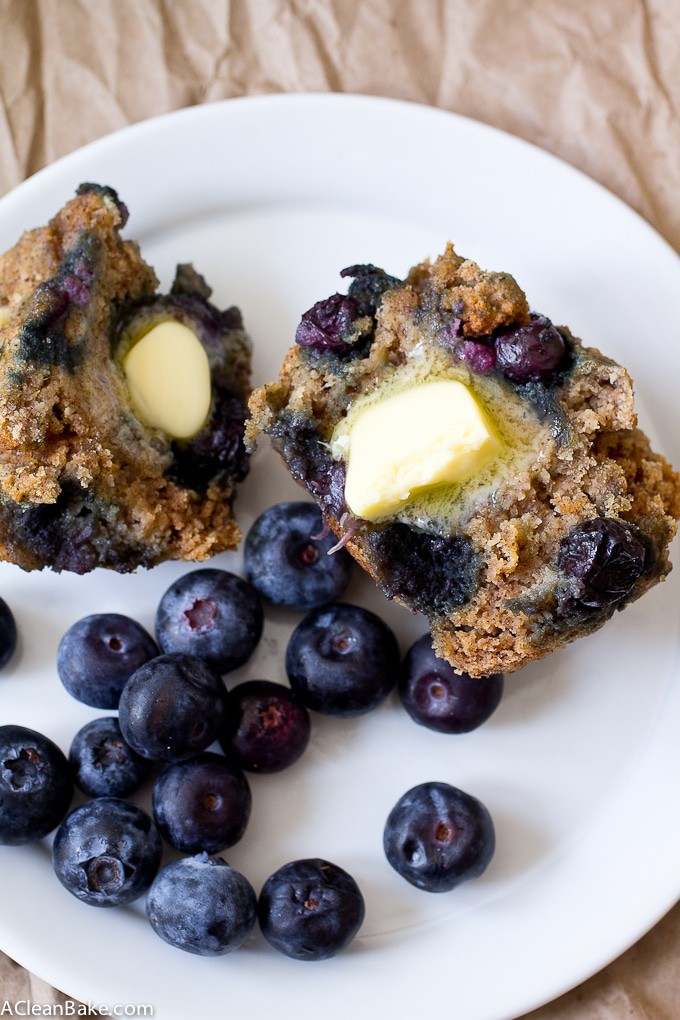 Plus, who among us doesn't go a little overboard in the banana-buying department, only to blink and find that they've turned brown and squishy, and only viable for smoothies or banana bread. In a summer-ier twist, you can also use those bananas for muffins studded with sweet, juicy blueberries. I dare you to find an excuse not to make these 😉
Fresh or frozen berries will work, so if you haven't had time to make it out to the blueberry patch lately (or if, like me, you wouldn't know where to find a blueberry patch if your life depended on it… Michigan maybe?) just use what you or your grocery store have on hand.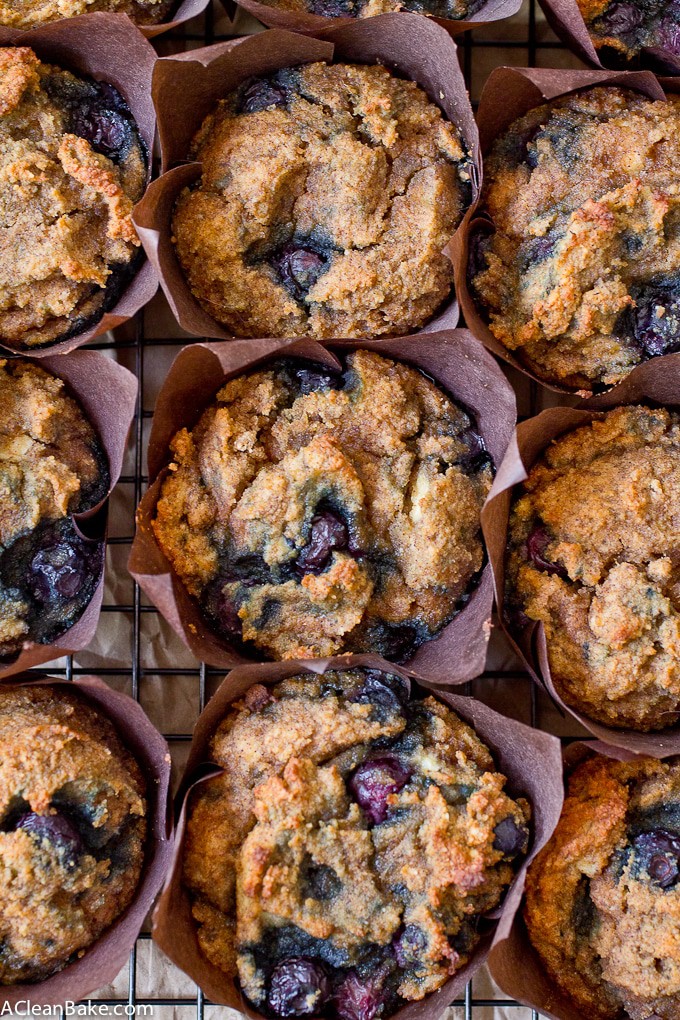 The bananas fade into the background and subtly flavor the batter while also helping to naturally sweeten the muffins, so don't expect a major banana-y punch. But what you do taste is a perfectly balance of bananas and blueberries which, unexpectedly, complement each other really well.
These simple muffins require no further explanation other than….make them and enjoy!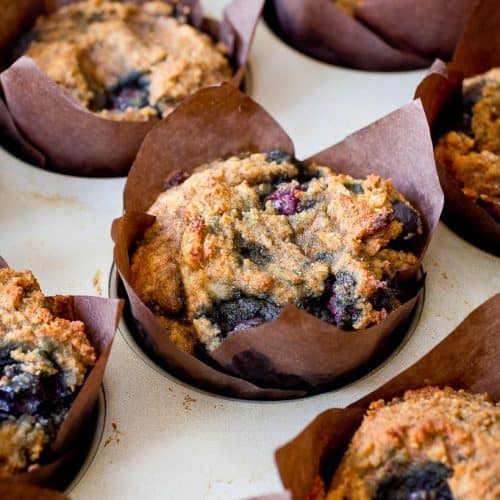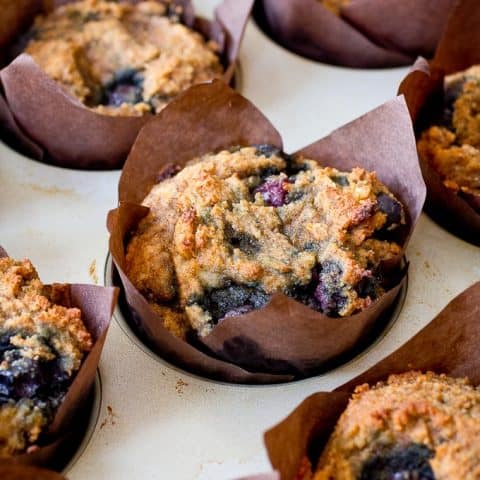 Paleo Banana Blueberry Muffins
Grain free and gluten free blueberry muffins that are lightly sweetened and flavored by banana - like a blueberry muffin married banana bread!
Ingredients
3/4 cup blanched almond flour
3/4 cup coconut flour
6 Tablespoons tapioca flour
6 Tablespoons granulated monk fruit sweetener, or granulated stevia
1 1/2 Tablespoons cinnamon
1 1/2 teaspoons baking soda
3/4 teaspoon coarse salt
3 large eggs
1/2 cup mild-flavored oil
3 Tablespoons unsweetened vanilla almond milk
1 1/2 teaspoons vanilla extract
1 teaspoon apple cider vinegar
1 1/2 cup mashed over-ripe banana, about 3 large
1 1/2 cups fresh or frozen blueberries, not defrosted
Instructions
Preheat the oven to 350F. Fill a 12-compartment cupcake pan with liners and set aside.
In a large mixing bowl, whisk together the dry ingredients (almond flour through salt) and set aside.
In a medium mixing bowl, whisk the eggs, then whisk in the oil, milk, vanilla and vinegar. Stir in the mashed banana.
Fold the blueberries into the dry ingredients until they are lightly coated. (This helps prevent them from sinking to the bottom of the muffins!)
Pour the wet ingredients into the dry-blueberry mixture and gently stir to combine, being careful not to crush the blueberries.
Divide the batter evenly between the prepared cupcake compartments.
Bake for 30-40 minutes (mine took exactly 35 minutes), or until a tester comes out clean.
Transfer muffins to a wire rack to cool partially before serving or completely before storing.
Notes
Store leftovers in an airtight container at room temperature for up to 3 days, or in the freezer for up to 3 months.
Yield: 12 muffins
Nutrition Information:
Yield:

12
Amount Per Serving:
Calories:

222
Saturated Fat:

2g
Cholesterol:

46mg
Sodium:

321mg
Carbohydrates:

19g
Fiber:

5g
Sugar:

6g
Protein:

4g
[wprm-nutrition-label align="center"]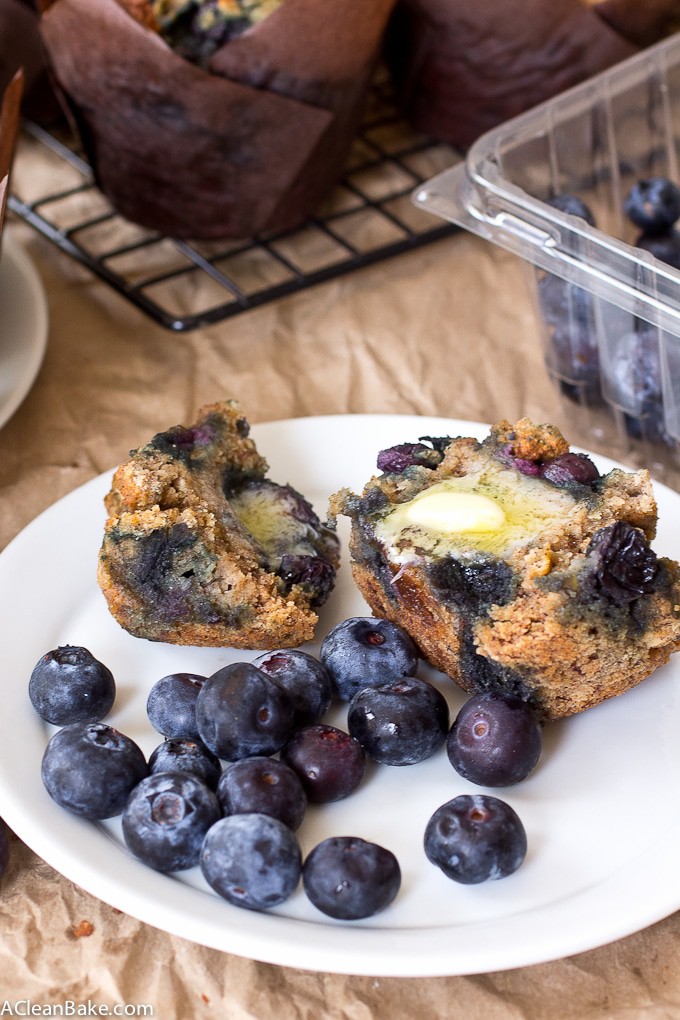 This post contains affiliate links, which means that if you click through and purchase a product, A Clean Bake receives a small commission, which goes toward continuing to bring you delicious, healthy recipes every week. This does not affect the price you pay. Thanks for supporting A Clean Bake!