Recently, due to technical difficulties (just, you know, trivial stuff like the site not loading), I had to work some behind the scenes magic and do a minor site overhaul, which is why the site has looked different for the past week or so. Among other benefits to this change, the home page is easier to navigate, the recipe page should load faster, and – best of all – I have been reminded of the many, many forgotten recipes on this site that contain grains.
Almost exactly a year ago, after about 11 billion not-quite-right batches, I posted a gluten-free banana bread recipe and, if one were being immodest here, one would admit that it was really good. But it contains the (current) holy trinity of stomach villains: oats, rice and psyllium, so I haven't been able to have it for a long time. I've really missed banana bread, guys. Other than these doughnuts, I haven't had anything even resembling the stuff in a year. A YEAR without banana bread.  By anyone's calculation, that's too long. Whether you like yours with nuts or chocolate or straight up, you have to have it.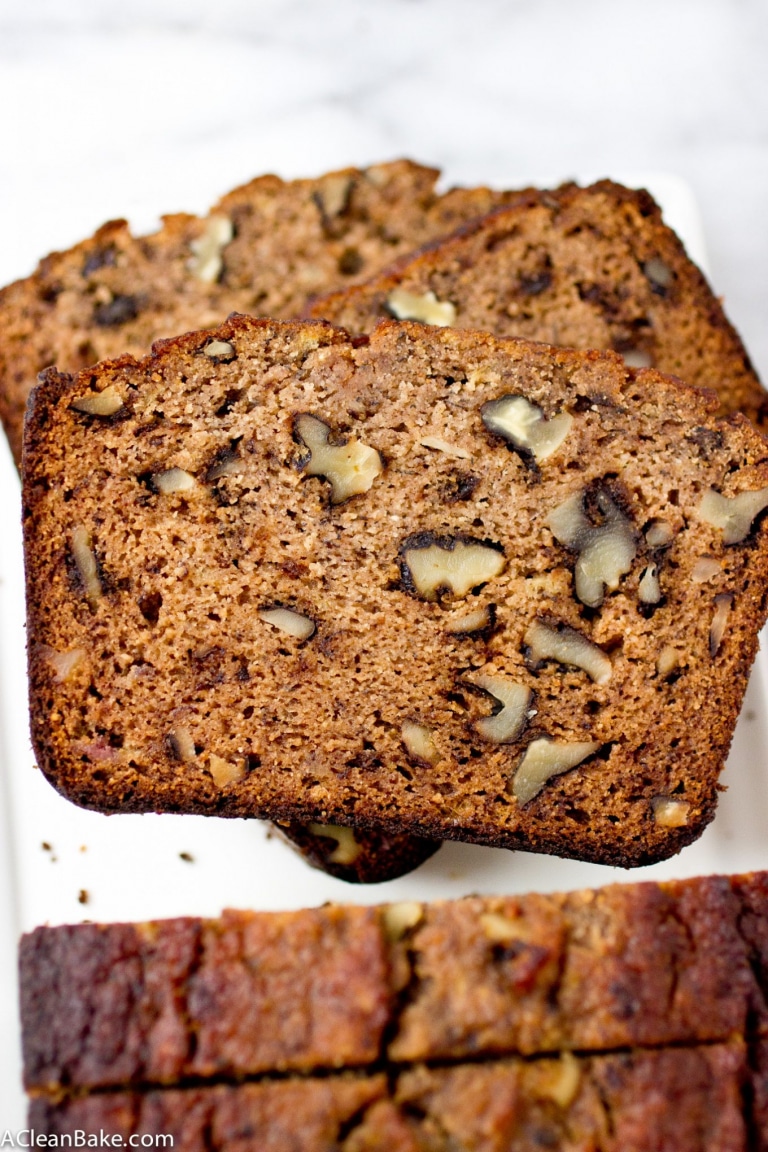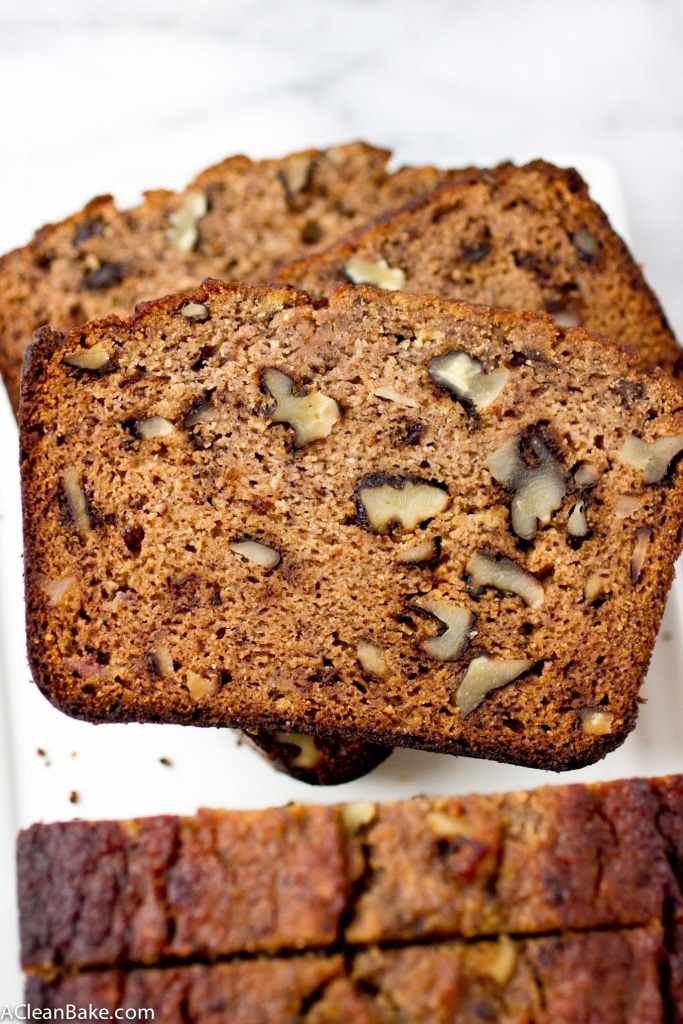 My goal with this version was to make it better than the gluten free version, and as good if not better than the butteriest, wheatiest, sugariest loaf you can imagine. And can I just – since we've already put all modesty aside – toot my own horn here and tell you: mission accomplished?
Here are my favorite parts about this banana bread: it's soft, dense, moist and hearty. It has crunch from the walnuts, because I love textural contrast. The top crust is slightly sticky in the way that the crust of a banana bread should be, just enough so that it leaves a residue on your fingers that you have to, well, get to, lick off, after you've finished your slice. And, best of all, you get this entire banana bread package without any compromises; it's still grain free, dairy free and refined sugar free.
So, wipe that drool from your chin and go make a batch. Or, you know, maybe seven. Just to be safe.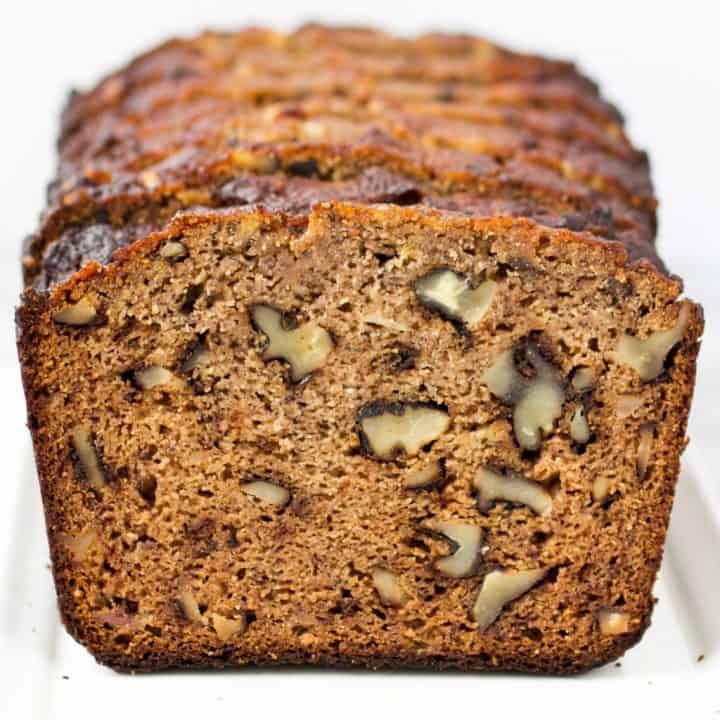 Classic Banana Bread
gluten free, grain free, paleo friendly, and refined sugar free
Ingredients
3/4 cup blanched almond flour
3/4 cup coconut flour
6 Tablespoons tapioca flour
1 1/2 Tablespoons cinnamon
3/4 teaspoons coarse salt
1 1/2 teaspoons baking soda
6 Tablespoons granulated monk fruit sweetener, or granulated stevia
3 large eggs
3 tablespoons unsweetened almond milk, or milk of choice
1/2 cup oil, see note
1 1/2 teaspoons vanilla
1 teaspoon apple cider vinegar
1 1/2 cups mashed overripe banana, (about 3-3 1/2 large bananas)
1 cup roughly chopped walnuts
Instructions
Preheat the oven to 350F. Lightly grease or spray an 8.5" loaf pan and set aside.
In a large mixing bowl, whisk together the dry ingredients (almond flour through sweetener). Set aside.
In another mixing bowl, whisk the eggs until beaten, then stir in the milk, oil, vanilla and vinegar. Once all of those ingredients are incorporated, stir in the banana.
Pour the wet (egg/oil/banana) mixture into the dry mixture and stir vigorously until combined.
Fold in the walnuts.
Pour the mixture into the prepared loaf pan and bake for 60-70 minutes until a tester comes out clean. Check somewhere between the 30-45 minute mark, and if the loaf is browning too fast, cover it loosely with a piece of tinfoil for the remainder of the cooking time.
Allow the loaf to cool in the pan for 10-20 minutes, then turn out onto a rack to cool completely.
Notes
It's best to use an oil that is liquid at room temperature. But if you prefer to use coconut oil, make sure it is melted and slightly cooled so that it doesn't cook the eggs when you mix them together.
If you prefer to make these into muffins, bake at 350 for about 20-25 minutes, or until a tester comes out clean.
Store leftovers in an airtight container at room temperature for up to 5 days, or in the freezer for up to 3 months.
This post contains affiliate links, which means that if you click through and purchase a product, A Clean Bake receives a small commission. All proceeds go toward continuing to bring you delicious, healthy recipes every week, and this does not affect the price you pay. Thanks for supporting A Clean Bake!