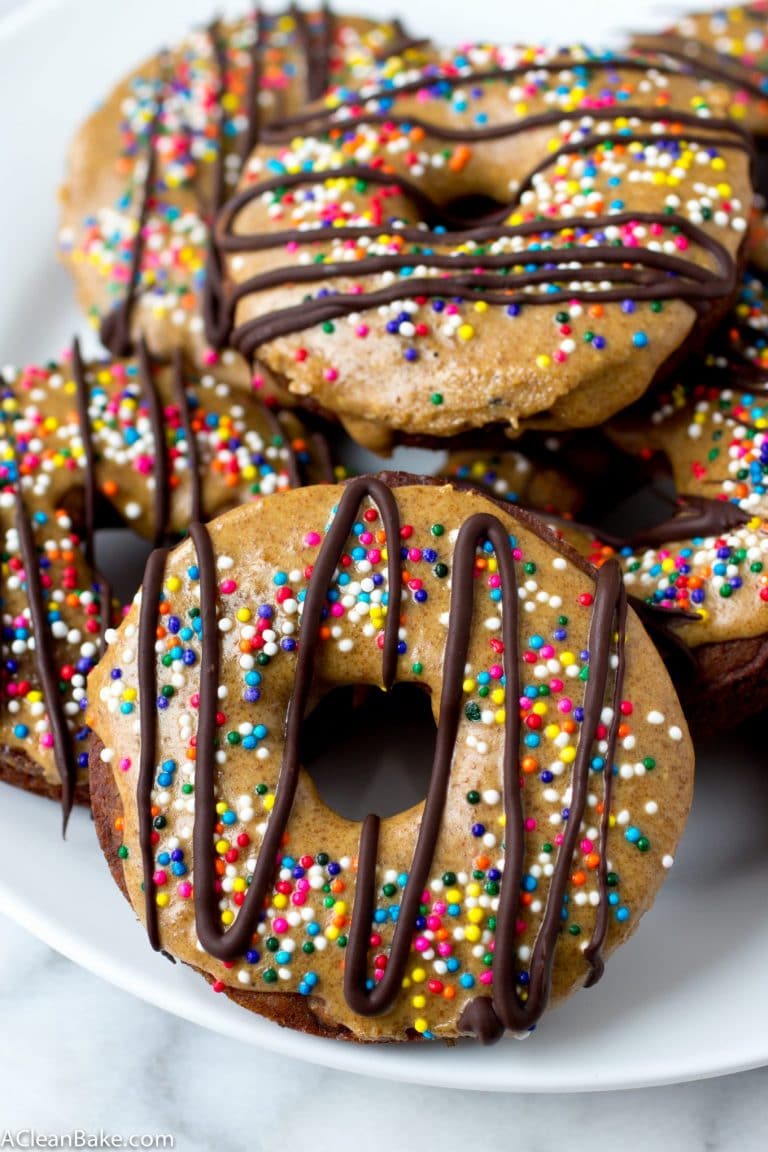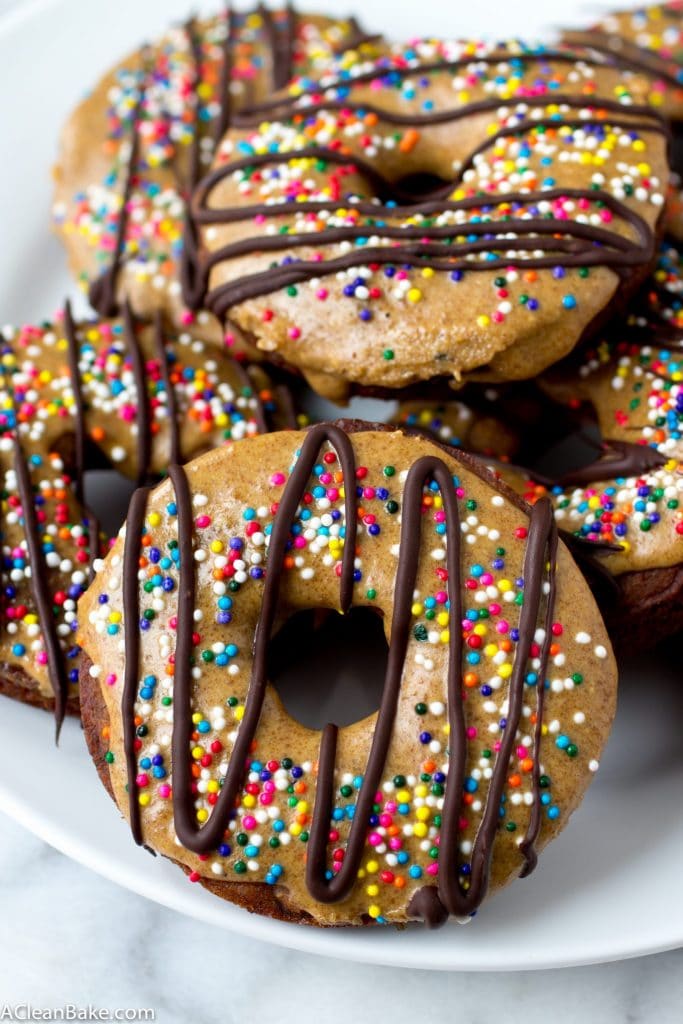 Can you believe the nerve of these doughnuts, showing up with their chocolate chip-stuffed innards, and their come hither sprinkles and their seductive chocolate drizzle? In January no less? Don't they know that January is a doughnut-free zone, full of vegetables and green smoothies and dietary hail marys?
Don't they know it's detox season???
And yet, here they are. Staring us down. A dozen rich, decadent, chocolatey, gooey frosted doughnuts.
Let's teach them a lesson.
Let's eat them.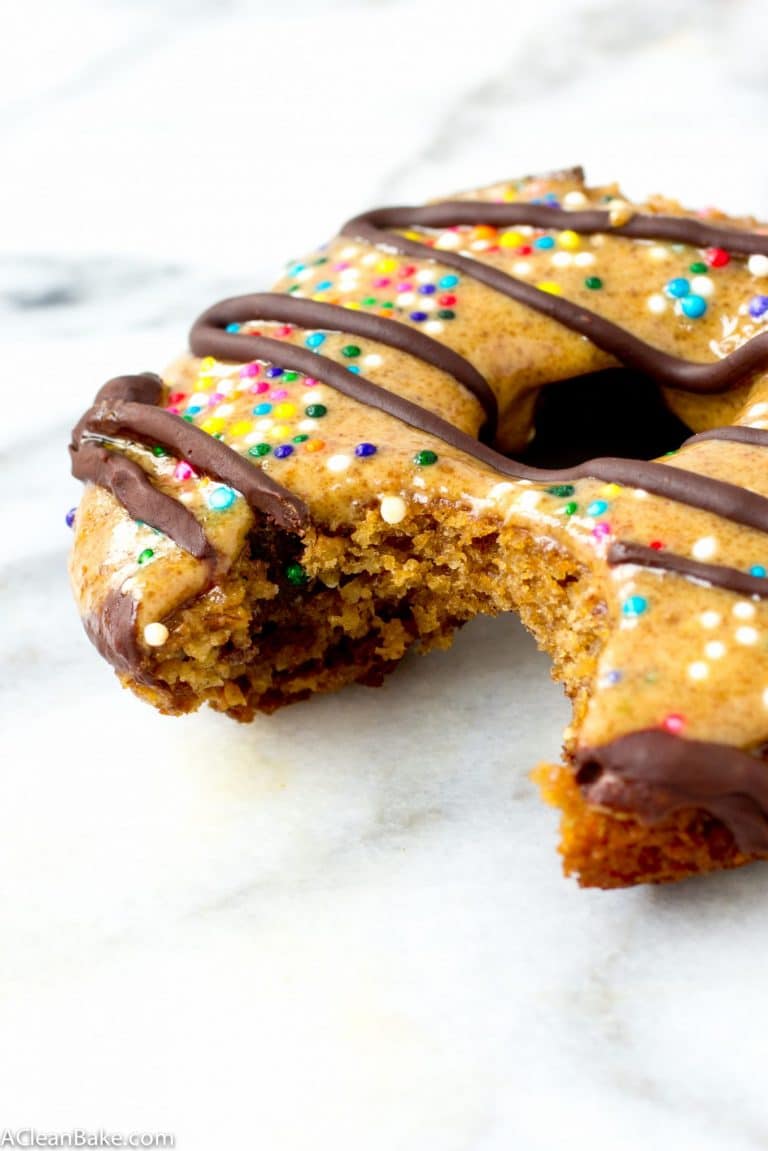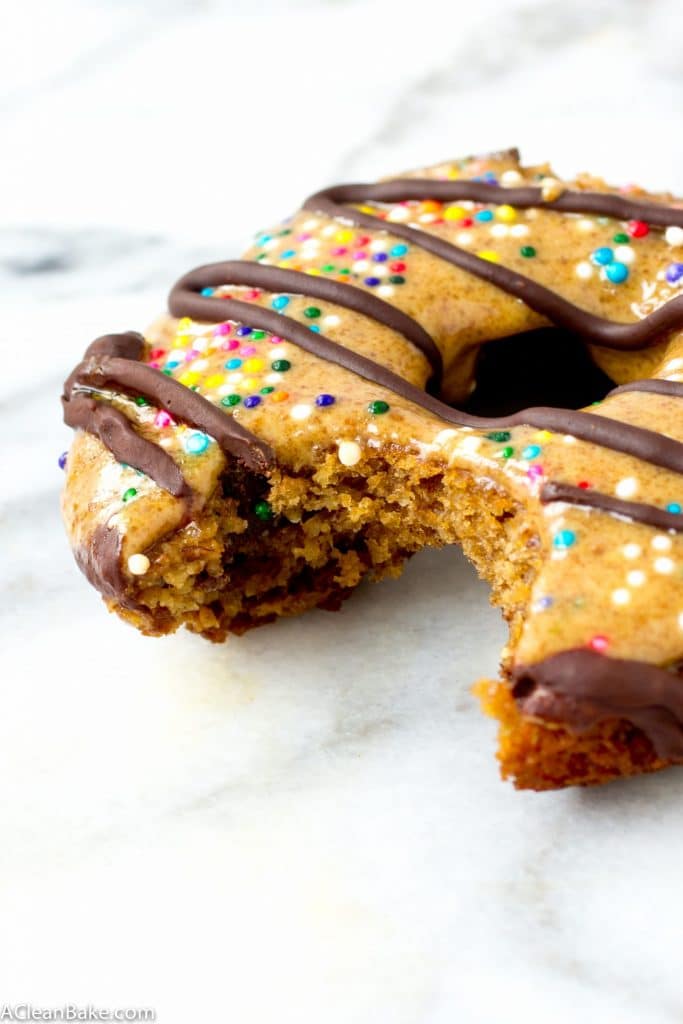 I'm kidding, of course. Not about how delicious they are, and certainly not about eating them, but about how these are antithetical to health food. They're not exactly a vegetable, but they're low carb, low glycemic, paleo and relatively small, so let's call them a forgivable cheat and get back to our respective detoxes later.
I have a little confession to make. Actually two: first, I couldn't resist taking one million glamour shots of these stupid doughnuts because they're so darn cute and I am easily hypnotized by a sprinkling of multicolored sprinkles. So, sorry for the excessive volume of photos in this post. Second, I made these from… a mix. A banana muffin mix, actually, which I added a few extra ingredients to, and then simply baked in a doughnut pan. I'm not even the least bit ashamed, for the record. With all due respect to Betty, this wasn't a Crocker mix, but actually a wholesome, paleo-friendly mix made of nothing more than almond flour, coconut sugar, arrowroot powder, bananas, sea salt, vanilla and baking soda – all ingredients I use in my kitchen on a regular basis. I didn't mind using this mix because it basically seemed like the dry ingredients I pull out of my cupboard and throw in a bowl on a regular basis, only these were pre-measured and poured in a bag for me.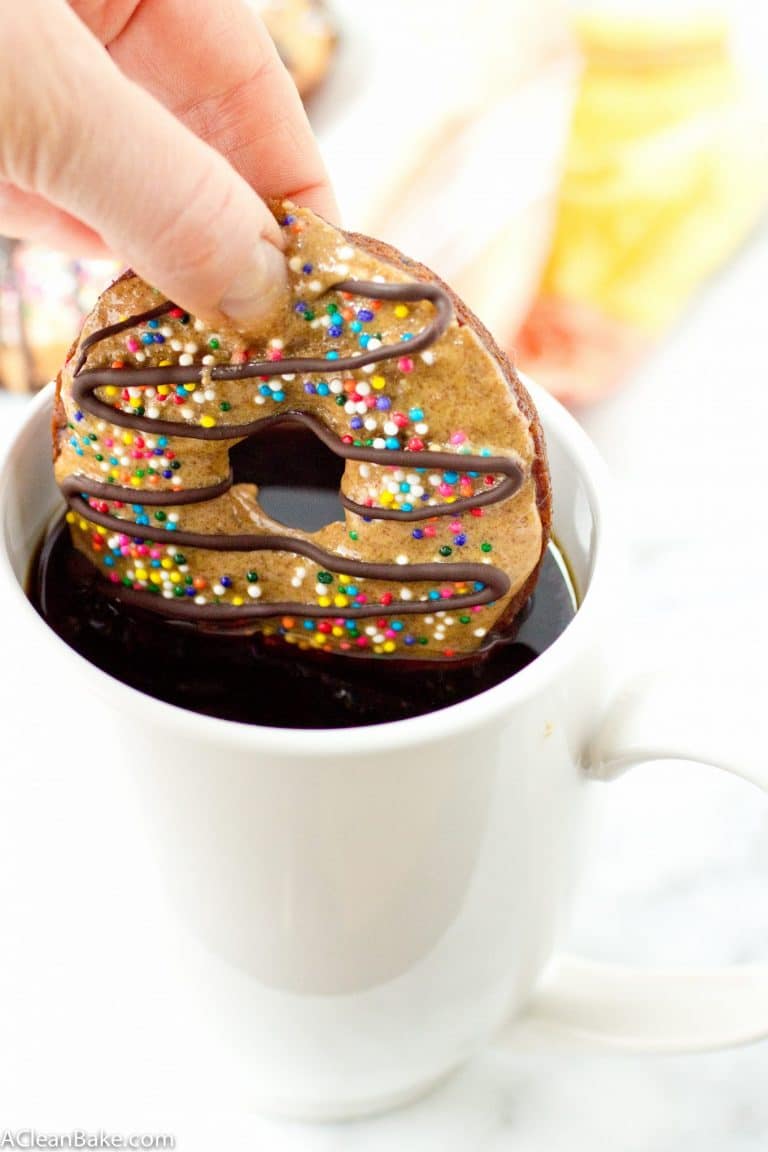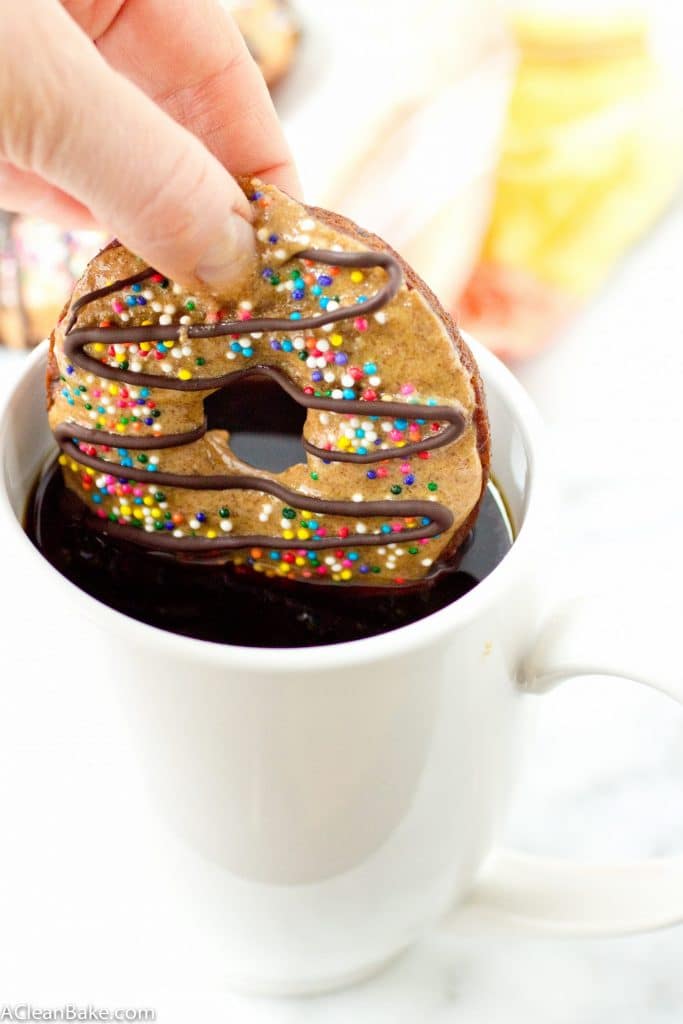 The mix I used is made by a small (but fast-growing) company called
Simple Mills
, based out of Chicago. It's founded by a classmate of mine from grad school who was nice enough to sit down with me and tell me about her company and its mission to help people live better by eating better. It sounds like the same message you may have heard from a lot of other food companies, and it is, but Simple Mills puts its money where its mouth is, making their products organic, GMO free, allergen free, and as close to the whole form as possible. For the record, the founder of the company didn't ask me to say any of this; she didn't even know I was planning to write about the company. I wasn't, but I was so impressed with what I learned and how the products tasted (three of which I bought a long time ago, but this one I was given at our meeting since it was the only one I hadn't yet tried) that I wanted to share. Like I said, it's actually a banana muffin mix, but with a few extra ingredients, and a soft peanut butter frosting, and you have delicious doughnuts.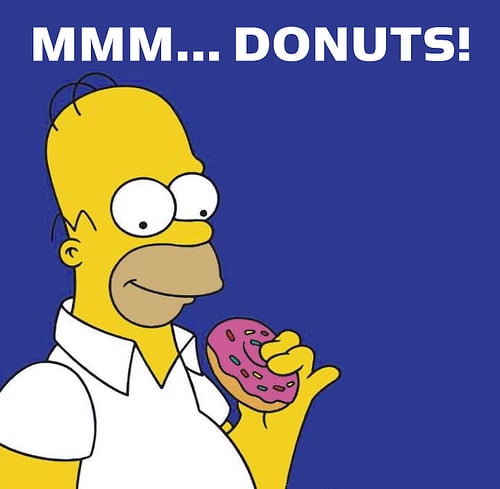 So, in sum, Simple Mills = good; Simple Mills-based banana chocolate chip doughnuts = great.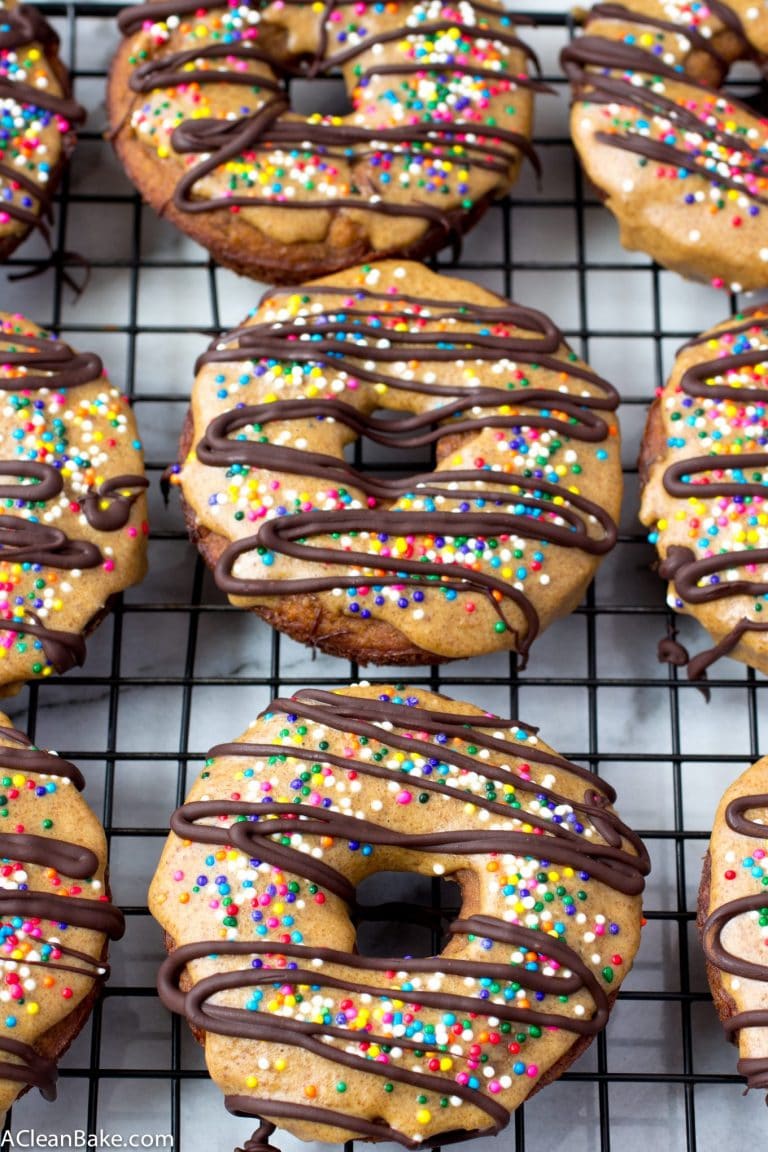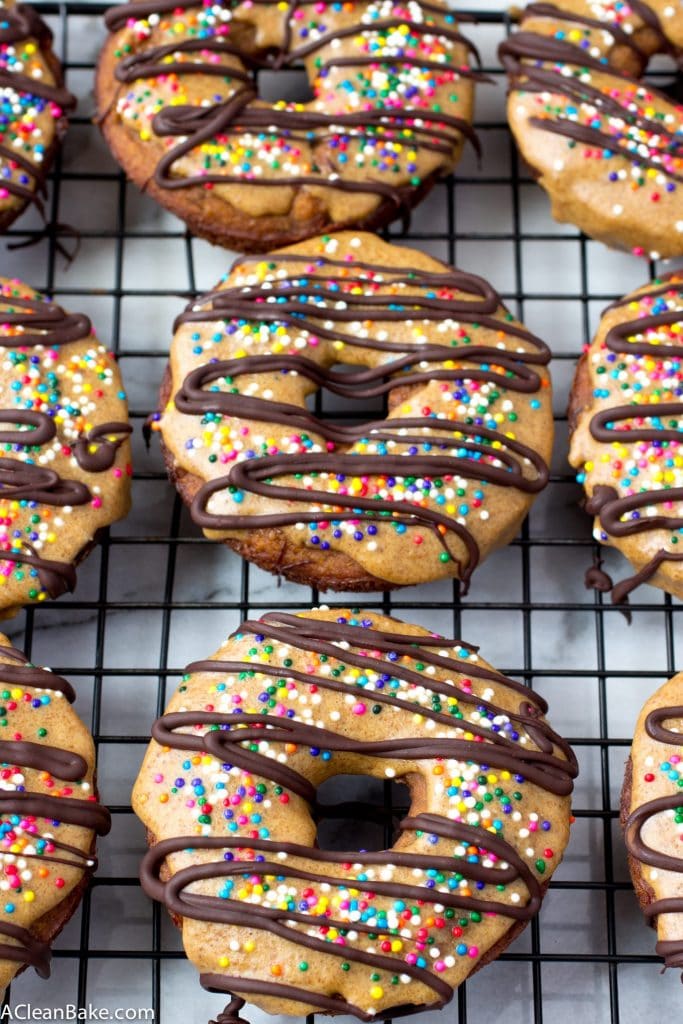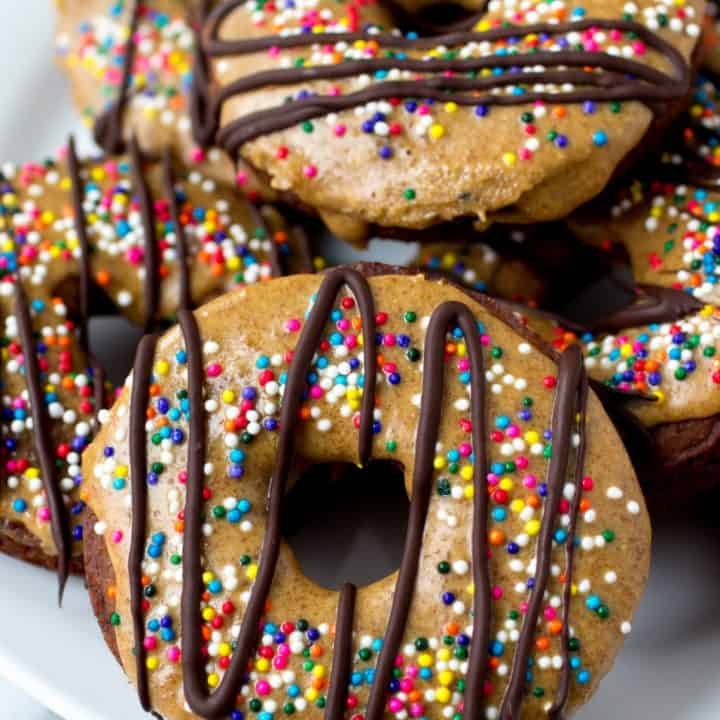 Chocolate Chip Banana Bread Doughnuts with Peanut Butter Frosting
Ingredients
For the Doughnuts
1 large egg, beaten
2/3 cup water
1 Tablespoon coconut oil, melted and slightly cooled
½ cup well mashed very ripe banana
1 Tablespoon coconut flour
½ cup chocolate chips
For Frosting
1/2 cup coconut sugar
1/2 cup creamy natural peanut butter
Pinch fine sea salt
2 tablespoons coconut oil
1/3 cup chocolate chips
For Garnish
1/3 cup chocolate chips
Sprinkles
Instructions
Preheat the oven to 350F, and lightly grease 2 half-dozen doughnut pans. Set them aside.
In a large mixing bowl, stir together the muffin mix, the egg, the water, the coconut oil and the banana until very well combined. Stir in coconut flour. Allow to sit for about 1 minute, which allows the coconut flour to absorb some of the liquid.
Fold in chocolate chips.
Divide the batter into the 12 compartments of the prepared doughnut pans (see note). Each compartment should be about 2/3 full.
Bake for 18-20 minutes until the doughnuts are risen and slightly golden around the edges. Cool in the pan for 10 minutes, before transferring to a wire rack to cool completely.
While the doughnuts are baking, make the frosting: In a small food processor, process the coconut sugar for about a minute, until it resembles a fine powder. You are essentially making less-processed powdered sugar. Add the peanut butter, salt and coconut oil to the blender and process until smooth, making sure to scrape the bottom and sides of the bowl periodically to ensure everything is evenly mixed.
When you are ready to assemble the doughnuts, melt the remaining chocolate chips in a heatproof bowl in the microwave in 30-second increments, stirring in between, until smooth. Apply frosting to each cooled doughnut, decorate with sprinkles and them drizzle the melted chocolate on top (see note).
Notes
The easiest (and least messy) way to fill the doughnut pan and to apply the chocolate garnish to the doughnuts is with a DIY pastry bag: Transfer all of the batter/chocolate into a large zip-top bag, snip off one corner of the bag, twist the excess plastic into a handle, and use the bag to carefully pipe batter in to each compartment or chocolate onto the top of each doughnut.
Storage Note: It is best to keep these in the fridge to prevent the frosting from softening too much.
If you need the frosting to stand up to room temperature better, add coconut flour, 1 tsp at a time, waiting about a minute between each addition, until the frosting reaches the desired consistency.
Nutrition Information:
Yield:

12
Serving Size:

1
Amount Per Serving:
Calories:

264
Total Fat:

16g
Saturated Fat:

7g
Trans Fat:

0g
Unsaturated Fat:

7g
Cholesterol:

20mg
Sodium:

108mg
Carbohydrates:

31g
Fiber:

3g
Sugar:

23g
Protein:

5g
Thank you to Simple Mills for providing the ingredients that inspired this delicious recipe. This post contains affiliate links, which means that if you click through and purchase a product, A Clean Bake receives a small commission, which goes toward continuing to bring you delicious, healthy recipes every week. This does not affect the price you pay. Thanks for supporting A Clean Bake!