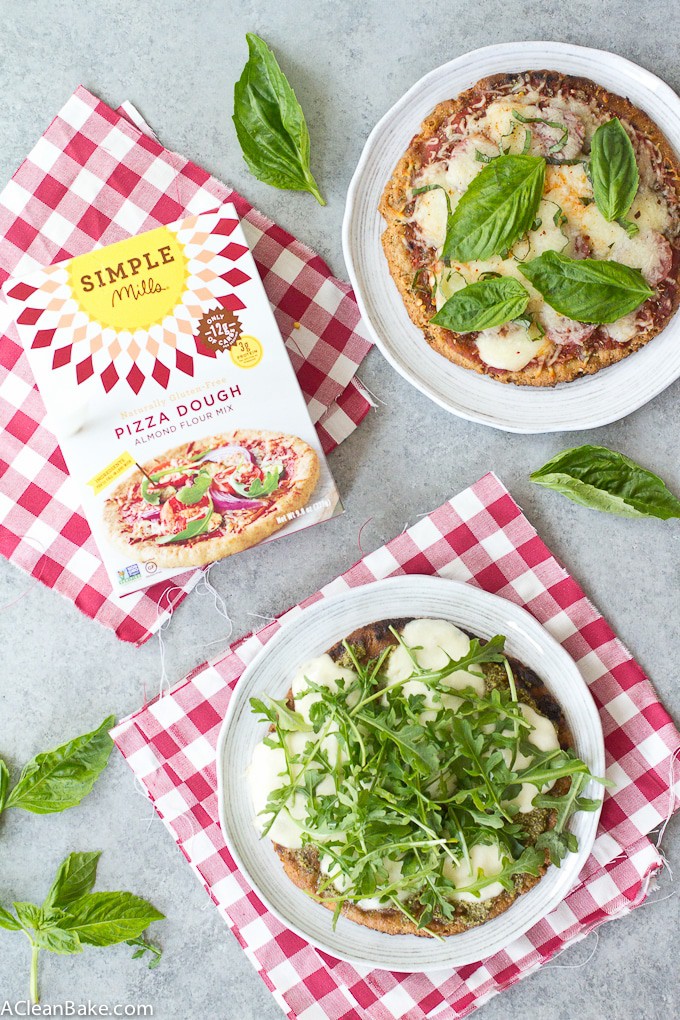 It's a billion degrees and I love it. When you're a person of low body heat who lives in a climate that, at it's most vile, rivals the average temperature of Siberia, you embrace the heat. You celebrate the heat. You … add more heat. I'm the person who doesn't bat an eye at turning on the stove or standing over a hot grill when it's 90 degrees and I barely notice it.
I'm babbling. Sorry. I'm just so excited about summer and grilling season and grilled pizza (!!!) that I can't help myself. But what's better than a piping hot grilled pizza, straight off the fire? It's the closest most of us are going to get to having an authentic wood-burning pizza oven in our backyards (and if you can get closer, do feel free to invite me over).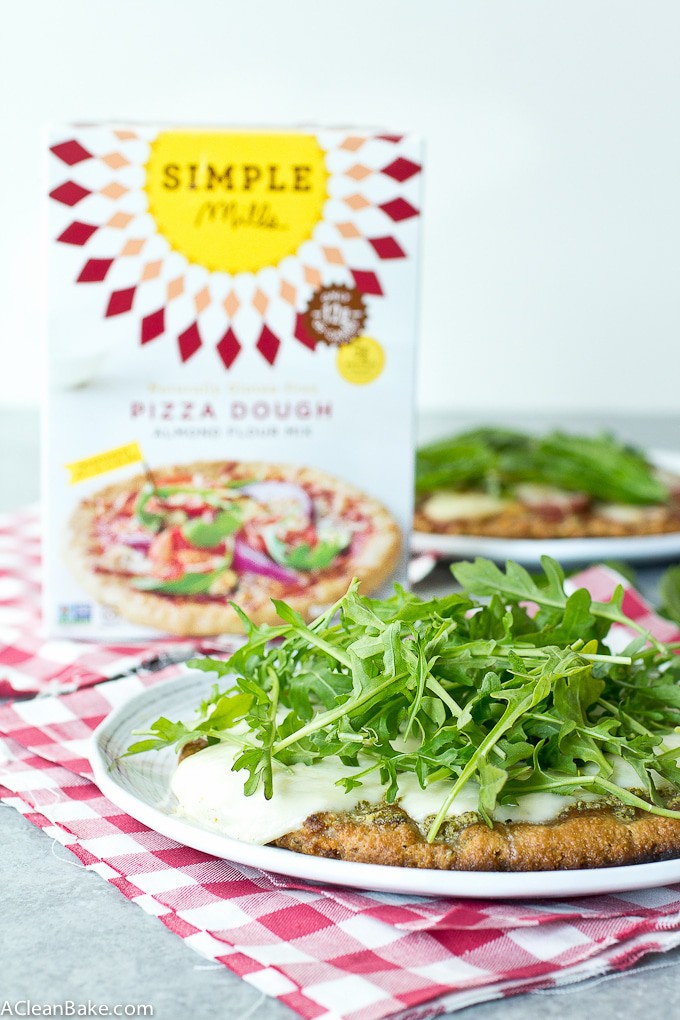 I used to love grilled pizza. I say "used to" because this was a childhood (and adulthood) favorite of mine that, like so many things, fell by the wayside when I had to clean up my diet and I've been struggling to make a successful pizza crust ever since. I've mentioned a thousand times before how much I love Simple Mills, the real-food baking mix (and now crackers, too) company that makes products only out of ingredients that you or I would have in our kitchens. And they're delicious. I have to admit that discovering their pizza crust mix has put a severe damper on my ambition to develop my own pizza crust recipe.
I highly suggest that you use Simple Mills pizza dough mix and forget I ever mentioned a ACB pizza crust, because this stuff is fantastic. It bakes, and grills, into a hearty, slightly crisp thin crust that holds your favorite toppings with ease. Unlike other gluten free or grain free pizza crusts (I'm looking at you, cauliflower), this crust is not a crust in name only. In order for it to qualify as pizza, you need to be able to pick up a slice and bite into it, not eat it with a knife and fork (unless you want to). And you definitely can. (exhibit A:)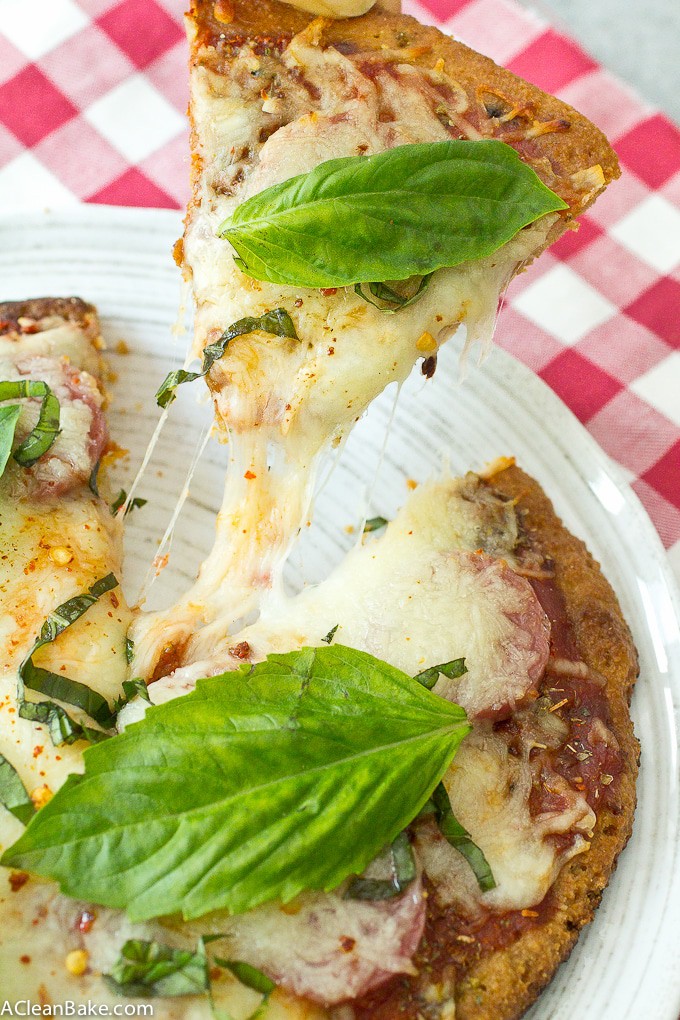 I was thrilled to find that the crust makes a grilled pizza as well as it does a baked one, though be aware that, whether you're baking or grilling your pizza to perfection, you'll need to pre-bake the crust (which you can do in advance if you want to) before topping and finishing your pie.
The box makes 2 small crusts, which you can dress however you want. But I like a little variety, so I did one classic and one with schmancy with pesto, fresh mozzarella and baby arugula. Is your mouth watering yet? Well, what are you waiting for? Fire up the grill!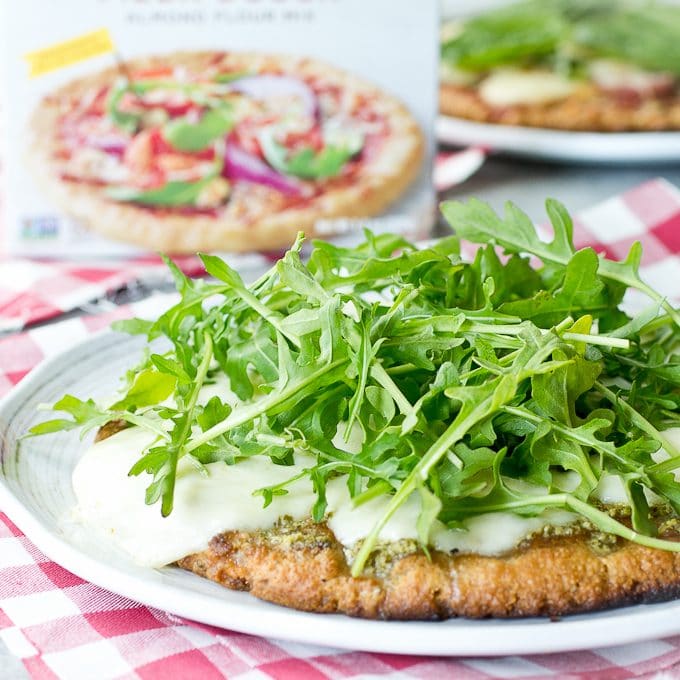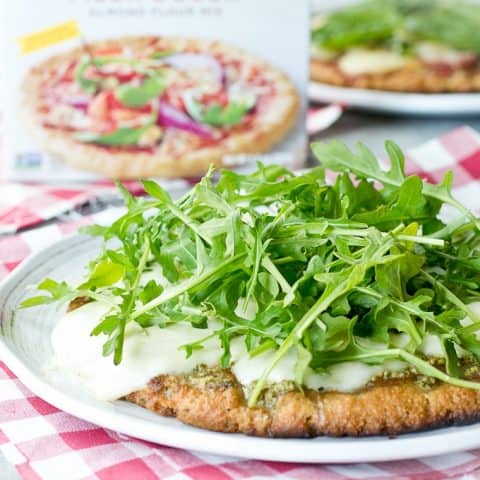 Grain Free Grilled Pizza (with Simple Mills)
gluten free, grain free, low carb, dairy free-adaptable
Ingredients
Ingredients for the crust
2 Tablespoons apple cider vinegar
2 Tablespoons high quality oil, such as grapeseed or olive, plus additional for grilling
6 Tablespoons water
1 box Simple Mills pizza crust mix
Ingredients for classic toppings
Homemade or store bought pizza sauce
Garlic powder, optional, or to your preference, red pepper flakes, dried oregano
Nitrate-free sausage, optional, pepperoni, spinach, mushrooms, peppers, or other toppings of choice
Shredded vegan or dairy cheese, mozzarella or other that you like on pizza
Fresh basil, for finishing
Ingredients for pesto-arugula toppings
Homemade or store bought pesto
6-8 thick slices of fresh mozzarella, see note
Fresh arugula
Instructions
Preheat the oven to 350F. Cover a baking sheet with a nonstick pad, parchment, or a layer of nonstick spray.
In a large mixing bowl, whisk together the vinegar, oil and water. Add the Simple Mills pizza crust mix and stir until completely combined.
Divide the crust batter in half and gather each into a ball. Place them about 6" apart on the prepared baking sheet and use your fingertips to flatten each into a disc about 8" across.
Bake for 10-15 minutes, until the crust is firm enough to pick up, but not yet golden brown. Remove from the oven and allow to cool slightly.
Preheat your grill with the cover on. Liberally brush the top of both crusts with oil and place them face down (oil side down) on the grill. Close the top and cook for approximately 5 minutes until grill lines form on the oiled side. Brush the exposed/dry side of the crust liberally with oil and carefully flip the crusts. (Be careful of flare-ups in case drops of oil hit the flames!)
Top the first pizza: spread the sauce in an even layer across the crust, then sprinkle the sauce with a generous pinch of garlic powder, red pepper flakes, and dried oregano, if desired. Add a layer of meat and/or veggies, if you're using them, then cover the whole thing liberally with shredded cheese.
Top the second pizza: Spread an even layer of pesto over the crust, then place the mozzarella slices evenly over the pesto.
Close the top of your grill and allow the heat to melt the cheese for about 5-7 minutes. If the bottom of the crusts start to burn before the cheese is fully melted, move the pizzas to the top rack of the grill (if you have it) or to an area of the grill that is not directly over a flame to finish cooking.
Garnish the classic pizza with sliced fresh basil, and top the pesto pizza with a generous handful of arugula, and serve immediately.
Notes
If you can't eat dairy, replace the shredded cheese on the first pizza with vegan cheese that melts well (such as Daiya brand) and the fresh mozzarella on the second pizza with sliced stone fruit like peaches or nectarines.
You can make the crusts up to 24 hours in advance: complete steps 1-4, cool the crusts completely, and store them in individual airtight zip top bags at room temperature until you're ready to fire up the grill.
Refrigerate cooled leftovers in an airtight container. It will keep well for up to 3 days.
Yield: 2 pizzas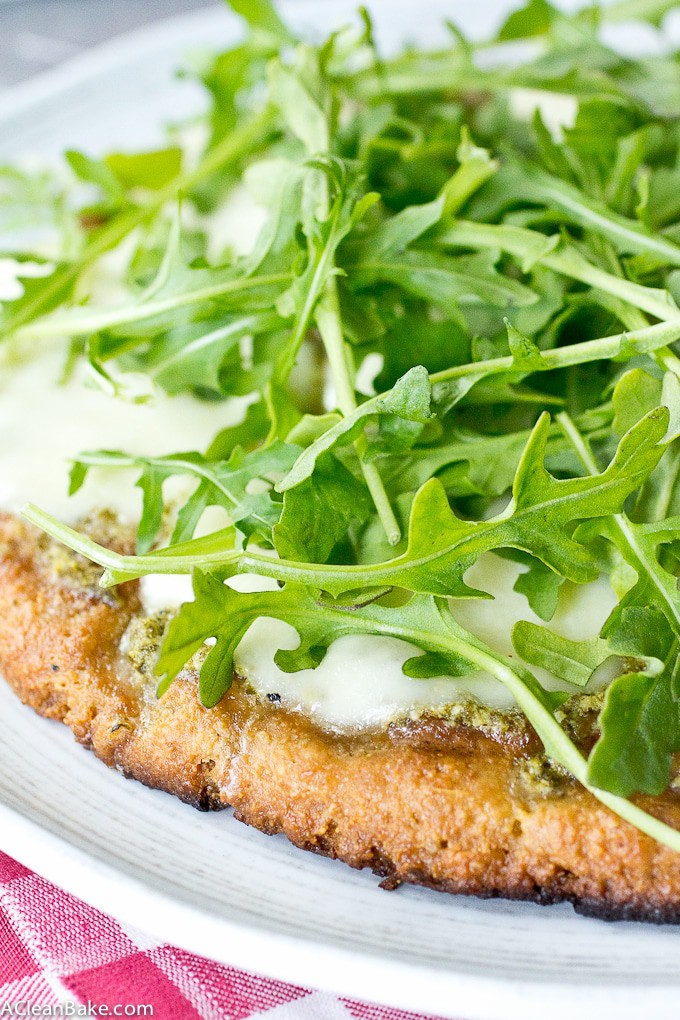 Thank you to Simple Mills for providing the ingredients that inspired this delicious recipe. This post contains affiliate links, which means that if you click through and purchase a product, A Clean Bake receives a small commission, which goes toward continuing to bring you delicious, healthy recipes every week. This does not affect the price you pay. Thanks for supporting A Clean Bake!