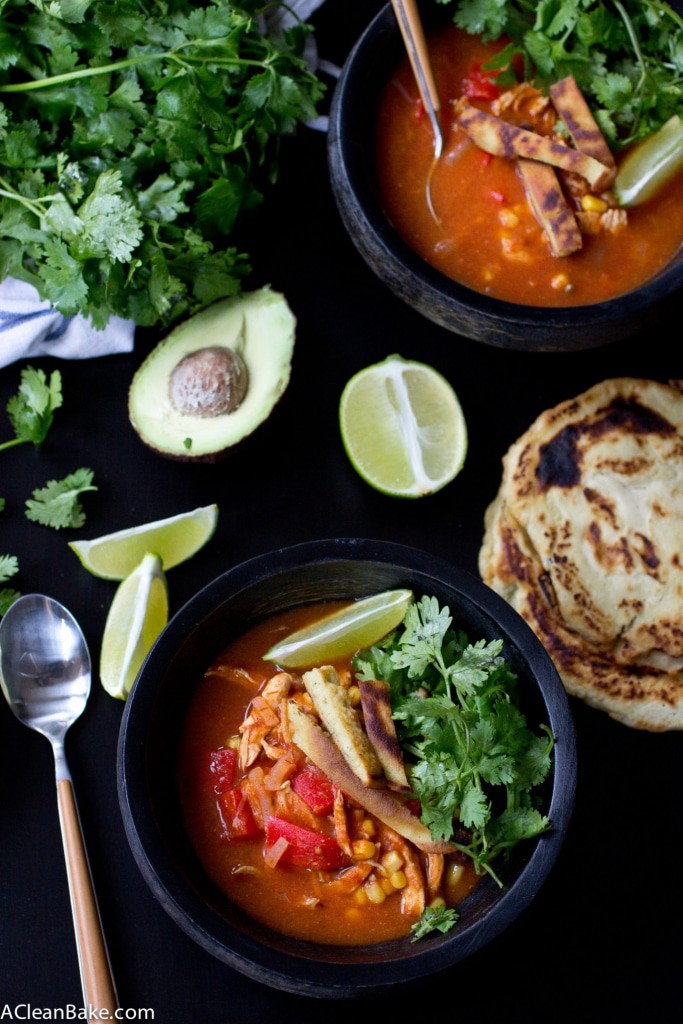 It's definitely that time of year where the perma-frost sets into my bone marrow far before it does the ground and I don't expect to defrost until, best case scenario, May. In other words, it's soup season.
I'm not certain when, exactly, this potent brew became my favorite soup, but my first memory of eating chicken tortilla soup was on a plane (Xoco's version is exceptional) when I accidentally swallowed a chunk of smoky, spicy chipotle pepper that seared the back of my throat, and I coughed halfway to Miami. We were on our way to… somewhere. Barbados, I think? Anyway, I think the whole plane thought I was carrying The Plague; little did they know it was just my favorite soup.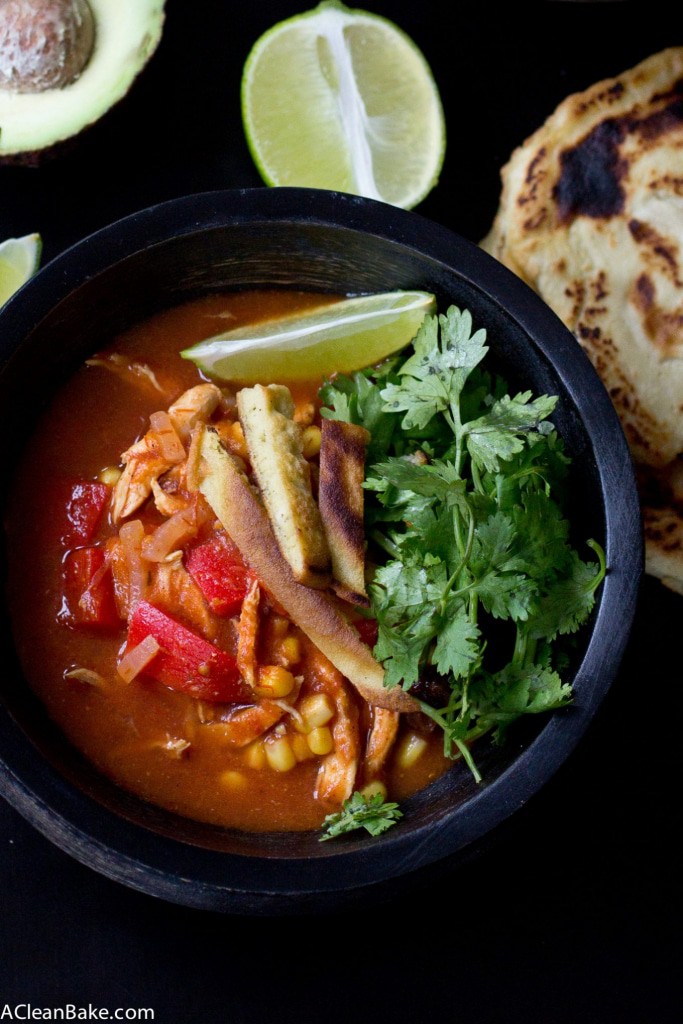 So why, if my most sound memory of chicken tortilla soup is it causing my significant bodily harm (not to mention embarassment), is this soup my favorite? Freud could have a field day with that question, but here's a simpler answer: the flavor. It's DELICIOUS: sweet (tomatoes), smoky (chipotle peppers), spicy (chili powder and jalapeno), fast (use precooked chicken to save time) and flexible (add some greens, or eliminate the corn – there is no wrong way to enjoy this soup).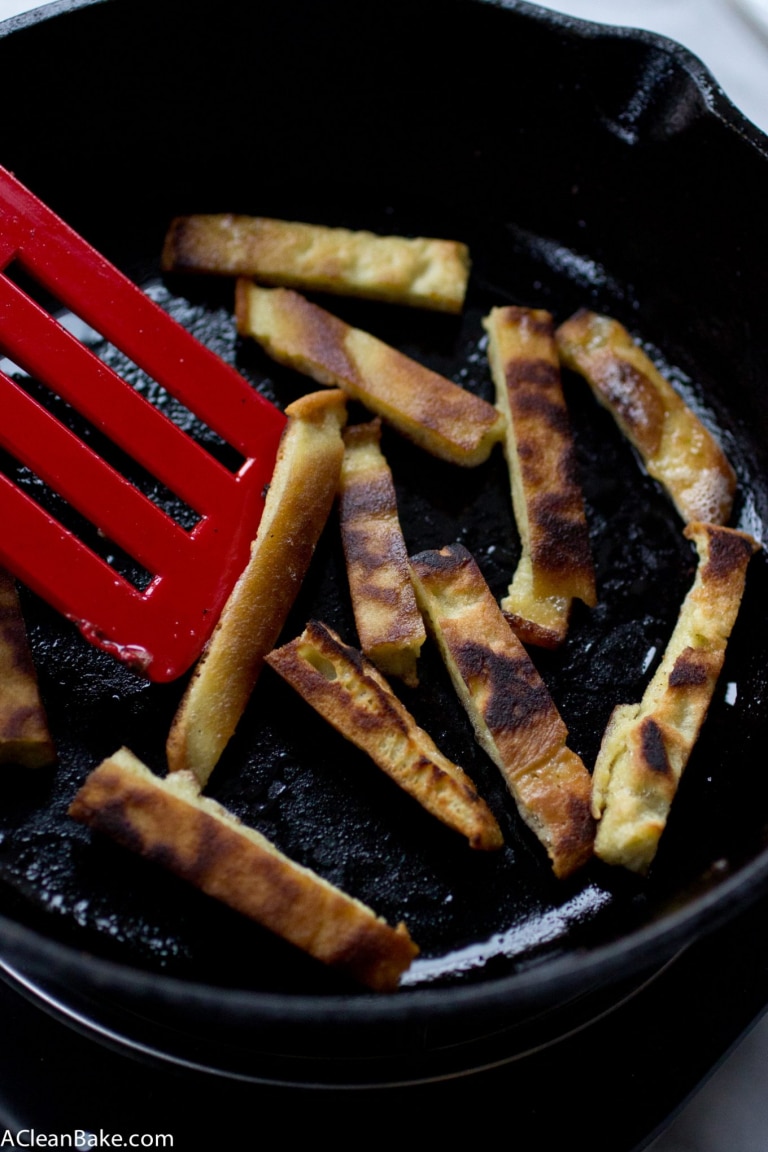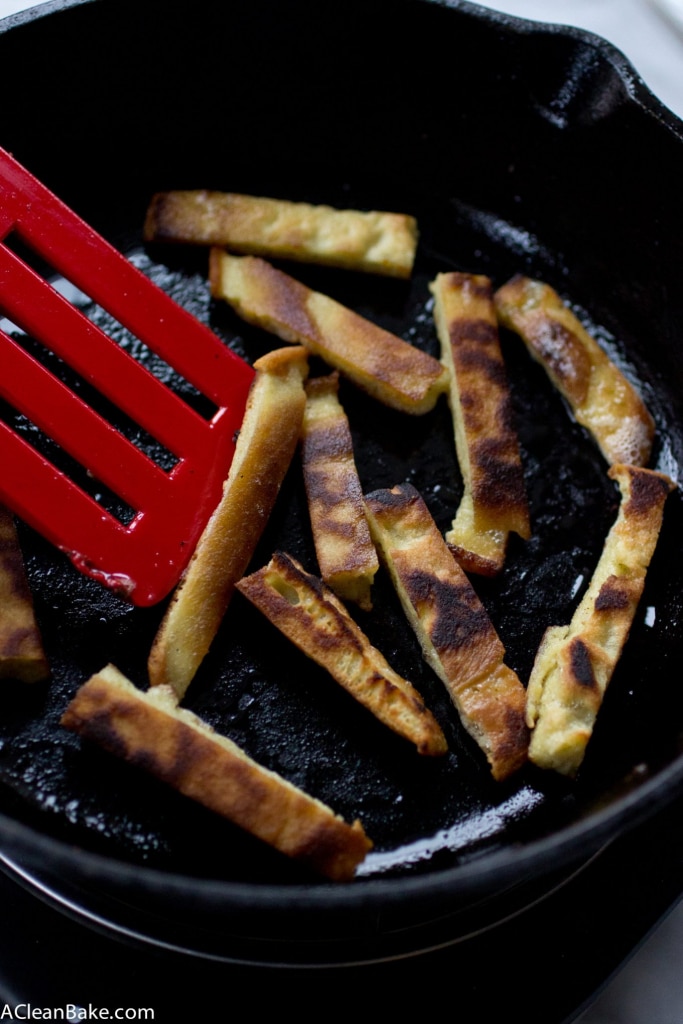 Actually, there may be one wrong way: skipping the toppings. The cheese is optional but I am going to have to put my foot down on the crispy tortilla strips. You simply can't not have them.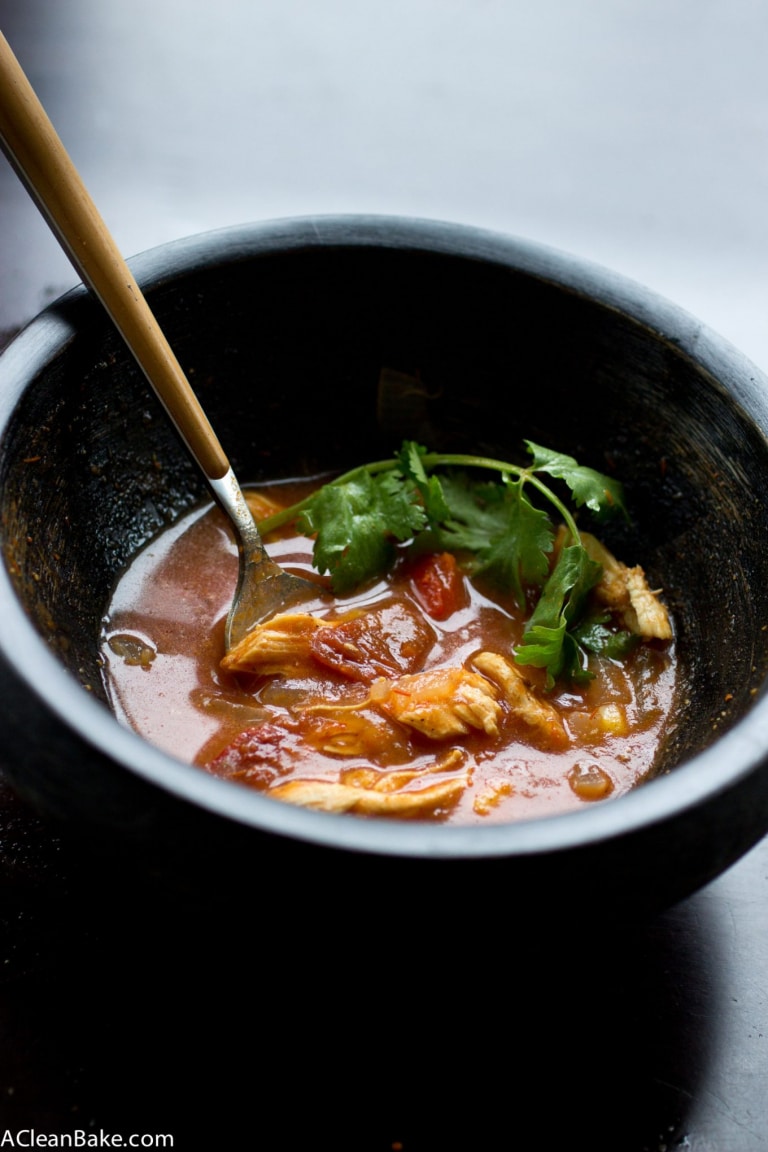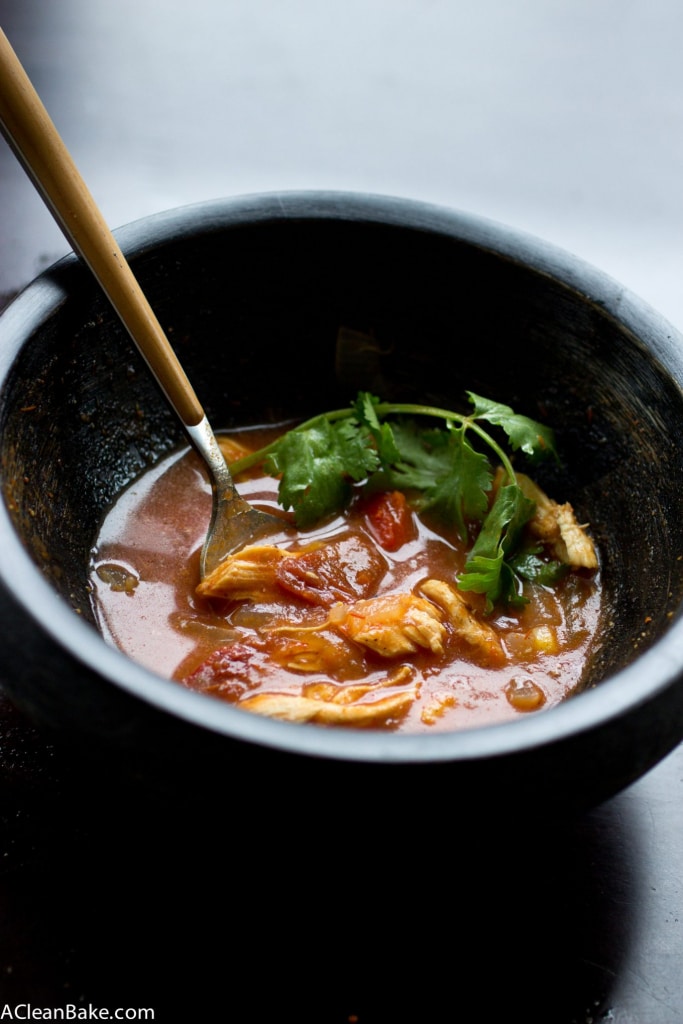 I know what you're thinking: tortillas are made from corn! Or worse, wheat! Yeah, most are.
Personally, if I'm feeling ok, I don't mind eating corn now and then, especially if it is nestled on a pile of delicious, delicious soup or stuffed to the brim with fish and slaw. But I also like to add some corn to the soup. So, in the interest of not going overboard on the potential-gut-upsetting ingredients, I skipped the corn tortilla strips and instead sliced up and fried some grain free, nut free tortillas. Oh, did I mention I'll have a recipe for those for you next week? You can get the recipe for those here. In the meantime, whip up some soup: it keeps really well so you can have some now and save the rest to use as a vehicle for grain free tortilla strips next week.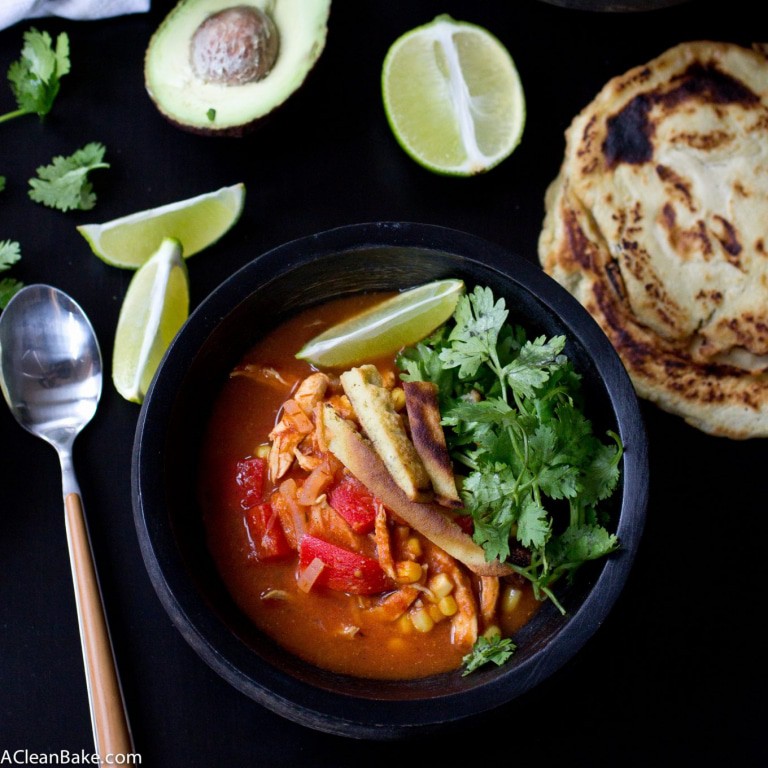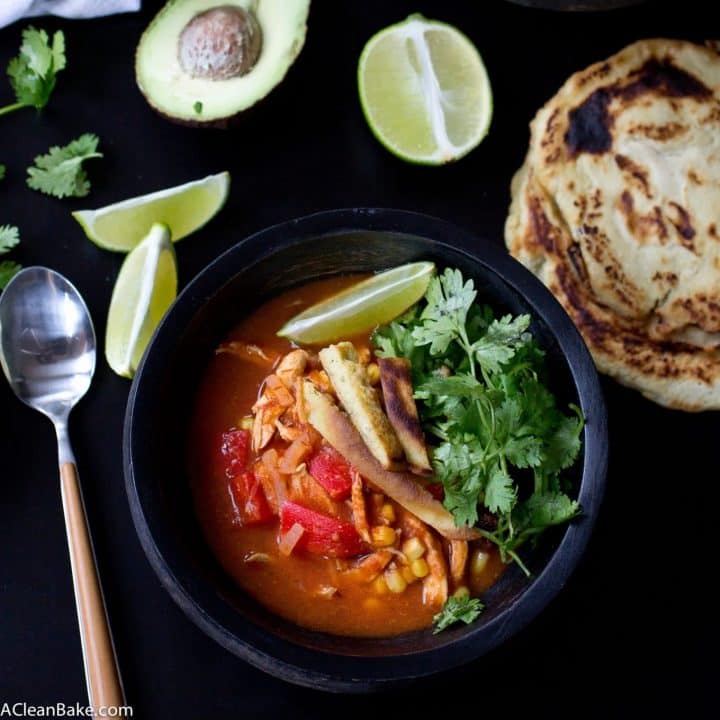 Chicken Tortilla Soup
gluten free and adaptable to be grain free, low carb or vegan
Ingredients
6 Tablespoons olive oil, or oil of choice, divided
1 small white onion, diced
4 cups chicken stock
3-5 chicken breasts
1 large can unsalted crushed tomatoes, 30 oz
1 whole canned chipotle pepper, or more if you want more heat and smokiness, minced
1/2 Tablespoon adobo sauce, the stuff the chipotle pepper comes in; add more for more heat and smokiness
1 Tablespoon chili powder
1/2 Tablespoon dried oregano
2 1/2 teaspoons cumin
1/2 teaspoon chili flakes
1/4 teaspoon garlic powder
Generous pinch of salt, or to taste
1 lime, divided
1 jalapeno, seeds discarded and sliced.
1 large red bell pepper, seeds and stem removed, chopped into bite sized pieces
1 cup fresh or frozen green peas
1 cup fresh or frozen corn kernels, optional
1 15- ounce can black beans, optional, drained and thoroughly rinsed
4-5 small corn or grain free tortillas, sliced into 2" strips
Shredded cheese, optional, for serving
Roughly chopped cilantro, for serving
Instructions
In a large heavy-bottomed pot, such as a dutch oven, preheat 2 Tablespoons of oil over medium heat and then add the onions, stirring periodically, and let them cook until translucent.
Add the chicken stock and bring it to a boil.
Add the chicken breasts and cook for about 15-20 minutes. Remove from the pot, and set them aside to cool.
While the chicken is cooling, add the tomatoes, then the chipotle pepper, adobo sauce, spices (chili powder through salt), and the juice of half of the lime (about 2-3 Tablespoons). Stir briefly, cover and heat until boiling.
Add the jalapeno, red pepper, peas, corn (if using), and black beans (if using) and stir to combine.
Bring the soup back up to a simmer for 5-10 minutes. The vegetables should be tender but not soggy. Taste and adjust the seasonings to your preference.
While the soup is simmering, preheat the remaining 1/4 cup of oil in a large saute pan. Drop one tortilla strip in and if it sizzles right away, the oil is ready. Add the rest of the tortilla strips evenly across the pan (make sure they don't crowd each other) and fry until crispy. Remove and put them on a few paper towels to drain the excess oil. Garnish with salt, if desired.
If you're using cheese, add a small handful to the bottom of each bowl. Top with hot soup and garnish with tortilla strips, a lime wedge (cut up the remaining half of the lime) and a small bunch of cilantro. Juice the wedge of lime over the soup before digging in.
Notes
If using cooked chicken, skip steps 2 and 3. When the recipe calls for you to add the shredded chicken, use about 4 cups (loosely measured).
If you like things very spicy, leave some or all of the seeds in the jalapeno.
If you don't like bell peppers, replace it with one large tomato, hulled and cubed.
Make this grain free or low carb by leaving out the tortillas, corn and black beans.
Make this vegetarian/vegan by using vegetable stock, leaving out the cheese and chicken and adding an additional can of black or red beans.
Skip the tortillas to make this soup whole30 or 21 Day Sugar Detox compliant.