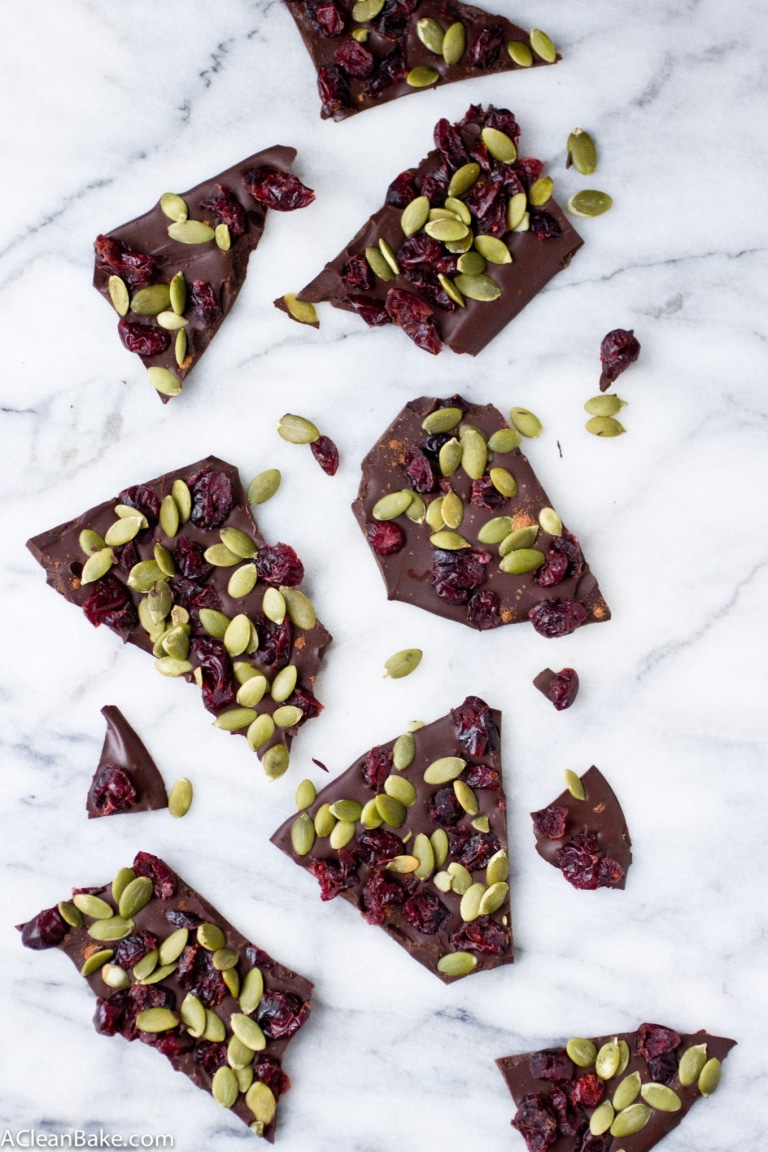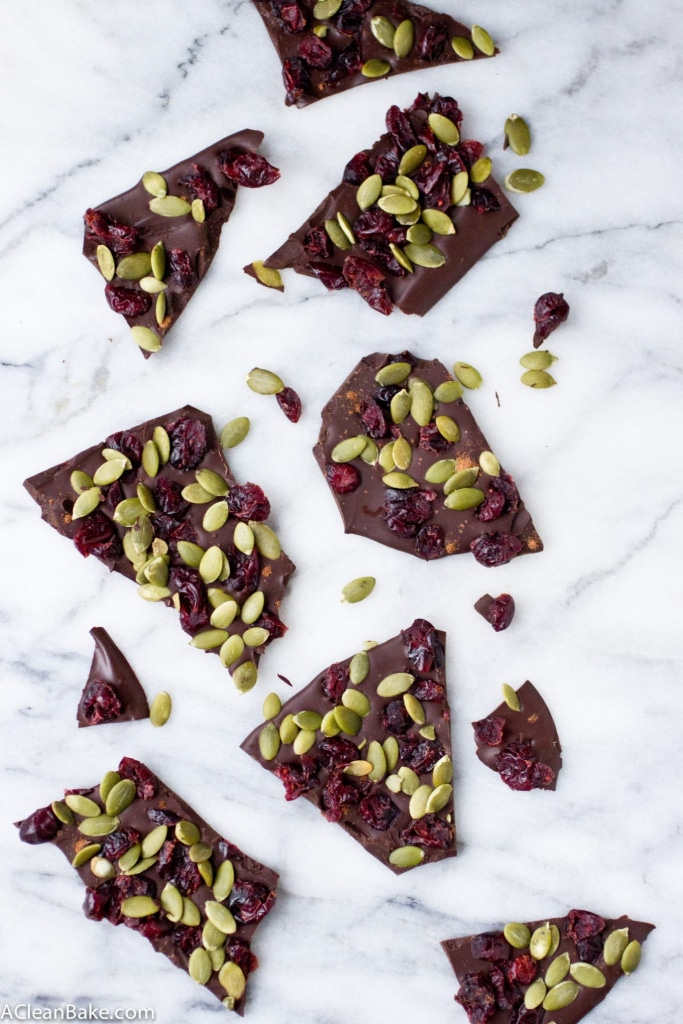 Typically, this is the part of the post where I give you a little sales pitch about the recipe where I try to convince you to drop everything and make it. Something tells me a solid layer of dark chocolate peppered with chewy dried cranberries and crunchy pumpkin seeds and topped with a sprinkle of pumpkin pie spice (which, incidentally, tastes wonderful with chocolate) needs no such introduction.
I mean, just look at it. Well, I suppose you already have if you have gotten this far, you already have, but the offer (demand) still stands. How can you resist this dark chocolate bark?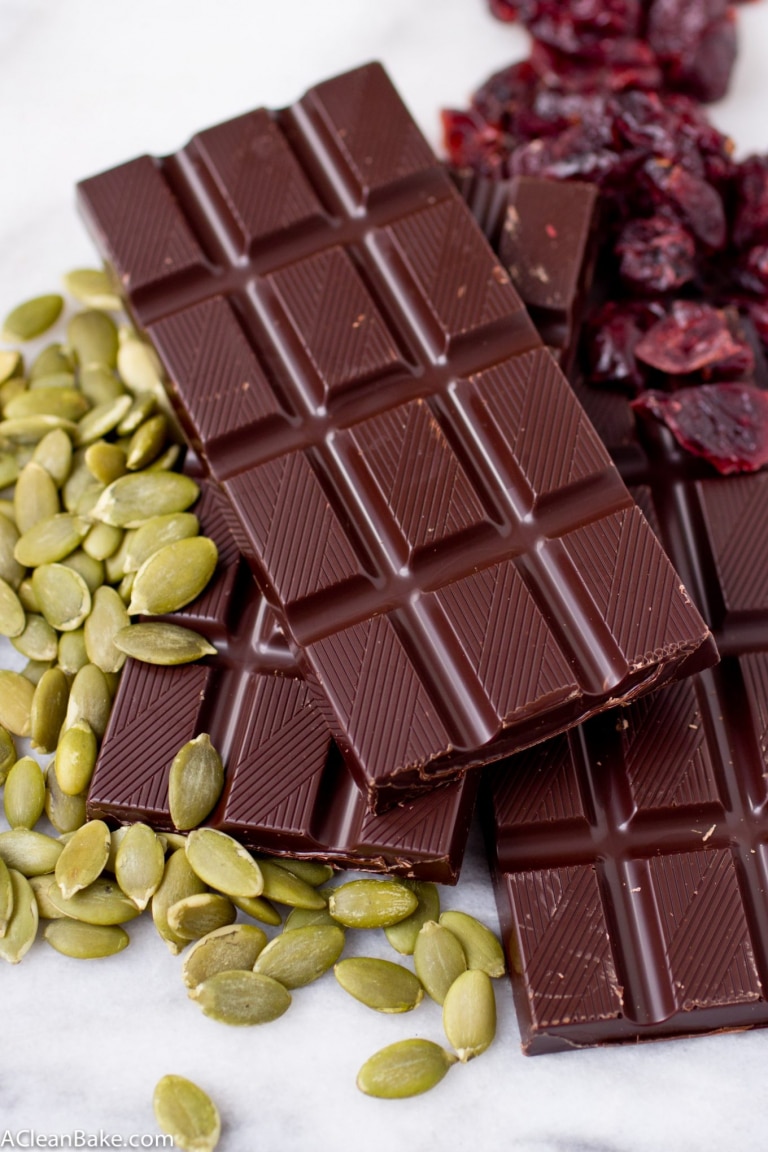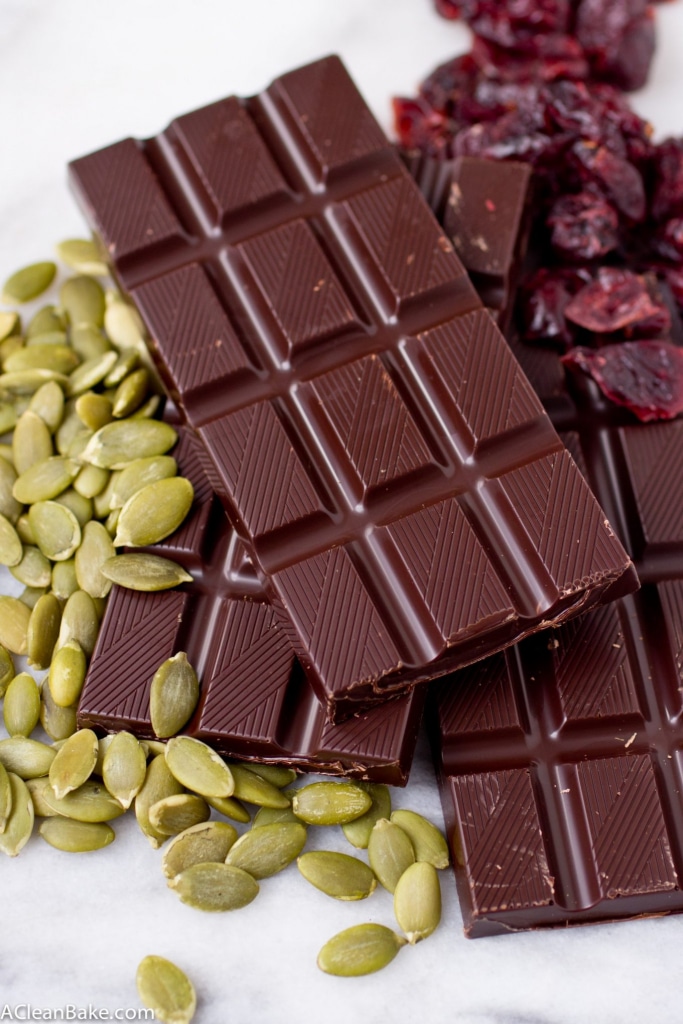 The best and simultaneously most dangerous part about this recipeis how painfully easy it is to make. I mean, shouldn't something this decadent be hard to make, or at least time consuming and complicated, but this is none of those things. It only requires four ingredients:
Ok, the recipe also calls for instant espresso powder, which is optional (it helps bring out the chocolate flavor) and salt, but I don't count that, do you? Even if you do, a six-ingredient recipe is still pretty good, don't you think?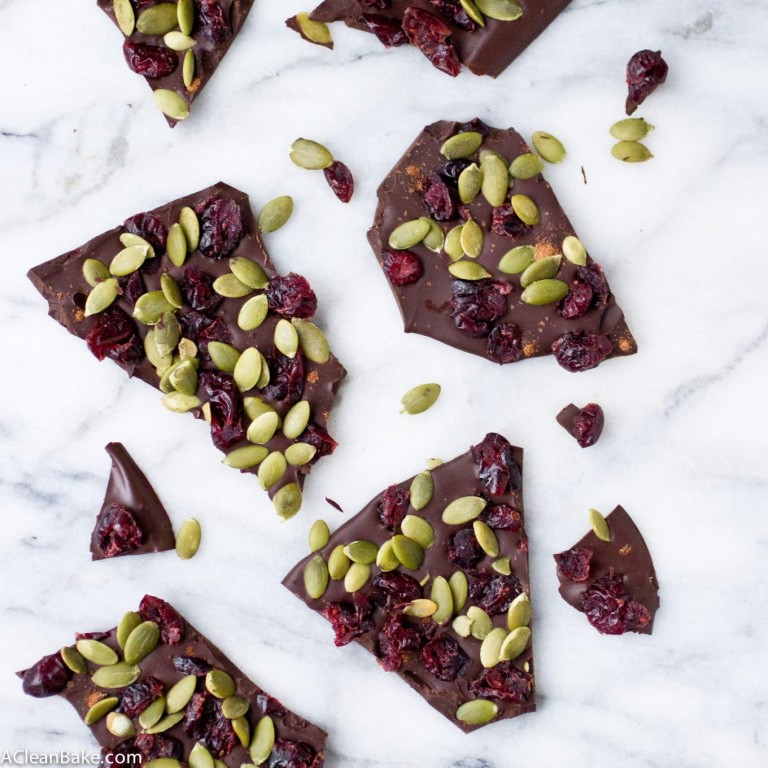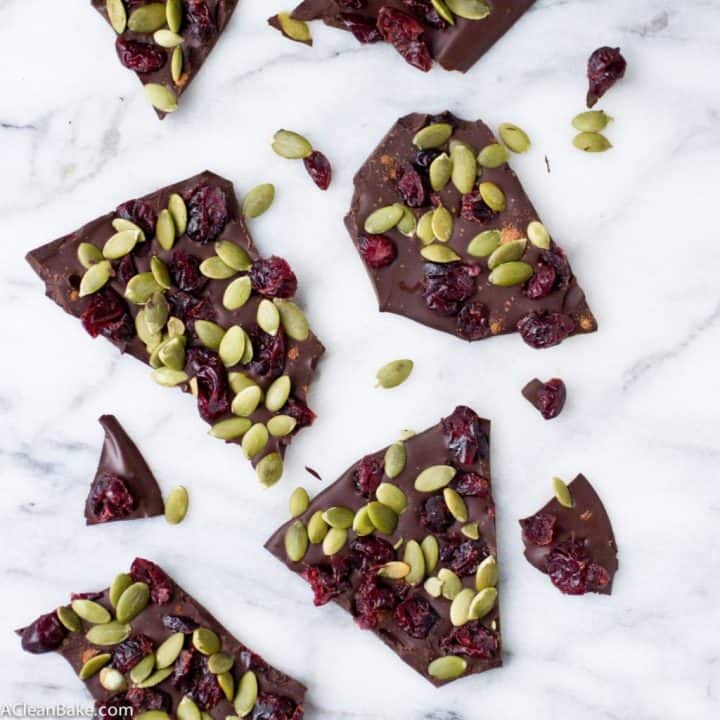 Dark Chocolate Cranberry Pumpkin Seed Bark
gluten free, grain free, paleo, vegan, no bake
Ingredients
5 ounces dark dark chocolate, 70% or more
Pinch salt
1/8 teaspoon instant espresso powder, optional
1 teaspoon pumpkin pie spice, divided
1/2 cup dried cranberries
1/4 cup pumpkin seeds, aka pepitas
Instructions
Line a small baking sheet with parchment paper or a nonstick pad and set aside.
Break the chocolate bar(s) into chunks and place them in a microwave-safe bowl. Heat on high in 30-second increments, stirring in between, until melted.
Stir in the salt and the instant espresso powder (if using) and half of the pumpkin pie spice.
Pour the melted chocolate onto the prepared pan and use a spatula to smooth into an even layer.
Sprinkle the remaining pumpkin pie spice evenly over the chocolate. Then do the same with the pumpkin seeds and cranberries.
Let the chocolate cool to room temperature, then freeze until completely solid.
Use a knife or your hands to break the chocolate into fragments.
Notes
Ingredient Notes:
Dark chocolate (duh.): Homemade or store bought is fine. If you use store bought, make sure it is a bar, not chips, which are engineered to keep their shape. You want the chocolate to melt smoothly.
Dried cranberries: ideally, you can find sugar free dried cranberries in your grocery store's bulk section, but it might require a bit of a hunt. Craisins would work great and are much easier to find, though they do contain refined sugar.
Pumpkin Seeds, aka Pepitas (you may see either name on the packaging and they are the same thing): I used raw, but you can use roasted if you prefer. I would recommend trying to find an unsalted variety, so that it doesn't drown out the flavor of the pumpkin pie spice. I used this raw and unsalted variety.
Pumpkin Pie Spice: This one is easy; you probably already have it in your pantry, but you can also make your own.

Storage Note:
Store in an airtight container in the fridge or freezer for up to a month.