Going grain free doesn't mean you have to give up on your favorite comfort foods. These paleo and gluten free biscuits make a great morning nosh, or accompany a delicious dinner. They're easily adapted to be dairy free, too.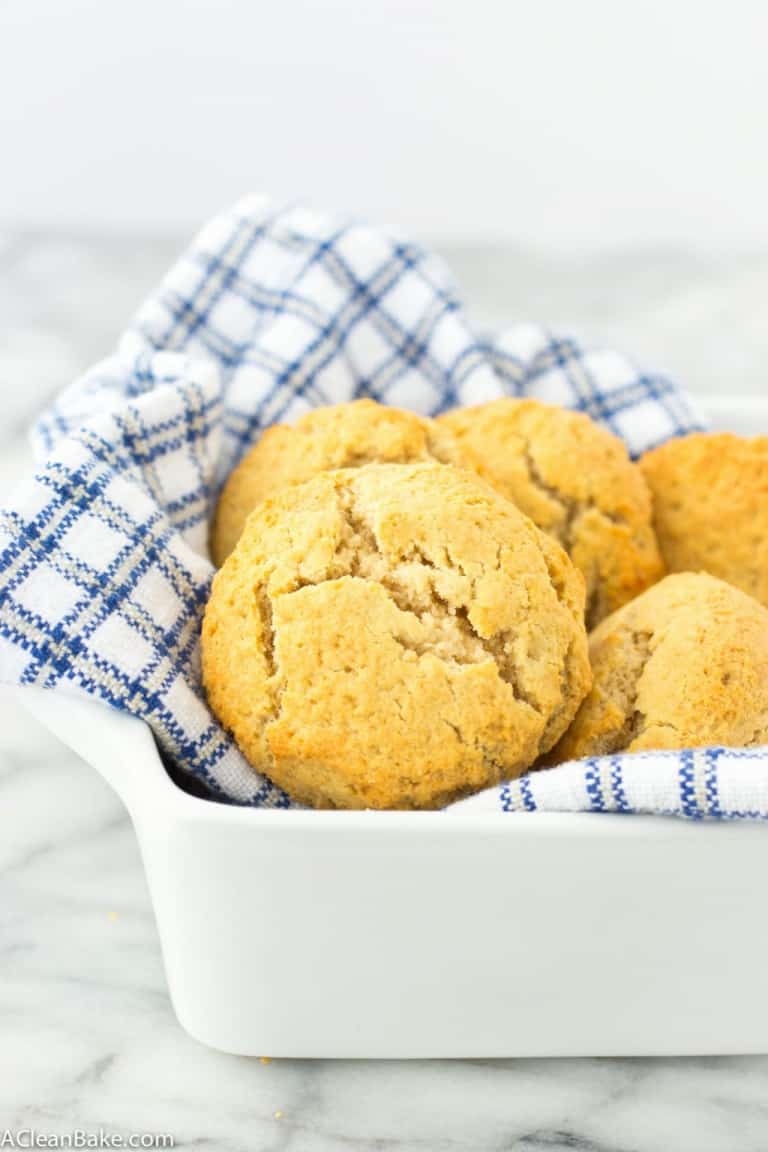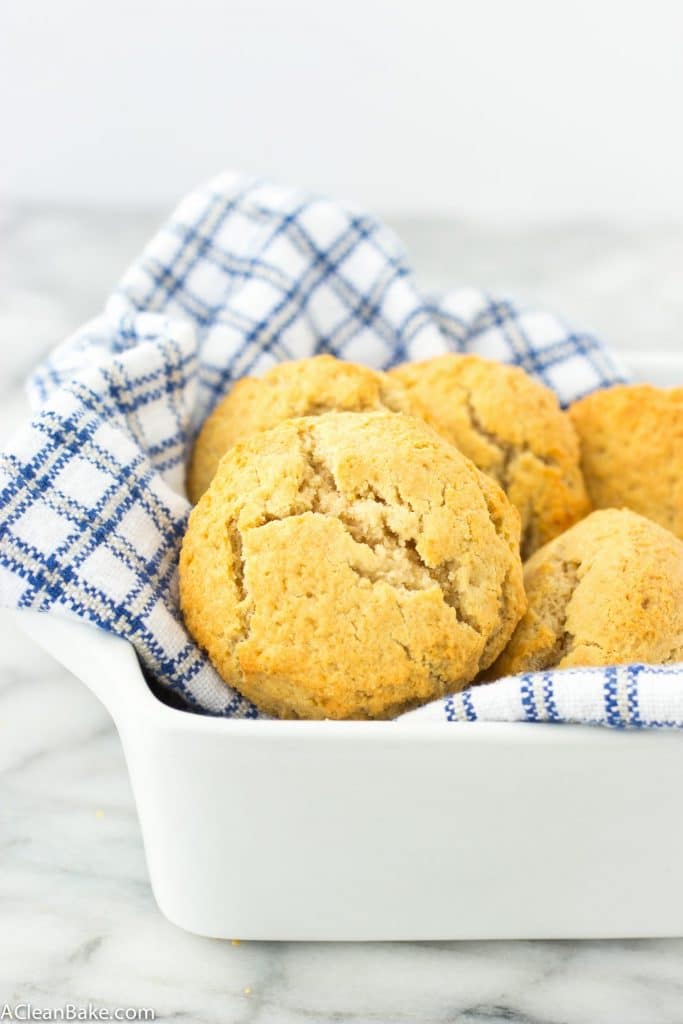 The day your grain-free biscuits finally rise is a very good day. That's not a euphemism or a metaphor; it just took a lot of tries before I finally got the tall, crackly and fluffy result I was looking for. But it was well worth the effort. Because, really,
what meal
isn't improved by a soft, warm biscuit on the side? Think about it: everything from breakfast to barbecue to soup goes becomes a meal if you add a biscuit (or three).
I'm happy to report that these are insanely easy to make with just a handful of ingredients, including my favorite combination of flours for grain-free breads: almond flour, coconut flour and tapioca flour. Just add salt, leavener, eggs and grass fed butter or (non-hydrogenated) shortening.
A quick note about the fat in these recipes: I tested these with real butter, shortening, and coconut oil. The oil version doesn't rise as much, so just be warned if you want to make that substitution. The butter option – regular or vegan – is the better way to go, and you must (must!) chill it for at least a couple of hours, because cold fat contributes to leavening. If you really want to be authentic, you can even cut in the butter until it is the size of small peas instead of melted it and stirring it in – but that's my favorite shortcut for quicker biscuit-making.
I first made these for a dinner party hosted by some friends who aren't accustomed to eating gluten/grain free. Luckily, they are incredibly open minded and just like good food, so they aren't the type to shy away from something with a grain-free label just because it's unfamiliar. I think they loved these, or at least did a great job of being polite by eating several biscuits each. Even my gluten-loving husband who regularly asks me to make or buy "not weird" baked goods turned down a regular gluten roll in favor of one of these at dinner the other night. Now that's what I call a success.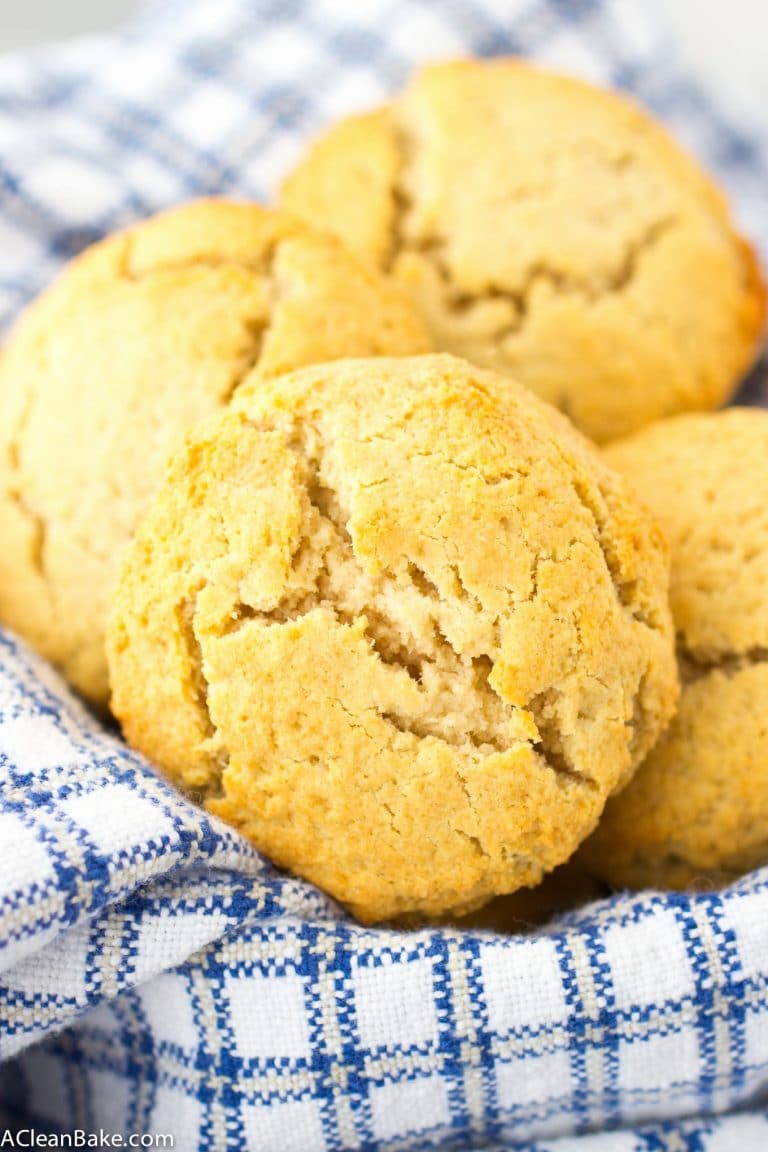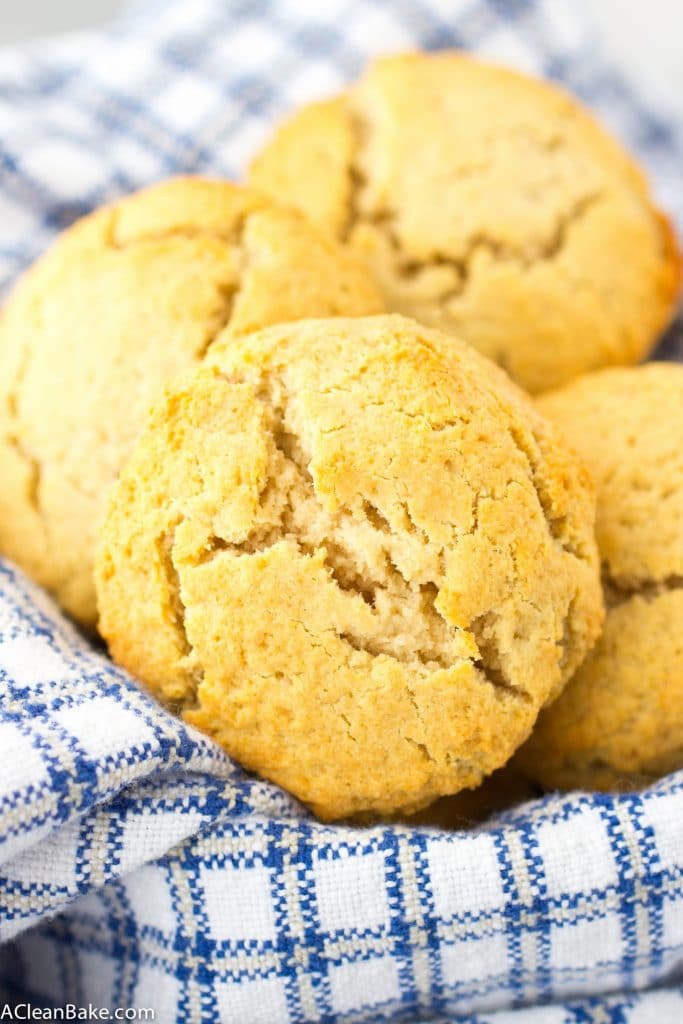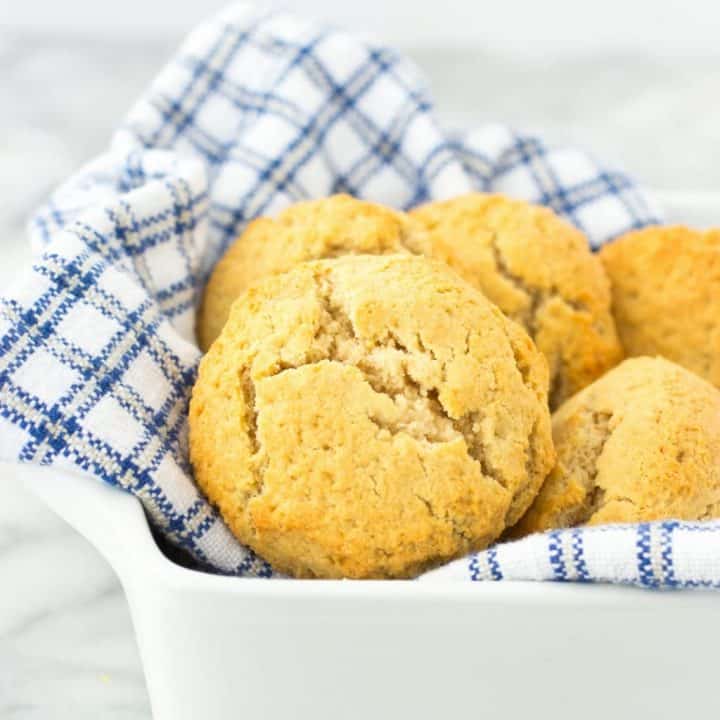 Paleo and Low Carb Biscuits
Total Time:
2 hours
25 minutes
Ingredients
2 cups blanched almond flour
1 cup cassava flour
1 1/2 teaspoons baking soda
1/4 teaspoon fine sea salt
1/2 cup grated or finely chopped cold butter, plus more for baking
2 large eggs, beaten
1/2 cup full fat coconut milk
1 teaspoon apple cider vinegar
Instructions
In a large bowl, whisk together the dry ingredients (almond flour, cassava flour, baking soda, and salt).
Stir the butter into the dry ingredients until well-mixed. Set aside.
In a separate bowl, quickly whisk together the eggs, coconut milk, and vinegar. Then stir into the dry mixture, just until the liquid is absorbed.
Gather the dough into ball. Transfer to a piece of wax paper, or a silicone mat.
Roll the dough into a 2 - 2 1/2" thick disc. Use a biscuit cutter to cut out 10 biscuits.
Refrigerate for 2 hours (or overnight) in an airtight container.
Preheat the oven to 450 and line a baking sheet with a nonstick pad.
Once the oven is preheated, remove biscuits from the fridge, arrange 2" apart on the prepared sheet, brush with melted butter, and bake for 10-12 minutes, or until puffy and slightly golden.
Notes
You can use coconut oil in place of the butter, but your biscuits won't rise as much. Or use cold shortening.
Nutrition Information:
Yield:

10
Serving Size:

1 biscuit
Amount Per Serving:
Calories:

375
Total Fat:

33g
Saturated Fat:

15g
Trans Fat:

1g
Unsaturated Fat:

16g
Cholesterol:

86mg
Sodium:

408mg
Carbohydrates:

16g
Fiber:

3g
Sugar:

2g
Protein:

7g
Note: Recipe was updated Feb 2019