I'm sort of in a lunch rut. Anyone who follows me on Instagram knows that I love salads for lunch – they're easy, quick to make, travel well (I work from home part of the time, but when I go into my office, I always bring my lunch from home), and a great way to get a huge serving or four of veggies. And as a bonus, you never feel that "Imma go take a nap under my desk now" post-lunch slump after a hearty salad. Perfect, right? Um, no. Unless you put in a little extra effort, salads get BORING. At least this is the conclusion I came to after I found myself at Whole Foods after lunch three days in a row, still hungry, and making a beeline for… the salad bar? I seriously love a good salad, but only if they're diverse, flavorful and interesting. And a generous scoop of this chicken salad does just the trick.
It has it all: Healthy fats, flavorful spices and juicy, delicious caramelized onions. This recipe is not only the ticket to a great lunch, but an ode to my love of chicken salad, caramelized onions and, of course, my slow cooker.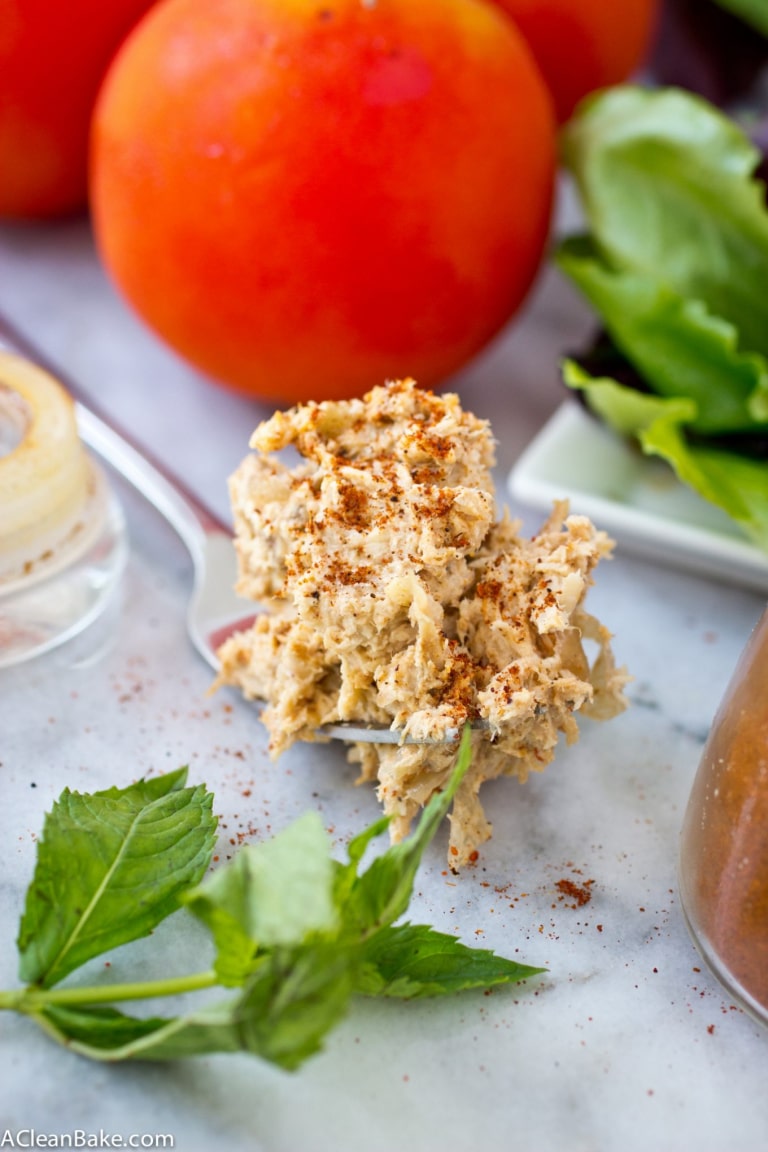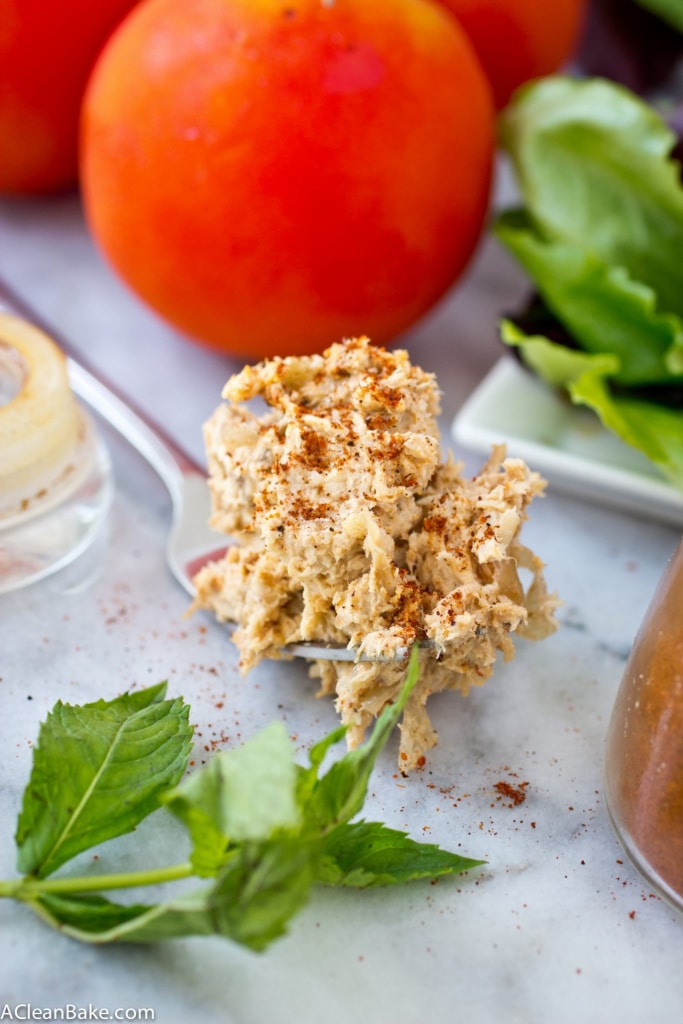 The slow cooker takes you about 75% of the way: you can make both the onions and the chicken in the slow cooker, if you want to. For the chicken, place 3-4 breasts (about 5 oz total) in a single layer, fill with water until the breasts are about half submerged, and season the breasts with salt and pepper before cooking covered on low heat for about 6 hours or until the fat has rendered out and the breasts fall apart in your hands. Then use your fingers or a fork to shred them. It couldn't be easier.
As for the onions, you can find the method here.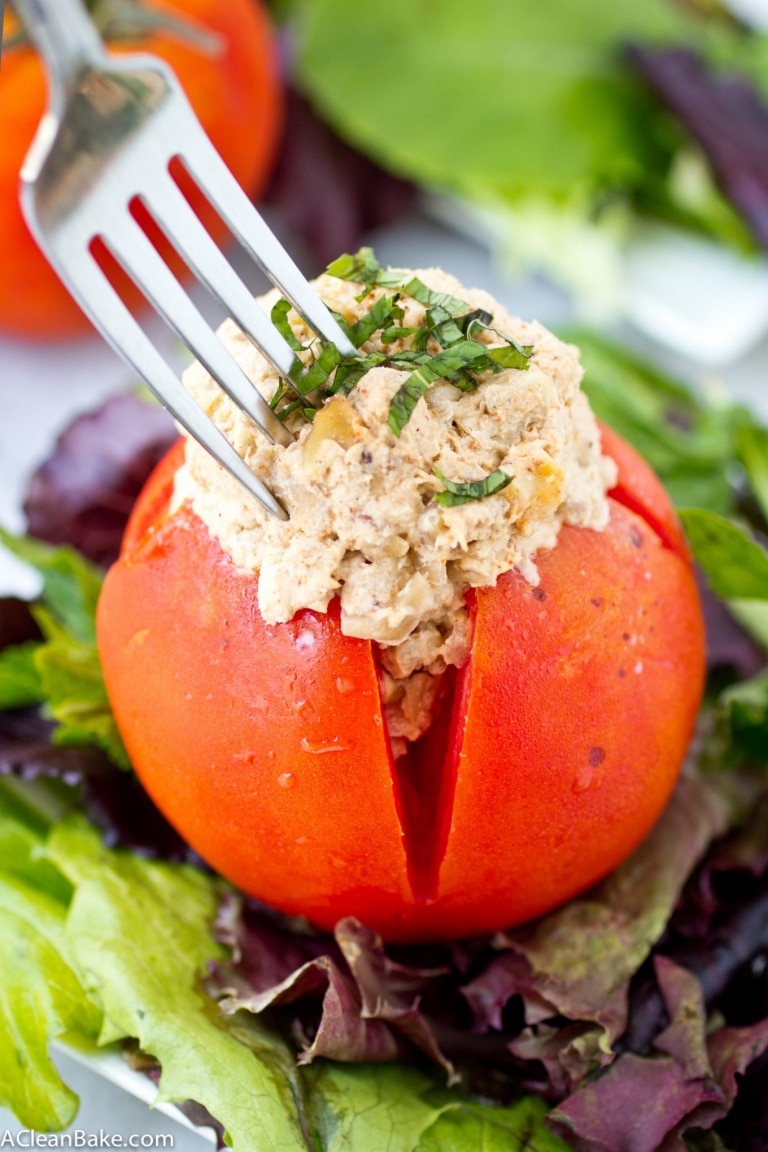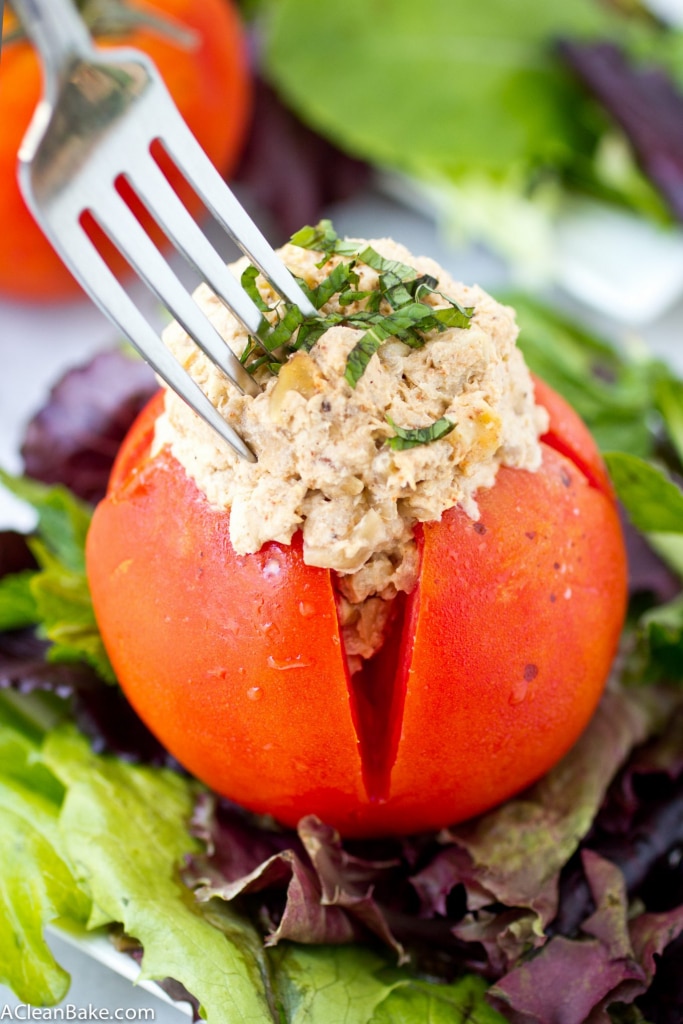 You'll also notice that I went the mayo free route with this one. There are a few reasons for that:
1) I'm obsessed with tahini, and mayo simply is not tahini.
2) I'm not the biggest fan of mayo. It used to be a deal breaker for me and, though it isn't anymore, obviously, I still don't love it in huge volumes.
3) I've been reading all of your responses to the quick site poll in the lower right hand corner – which have been SO valuable, so please keep filling it out, and thank you for those responses I've already received! – and many of you are on strict elimination diets that make store bought condiments like mayo tricky to use. Tahini similarly comes in a jar, but I have never seen it made of anything but sesame seeds, and occasionally sesame oil and/or salt. It's free from additives, thickeners, eggs and nuts, which makes this recipe accessible to many of you who otherwise may not have been able to have it.
See how helpful these poll answers are to me? Have I effectively convinced you to fill it out? Thank you 🙂 As a reward, go treat yourself to some chicken salad (and don't forget to send me a picture at acleanbake@gmail.com or share it on social media with the hashtag #acleanbake)!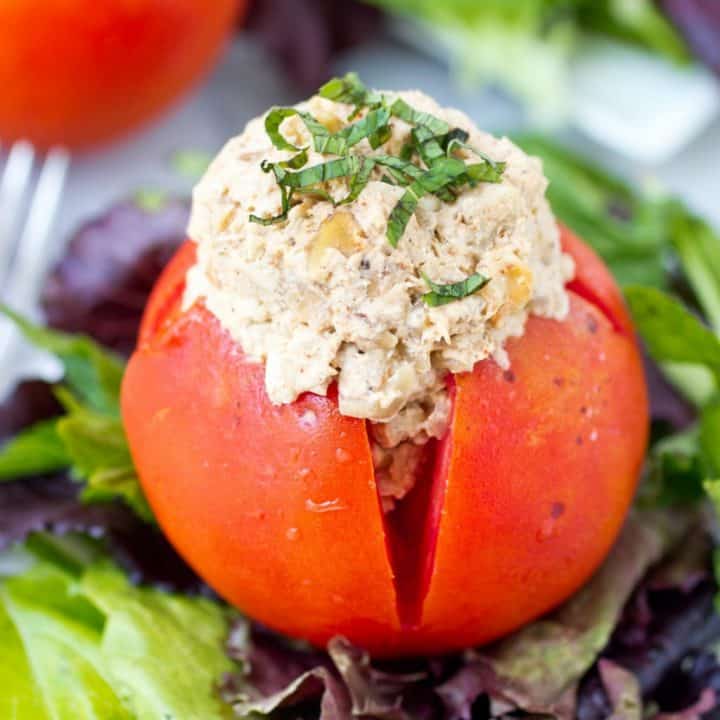 Tahini, Walnut and Caramelized Onion Chicken Salad
gluten free, grain free, paleo, dairy free, mayo free, sugar free
Ingredients
5 ounces chicken breast, about 1 1/2 cups shredded, very loosely packed, shredded
1/3 cup chopped walnuts
1/4 cup chopped caramelized onions
3 Tablespoons tahini
1-2 Tablespoons water, or just enough to thin out the tahini
1/4 teaspoon salt, or to taste
1/4 teaspoon coarse ground black pepper
1/8 teaspoon garlic powder
1 teaspoon chili powder
Instructions
In a medium bowl, toss together the chicken, walnuts and onions and set aside.
In a small bowl, whisk together the tahini and water, until the tahini reaches a thick, yet pourable consistency. It should not be running, but should not be paste-like either. You may need to add an additional Tbsp or so of water if your tahini is from the bottom of the jar, and less water will be necessary if your tahini is from the top of a fresh jar.
Stir the salt, pepper, garlic and chili powder into the tahini mixture.
Pour the tahini mixture over the chicken mixture and gently stir until evenly distributed.
Serve immediately, or store in an airtight container in the fridge for up to 5 days.
Notes
To make the chicken in the slow cooker: Place 3-4 breasts (4.5 oz total) in a single layer, fill with water until the breasts are about half submerged, and season the breasts with salt and pepper before cooking covered on low heat for about 6 hours or until the fat has rendered out and the breasts fall apart in your hands. Then use your fingers or a fork to shred them.
Yield: Approximately 1 1/2 cups