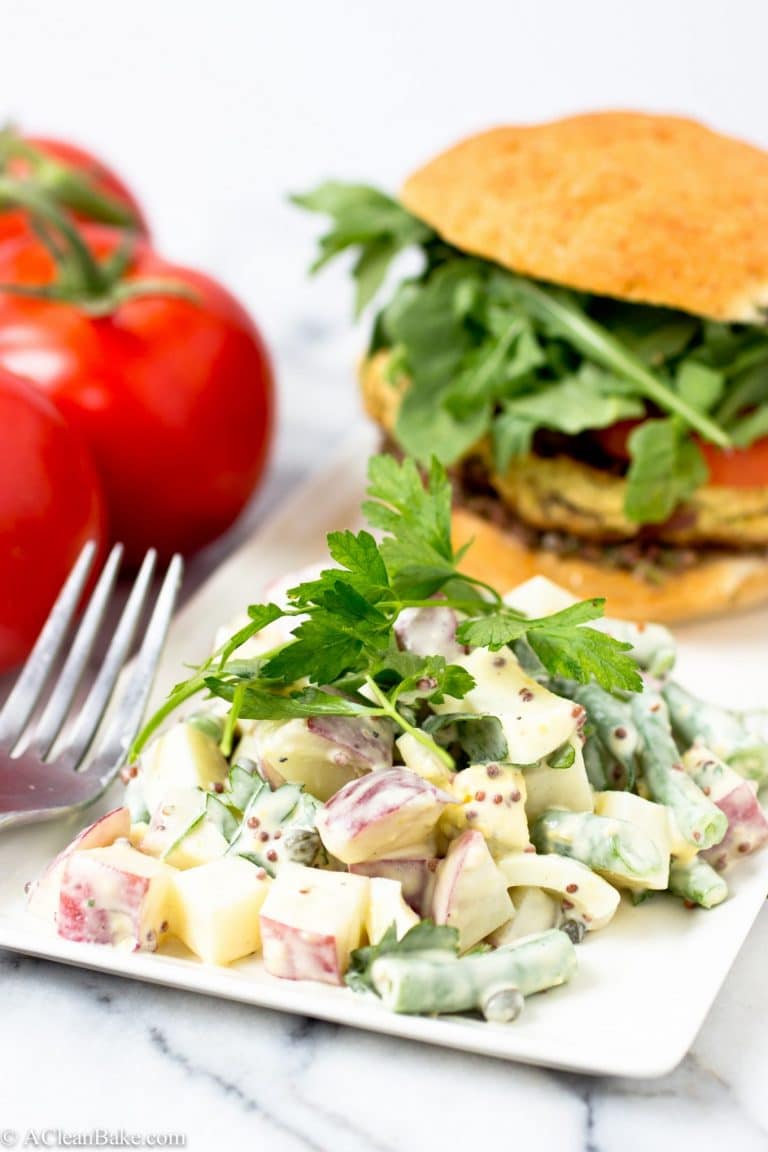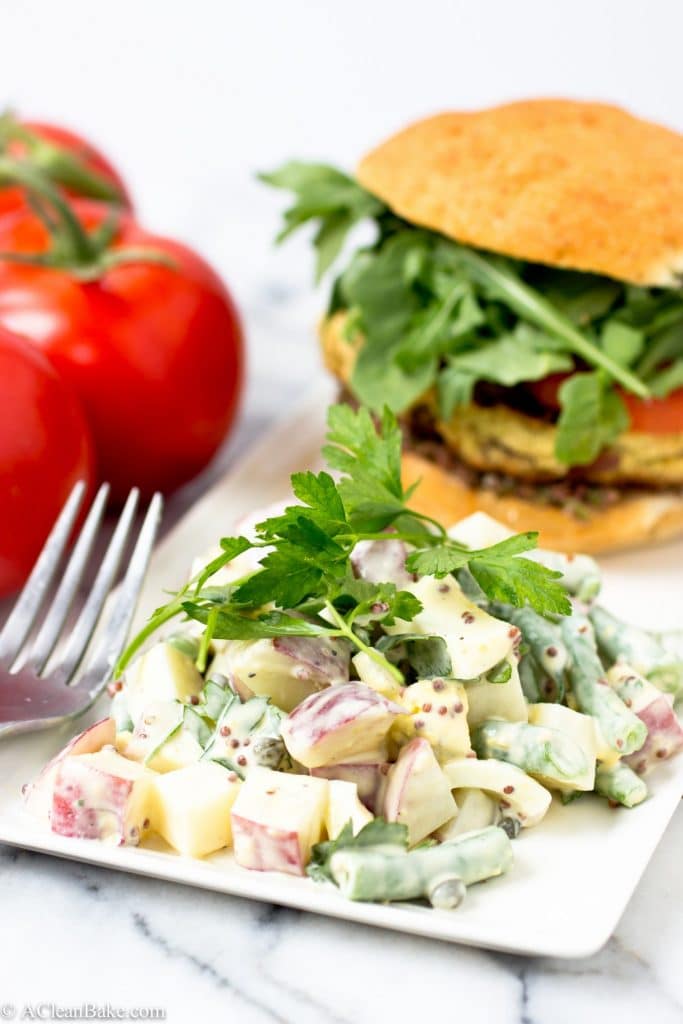 …But wait, there's more! Just like I would never dream of leaving you with a huge batch of tapenade and no burgers to put it on, I similarly wouldn't dare give you a Memorial Day picnic-worthy burger without a killer potato salad to complement it. What's a summer party without potato salad, after all?
The problem is that most potato salad is, in my humble (and, perhaps, melodramatic) opinion, inedible. I hardly think it is justifiable to call something a salad when it is really a slurry of mayo and a few soggy – or worse, partially raw – potato chunks swimming around in it.
A salad has to be crunchy and textured and full of flavor. Mayo is not flavor; mayo is enhancement. Of course, this salad contains mayo, but in relative moderation (it looks like more than it is, I promise) compared to most potato salad recipes. You can certainly some or all of it out for swap it out for regular or Greek plain yogurt, but I used mayo to keep it dairy free. Mayo, though white and creamy, is not actually dairy in the traditional sense: it is made from an emulsion of eggs and oil, so it contains no milk-based products, and no lactose. It's easy to forget.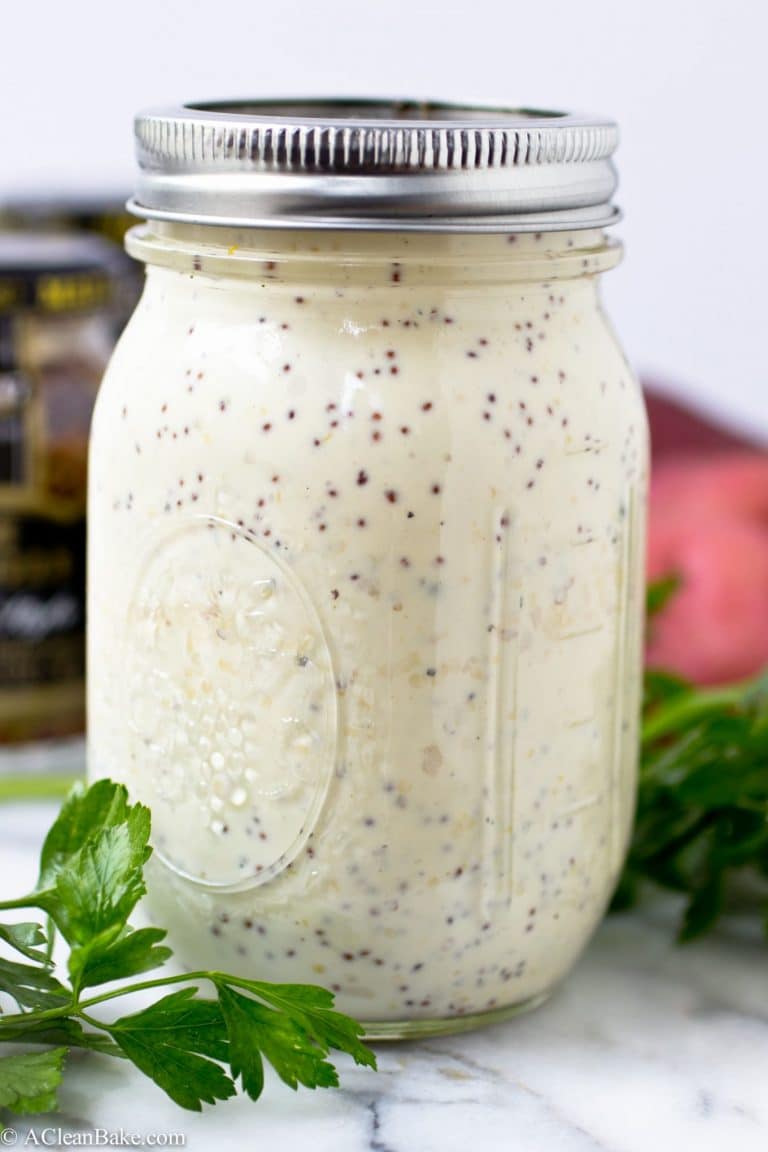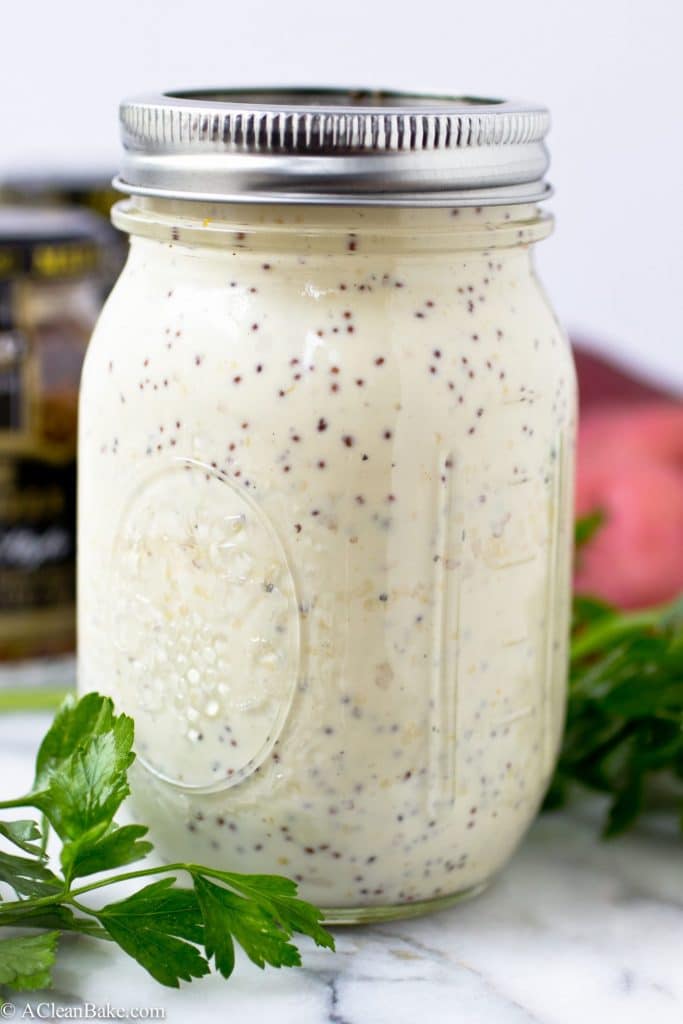 And this sauce is made up of much more than just mayo. It's thinned out so that it doesn't overpower the main ingredients, and enhanced with herbs, spices and 2 kinds of mustard for extra zip. Holy sh*t I just said "zip" to describe food on the internet. I think this means I'm officially A Food Blogger. Where are my smelling salts?
Anyway, while I'm looking for those, let me take this opportunity to discuss ingredients a substitutions in this recipe of which, this being a salad, there are many:
As I already mentioned, you can swap out some or all of the mayo for regular or greek yogurt. Just make sure you are using plain, unsweetened yogurt and be aware that you may need to adjust the amount of water you use: less if you are using regular yogurt, which can be watery, and more if you're using greek yogurt, which can be very thick, depending on the brand.
Using a good quality mayo is essential (if you do use it), so look for one without a lot of preservatives and thickeners, that is as close to a homemade version as possible. Or, better yet, try making it yourself! If you google it, you'll find plenty of recipes online.
If you'd like a more nutritious alternative to a white potato, you can use sweet potatoes. Try white sweet potatoes for a more complex carb without sacrificing on the aesthetics of the dish.
Instead of capers, you can use any salty, briny thing like olives or pickles. I recommend mincing them so that you get a little bit of flavor in every bite, as you do with the capers.
For even more flavor, you could try replacing a little bit of the water with lemon juice
Whatever you are replacing, make sure you're using good quality ingredients, especially the mayo and mustards, which provide a lot of the flavor of this dish.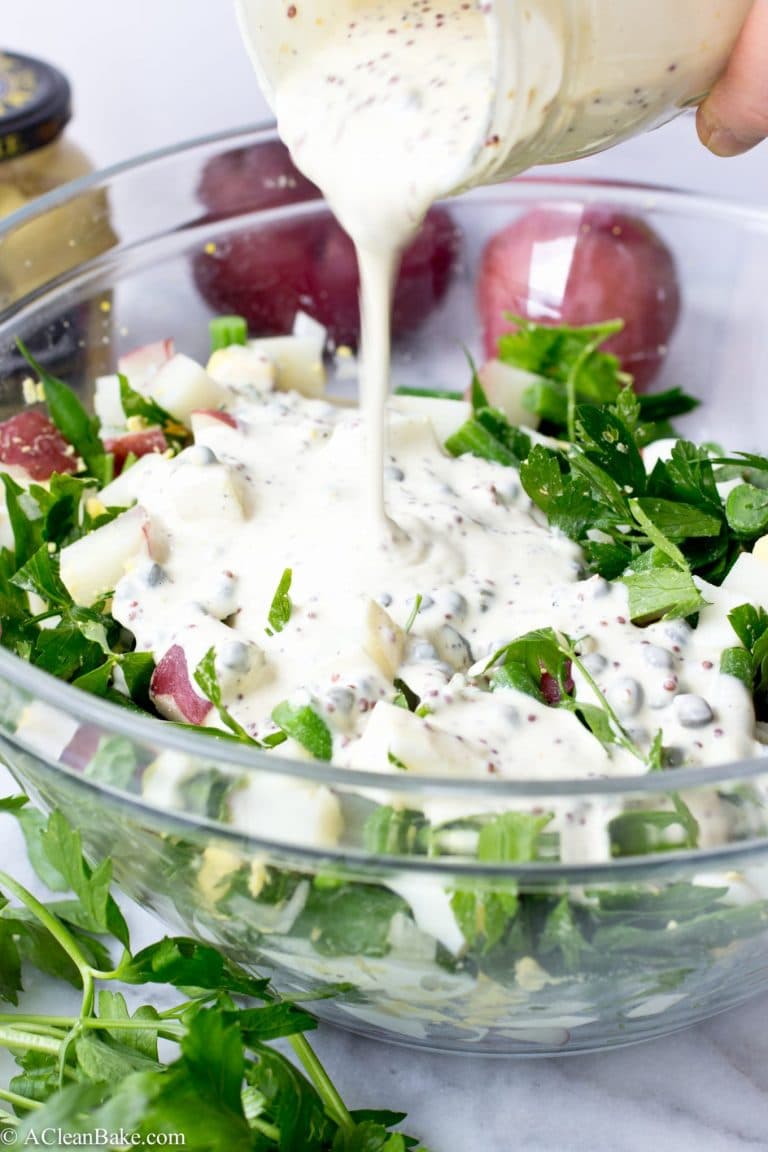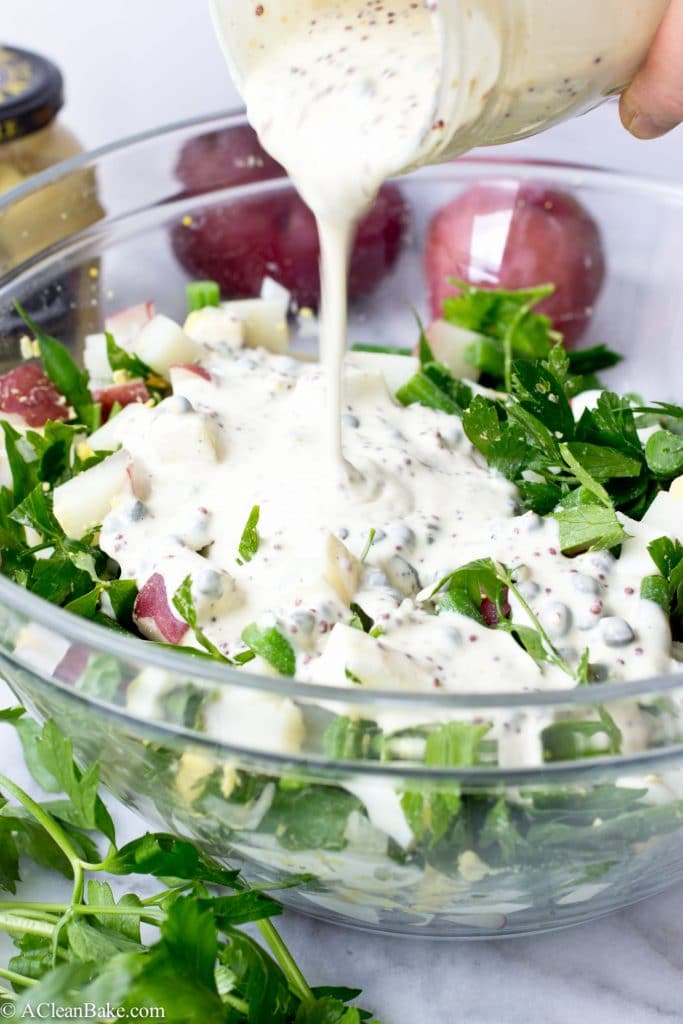 So…before I sign off, I'm just curious: did you get the riddle this week? When you put all of the flavors of this week's recipes together, does it remind you of something? That's right: Nicoise salad!
My upcoming trip to France (more on that in a couple of weeks) and the wonderful Maille mustards reminded me of my favorite French dish – Salade Nicoise – and that's what inspired the recipes this week. Three cheers and an extra schmear of olive tapenade if you got that one! 😉
PS: Speaking of Maille and France, have you entered to win a trip to mustard country yet?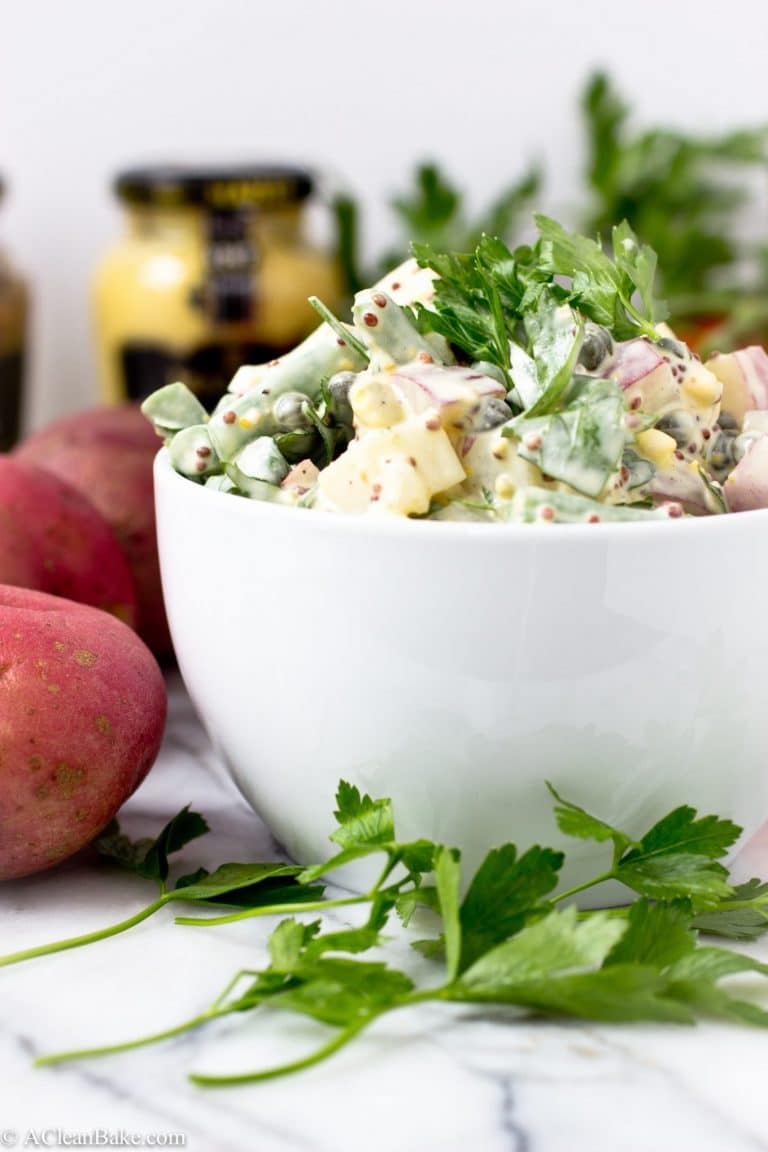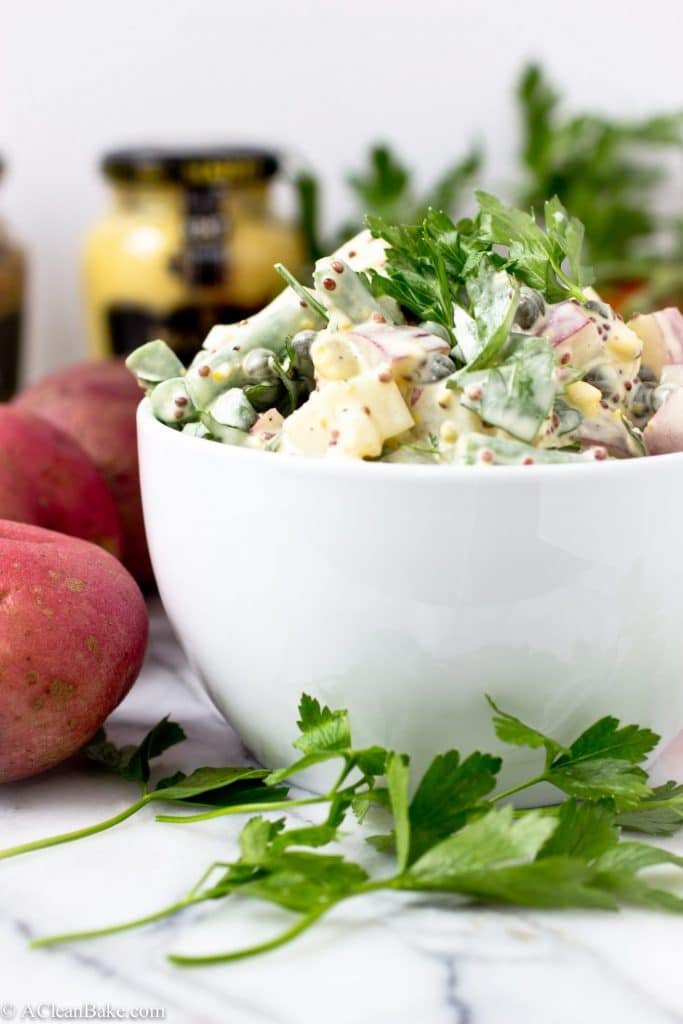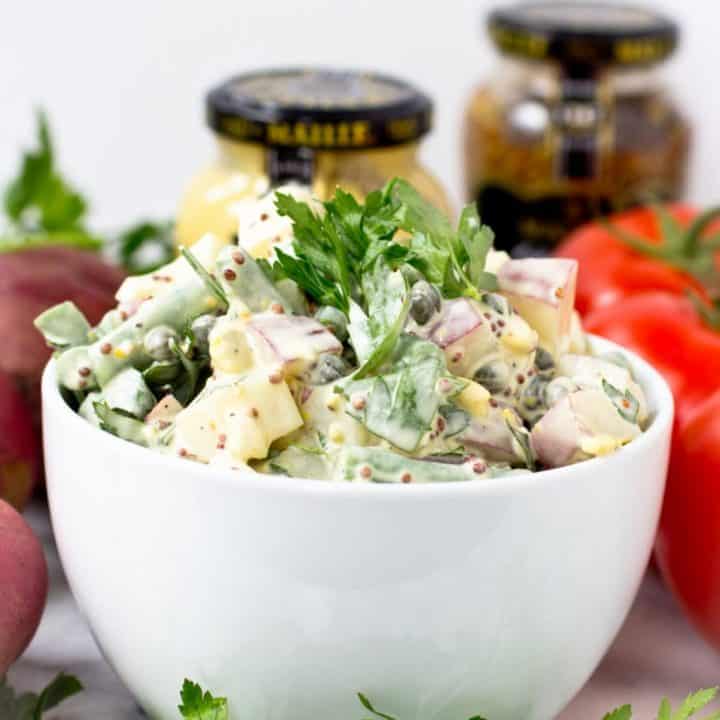 Potato Salad with Green Beans and Capers
Gluten free, grain free, and paleo (if using sweet potatoes)
Ingredients
1 lb steamed white or sweet potatoes, boiled or steamed until tender, then cut into bite-sized pieces
1/2 lb fresh green beans, but still slightly crisp, lightly steamed and chopped into bite-sized pieces
4 large eggs, hard boiled, peeled and roughly chopped
2 Tablespoons minced sweet onion
1 cup fresh flatleaf parsley, roughly chopped
1/2 cup good quality mayonnaise
1/4 cup good quality whole grain mustard, I used Maille's Old Style whole grain mustard
2 Tbsp good quality spicy dijon mustard, I used Maille's Dijon Originale
2 Tablespoons water
1/4 cup capers, drained
1 teaspoon minced fresh garlic
1/2 teaspoon salt, or to taste
1/2 teaspoon black pepper, or to taste
Instructions
In a large mixing bowl, toss together the potatoes, beans, eggs, onion and parsley. Set aside.
In a small bowl, whisk together the mayo, both mustards, water, capers, garlic, salt and pepper until combined.
Pour the mayo mixture over the potatoes, etc, and gently stir or toss until everything is well mixed and all of the vegetables are coated with sauce.
Serve immediately or store in an airtight container in the refrigerator for up to a week.
Disclaimer: Maille provided me with the mustard I used in this dish at no cost to me, but I was under no obligation to use it in this recipe. I like to share ingredients I love, use and rely on in my kitchen, and Maille mustards are some of those ingredients!