Skip the chemical stuff and make these healthy, fun all natural copycat Jello gigglers at home!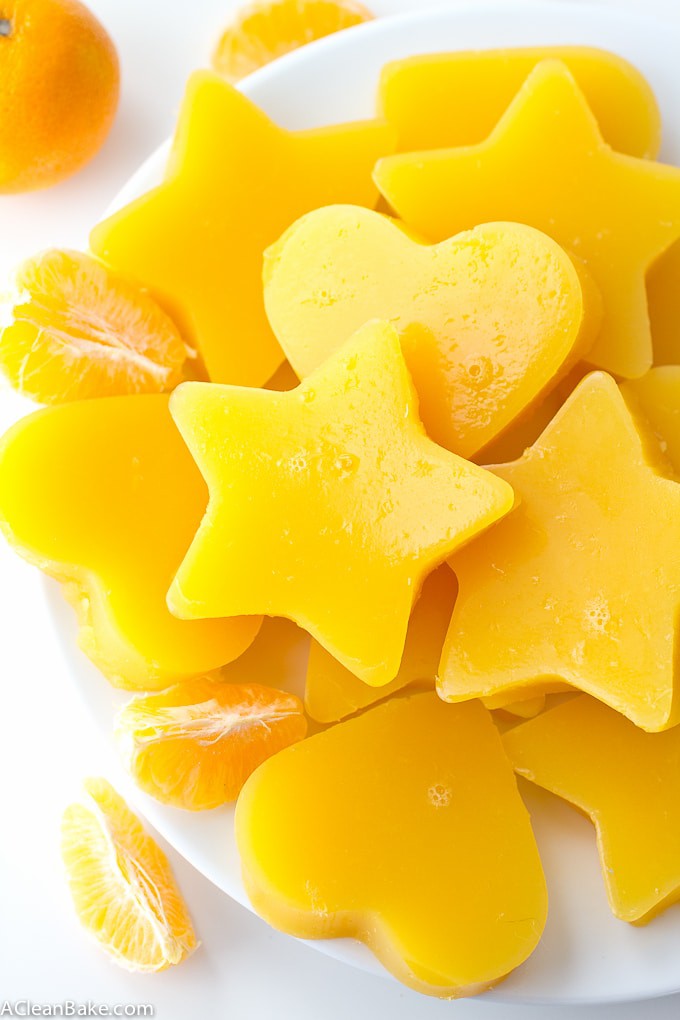 Hi from Dallas! Oops, I mean: Howdy from Dallas, y'all!
Yep, Dallas, again. I've been here several times this year for work, and it is starting to feel like a second home. I assume that, since I've picked up a bit of a twang from my binge re-watching of Friday Night Lights, I'm probably often mistaken for a local (Lies. All lies.). Actually, it feels so different from where I live: bigger and more sprawling, and the roads and highways are like a maze. Last time I was here, I almost showed up late to my own meeting because the route Google told me would take 10 minutes took nearly a half hour. Lesson learned. Unlike Chicago, it's sunny and hot and everyone is polite and warm at all times. I am totally starting to get this southern appeal thing. But seriously, can someone please tell me why everyone drives a white pickup truck? The pickup trucks I get – that's just a Dallas thing, I guess – but why are all the cars white? If you know, please leave the answer in the comments below. (No, seriously.)
But anyway…depending on when you're reading this, I am either preparing for, presenting, or celebrating the (hopefully successful) conclusion of a massive project I have been plugging away at for the last nine weeks. In the world of my job, that's a lot of time. Plus, I had another project going at the same time. Plus all of the blog stuff, plus, you know, life. Needless to say, it's been a stressful month, and even though nothing bad has happened, even good stress takes its toll on the body. Especially the gut! I'll bet you can figure out where this is going, if you remember the last gummy recipe I made. Gelatin is an awesome and all natural gut-health supplement, and let's face it: eating these wiggly, jiggly little treats is a ton of fun.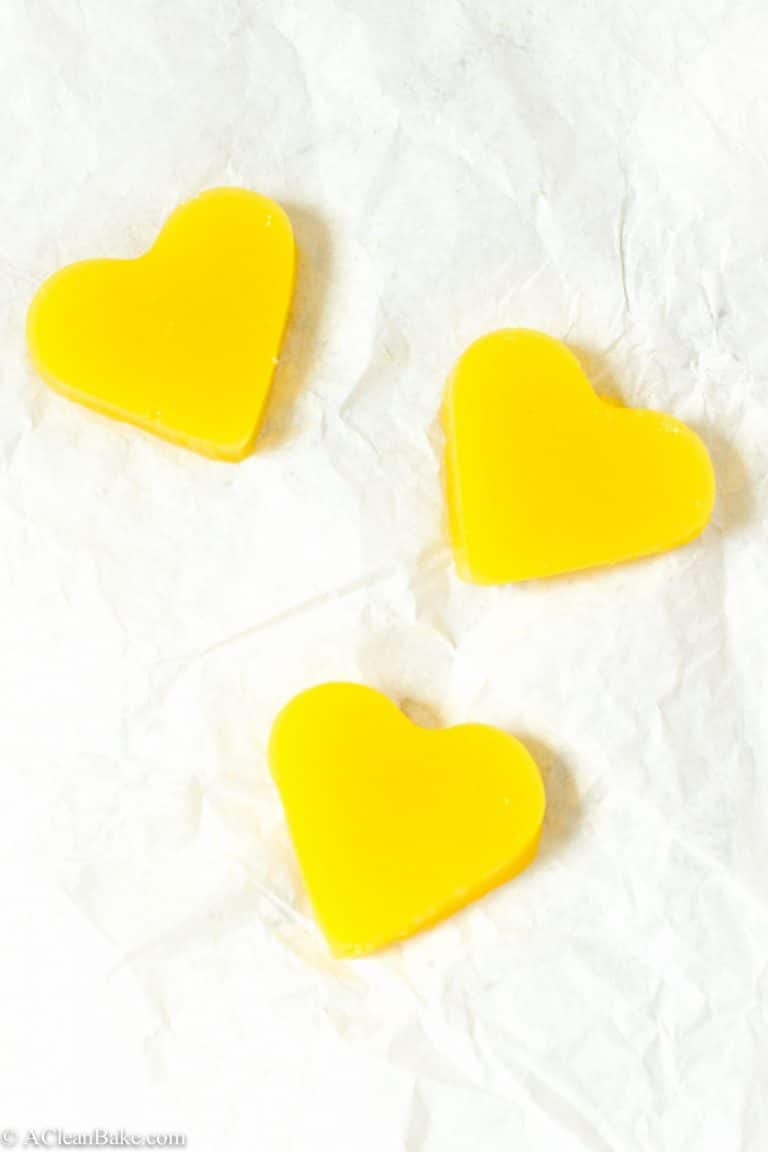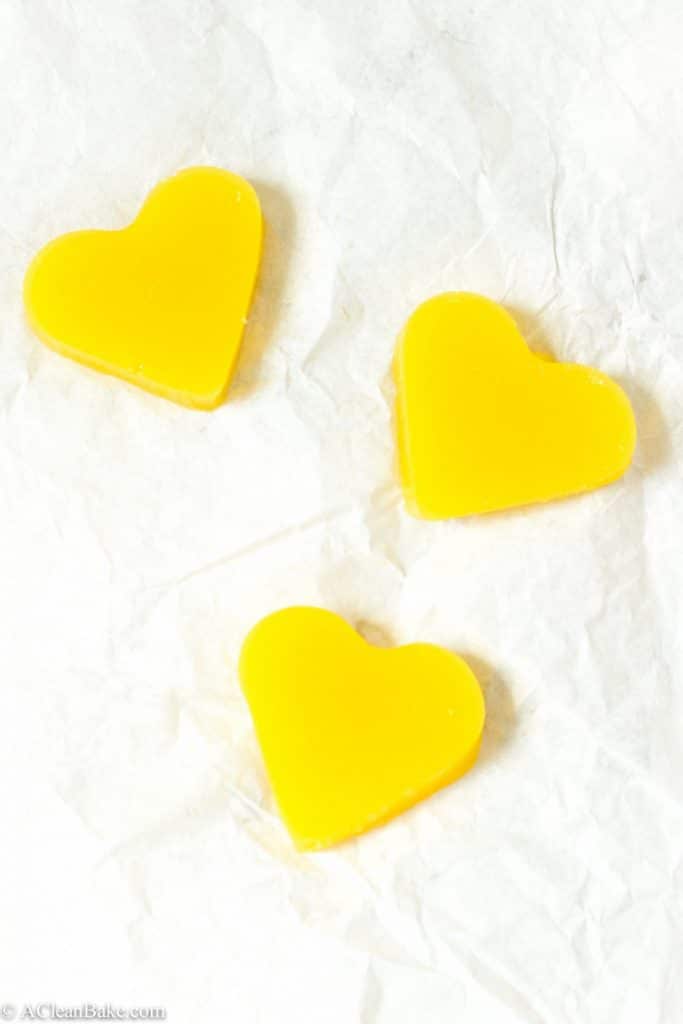 This may seem like an obvious extension of the last recipe I posted for gummy treats, and to be honest, it is. Here's what distinguishes these though: flavor (orange!), texture (denser, less airy), and ease (no blender required – literally just pour, stir and chill). If you want to cut them into shapes after they're solidified, that makes them even more fun to eat, but you can absolutely just cut them into circles or squares to get your daily shot of gut-friendly amino acids and immune (and other) system-friendly vitamin C. Fair warning, though: square copycat Jello Jigglers aren't half as much fun to eat! 🙂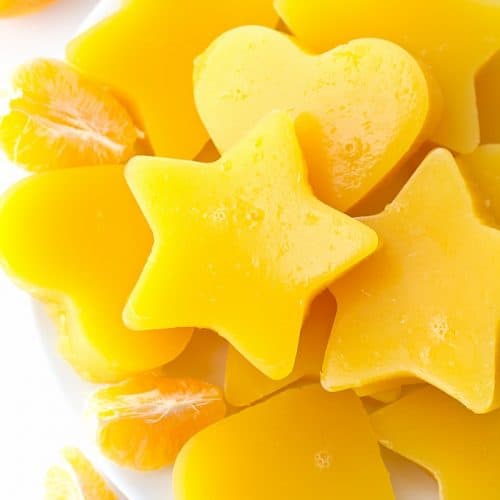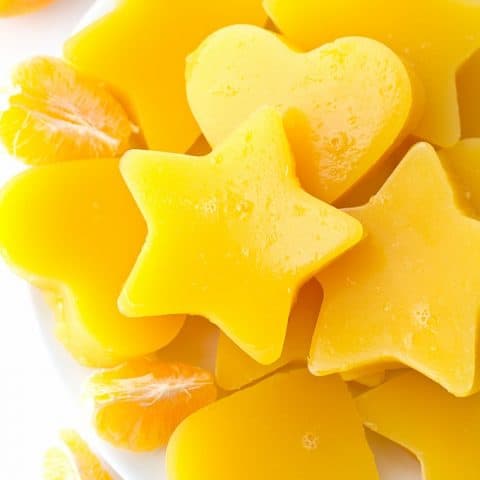 All Natural Copycat Jello Gigglers
Skip the chemical stuff and make these healthy, fun all natural copycat Jello gigglers at home!
Ingredients
1/2 cup good quality unflavored gelatin, I use this brand
3 1/2 cups water, divided
1 1/2 cup natural orange juice concentrate, 1 can, defrosted
1/4 cup lemon juice
Instructions
Lightly grease a 12"x18" baking pan and set aside.
Bloom 1/2 cup of gelatin in 2 cups boiling water by pouring the water over the gelatin powder in a large heatproof bowl. Stir briefly (this removes clumps) and let thicken.
Add the remaining 1 1/2 cups water, the orange concentrate and the lemon juice, and stir to combine.
Pour the mixture into the prepared baking dish and place in the refrigerator for 2-4 hours until solid.
Use a cookie cutter to cut into shapes, or a sharp knife to cut into squares.
Store in an airtight container for up to 10 days.
Notes
You can probably use other flavors of juice concentrate, but orange is a classic!
These also freeze reasonably well if you won't eat them quickly enough.
Nutrition Information:
Yield:

8
Amount Per Serving:
Calories:

737
Sodium:

84mg
Carbohydrates:

166g
Fiber:

3g
Sugar:

160g
Protein:

22g