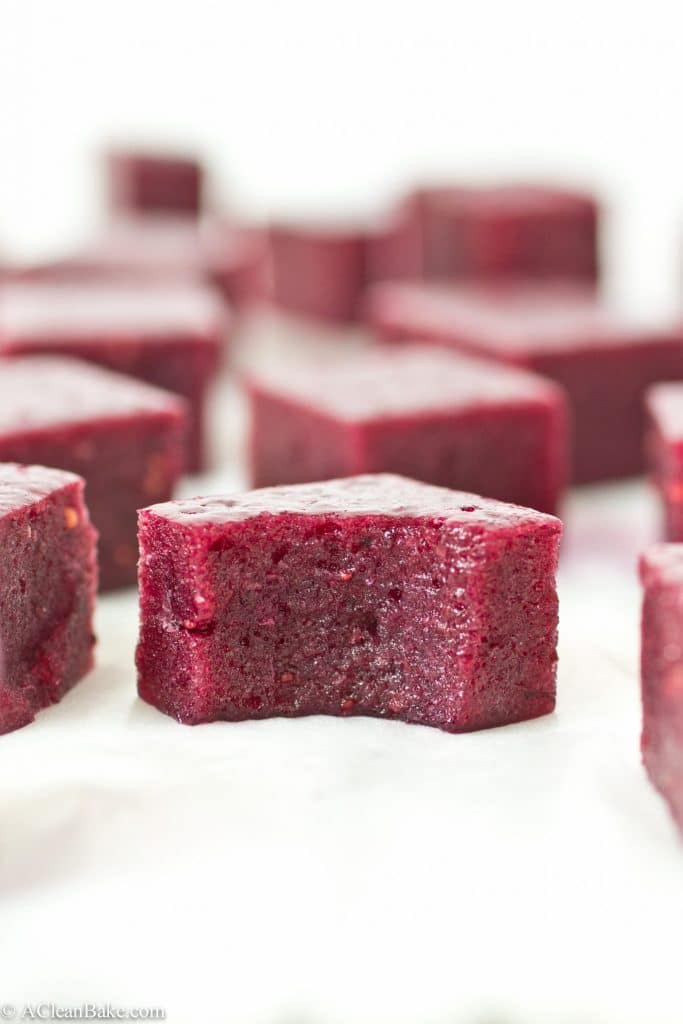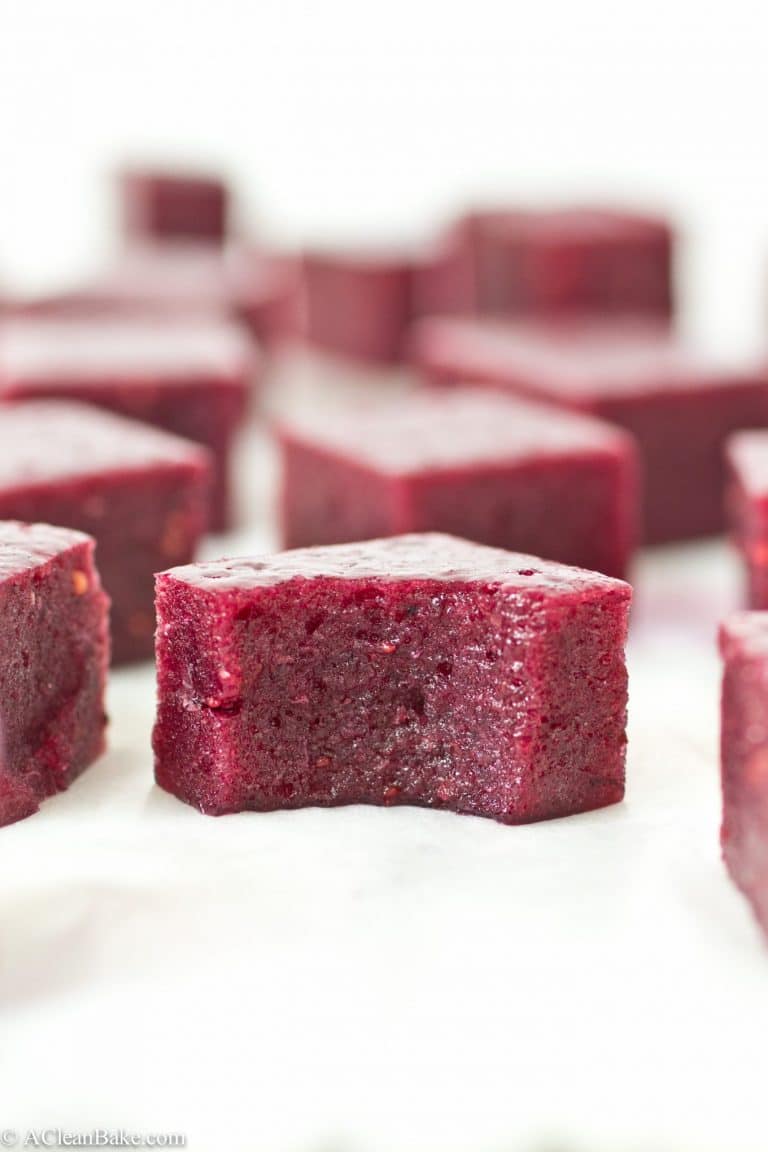 If you ever want me to do you a favor, give me a bag of Sour Patch Kids – a big one. These days, they're technically verboten, but maybe if the sugar police that live in my stomach aren't on high alert, I'll sneak a few 'Kids, and I'll also, incidentally, be yours forever. Short of anything dark chocolate, preferably laced with an herb or spice, Sour Patch Kids are the way to my heart. Let's call these homemade sour patch kids, hold the little body shape and the questionable colors and flavors.
These blueberry gummies are a health food, you see: flavored with nothing but berries – for natural flavor, color and antioxidants – and fresh lemon juice – for contrast and because I can't do this without just a little bit of sourness – and naturally-sweetened with maple syrup. Though that would be enough, in my book, to qualify these for the Healthy Dessert Hall of Fame, or My Post-Dinner Treat Rotation, as most people other than me tend to refer to it, there's more.
The gelatin that thickens these has health benefits too, for the same reasons that bone broth is extremely beneficial for digestion and gut health. Gelatin contains the amino acids glycene and glutamine, which help your body rebuild tissue. This is extremely important if you have a damaged or leaky gut, and they also help build collagen and other tissue throughout the body so they can help strengthen hair and nails, tighten loose skin and – rumor has it – possibly even reverse cellulite. (For more information, you can read this article, including comments, or this one, or just Google health benefits of gelatin.)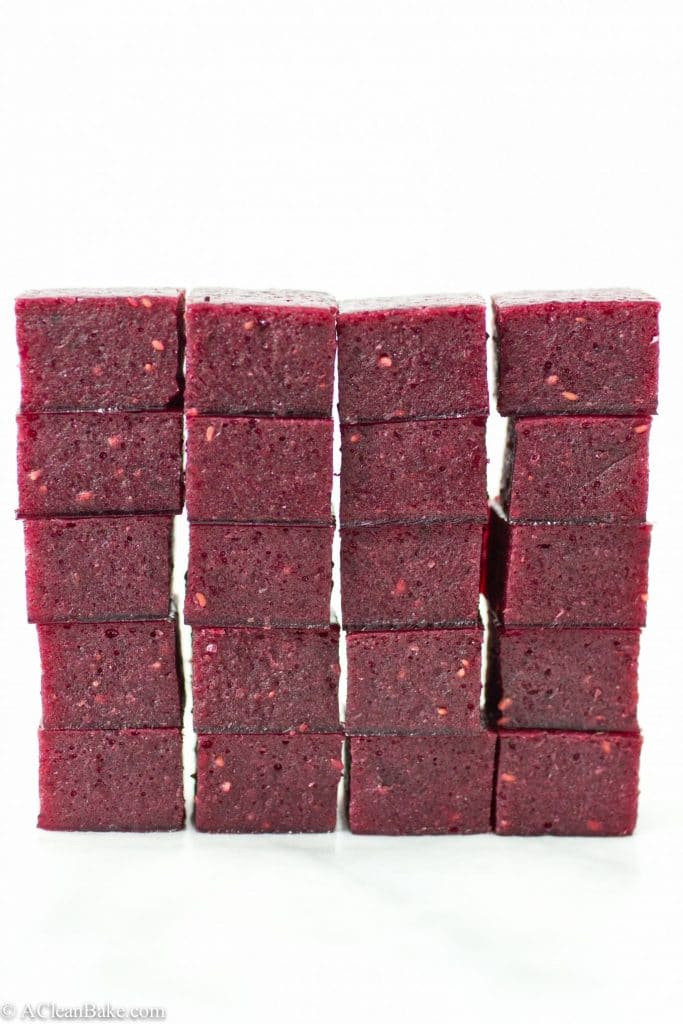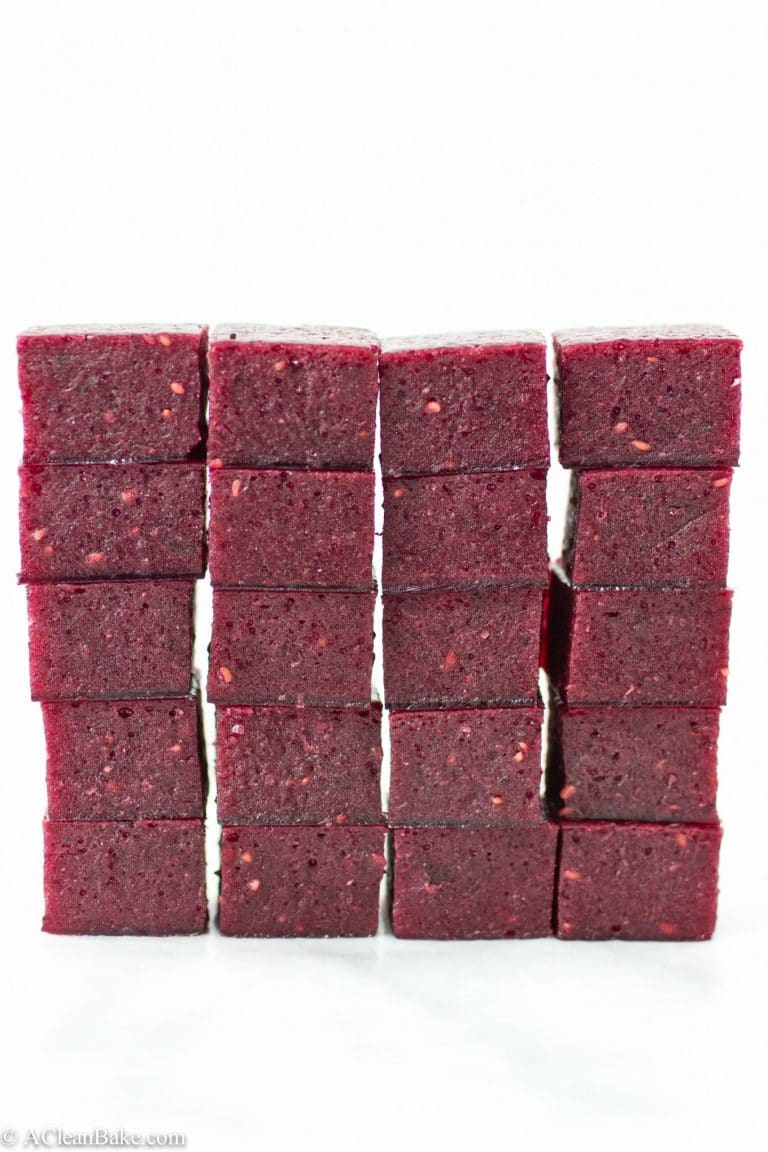 My doctor has put me on supplemental glycene and glutamine powder, but also advised me that the more I can get, the better. While I try to drink and cook with bone broth as much as possible, I don't really love it – at least not as much as, um, candy 🙂 However, in order to get the most benefits, you have to start with the highest quality, most nutritious type of gelatin. Yes, gelatin types are a thing. This is the kind I have been using and I really like it, but I'm sure there are other, similarly high quality brands out there. Check Amazon, Whole Foods or your local health food store.
These remind me of my favorite Passover candies – those little fruit slice gummies – but a little softer, and certainly less artificial tasting. If you're not familiar with those, no worries. I'm sure you'll still love these jiggly little treats!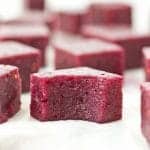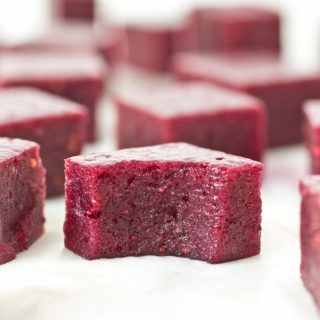 2-Bite Blueberry Gummies
Ingredients
1/2

cup

unflavored gelatin

1 1/2

cups

water

divided

2 1/2

cups

blueberries or other mixed berries

frozen and defrosted

1/4

cup

maple syrup

1/4

cup

+ 2 Tablespoons fresh lemon juice
Instructions
Very lightly grease a 9.5"x13" baking pan (spray and then wipe off the excess) and set aside.

In a small bowl, "bloom" the gelatin by stirring it together with 1 cup water until thickened.

Transfer the gelatin to a blender. Add the remaining ingredients plus an additional 1/2 cup water and blend until liquified.

Pour into the prepared pan and refrigerate until solid (about 2-4 hours).

Use a very sharp knife or

bench scraper

to cut into 1.5"(ish) squares.
Recipe Notes
Store in an airtight container in the fridge for up to 2 weeks.
You can reduce the sugar/carbs in this recipe by skipping the maple syrup.
Yield: About 70 gummies
Wait: Were you expecting something green? Or Irish? Don't worry, here's some green, and you absolutely must try this gluten-free Irish Soda Bread. Happy St. Patty's Day!