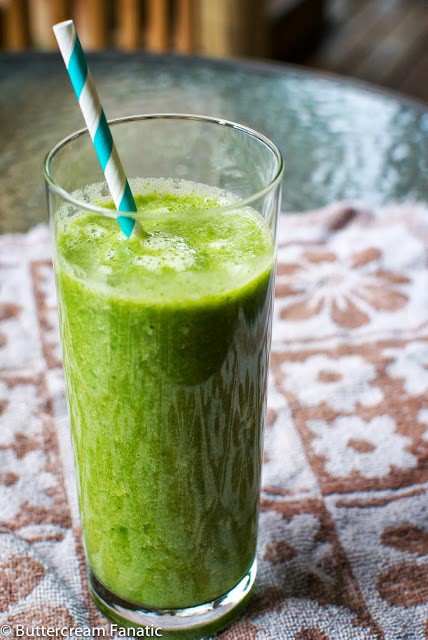 Green juices and smoothies are all the rage lately, and while I certainly do not in any way encourage juice fasting, or smoothie fasting, or "cleansing", or whatever you call it, it's amazing how much better you can feel if you just incorporate green veggies into every meal (you were right, Mom!!). Lunch and dinner are pretty easy, but breakfast? No one is going to have a salad for breakfast, I assume. At least not whole. But you can certainly hide one in a fruity, filling, and delicious smoothie.
And so, with that brief bit of Green Veggie Propoagada, I present my "recipe" for my favorite smoothie. I call this a "recipe" rather than a recipe because the following instructions are more of a guide or a suggested combination of ingredients than a proper recipe. Feel free to tweak it as you see fit; leave out the ginger if that's not your thing, or reduce the amount of greens you include. I admit, I pack my smoothies full of greens, typically because I am trying to use up odds and ends before they go bad. You can also add different flavors to your liking. For example, in the past, I've added yogurt, berries or other fruit (fresh or frozen), juice, and even cinnamon. But this combination is always my favorite.
What about you? Do you have a favorite smoothie combination, or did you tweak this in a way that turned out awesome? Please share!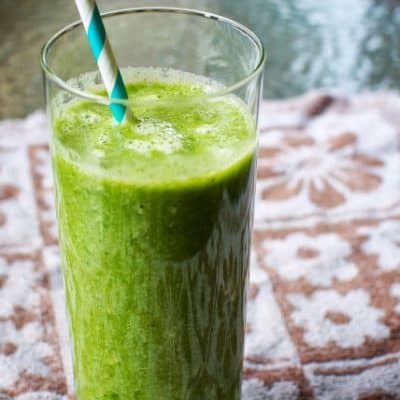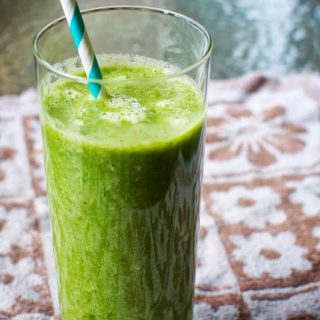 Mean Green Smoothie
gluten free, vegan, raw, grain free and paleo
Ingredients
4 cup leafy greens, e.g. spinach, kale, tightly packed
3/4 cup almond milk
1/4 cup lemon juice
4 very ripe bananas
2- inch piece ginger root, skin removed
Instructions
Put half of the greens in the blender, ensuring they are not too tightly packed, with the almond milk and lemon juice. Blend on the "liquify" setting until completely liquid (if it's not liquifying completely, try shaking the blender slightly, and if that doesn't work, add an additional 1/4 cup of almond milk or water). The mixture should be very runny, and you will be able to identify very small bits of greens in it.
Add the remaining greens and liquify. Then add the bananas, one at a time and blend until incorporated. Finally, add the ginger and blend for about 1 minute to ensure everything is thoroughly pureed and mixed. If it is too thick for your taste, add water, 1/4 cup at a time, and pulse to mix until it reaches your preferred consistency.
Enjoy immediately, or store in an airtight container in the refrigerator for up to 3 days. Makes approximately 4 portions.