For a simple and refreshing mocktail, try a lavender lemonade sparkler!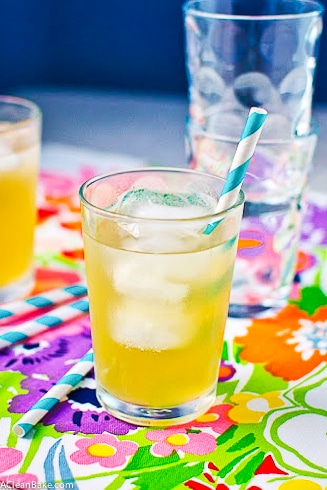 All right, America. You only get one birthday (per year). And if all goes well, the weather will be warm and sunny, and highly conducive to enjoying a cold and refreshing sparking beverage. So, let's get this party started.
The Fourth of July is the ultimate BBQ: The same comfort foods, but made a little bit special – know what I mean? It wouldn't be a BBQ without lemonade, but it would be disrespectful to Messrs. Hancock, Franklin, Adams (both of them) and the other gents (who actually didn't technically sign on July 4th), to serve your normal run-of-the-mill lemonade.
Homemade lemonade is surprisingly easy to make, and infinitely better than the bottled stuff. And, since it's summer and we're all hot and lazy, do yourself a favor and make a huge batch that will last well into July. Adding an herbal flavor that compliments the tart, bright lemon juice is a wonderful way to take the drink from lemonade-stand-worthy to dinner-party-worthy*.
I dressed this up by adding some lavender flavor, but you can feel free to add something different, depending on what herbs (or teas) you have around. The extra flavor makes it unique enough to be party-worthy, but the real key to this lavender lemonade's pizzazz is seltzer. There isn't much more to say about a five-ingredient (of which two are water) drink, except that it's so easy that you have nothing to lose by giving it a shot. I think you'll be pleasantly surprised.
Have a fun and safe 4th, everyone!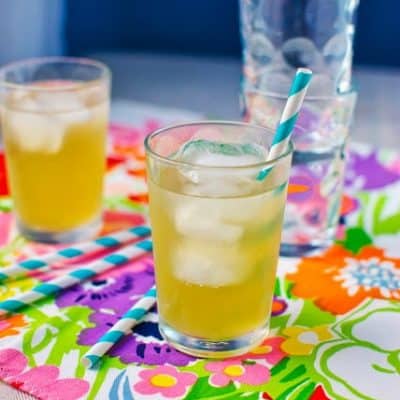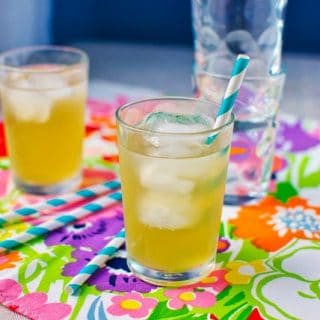 Lavender Lemonade Sparkler
For a simple and refreshing mocktail, try a lavender lemonade sparkler!
Instructions
Bring water to a boil.
Steep the tea bags in boiling water (turn off heat) for 10-15 minutes.
Stir in sweetener until completely dissolved, then stir in lemon juice.
Allow to cool completely.
Add approximately 1 cup lavender lemon mixture to approximately 1/2 cup unflavored seltzer (adjust proportions to your preferences; also, this is the point at which you should mix in the vodka, if using) and pour over ice immediately before serving.
Notes
I made these without alcohol, but if you'd like to make a "boozy" version, feel free to add vodka.
Garnish with a lemon slice if desired.
Recommended Products
As an Amazon Associate and member of other affiliate programs, I earn from qualifying purchases.
Nutrition Information:
Yield:

4
Amount Per Serving:
Calories:

18
Sodium:

88mg
Carbohydrates:

5g
Fiber:

1g
Sugar:

1g