Fill in the blank: a superfood is________
(a) a particularly nutrient dense whole food
(b) a marketing ploy
(c) a delicious ingredient for a protein bar
(d) all of the above
If you chose d, you're probably correct. While the cynic in me rolls my eyes at the designation as a way to sell more (otherwise obviously unhealthy) packaged foods and superfluous skin creams, there is something to the idea that certain foods have immense health benefits and pack a nutrient punch that puts more nutritionally one dimensional counterparts to shame.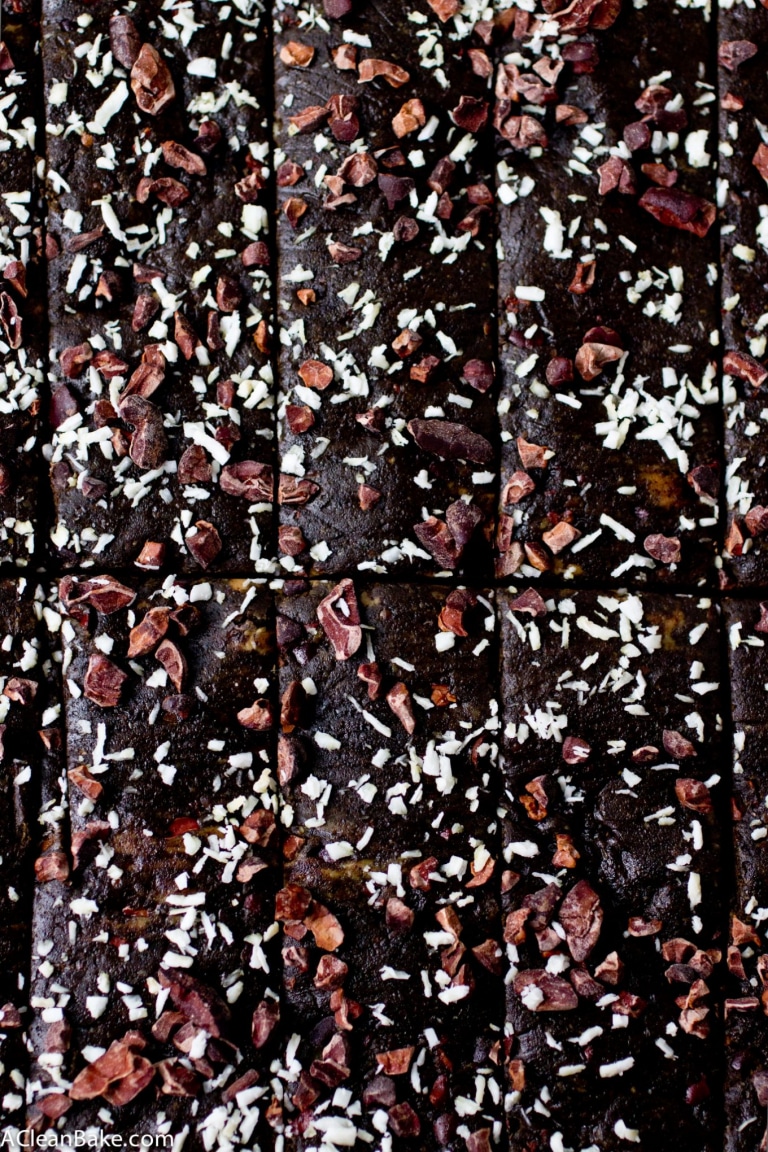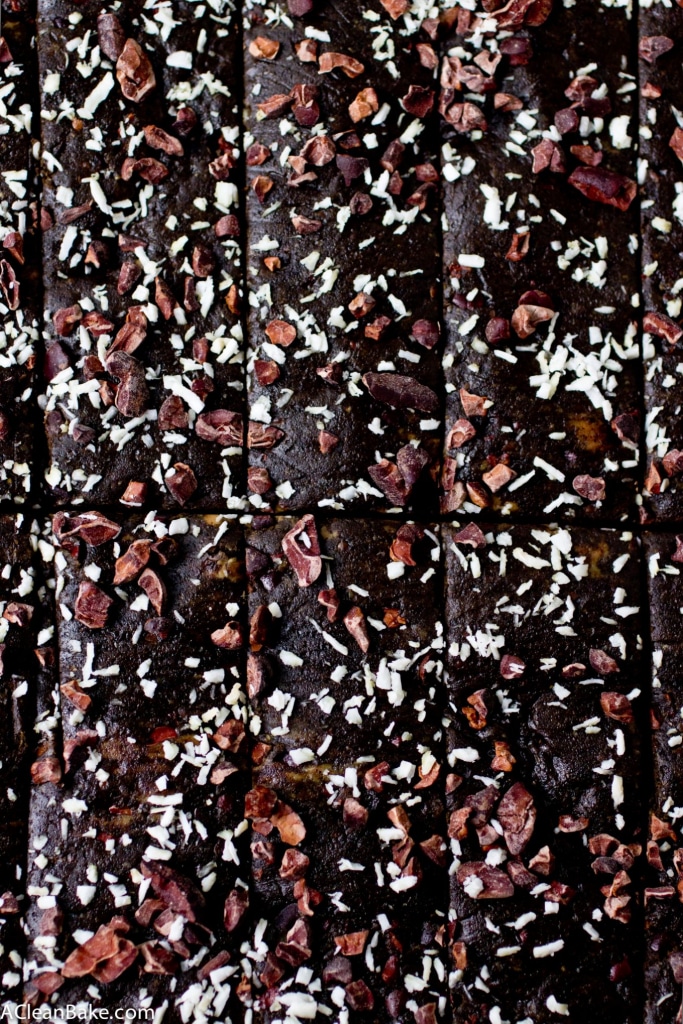 I didn't set out specifically to create superfood protein bars, but I did concoct this recipe with the intention of only using the most nutrient-dense ingredients I could find in my pantry. It just so happens that they are all pretty darn super. Of course, the precise list of superfoods varies across sources (and, ahem, let's be real here: marketing goals), but I think it's pretty safe to say that the ingredients in this bar should be on every one.
First, there's hemp protein powder. Not only does it contain the full spectrum of amino acids that your body needs (including the ones that it can't produce on its own, so must get from food sources), but it is also an excellent source of fiber, healthy fat and essential fatty acids like omega 3's, which supports a healthy heart and omega 6's, which are important for healthy bones, hair, skin and nails and a robust metabolism.
Like hemp, flax is a great source of fiber and omega 3 fatty acids. Omega 3s are more commonly found in animals, so if you're a vegan or vegetarian, these two ingredients are especially important.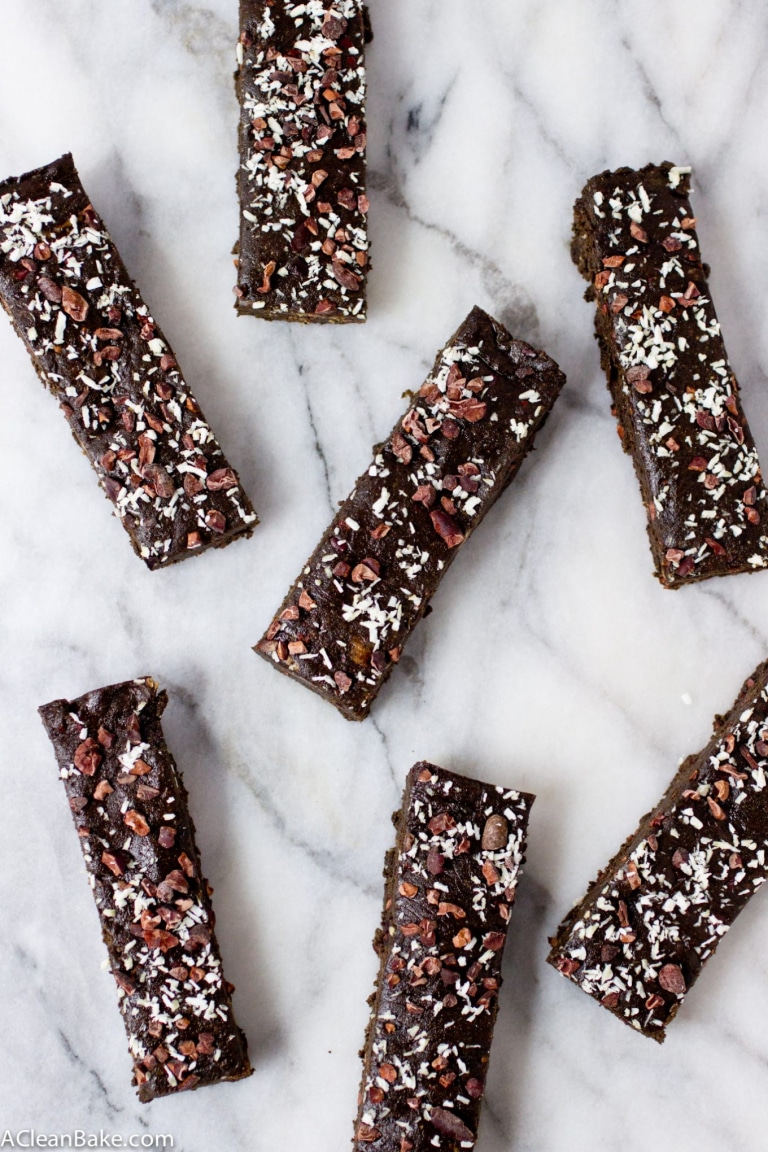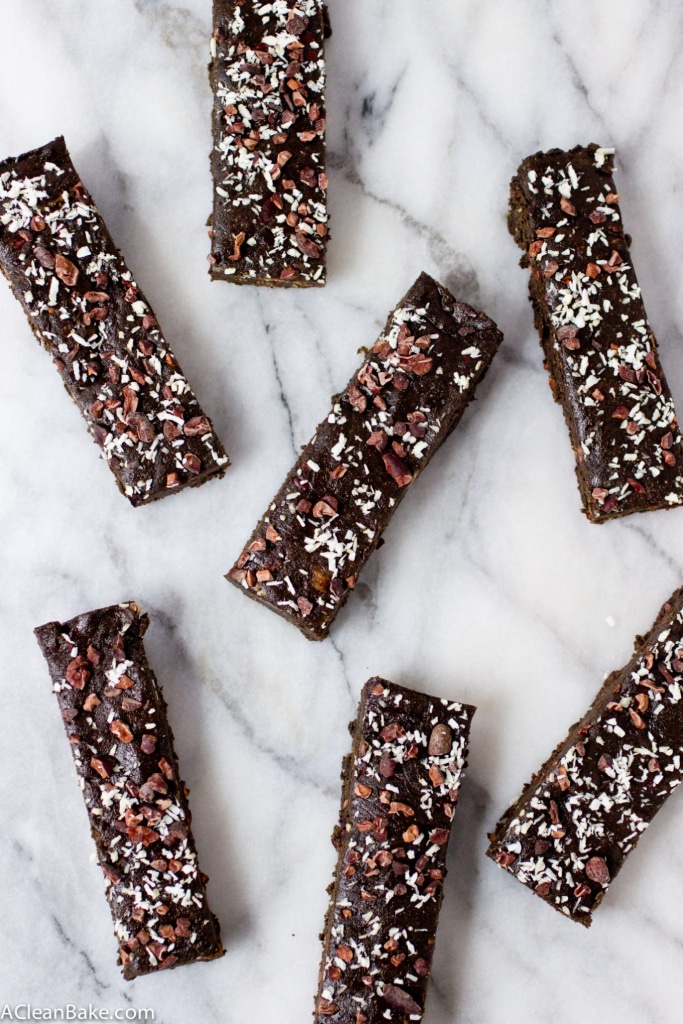 Cacao powder and nibs are filled with antioxidants, which protect against free radicals – those scary substances that have been blamed for everything from wrinkles to cancer – and inflammation.
Finally, nuts are an excellent source of protein, fiber and healthy fat, as well as important minerals like calcium, magnesium and zinc. Plus, they play a part in stabilizing blood sugar and improving cholesterol and triglycerides.
Oh, and there are dates in there too, which I've seen called a superfood and also definitely not a superfood. They are, however, a great natural sweetener and binding agent for these bars, as well as a good source of fiber, potassium, selenium, magnesium, copper and antioxidants.
Maybe we should call these antioxidant powerhouse bars or something. What do you think?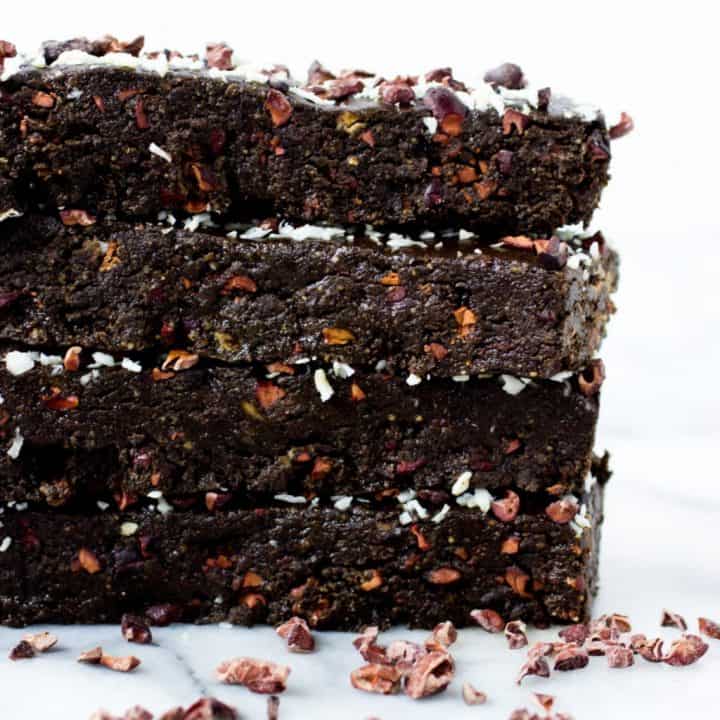 Superfood Protein Bars
gluten free, grain free, naturally sweetened, raw, vegan and paleo-friendly
Ingredients
2 cups unflavored hemp protein powder
1/2 cup ground flax meal
1/2 cup cacao or cocoa powder
1/4 cup granulated monk fruit sweetener , or granulated stevia (Optional)
2 cups nut butter of choice
1/2 cup coconut oil, melted
10 pitted medjool dates
1 cup cacao nibs + more for garnish
1/2 cup unsweetened shredded coconut for garnish, optional
Instructions
Lightly grease a 14" rectangular pan and set aside.
In the bowl of a food processor fitted with the "s" blade, pulse the protein powder, flax meal, cocoa powder and sweetener (if using) together a couple times to combine.
Add the nut butter, coconut oil and dates and process until the batter comes together in a large mass and there are no clumps of date left. You may need to scrape down the sides and bottom of the bowl a couple times to make sure everything gets incorporated.
Add the cacao nibs and pulse 2-3 times to incorporate (or transfer to a bowl and fold them in by hand).
Turn the dough into the prepared pan and use your hand or a spatula to press into a single, tightly-packed layer.
Sprinkle additional cacao nibs and shredded coconut on top, if you want, for added texture and flavor.
Refrigerate for at least 1 hour before cutting into bars.
Notes
Keep refrigerated or frozen. Due to the high fat content and the warm weather, these don't keep their shape well at room temperature, especially not this time of year. So, sadly, they don't travel terribly well. But they make great breakfasts or after-school snacks!
If you prefer, you can roll the dough into ~ 2Tbsp balls before garnishing, instead of pressing them into the pan and cutting into bars.
Yield 18-20 bars or about 40 balls.
This post contains affiliate links, which means that if you click through and purchase a product, A Clean Bake receives a small commission, which goes toward continuing to bring you delicious, healthy recipes every week. This does not affect the price you pay. Thanks for supporting A Clean Bake!