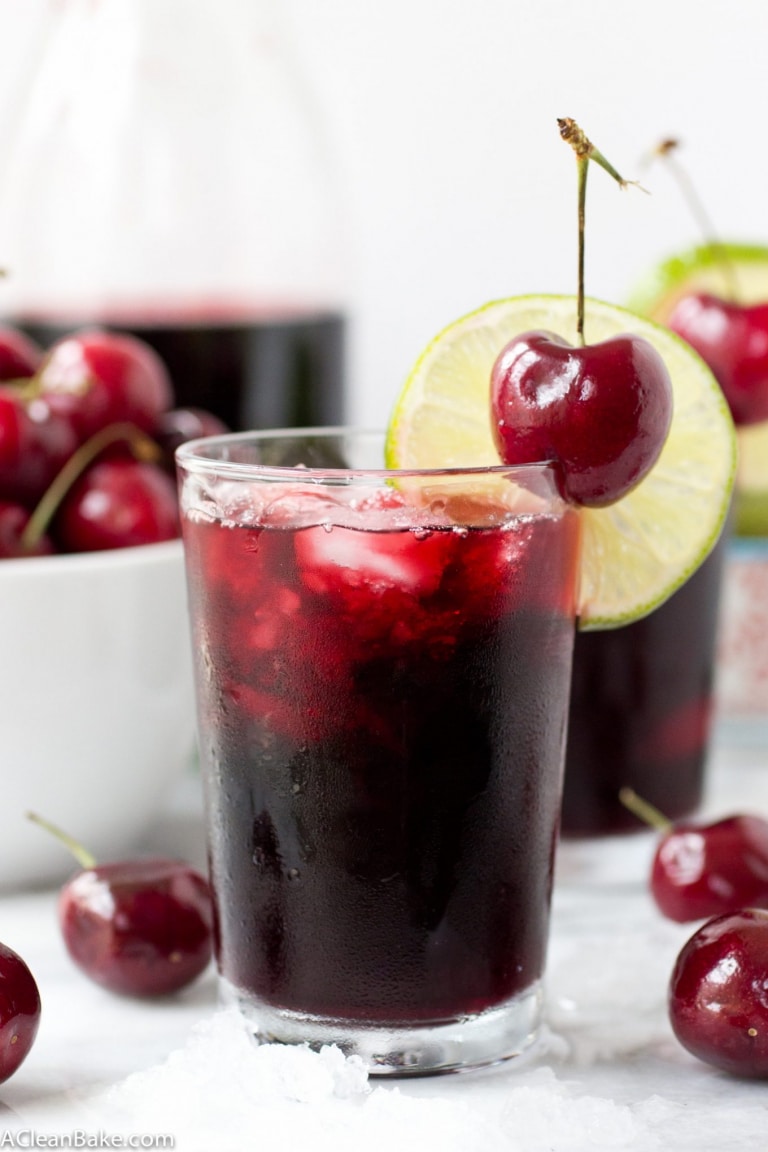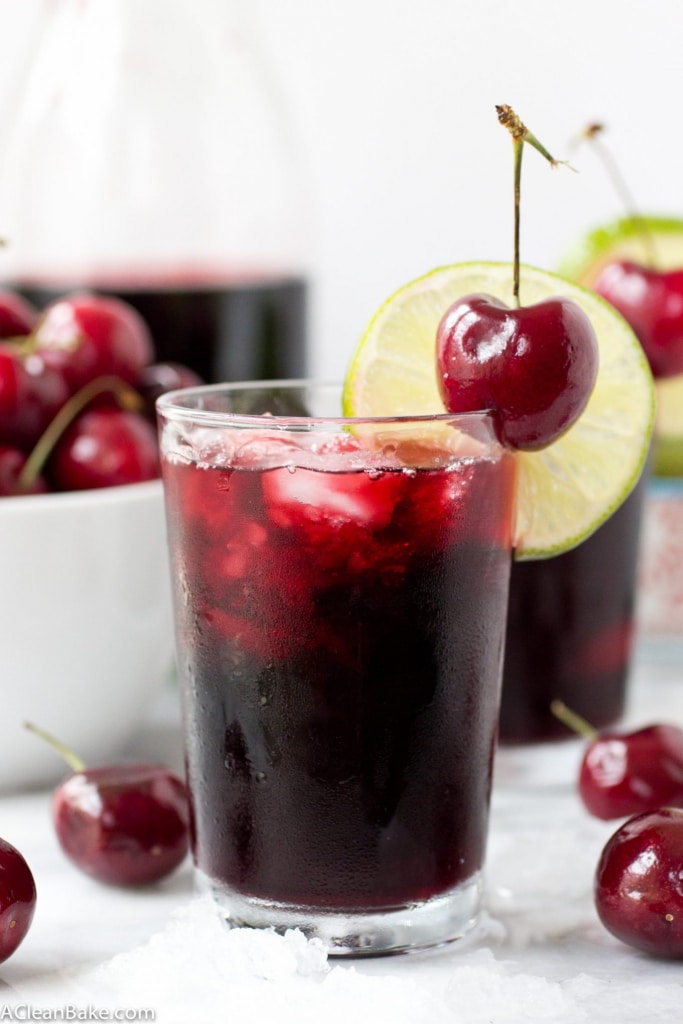 Welcome to the dog days of summer. When we kick off our shoes at every possible opportunity, the sun starts to dip below the horizon just a moment earlier every night (but we're in total denial about it), and the every night is BBQ night. Nothing complements a fire-cooked meal like a drink so cold its condensation drips down your palm and into your lap – but in the heat, you barely notice.
This is also the time of year, luckily, when the cherry harvest is in full force and everywhere you look in grocery stores and farmers markets, there is a pile of them. I don't know about you, but it always feels like I've struck oil in my backyard whenever I see a display of plump, juicy summer cherries. (Can you imagine my glee when I actually got to pick them? I'm actually surprised that Bryan still wants to be seen with me after that day).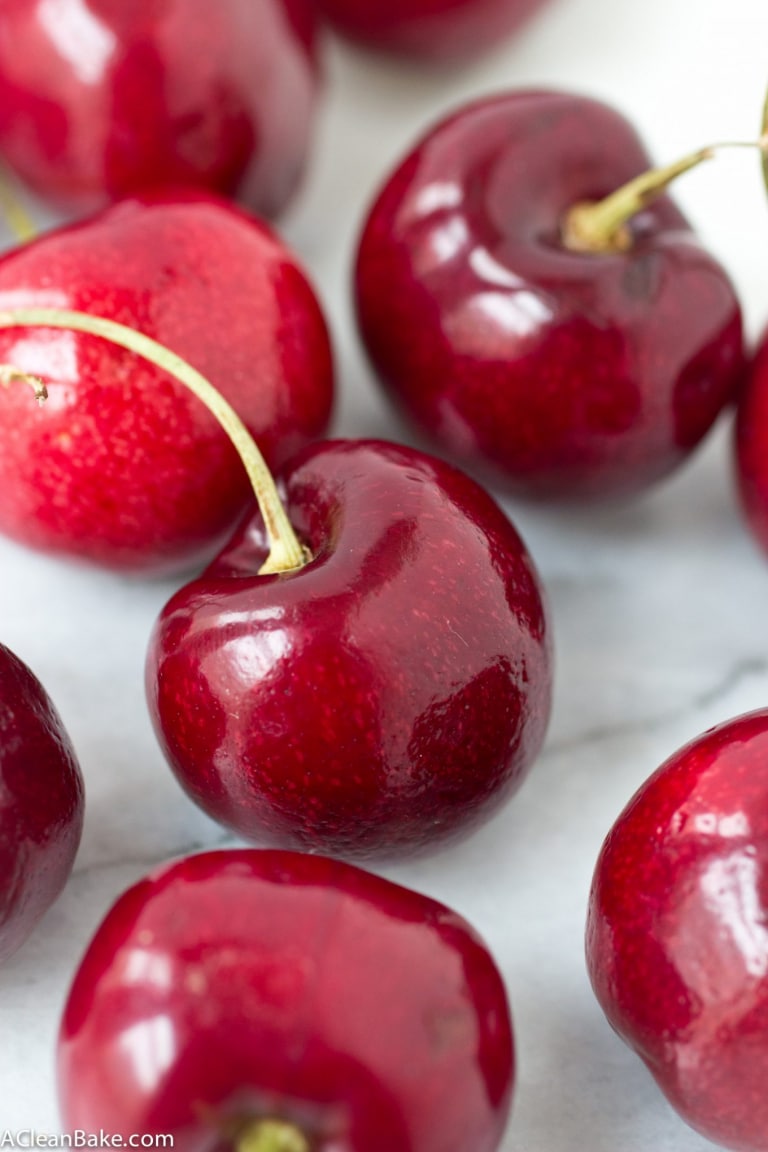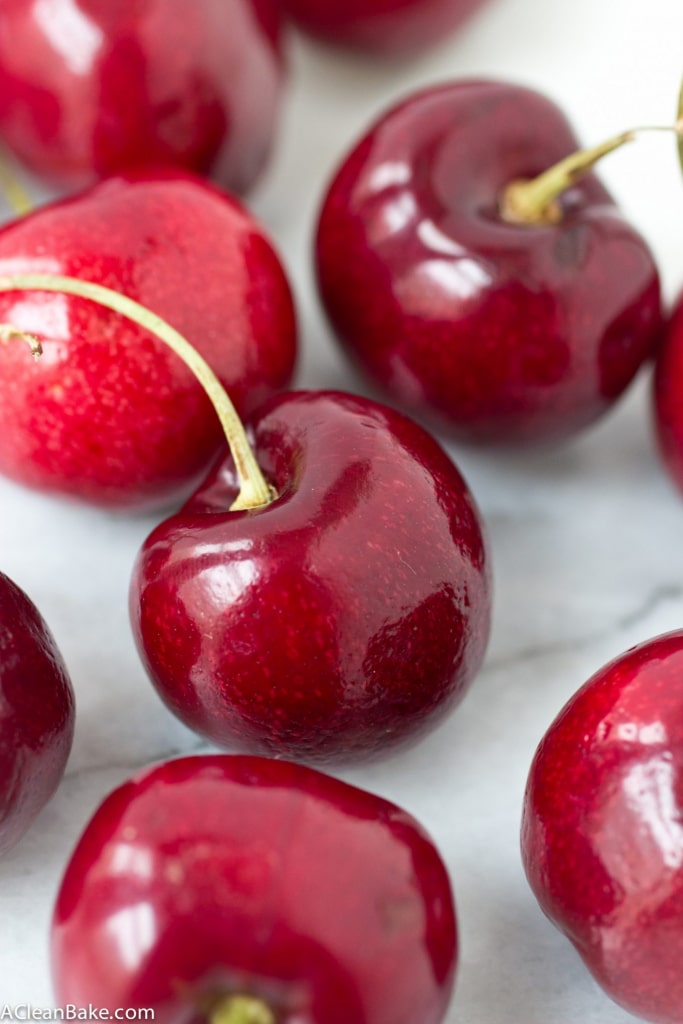 Summer finally came to Chicago, thank goodness, a few weeks ago, and that means taking advantage of every excuse to go outside and soak up the sun (She says while sitting in a dark room with the shade drawn staring at a computer screen. Who doesn't love a little irony?), preferably with a drink in your hand. My favorite part about this drink is that it's just as good with alcohol as without. Or, if you're like me, with just a tiny splash. Hi, I'm a lightweight.
Even though it's called a slushie, there is no special equipment required, though if you have one of those ice-crushing margarita machines, you could certainly use your fancy machine-crushed ice. Lucky you! I don't even have a fridge that crushes ice so I had to do it the old fashioned way: put the ice in a zip-top bag and smack it with a rolling pin. It's an age-old tradition. (Maybe.)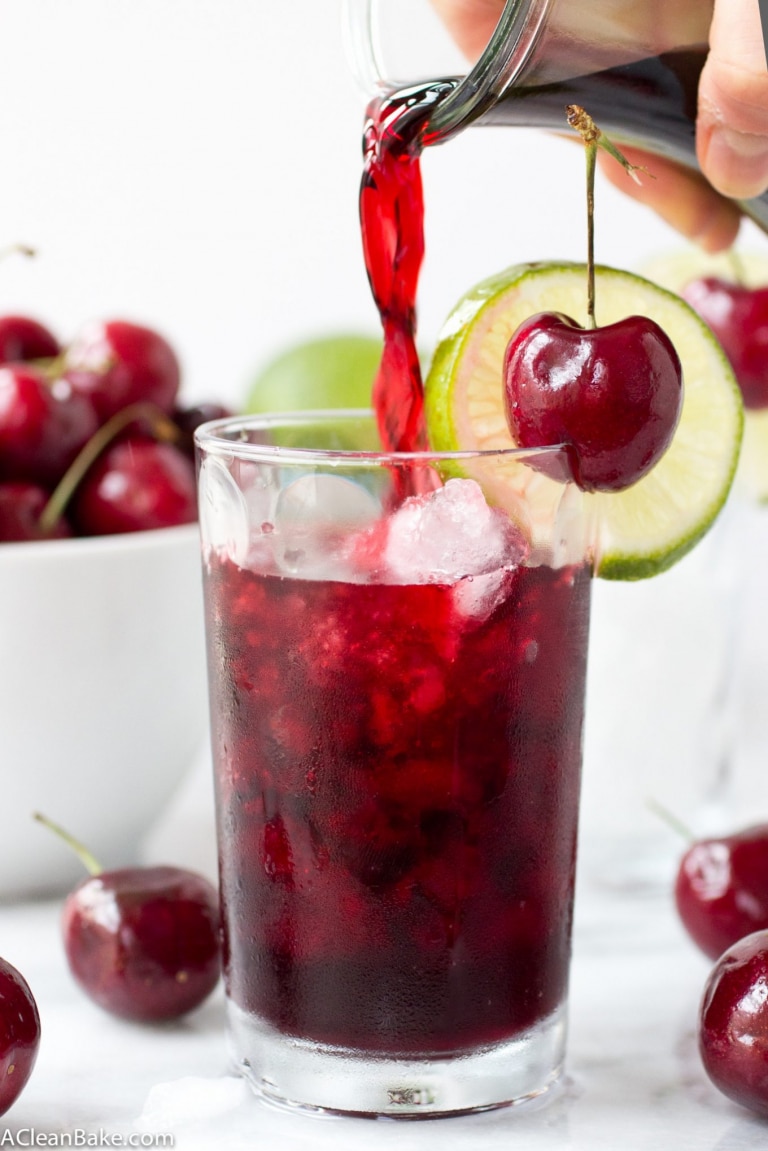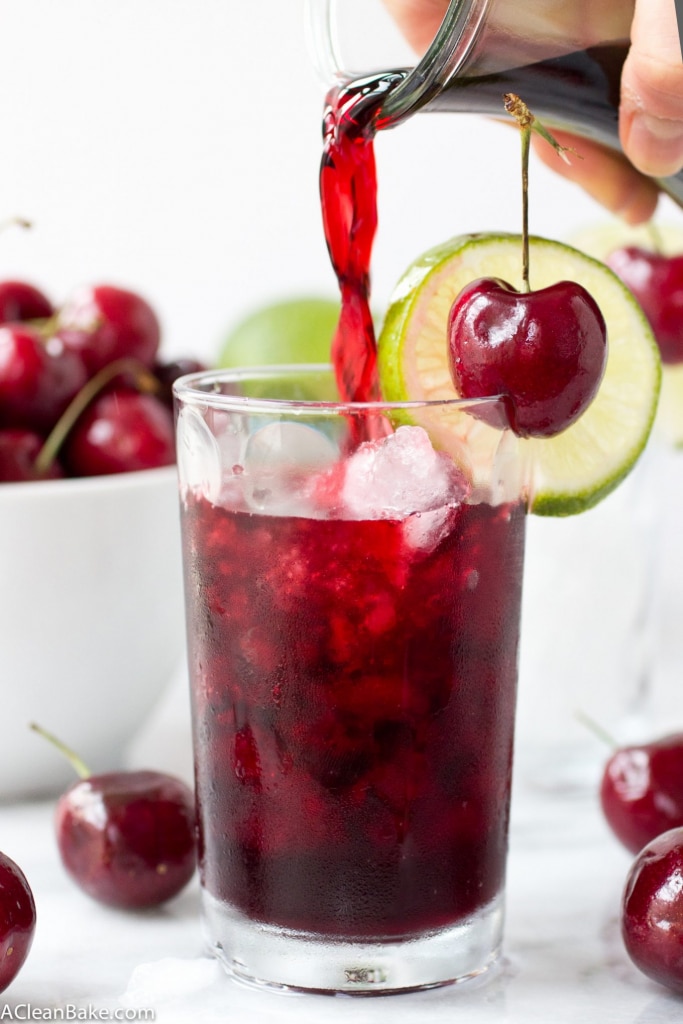 Other than that, everything you need is as straightforward as it gets: bottled sweet cherry juice (preferably unsweetened; look for nothing but cherry juice in the ingredient list), whole pitted cherries (I used fresh, but I'll bet frozen would work just as well), fresh lime juice, a blender and of course, vodka.
If you're extremely sensitive to vodka, I'd recommend springing for one of the more premium varieties that are gluten free, since they're made from corn, potatoes or grapes. My favorite is Tito's, but if you can't find that, Smirnoff is more widely available. In case you're curious, here is the full list. You can also, of course, use a different liquor like rum, or skip the booze altogether. It's still just as delicious, refreshing and summery either way.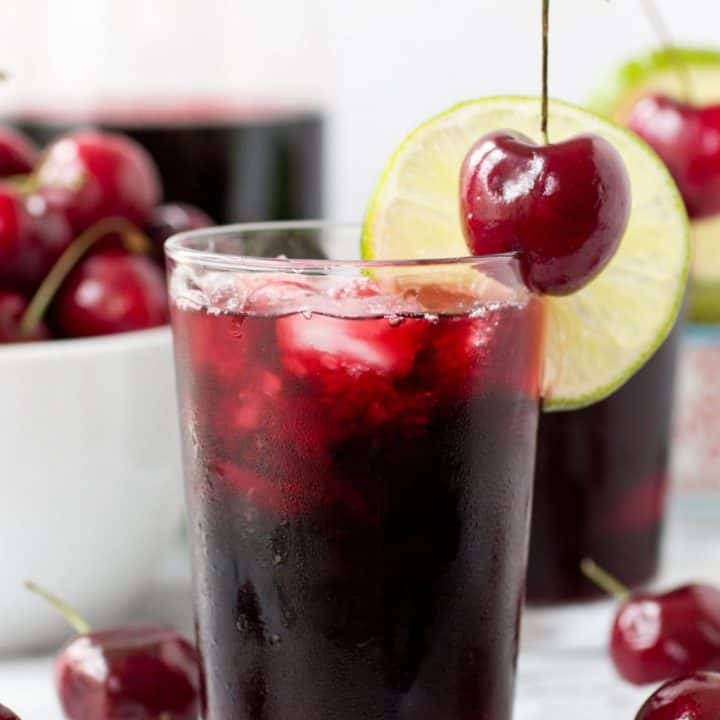 Cherry Lime Slushie
Naturally Sweetened Cherry Lime Vodka Slushie - because delicious cocktails shouldn't be full of sugar and artificial ingredients! 
Ingredients
4-6 ice cubes
1 ½ Tablespoons freshly squeezed lime juice
1.5 ounces vodka, 1 shot
3 ounces no-sugar-added sweet cherry juice, 2 shots
½ Tablespoon honey
6 whole cherries, pits and stems removed
Instructions
Add the ice to a high speed blender, preferably with an ice crush (or equivalent) setting.
Pulse several times to puree the ice, transfer crushed ice to a glass.
Add all of the ingredients except the ice to the blender and blend until smooth
Pour the cherry mixture over the ice and garnish the glass with lime slices and fresh cherries (optional).
Serve immediately.
Notes
Replace the honey with maple syrup or agave for vegan or FODMAP diet compliance.
To prep this drink in advance, crush the ice and store it, in the serving glass, in the freezer until ready to serve. Blend the remaining ingredients and store them in the refrigerator until ready to serve.
To make a virgin version, skip the vodka and add one additional shot of cherry juice.
To make a more snow cone-like slushie, freeze the cherry juice mixture + 1/3 cup water in ice cube trays, then run them through a high speed blender to create "snow".
Yield: One serving. Multiply as necessary.
Nutrition Information:
Yield:

1
Amount Per Serving:
Calories:

185
Sodium:

11mg
Carbohydrates:

22g
Sugar:

18g
[wprm-nutrition-label align="center"]