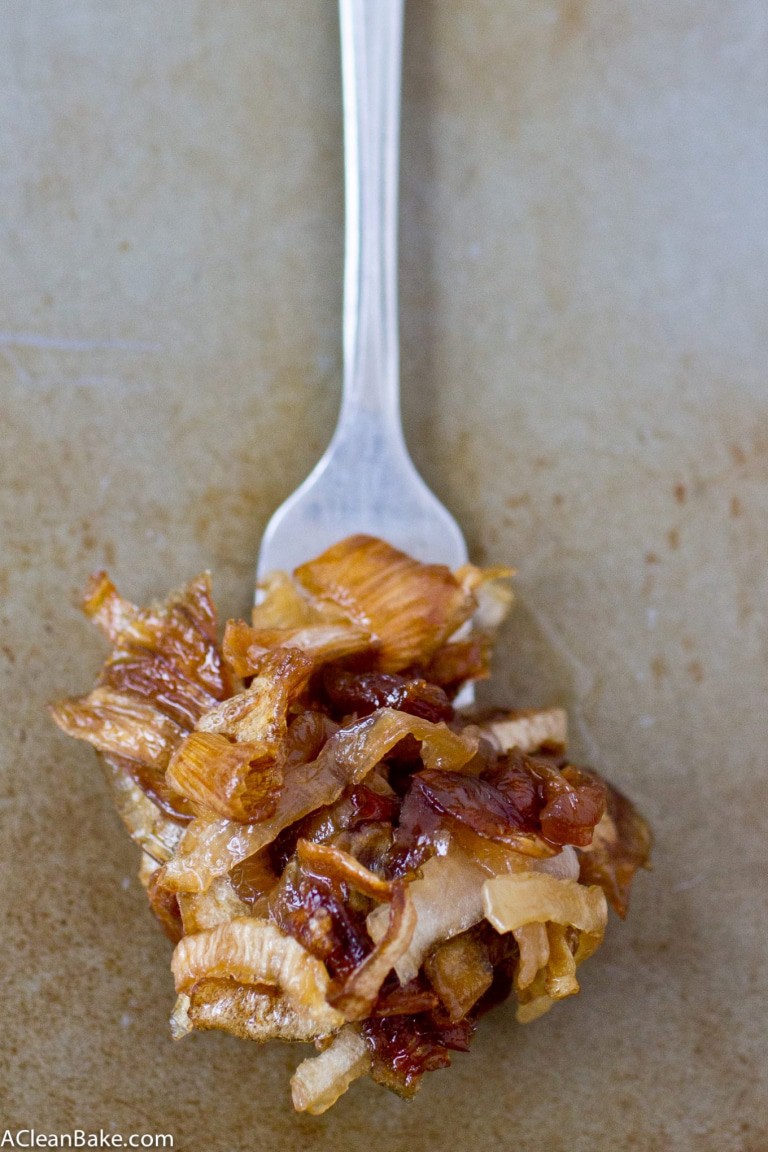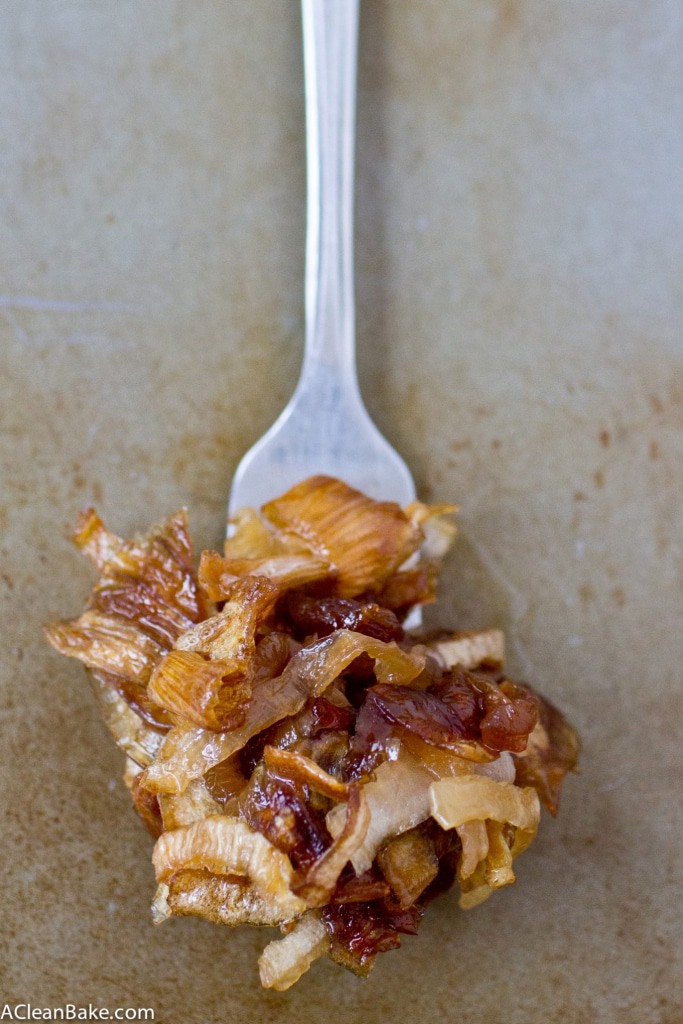 This recipe isn't so much a "recipe" as it is "another reason to love your slow cooker". It's so hands-off, it puts everything else on this website to shame.
Actually, scratch that. There's a time to turn on your oven and dirty a lot of dishes and make a huge mess in the name of a seriously good slice of double chocolate zucchini bread*, or banana bread*, or a s'more* (none of these recipes actually make that much of a mess, by the way), but I'm not sure that time is a 90-degree day in August, that's for sure. Actually, I'm positive that a 90-degree day in August is not the time because no amount of window opening or ventilation fan-ing will prevent the kitchen from heating up to approximately thedepthsofhell degrees fahrenheit. And you deeeeeeefinitely don't want to turn on your oven for multiple hours, which the traditional method of caramelized onions calls for. Not unless you also hope to be able to fry an egg on your countertop, that is.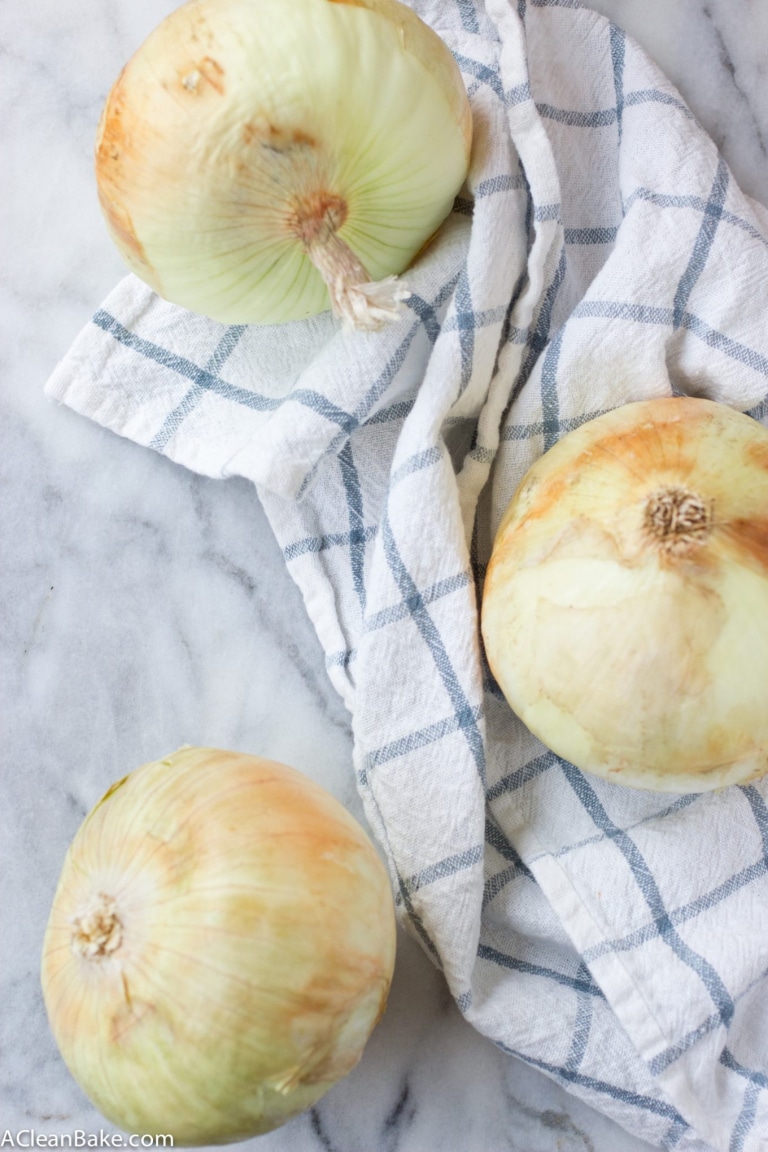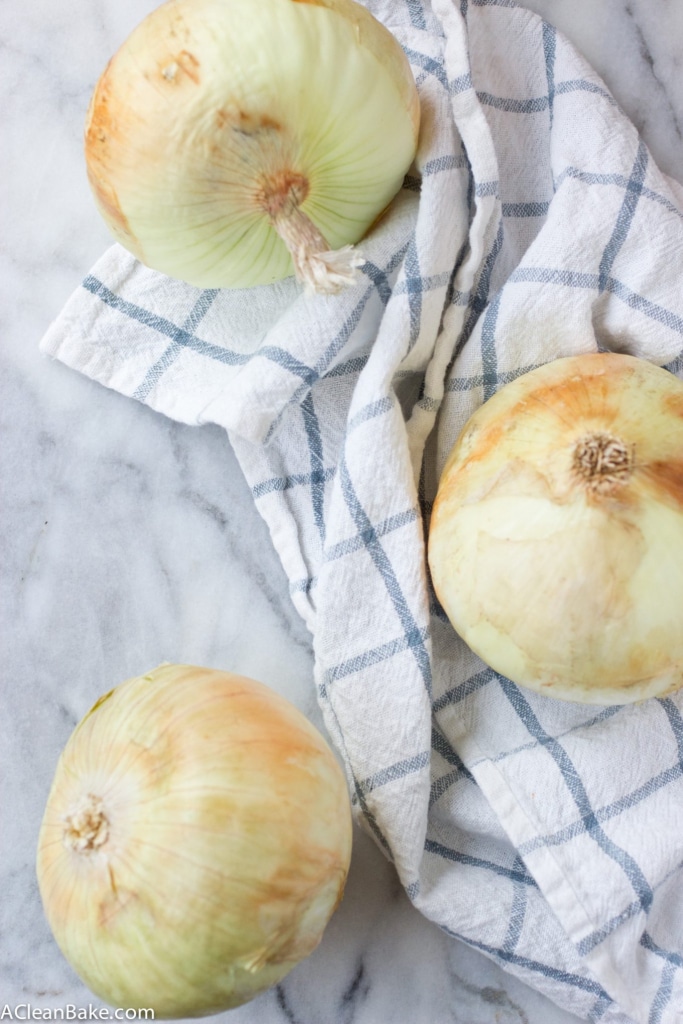 It almost seems cruel that caramelized onions, which typically require an unholy amount of time in the oven, are also the perfect summer food, and nothing rounds out a burger (or a sandwich or a salad or an empty fork) quite like them. They're soft or crispy – depending on your preference, no judgement – and slightly oily and sweet with not a hint of the bitter funk that raw onions leave behind in your mouth.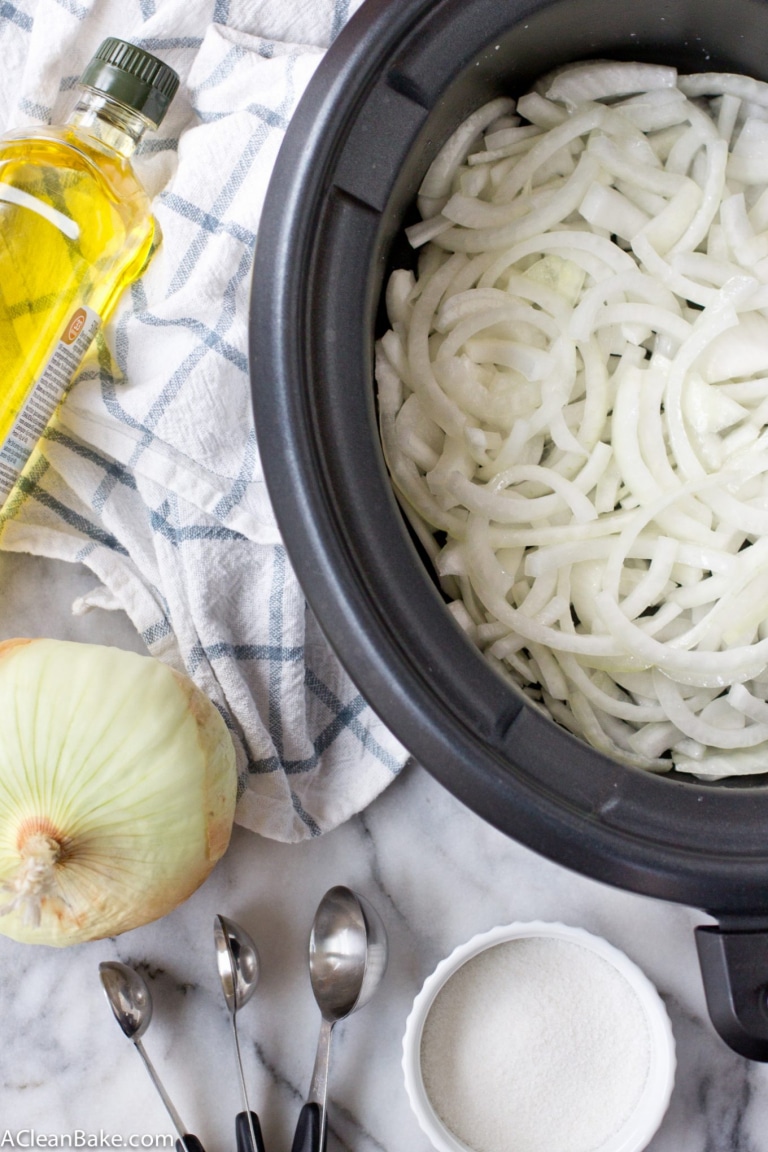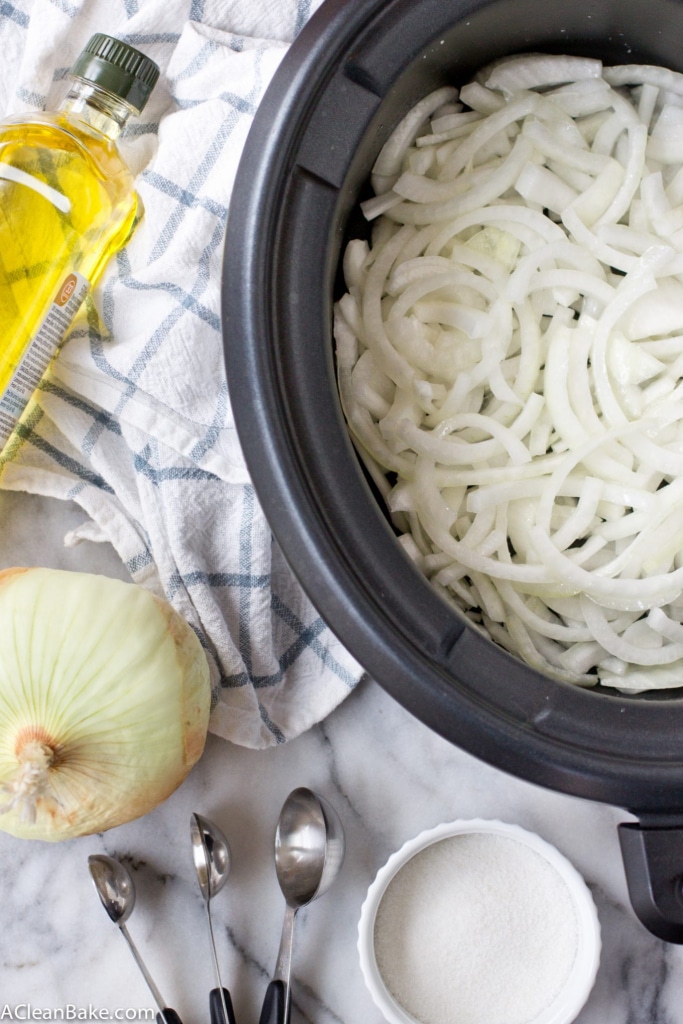 I love caramelized onions not only because they taste fantastic, but because they immediately class up even the most pedestrian of picnic food. Supermarket burgers straight off the grill? Add caramelized onions and all of a sudden they feel gourmet. Boring salad getting you down? Throw on some caramelized onions and now it feels like a fancy $19 salad from a brasserie downtown (or wherever you get your fancy overpriced salads).
I hate caramelized onions, on the other hand, because they require so much cooking time. I mean, honestly, the cooking time + the outside heat = deal breaker. I also hate caramelized onions because sometimes, if you don't cook them just enough at exactly the right temperature, instead of slowly meandering from bitter sharpness into the sweet, succulent depths of caramelization, they just burn. And then you have burnt bitterness and a lot of wasted onions.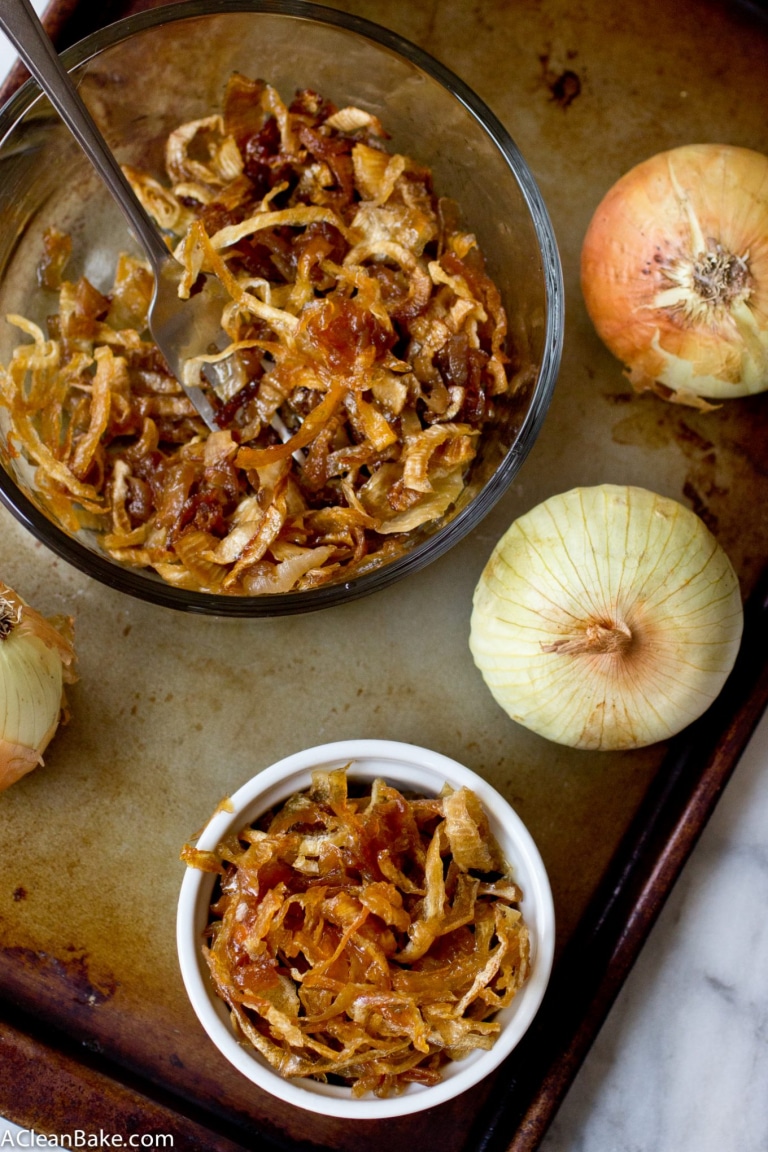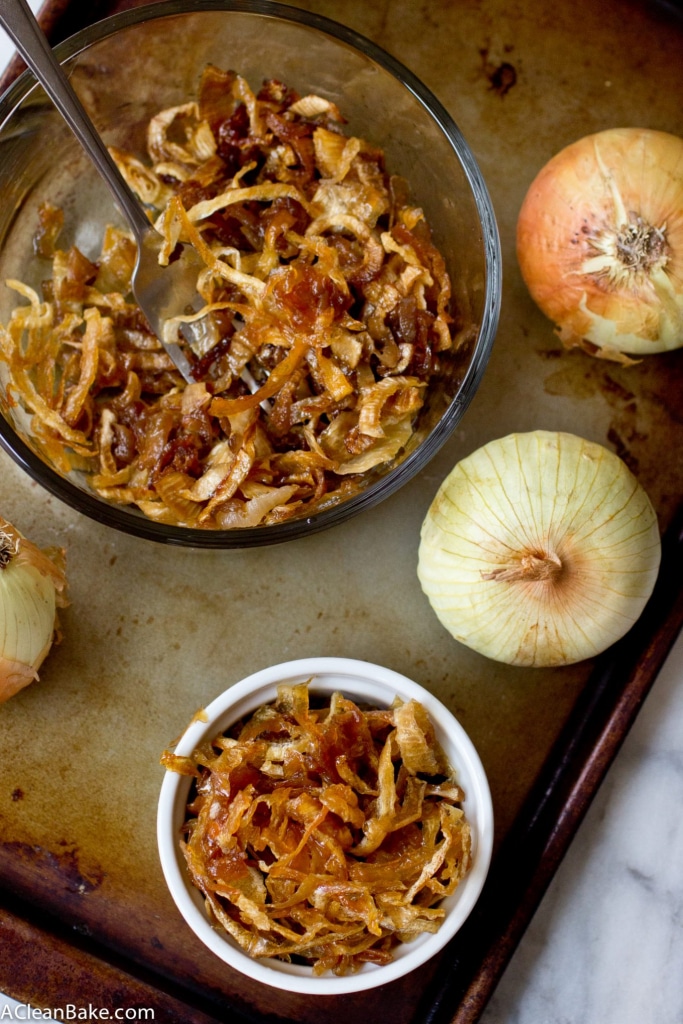 That, and about five million other reasons, is why I love my slow cooker. I know slow cookers (aka crockpots) are kind of the epitome of Pinteresting trendiness, but they are so incredibly handy – and not just in the winter. If anything I use my slow cooker more in the summer since it doesn't heat up the kitchen the way the stove does. And, since it cooks the onions low and slow, you basically have to try to burn them – and even then I'm not sure you'll succeed. If you like your onions on the crispier side, you'll see. You'll cook and cook and cook them and when you're sure they must be burned beyond recognition, you'll find them perfectly crisp and just ready to be eaten with your fingers like a chip. Don't fight that urge.
If, on the other hand, you prefer your caramelized onions soft and succulent, the slow cooker can do that too. Just skip the step where you remove the top and let the onions cook down in their juices until they are deep golden brown and, well, floppy enough to be eaten right off the fork. Don't fight that urge either.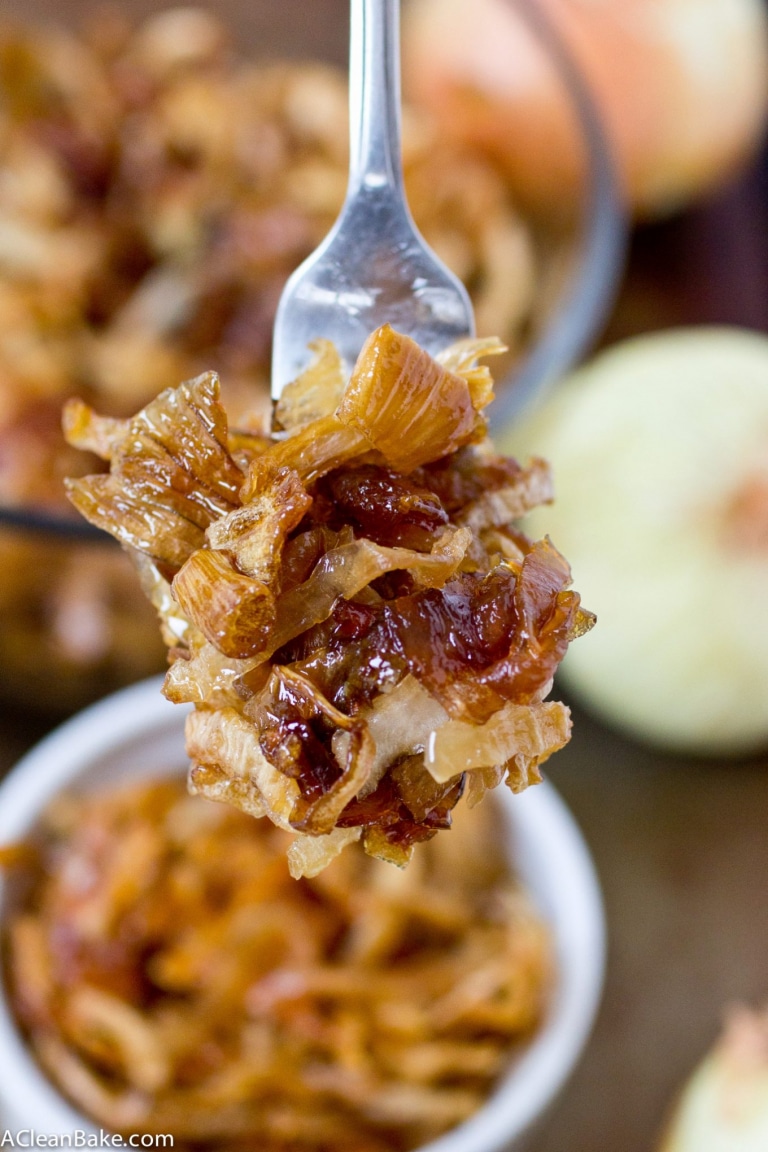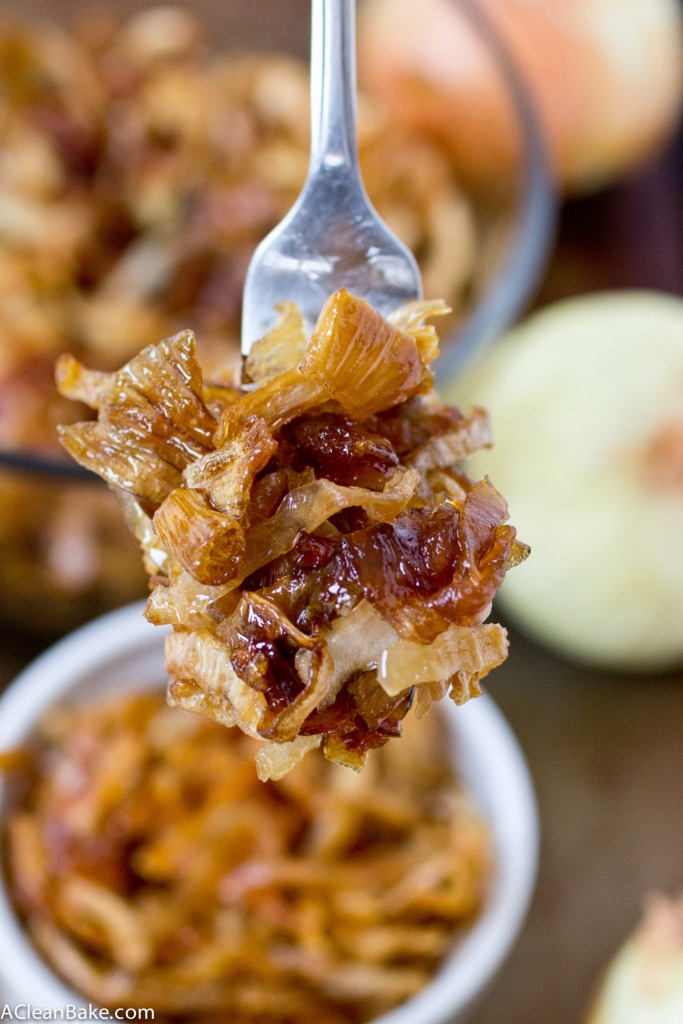 Stop back on Thursday for a really great non-burger-related way to use these that is perfect for your next picnic!
PS: Who knew I could write so many words about onions?
*But if you happen to live in a place that is not currently blazingly hot, I highly recommend all three of those recipes on behalf of satisfied neighbors, friends, readers, and party guests who had a chance to make and/or taste them over the weekend. I never get tired of hearing your reviews of my recipes, good or bad (but hopefully good!), so if you make these, or any of the recipes from this site, please send me a picture (acleanbake@gmail.com) or post them on social media with the hashtag #acleanbake, so I can see!
Updated to add: A few readers have asked what size and model slow cooker that I used for this, because it has some bearing on cooking time. This 4-quart model is the one I use.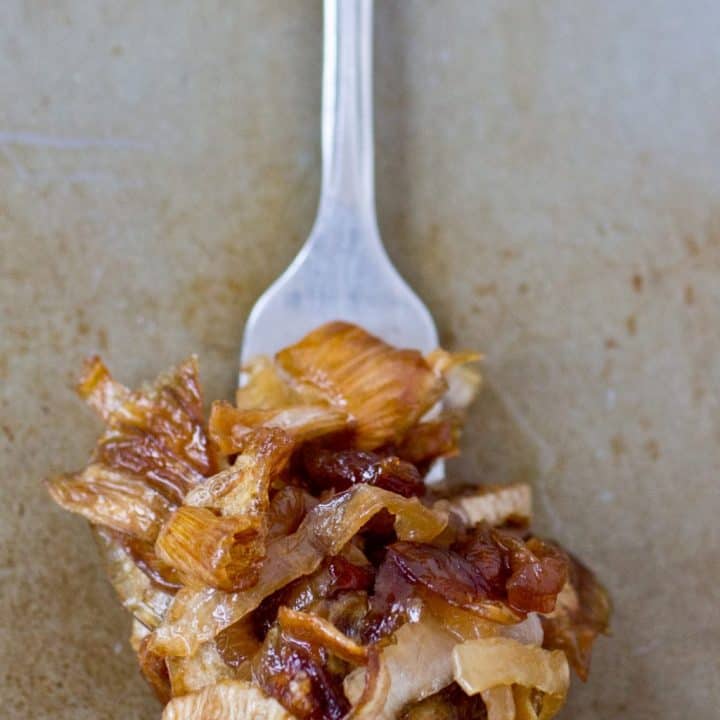 Slow Cooker Caramelized Onions
gluten free, grain free, sugar free, paleo-friendly, vegan, low carb
Ingredients
2 lb white or sweet onions, shallots also work well
2 Tablespoons extra virgin olive oil, or other good quality oil of choice
1 Tablespoon coarse sea salt or 1 teaspoon table salt, or to taste
Instructions
Peel your onions and then cut them in half, then into roughly 1/4" slices.
In the bowl of your slow cooker, toss together the onions and oil to coat, then add the salt and toss again to combine.
Cook 8 hours on the low setting with the cover on, then remove the cover and continue to cook an additional 1-2 hours. Once the onions reach a deep amber color, they are done.
Notes
This is the slow cooker I used for this recipe. It has a 4-quart capacity. If your device is significantly smaller, you might want to make a half batch of this recipe, or cook it in two batches.
If you want our onions to be crispy, remove the cover after 5-6 hours.
If you prefer a set it and forget it method, you can leave the lid on for the full 10 hours, but your onions may not caramelize as deeply. You'll also have a bunch of cooking liquid (onion broth?) that you can simply discard.
Store leftovers in an airtight container in the fridge for up to a week.