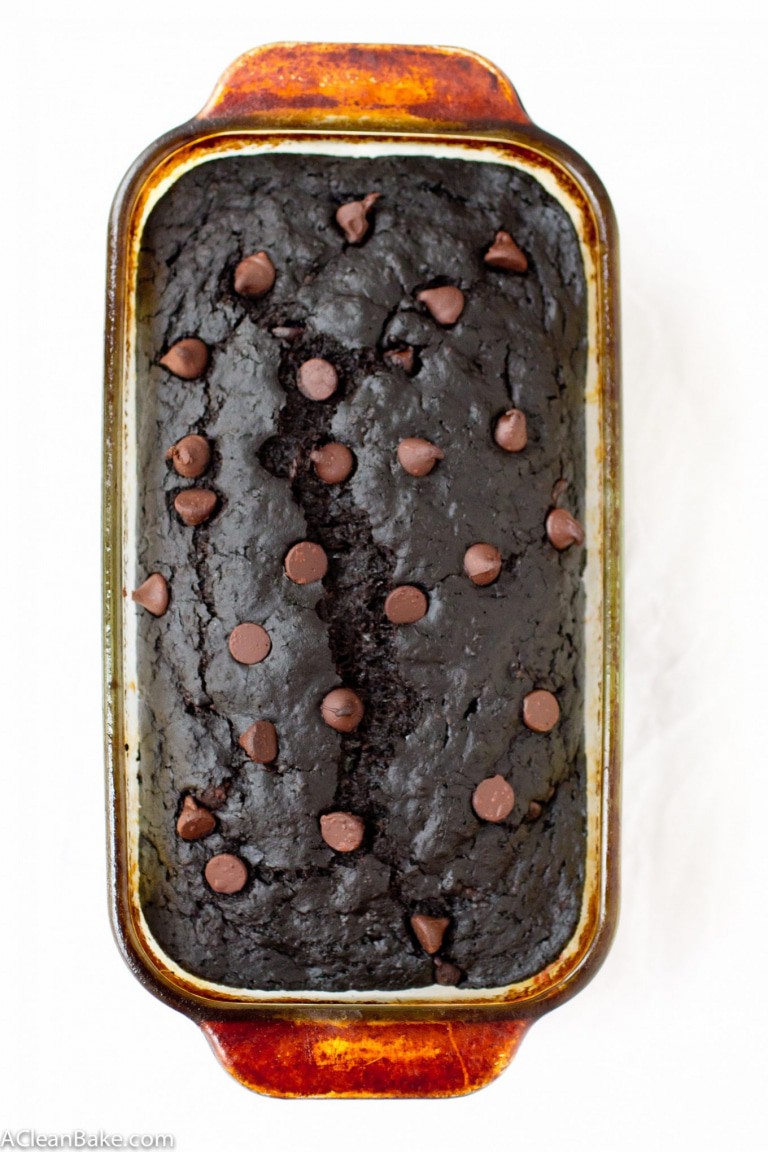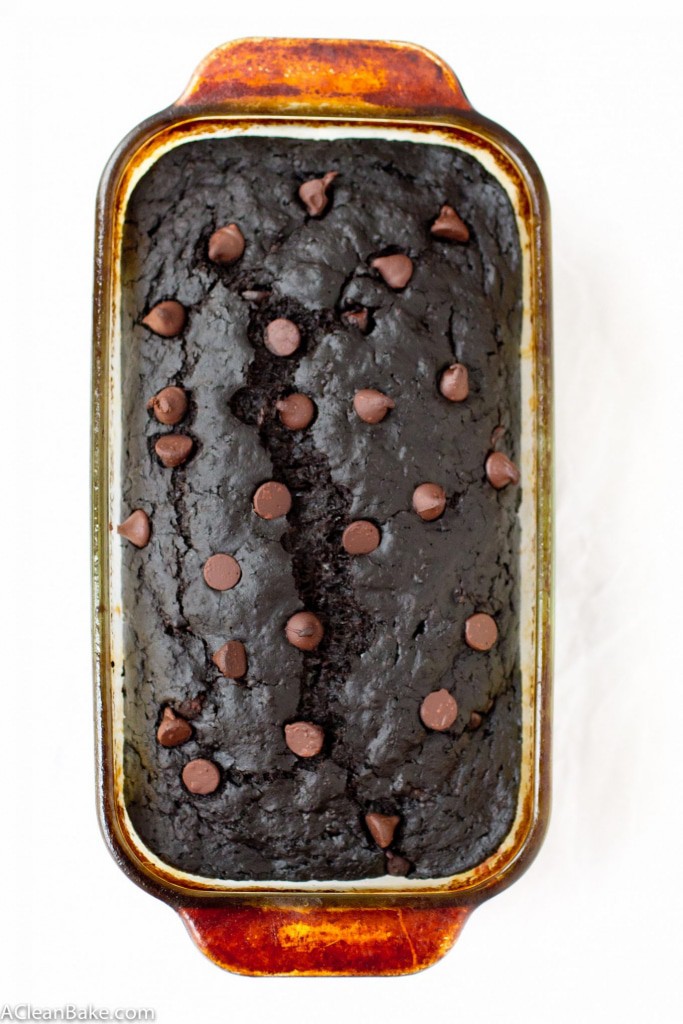 There is a wonderful neighborhood coffee shop across the street that sells thick slices of this chocolate zucchini bread that is to die for. It's soft and moist and it just saturates your taste buds with cocoa flavor. After being on a fairly restricted diet for more than eight months, I'm so used to it, and have learned to really enjoy foods that I never quite saw the point in before, so I rarely feel deprived. Every time I stand at the counter making friendly small talk with the manager and paying for my coffee, I am discreetly (well, probably not, but I try) eyeing the thick slabs of zucchini bread that they not-coincidentally place just beside the register, wondering if it is worth the several days of misery I would endure for those few minutes of gustatory satisfaction.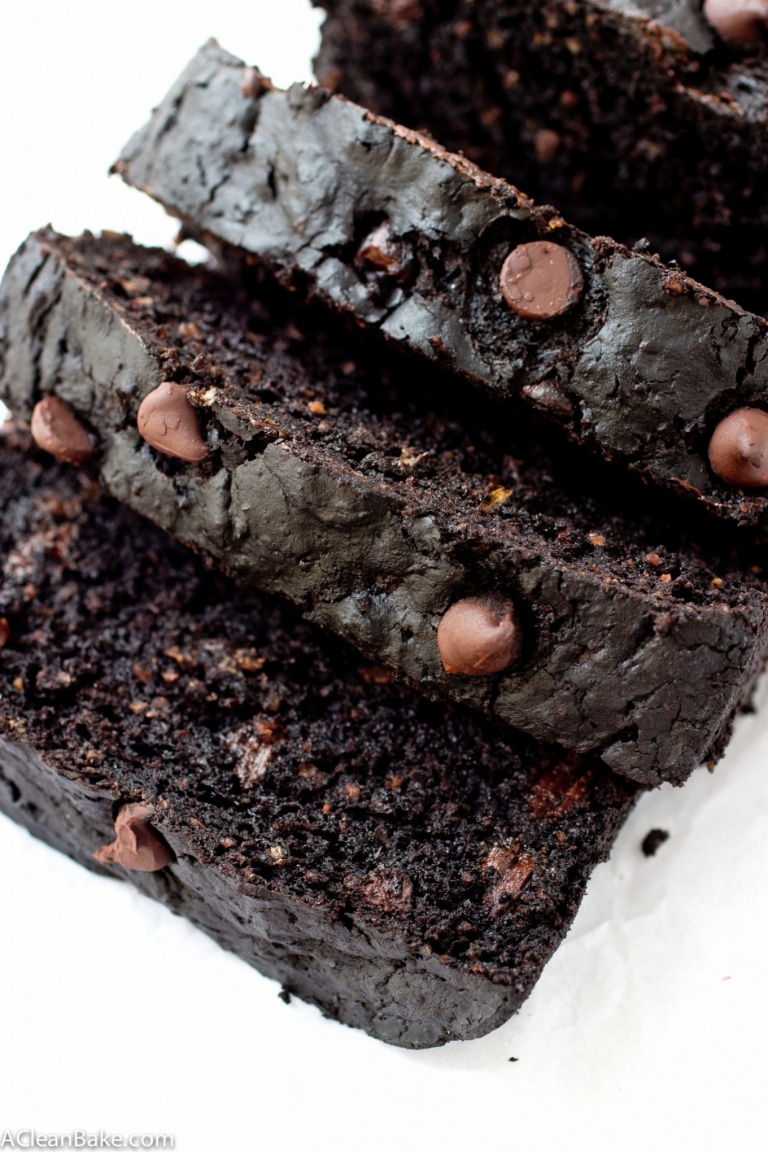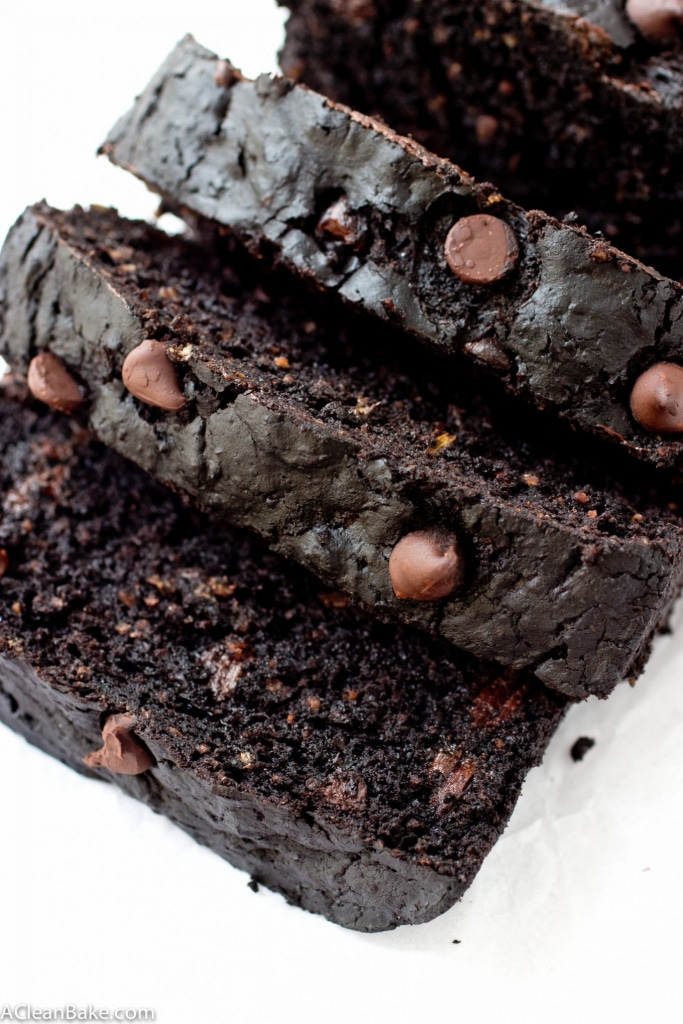 Those moments are some of the very, very few when I feel like I am missing out because of my dietary restrictions. So, having admitted to that, I'm not even going to pretend that I wasn't blatantly trying to copy that bread when making this one. Only, you know, with the Clean Bake twist: gluten-free, dairy-free, and lightly sweetened with honey. You know the drill.
After many tries and many generous friends, coworkers and neighbors who were willing to eat some of the less-than-perfect attempts, I can honestly say that this is as good as the one from the coffee shop….Only, since it contains chocolate chips, better.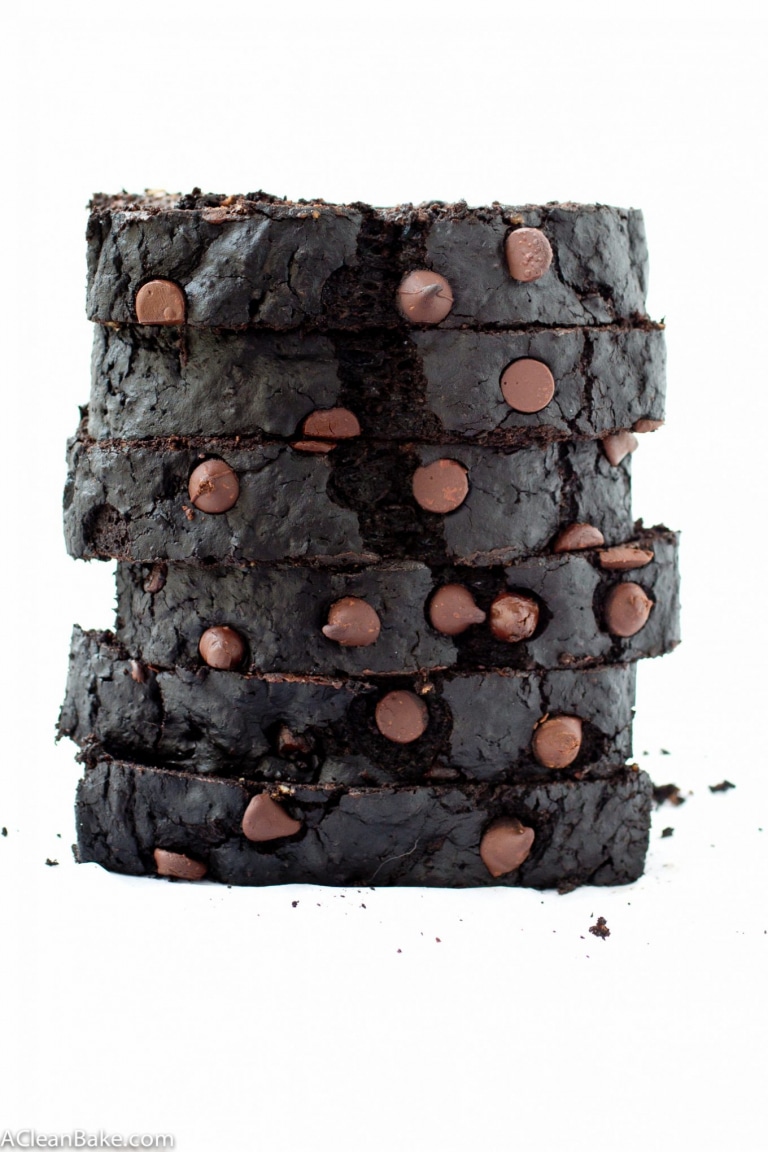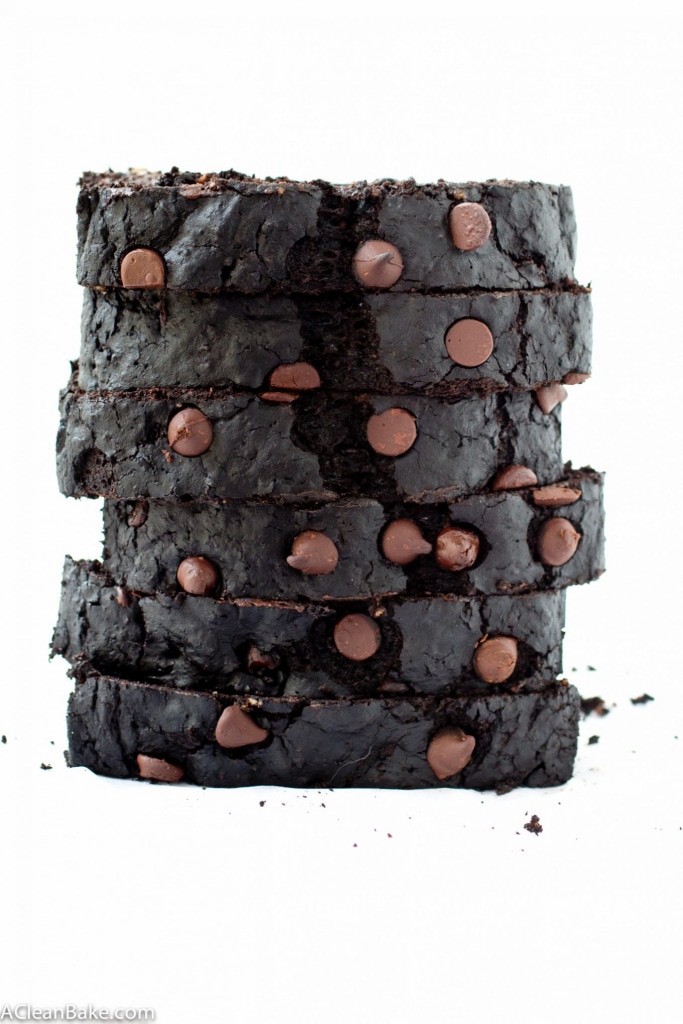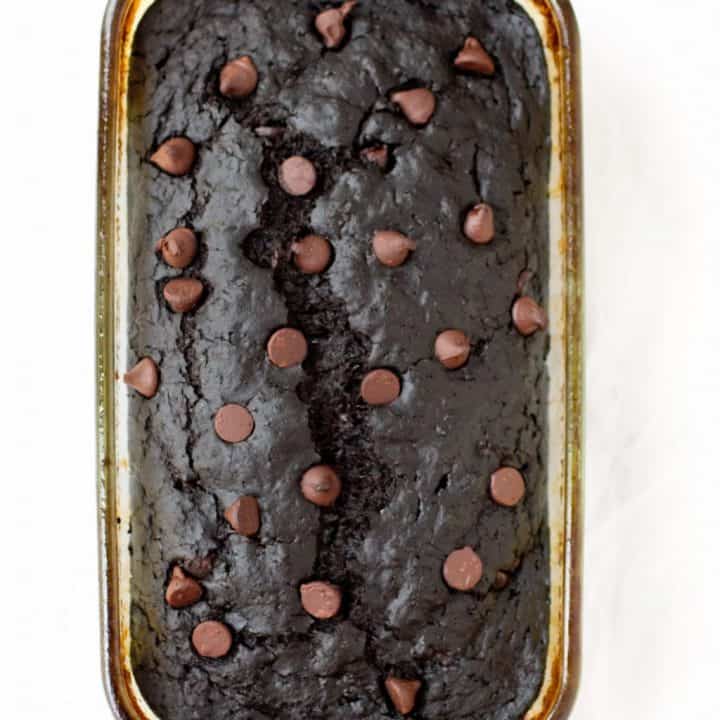 Double Chocolate Zucchini Bread
Ingredients
1 cup milk of choice
1 large egg
1/3 cup honey or maple syrup
1/4 cup organic canola or light olive oil
2 teaspoons vanilla extract
1 packed cup shredded zucchini
3/4 cup oat flour
3/4 cup sweet rice flour
1 Tablespoon psyllium husk powder
3/4 cup Special Dark or natural cocoa powder
6 Tablespoons granulated monk fruit sweetener , or granulated stevia
2 teaspoons baking powder
2 teaspoons baking soda
1/4 teaspoon salt
1/2 cup semi-sweet or dark chocolate chips., plus an additional heaping Tablespoon for garnish
Instructions
Preheat the oven to 450F. Grease a 9" loaf pan and set aside.
In a small mixing bowl whisk together the wet ingredients (milk through vanilla) until egg is beaten and liquids are incorporated, then whisk in zucchini. Set aside.
In a large mixing bowl, whisk together dry ingredients (flours through salt).
While mixing, pour wet mixture into dry mixture and stir until just combined, making sure to scrape the bottom of the bowl so nothing gets left behind.
Fold in chocolate chips.
Pour batter into prepared loaf pan and use your spatula to smooth into an even layer.
Bake for 10 minutes, before reducing the temperature to 350 and baking for an additional 45 minutes, or until the top is crisp and a tester comes out clean.
Cool for 10-15 minutes in the pan before turning out onto a rack to cool completely before slicing.
Notes
This is a lightly sweetened bread. If you'd like to make it sweeter, add more of the granulated sweetener, but do not add more honey or agave than the recipe calls for! If you'd like to sub coconut sugar or granulated honey for the stevia or monk fruit, you'll have to increase the amount, since they are less sweet by volume than stevia or monk fruit.
Make sure you are using oat flour that is labeled "certified gluten free" if gluten is a concern
Store in an airtight container at room temperature for up to 5 days, or in the freezer for up to 3 months.
This recipe was updated July 2015.
Pin For Later: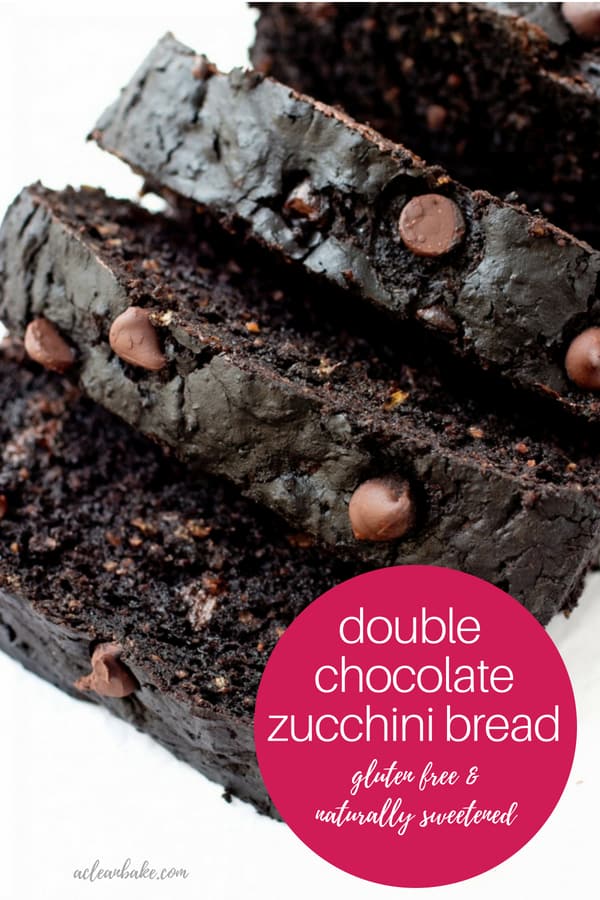 This post contains affiliate links, which means that if you click through and purchase a product, A Clean Bake receives a small commission, which goes toward continuing to bring you delicious, healthy recipes every week. This does not affect the price you pay. Thanks for supporting A Clean Bake!