Things are starting to get a little overwhelming as work picks up, wedding planning reaches the dreaded few-months-out-frenzy period, and the rest of life refuses to slow down to accommodate any of this. How dare the day only contain 24 hours!? I have long talks with myself in which I convince, um, myself that I need to force things to slow down and there is a way to get back to a state of Not Constantly In A Panic, but then I lose my train of thought and just
stress eat instead
.
Unfortunately, the only thing that honestly doesn't have to get as much attention as it does is this blog, so that means that I am officially crying uncle. I have lined up some spectacular guest posters for you during a few of the more insane periods during the next few months, and in the meantime, there just might be some one-post weeks. Like this one. Sorry about that.
The irony, of course, is that the only thing that calms me down more effectively than stress eating is stress baking, so I have many wonderful recipes to share with you, but not enough time to share them all. It'll all get done (it just might take longer than I would like). That's my new mantra these days. It'll all get done.
But this recipe couldn't wait. Not only are the ingredients at their peak at this very moment, and will disappear quickly, these little mini pies are spectacular for the taste buds and for the soul. Nothing makes you feel more in control of your universe like having an entire pie all to yourself, even if it is only a few inches in diameter (and that's probably a better scenario than the wider pie'd alternative, anyway).
These are so easy to make that they take longer to bake than to actually assemble, and they don't even have to bake very long either. They are of the single-crust variety, although, for the sake of ease, that single crust appears on the opposite end of where you would usually find it in a single crust pie. Feel free to make double the crust and press half of it into the base and up the sides of each ramekin but I didn't have the patience for that. Instead, the thick layer of top crust makes up for the lack of dough below and produces what I must declare, in my (questionably) humble opinion, as the perfect crust-to-filling ratio to take your mind off of…really whatever you're preoccupied with. It's summer. Let's stop worrying and enjoy some pie.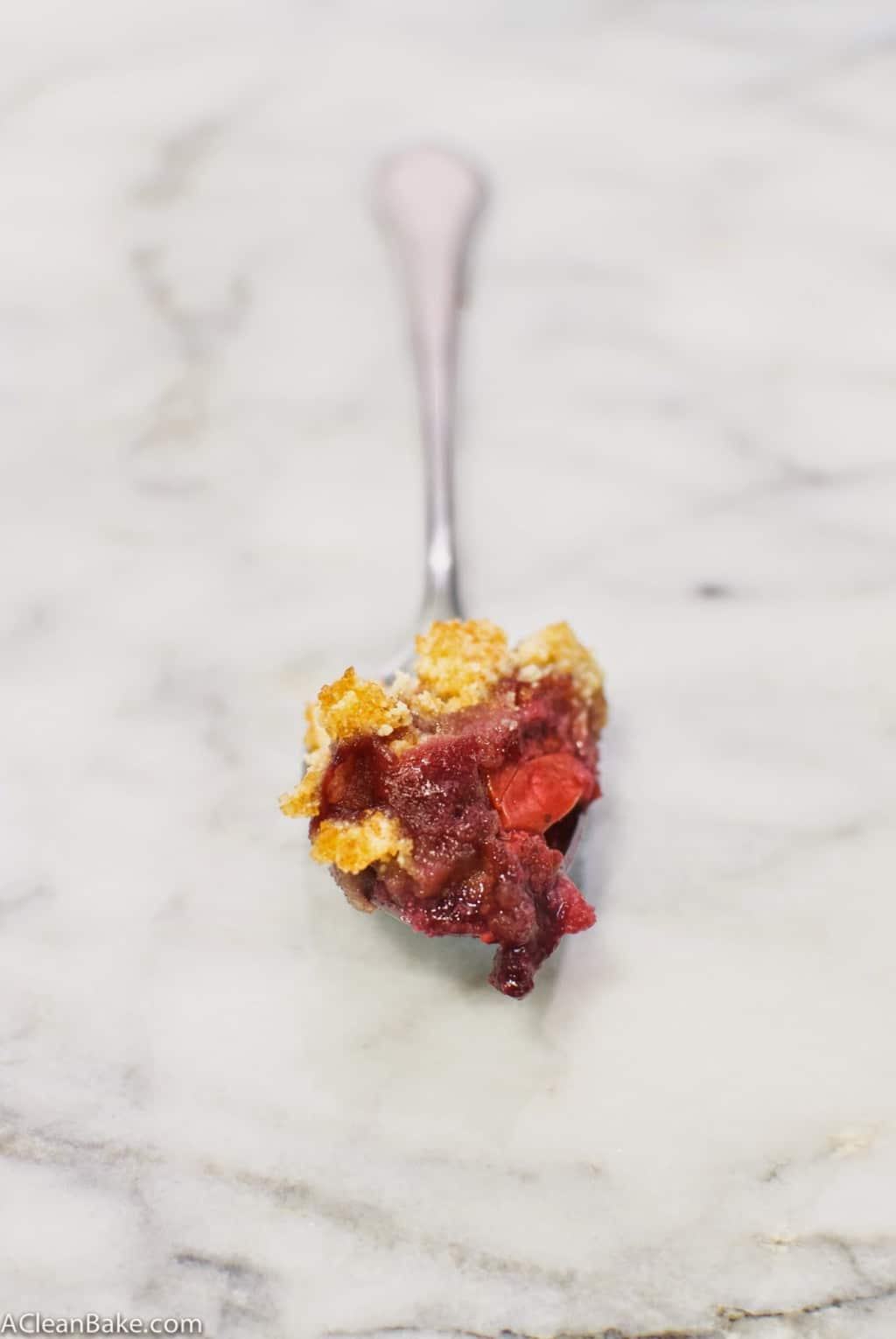 Individual Grain-Free Cherry Rhubarb Pies


Ingredients:
For the filling
1 heaping packed cup fresh rhubarb (see note)
1 heaping packed cup roughly chopped sour cherries (see note)
1 Tablespoon ground flax
2 Tablespoons raw or coconut sugar + more for garnish
1/2 teaspoon fresh lemon juice
For the crust
1/2 cup blanched almond flour
2 Tablespoons coconut flour
Pinch salt
1 1/2 Tablespoon melted coconut oil
2 Tablespoons raw or coconut sugar
For Garnish
1 large egg + 1 Tablespoon milk, beaten together to make an egg wash (optional)
Cooking Directions:
Preheat the oven to 350F.
In a small mixing bowl, stir together all of the filling ingredients. Divide into two ramekins.
In another small mixing bowl, stir together all of the crust ingredients until it forms a ball. Turn out on to a nonstick surface and press into a ball, then flatten into a disc large enough to trace or cut 2 circles the size of your ramekin out of. I used a biscuit cutter but you can just trace around the bottom of the ramekin with your knife to cut out the circles.
Place each circle on top of the pie filling, and either leave room around the edges, or, if you'd like to seal the crust to the sides of the ramekin (pot pie-style), make sure to poke some holes in the top of the crust.
Brush tops with egg wash, and sprinkle with additional raw or coconut sugar (optional) for shine and appearance.
Place ramekins on a cookie sheet or other oven-proof tray. This will catch any overflowing juices and make it easier to handle the ramekins.
Bake about 25 minutes or until tops are golden and fruit juice is thick, bubbly and overflowing.
Let cool for 10 minutes or so, then serve.
Notes:
(1) If using frozen fruit, defrost and drain before measuring
(2) If not serving immediately, store in an airtight container in the fridge for up to 2 days.
(3) Makes 2 personal pies.