It's never been easier to make low carb sandwich bread. This version uses all real food ingredients and comes together in your blender!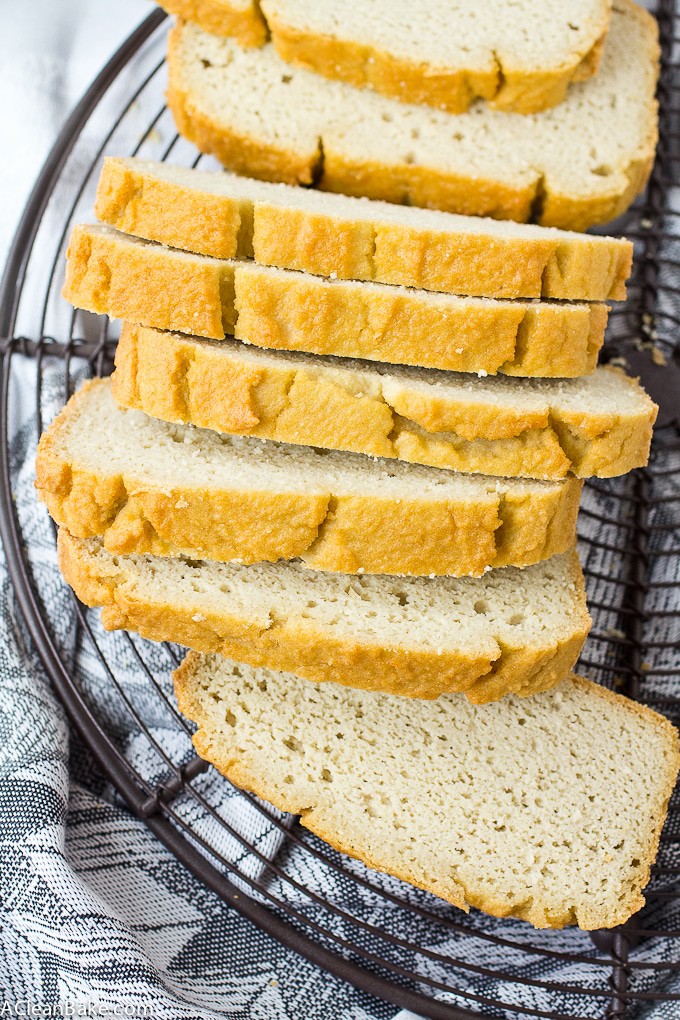 I feel like a total scrooge admitting this, but I'm kind of glad the holidays are over. Not about going back to work, or waking up early, or the promise (threat, really) of 3–5 more months of weather ranging from uncomfortably chilly to I'm-so-cold-I-might-shatter-if-touched. No, certainly not that. Cold weather feels colder to me when I'm not surrounded by twinkly Christmas lights; this is a universal experience, right?
It's not that I am opposed to holiday cheer or twinkly, cold-weather-justifying lights decorating the neighborhood, but the whole cheese/cookie holiday diet was really starting to get to me.
December is a busy month in my family — more so than normal — because we have so many birthdays, and we celebrate Christmas as well as Hanukkah. I don't think there was a weekend without a celebration for about six straight weeks there. I'm out of jolly. (Ack. I really sound like a scrooge now.)
And my body just can't take it anymore!
I've never been more relieved to return to a diet of mostly protein and veggies, of eggs for breakfast, and hearty salads for lunch. But it's hard to go cold turkey without craving something the comforting texture of something doughy. That's where this low carb sandwich bread comes in (but you probably already figured that out!)
I'm not doing a Whole30, per se, but most of the "Nora Reset" diet falls into that camp, including, technically, this low carb sandwich bread – though I know that this is blasphemy because Whole30 forbids any copycat recipes made of legal ingredients but in the form of a forbidden food. Since I'm doing the "food that makes me feel good" diet, this bread is totally LEGAL.
What's different about this version?
I tinkered with the paleo sandwich bread that you have seen before to remove the tapioca starch (a seemingly easy task, until you actually try it. The first few loaves tasted like bland, gummy cakes) and the baking powder (which can contain cornstarch, causing a reaction in some people), leaving only the low(er) carb ingredients that are less likely* to trigger a reaction.
*Unless you are allergic to tree nuts or coconut, in which case, stay away.
Why Lose the Tapioca Starch?
While tapioca starch is gluten free and one of my favorite ingredients to bake with, it's made up almost entirely of carbs, which will spike your blood sugar. The carb count of just a 1/4 cup of tapioca starch will cost you 27 grams, which would be your entire daily value for carbohydrates on a keto or low carb diet. By contrast, a 1/4 cup of coconut flour contains 18 grams of total carbs. With 10 grams of dietary fiber, this brings the net carb count down to just 8 grams. If you look at the nutrition facts of almond flour, you'll see a 1/4 cup serving gives you 8 grams of protein, 10 grams of total fat, and just 10 grams of carbs.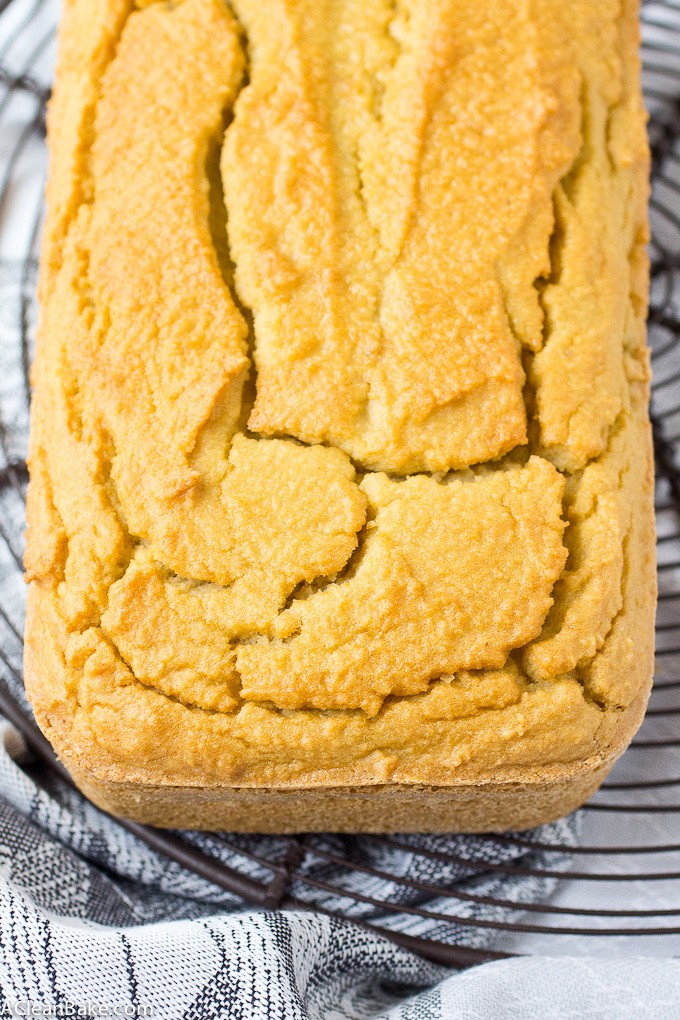 How to Make Low Carb Sandwich Bread
Unlike regular bread, the prep work for this grain-free sandwich bread takes a total time of one minute. If you have a high speed blender or food processor, you can use it to prepare the batter, but be careful not to tax the motor. First, you'll dump the dry ingredients in and mix quickly at high speed. Next, add all the wet ingredients except the egg whites, and blend again. Finally, add the egg whites, blending until frothy.
Note: The batter gets very thick very quickly, so if you hear or smell your blender's motor struggling, just pour the batter into a large bowl and stir until the batter is smooth.
Once your dough is prepared, pour the contents of your blender into a loaf pan. To prevent you bread from sticking to the bottom of the pan, you can grease it with olive oil or coconut oil, or line it with parchment paper. Bake your low carb, gluten free bread at 350F for about one hour, or until a toothpick comes out clean.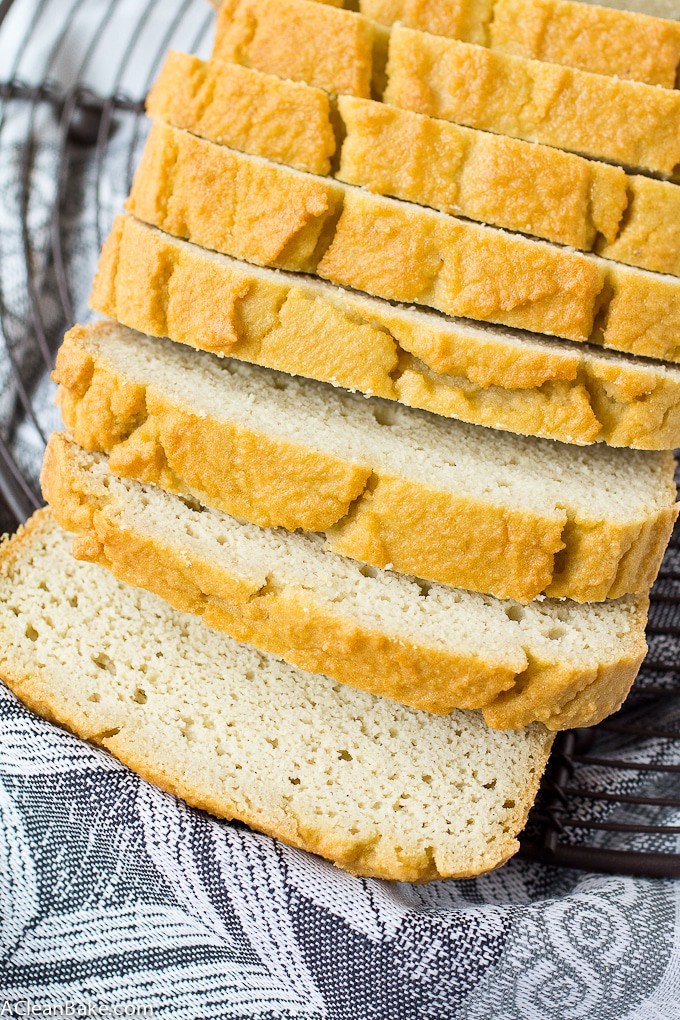 Tips for Low Carb Bread Success
As you're probably aware, baking is pure chemistry, and just a few tweaks in ingredients can make your bread come out too eggy, too wet, or too dry. Here are a few tips, tricks, and answers to commonly asked questions to ensure your low carb bread tastes like "regular" white bread:
Can you substitute almond flour for coconut flour, or vice versa?

Unfortunately, no. There were plenty of recipe trials (and a few tears) that went into making this recipe the

best low carb bread

possible. My best advice is to follow the ingredients and measurements listed below exactly. Do not substitute almond or

coconut flour

for

flaxseed

,

sunflower seed

four,

psyllium husk powder

, or other

grain-free

flour.

Can you use this recipe to make bagels, English muffins, or hamburger buns?

Yes, but you will need to tweak the cooking time. To transform this

low carb recipe

into other baked goods, mold your dough into medium-sized balls on a greased baking sheet or

muffin

pan (if you're making

bagels

, sprinkle with

sesame seeds

or Everything But The

Bagel

seasoning). Bake for roughly 40 minutes, and try the toothpick test to see if they're done.

How should I top this low carb bread?

You enjoy this bread just as you would regular white or

wheat bread

. Toast in the

toaster

until

crispy

, then smother with

almond butter

; top with

cream cheese

and smoked salmon, or dredge in eggs then fry up to make

easy, yummy low carb

French toast

. If you choose to whip up the latter, look for a low carb syrup, sweetened with monk fruit or

Stevia

.

Is this recipe suitable for the keto diet?

Yes! This recipe is

sugar-free

,

gluten free

,

paleo

, and

keto

friendly. It is not

vegan

or Whole30 compliant.

How should I store this bread?

You can store this bread in an airtight container up to one week in the fridge. Otherwise, you can store it in the freezer for months.
Enjoy this Grain-Free Bread as Part of a Low Carb Meal Plan
If you're following a low carb diet, this is the best bread to enjoy. This keto bread recipe contains minimal ingredients, and requires just one minute of prep work. Plus, it's loaded with protein and healthy fats, while containing minimal carbohydrates.
Although this bread is gluten and grain-free, it is similar in texture and taste to whole wheat or white bread. You can enjoy it any number of ways, frying it into French toast for breakfast, using it in place of wraps or tortillas for your favorite lunch wrap, or reintroducing the bread basket come dinner.
Now, go enjoy a sandwich!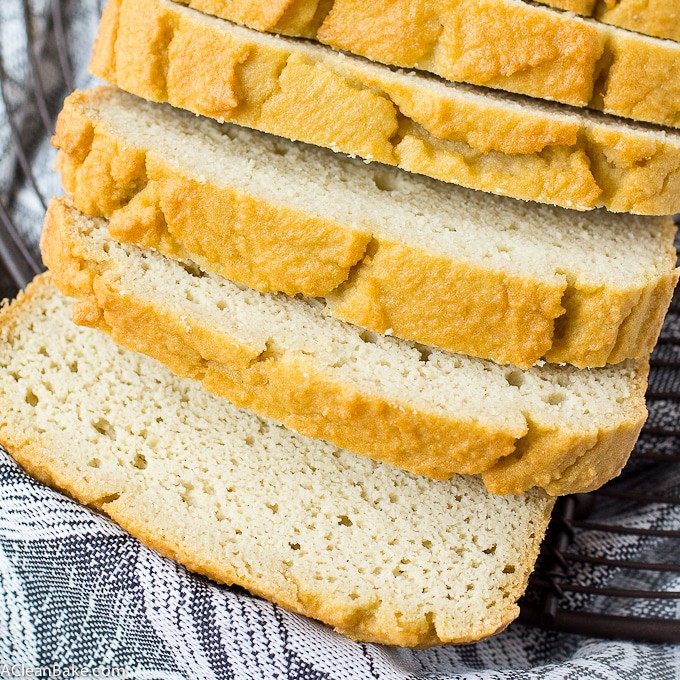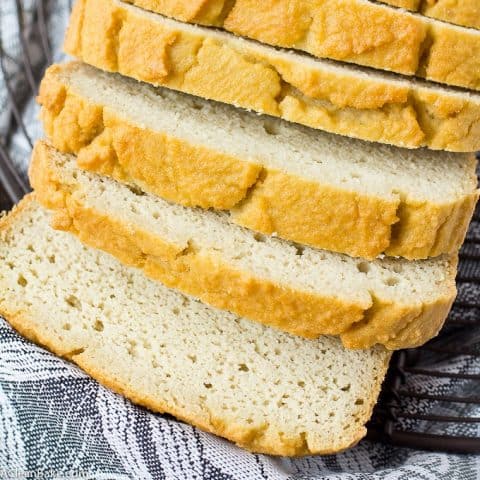 Low Carb Sandwich Bread
Total Time:
1 hour
5 minutes
It's never been easier to make low carb sandwich bread. This version uses all real food ingredients and comes together in your blender! 
Ingredients
5 large eggs, room temperature
3/4 cup water
Instructions
Preheat oven to 350F. Grease an 8.5" loaf pan and set aside.
In a large mixing bowl, whisk together the almond flour, coconut flour, baking soda, and salt and set aside.
Separate the eggs. Set aside the whites.
Blend the egg yolks, oil, water, and vinegar in a high speed blender on medium speed for 5 seconds until combined.
Turn off the blender and allow the mixture to rest for 1 minute.
Add the egg whites, and mix for 10-15 seconds until the mixture is frothy.
Add the dry ingredients all at once and immediately process on high for 5-10 seconds until the batter is smooth.
Pour the batter into the prepared loaf pan and smooth the top into an even layer.
Bake for 50-70 minutes, until a tester inserted into the center comes out clean.
Allow the bread to cool for 10 minutes in the pan before turning out onto a wire rack to cool completely.
Notes
A note about mixing with the blender: You have to work very quickly before the dry ingredients absorb the wet and the batter becomes too thick for your blender to handle. If you hear or smell the motor straining, pour the batter back into the bowl that the dry ingredients and use a hand mixer to finish making the batter.
If you have trouble releasing the bread from the pan, run a thin knife around the edges before you turn it over.
Store fully cooled slices (or the whole loaf) in an airtight container in the fridge for up to a week or in the freezer for up to three months.
Recommended Products
As an Amazon Associate and member of other affiliate programs, I earn from qualifying purchases.
Nutrition Information:
Yield:

12
Serving Size:

1 slice
Amount Per Serving:
Calories:

102
Total Fat:

8g
Saturated Fat:

2g
Trans Fat:

0g
Unsaturated Fat:

6g
Cholesterol:

78mg
Sodium:

226mg
Carbohydrates:

3g
Fiber:

1g
Sugar:

1g
Protein:

4g