Paleo friendly and yeast free grain free sandwich bread that you can make in your own kitchen with no funny ingredients, stabilizers or additives! PS: if you're looking for the famous low carb sandwich bread recipe, you can find it here.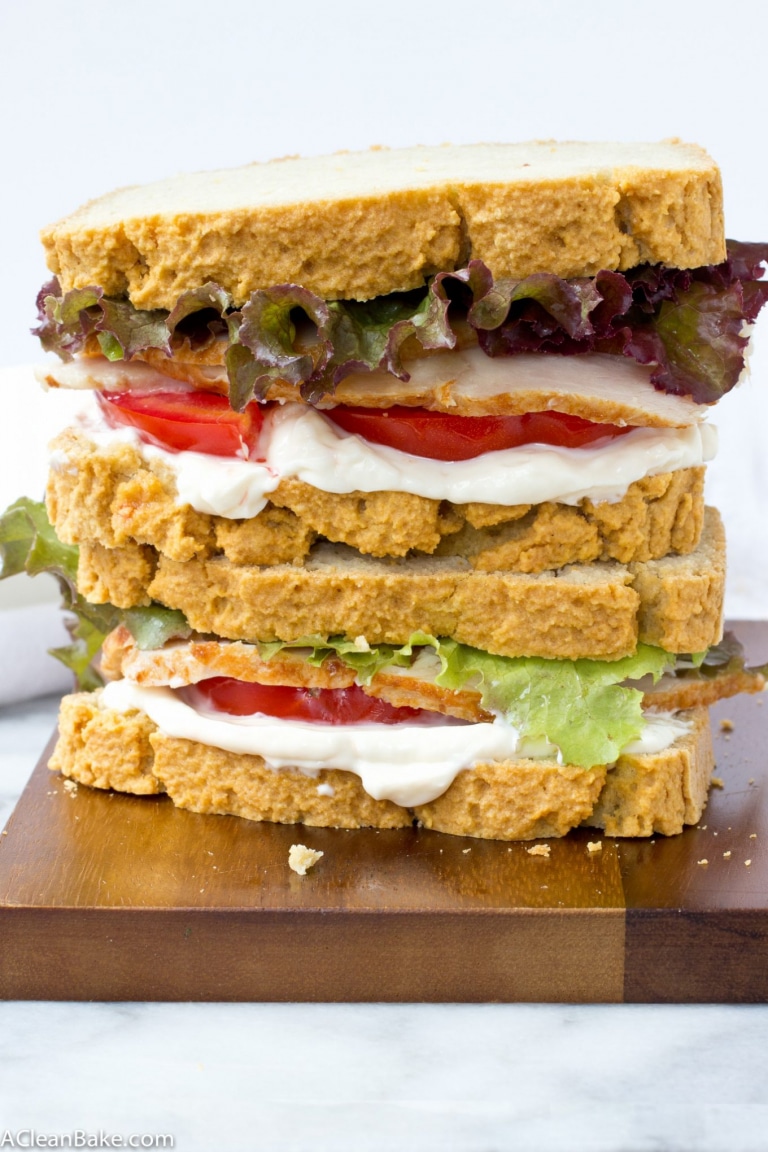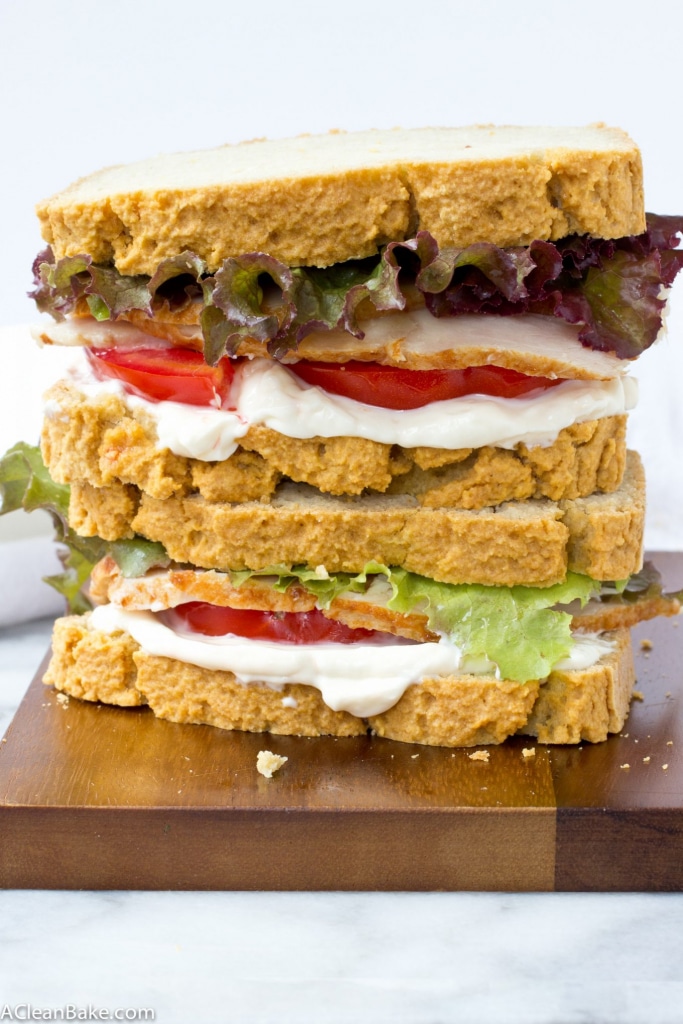 As a rule, I don't use the phrase "The Best" to describe my recipes, because I know that everyone's taste is different, and I respect our diverse palates. But if there ever were to be an exception to that rule, it would be this humble loaf of grain free sandwich bread.
You don't even want to know how many not-quite-there batches of this sandwich bread I made before I got to this one: THE (best) paleo sandwich bread. It does it all: holds your meat, your cheese, your mayo, your mustard. It toasts, it travels, it freezes, and it thaws (without losing too much moisture and tasting like cardboard; we cycled through that problem/solution hurdle, too), it slices, it dices, it chops— wait. No. That's the tiny blender on late night informercials. But, credit where credit is due: this bread does slice up nicely.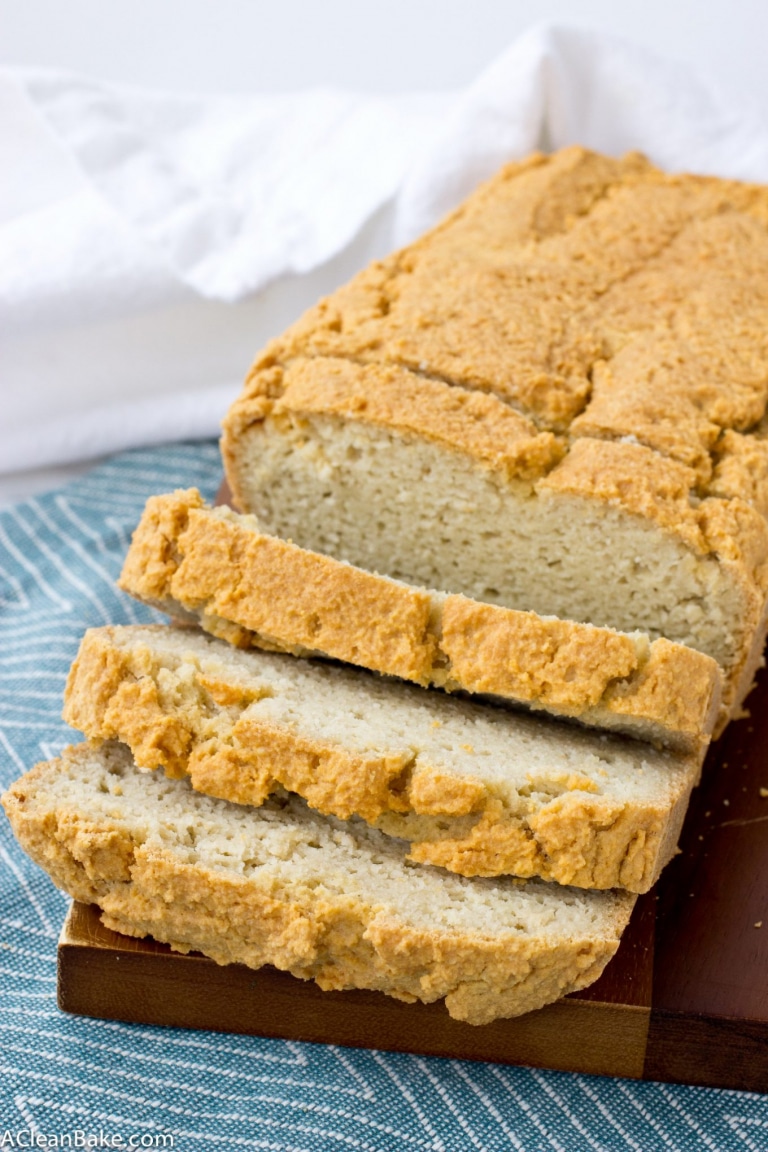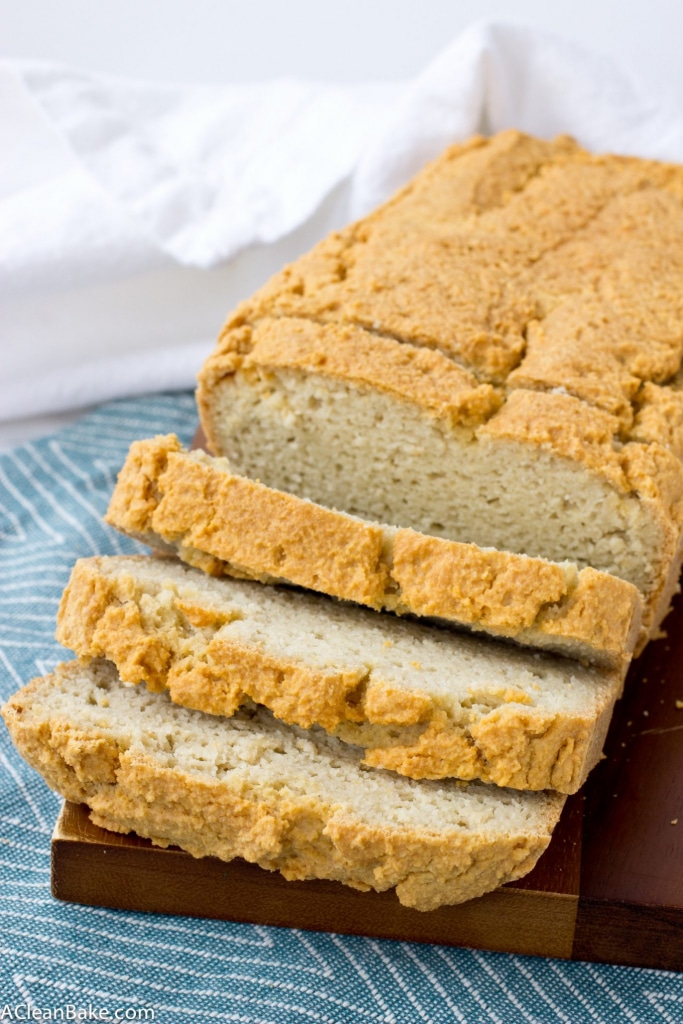 And it does so much with so little: no gluten, no grains, low carbs, no sugar, no yeast, low salt, no dairy, and certainly no wacky gums, stabilizers, or preservatives. The ingredient list is relatively simple and the results are outstanding.
And so, I am pleased to reintroduce you to long lost friends that you may, like me, have thought you had lost forever: please reacquaint yourself with sandwiches, french toast, croutons, toast, and, of course, the humble but unstoppable almond butter and jelly. Welcome back, friends.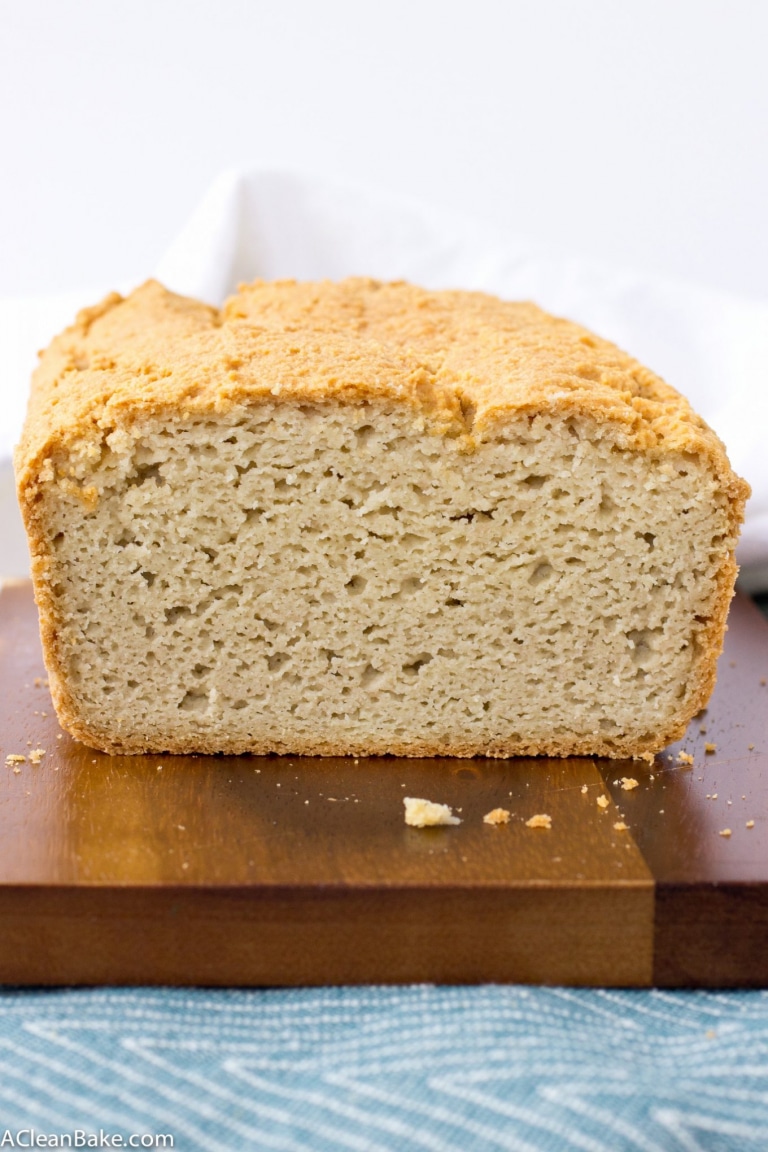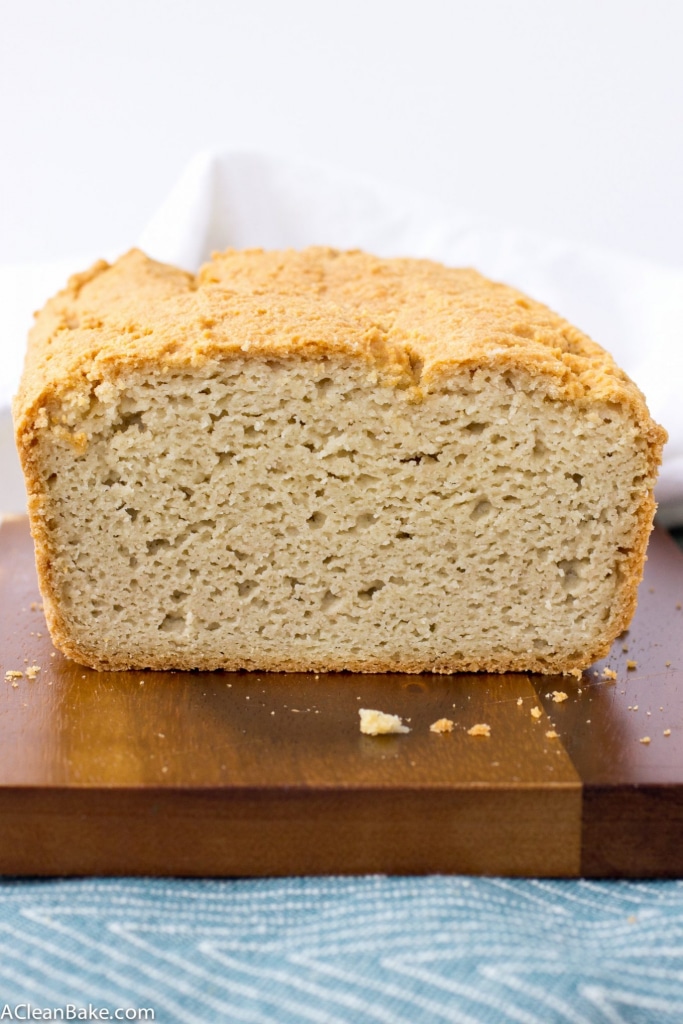 It may sound like a bizarre way to describe a simple loaf of bread, but this recipe has truly been a labor of love. I missed bread so much, and I know I wasn't alone. I know that the hardest things to do without on an elimination diet are the simplest dishes that you used to take for granted. I know how comforting a warm slice of bread can be, slathered with butter and jam (side note: have you tried this Kerrygold butter yet? I thought it was an elaborate marketing ploy to get people to spend $100 on a stick of butter or whatever, but it turns out that it is REALLY good), not to mention a house that smells like freshly baked bread.
I have been working on this recipe for what seems like forever, just for you, and I really hope you enjoy it. 🙂
PS: This recipe is actually very straightforward, despite the number of steps and notes involved. That said, it's bread made from almonds and coconut, so you can imagine it might be a little bit particular. Please read through the entire recipe at least once through before you dive in.
PPS: If you're looking for a lower-carb version, try this sandwich bread instead!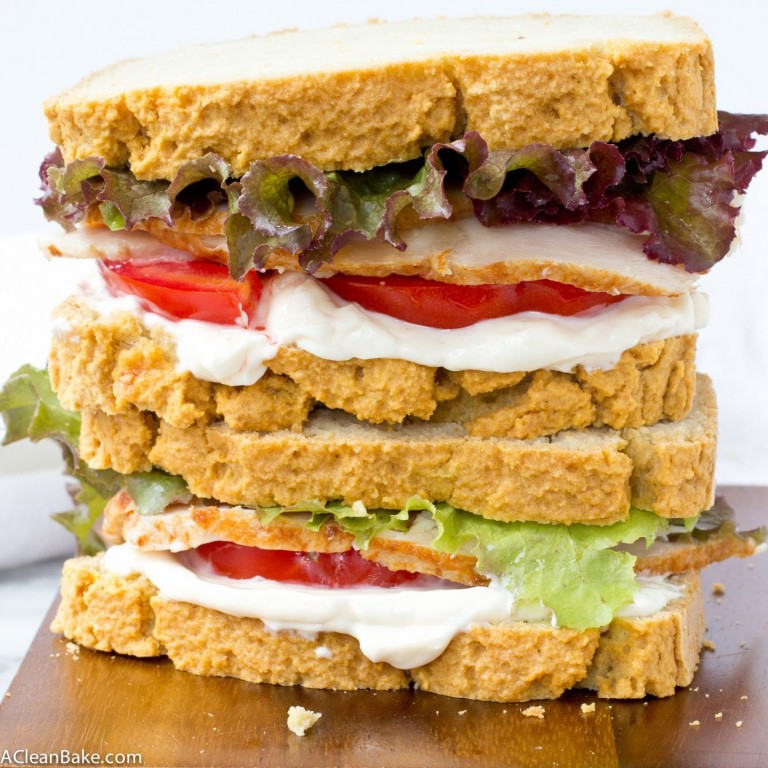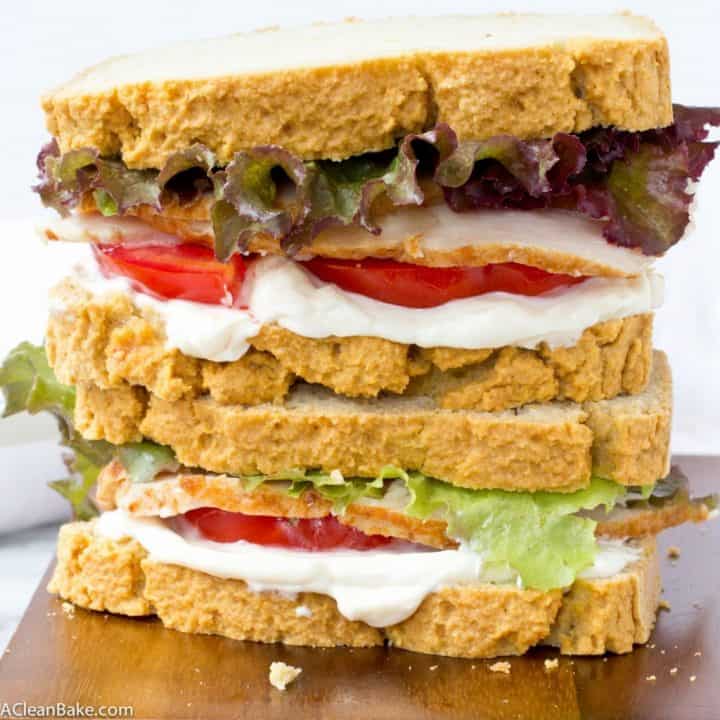 Grain Free Sandwich Bread
Gluten free, grain free, paleo friendly, dairy free, yeast free
Ingredients
4 large eggs
1/4 cup avocado oil, (see notes for substitution notes)
3/4 cup water
1 teaspoon apple cider vinegar (or lemon juice; see note)
2 cups blanched almond flour
1/3 cup coconut flour
1/3 cup tapioca flour, starch
1 teaspoon baking soda
1/2 Tablespoon baking powder
1/2 teaspoon fine sea salt
Instructions
Preheat the oven to 350F. Spray or lightly grease an 8 1/2" loaf pan and set aside.
In the bowl of a stand mixer fitted with the whisk attachment, beat the eggs until risen and frothy. If you don't have a stand mixer, you can complete this step using a hand mixer (fitted with the whisk beaters) and a large, sturdy bowl.
Add the oil, water and apple cider vinegar and mix on low speed until just combined.
In a separate bowl, whisk together the almond flour, coconut flour, tapioca flour, baking soda, baking powder and salt.
Add the dry mixture to the wet mixture as carefully as possible without deflating the wet. The easiest way to do this is to detach the bowl from the mixer, tilt it slightly and use the side of the bowl to gently slide the dry mixture into the wet.
Mix on low-medium speed until just combined. Scrape the sides and bottom of the bowl to ensure everything is incorporated and mix again for a moment until the batter is uniform and no clumps remain.
Pour the batter into the prepared loaf pan and use a spatula to gently spread into one even layer. Do not tap the pan on the counter to level it.
Bake for 60-75 minutes until the top is firm and golden and a tester inserted into the center comes out clean.
Cool in the pan for 10 minutes, then turn out onto a rack to cool for 10 more minutes before serving.
Notes
I have tested this recipe with coconut oil, avocado oil, canola oil and olive oil. You can also use grapeseed oil.
If you are using coconut oil, make sure it is melted, but cooled enough that you can submerge your fingertip in it for several seconds. If it is too hot to the touch, it will cook the eggs.
If you don't have apple cider vinegar on hand, you can use white vinegar instead.
If you want, you can brush the top of the batter with some oil or an egg wash (one beaten egg + 1 Tablespoon water or milk) before baking to encourage a little bit of extra crustiness. I have tried it both ways and I find that, even without anything added to the top of the bread, it has a nice crust right out of the oven.
This bread is best eaten within a few hours of baking. It needs to be stored in an airtight container, but doing so allows the moisture in the bread to redistribute, which causes the crust to go soft. You can re-establish the crust by putting the whole loaf under the broiler for about 3-5 minutes before serving, but it's never quite as good as it is when it's freshly baked. Just like conventional bread!
If you're storing this bread for more than a couple days, it is best to keep it in the fridge. If you want to store this for more than a week or two, I highly recommend keeping it in the freezer. You can even pre-slice it, freeze it, and then defrost individual slices as needed.
"Yeast free" means that the bread does not use baker's yeast. However, apple cider vinegar may contain brewer's yeast, so if you're extremely sensitive, please use lemon juice in place of vinegar. 
For a lower-carb alternative, try my low-carb sandwich bread recipe instead. You can make it in your blender!