Breakfast calls for a bowl of perfectly crispy, lightly sweet grain free and low carb granola! This paleo friendly breakfast will satisfy the most serious cereal craving without the gluten or grains.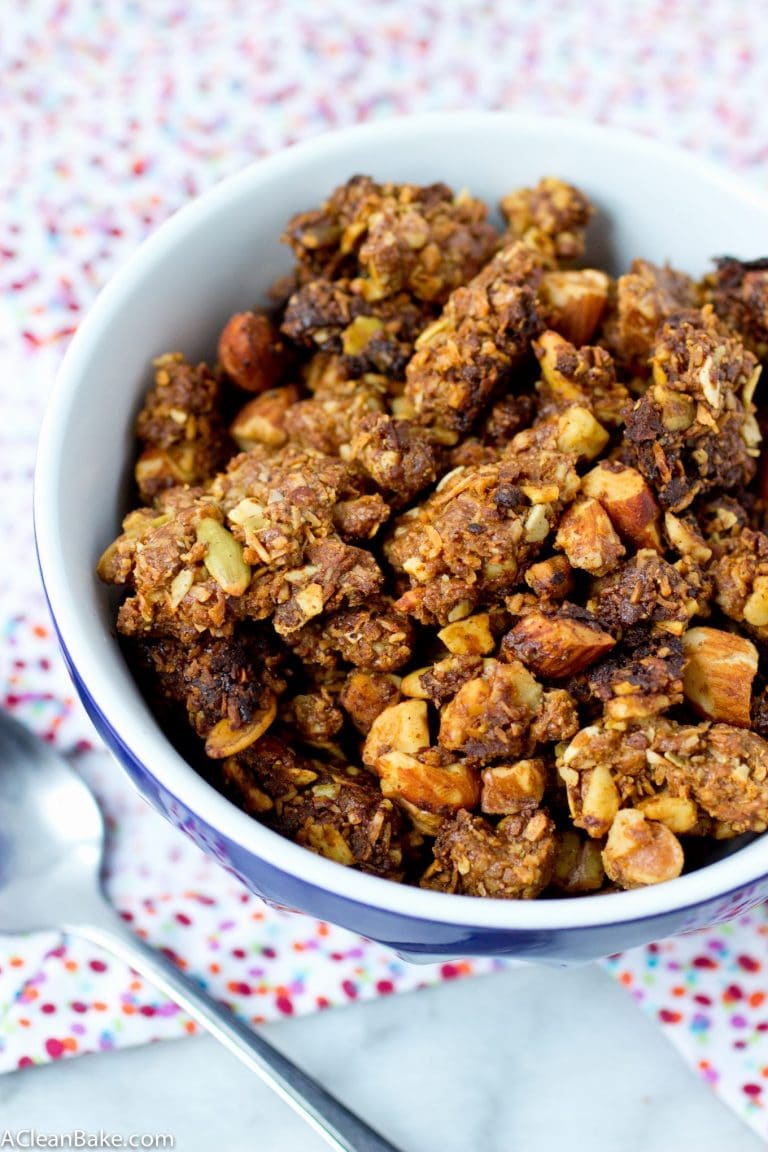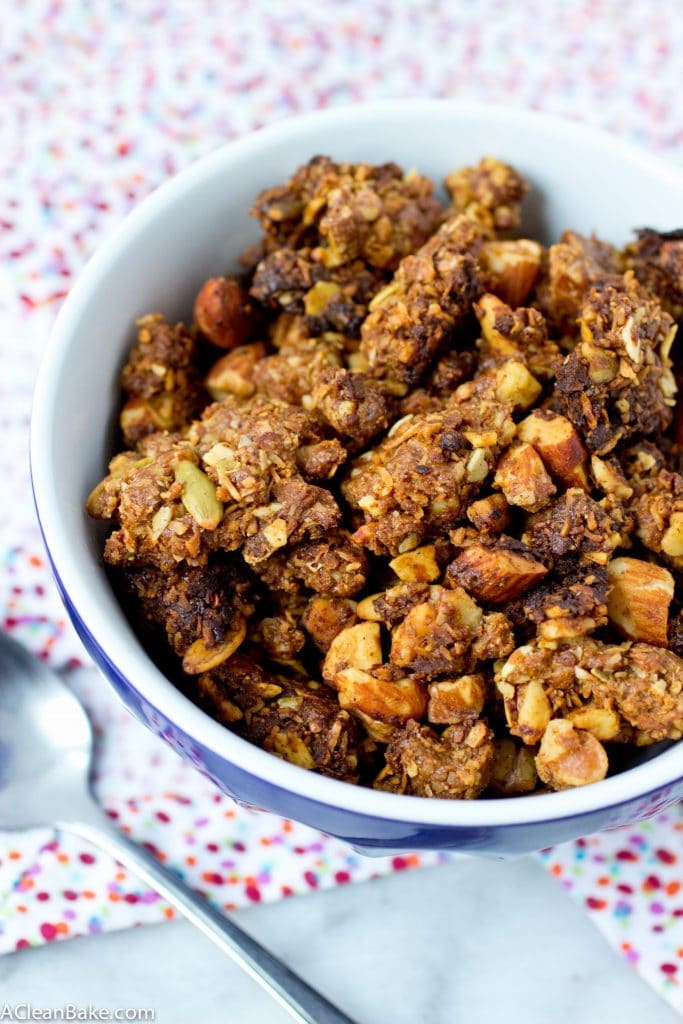 It sounds completely counterintuitive and at first it is. Granola is an
oat
–
based
food, or at least
quinoa
-based, but what happens when you take all of those grains and pseudo-grains out of the equation? Well, your breakfast becomes a lot heartier, but just as satisfying.
For a long time, I was having a lot of trouble eating carbs, any carbs, even gluten-free ones and fruit was out of the question too, so smoothies were a no-go. Basically all I could eat for breakfast was eggs and, though they say eggs are the perfect food, nutritionally-speaking, even perfection gets old eventually. I reeeeeeeeally wanted cereal. So what do you get when you take the grain out of granola? Nutola? Deliciousola? I really want it to have a cutesy name but they all sound really weird, so let's just call it paleo granola. (Update: A reader helpfully suggested we call it Paleola, which I think is a fantastic idea. So Paleola it is!!)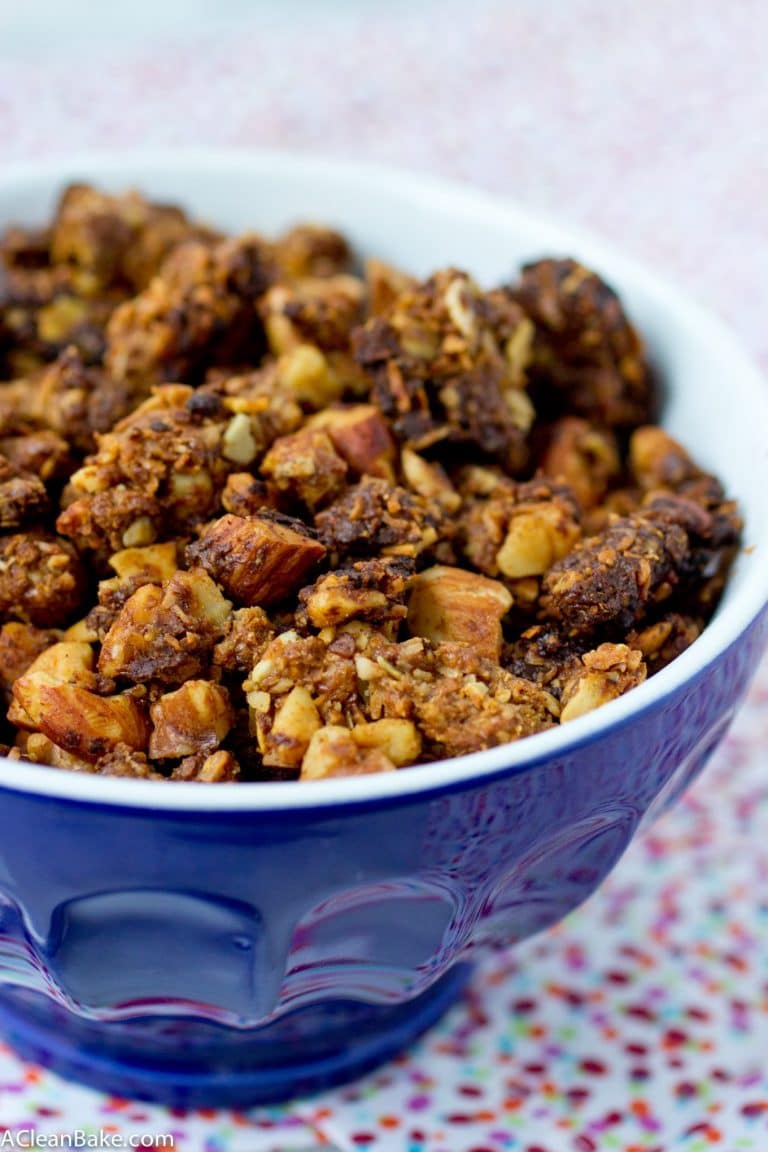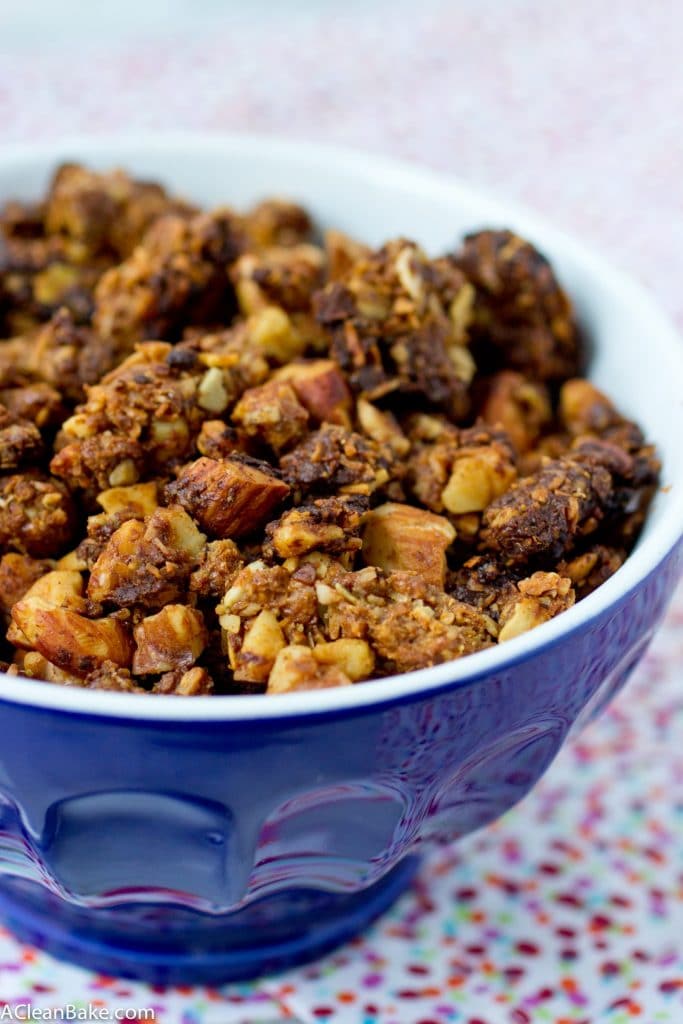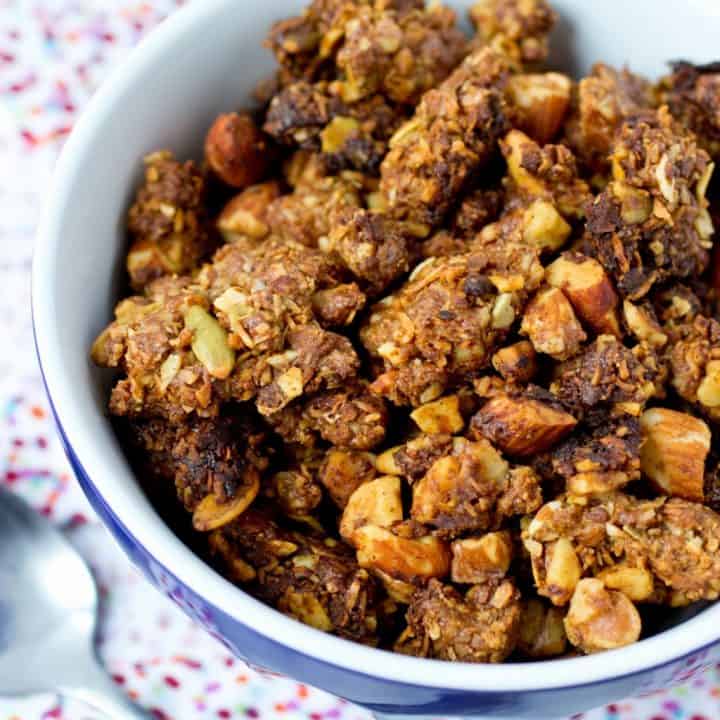 Grain-Free Granola (Paleola)
Ingredients
1 cup walnut halves
1 cup whole almonds
1/2 cup pumpkin seeds
1 cup unsweetened flaked coconut
Pinch salt
2 teaspoons cinnamon
1/2 cup almond butter, or your favorite nut or seed butter
1/4 cup honey or maple syrup
2 Tablespoons melted coconut oil
Instructions
Preheat the oven to 350F. Line a large baking sheet with a nonstick pad, parchment paper, or tinfoil coated with nonstick spray and set aside.
In the bowl of a food processor fitted with the S attachment, pulse the nuts and seeds 5-6 times until broken down into bite-sided and smaller pieces.
Transfer the nuts/seeds to a large mixing bowl and toss with the coconut, salt and cinnamon.
In a small bowl, combine the almond butter, honey (or maple syrup) and coconut oil. Stir to combine.
Pour the honey/nut butter/oil mixture over the nut mixture and stir until it is all evenly combined. You may need to use your hands to make sure all of the wet ingredients are incorporated.
Pour the granola onto the prepared pan and press firmly into an even layer, about 1/2" thick.
Bake for 25-35 minutes until golden brown. The longer baking time will yield crisper granola and vice versa.
Allow to cool completely on the pan before serving or storing in an airtight container at room temperature for up to 2 weeks.
Notes
If you are having trouble mixing the honey and almond butter together, heat it in the microwave (make sure you are using a heatproof bowl) for 15-30 seconds until softened. For extra texture and sweetness, you can toss the cooked and cooled granola with about 1/2-3/4 of a cup of your dried fruit of choice.
Nutrition Information:
Yield:

5
Serving Size:

1
Amount Per Serving:
Calories:

729
Total Fat:

59g
Saturated Fat:

15g
Trans Fat:

0g
Unsaturated Fat:

41g
Cholesterol:

6mg
Sodium:

251mg
Carbohydrates:

44g
Fiber:

11g
Sugar:

26g
Protein:

17g