These Turkish zucchini pancakes are made from zucchini and coconut flour, for a healthier, unfried take on the Turkish dish Mucver. They're low carb and taste great!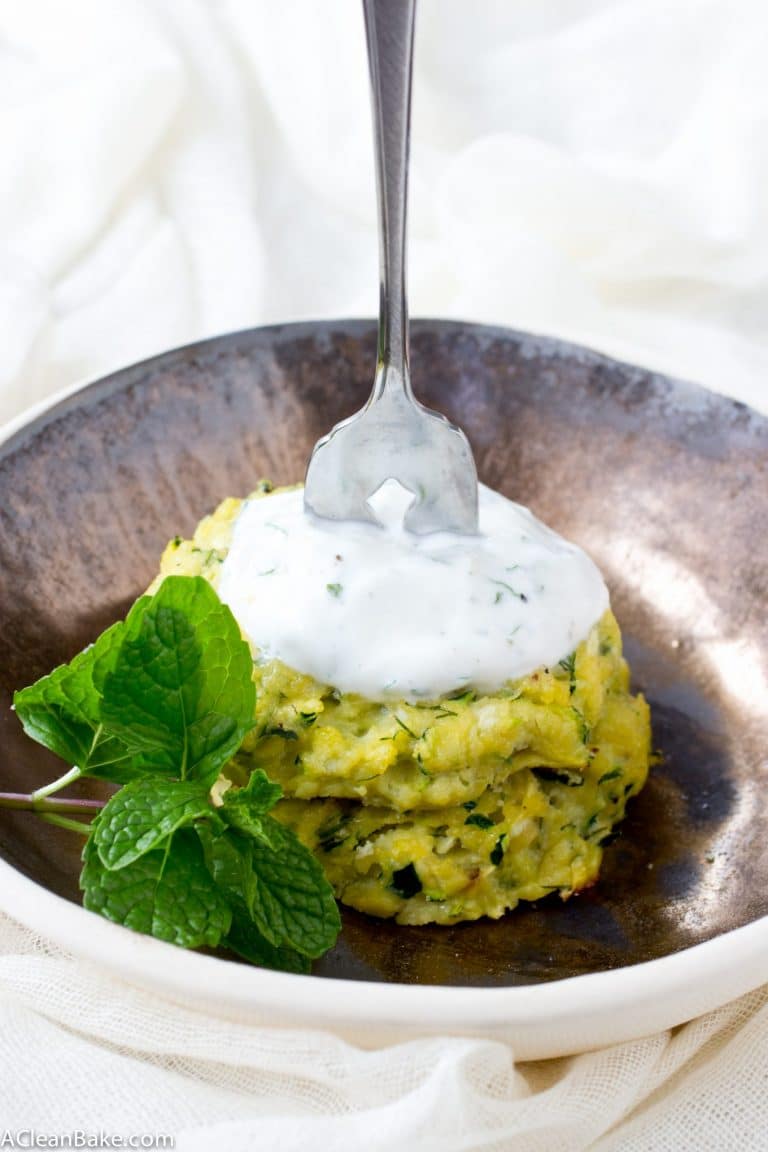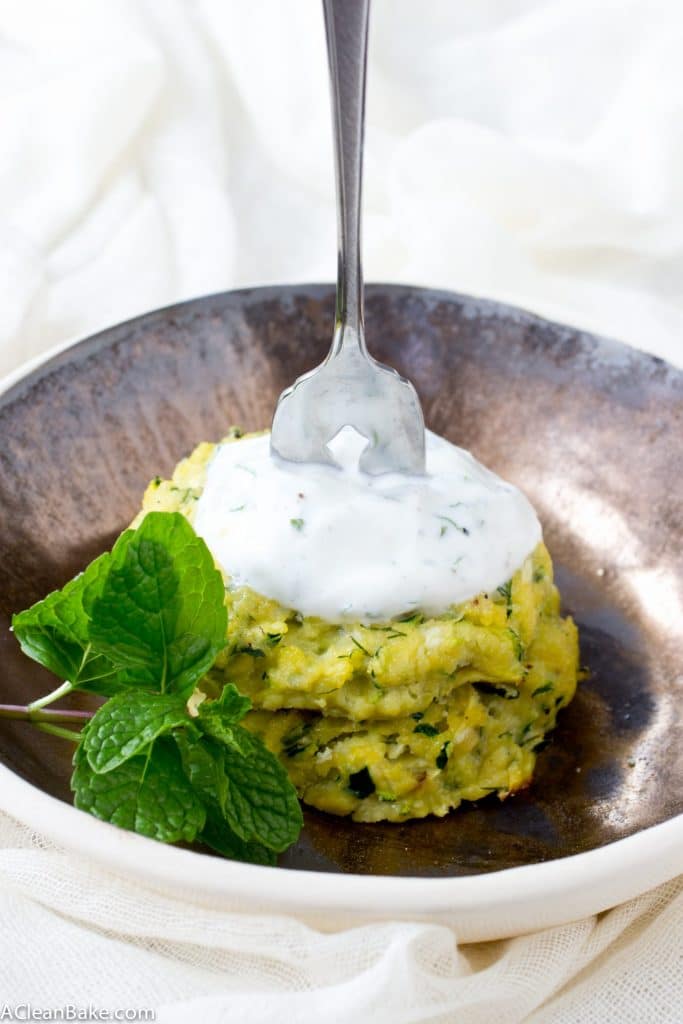 Everyone talks about all sorts of ways to sneak vegetables into things and while vegetables in desserts don't always need to be the center of attention (because who leads with zucchini when there are two types of chocolate involved?), I say let's give them their moments to shine.
Nor do vegetables have to be diet food or rabbit food or summer food or covered with butter to work. These zucchini pancakes are a perfect example of how a fresh, light vegetable can go hand in hand with a filling and comforting winter-friendly food.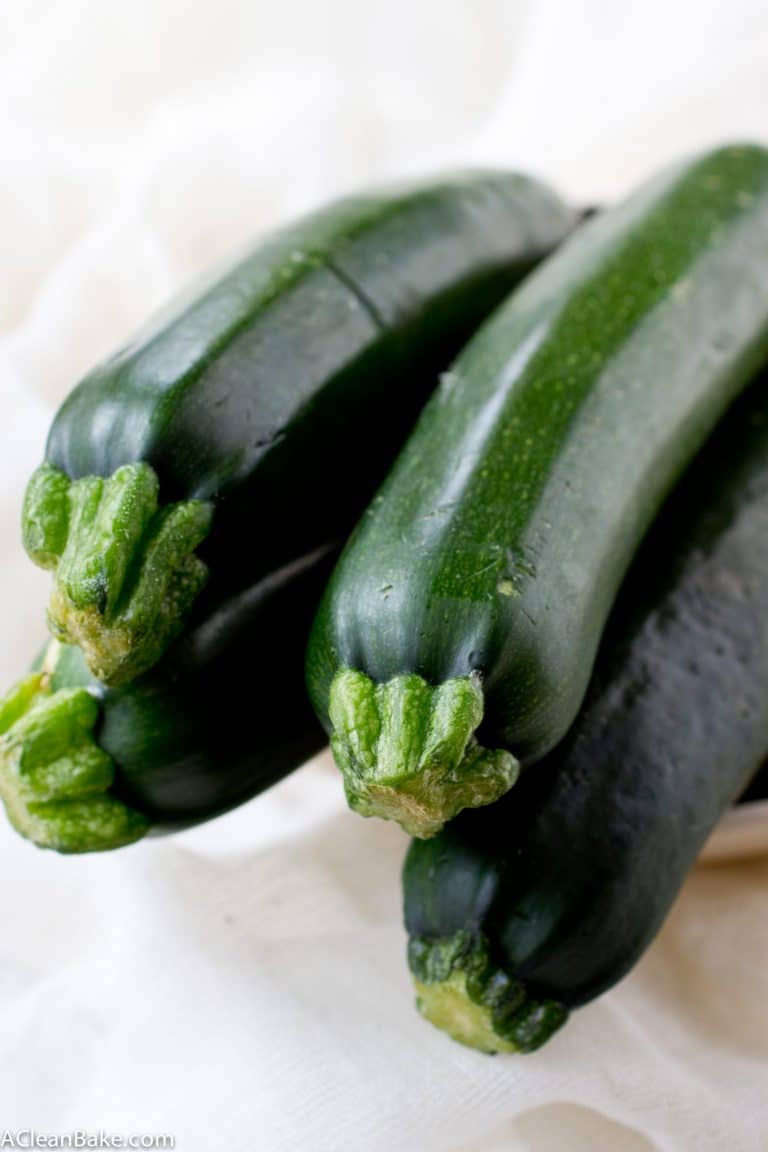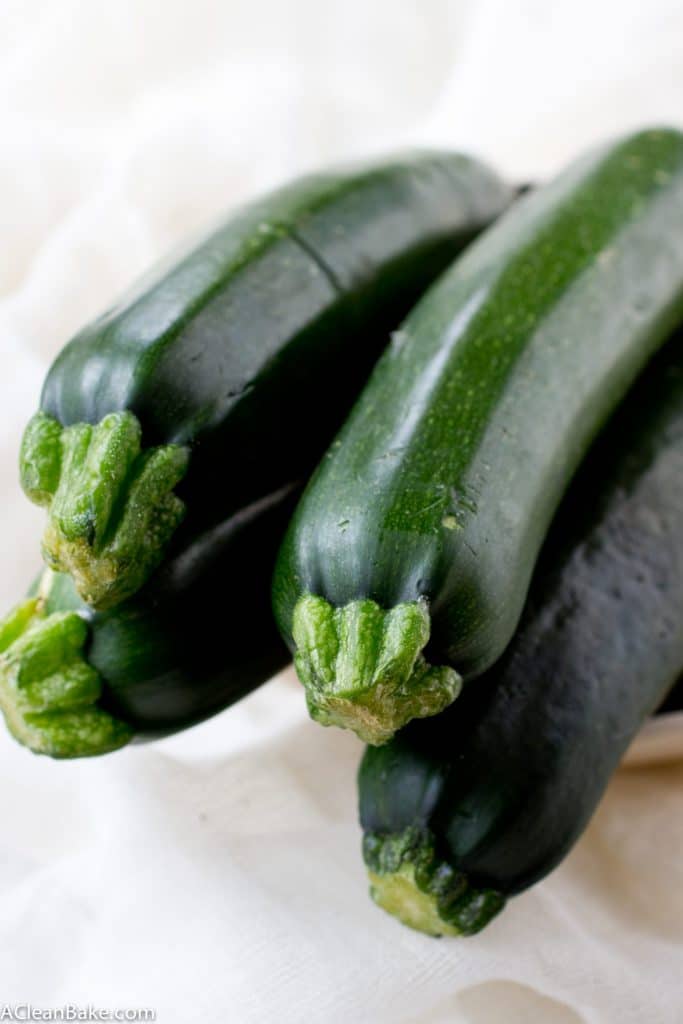 Though they are hearty, these pancakes are not heavy. The traditional recipe – or at least the way I have had them before – typically contains a generous portion of feta cheese. My version eliminates the cheese in favor of extra herbs and spices to make them so flavorful that cheese would actually be overkill. Plus, this version is grain-free, baked instead of fried, and contain a half serving of veggies in each pancake.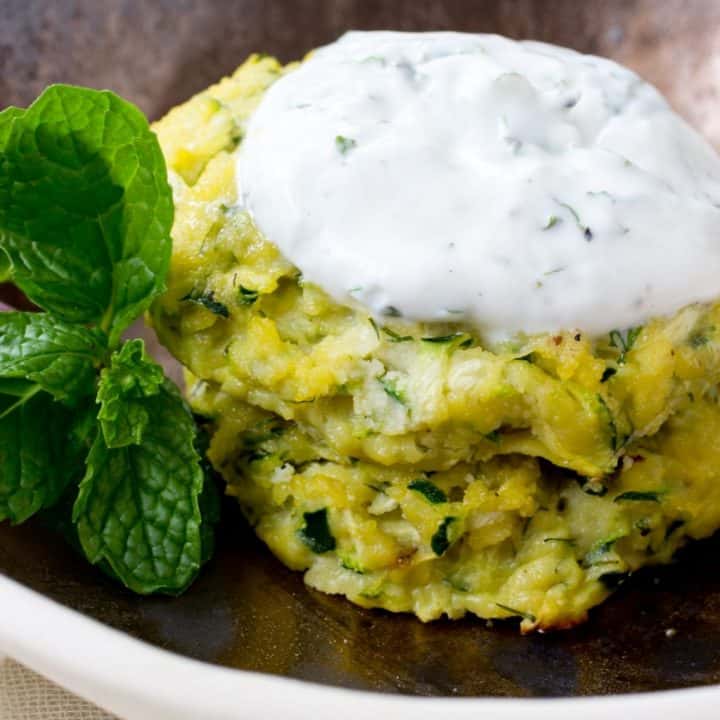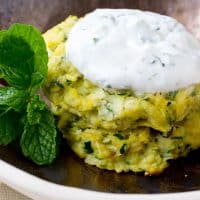 Turkish Zucchini Pancakes
gluten free, grain free, low carb, paleo-friendly
Ingredients
Ingredients for the pancakes
2 packed cups shredded zucchini, about 2 medium
¼ cup shredded white onion
¼ cup blanched almond flour
¼ cup coconut flour
2 Tablespoons fresh chopped dill, loosely packed
½ teaspoon each: coarse sea salt, freshly ground black pepper, fresh lemon juice
2 large eggs, beaten
Ingredients for the dipping sauce
½ cup plain Greek, regular or coconut yogurt
½ teaspoon coarse ground black pepper
2 Tablespoons thinly sliced fresh mint leaves
Pinch granulated garlic
1 teaspoon freshly squeezed lemon juice
2 teaspoons water (optional; you probably won't need this if you are using regular/non-Greek or coconut yogurt
Instructions
Preheat the oven to 350. Line a large baking sheet with a nonstick pad or parchment paper or tinfoil lightly coated with nonstick spray and set aside.
In a large bowl, stir together the zucchini and onion. Add the almond and coconut flours and stir to evenly distribute throughout the mixture. Repeat with the dill, salt and pepper. When everything is evenly mixed, stir in the lemon juice and egg.
Portion the batter into 3 Tablespoon balls spaced 2 or more inches apart on the prepared baking sheet. Use the palm of your hand or the back of a flat spatula to press into a disc about 1" thick.
Bake for 20-25 minutes until golden brown.
While the pancakes are cooking, make the dipping sauce by using a fork or whisk to combine the remaining ingredients (yogurt, spice and lemon juice). If it appears to thick, dilute with water, ½ teaspoon at a time, until the sauce reaches your desired dipping consistency.
Serve pancakes hot or cold alongside a bowl of the yogurt sauce for dipping. Optionally, garnish the pancakes with a dollop of sauce and some fresh mint or dill.
Notes
The baking method alone will not create the golden brown crust that makes veggie pancakes so pleasant to eat. To do this without heavy frying, place the prepared patties into a preheated, greased oven-safe pan. Cook for 1-2 minutes on each side until golden on the outside. Then transfer the pan to the oven until the patties cook through.
Yield: 8 Pancakes