These Turkish zucchini pancakes are made from fresh summer zucchini and and almond coconut flours, for a gluten free, grain free, and low carb version of the delicious Turkish appetizer called Mucver. They're quick, easy, and delicious!
Anyone who knows me probably knows that Mediterranean food is my favorite cuisine, and Turkish Food, specifically would be my pick if I had to live on one cuisine for the rest of my life. I love it so much I even went to Turkey for my honeymoon.
I eat Turkish food every chance I get, but Mucver – zucchini pancakes – are my absolute favorite, and it helps that these are a family-friendly, easy to make, and healthy!
Everyone talks about all sorts of ways to sneak vegetables into things and while vegetables in desserts don't always need to be the center of attention (because who leads with zucchini when there are two types of chocolate involved?), I say let's give them their moment to shine.
Nor do vegetables have to be diet food or rabbit food or summer food or covered with butter to work. These zucchini pancakes are a perfect example of how a fresh, light vegetable can go hand in hand with a filling and comforting main dish.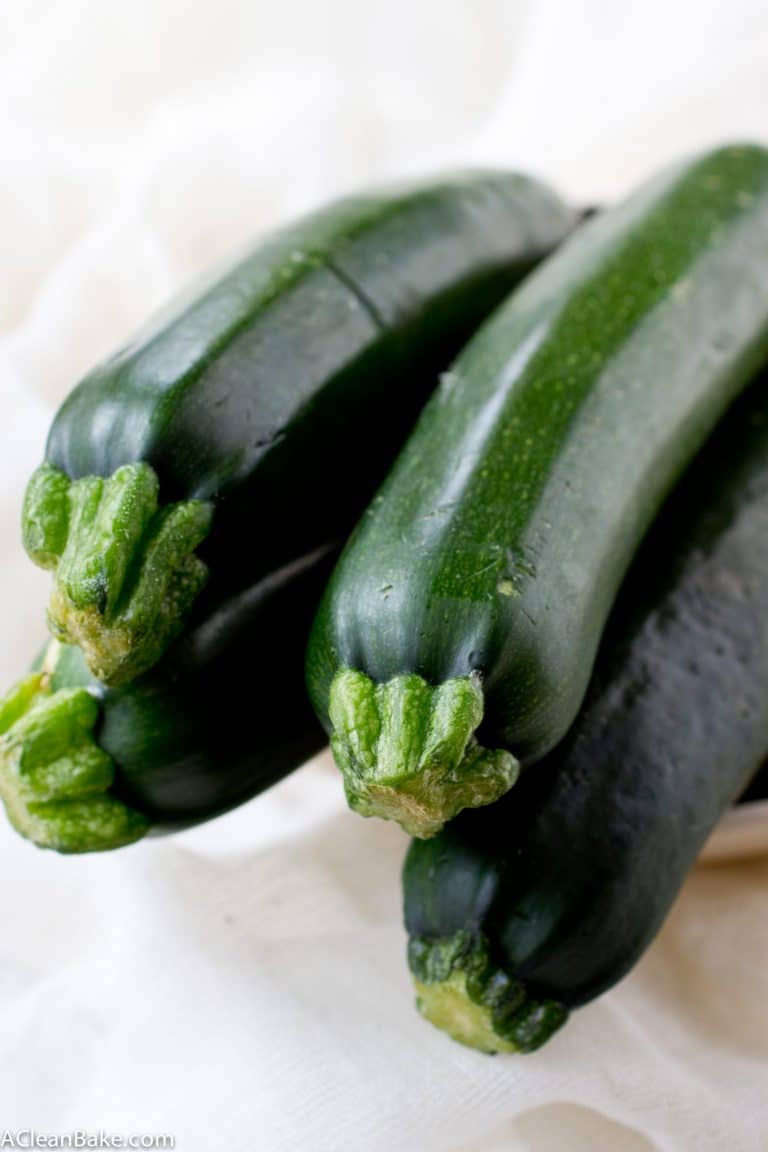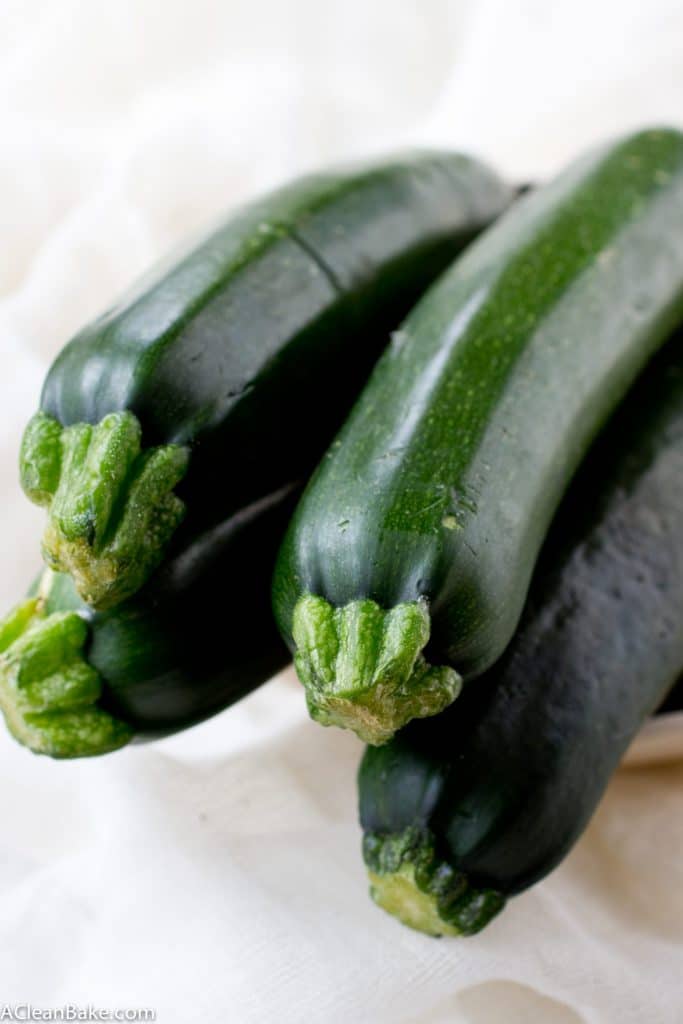 Though they are hearty, these pancakes are not heavy. The traditional recipe – or at least the way I have had them before – typically contains a generous portion of feta cheese.
My version eliminates the cheese – to make them Whole30 compliant – in favor of extra herbs and spices to make them so flavorful that cheese would actually be overkill. Plus, this version is grain-free, baked instead of fried, and contain a half serving of veggies in each pancake.
Tips for Success
Prepping: It is imperative that you do not skip the draining step. Zucchini is a very watery vegetable, and water is the enemy of food solidifying and crisping up during the cooking process. So don't be afraid to squeeze the zucchini tightly, almost abusively, to get as much excess water out as you can.
Mixing: You can make a number of replacements if you don't have ingredients on hand. Just make sure the replacements you're using are consistent with Mediterranean flavors. For example, feel free to replace the fresh mint with fresh dill, and the sumac with paprika or chili powder.
Replacing: If you don't need these to be grain free or Whole30 compliant, you can use gluten free all purpose flour in place of the almond-coconut flour mixture. You may need a little more or less than the recipe calls for, depending on what product you're using, so add it slowly and a little at a time. If, however, you need these to be egg-free and vegan, you can try replacing the eggs with a flax egg or another egg replacement. I mention this because I know I will get questions, not necessarily because I recommend it. I have not tried replacing the eggs, so I can't guarantee the result.
Cooking: Take your time heating the frying pan, and then heating the oil before you start cooking the fritters. Hot oil is the secret to a crispy, but not greasy, fritter.
Serving: You can serve these as a main dish, but on their own, they will likely not be filling enough on their own. They are typically served as part of a meze (mezze), or side dish spread, alongside lots of other flavors, textures, and small, light bites. Meze is, if you ask me, the best part of Turkish cuisine (especially in the summer, when heavy, filling meals aren't very appealing).
PS: Zucchini is known as courgette in Europe and the UK, just so we're clear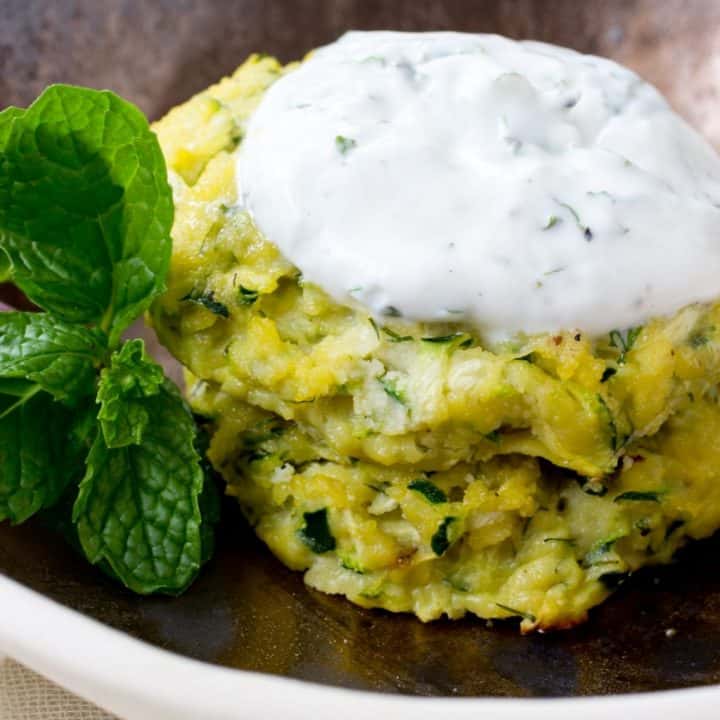 Gluten Free Zucchini Fritters
These Turkish zucchini pancakes are made from fresh summer zucchini and and almond coconut flours, for a gluten free, grain free, and low carb version of  the delicious Turkish appetizer called Mucver. They're quick, easy, and delicious!
Ingredients
For the Fritters
3 1/2 cups shredded zucchini (about 2 large)
1/3 cup shredded white onion
1/2 teaspoon fine sea salt
2 large eggs, lightly beaten
1 1/2 teaspoons dried oregano
1/2 teaspoon granulated garlic
1/2 teaspoon paprika
1/4 teaspoon ground black pepper
1/4 cup blanched almond flour
3 tablespoons coconut flour
2-4 tablespoons olive oil, for frying
For the Sauce
1/2 cup plain dairy-free yogurt (use Greek dairy yogurt if you're not doing Whole30)
2 tablespoons finely chopped fresh mint leaves
1-2 teaspoons fresh lemon juice (to taste)
1/2 teaspoon ground black pepper
1/4 teaspoon sumac
1/4 teaspoon fine sea salt
2 teaspoons water, optional, to your preferred texture
Instructions
Line a large colander with a clean kitchen towel.
Put the shredded zucchini and onion in the kitchen towel, and toss with salt. Set aside.
After 5 minutes, gather the ends of the kitchen towel and squeeze out as much of the water as you can into a bowl or the sink.
Discard the drained water.
Turn the drained zucchini and onions into a large bowl and put the towel aside.
In a small mixing bowl, whisk together the egg, oregano, garlic, sumac, and pepper.
Add the egg mixture to the zucchini and onion.
In another small bowl, whisk together the almond and coconut flours
Add the flour mixture to the zucchini (etc) bowl, and mix until all ingredients are well combined. Set aside.
Preheat a large frying pan over medium-high heat, and add enough oil to create a thin, but visible, layer of oil on the bottom of the pan.
While the oil heats, scoop 3-4 tablespoon portions of fritter batter and shape into a thick disk.
Add fritters to the hot pan, being careful not to crowd them. Leave about 2" between fritters.
Cook until the bottoms are golden brown, then flip, reduce the flame to medium heat, and cook through.
Cover a plate with a paper towel, and move the cooked fritters out of the pan onto the prepared plate to drain excess oil.
Heat up 1-2 more tablespoons of oil to the pan (if necessary, use less if lots of oil is left over from the first batch), and cook the remainder of the fritters, flipping them when the bottom side turns golden brown. Move them to the lined plate to drain once they are cooked through.
While the fritters are cooling and draining, make the dipping sauce by stirring together all of the ingredients. Taste and adjust the seasonings to your preference.
Serve the fritters while warm, topped with the yogurt sauce.
Notes
Store leftover fritters in an airtight container in the fridge, and reheat in a pan before eating.

Nutrition Information:
Yield:

8
Serving Size:

1 fritter
Amount Per Serving:
Calories:

142
Total Fat:

11g
Saturated Fat:

2g
Trans Fat:

0g
Unsaturated Fat:

8g
Cholesterol:

47mg
Sodium:

231mg
Carbohydrates:

7g
Fiber:

2g
Sugar:

3g
Protein:

6g