Though I certainly appreciate all desserts, you won't ever catch me choosing a creamy dessert over a dense, cakey one, and I rarely choose fruity desserts over chocolate. My husband is the opposite: he never met a cream filled doughnut, a cannoli, or a bowl of pudding he didn't like. So, for him and all the creamy, fruity dessert lovers out there: this one's for you. It's a thick, creamy, sweet and cinnamon-y banana pudding that I only really made as an excuse to use up some frozen bananas that were taking up valuable freezer space (on that note, if you use fresh bananas, your pudding will probably be more yellow). It was something different from what I usually make, and Bryan seemed excited about the idea. I wish I had a more riveting story for you, but sometimes necessity (of freezer space) is the mother of… well not invention, because I am hardly the first person to make this dish.
Oh ok, fine, I didn't want to give it away, but I had an ulterior motive in making this pudding, and no, it wasn't to bribe Bryan to take out the garbage (though… note to self). It was pie! Remember this sneak peak I shared on Instagram over the weekend? It was pretty outrageous, even by my very exacting cream pie standards. And yup, this delicious, simple pudding was the base. I'll share a slice if you can guess what kind of pie it is.
But wait! Let's not get distracted by pie just yet (I know, I brought it up). First, let's give this pudding its due. Is it just me, or does pudding get kind of overlooked in the pantheon of desserts? In my experience, pudding is hospital food, a sad, low-cal excuse for dessert, or an afterthought on a high school cafeteria tray. It's always overly sweet, cringe-worthily goopy, and artificially flavored. Just say no.
Seriously, why bother with that gross pudding-like product, when you can have real, honest-to-goodness pudding without the hassle of cooking egg yolks and all that nonsense? There are only 6 ingredients in this pudding, no cooking required, and it's thickened with gut-friendly gelatin instead of eggs and cream that require a persnickety cooking process that I am sure I would mess up anyway. This version is not only faster and less fussy, but it is also sweetened and flavored with bananas and bananas alone (ok, and cinnamon). Banana pudding that's flavored with nothing but bananas? What a revelation!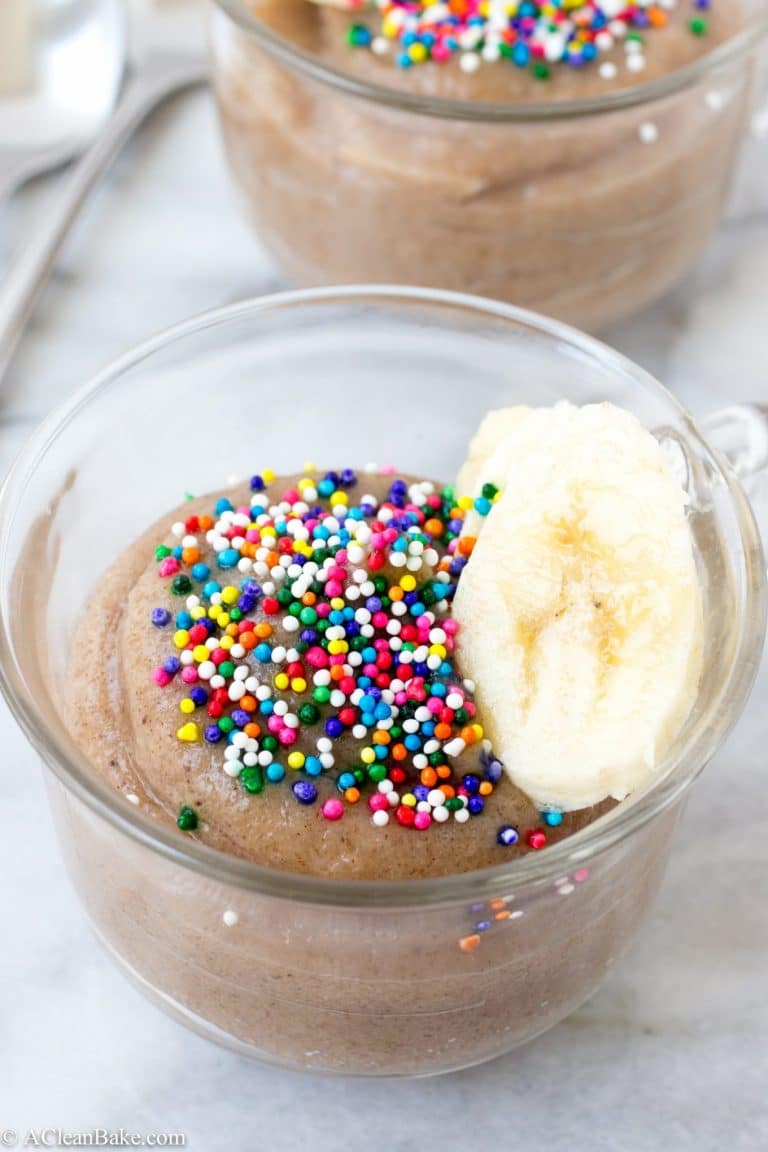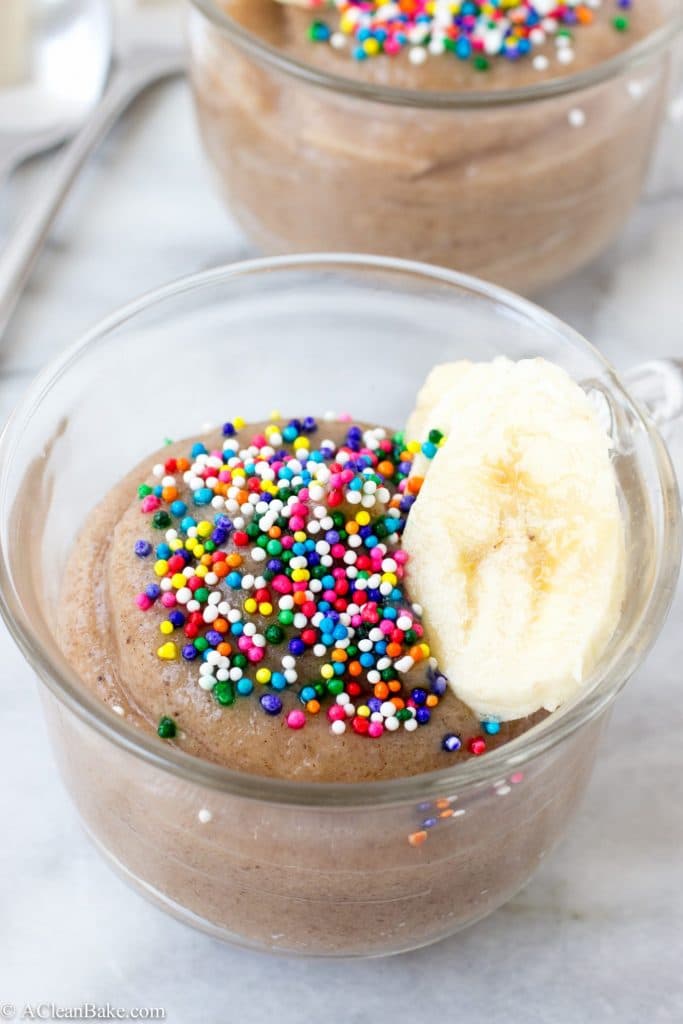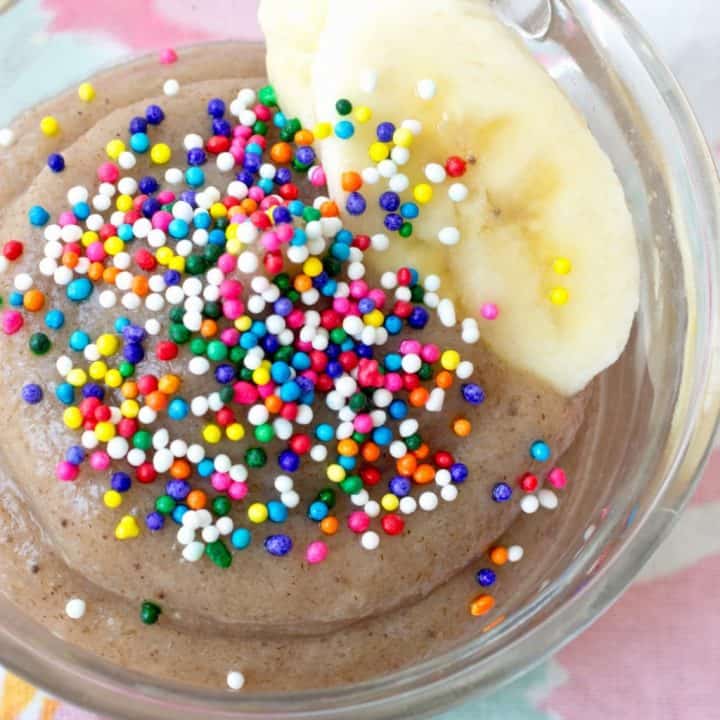 Cinnamon Banana Pudding
Dairy and Egg Free, Paleo and No-Cook
Ingredients
2 Tablespoons flavorless gelatin, or equivalent agar (for vegan)
1 cup vanilla almond milk
1 cup mashed very ripe bananas
1/8 teaspoon salt
1/4 teaspoon vanilla extract
1 teaspoon cinnamon
Instructions
In a small bowl, stir the gelatin into the almond milk until mostly dissolved. Set aside.
In the bowl of a food processor fitted with the "s" blade, puree the banana until smooth. Add the gelatin and almond milk mixture, plus the salt, vanilla and cinnamon to the bowl. Puree until smooth and completely combined.
Transfer to a covered container and let sit at least an hour until thickened.
Notes
This is the gelatin I use, and get great results from: http://amzn.to/1DNWJnN
I like a pronounced cinnamon flavor, so if you want the banana flavor to be more prominent, reduce or eliminate the cinnamon. Or, add more if you want!
If, after your pudding thickens, it's too thick for you, simply puree it in the food processor again with a little more almond milk until it reaches the consistency you prefer.
Store leftovers in an airtight container in the refrigerator for up to 3 days. Bring back to room temperature before serving (unless you want extra sturdy pudding!).