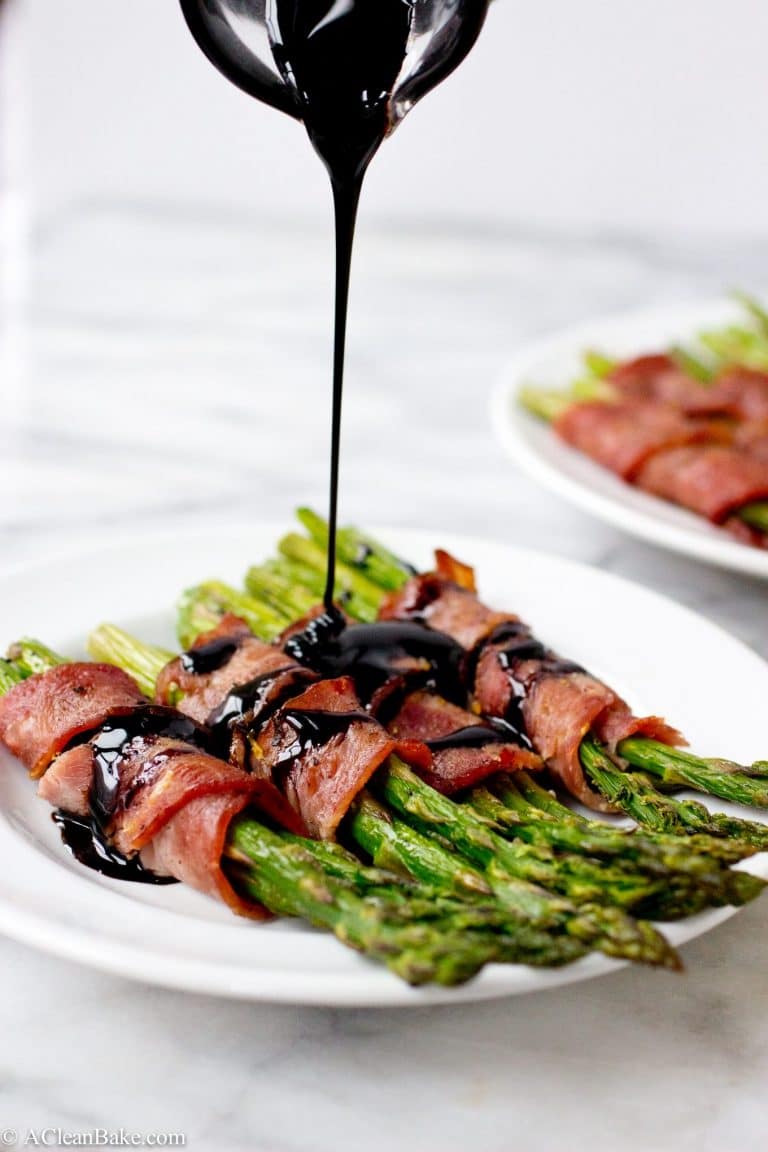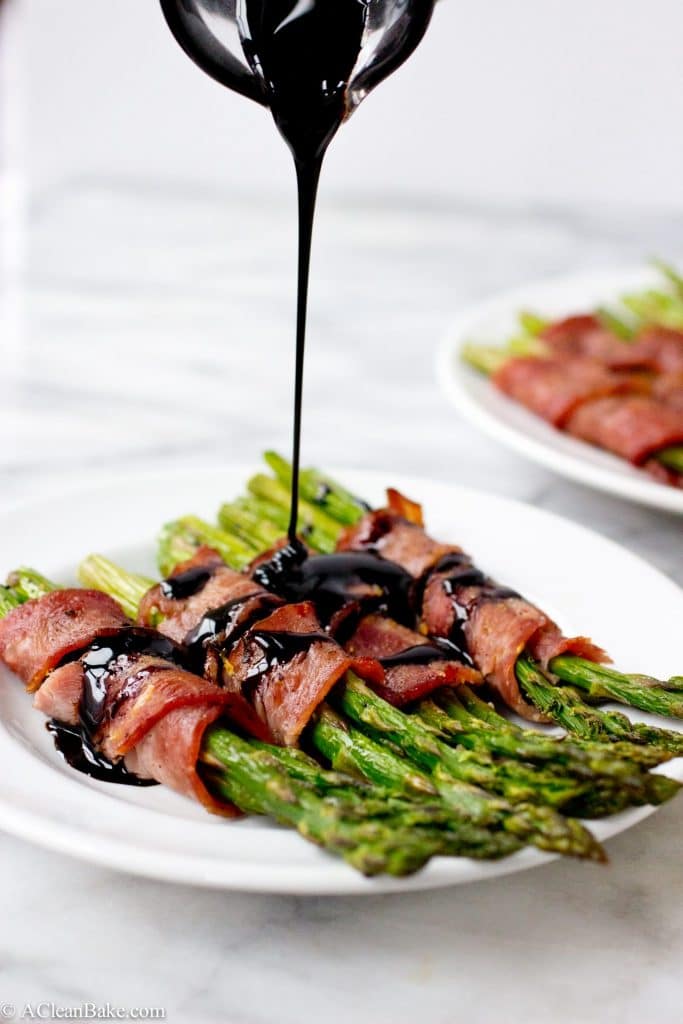 Butcher Box is offering A Clean Bake readers a bonus of free bacon with your first box, plus $10 off and free shipping! Sign up here.
I can't believe that, of the hundreds of posts on this site, not one involves bacon. Well, I can believe it. I have never been a big bacon person, until recently. Don't ask me why, but for awhile lately, we were eating bacon like it's going out of style. Actually, here's why: I still don't like pork, but I only just discovered that turkey bacon is a pretty darn good facsimile. Surprise! Up until recently, I could count on one hand how many strips of bacon I've eaten in my life, but, hey, it's never too late to catch up on my Lifetime Bacon Quota, is it? Bring on the turkey bacon. While you're at it, wrap it around something green so I can call it a health food, mmkay?
Of course, pork bacon or probably even vegan bacon would work for this recipe instead, if you prefer, but whatever you do, don't skip the balsamic reduction. It's incredibly easy to make, and tastes good on just about anything. In addition to bacon wrapped asparagus, you can use balsamic reduction on/in meat, salads, other cooked veggies (broccoli would be great), grain salads, or even pasta. It's a wonderful, flavorful, sweet-tart finish and you can immediately make any dish fancier by adding a drizzle of balsamic reduction.
So there you have it: A Clean Bake can now be considered a respectable food site, as I have met my bacon obligation 🙂
PS: For a while there, I was kind of having a can't-stop-won't-stop bacon moment, but now I'm a little sick of it, plus I realize it's not the healthiest thing for you. So, don't worry. I won't take you down the Bacon Rabbit Hole with me (unless…do you guys want more bacon? Leave a comment if you're on Team Gimme The Bacon.) But in this case, if it helps you get a serving of vegetables down the hatch, why not?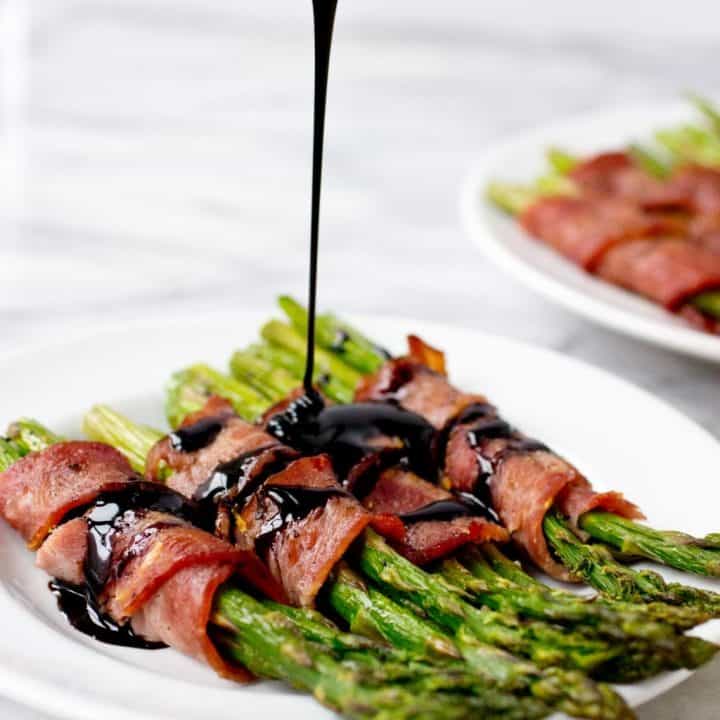 Bacon Wrapped Asparagus with Lemon Balsamic Reduction
Ingredients
1 cup good quality balsamic vinegar
1 teaspoon freshly squeezed lemon juice
3/4 teaspoon freshly ground black pepper, divided
1 bunch fresh asparagus, ~1 lb, rinsed and trimmed.
2 teaspoons extra virgin olive oil.
4 oz bacon, ~5 strips, sliced in half lengthwise
1 teaspoon freshly-grated lemon zest
1/4 teaspoon minced garlic, or more to taste
Instructions
In a saute pan over medium heat, stir the lemon juice and 1/4 teaspoon of black pepper into the balsamic vinegar and then cook, stirring or swirling frequently, until thickened and reduced to about a half cup of viscous liquid. When it has the consistency almost of motor oil, you'll know it's done. Turn off the heat and let it come to room temperature; it will thicken up as it cools.
Meanwhile, preheat your oven to 350. Cover a cookie sheet or baking dish with a nonstick pad, parchment or oil.
Thoroughly brush the asparagus with the olive oil, making sure to coat each spear completely.
On a large cutting board or other clean workspace, lay out the halved bacon strips and sprinkle with the remaining black pepper, the lemon zest, and the minced garlic.
Roll one strip of bacon around each spear of asparagus (being careful to keep the seasoning inside; use multiple spears if you have very thin bacon) on a slight diagonal so that it covers most of the asparagus. The ends can poke out as much or as little as you'd like.
Arrange the asparagus two inches apart on your prepared baking sheet or dish and bake for 30 minutes or until bacon is crispy. If it cooks through, but you'd like it to be a little bit crispier, turn on the broiler for the last 1-2 minutes of baking time (just watch it carefully to prevent it from burning!)
Transfer to a serving plate, drizzle with balsamic reduction, and serve immediately.
Nutrition Information:
Yield:

10
Amount Per Serving:
Calories:

76
Saturated Fat:

1g
Cholesterol:

7mg
Sodium:

78mg
Carbohydrates:

4g
Sugar:

3g
Protein:

1g
[wprm-nutrition-label align="center"]