It's entirely possible that I've been on a bit of a cookie bender for the last few weeks, and for that I'm not the least bit sorry or even ashamed. Life's too short to skimp on the cookies and, since I can only eat them sparingly, I like to make them count. Like twice-the-chocolate kind of count.
From the title (and, admittedly, appearance) of these chocolate brownie cookies, you would think they would be kind of…horrible for you. While they are soft and dense like a brownie, and oozing with melted chocolate chips (especially when eaten directly out of the oven, which I highly recommend), they're actually made with whole "grain" buckwheat flour ("grain" because technically buckwheat is a seed, albeit a grain-like one, sort of like quinoa), making them gluten-free, grain-free and (in some circles, depending on your definition) paleo. Or, paleo-ish. Or, worth making an exception for.
Buckwheat is an ancient grain that is not actually related to wheat. It's actually related to rhubarb, if you can believe that. It has a nutty flavor and an excellent nutritional profile if you're into that sort of thing, but if you've ever eaten a soba noodle, you already knew that.
I don't use it often – thou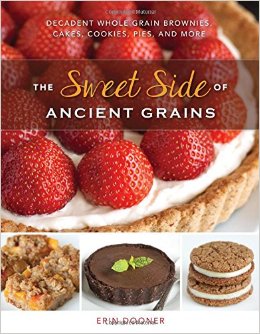 gh I used to – because I started reacting badly to it, but after eliminating it for awhile, reintroducing it in small (cookie-sized) amounts was well worth it when I got my hands on a copy of my friend Erin's new book The Sweet Side of Ancient Grains. Since I did some recipe testing for Erin while she was writing, I was lucky enough to try these cookies a long time ago (as well as a hazelnut crostata that basically brought the house down when I brought it to work, and a peanut butter brownie that more than one person compared to a controlled substance) and it's been really difficult to hold out on sharing these with you for so long. But, now that you know, please, please don't waste another minute without these cookies in your life.
Or any of Erin's recipes, really. Her move to Germany forced her to put aside the all-purpose flour (which is, apparently, impossible to find over there) and learn to bake with whole grain (and "grain") flours instead. Thus, the theme of her book, which is filled with page after page of recipes and photos so enticing that you'll have flagged pretty much the whole book as "to make (urgent!!!!)" before you know it.
This cookbook is a total gem. Erin is one of those people whose hard work, dedication and meticulousness comes through loud and clear in every recipe, and this book obviously took some blood, sweat and tears. It's well worth grabbing a copy, if for nothing else that her dedication to rich, fudgy, dense chocolate brownies, cakes and cookies that will satisfy even the highest levels of chocolate snobbery (I speak from experience). But don't get me wrong; you'll also find creamy, fruity, crumbly, and every other flavor you could ever want. Not to mention the fact that, in addition to buckwheat, you'll be introduced to new ingredients like teff, emmer and quinoa flour, and see old favorites like oat flour (and, yes, whole wheat). The book also contains a simple guide to the many recipes that are vegan, gluten-free or dairy-free. Basically, you'll be busy for a long time enjoying wholesome variations on your favorite recipes. So, don't miss this book – or these cookies!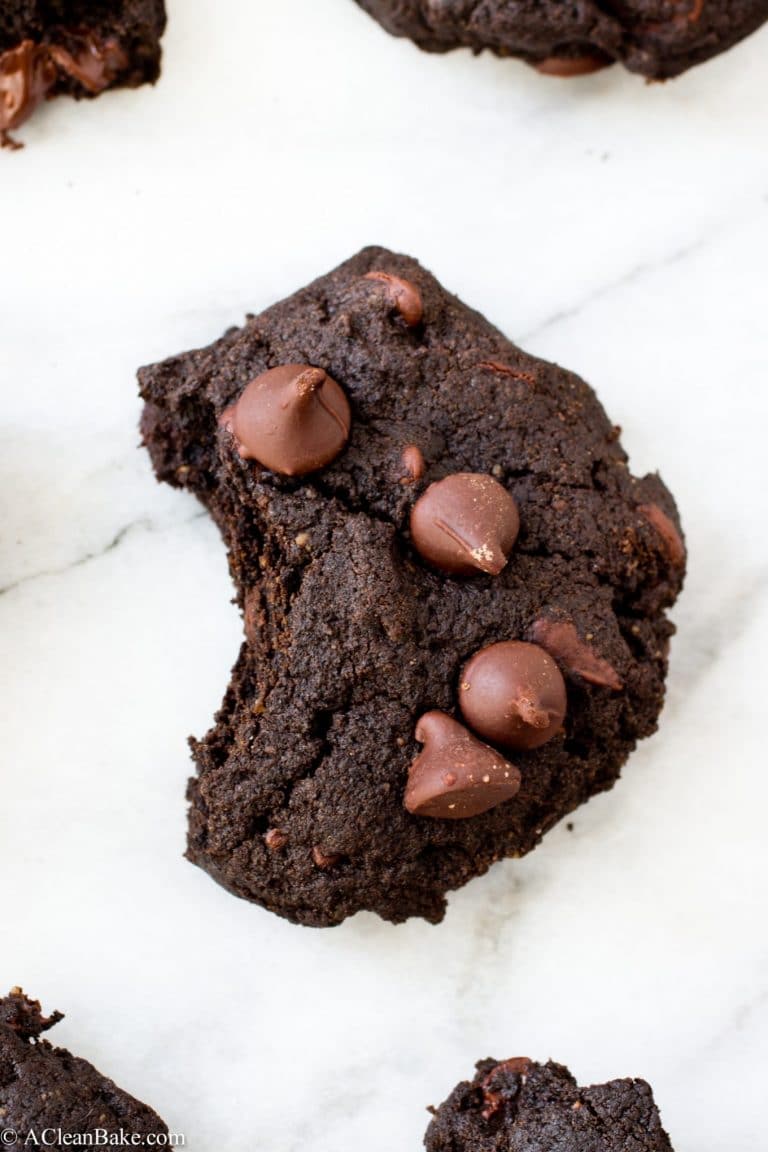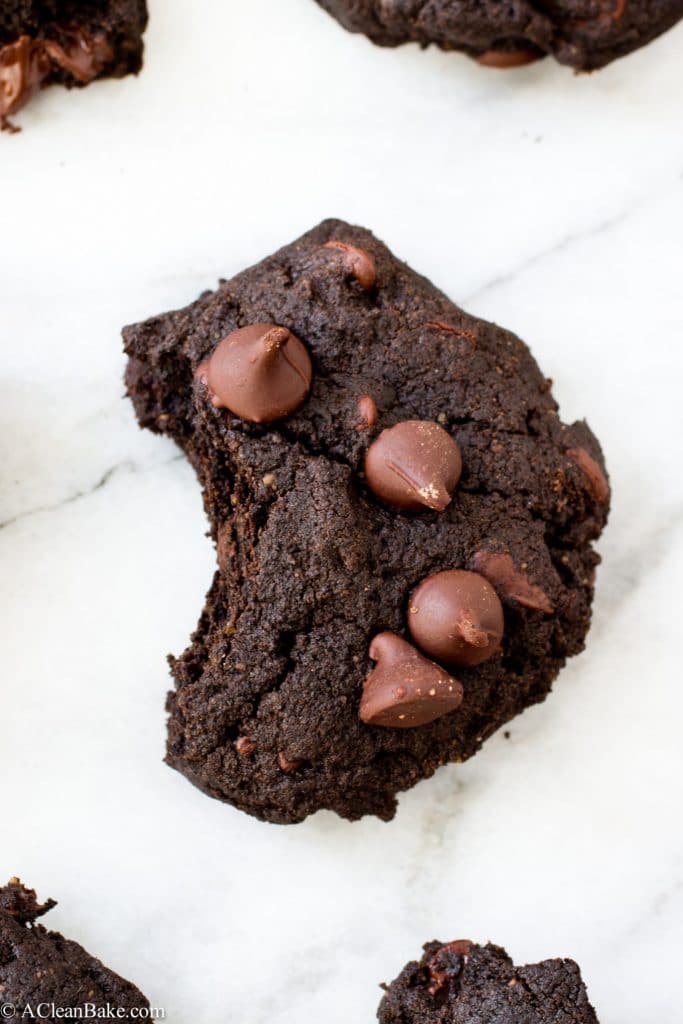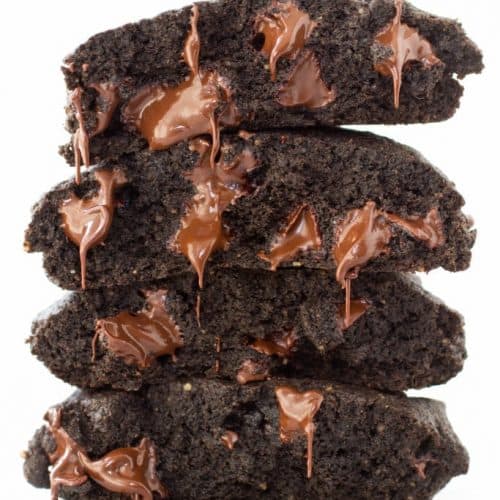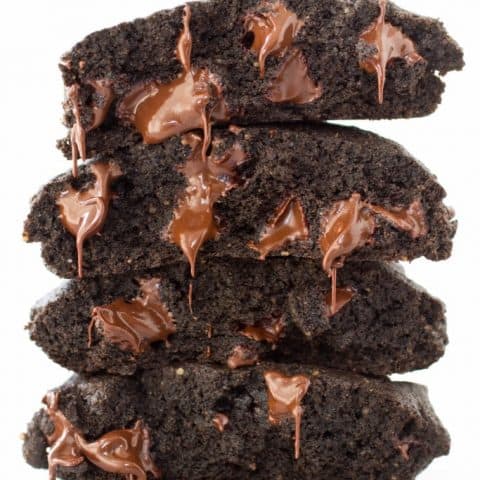 Buckwheat Double Dark Chocolate Brownie Cookies
Ingredients
1 1/2 cups buckwheat flour
3/4 cup Dutch-processed cocoa powder
1/2 teaspoon baking powder
1/2 teaspoon baking soda
1/2 teaspoon salt
1 1/3 cups raw or coconut sugar
2 large eggs, lightly beaten
2/3 cup almond butter
3/4 cup unsalted butter, melted and slightly cooled, vegan butter or coconut oil
1 1/2 teaspoons vanilla extract
1 1/2 cups chocolate chips + more for garnish, optional
Instructions
In a medium mixing bowl, stir together the buckwheat, cocoa powder, baking powder, baking soda and salt. Set aside.
In the bowl of a stand mixer fitted with the paddle attachment (or in a large mixing bowl, and using a hand mixer), beat together the sugar, eggs, almond butter, melted coconut oil or butter, and vanilla until well combined.
Add the flour mixture and beat until just combined. The dough will be thick and sticky like brownie batter.
Fold in the chocolate chips.
Wrap the dough in plastic wrap and refrigerate for 2 hours, or until firm enough to roll into balls.
Preheat the oven to 350F. and line a baking sheet with a nonstick pad or a piece of parchment paper. Roll the dough into 1 1/2 inch balls and place 3 inches apart. Press additional chocolate chips into the tops of the cookies (optional). Bake for 8-11 minutes or until the tops of the cookies are no longer wet in the middle . Let cool completely on the baking sheet. Store in an airtight container at room temperature for up to 4 days.
Notes
I used Hershey's Special Dark cocoa powder, which is half Dutch-processed and half natural-processed. I thought it worked fine.
I dialed back the salt slightly, to 1/4 teaspoon.
If you want a chocolate-peanut butter cookie, you can replace the almond butter with PB.
Note from Erin: Don't be tempted to over bake these! They will be very soft when they come out of the oven, but will firm up as they cool.
This recipe from book "The Sweet Side of Ancient Grains" by Erin Dooner and has been reprinted with the consent of the author.

Pin for later: