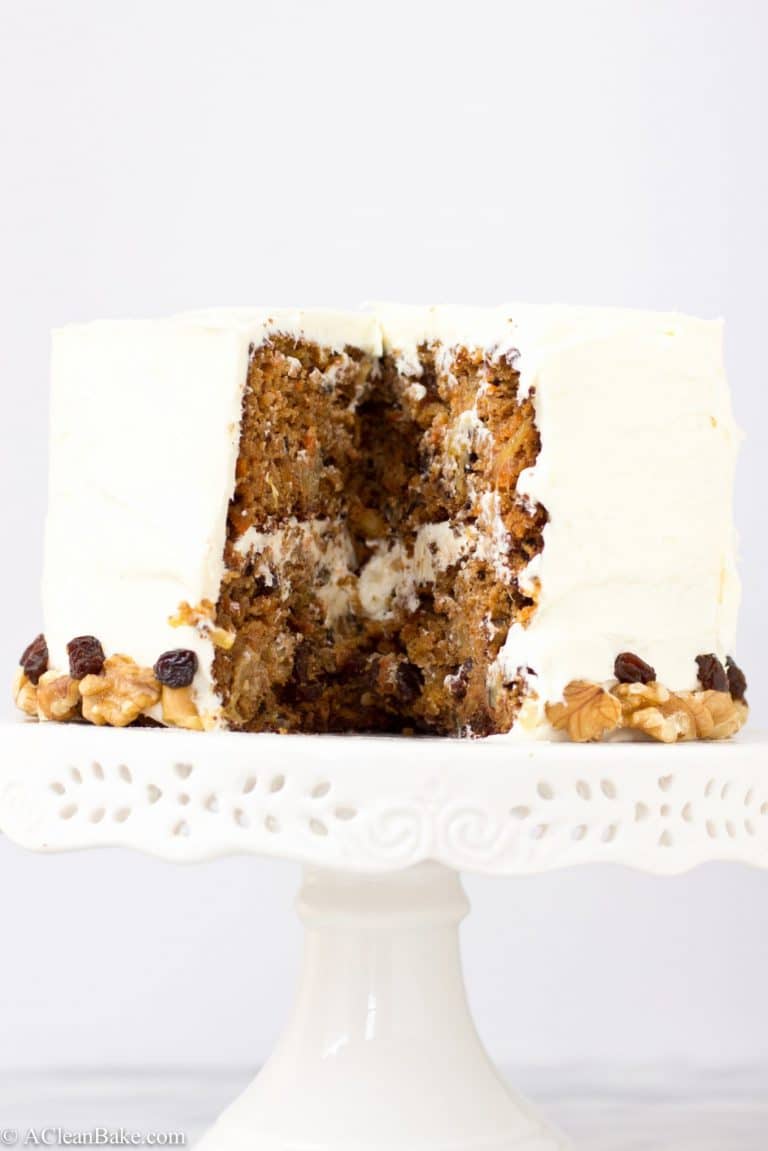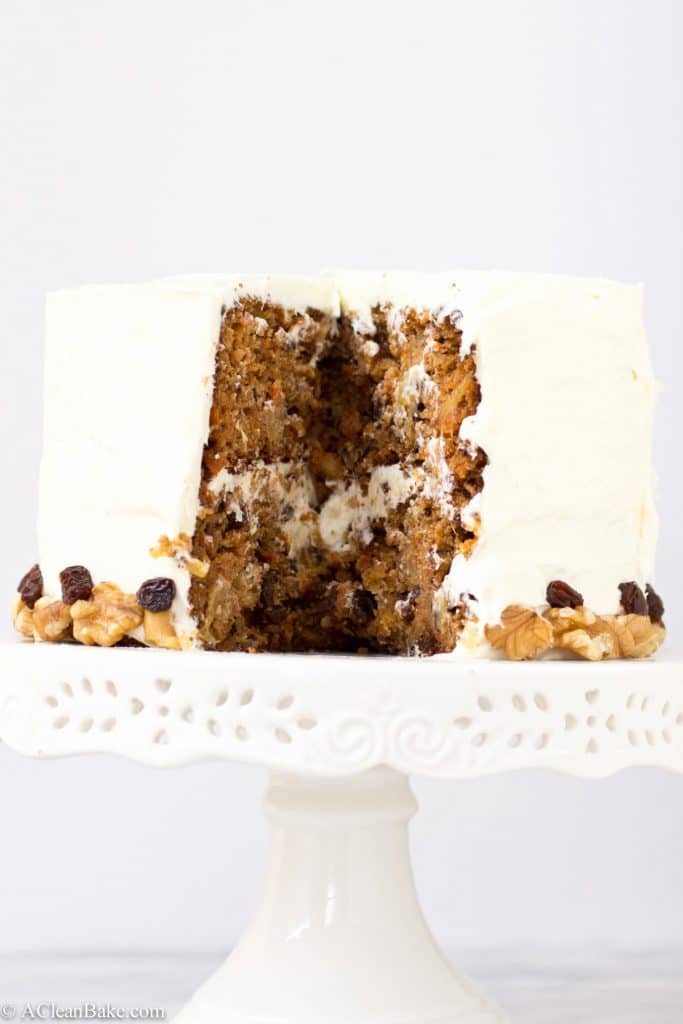 Sometimes, it feels like it's all been done. Like every creative opportunity has been seized and every novel idea has been conceived and executed upon. It seems like food blogging is all of a sudden characterized by a rejection of the "boring" classics, and has turned into a race for bigger and better examples of, I don't know, "innovation!", "mashups!" and that horrid phrase (and activity) "trashing up!", but to be honest, that's just not me. Though cooking and baking is mostly about the opportunity to flex my creative muscles, when it feels like everything left to discover (everything palatable, anyway) has been discovered, maybe that's ok. Maybe it just means it is time to go back to the classics.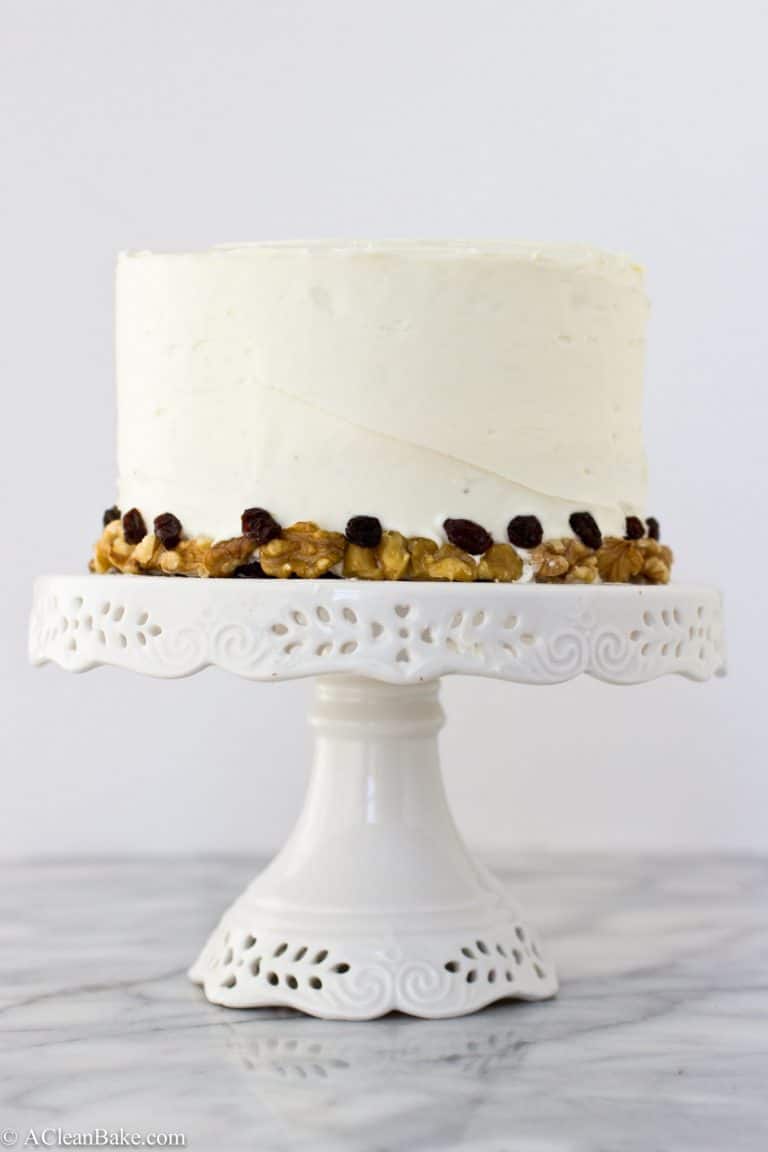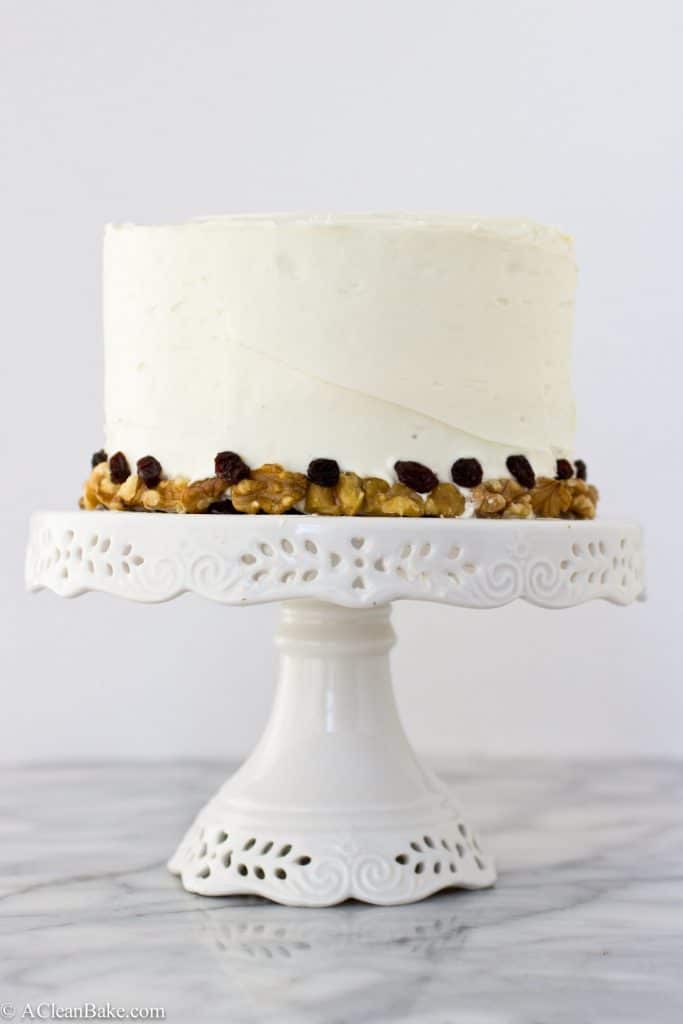 Take this cake, for example. When it really comes down to it, there is nothing special about a basic double-layer carrot with vanilla frosting*, but maybe that's the point. I mean look at it: it's understated; it's honest; it's confident with who it is. Maybe a carrot cake, with its heady mixture of flavors, textures, its dense crumb and its nearly-overwhelming (not quite, but maybe just toeing the line) array of spices and add-ins that, quite frankly, do a lot for the cake but get none of the credit – carrot-raisin-pineapple-walnut-cinnamon-nutmeg-clove cake doesn't exactly roll off the tongue, though, does it? – is special enough on its own, without being turned into a s'more or a cannoli, or, with as much self control as I could manage, being funfetti'd.
* Of course, having come from my kitchen, this is a grain-free carrot cake, and it's also gluten/dairy/refined-sugar free, but that probably comes as no surprise.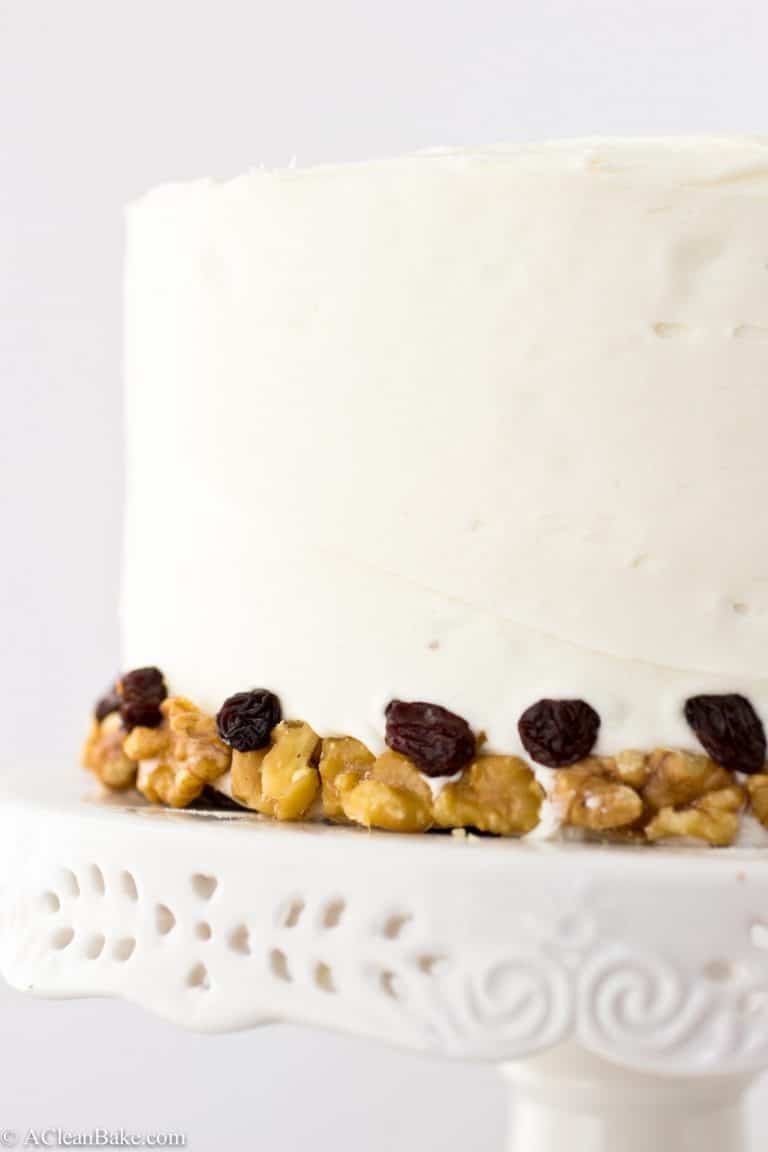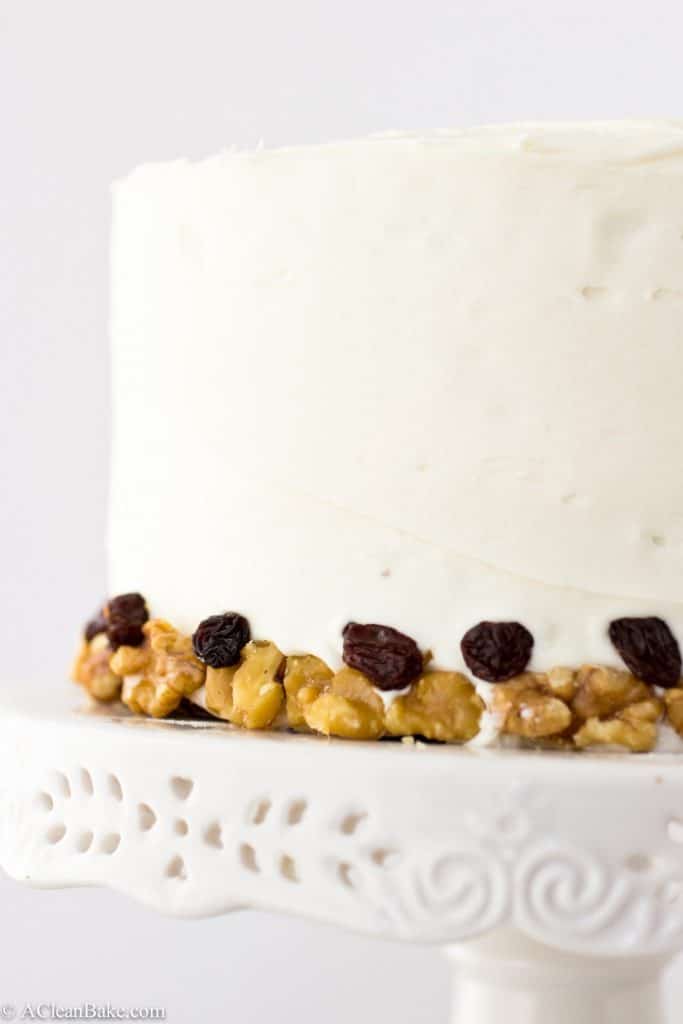 Ok, while that last one is technically true, I did end up adorning the top of the cake with multi-colored sprinkles just before serving. How could I resist? This was a birthday cake, you see, so while the cake itself may not have been transformed into a grilled cheese or a milkshake (should I be copyrighting these ideas?) or any other creative but, let's face it, over-the-line-excessive iteration, it was most certainly still a very special cake. Can we all pause here to wish my dad a very happy birthday? Though it was on Monday, and I didn't get my act together in time to post this on the actual day – though I sent him home from our celebration on Saturday with leftover cake, scout cookies and a huge batch of gnocchi, so don't worry, celebrations were had – a little belated birthday love goes a long way.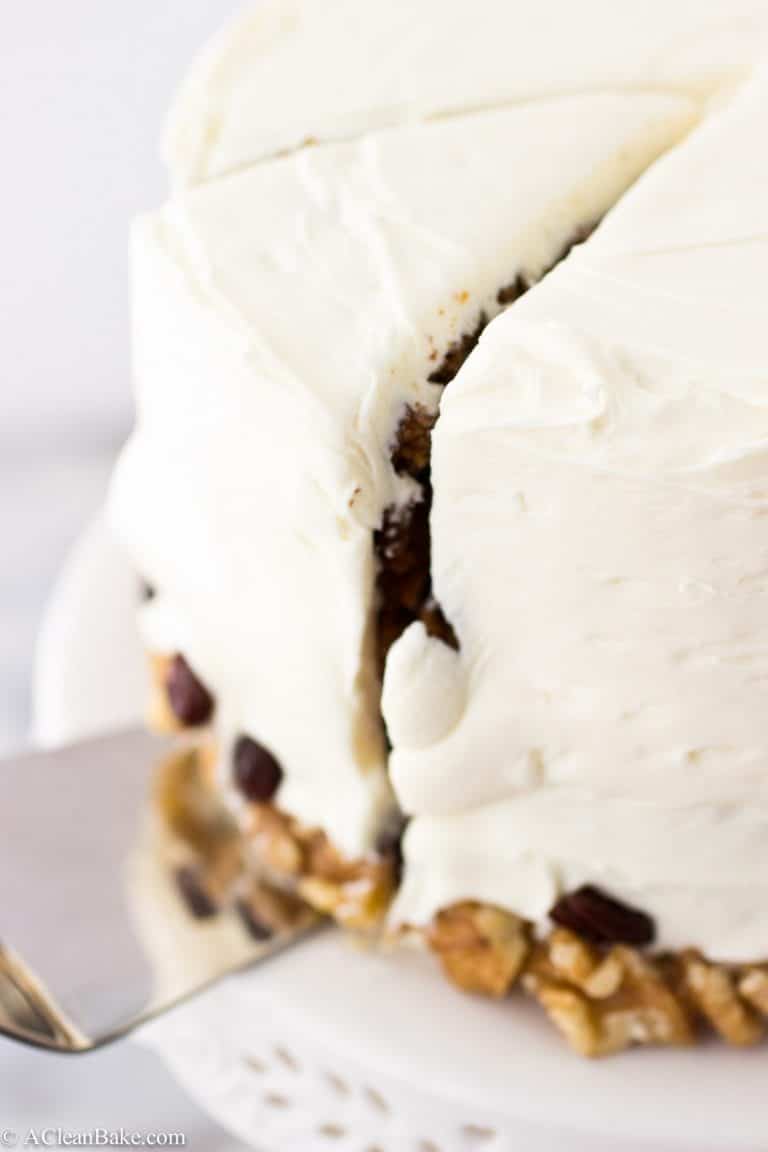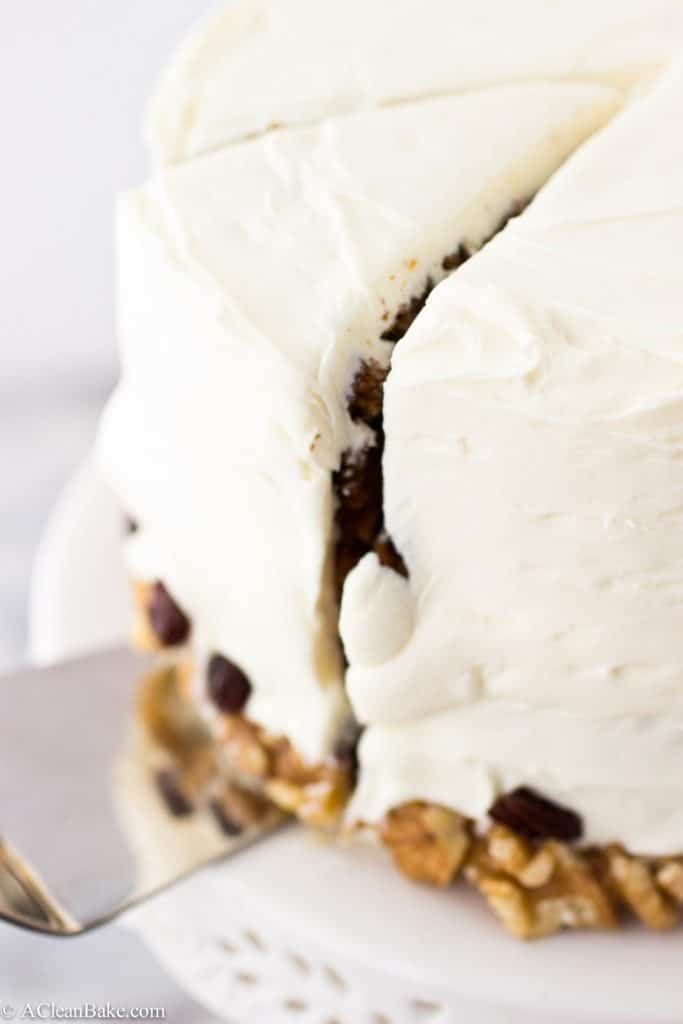 I think I inherited my carrot cake addiction from my dad. Although I don't think it's his favorite (at least not when my mom's cherry pie is an option), suffice it to say he's a big fan and/or very, very supportive of and agreeable to my cake-eating and -baking whims. However, it's rare that you find a carrot cake without ginger in it, which is a deal breaker for him, so I suspect that, in his opinion, most carrot cakes leave room for improvement. That's why you will notice a distinct lack of ginger in the ingredient list – though not, I assure you, in the taste of the cake. Lots of people have tasted this and not a single one has said "um I love it, but where's the ginger". True story. Yet it still feels a little bit like an act of rebellion. So, maybe this cake is so "risky!", "audacious!", and/or "mind-blowingly creative!" after all in its bold rejection of ginger. Or maybe I am totally kidding and proudly holding up this cake as an example of a classic that is anything but boring.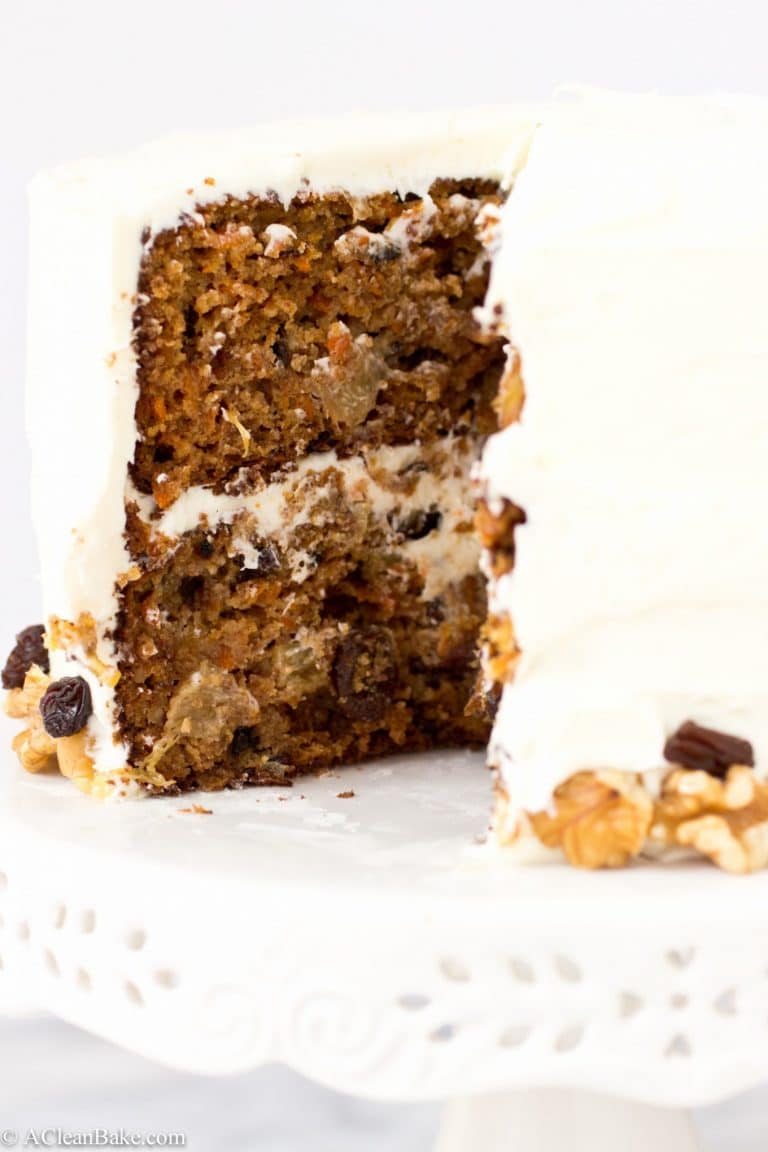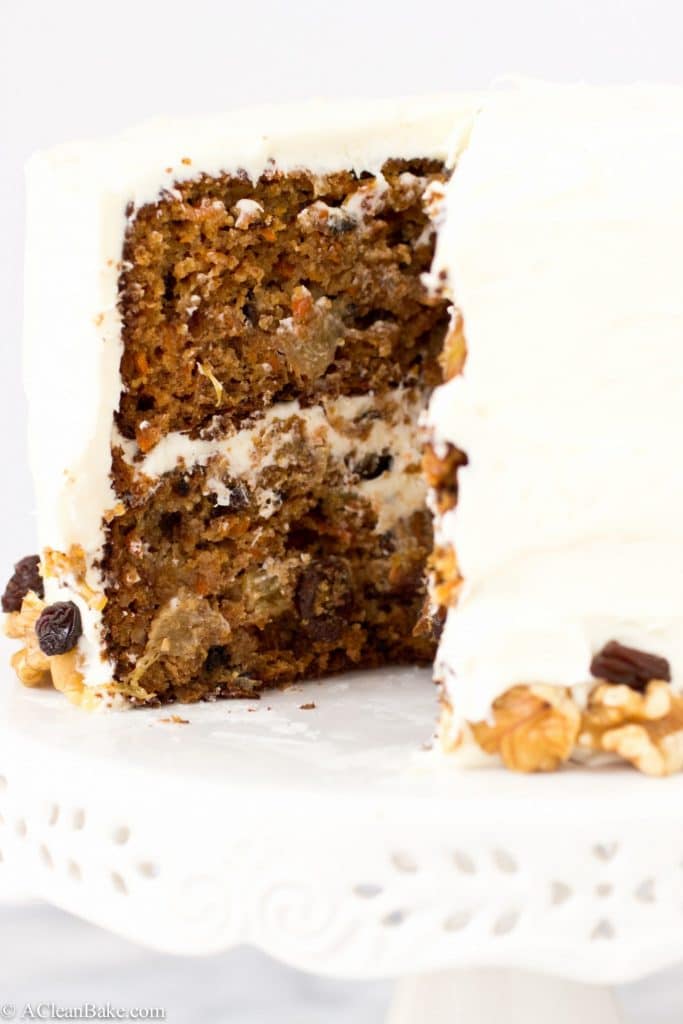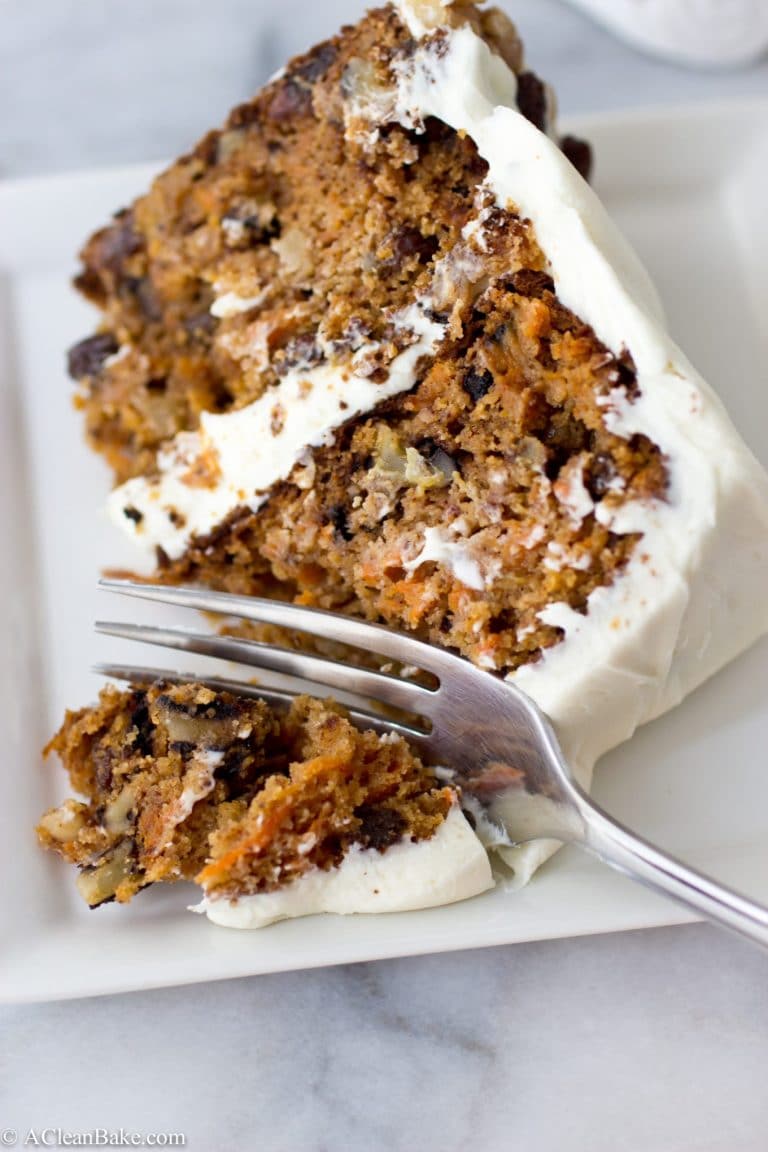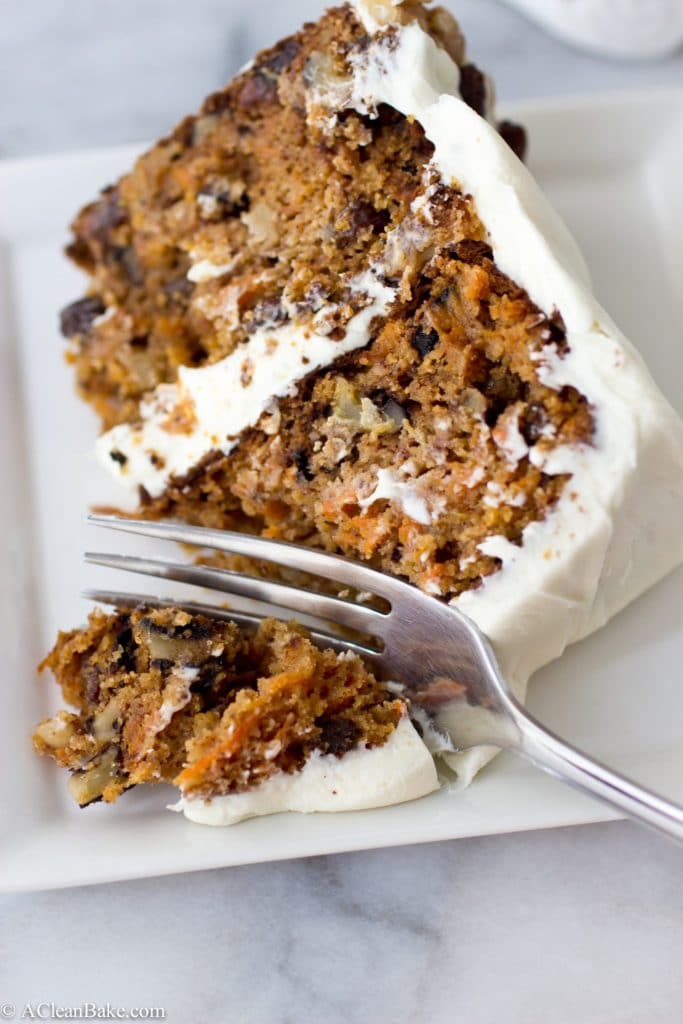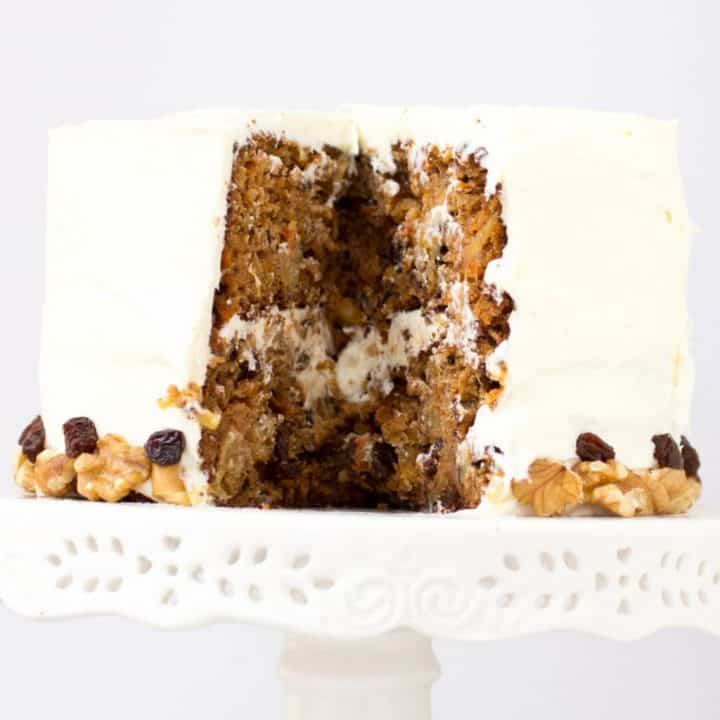 Grain-Free Carrot Cake
Additional Time:
10 minutes
Total Time:
1 hour
20 minutes
Experience all of the things you love about carrot cake, but in a paleo-friendly way! This grain-free carrot cake is gluten-free and refined-sugar-free too!
Ingredients
1/2 cup blanched almond flour
1/2 cup coconut flour
6 Tablespoons tapioca flour,, plus more for the pans
2 teaspoons ground cinnamon
1/2 teaspoon ground nutmeg
1/4 teaspoon ground cloves
1/2 teaspoon coarse salt
1 1/2 teaspoons baking soda
1/2 cup granulated monk fruit sweetener , or granulated stevia
2 cups shredded carrots,, gently packed
1/2 cup roughly chopped walnuts
1/2 cup chopped pineapple,, frozen, defrosted and drained
1/2 cup raisins
4 large eggs,, beaten
1/4 cup + 2 Tablespoons oil
1 teaspoon vanilla extract
1 teaspoon apple cider vinegar
Your favorite frosting, (see notes)
Instructions
Preheat the oven to 350F. Lightly grease and flour (using tapioca flour) two 6" round cake pans. Turn over and tap out the excess flour. Set aside.
In a large mixing bowl, whisk together the flours, spices, salt, baking soda and sweetener. Then mix in the carrots, walnuts, pineapple and raisins to combine. Set aside.
In another bowl, whisk together the eggs, oil, vanilla and apple cider vinegar.
Pour the wet (egg) mixture into the dry (flours) mixture and stir until totally combined. Scrape the bottom of the bowl to make sure no dry mixture is left behind.
Divide the batter evenly between the two prepared baking pans and bake for 45-60 minutes, or until the tops are dark golden brown and a tester comes out clean.
Cool for 3-5 minutes in the pans before turning them out onto a rack to cool completely.
Cool completely before frosting.
Notes
I used frozen pineapple, but you may be able to substitute fresh or canned (drained). I can't promise that the moisture content is the same, so you may need to slightly adjust your baking time.
If you'd like to use coconut sugar or granulated honey in place of the monk fruit or stevia, you may want to double the amount used, since the latter two options are not as sweet, by volume, as the former.
Frosting is up to you, but I used whipped coconut cream for the frosting here. I also recommend Simple Mills vanilla frosting. 
If you have trouble getting your cakes out of the pans cleanly, try running a sharp knife around the edges to loosen the sides of the cake from the pan. If you invert it, it should then just pop right out of the pan.
Store leftovers in an airtight container in the fridge for up to five days or in the freezer for up to three months.
Yield: 2 x 6" round cakes
This recipe will also yield one 8" or 9" round cake, but you may need to adjust the baking time.
Nutrition Information:
Yield:

8
Amount Per Serving:
Calories:

2249
Saturated Fat:

24g
Cholesterol:

654mg
Sodium:

3382mg
Carbohydrates:

193g
Fiber:

46g
Sugar:

29g
Protein:

56g