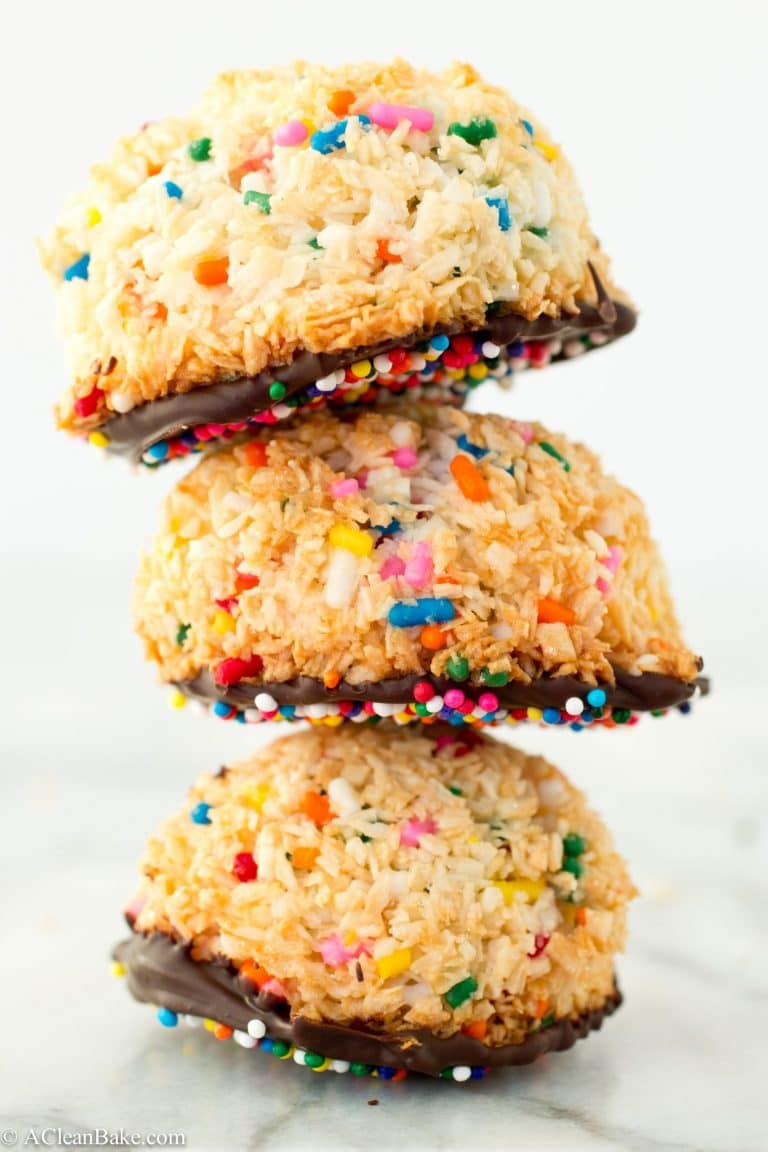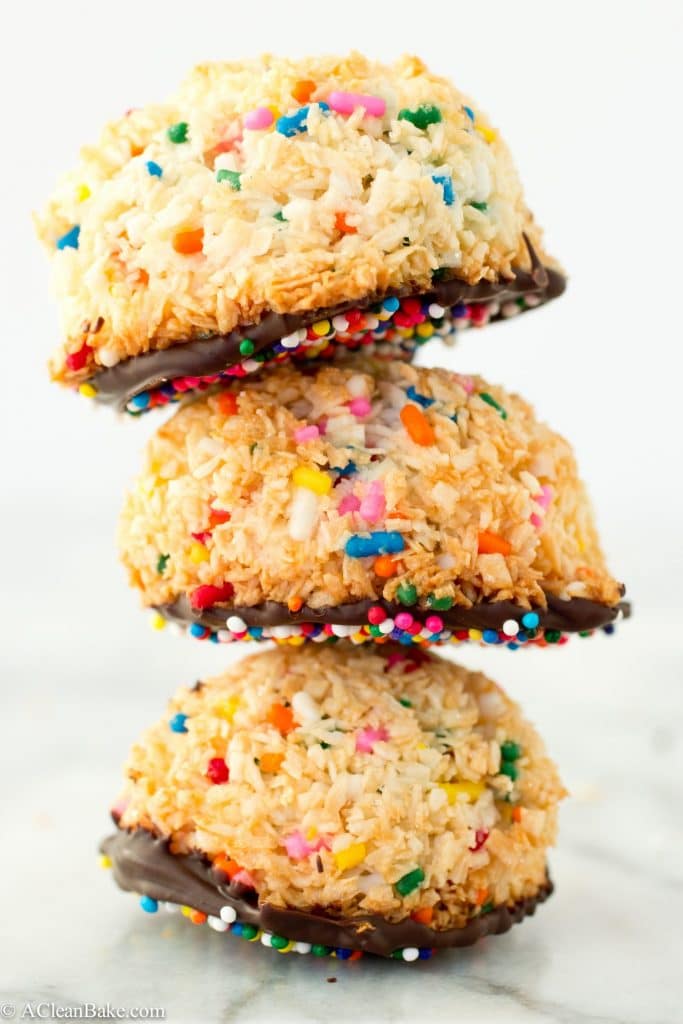 For a season that is all about the celebration of birth and renewal, spring sure does boast a series of depressing holidays. Though Lent, Easter and Passover are important holidays, it is kind of depressing to think about all of the penance and plagues and nailing-to-the-cross that happens in March/April holidays. I'm certainly not trying to disrespect the sanctity of these holidays, but I couldn't help but add the tiniest bit of brightness and celebration to the food of one of these somber spring holidays.
Call it triviality, but I consider sprinkles to be my secret weapon in making crowd-pleasing, smile-inducing desserts. How can you look at something that is covered in bright, festive jimmies and not break out into a grin bright enough to match the sunshine that is beginning to linger past 4pm?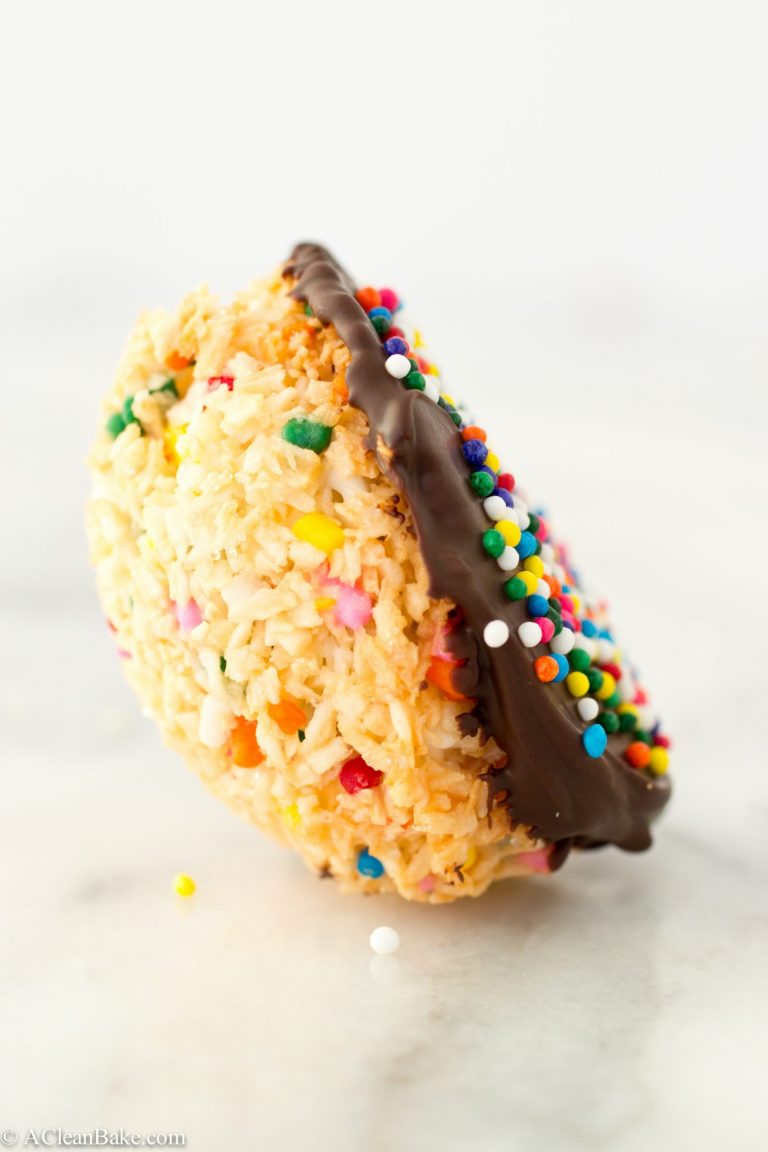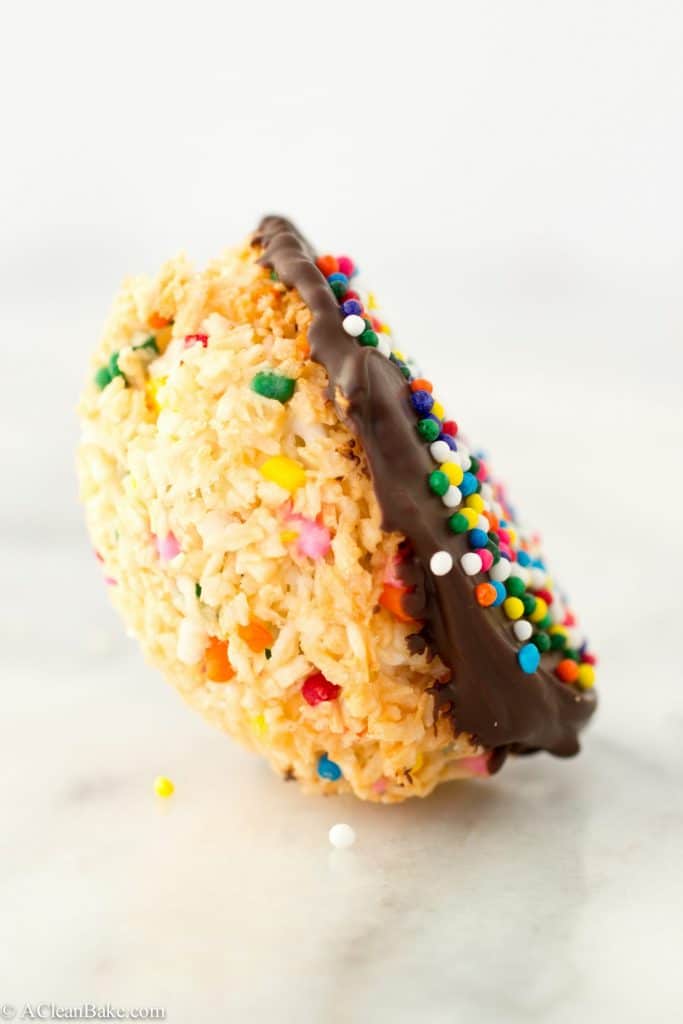 So I made macaroons*, in accordance to the unleavened bread passover tradition, but I funfettied the heck out of them. And then, unable to let things be, I dunked them in melted chocolate. And added more sprinkles. See how my brain works? Why settle for less when you can have more?
Of course, you can completely skip the chocolate dunk, or the sprinkle garnish, or the sprinkles in the macaroons themselves (though, if you take the sprinkles out of the cookies themselves, add an additional 1/2 cup of shredded coconut) but then they wouldn't be chocolate-dipped funfetti macaroons, now would they? 🙂
*to be clear, we're talking about macaroons, the unleavened coconut-and-egg white concoctions that are ubiquitous this time of year, not macarons, the delicate meringue sandwich pastries, that are ubiquitous, um, everywhere from Paris to Mars, and of which I still have a nasty phobia. They're just so finicky. These macaroons are just the opposite.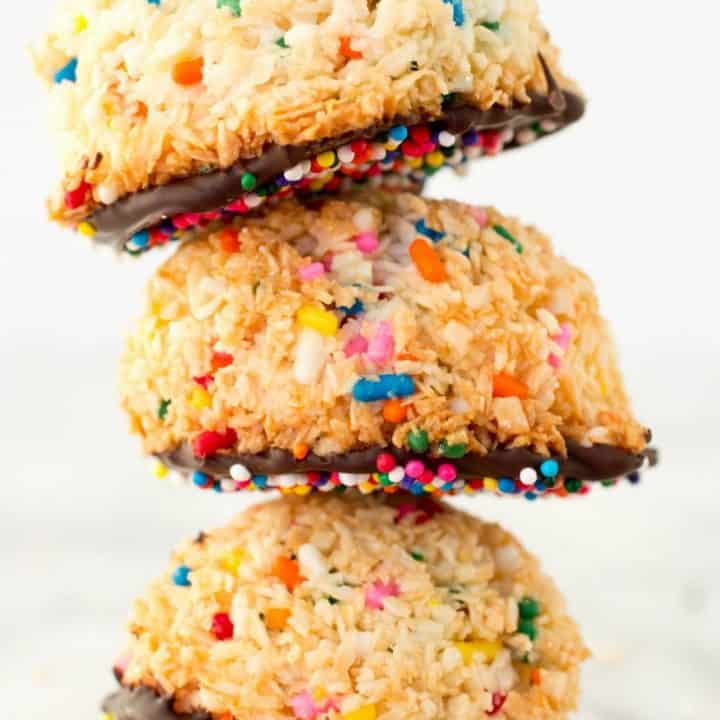 Chocolate-Dipped Funfetti Macaroons
Ingredients
3 cups unsweetened shredded coconut
1/3 cup granulated monk fruit, (or granulated stevia, or maple sugar)
4 large egg whites
Pinch salt
1/2 cup multicolored jimmies, oblong sprinkles
1/2 cup chocolate chips
Optional: additional jimmies or nonpareils for garnish, round sprinkles
Instructions
Preheat the oven to 250F. Line a baking sheet with a nonstick pad or parchment paper and set aside.
In a large mixing bowl, toss together the coconut, sweetener, salt and jimmies, then add the egg and stir until thoroughly combined. Keep stirring until the eggs have coated all of the coconut and jimmies.
Use a spoon or cookie scoop to divide the dough into 2-Tablespoon balls and press down slightly to adhere. The cookies will not spread, so you can put them close together (about 1" apart) and fit them all onto one large baking sheet.
Bake 40-45 minutes until set and slightly golden.
Cool 10 minutes on the baking sheet before transferring to a rack to cool completely.
Once cooled, melt the chocolate chips and dunk each one in the melted chocolate. Use a butter knife to smooth the chocolate and remove the excess. Return to the cooling rack, chocolate side up, and garnish with more sprinkles. Allow chocolate to cool and set completely before serving.
Notes
Yield: 18 cookies
Store in an airtight container at room temperature for up to 5 days. If your house is too warm for the chocolate to stay solid, store in the fridge, and bring back to room temperature before serving.
Thank you to Natvia for providing the ingredients that inspired this delicious recipe.