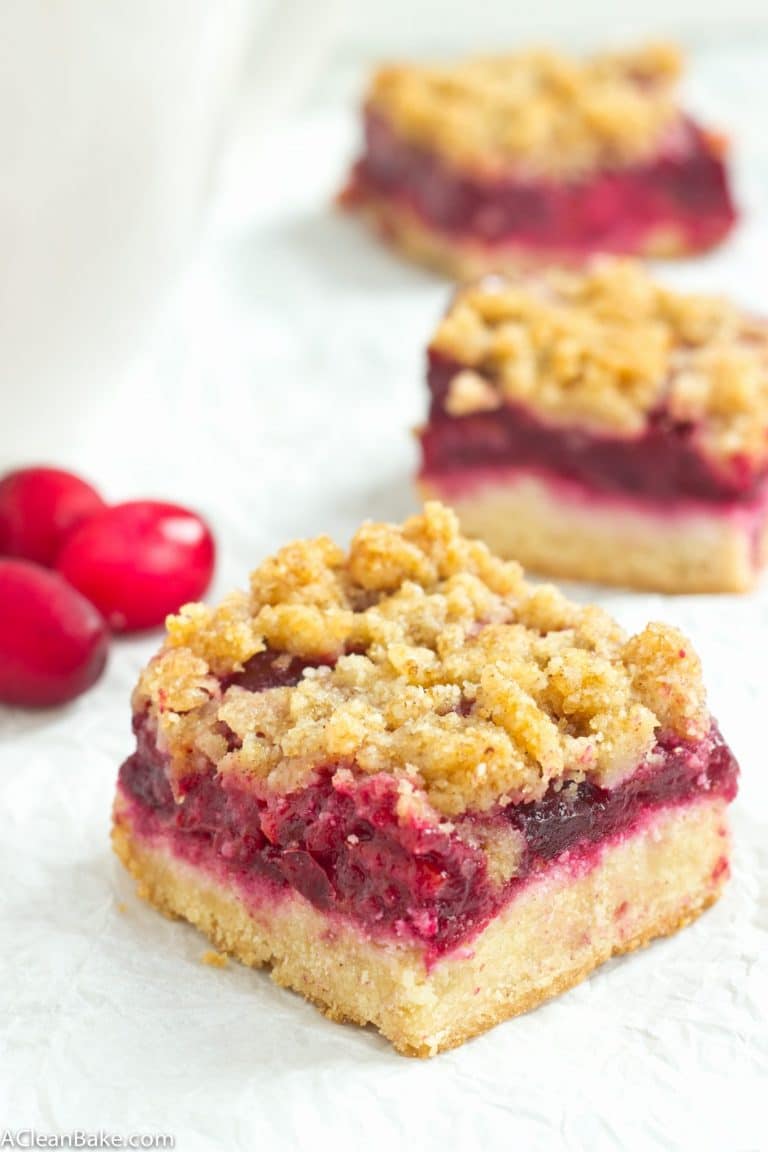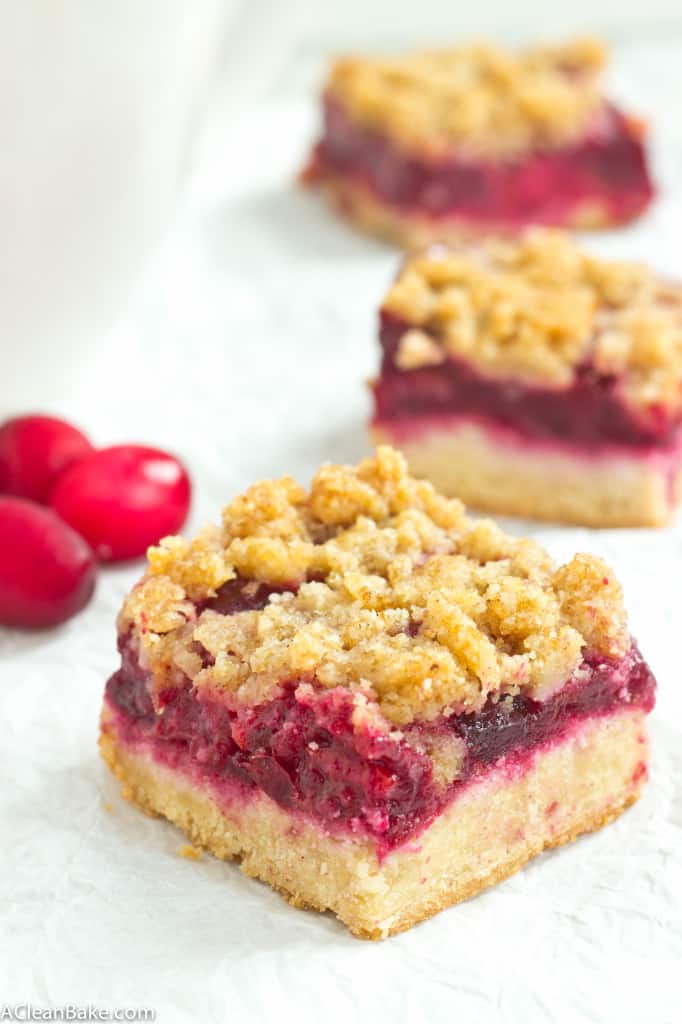 These bars were an accident, in the same way that penicillin was, but minus the infection-killing properties – a happy accident and a recipe that I plan to make again and again.
Over the post-Thanksgiving weekend, I had some left over pie crust dough from my obsessive testing and tweaking of this recipe, and at the same time was fighting with Bryan over the last of his mom's absolutely addictive cranberry sauce that tastes like candy. I was reluctant to make more of the cranberry sauce because a) it never comes out quite like hers and b) there are 2 cups of sugar in her recipe so that's why it tastes like candy. Because it literally is. Every time I took a bite I thought "ZOMG THIS IS SO GOOD WHO CARES IF I AM PUTTING DESSERT ON MY TURKEY" but after the leftovers were gone, I figured the way to justify making more was to actually put it in a dessert.
The cranberry filling in these bars is inspired by the famously addictive cranberry sauce, especially the complementary orange flavor, but with no refined sugar (instead, the filling is naturally sweetened with honey) and sandwiched between a shortbread-y crust and a buttery streusel. I can't make a bar cookie without a streusel apparently. I'm assuming you're ok with that?
Can I just cut to the chase and tell you that these things are exceptional? I know I always say this but you really, really can't tell these are free of gluten, grains and refined sugar. You will not miss them. I can't wait to share these with family and friends this holiday season, and I hope you'll do the same!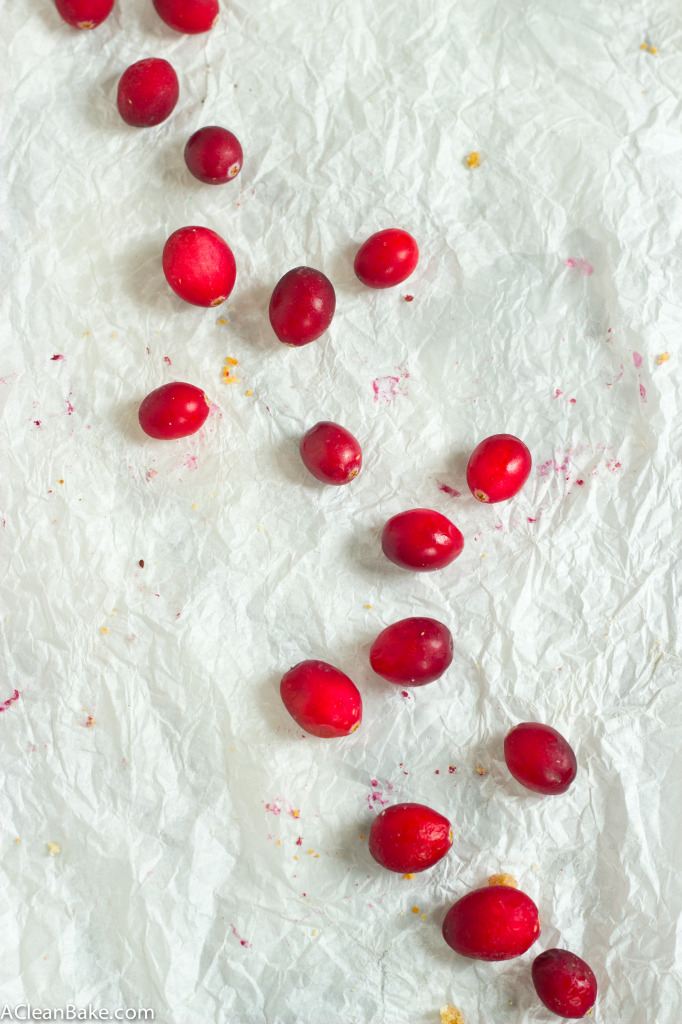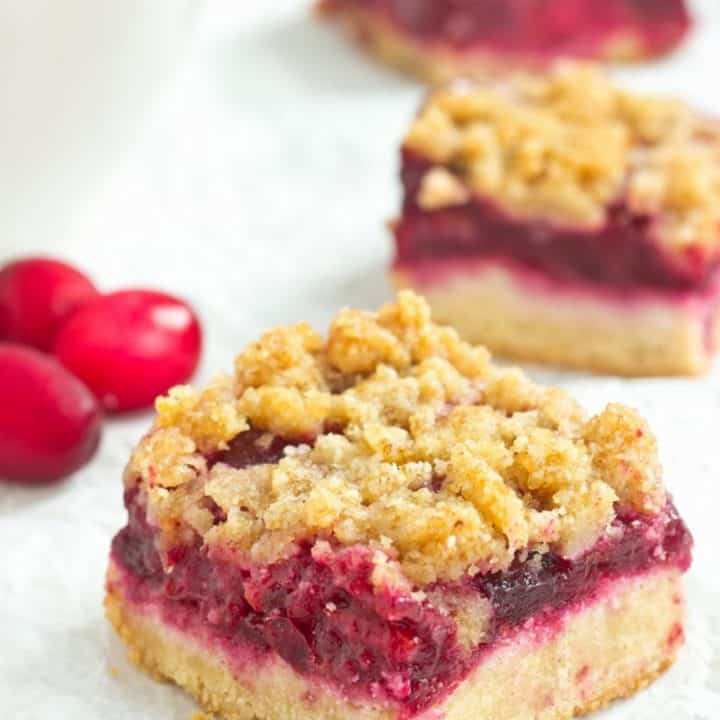 Cranberry Orange Shortbread Bars
Ingredients
1 grain-free pie crust, (see notes for the link to the recipe; do not prebake)
4 cups fresh whole cranberries
1/4 cup water
1/4 cup honey
1 teaspoon cinnamon
1 clementine orange
1/4 cup granulated monk fruit sweetener, or granulated stevia
1/4 teaspoon cinnamon
1/2 cup almond flour
Pinch salt
3 Tablespoons butter or coconut oil
Instructions
Preheat the oven to 350 and grease an 8"x8" baking dish.
Prepare the pie crust dough and press into the baking dish in a single layer.
Bake the crust for 10 minutes.
While the crust is cooking, make the filling by cooking the cranberries, water, honey and cinnamon over medium heat until it starts to bubble. Add the juice of the clementine, then discard the remaining inner flesh. Thinly slice the peel and add it to the pot with the cranberries. Cook for 15 minutes until the mixture is thickened, stirring periodically to make sure nothing is sticking to the pot or burning.
While the cranberries are cooking, make the streusel topping: In a medium mixing bowl, whisk together the sweetener/sugar, cinnamon, almond flour and salt until evenly combined and no clumps remain. Use a pastry blender or a fork to cut the butter into the dry ingredients until it is broken into small chunks (the size of gravel or baby peas).
When the crust is done pre-baking, remove it from the oven (do not turn off the oven) and pour the cranberry orange mixture into the pan. Smooth into an even layer, and then sprinkle the streusel evenly over the cranberry mixture.
Bake for 30 minutes or until the streusel begins to turn slightly golden and the crust layer is cooked through.
Cool completely before slicing. For cleanest slices, chill in the fridge or freezer before cutting, use a very sharp knife, and wipe the blade between slices.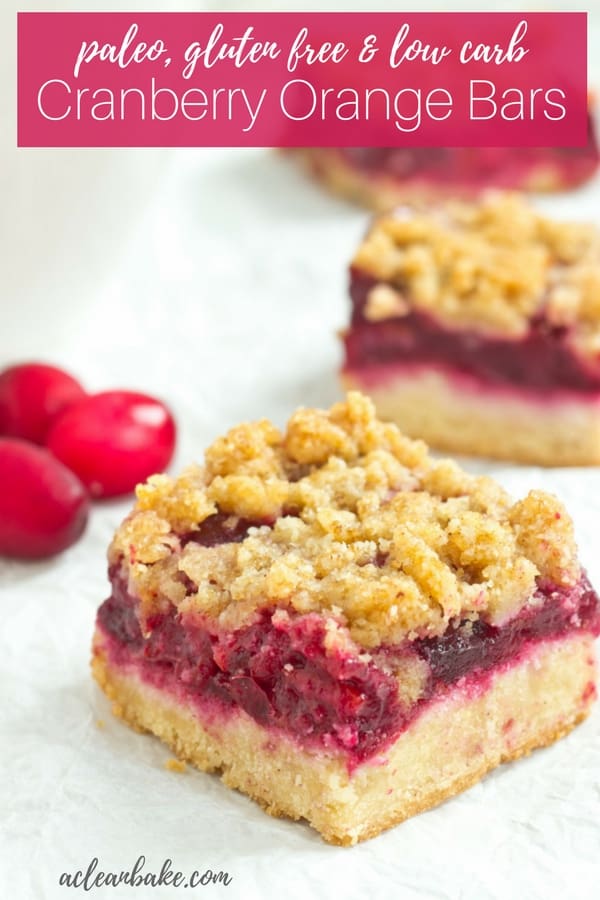 This post contains affiliate links, which means that if you click through and purchase a product, A Clean Bake receives a small commission. All proceeds go toward continuing to bring you delicious, healthy recipes every week, and this does not affect the price you pay. Thanks for supporting A Clean Bake!