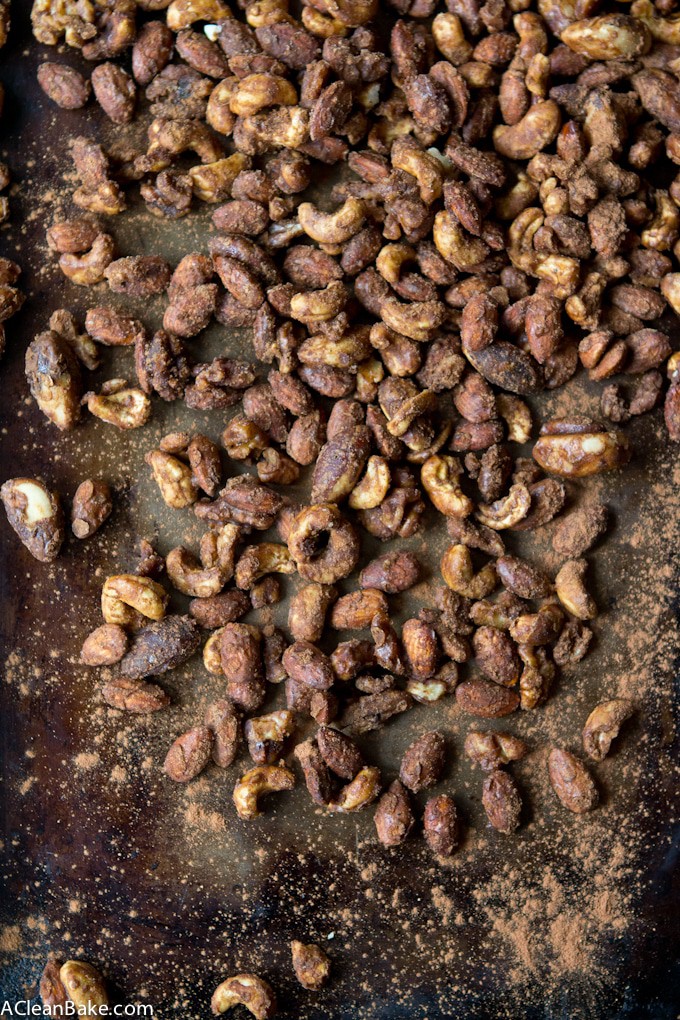 I threw these spiced nuts together for guests to nosh on when they were here for Christmas because I was afraid I wouldn't have enough food for 13 people and two meals. Pro tip: try at all costs to avoid hosting two separate Christmas gatherings in one day, especially if you are simultaneously responsible for keeping a three-week-old alive. But, if you do happen to endeavor to do such a bonkers-insane thing, make sure these spiced nuts are on your menu, because the ratio of enjoyment and fancy-pants-ness to effort that they contribute is really very high. Or, rather than waiting for your next Extreme Christmas Hosting opportunity, they'd be perfect for a New Year's Eve gathering instead. (Or, if I'd gotten this posted in time, they would have made great edible gifts…)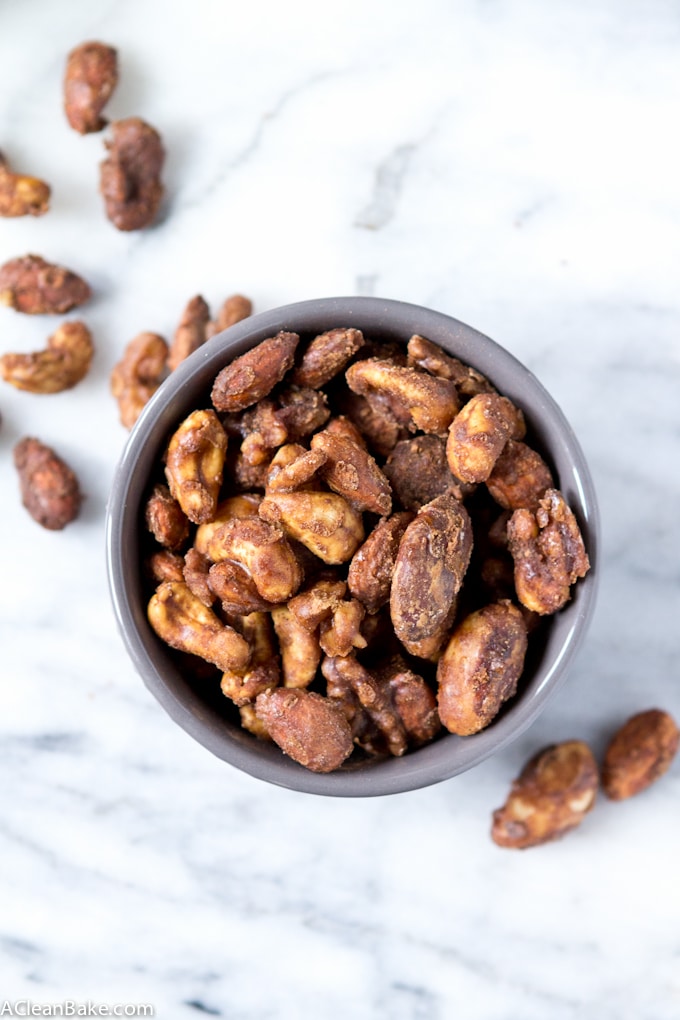 Since this recipe makes more than enough to feed a crowd, I know you probably have a lot of questions about adapting the recipe to various tastes and diets. And yes, of course you can customize this recipe! For example, the amount and type of nuts I used here was directly related to the contents of my freezer (wait, you don't store your nuts in the freezer?), and the opportunity to free up some additional real estate in there for more freezer meals. If you don't feel like making a special trip to the store for Brazil nuts, or one of your guests is allergic to walnuts, just wing it. The key is to use a total of 4 cups of unsalted, raw nuts, but beyond that, the sky is the limit.
The same goes for the seasoning: you can use the pumpkin pie spice that the recipe calls for, or replace it with cinnamon or even cayenne pepper (though you'll probably want to dramatically reduce the amount to taste. Start with one tsp and work up from there) if you want to be a little more adventurous and try a sweet and spicy flavor profile instead.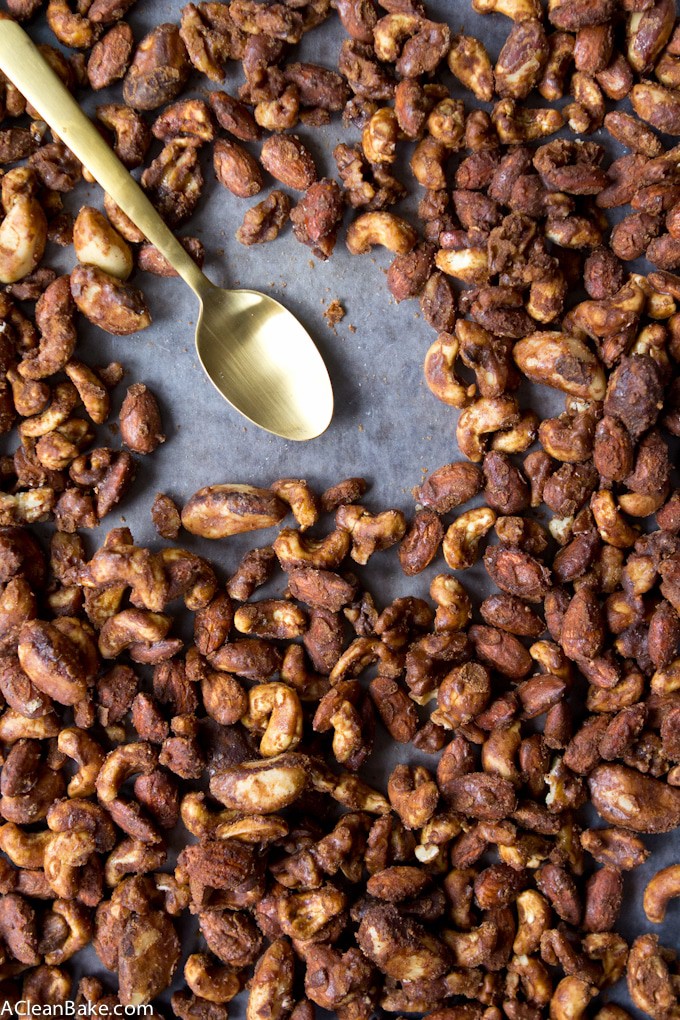 The sky's the limit! Just throw a few ingredients in a slow cooker, walk away, and come back to an absolutely irresistible snack/appetizer/nosh in a couple of hours. At least appetizers are taken care of.
Here's to a safe and fun New Year's Eve celebration. See you in 2017!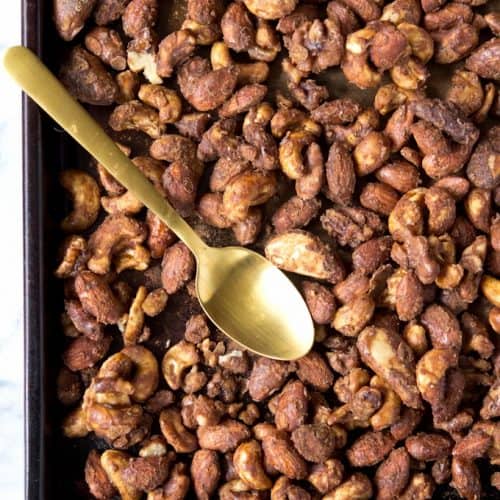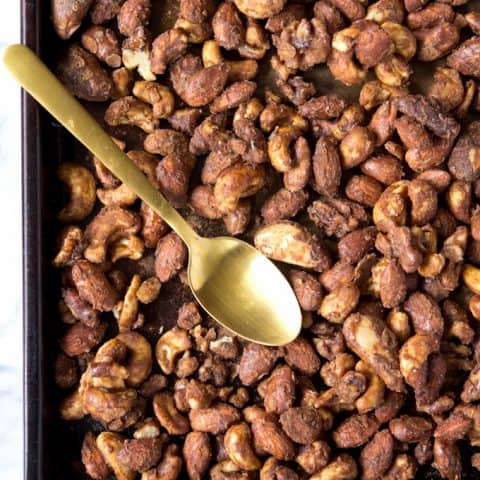 Slow Cooker Candied Spiced Nuts
Total Time:
2 hours
15 minutes
The slow cooker takes the guesswork out of making homemade spiced nuts! They're gluten free, paleo friendly and naturally sweetened.
Ingredients
2 cups whole, unsalted, raw almonds
2 cups whole, unsalted, raw cashews
1 cup raw walnut halves and pieces, unsalted
1 cup whole, unsalted, raw Brazil nuts
1 1/2 cups coconut sugar
1 1/2 Tablespoons pumpkin pie spice mix
2 large egg whites
Instructions
Liberally spray or grease the bowl of a 4-quart slow cooker and set aside.
In a large mixing bowl, toss together the nuts, then add the coconut sugar and spice mix and toss together.
Fold in the egg whites until all the nuts are evenly coated with sugar, spice and egg.
Transfer the mixture to the prepared slow cooker bowl.
Cook on low for 2 hours, folding the mixture over once or twice during cooking to distribute any melted sugar that sinks to the bottom of the bowl.
As soon as the nuts are done cooking, spread them in a single layer on a parchment-lined baking sheet (or two) to cool.
Serve immediately, or store in an airtight container at room temperature for up to 3 days or in the freezer for up to 3 months.
Notes
Do not let the finished nuts cool in the bowl or they'll stick together in a giant mass. If you have to step away and won't be back when the nuts are done cooking, make sure you set your slow cooker to automatically transfer to the warm setting, or turn the slow cooker back on (to low or warm) until the sugar is melted enough to separate the nuts.
Yield: 4 cups
Nutrition Information:
Yield:

4
Serving Size:

g
Amount Per Serving:
Calories:

1397
Saturated Fat:

14g
Sodium:

156mg
Carbohydrates:

97g
Fiber:

14g
Sugar:

46g
Protein:

38g
[wprm-nutrition-label align="center"]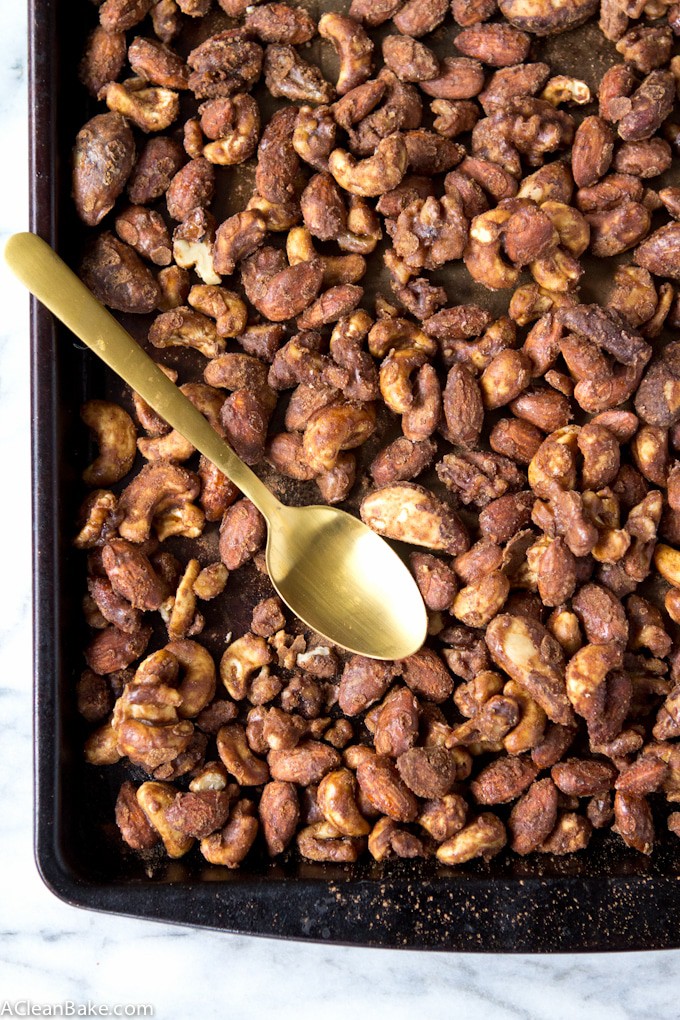 This post contains affiliate links, which means that if you click through and purchase a product, A Clean Bake receives a small commission, which goes toward continuing to bring you delicious, healthy recipes every week. This does not affect the price you pay. Thanks for supporting A Clean Bake!