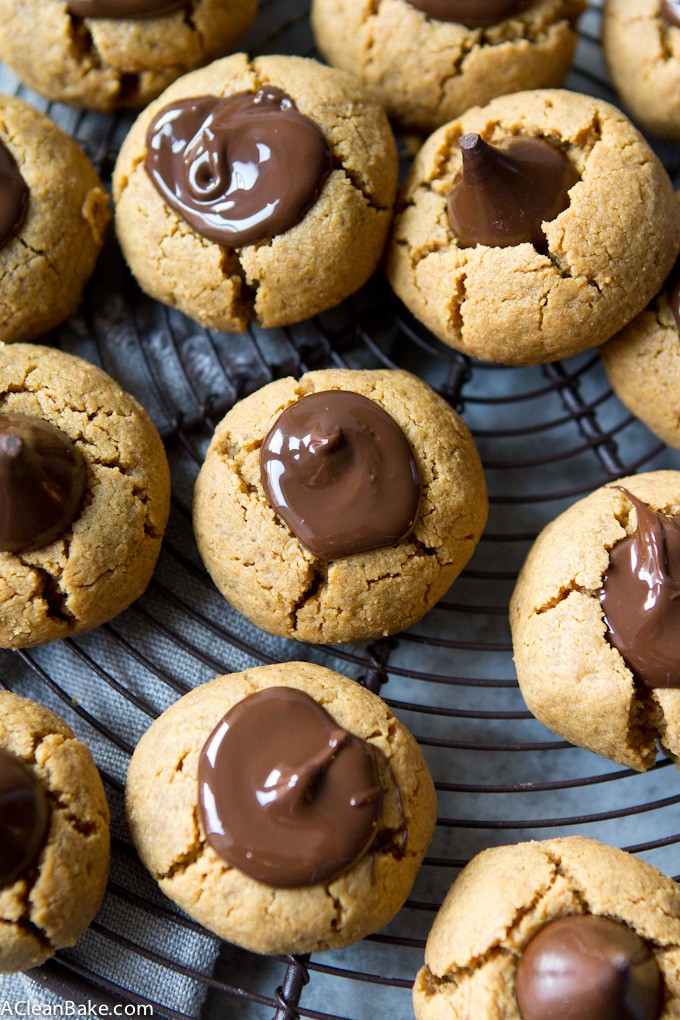 Raise your hand if you're doing a Whole30 this month! If you're raising your hand…uhhh…I'm sorry. I've committed some sort of HFBST (Healthy Food Blogger Sin and/or Treason) by posting a dessert in January. Don't I know it's Whole30 season? Don't I know we're supposed to be detoxing from end-of-year-sugary decadence!? And to post a cookie, no less. Don't I know cookies are for December, and briefly become illegal in January!?!?!?!
Well, lock me up. Just make sure to throw a batch of these flourless* peanut butter blossoms in to the cell first.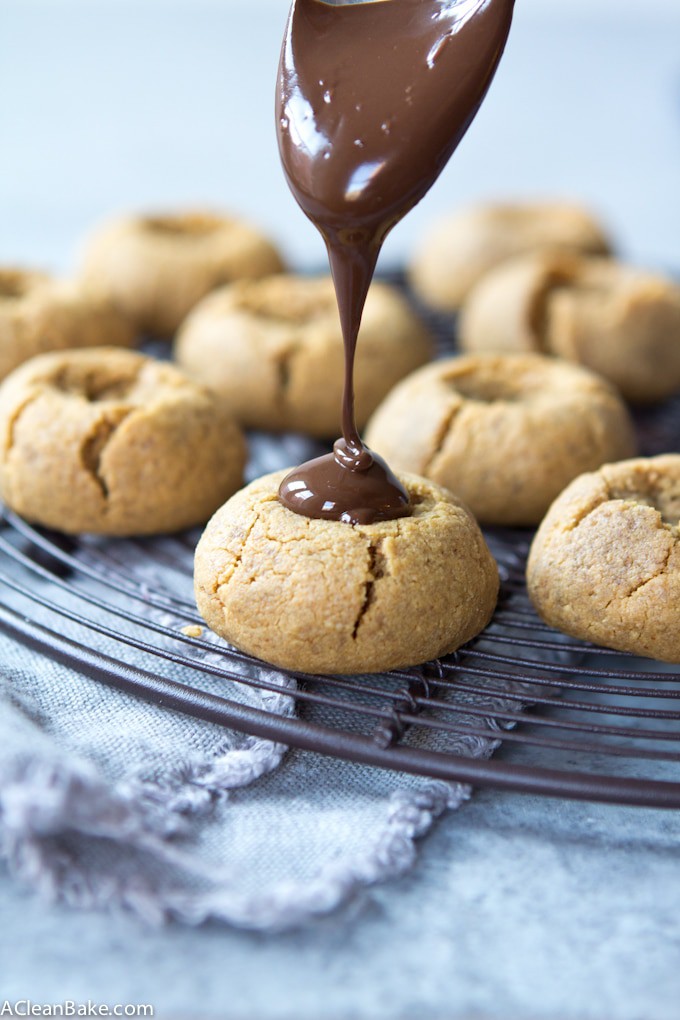 Anyway, I really do apologize for tempting you Whole30-ers with cookies at a point where, I'm sure, staying on track is starting to get really hard (or easier? Hopefully easier.). But I promise that I'll have plenty of compliant recipes for you during the rest of the month. But I've been teasing everyone on Instagram with these cookies for so long that I felt terrible withholding them a moment longer. So, here they are.
Peanut butter blossoms need no explanation, I think, if you grew up anywhere that Skippy and Hershey's distributes their products. But omigod the amount of sugar and garbage ingredients in that sentence alone… No thanks. That's not to say you can't have a peanut butter blossom (duh. I mean what else is this post about if not a recipe for a garbage-free version of the recipe?), they just take some (a lot) of tweaking (reworking the recipe completely/SO MANY VERSIONS/oh shucks, I guess I'll just have to eat them all) and a bit of an understanding that these won't be exactly like the ones you remember from childhood – but that's a good thing.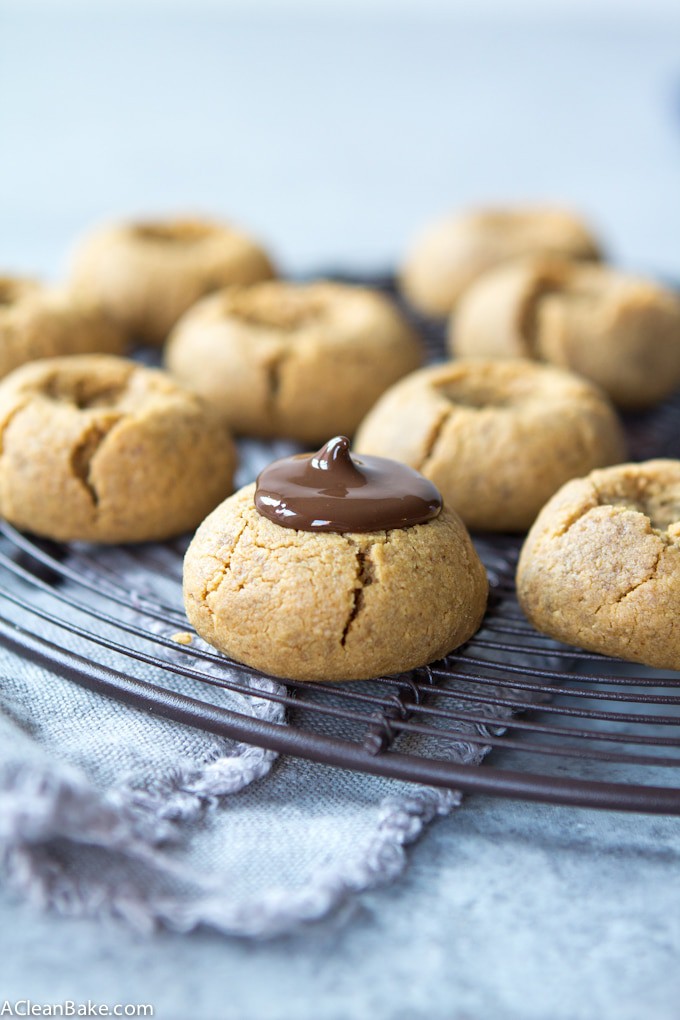 In addition to the slightly more delicate texture than the childhood version, you can also use any nut or seed butter you prefer (as the title of this recipe sort of gave away) in these cookies, as long as it is natural and unsweetened. Whatever you do, don't use the no-stir kind of nut/seed/peanut butter or else the cookies will turn out dry and crumbly and no one wants that.
And – childhood memories be damned – you can finish them one or two ways, meaning your batch may not be topped with a Hershey's Kiss. If you can't or don't want to use that kind of ingredient, you fill the cookies with ganache, which involves really good quality dark chocolate, coconut oil and a little cocoa powder. Personally, as inauthentic as they may be without the telltale kiss, I'm pretty sure literally no one ever turned up their noses at anything filled with ganache, so you probably can't go wrong. But, if you want to keep these semi-authentic, I'd recommend using Hershey's dark chocolate kisses, which will have slightly less sugar than the original version (hey, it's something).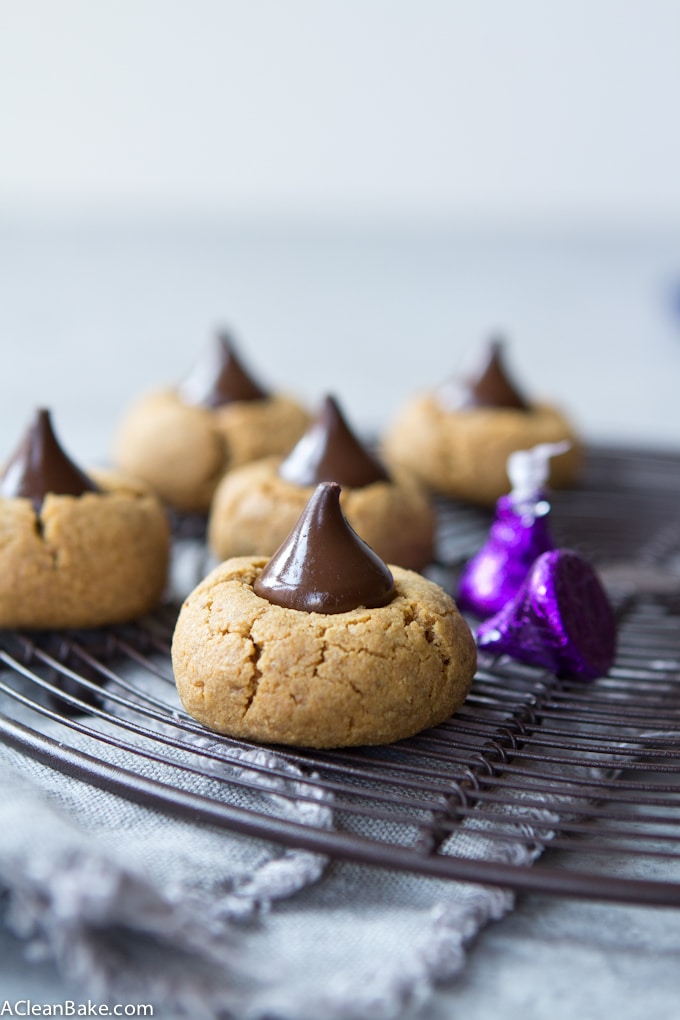 So, do you forgive me for holding out on you for so long? For being a little distracted throughout the month of December and not being able to post these in time for holiday cookie platters? For interrupting your wholesome back-on-track January routine with a viciously decadent cookie filled with – of all things – ganache?
What's that? I had you at ganache? I thought so. 😉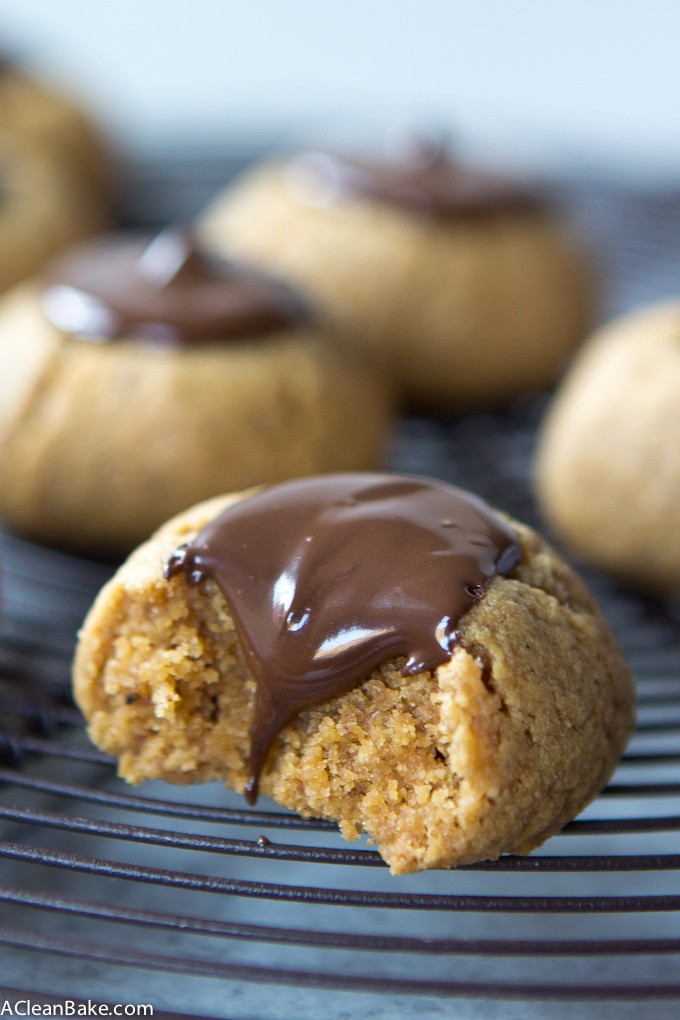 *By the way, I call these "flourless" to distinguish them from the traditional recipe which uses wheat flour as a binder. You already know that all of the food here is (wheat) flourless, but just keep that in mind when you bite into one of these and find them to be a little more delicate than you'd expect. That's the effect of the flourless-ness, but trust me, it's better than the version of these that has flour in them and is unnecessarily complex and frustratingly dense.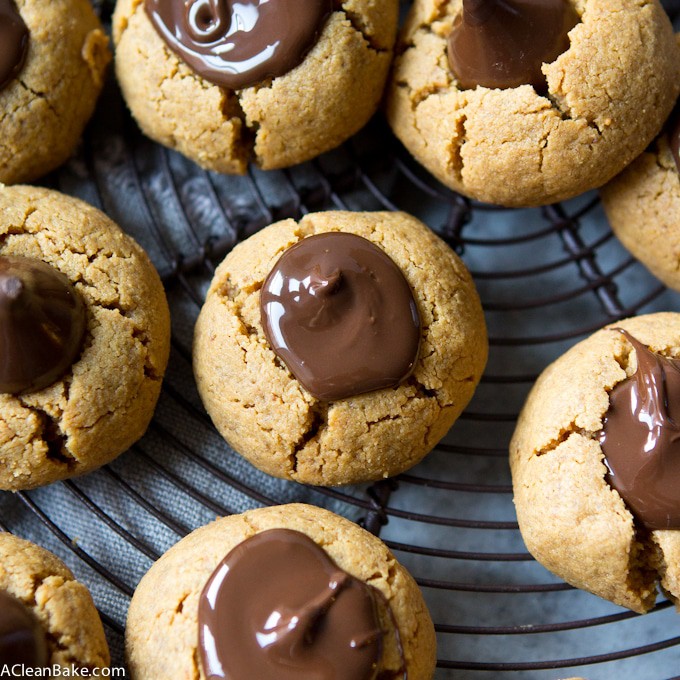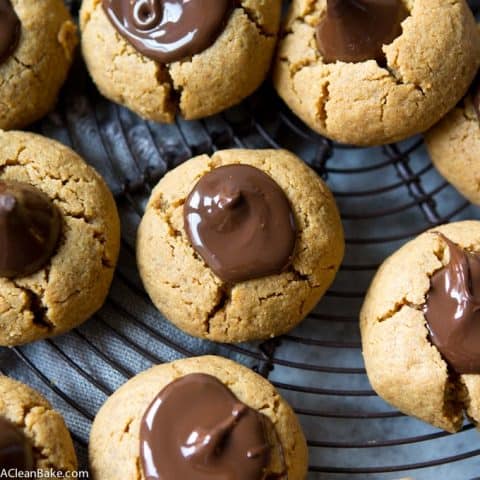 Flourless Peanut Butter Blossoms
A childhood favorite gets cleaned up! These peanut butter blossoms are made with just a few real food ingredients, no flour, and topped with rich ganache!
Ingredients
Ingredients for the cookies
1 1/2 cups creamy natural peanut butter, unsweetened, or nut/seed butter of choice
2 large eggs
1/4 cup coconut oil, melted and slightly cooled
3/4 teaspoon vanilla extract
1/2 cup granulated monk fruit sweetener, or granulated stevia
1/2 teaspoon baking soda
pinch fine sea salt
Ingredients for the filling
28 dark chocolate kisses
Or
2/3 cup good quality dark chocolate, chopped, or use chips
1/2 Tablespoon coconut oil
1 Tablespoon good quality cocoa powder, sifted
Instructions
Preheat the oven to 350F. Line a baking sheet with a piece of parchment or a nonstick pad. Set aside.
In the bowl of a stand mixer using the whisk attachments, beat together the peanut/nut/seed butter and eggs. (You can also use a large, sturdy mixing bowl and a hand mixer, if you prefer.).
Add the coconut oil and vanilla, and beat until combined.
Add the stevia, baking soda and sea salt, and beat until well incorporated.
Scoop 1 1/2 Tablespoon portion of dough and roll into a ball between the palms of your hands. Flatten slightly and place on cookie sheet.
Repeat with the remaining dough, spacing cookies evenly (at least 1" apart) on the cookie sheet.
Bake for 13-17 minutes until cookies are puffy and very slightly cracked on top.
Remove from oven and either gently press one chocolate kiss into the center of each cookie or press the lightly greased back of a 1 teaspoon measuring spoon into the center of each cookie to form a little well.
Allow cookies to cool and firm up at room temperature.
If you're filling your cookies with ganache, wait until they have firmed up and cooled slightly before combining the chocolate and coconut oil in a microwave-safe bowl.
Microwave on high for 30-60 seconds until melted and stir able. Stir until smooth, then stir in the cocoa powder.
Use a spoon or pastry bag to fill the holes you created in the centers of the cookies with ganache.
Allow the ganache to completely set at room temperature before serving or storing cookies.
Notes
Do not use the no-stir nut/seed/peanut butter. It will negatively affect the consistency of the cookies!
Store cookies in an airtight container at room temperature for up to 5 days, or in the freezer for up to 3 months.
Yield: 28 cookies.
Nutrition Information:
Yield:

28
Amount Per Serving:
Calories:

144
Saturated Fat:

4g
Cholesterol:

14mg
Sodium:

104mg
Carbohydrates:

9g
Fiber:

1g
Sugar:

4g
Protein:

4g
[wprm-nutrition-label align="center"]
This post contains affiliate links, which means that if you click through and purchase a product, A Clean Bake receives a small commission, which goes toward continuing to bring you delicious, healthy recipes every week. This does not affect the price you pay. Thanks for supporting A Clean Bake!