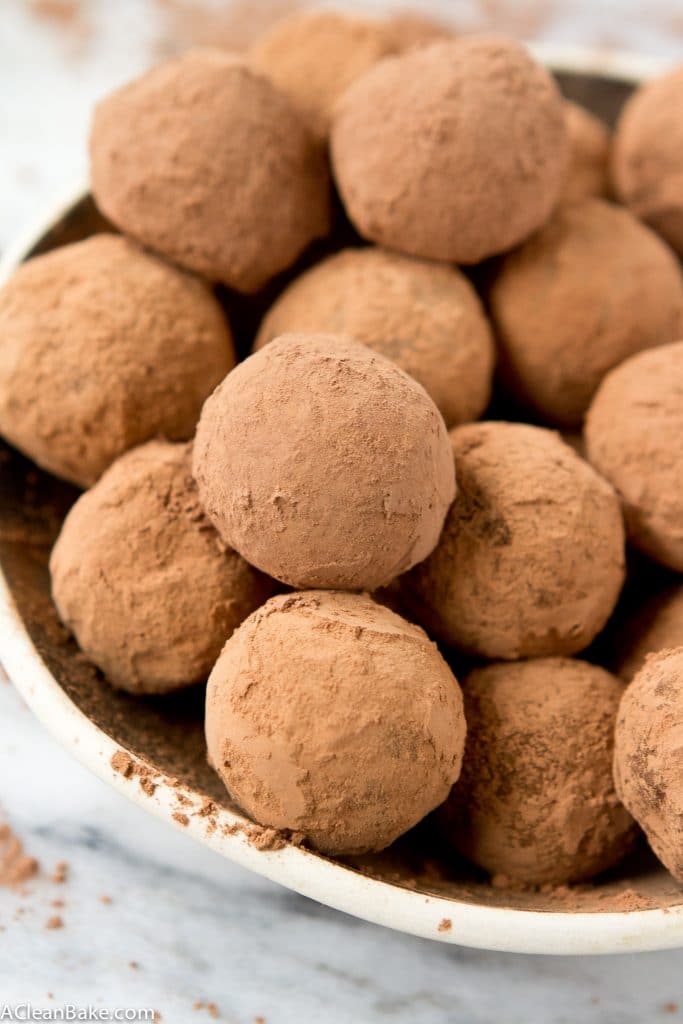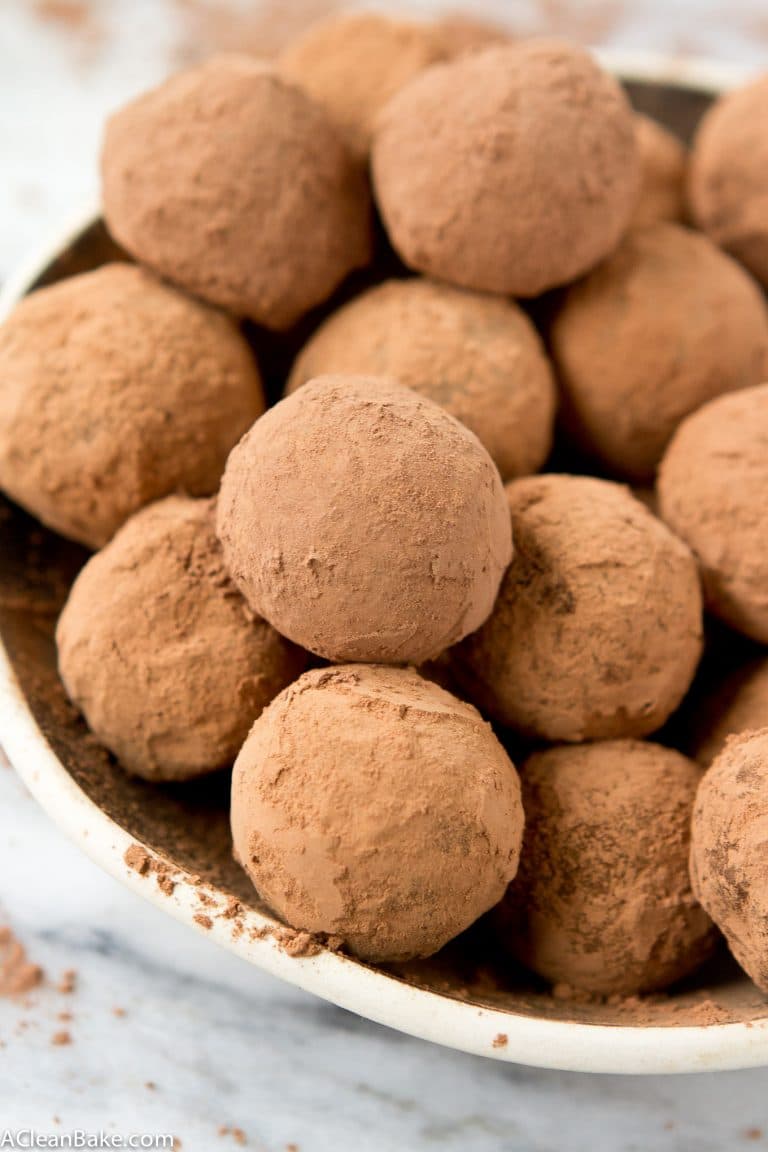 I wish I could say there was some interesting story of the inspiration behind these truffles, but the truth is that they've just been in the pipeline for Valentine's Day after a fleeting thought last year about how easy it would be to turn this chocolate mousse into a truffle.
Actually, maybe it is a little exciting that I managed to actually execute on a recipe that I had the idea for a year ago (though the latter happens a lot, the former almost never does). But that says more about the recipe itself than about my organizational skills. If anything, I've just been counting down the days until I had an excuse to make these luscious, silky dark chocolate truffles.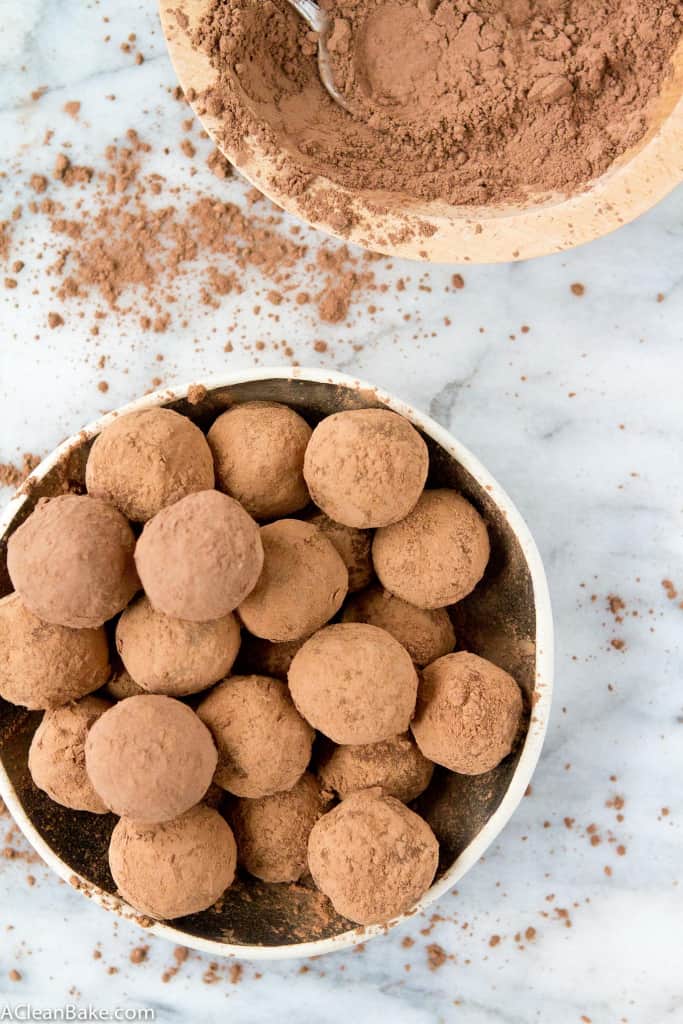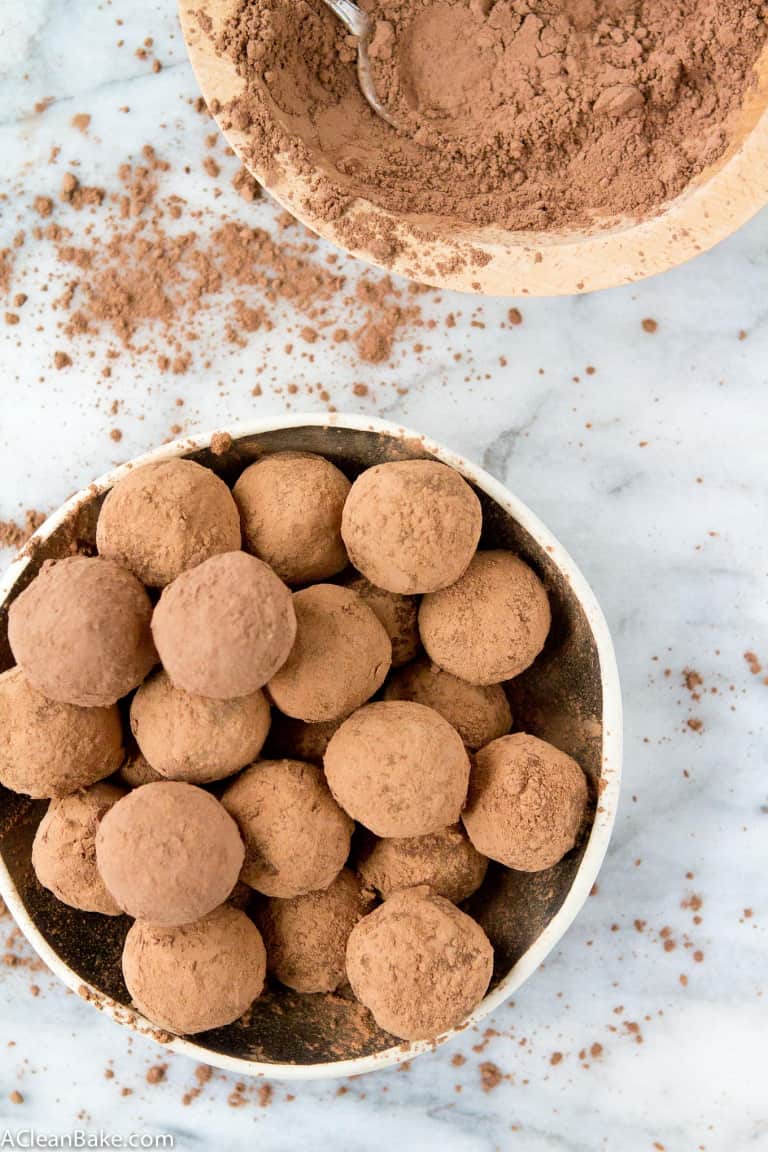 What better excuse than Chocolate Month? What's that you say? You call it February. Well, obviously you missed my last post. Because I've decided – and I hardly expect to get any opposition to this – that the only way to get through this cold and dreary month of winter (Except yesterday, which was bizarrely warm. Not that anyone complained.), short of disappearing to the tropics for 3 of the 4 months, is to really embrace the whole Valentine's Day thing, however hokey, and not let go for a second. We'll fortify ourselves for this feat of strength with chocolate.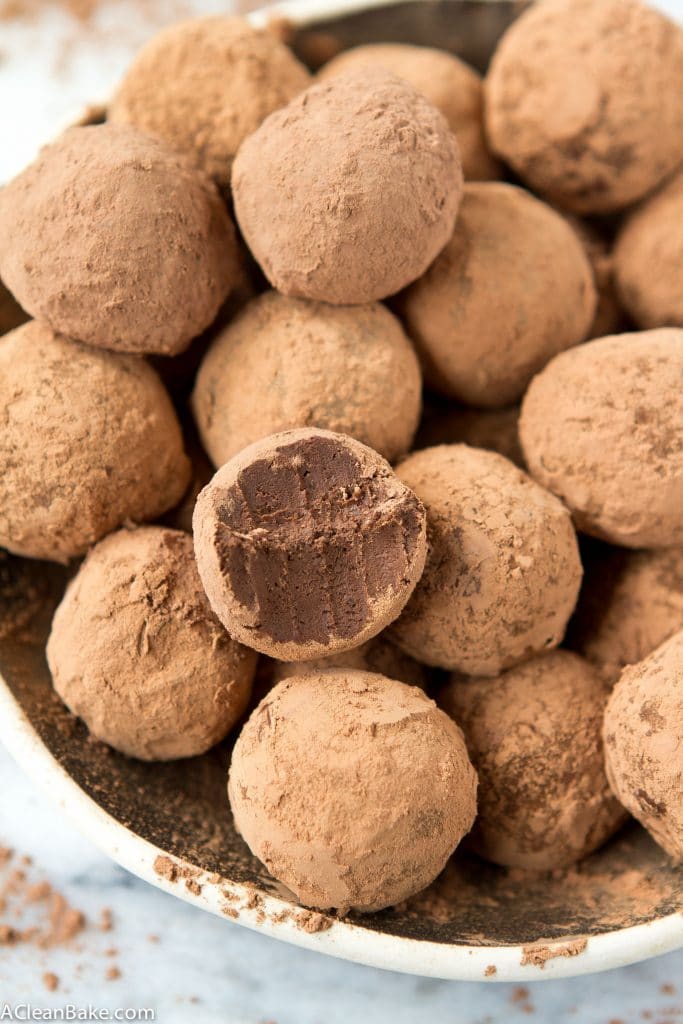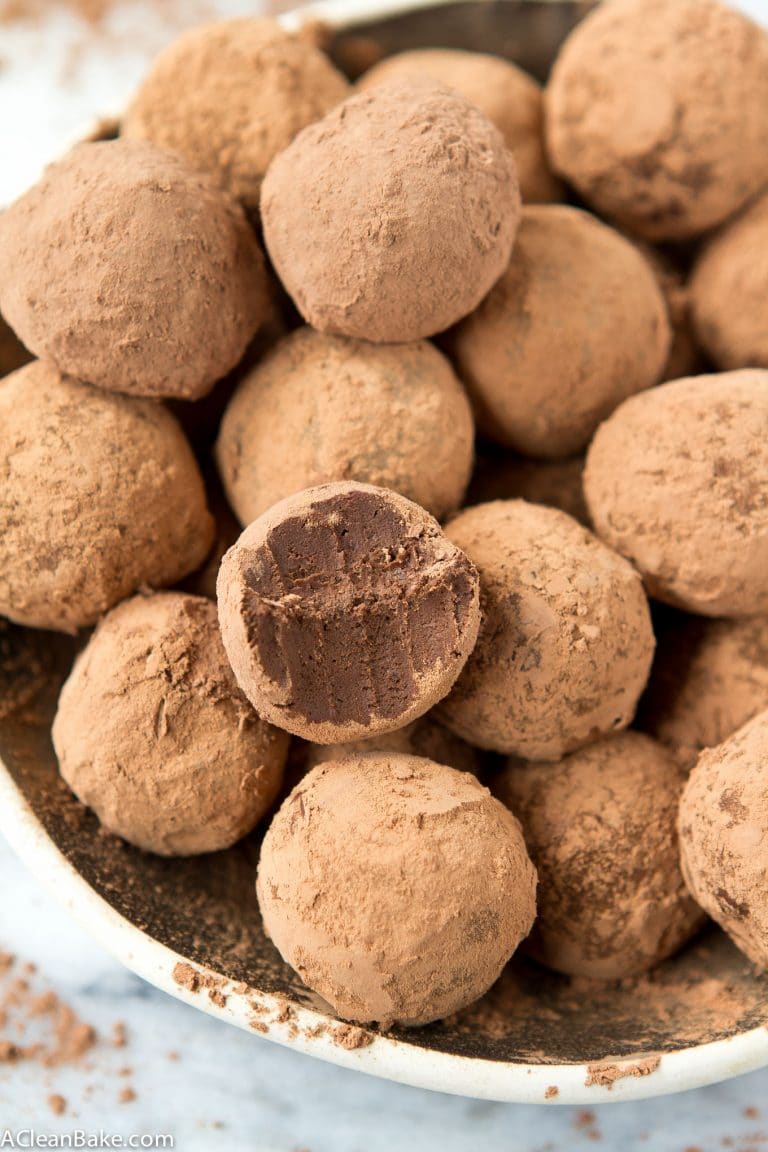 Dark chocolate truffles, to be exact – well today, anyway – that happen to also be:
gluten free
paleo
low carb
vegan
dairy free
and raw
I challenge you to find any store bought Valentine's Day treat that can humblebrag like that, and doesn't taste like tree bark (which these most certainly do not).
The (heart-healthy) secret ingredient? Well… I'll let you make them and find out for yourself!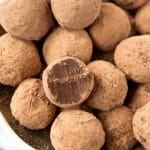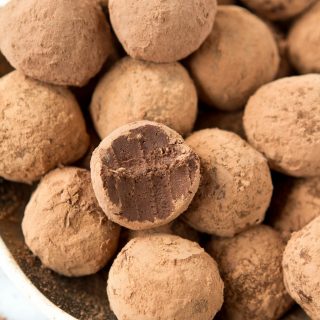 Dark Chocolate Truffles
gluten free, grain free, paleo, vegan, egg free, dairy free, low carb
Ingredients
1

cup

dark chocolate,

chopped

1 1/2

cups

mashed ripe avocado -

about 2 medium avocados, mashed

10

Tablespoons

cocoa or cacao powder,

plus more for rolling

6

Tablespoons

granulated stevia or monk fruit sweetener

(like Norbu or Natvia)

Pinch salt
Instructions
Line a plate or small baking sheet with a

nonstick pad

or wax paper and set aside.

In a large heatproof mixing bowl, melt the chocolate over a double boiler or in the microwave in 30-second increments (stirring in between) until smooth.

Stir in remaining ingredients (reserving extra cocoa powder for rolling).

Scoop approximately 1 Tablespoon portions and roll between your palms to form a ball. Place on the prepared baking sheet and repeat with the remaining batter.

Refrigerate for at least an hour or until firm.

Roll truffles in cocoa powder immediately before serving.
Recipe Notes
If you plan to make these ahead of time, you may want to plan to roll the truffles a second time immediately before serving since the cocoa powder tends to soak up some of the moisture from the avocados over time and become less visible.
Yield: 26 truffles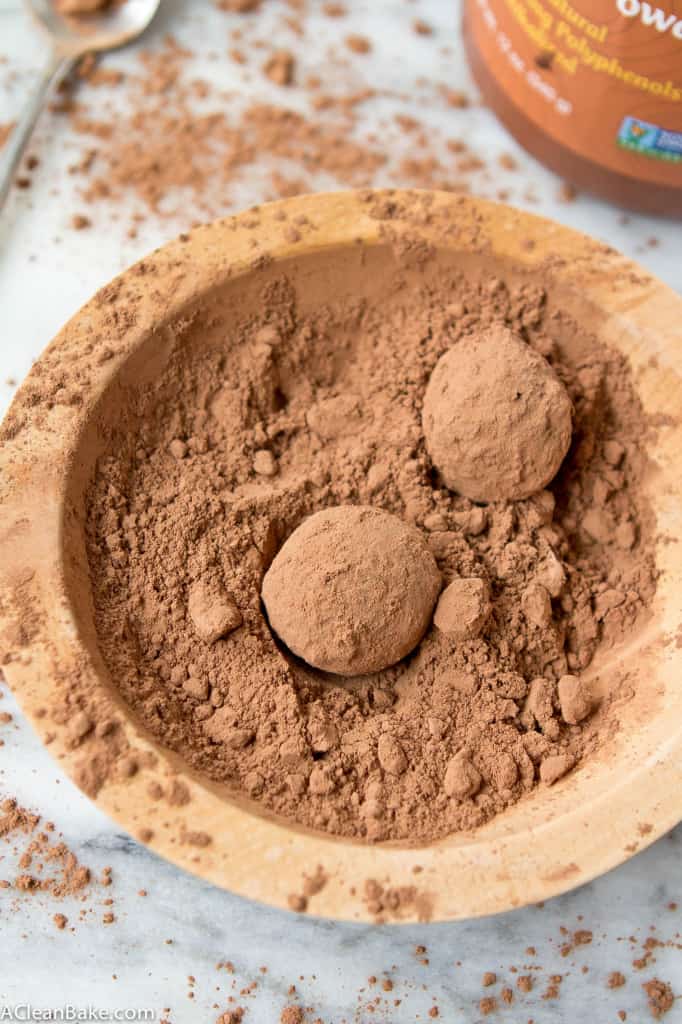 Thank you to Natvia for providing the ingredients that inspired this delicious recipe. This post contains affiliate links, which means that if you click through and purchase a product, A Clean Bake receives a small commission, which goes toward continuing to bring you delicious, healthy recipes every week. This does not affect the price you pay. Thanks for supporting A Clean Bake!