Paleo and vegan chocolate mousse that tastes SO decadent, but is actually good for you! You'll *never* guess the secret ingredient! (gluten free & dairy free)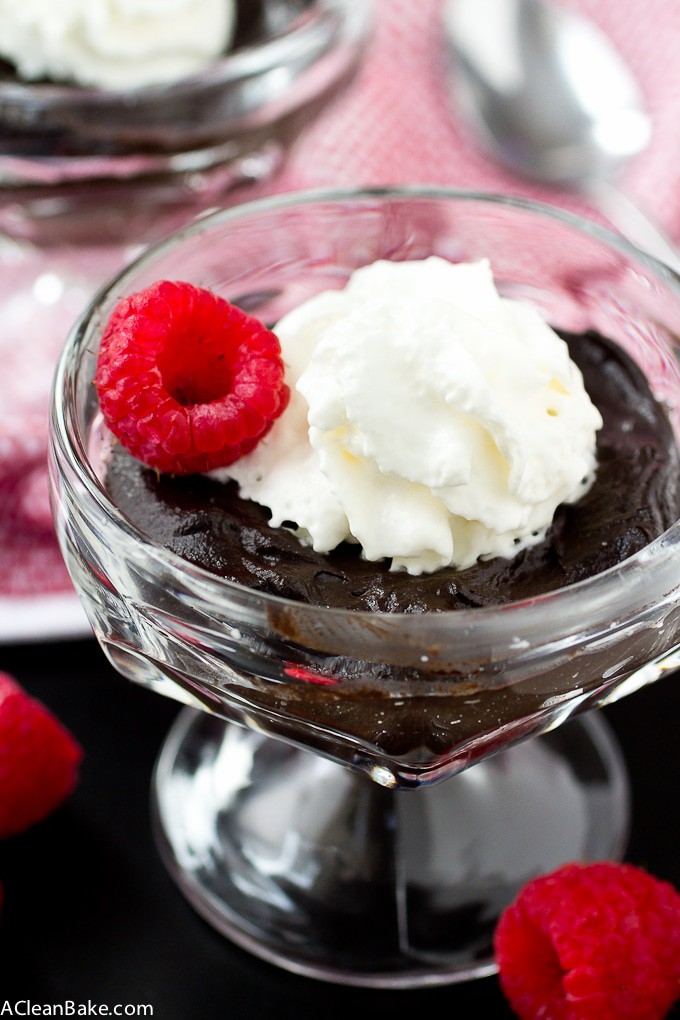 We fought over this one, my husband and I. This dark chocolate mousse was so good – addictively, insanely, trade your firstborn good – that it nearly came between us. The irony of a Valentine's Day dessert causing a divorce is not, by the way, lost on me. Luckily, we had more avocados, so I just made more and we'll live to see another Valentine's Day.
Then I made even more, gave it to the neighbors, and … well as far as I know they are still married, but I haven't seen them in awhile, so… fingers crossed. This mousse is the stuff of dreams.
Every year, I look at the calendar in February and think "Valentine's Day? Again? Really?" as though last year's holiday was some kind of final exam that you get through and then get to black out of your memory for the rest of eternity. I am not one of those people who hates the holiday or is bitter about it, but I just don't see the point in it. I don't really want any heart-shaped plush crap, and I prefer my husband and I show each other what we mean to one another every day, rather than being indifferent until February 14th, then showering each other with a year's worth of Hallmark nonsense. (What was I saying about not being bitter? I digress.)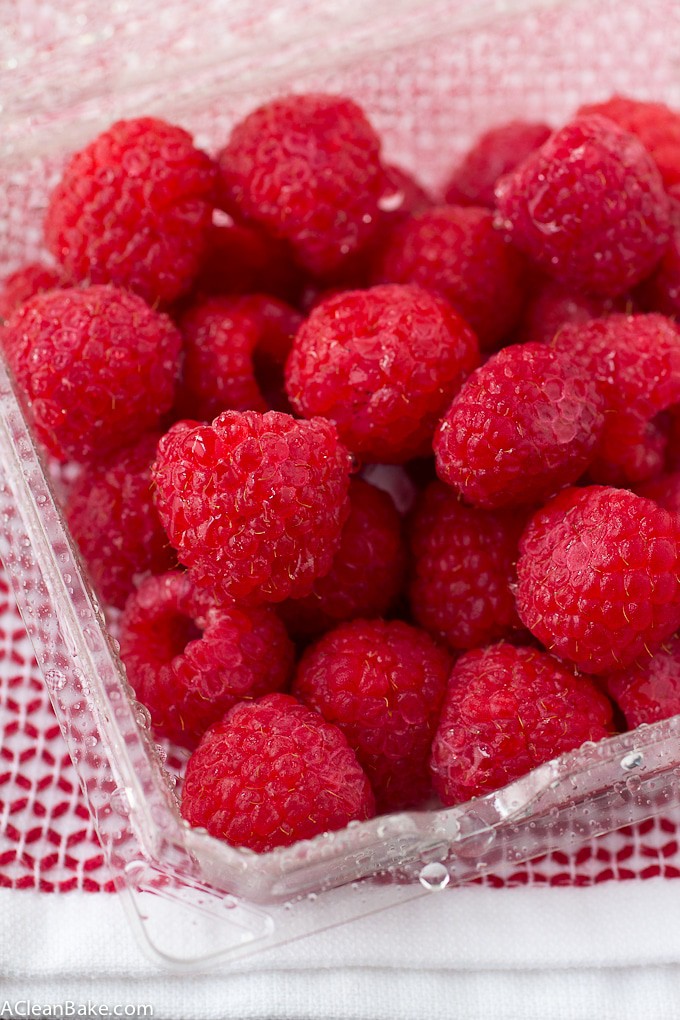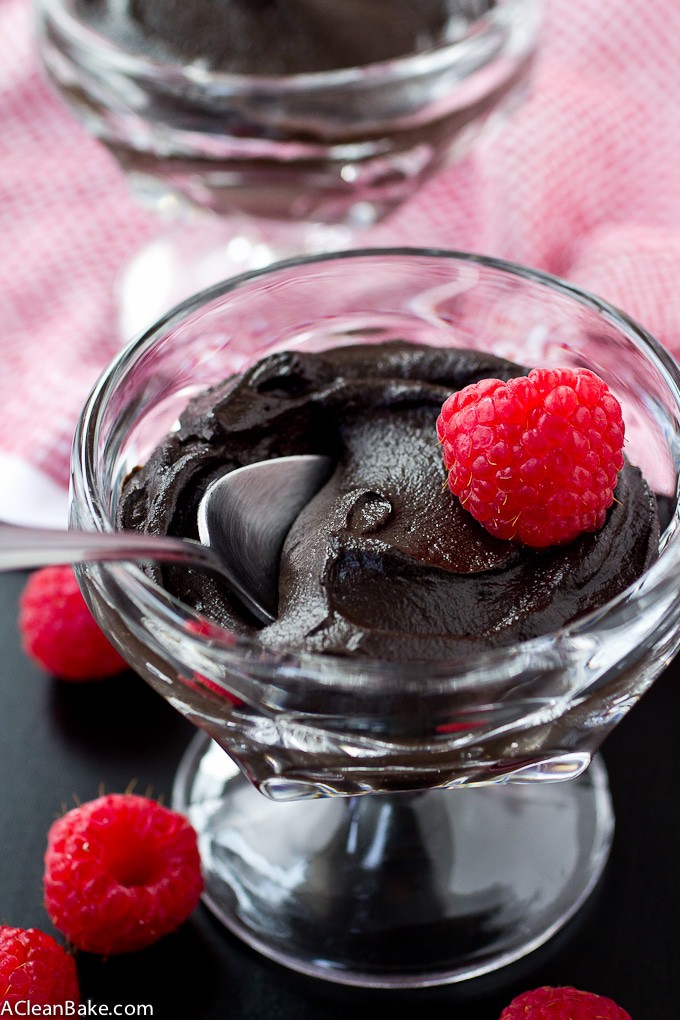 But chocolate? I like chocolate. I LOVE chocolate. I'd buy an overpriced stuffed bear holding a heart and singing a Celine Dion song (even that Celine Dion song) when you hug it for chocolate. I need a shirt that says "I Valentine's Day [which is totally a verb] for chocolate".
The richer and darker the better. (The chocolate, I mean. Why? What did you think I was referring to?) And if it also contains a healthy dose of good quality fat, well, who am I to argue? I could sit here and talk about all the health benefits of cocoa and avocado (minerals! antioxidants! Omega-somethings!) but instead, let me describe the mousse: rich, silky, light, chocolatey, smooth, slightly sweet, melt-in-your-mouth. Oh wait, I forgot about one crucial attribute: sells itself. I'll just leave this for you right here…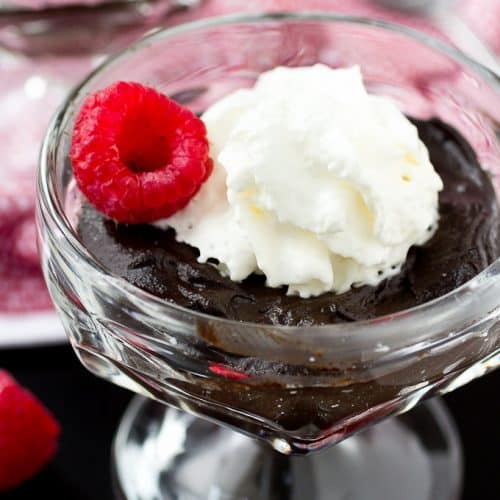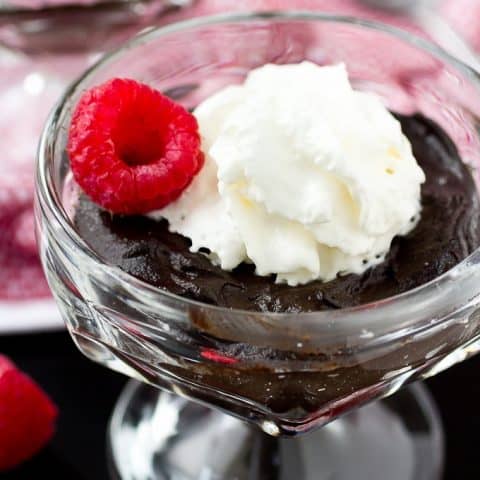 Dark Chocolate Mousse
Paleo and vegan chocolate mousse that tastes SO decadent, but is actually good for you! You'll *never* guess the secret ingredient! (gluten free & dairy free) 
Ingredients
1 small can coconut cream, (5.4 oz)
1 large avocado, (about .5 lb whole)
1/4 cup + 1 Tablespoon good quality cocoa powder
Scant 1/4 teaspoon fine sea salt
1/2 teaspoon vanilla extract
1/4 cup granulated monk fruit sweetener , or granulated stevia
Fresh berries and whipped cream,, for serving
Instructions
In the bowl of a mini food processor fitted with the whisk attachment, whip the coconut cream until light and fluffy.
Add the avocado (skin and pit discarded, of course) and puree until smooth.
Then add the remaining ingredients and puree until smooth and evenly combined. Scrape down the sides of the bowl, and puree for a few more seconds.
Transfer to the refrigerator to chill for about an hour.
To serve, spoon into 2-4 small bowls and top with berries and whipped cream.
Notes
Here is a dairy-free whipped cream recipe.
Makes 2-4 servings.
Nutrition Information:
Yield:

4
Amount Per Serving:
Calories:

14
Sodium:

1mg
Carbohydrates:

3g
Fiber:

1g
Protein:

1g
[wprm-nutrition-label align="center"]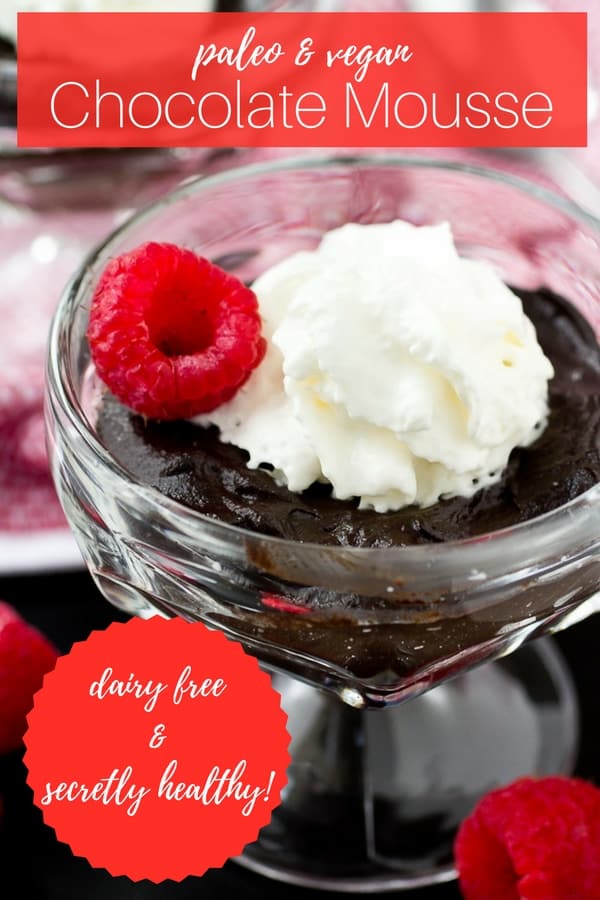 This post contains affiliate links, which means that if you click through and purchase a product, A Clean Bake receives a small commission, which goes toward continuing to bring you delicious, healthy recipes every week. This does not affect the price you pay. Thanks for supporting A Clean Bake!