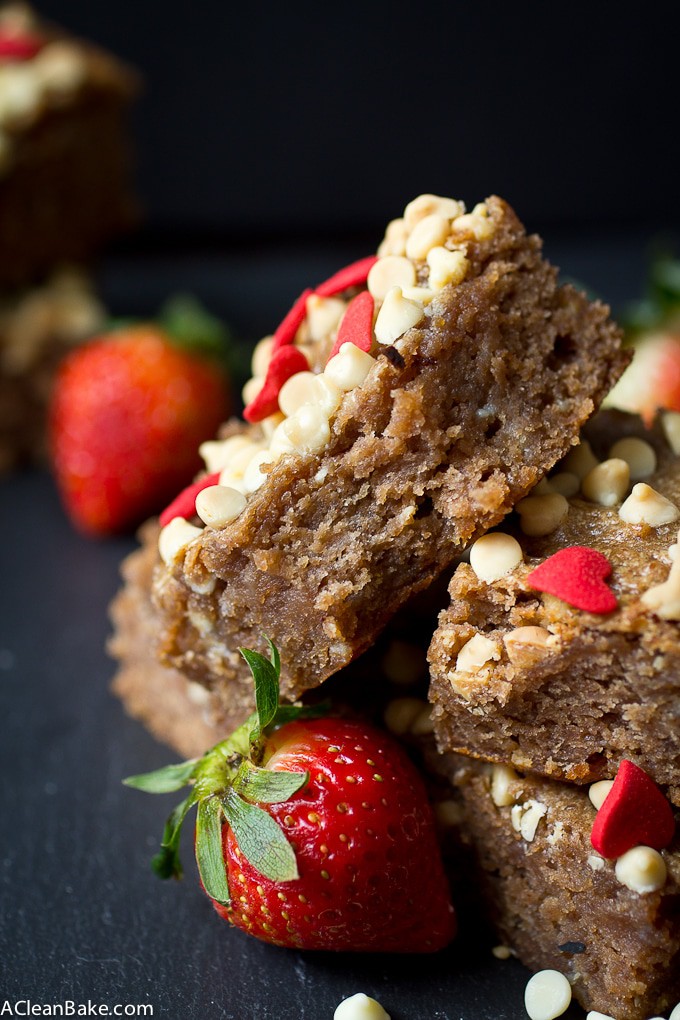 Let's all pretend for a second that I intended to make this cake all along, not that I set out to make strawberry almond butter, but the heat of the blender motor and the friction from the blade caramelized the sugars in the dried strawberries, resulting on a large gummy wad of gummy muck that went straight into the trash.
Let's assume I didn't have to go back to the drawing board to figure out how I could salvage the idea of the sunny, sweet flavor of strawberries in every bite, but re-apply it in a less, you know, inedible format.
Humor me.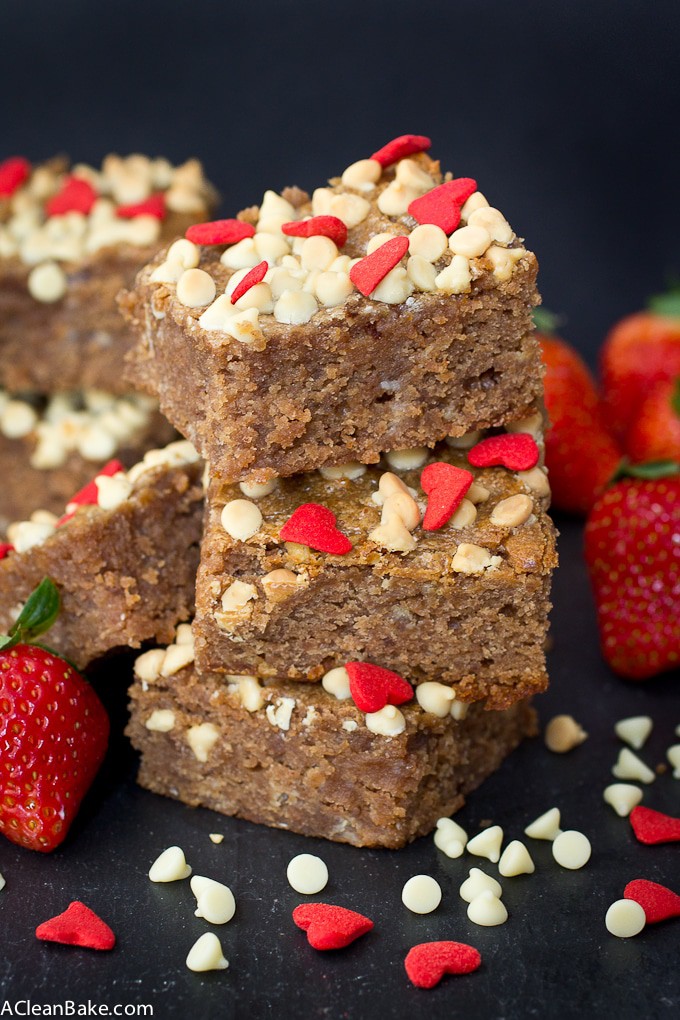 I haven't made a cake in awhile, and I thought that a snacking cake – a simple, no-frills recipe that anyone can make by throwing everything in a food processor – would be a perfect idea to put out there in the stratosphere/interwebz just in time for Valentine's Day. Non-bakers, listen up: you can bake (I know I say that all the time, but it's true!!!) for your loved one this year, and this is the recipe to make.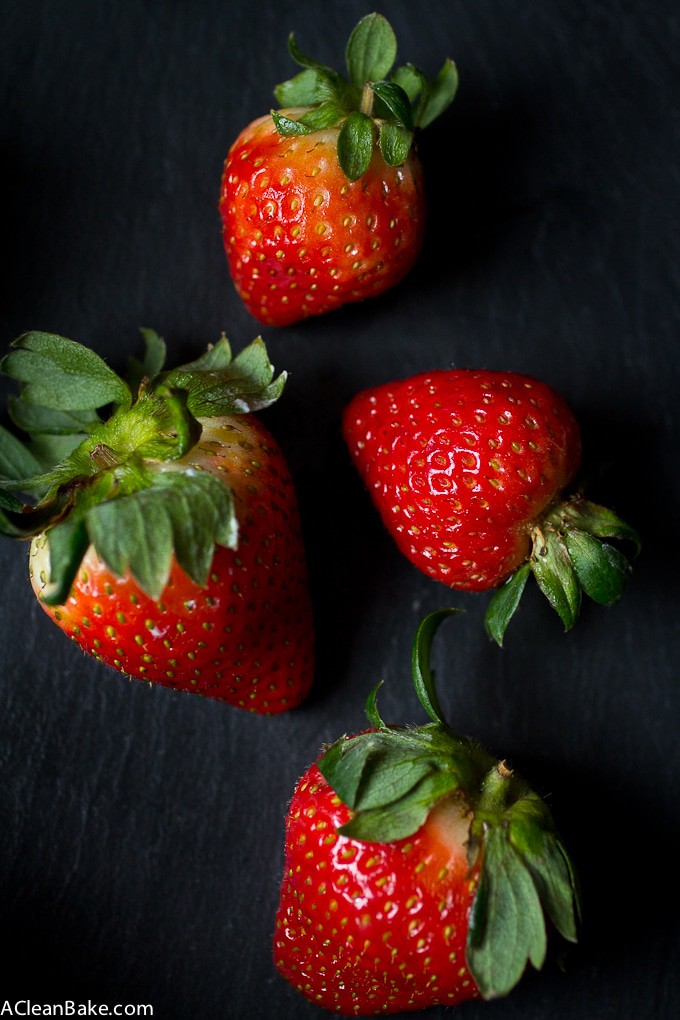 PS: A little aside on white chocolate — I rarely, if ever, use white chocolate because it tends to be much sweeter, sugarier, and loaded with fillers than good quality dark chocolate. Given that it is a special occasion and white chocolate compliments the strawberry flavor so well, I really wanted to include it, eve if that meant using a chocolate that contains cane sugar, which I usually don't eat because it feeds the evil beings that are squatting in my digestive system (despite the many times that antibiotics and I have informed them they are unwelcome).
Once in awhile, I will make an exception but I always use this brand, which has a pretty pure ingredient list (soy lecithin is not ideal, but it is an emulsifier used to maintain texture and shape) with no weird gums. But, later in the week, I'll share my recipe for homemade sugar free/additive free white chocolate, so stay tuned!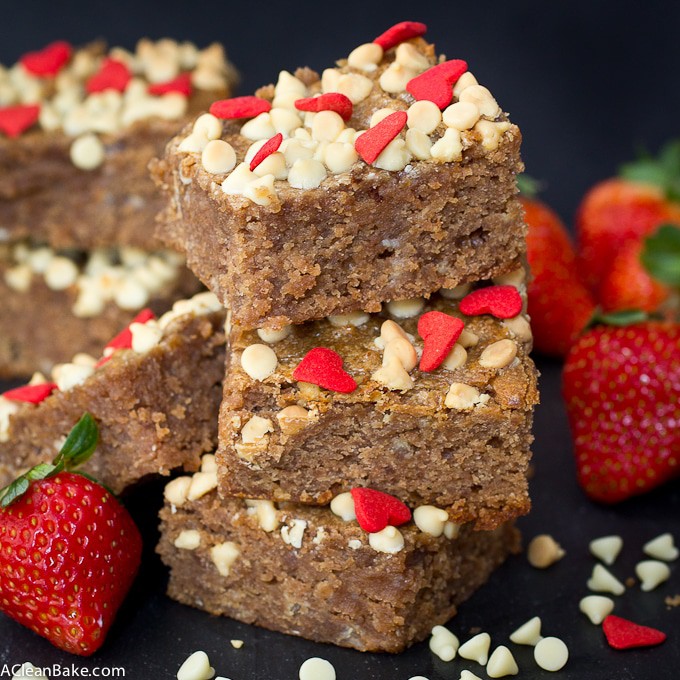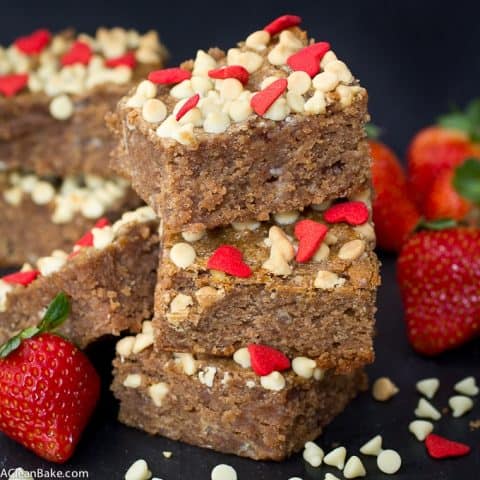 Strawberry White Chocolate Snacking Cake
Gluten free and paleo Strawberry White Chocolate Snacking Cake that is so easy that you can make it in the food processor!
Ingredients
1 1/2 cups whole raw almonds, unsalted
1/2 cup whole raw cashews, unsalted
Heaping 1/2 cup dried (unsweetened and unsulphered) strawberries
1/2 cup neutral-flavored oil
1/4 cup almond milk
2 large eggs
1/2 teaspoon vanilla
pinch fine sea salt
1/4 cup granulated monk fruit sweetener , or granulated stevia
1/2 teaspoon baking powder
1/2 cup white chocolate chips,, divided
Instructions
Preheat the oven to 350F. Lightly grease or spray an 8" baking pan and set aside.
In the bowl of a food processor fitted with the "s" blade, pulse the almond and cashews several times until they are broken up.
Add the dried strawberries and process until smooth, stopping periodically to scrape down the sides and bottom of the bowl to make sure everything is evenly incorporated.
If you start to hear the motor strain or smell a burning smell, stop the machine immediately and use a spatula to break up the mass so that it starts moving again when you turn the machine back on.
When the nuts and strawberry mixture forms a large oily mass (appetizing, I know!), add the oil, almond milk, eggs and vanilla and process until the mass breaks up and becomes more fluid.
Add the salt, sweetener and baking powder and process a few times until combined.
Finally, add 1/3 cup of the chocolate chips and use a small spoon to mix them into the batter. If you're using large chunks, you can pulse the batter a few times to mix them in.
Pour the batter into the prepared pan and smooth into an even layer. Top with the remaining chocolate chips.
Bake for 30-35 minutes until a tester comes out mostly clean (a few crumbs is ok) and allow to cool in the pan before cutting and serving.
Notes
Store leftovers in an airtight container at room temperature for up to 5 days or in the freezer for up to 3 months.
Yield: Makes 9 larger or 16 smaller blondies.
Nutrition Information:
Yield:

16
Amount Per Serving:
Calories:

199
Saturated Fat:

3g
Cholesterol:

24mg
Sodium:

19mg
Carbohydrates:

7g
Fiber:

1g
Sugar:

4g
Protein:

4g
[wprm-nutrition-label align="center"]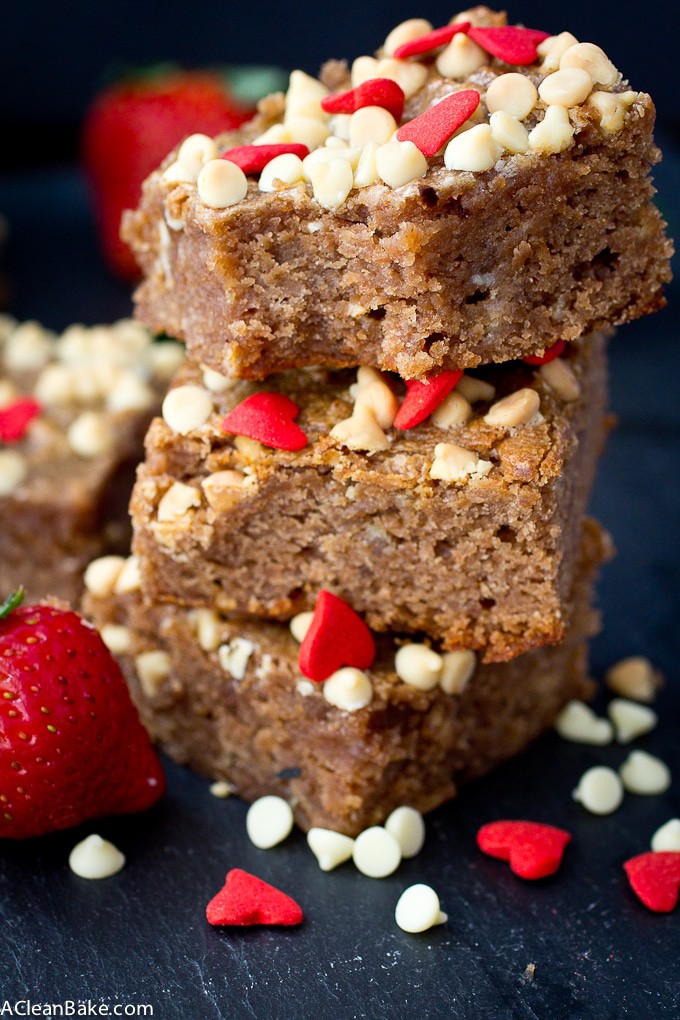 This post contains affiliate links, which means that if you click through and purchase a product, A Clean Bake receives a small commission, which goes toward continuing to bring you delicious, healthy recipes every week. This does not affect the price you pay. Thanks for supporting A Clean Bake!