If you're confused about how to pan sear salmon, or intimidated by the process, this recipe is for you! This restaurant-quality, pan seared salmon recipe is so simple to make that it is perfect for busy weeknights. You'll need a good piece of fish, a sturdy pan, and a little patience — but that's it! Wait until you discover just how easy it is to make crispy, perfectly seared salmon at home.
This dish may not be a looker, but boy is she a … taster? Yeah, that went off the rails quickly, didn't it?
Let me rephrase: Some food doesn't do itself any justice in the looks department, which makes for a pleasant surprise when you put the first flaky, moist, crispy-on-the-outside, tender salmon piece in your mouth.
Exhibit A: these mini frittatas (not the crispy flaky part). Exhibit B: salmon filets.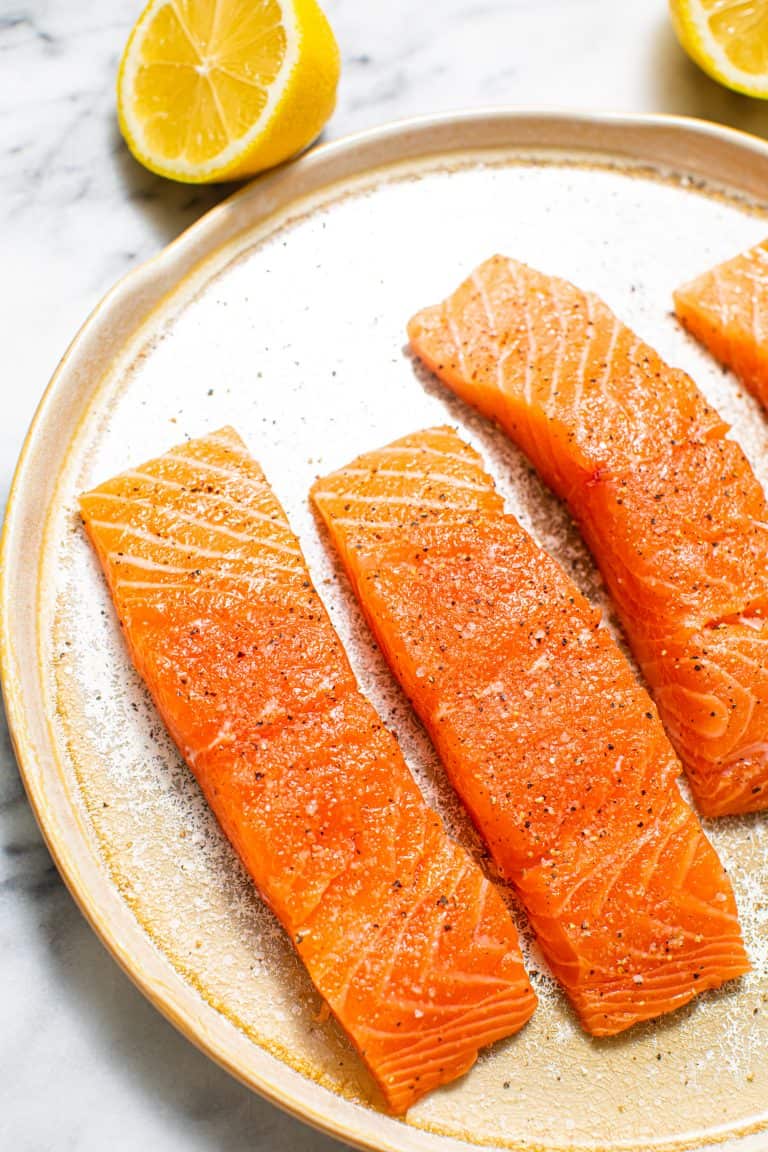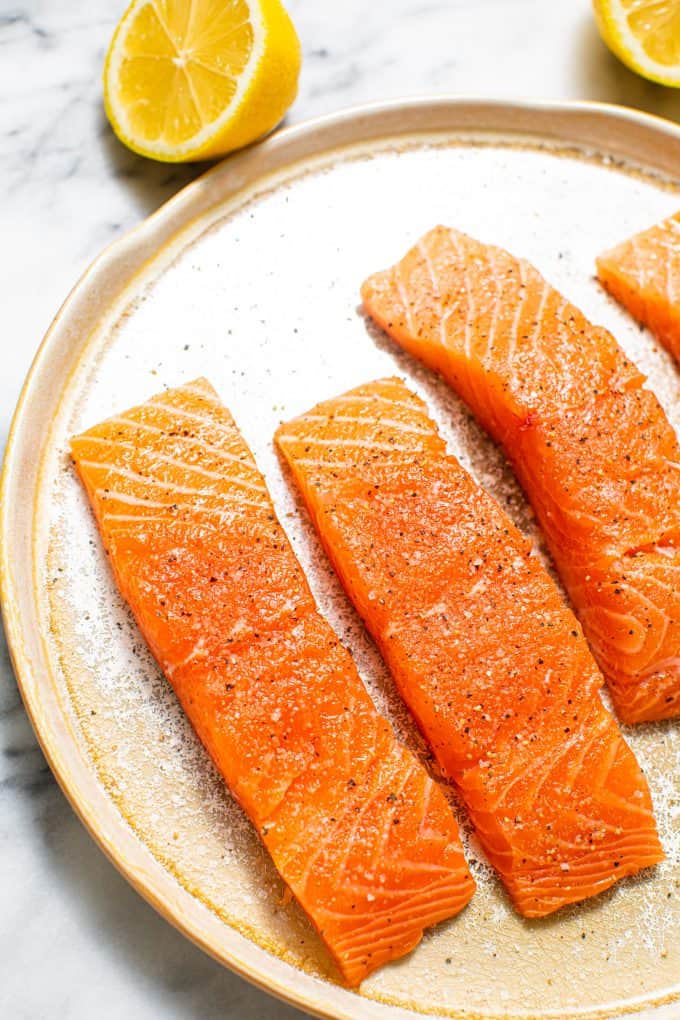 I definitely used to be one of those people who ordered salmon at every restaurant that offered it on the menu.
I never used to like eating much meat or fish, but I love salmon. With its satisfyingly crispy crust and succulent interior, it always tasted like a completely different category of food than dry chicken or worse, any kind of beef. (I know. Sorry.)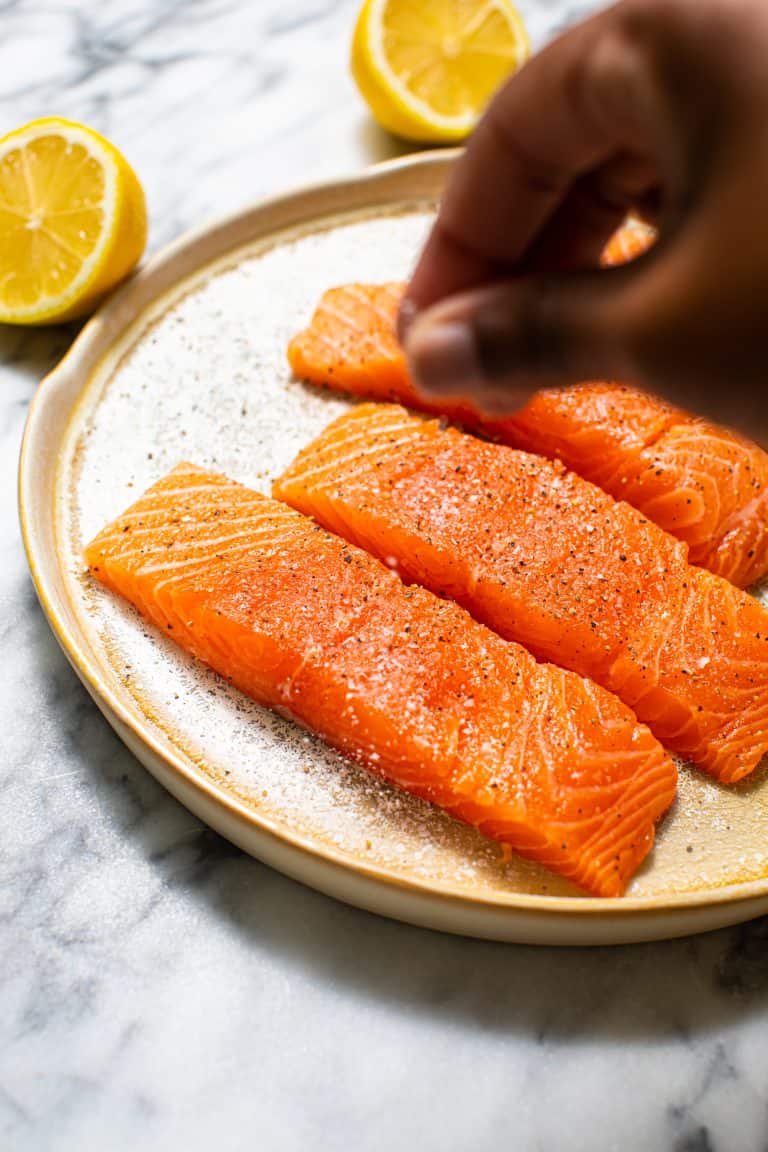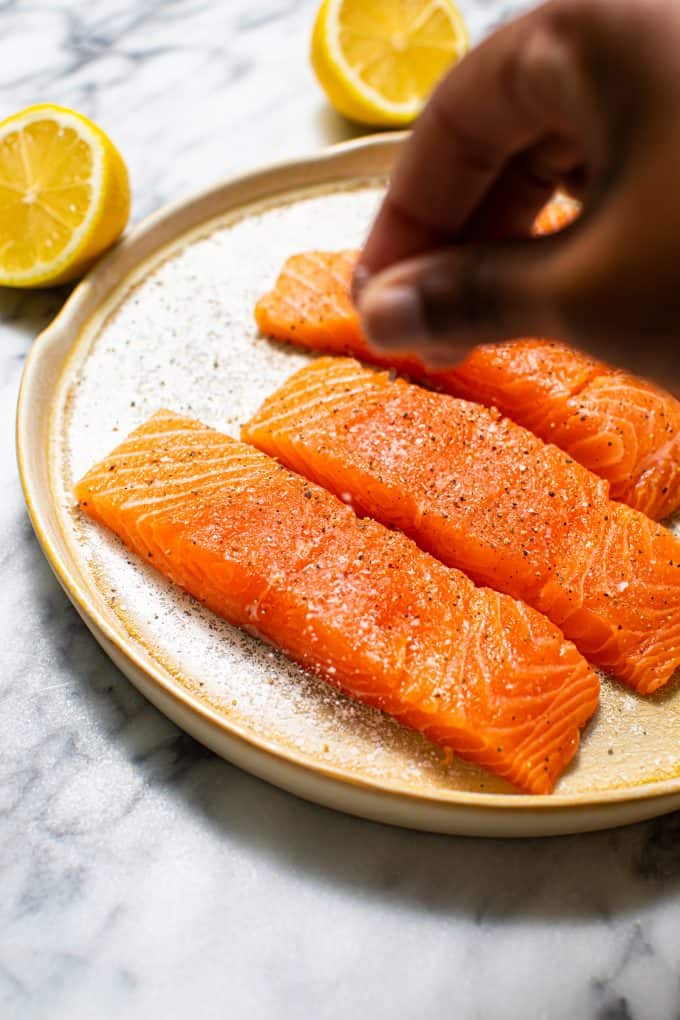 How To Cook Salmon
If this is your first time cooking fish, sockeye salmon is a foolproof variety to start with because it's very forgiving. Plus, it's a low-carb dish with a number of hidden health benefits, offering protein, healthy un-saturated fats, potassium, and B vitamins.
Perfectly cooked salmon is out of this world — buttery, rich, flaky, and flavorful — but if you don't cook it perfectly, it's still not bad.
Just put a drizzle of sauce on it and you're in business.
Salmon is also very forgiving because it is easy to make in a variety of cooking situations.
It can be grilled, baked/roasted, foil-wrapped, eaten raw (though I don't recommend this as home unless you know what you're doing!), pan fried, and, of course, seared. However, I find that pan searing salmon on the stovetop produces a texture that is far preferable to baked salmon, as it keeps the fillets crisp on the outside, while moist on the inside.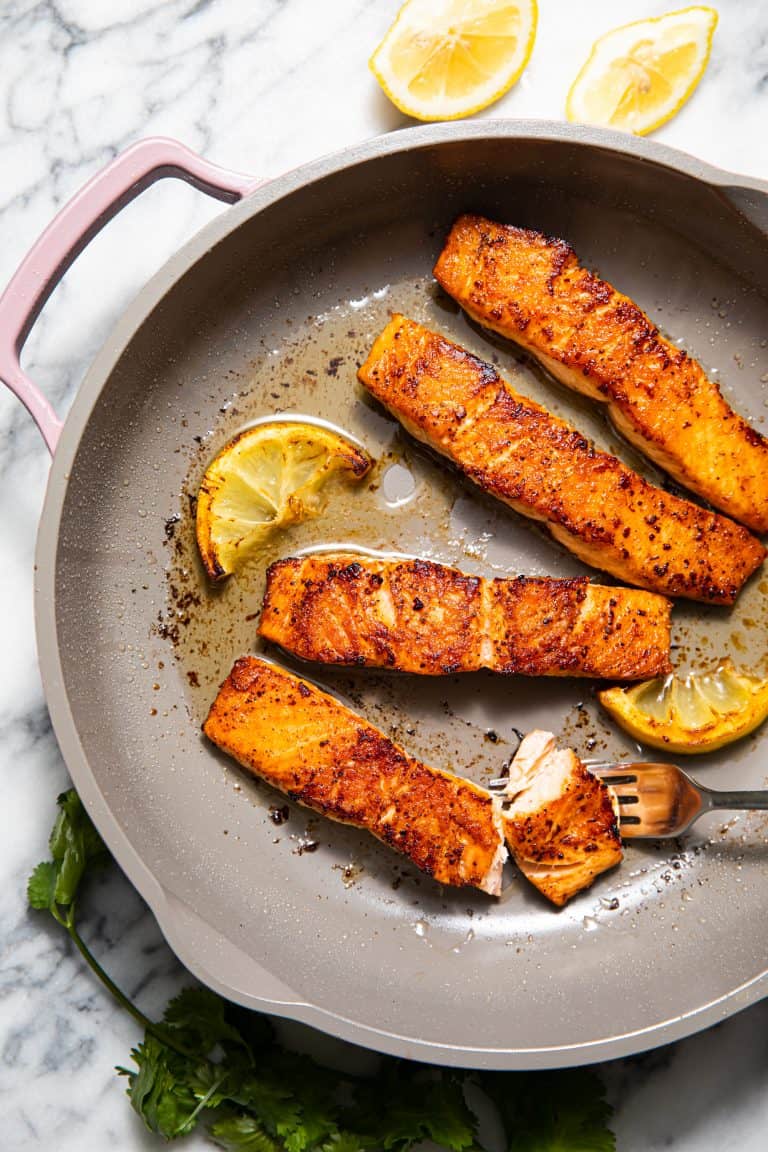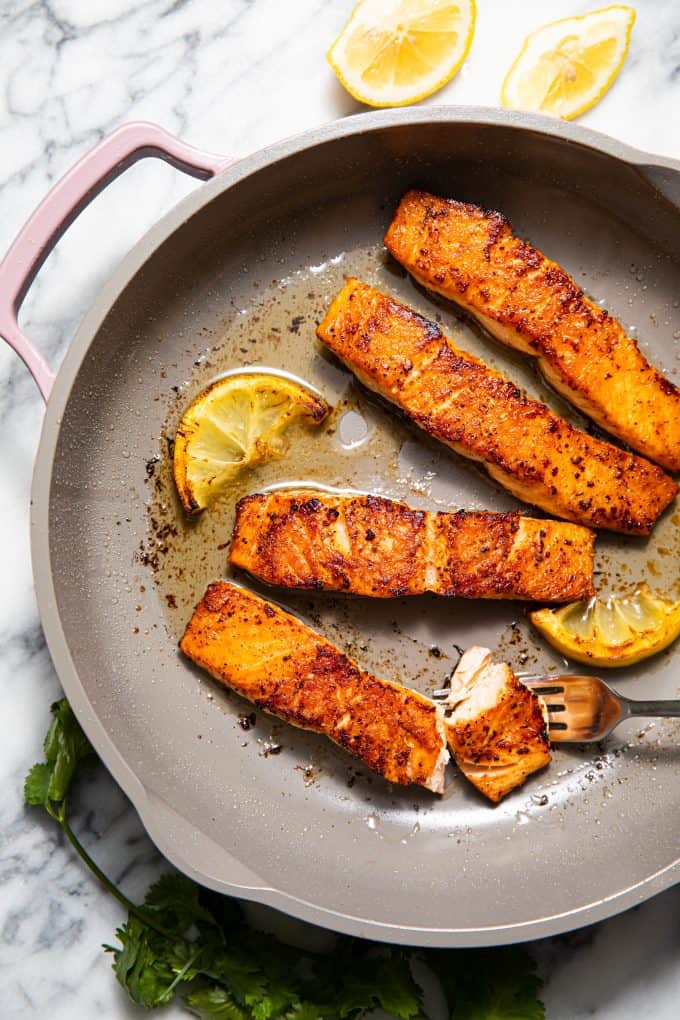 How To Pan Sear Salmon
What's the difference between pan frying and searing, you ask? Well, heat, primarily.
Pan frying is a method that cooks the fish at a slightly lower temperature (medium to medium-high heat) so that the entire thing cooks through by the time the outside is done.
On the other hand, if you're pan searing the fillet on the stove top, you're cooking it over such a high temperature that when the outside is cooked really well — where it is super crispy and cannot sit on a hot surface for one more second without burning — but the inside is still slightly underdone. This underdone-ness means the inside of the fillet is certainly not raw, but is buttery and flaky.
After a lot of trial and error, I discovered (as, admittedly, probably every trained chef will tell you with a furrowed brow that says "Duh, minion. Why don't you leave the cooking to the pros?") that the secret to achieving this balance of crispy exterior and moist interior, besides a good pan and a decent amount of cooking fat, is: nothing.
That's right.
You do nothing.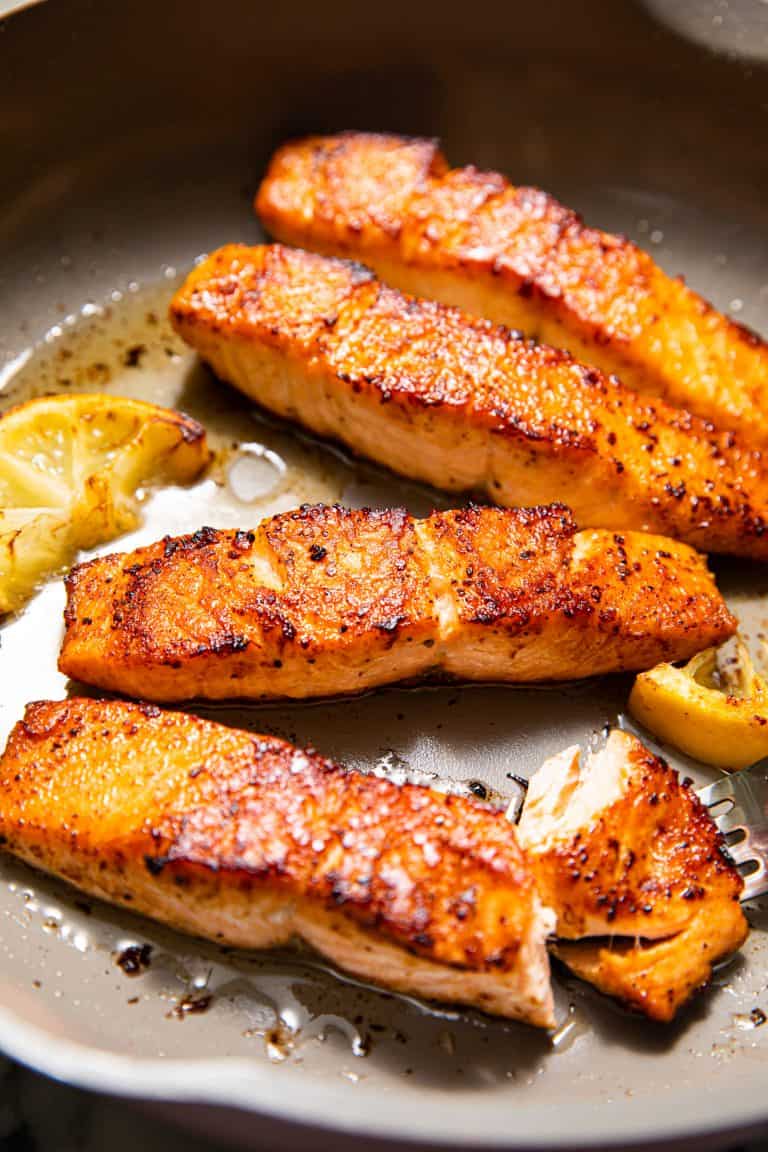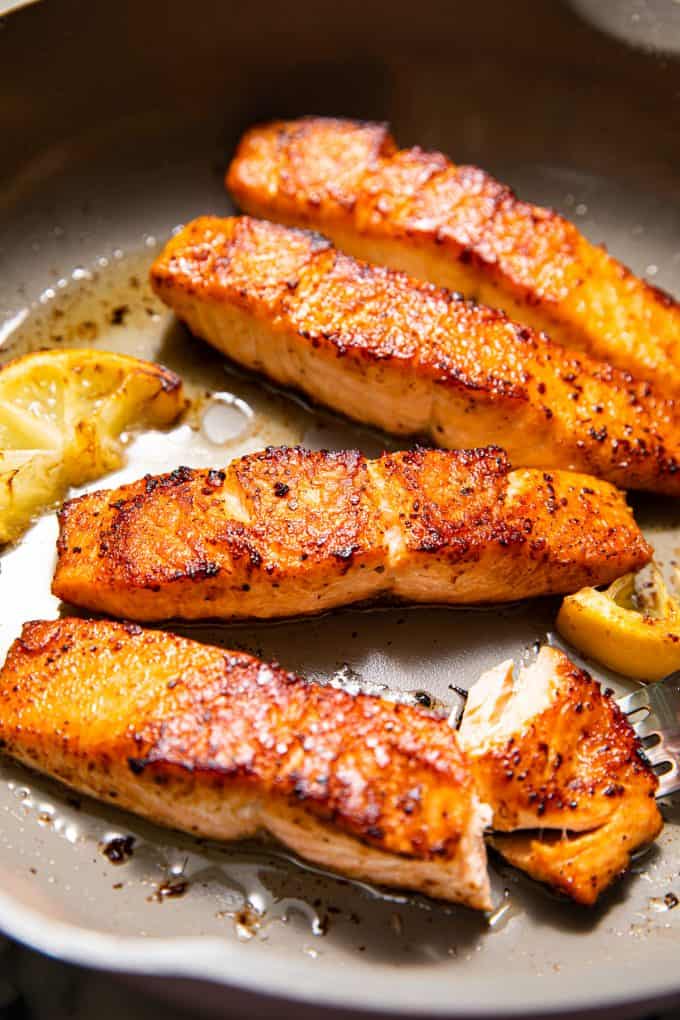 Rinse the salmon first, then pat dry with a paper towel. Place the salmon skin side down in high-quality, nonstick pan (I use a cast iron skillet, which retains and distributes heat better than any other cookware I've used), to create a nice, crispy skin. You can also use skinless salmon fillets, in which case it doesn't matter which flesh side faces up — just don't flip them.
Don't move it, don't touch it, don't check it, don't wiggle the pan, don't stand over the pan poking it, don't you dare gently pry the center open to check its doneness.
Just. Stand. Back.
How Long To Cook Salmon
If your next question is "Well, how long do I stand back for?", then, well, who can blame you?
Unfortunately, there is no simple answer to that question because it depends entirely on the heat of your stove, the kind of frying pan you're using, and the size and thickness of your fillet. If cooking is the process of heat penetrating raw food, then the intensity of the heat affects the cooking time, as does the amount of real estate that the heat must penetrate before it has reached all of the food.
Does that make sense? I feel like Alton Brown would cover this better with puppets and MacGuyver-esq, oversized demonstration models. Sorry I'm not Alton.
How To Tell If Salmon Is Done
This is probably the better question to ask, and an easier one to answer.
There are two ways to tell when the salmon fillets are done:
First, look for a proper crust. I know I told you not to touch or move the salmon, but look closely at the salmon right where it is touching the surface of the pan, and you'll be able to see whether a layer of golden brown crust has formed.
If you think you're seeing a decent crust in place, use your fish spatula to gently lift up a corner to see if it is crisp and deep golden.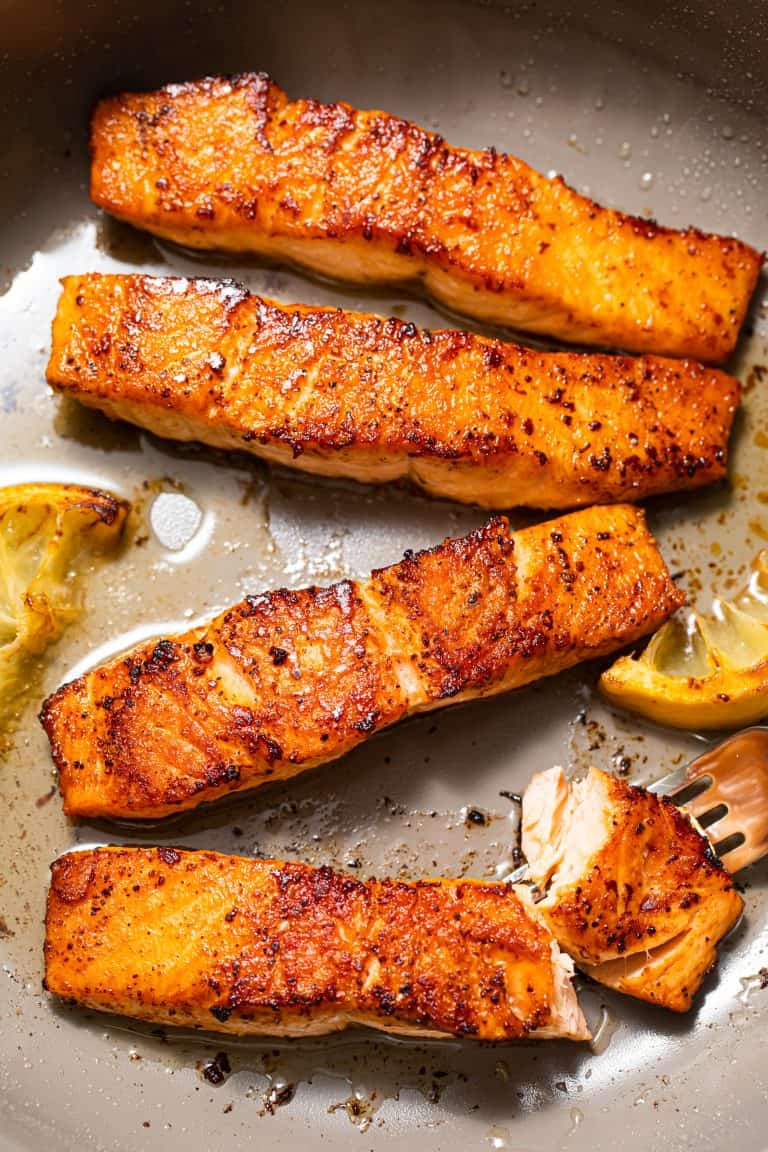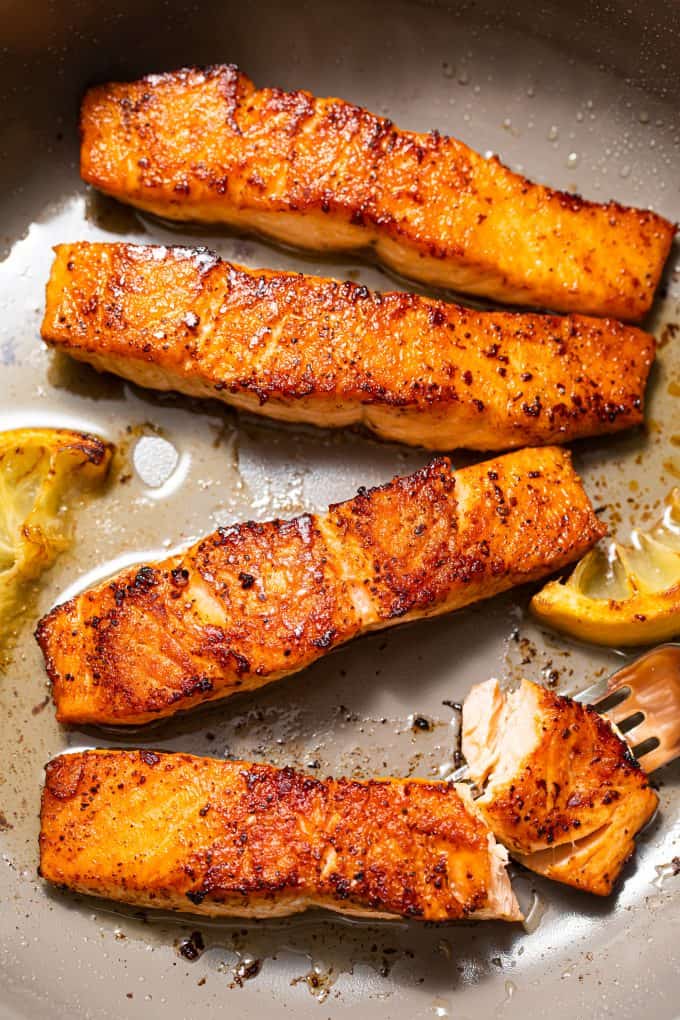 Once you're satisfied with the crust, make sure the salmon has been cooked through. It should still have some translucency in the very center, but you want the heat to have penetrated (so it is not fully raw in the center).
One way to do this is to look at the side of the fillet. From the bottom to the top, the color should be very dark at the top, then a layer of matte light pink, then gradually getting pinker and slightly shiny.
If you've flipped your fillet or covered the pan for a long time, you'll see opaqueness at the bottom and the top, with a strip of shiny, pink color cutting through the middle.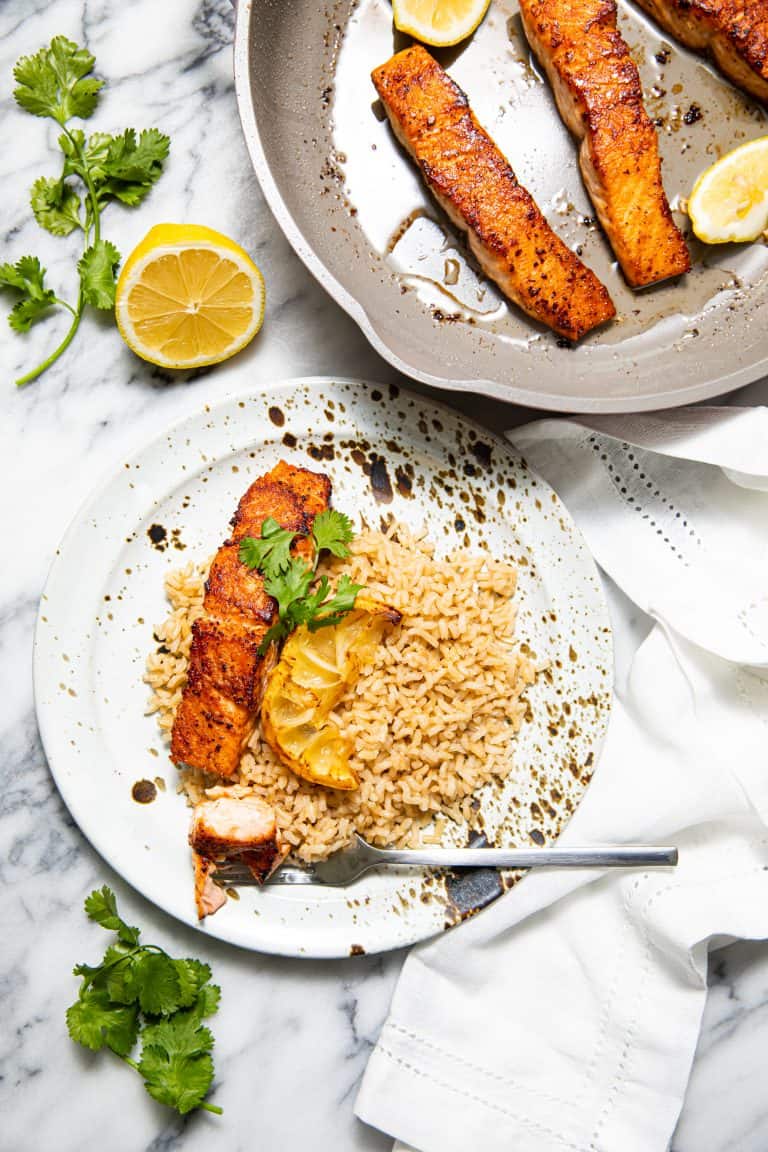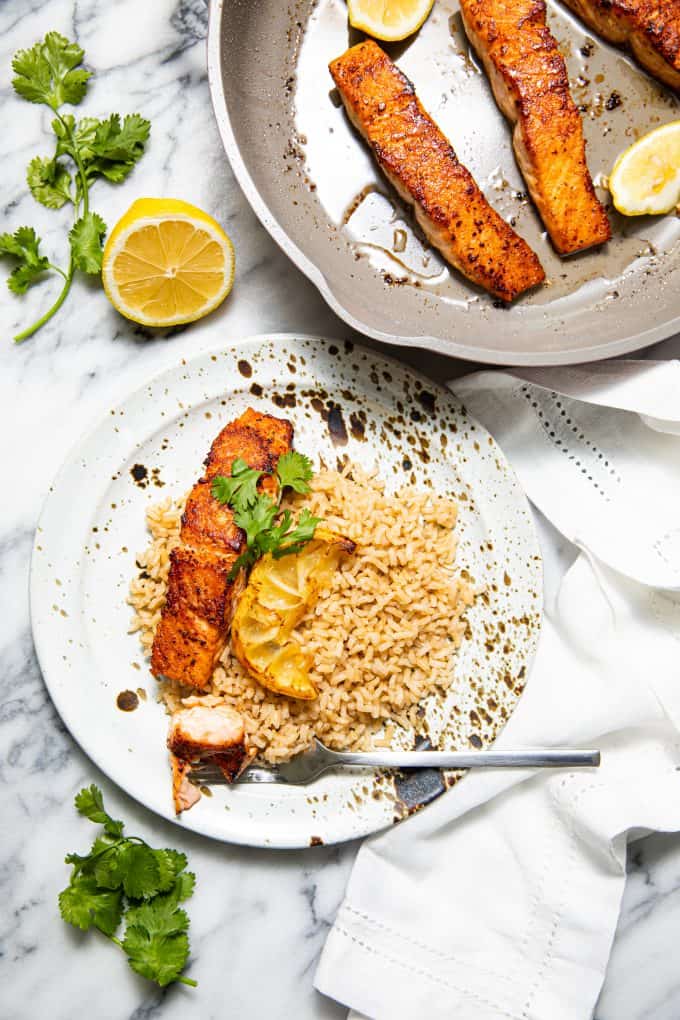 So, to recap:
Don't waste money on restaurant-markup salmon.
Make it at home.
Just buy good quality salmon.
Put it in a pan.
And let it cook.
Pair it with something simple like roasted green beans or something fancier (but still deceptively simple) like grapefruit and avocado salad.
Eat.
That's really all there is to it. I promised you an easy weeknight meal – and I meant it!
You can enjoy your perfectly-cooked seared salmon all on its own, or serve with a squeeze of fresh lemon juice and a side of crisp veggies. Otherwise, you can serve with a side of lemon butter garlic sauce for dipping. Lastly, you can top with capers and serve atop a bed of grains (like rice or quinoa) or greens (fresh or sautéed to lightly wilt).
However you choose to enjoy salmon, I assure you this is a recipe your whole family will enjoy. Plus, the simplicity of this recipe makes it perfect for those busy weeknights.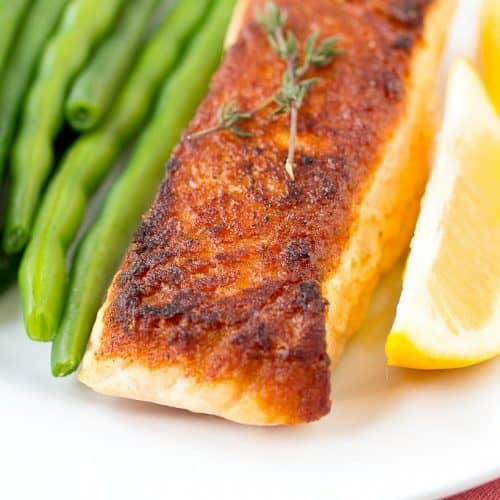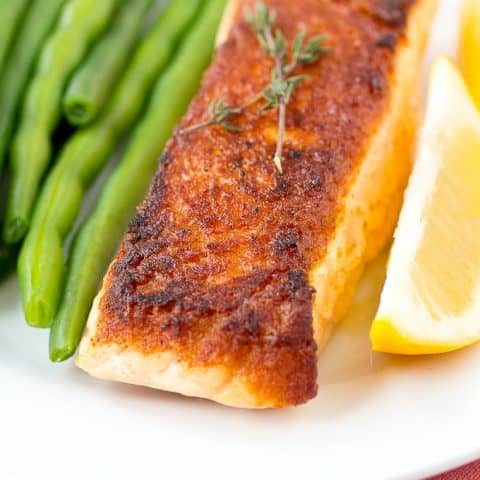 Easy Weeknight Salmon
If you're confused about how to pan sear salmon, or intimidated by the process, this recipe is for you! Perfect seared salmon is so simple to make that it is perfect for busy weeknights. You'll need a good piece of fish, a sturdy pan, and a little patience - but that's it! Wait until you discover just how easy it is to make crispy, perfectly seared salmon at home.
Ingredients
2 salmon fillets, .45-.5 lb each before cooking
1 generous pinch fine sea salt
1 generous pinch black pepper
2-3 Tablespoons extra virgin olive oil
Fresh herbs, optional, for serving
Instructions
Pat the salmon fillets dry and sprinkle both sides with a pinch of salt and pepper. Set aside.
Preheat a heavy pan, such as cast iron, over high heat. You will know it's ready when a few drops of water quickly start to bubble rapidly, as if they are boiling on the surface of the pan.
Wait until any water has disappeared, then add the oil to the pan. Use enough to cover the bottom of the pan with a thin layer of oil.
When the oil has heated up (it should be shimmering slightly), place the salmon fillets in the pan with at least an inch of space surrounding each.
Cook until you can see a crust forming on the bottom. Don't pick them up. You should be able to see it by looking at the side of the fillet in the pan. By the way, don't stick your face in the pan to try to view the crust - the oil might spatter and burn you. If you can't see the crust yet, it's not full formed. Mine took 3.5 minutes, but yours could take anywhere from 2-5 minutes, depending on the flame, your pan and the size and shape of your fillets.
Once the crust has formed, cover the pan with a top or piece of foil, leaving it cocked so that there is a sliver of room for steam to escape. Cook for 2-4 more minutes until the tops of the fillets look almost opaque, but the center area is still pink.
Serve immediately if you like a medium filled, but let the fillets sit for a couple of minutes in the pan with the flame off, or on a plate (the residual heat will continue to cook them), if you like your salmon closer to well done.
Garnish with fresh herbs before serving.
Notes
Buy the best salmon that you can, and in particular, choose wild caught over farm raised for flavor, nutrition benefits and sustainability. Here are a few tips on purchasing the fish.
Yield: 2 servings
Nutrition Information:
Yield:

2
Serving Size:

1 fillet
Amount Per Serving:
Calories:

366
Saturated Fat:

3g
Cholesterol:

93mg
Sodium:

268mg
Protein:

33g