Mini frittatas are one of the best healthy, fast, and portable breakfast! This make-ahead frittata recipe is super freezer friendly. Just grab one out of the freezer on a busy morning, and you're set!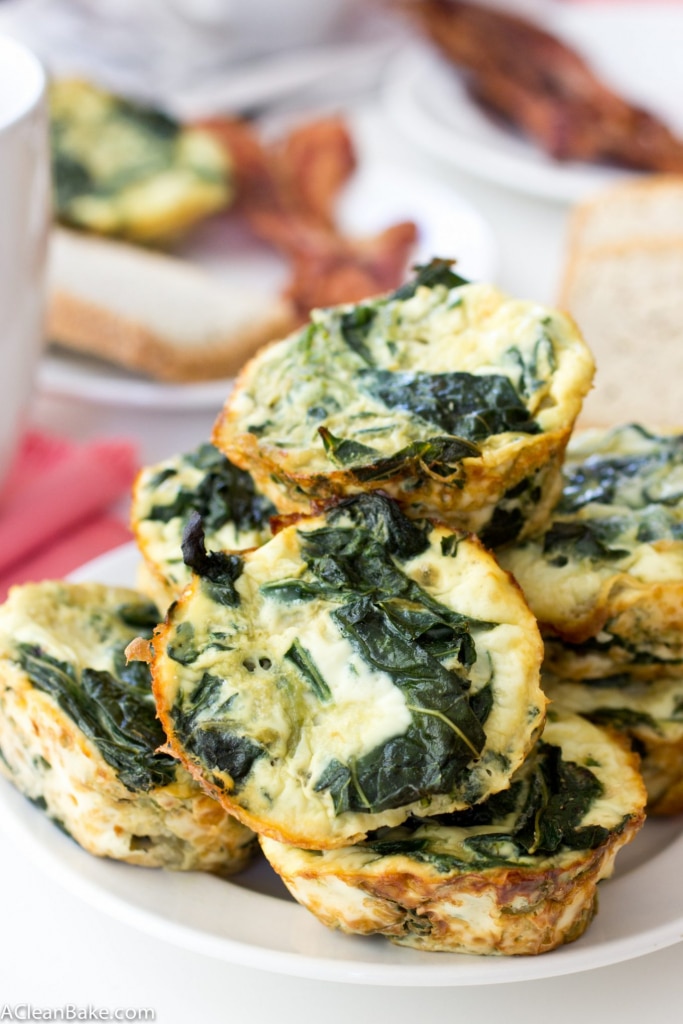 SOMETIMES GOOD FOOD IS UGLY. There. Now that that's out in the open, we can move on. Otherwise, that would have distracted me for the entirety of this post.
These little mini frittatas may be ugly.
..
…but they're delicious, healthy and infinitely versatile (you know how I love a versatile quiche).
While we're on the subject: what's the difference between a frittata and a quiche? Putting aside questions of origin, the main difference that is relevant here at  least, is the crust.
Sure, you could make a batch of  grain free savory pie crust and painstakingly press little discs into each compartment of your muffin pan but I had neither the time nor the patience for that (plus my food processor was already packed up and I didn't feel like tracking it down and digging it out).
No crust makes mini frittatas freezer friendly.
More than time and effort, the real reason for the crustlessness of these mini frittatas is for freezeability. Especially with the compromised cooking situation, but even in the best of kitchen circumstances, I like to have a few quick, easy and wholesome breakfast options at my disposal, since store bought on-the-go options like bars and coffee shop oatmeal tend to be too sugary or low in protein or high in carbs or any combination of the three.
Starting my day with mostly protein and healthy fat makes me feel best throughout the day (and not ravenous for lunch at 10:30 – a bonus, because there's is nothing sadder than finishing your lunch only to realize that it's not even noon yet), so make-ahead, freezer-friendly, protein-and-packed mini frittatas it is!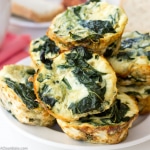 Freezer-Friendly Mini Frittatas
gluten free, grain free, paleo, sugar free, low carb, high protein
Ingredients
1

Tablespoons

olive oil

or oil of choice

1 1/2

cups

thinly sliced onions or shallots

2

x 10-ounce boxes frozen spinach

defrosted and drained, then roughly chopped

1/4

teaspoon

salt

1/2

teaspoon

coarse-ground black pepper

1/2

cup

shredded cheese or finely chopped bacon

optional

1

dozen beaten eggs or egg beaters

about 2 1/4 cups total, or a combination
Instructions
Preheat the oven to 350F. Generously spray or grease a 12-cup standard muffin pan and set it aside.

In a large skillet, preheat the oil, then reduce the head to medium, add the onions and let them slowly cook until softened and translucent.

Add the spinach to the skillet, and season it with salt and pepper.

Toss a few times to combine, and let it continue to simmer (you might have to increase the heat slightly) for another 2-3 minutes. Remove from heat.

Divide the onion and spinach mixture among the 12 prepared muffin pans. If you are using cheese or crumbled bacon, sprinkle it into each compartment on top of the spinach mixture.

Finally, add the egg. If you're particular, you can individually beat each egg and add it to each compartment. In the interest of time, I beat all the eggs together and simply divided the mixture 12 ways.

Bake for 28-30 minutes until the mini frittatas are domed and firm to the touch.

Remove from the oven and allow to cool before serving or storing.
Recipe Notes
Store in an airtight container in the refrigerator for up to 5 days, or in the freezer for up to 3 months. If you plan to eat them one at a time, I recommend that you store them in individual baggies, so that you don't have to defrost and refreeze the batch repeatedly.
Yield: 12 mini frittatas