This chocolate covered cracker toffee is an easy dessert that comes together with minimal hands-on time and is gluten free, and adaptable to be grain free, too!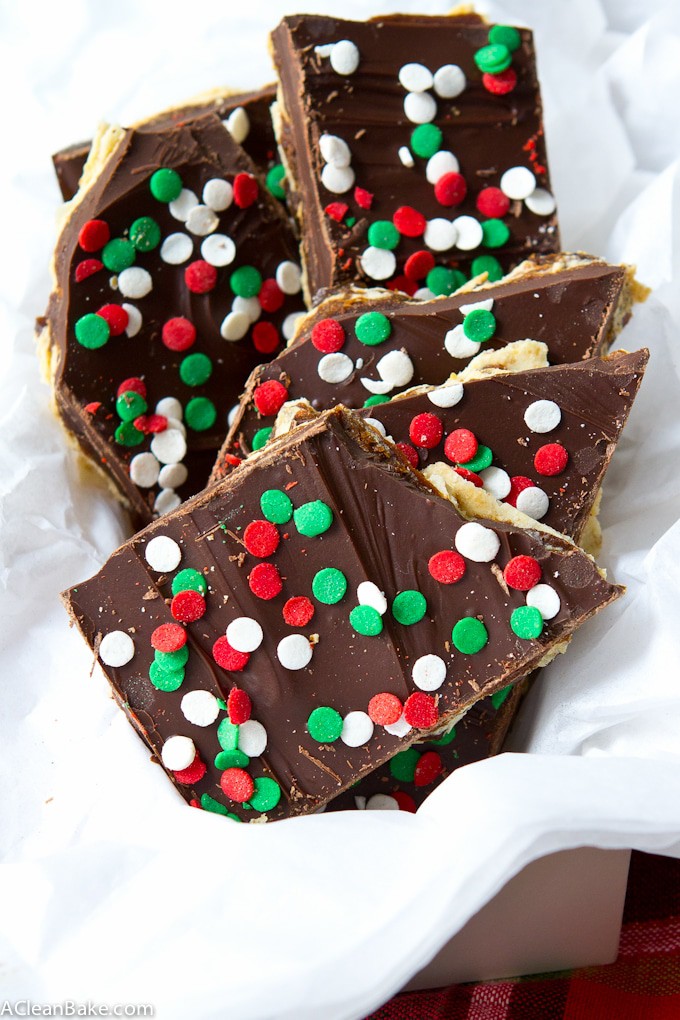 Cracker toffee is one of those pinterest-y things that many of you may have eaten your whole life, but I only learned existed in the last few years.
But, really, once you try it, you'll never go back. It's so fast and easy to make (done in about 10 minutes, 15 tops) and is the perfect marriage of crunch-creamy textures and sweet-salty tastes.
It is almost like it was designed for last minute holiday-party panic contributions, as in "crap! I totally forgot that party is tonight and I don't have the time or energy to bake!" – that kind of contribution.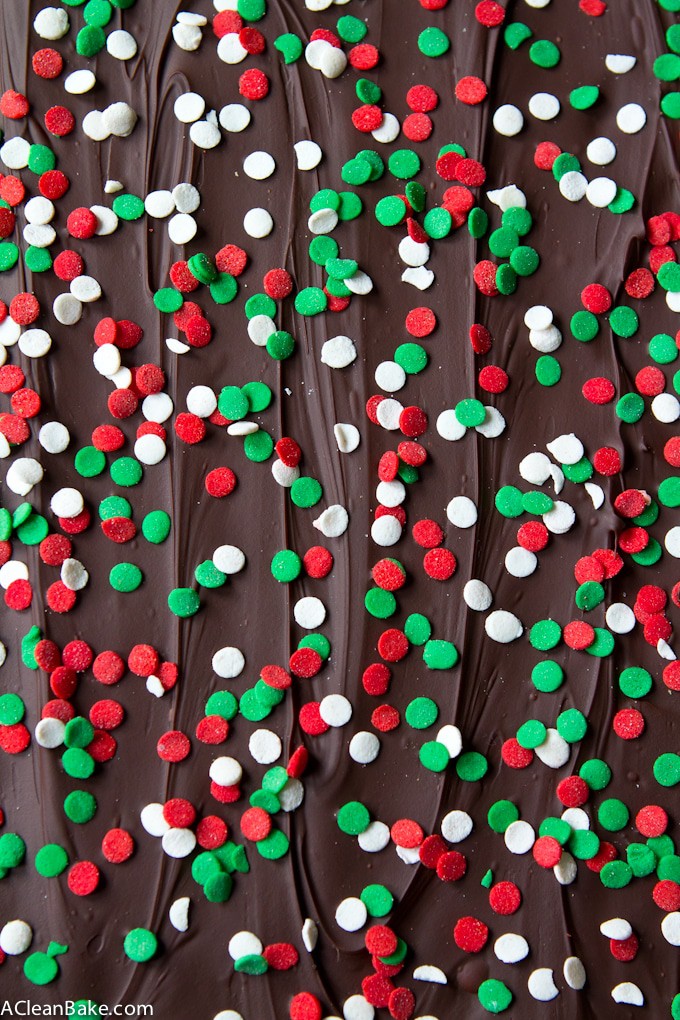 I know what you're probably thinking: toffee is candy and candy is hard! Actually, that't the case at all. Making candy requires two things:
If you are armed with both of those, you'll be on track for successful candy-making!
And I know what else you're thinking: isn't toffee made with sugar, corn syrup and more sugar? Don't worry, those ingredients don't fly in my house either.
This shatteringly crisp toffee is made with maple syrup and palm sugar, and the rich, slightly caramel-y sweetness of the resulting toffee is guaranteed to convert almost any traditional-homemade-toffee lover. Plus, it's covered with a thick, luscious layer of dark chocolate so honestly, what's not to love?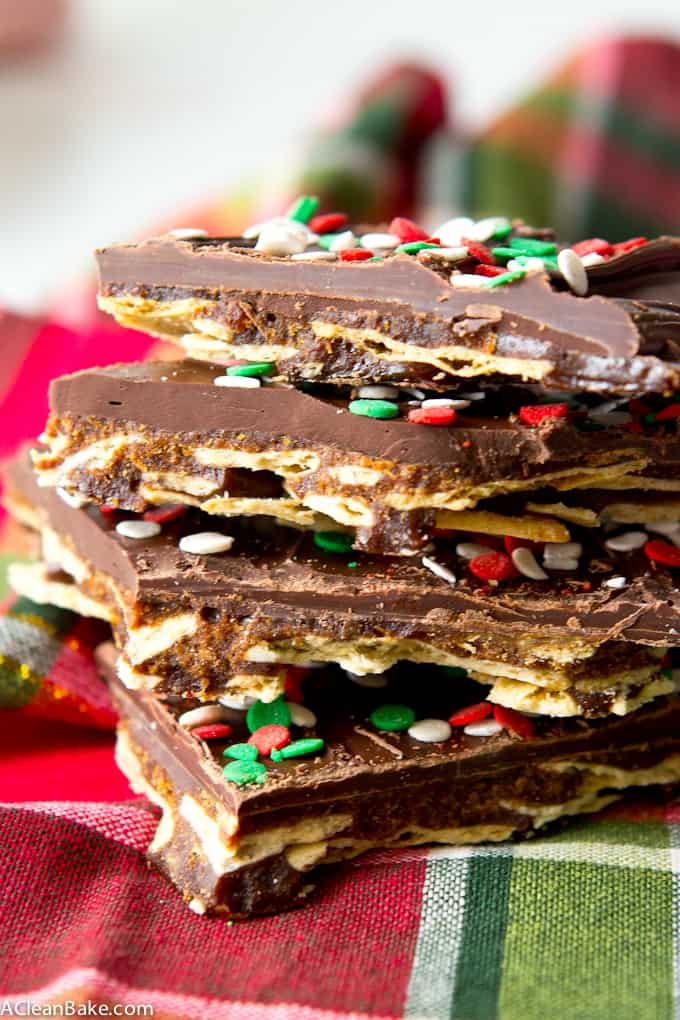 A couple of things to know about this recipe:
It will make your life really, really, ridiculously easier if you line your baking pan with a nonstick pad, which allows you to remove your toffee with minimal frustration. In lieu of that, parchment paper should work (you might have to do a little careful peeling to separate it from the cooled toffee) but do not use wax paper. The heat from the hot toffee will melt the wax into your candy!
You can use any chocolate that you want for this, including semi sweet for a sweeter finished product (not that it needs to be) or Enjoy Life brand for a dairy free/vegan version.
You can top them with whatever you want, or nothing at all. I like the garnish because I think it makes it more festive, but feel free to be creative! My suggestions would be: sprinkles, shredded coconut, mini white or dark chocolate chips, or finely chopped nuts.
So there you have it: a couldn't-be-simpler, crowd-pleasing, holiday-friendly dessert that only takes a few minutes of hands on time. It's a Christmakwanzakuh miracle! 🙂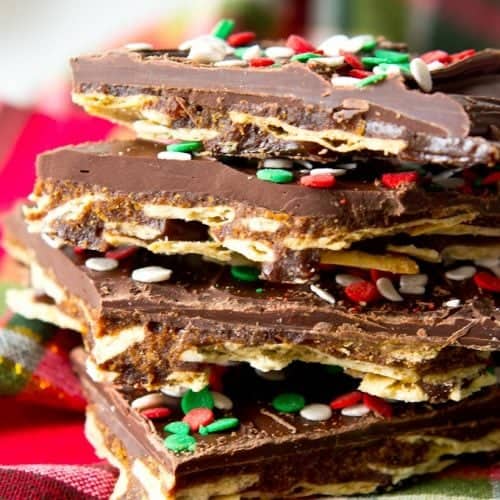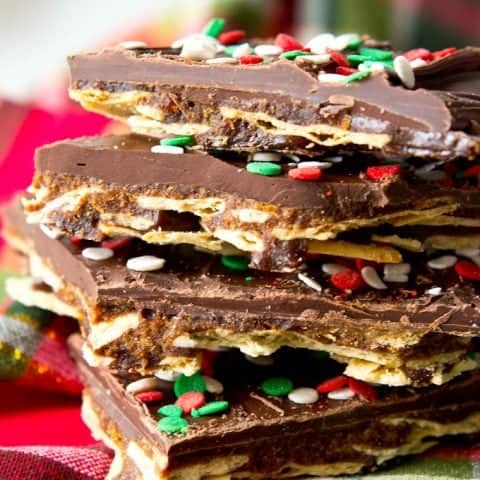 Gluten Free Cracker Toffee
Yield:
25 pieces cracker toffee
This chocolate covered cracker toffee is an easy dessert that comes together with minimal hands-on time and is gluten free, and adaptable to be grain free, too!
Ingredients
1 box gluten free or grain free table crackers or saltines (see note)
1 1/2 cups coconut (palm) sugar
1/2 cup maple syrup
24 ounces dark chocolate chips (scant 4 cups)
Optional garnishes: sprinkles, chopped nuts, shredded coconut, or melted and drizzled white chocolate.
Instructions
Cover a 10"x14" baking sheet with a nonstick pad.
Arrange the contents of the box of crackers in a single layer on the prepared baking sheet. Try to use the broken crackers to fill in gaps, creating a solid cracker layer. Set aside.
Stir together the coconut sugar and maple syrup in a small stock pot, then turn the burner on to medium-high heat.
Stir constantly to prevent the sugar mixture from sticking or burning and cook until the temperature reaches 275-280 degrees F (see note).
Immediately pour the hot sugar mixture (carefully!) over the layer of crackers and let it cool until set. You can cool it in the fridge if you're in a hurry.
One the sugar mixture is cooled and hardened, melt the chocolate in the microwave or in a double boiler.
Pour the melted chocolate over the hardened toffee layer and use a spatula to gently spread it into an even layer that completely covers the toffee layer.
Immediately top with garnishes, if using.
Let the chocolate harden to room temperature (don't refrigerate or you'll risk the chocolate "blooming", which is that white powdery look that chocolate sometimes gets), then use a large, sharp knife to cut into individual servings.
Notes
I've had best results with Schar Gluten Free Table Crackers (available here, or possibly in the gluten free section of your grocery store).
If you'd like this to be paleo-friendly, you can use Simple Mills Fine Ground Sea Salt Almond Flour Crackers. If you have had these crackers before, you know that they have a tiny hint of garlic and onion flavors. You're not crazy. They do contain some garlic powder and onion powder. However, I've been assured by multiple taste testers that once the crackers are doused in toffee and chocolate, you absolutely cannot taste these flavors (unless you're one of those super tasters, maybe).
It is best to use a candy or meat thermometer while cooking the sugar mixture to ensure the candy reaches the correct temperature, but if you don't have access to one, you can time the cooking. It should be cooked for around 5 minutes from the time you turn on the heat.
Serve toffee immediately, or store in an airtight container in the fridge for up to 3 days or in the freezer for up to a month.
Recommended Products
As an Amazon Associate and member of other affiliate programs, I earn from qualifying purchases.
Nutrition Information:
Yield:

25
Serving Size:

1
Amount Per Serving:
Calories:

208
Total Fat:

11g
Saturated Fat:

7g
Trans Fat:

0g
Unsaturated Fat:

4g
Cholesterol:

3mg
Sodium:

25mg
Carbohydrates:

25g
Fiber:

2g
Sugar:

20g
Protein:

2g
Note: nutrition information will vary depending on which crackers you use.