I was a reluctant convert to BLW, or Baby Led Weaning which, for the uninitiated, is a Millennial rebrand of the concept of feeding your baby food that the whole family is eating. It always seemed a bit extra to me, with the precious little silverware and the tiny rod-shaped food cut just so, so that tiny hands could grip it.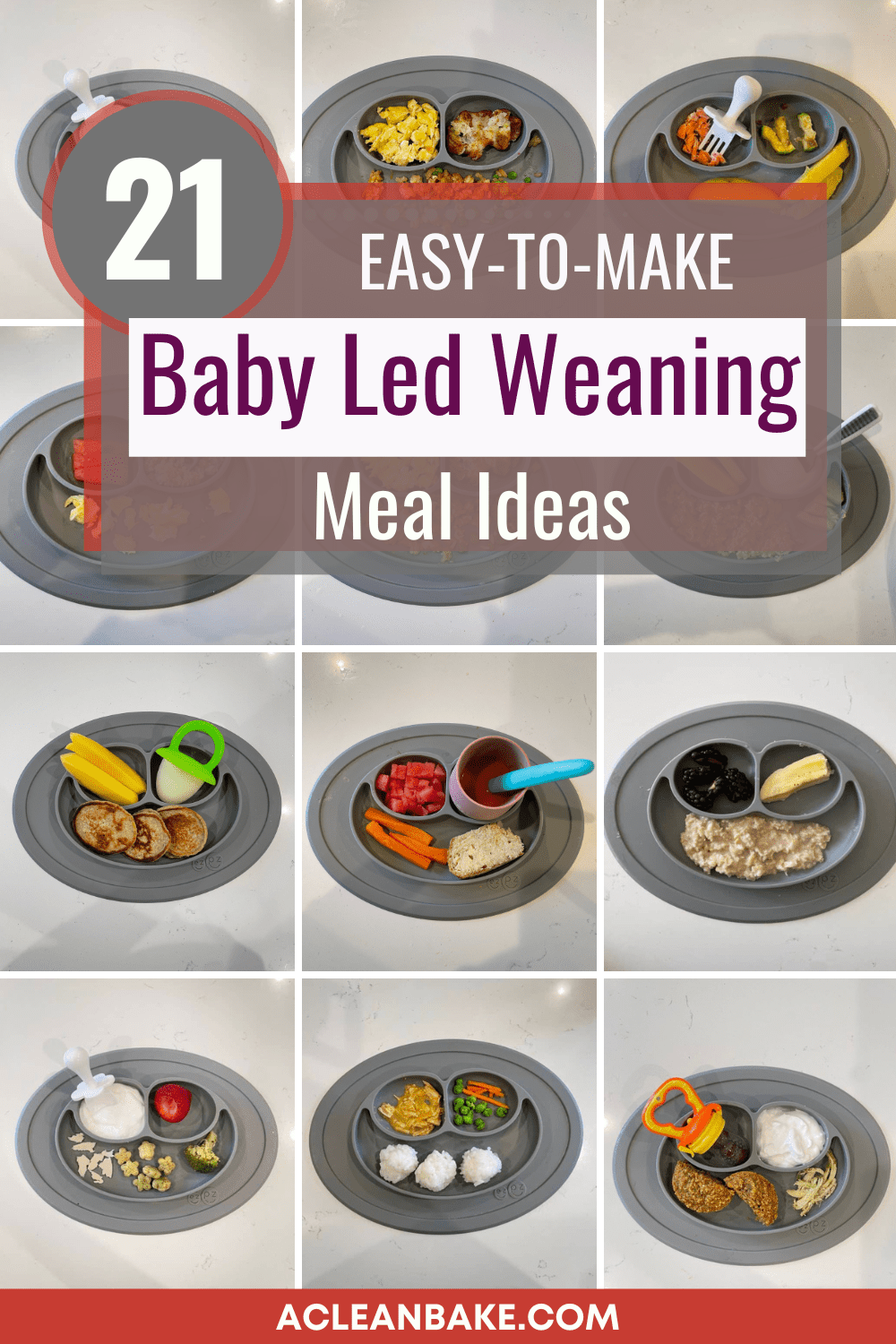 The rationale is that this a way to cultivate an adventurous eater. After dealing with persistent picky eating with my older kid, for the last 2+ years, I am pretty done making separate meals for everyone at the table.
I truly do not believe that you can make a kid picky or not picky. The home environment obviously influences what a kid eats and likes, but there is an innateness to picky eating that a parent has no control over. So, since this has been asked a few times in my Instagram DMs: no I did not try Baby Led Weaning to prevent pickiness in my younger son.
If he happens to be a more adventurous eater than his older brother though, I wouldn't be sad about that.
Simply put: I chose Baby Led Weaning because the baby was interested in self-feeding solid food. After a couple of weeks of attempting purees, and his reaction ranging from disinterested to disgusted, while he reached for foods I was eating, I gave it a try.
I will be the first to admit I had no idea what I was doing. I never intended to start BLW so I had to give myself a quick crash course. It was tough early on, and there was a learning curve as I figured out what finger foods worked for my son.
I tried to follow a few meal plans, and initially went to the trouble of sticking to "baby led weaning recipes", but quickly discovered that what works for one baby doesn't work for all of them – not surprising, since this applies to move things in parenting!
I also learned that BLW is not always linear, and purees are not only not detrimental to BLW success, they can be a tool to enable it. I stopped and went back to gradually-chunkier purees for a short period when I started to notice that almost every meal made him gag so hard he threw up.
Reverting to purees was the right move to get the baby used to textures and de-sensitize his gag reflex before we were able to (more successfully) try BLW again at about 8 months old. Some purees, like applesauce, can do double duty and fit either feeding style.
By 10 months, it felt like we had finally hit our stride. There are always some meals, or even days, when he eats less – usually due to exhaustion, distraction, or teething – but overall, I've gotten more comfortable feeding him, watching him work through new textures and flavors, and giving him lots of variety.
He has become more comfortable feeding himself, working through new textures and flavors, and gagging productively (to move food forward in his mouth, but without throwing up).
By adapting family meals to be baby-friendly, I've been able to establish the expectation that he eats what we eat (which is helpful in combating picky eating).
I have been able to expose him to a wide variety of foods and – this is, for me at least, the key – not had to make and special meals for him. He usually eats a variation of what is on my plate. I won't share afters because it always varies from baby to baby, and I am not here to try to make anyone feel like they're not feeding their baby successfully. Every kid is different and, heck, even the same kid eats differently on different days!
But. since so many people on Instagram enjoyed seeing what I was feeding him, but I wasn't able to keep up with posting meals daily, here is a week of BLW meal ideas.
Before you start serving your child, please do additional research so that you can understand how to prepare food at the right size and consistency, and avoid choking hazards. This is far from a complete tutorial on BLW, but I hope it will provide some ideas once you get started!
Monday
Breakfast: Spinach omelette* cooked in olive oil, toast, and Kalamata olives (in the mesh feeder [affilliate link]).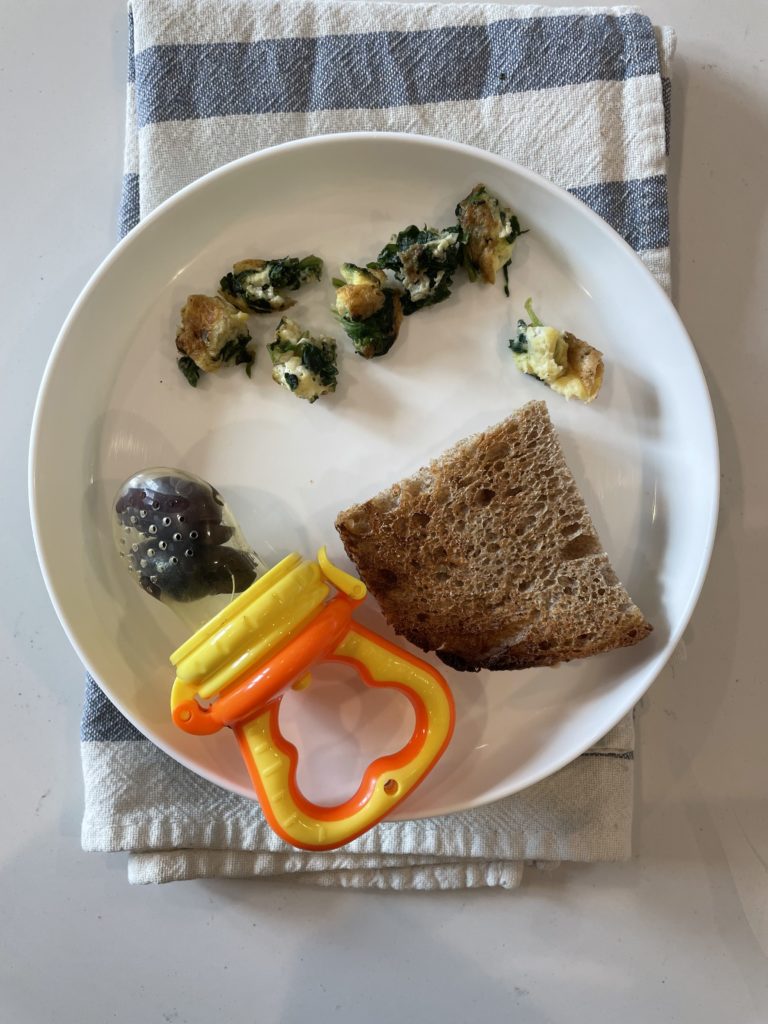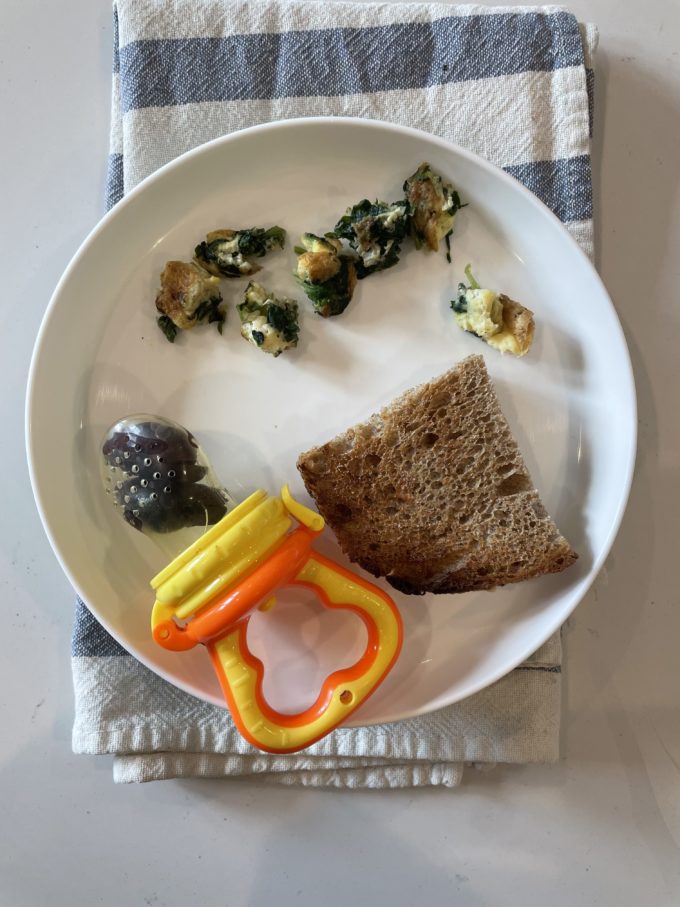 Lunch: Salmon salad (canned salmon, mayo, black pepper, lemon juice) on whole grain toast, My Serenity Kids puffs, red bell peppers (in the mesh feeder; all veggies should be soft steamed or served in one of these devices to minimize choking).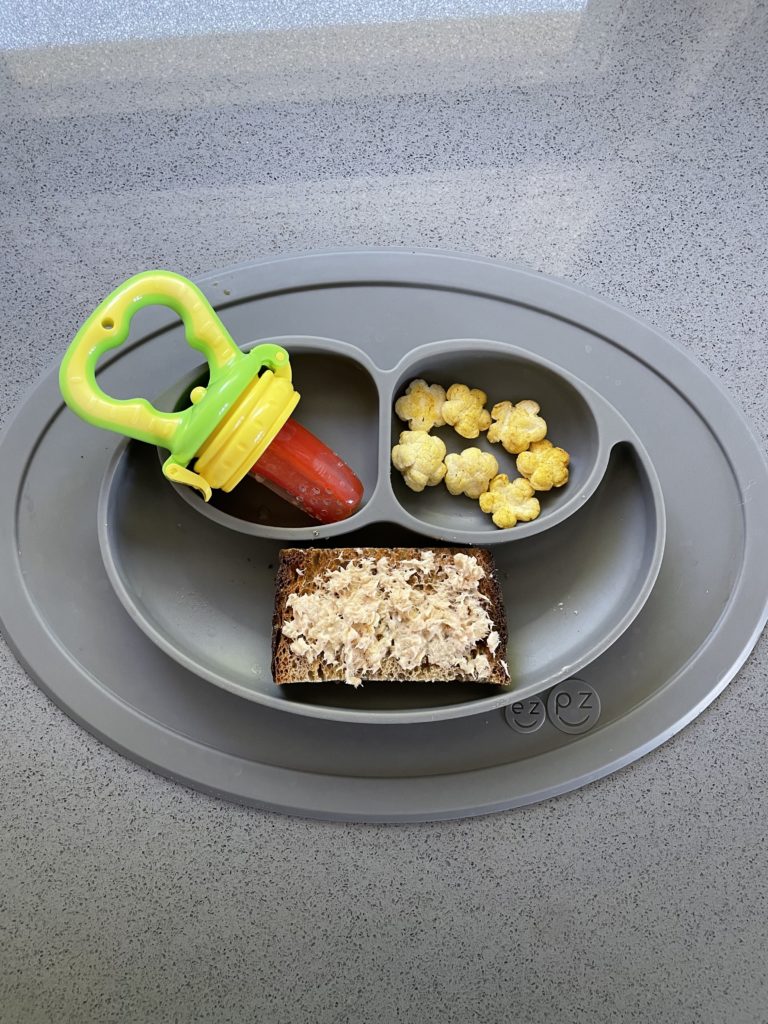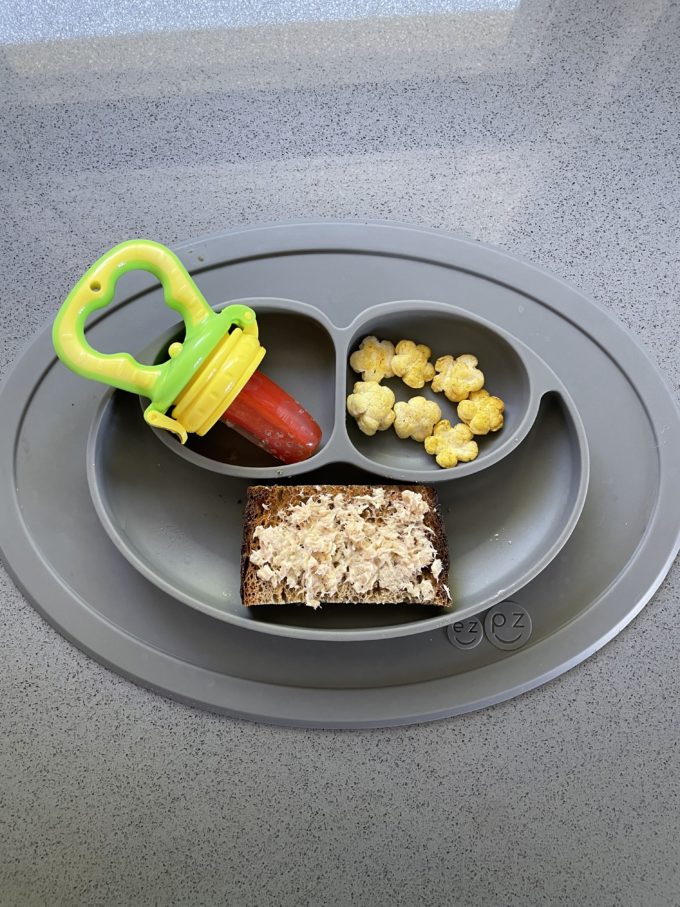 Dinner: Quinoa with mashed avocado, whole sliced avocado, coconut yogurt (look for a brand with little to no added sugar), cucumber and peach (both skinned).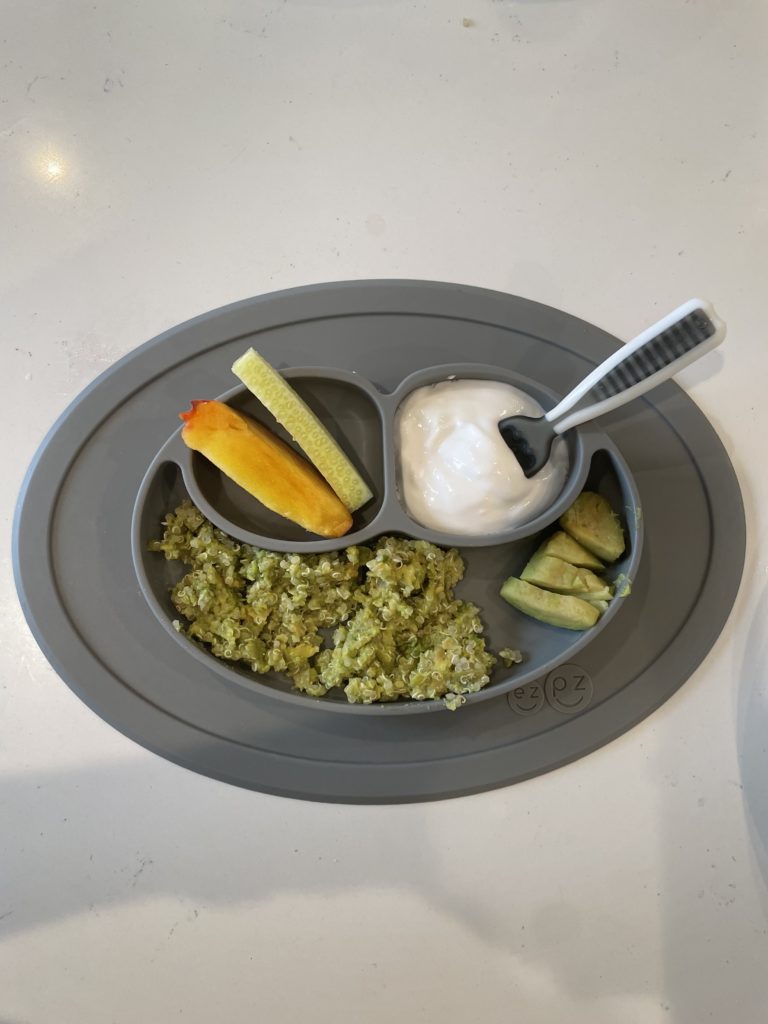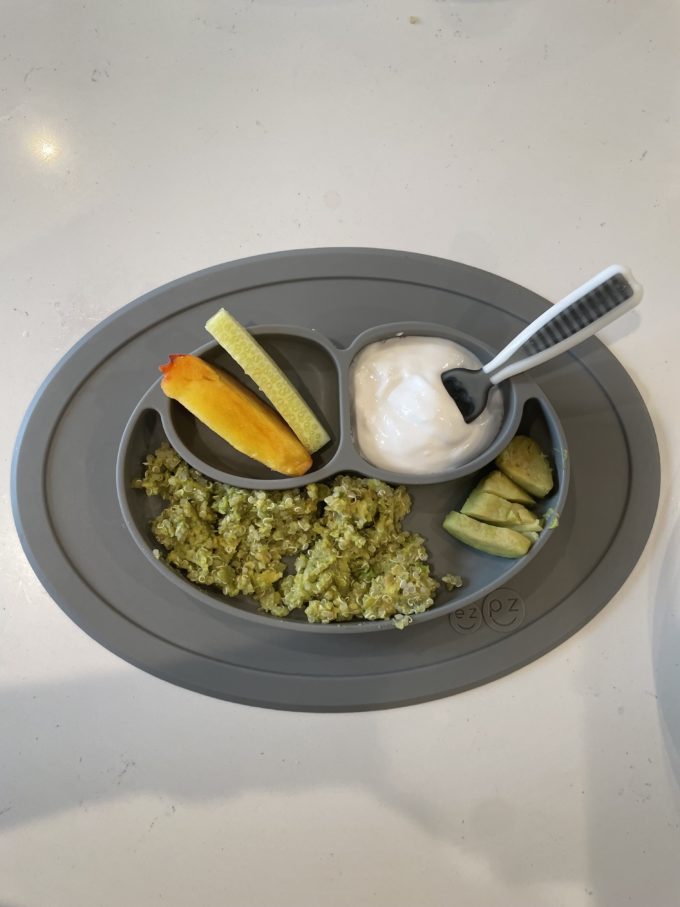 *Please talk to your child's pediatrician before introducing common allergens.
Tuesday
Breakfast: Avocado toast on Sourdough bread with hemp hearts and fresh ripe mango. Avocado is a great first food, either as a puree or a spread like I'm serving it here.
Note that these are hemp hearts, not hemp seeds. Hemp seeds are a choking hazard.

Lunch: Quinoa with olive oil, watermelon, and scrambled egg.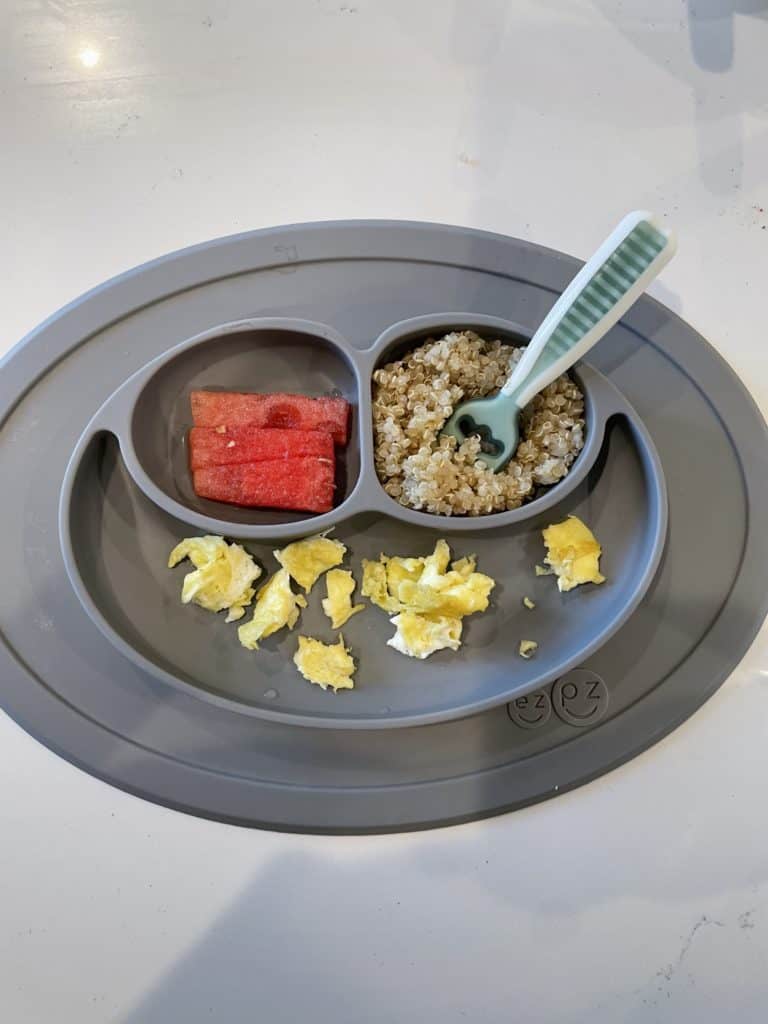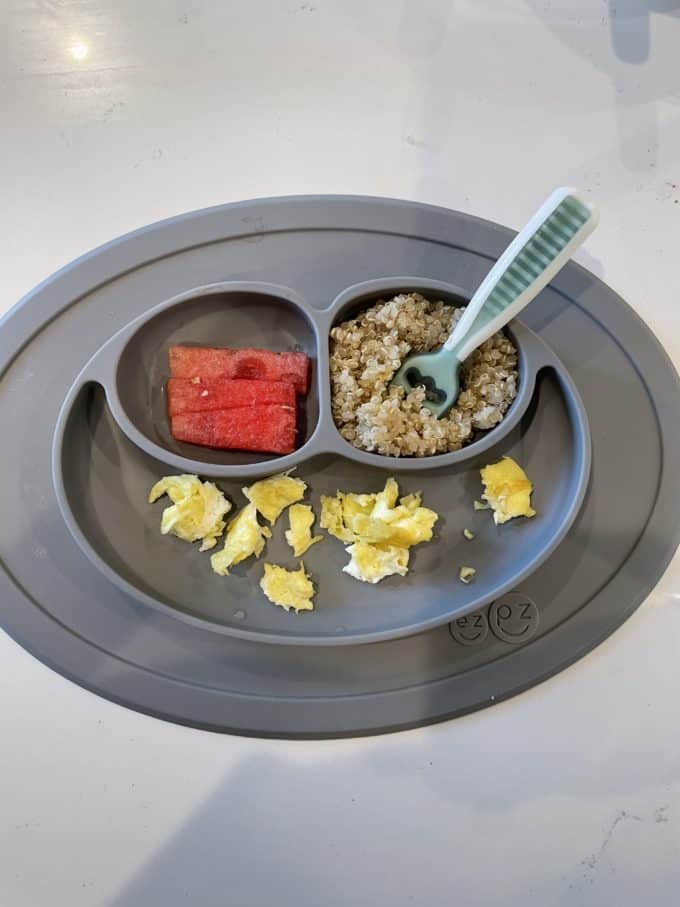 Dinner: Slow cooker shredded chicken cooked in mild curry sauce, white rice gently formed into balls for easier handling, and soft-steamed peas and carrots. Whole peas are a choking hazard, which is why they are smashed.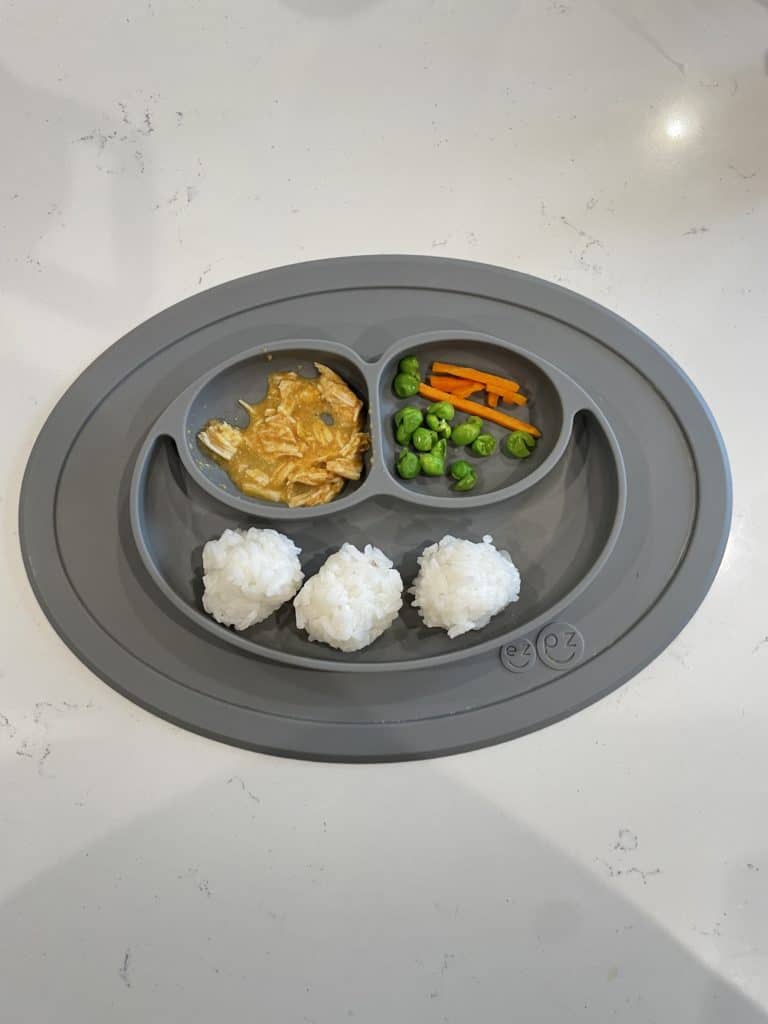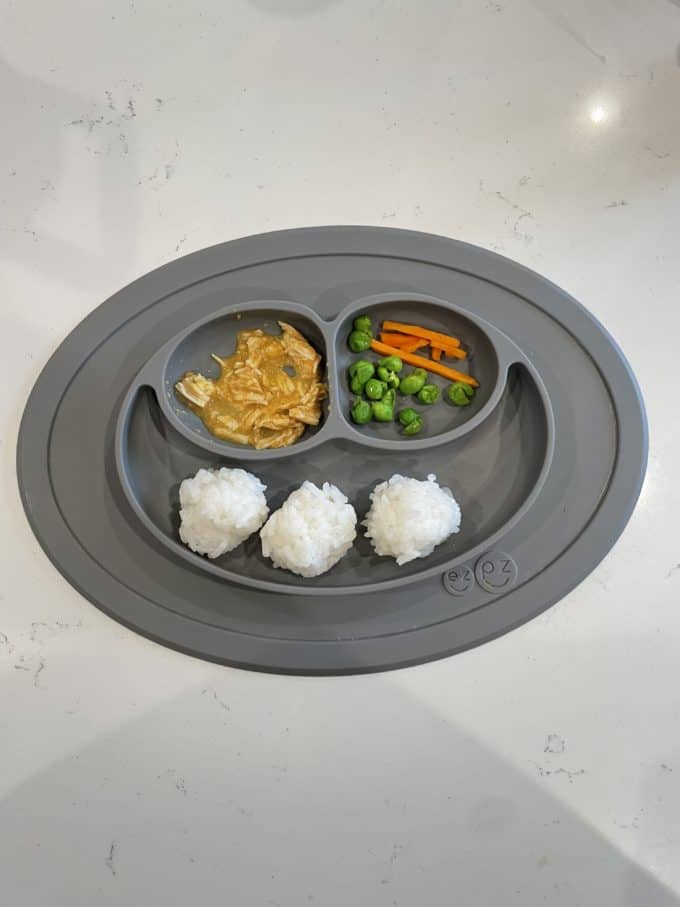 Wednesday:
Breakfast: Hot cereal with breastmilk and dried ginger, avocado, and nectarine.
Since this nectarine wasn't super ripe, I served it in the mesh feeder, and didn't bother peeling it.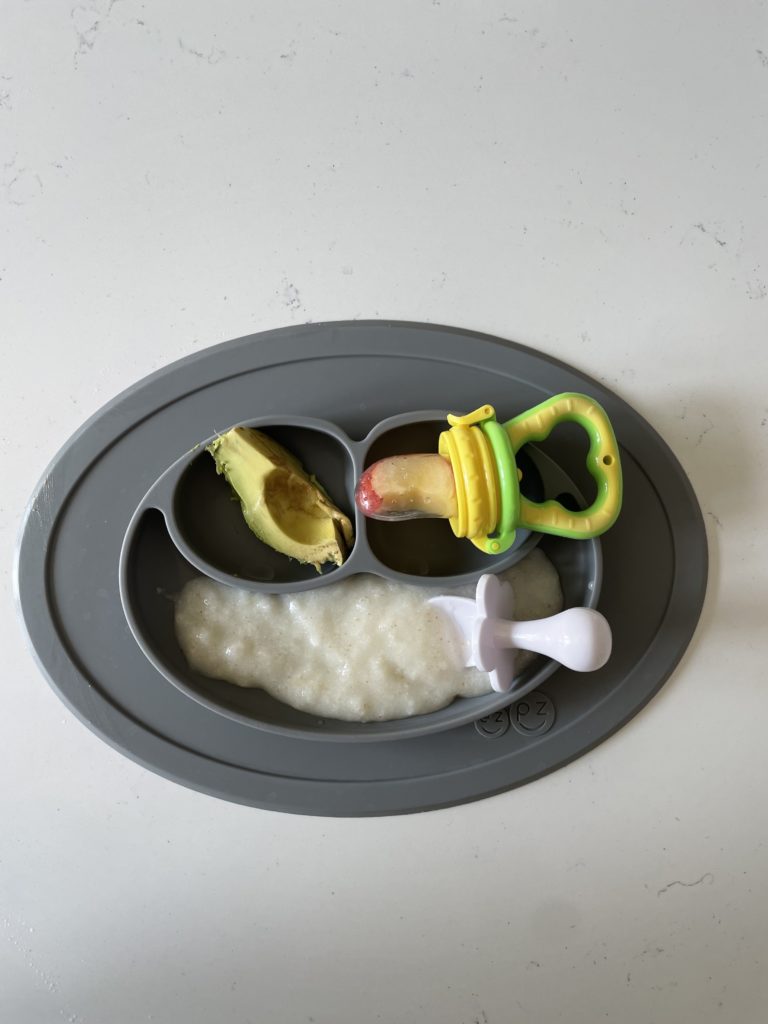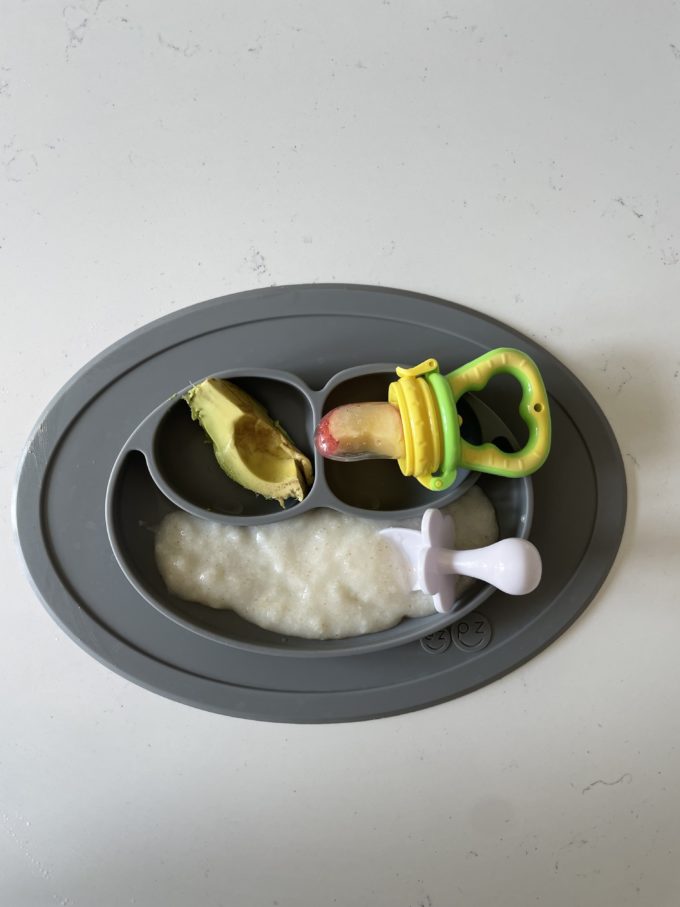 Lunch: Cut-up shell pasta with extra virgin olive oil and nutritional yeast (feel free to use parmesan cheese if your baby tolerates dairy), steamed carrots, and turkey meatballs cut into bite-sized pieces.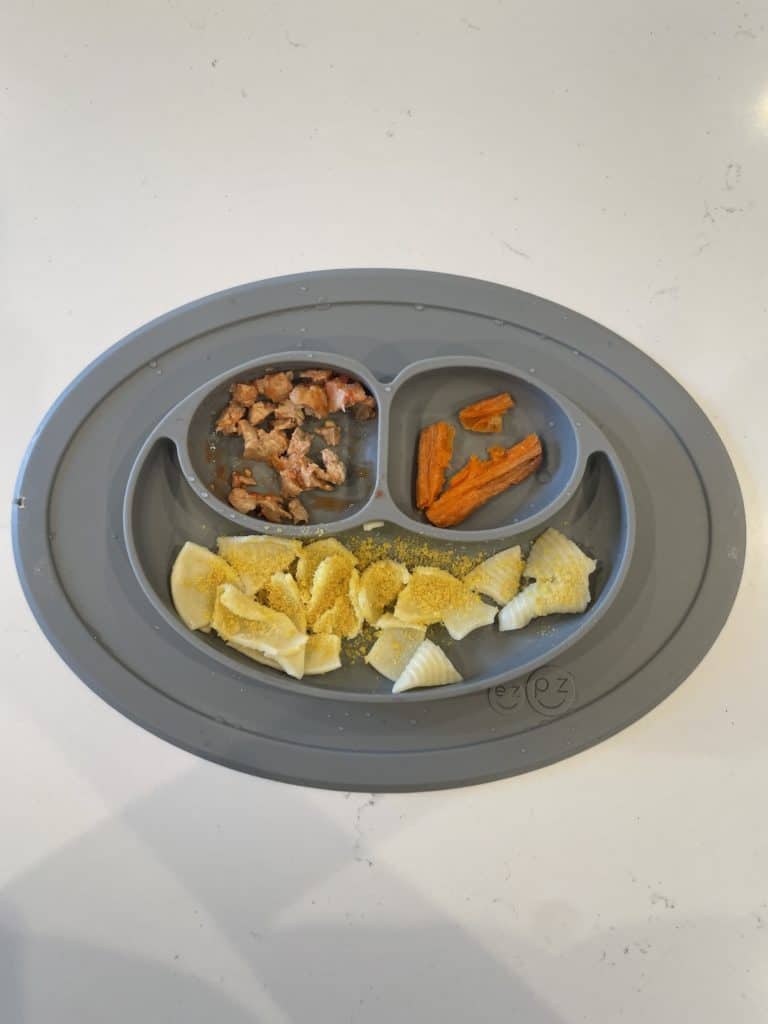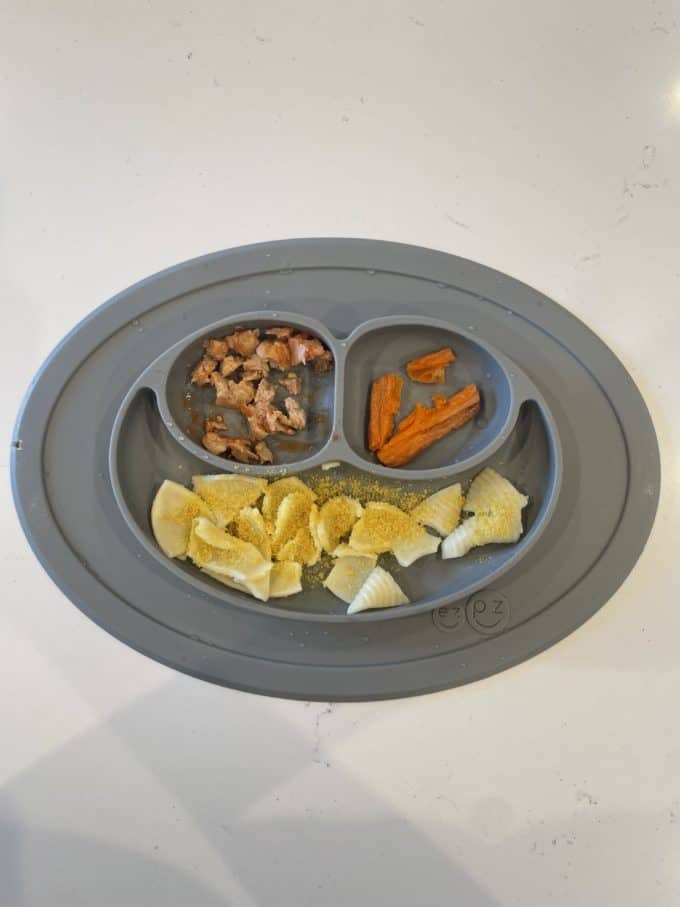 Dinner: Baked salmon, sautéed zucchini (sliced into spears) with a drizzle of lemon, and steamed white potatoes, skin removed, sliced into spears. For an extra nutritional boost, you can sub in white sweet potatoes, but this is what I had on hand.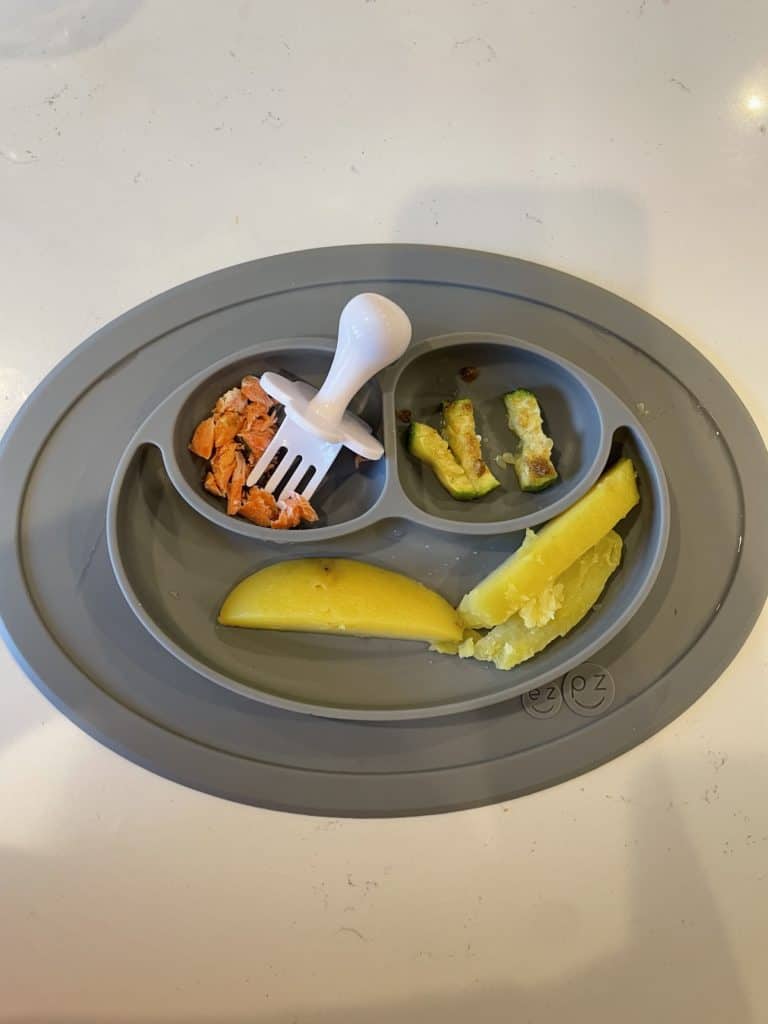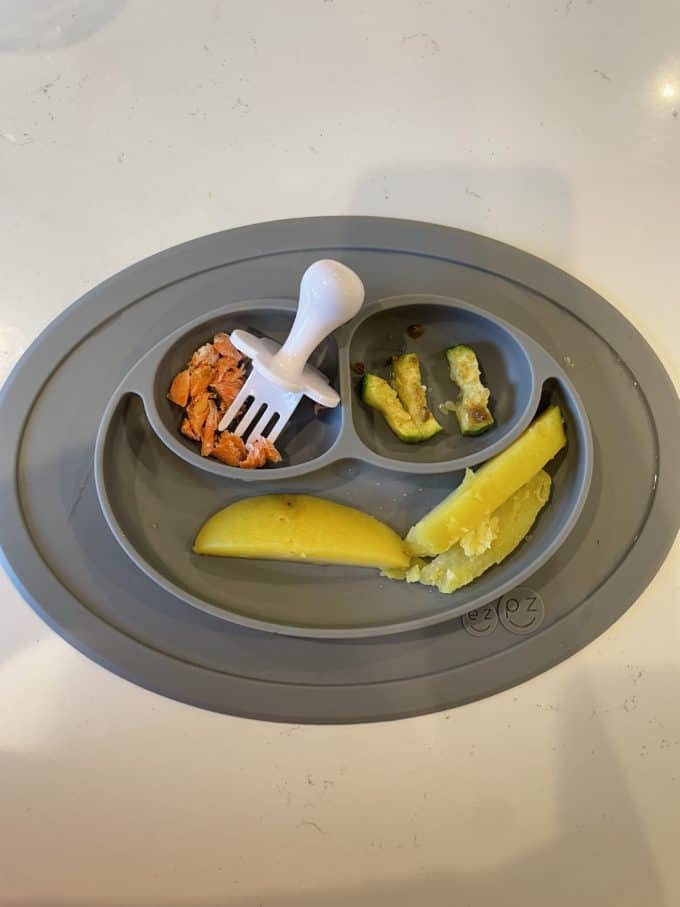 Thursday
Breakfast: Oatmeal with coconut milk, blackberries, and banana.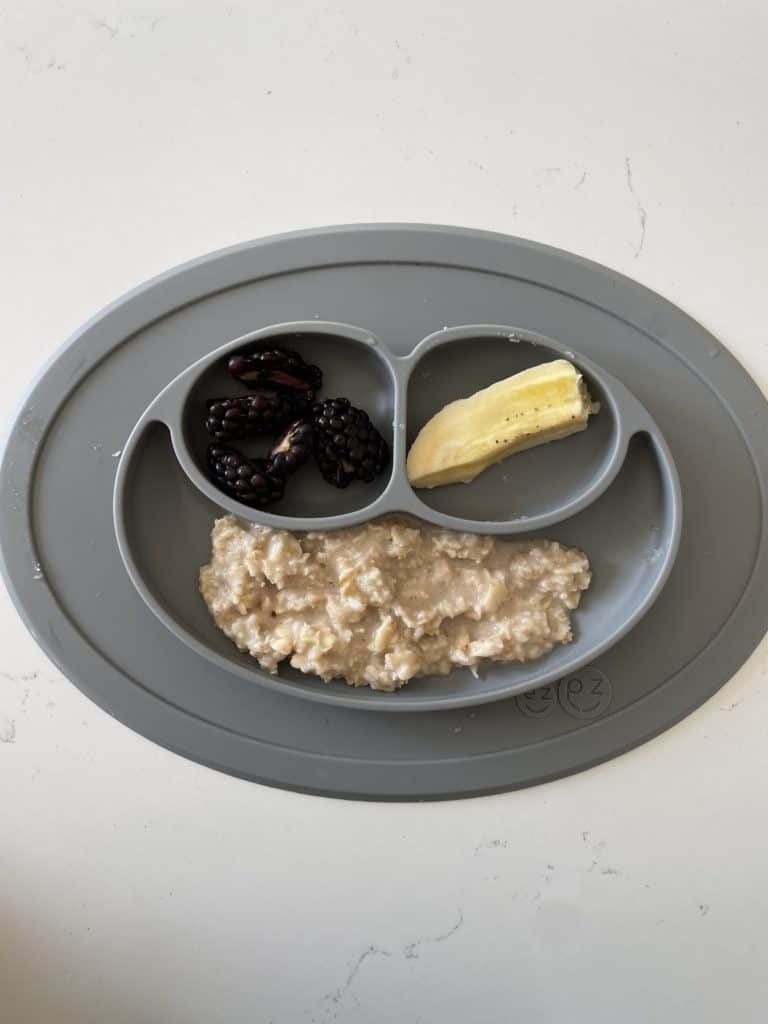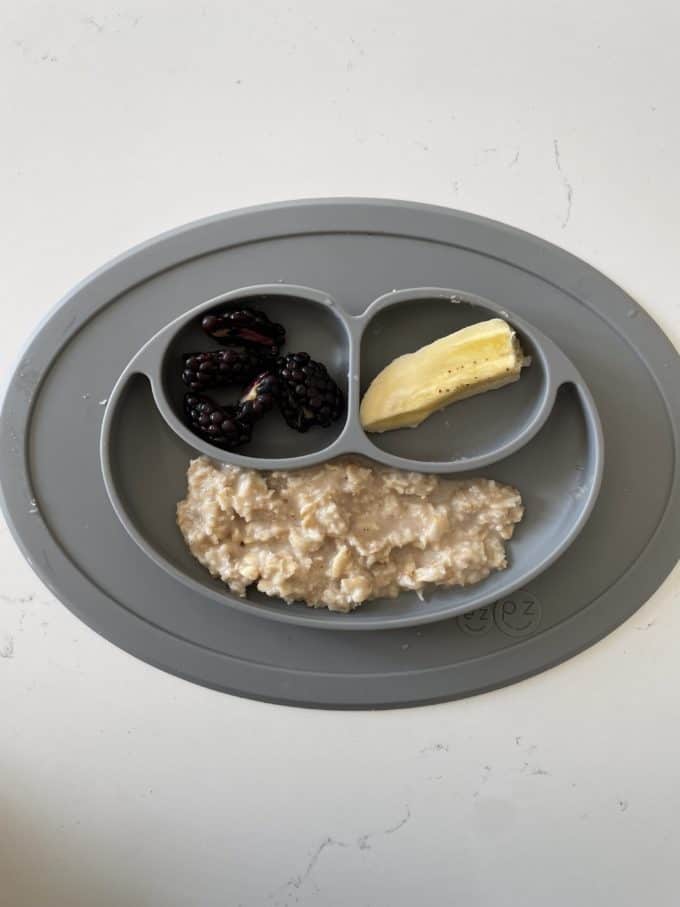 Lunch: Coconut yogurt, strawberry, Applegate sliced turkey, My Serenity Kids puffs, and steamed broccoli.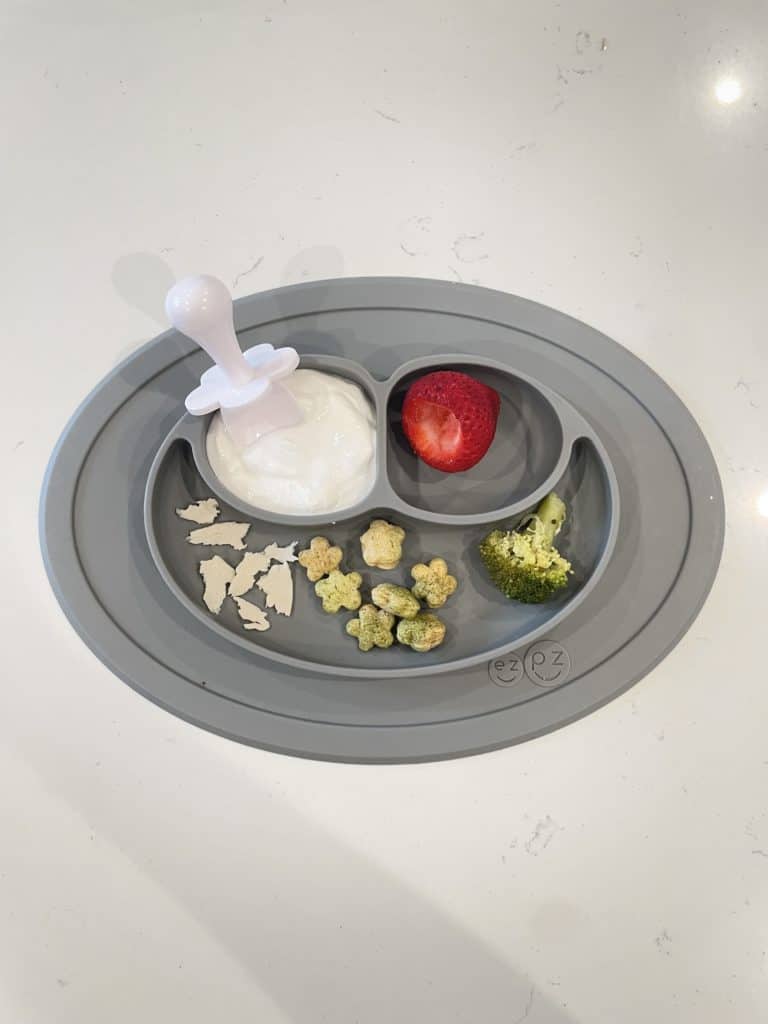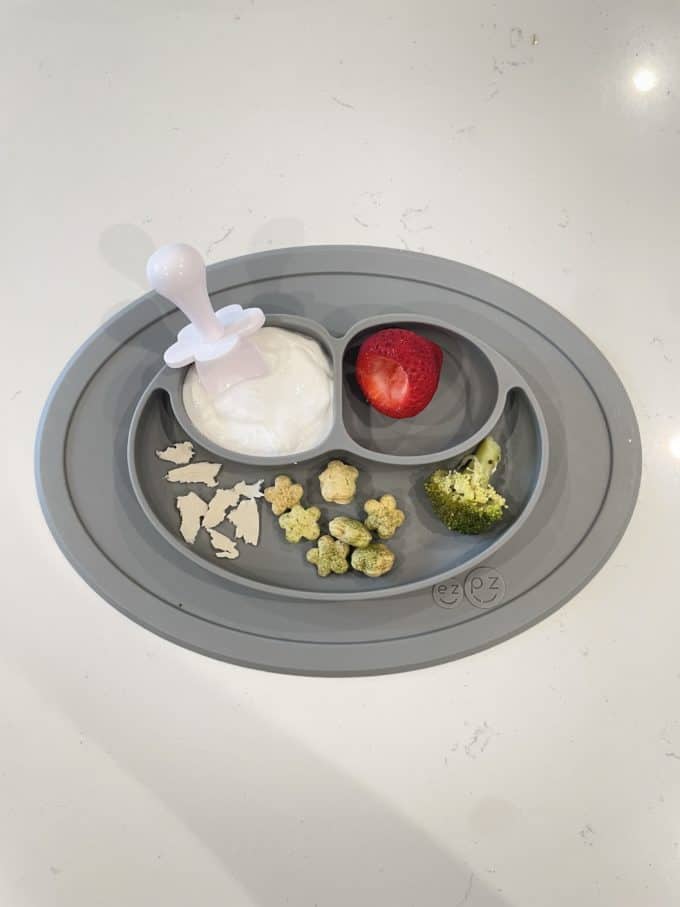 Dinner: Savory lentil, tomato, and broccoli muffin, shredded chicken with dairy free pesto, coconut yogurt, and fresh grapes (in the mesh holder [similar]).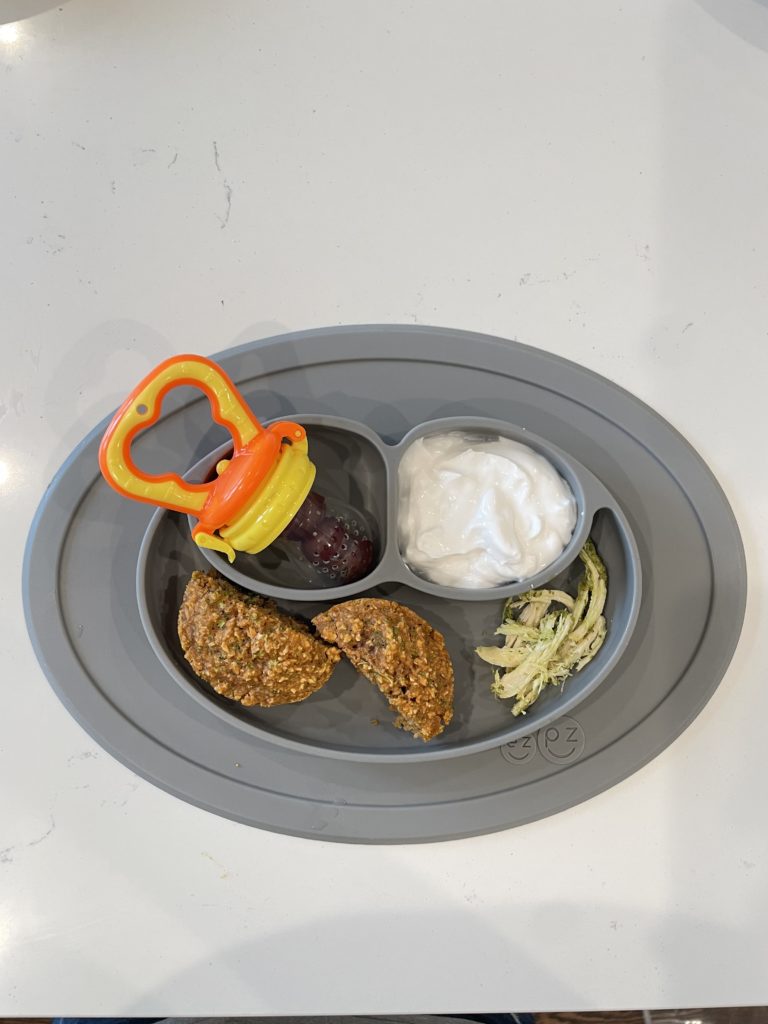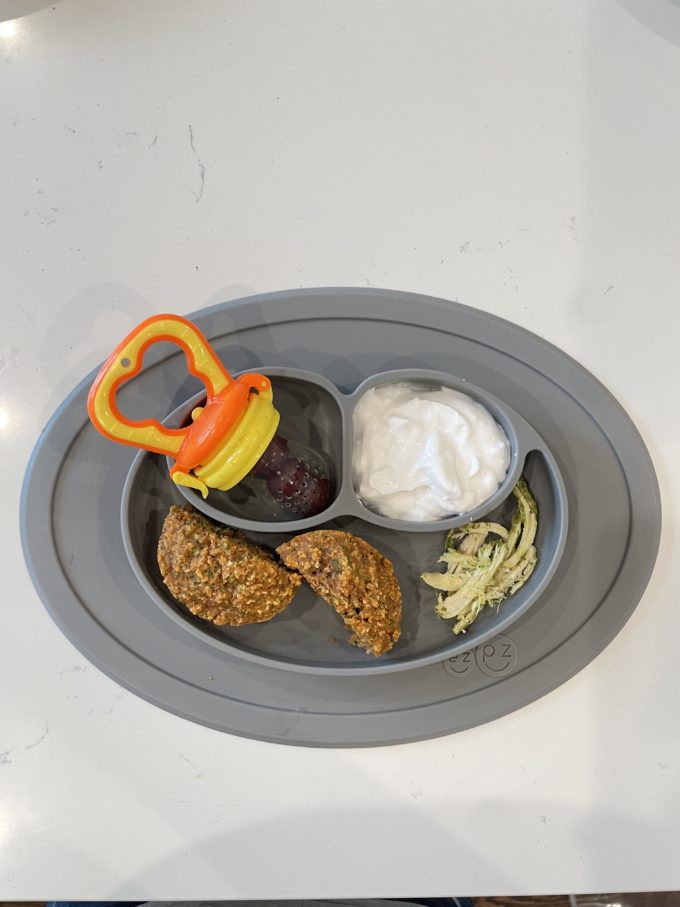 Friday
Breakfast: French toast, egg, and raspberries.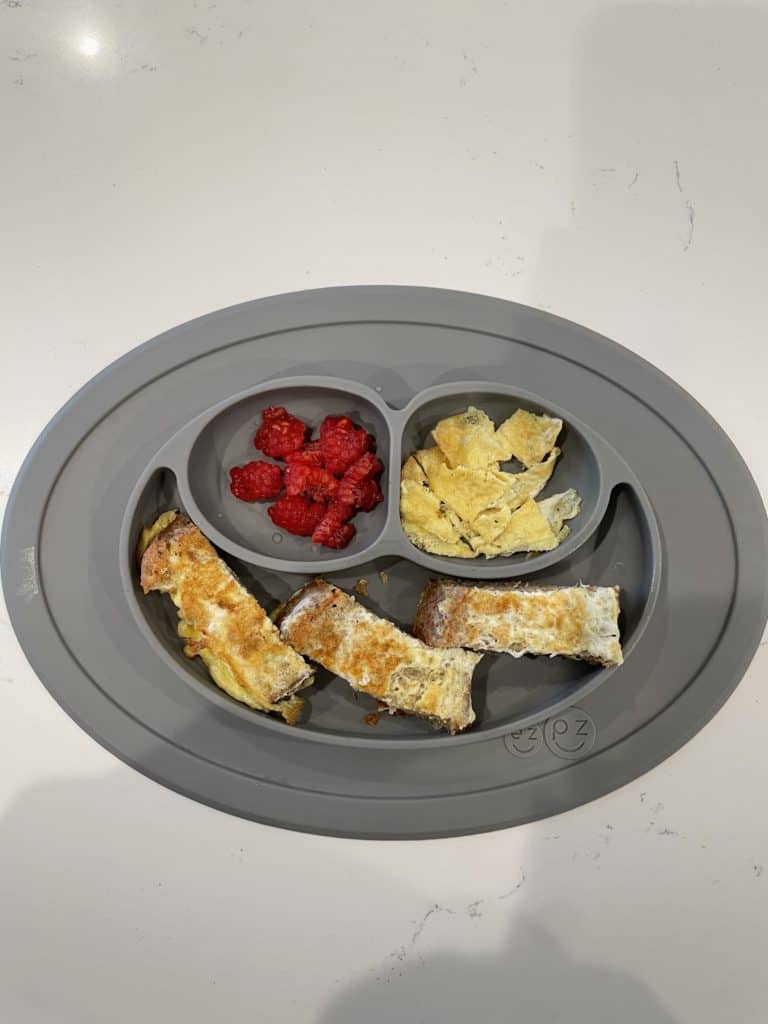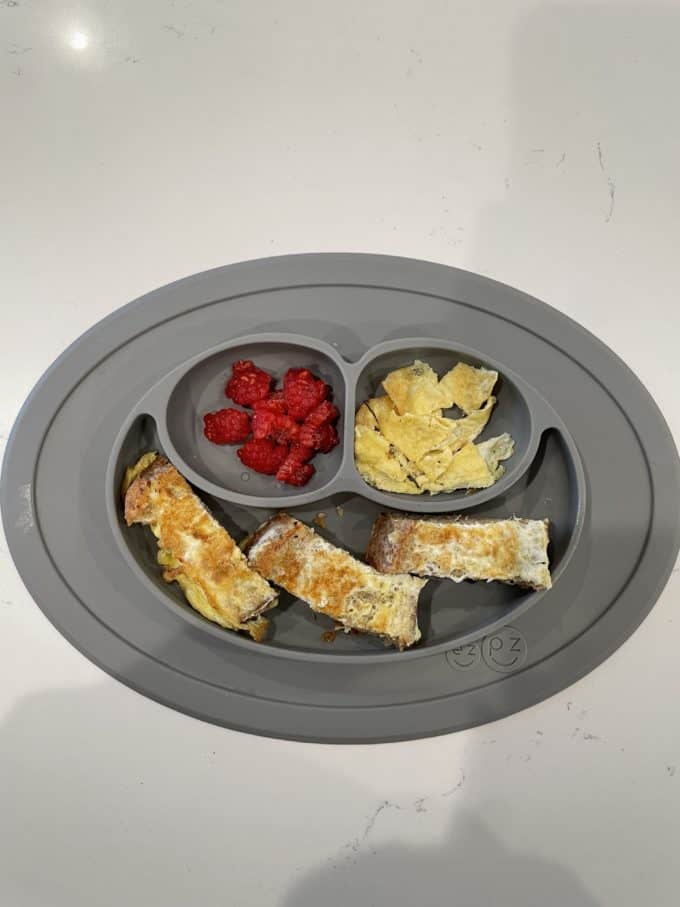 Lunch: Coconut yogurt, ripe mango, toast with almond butter* and banana slices.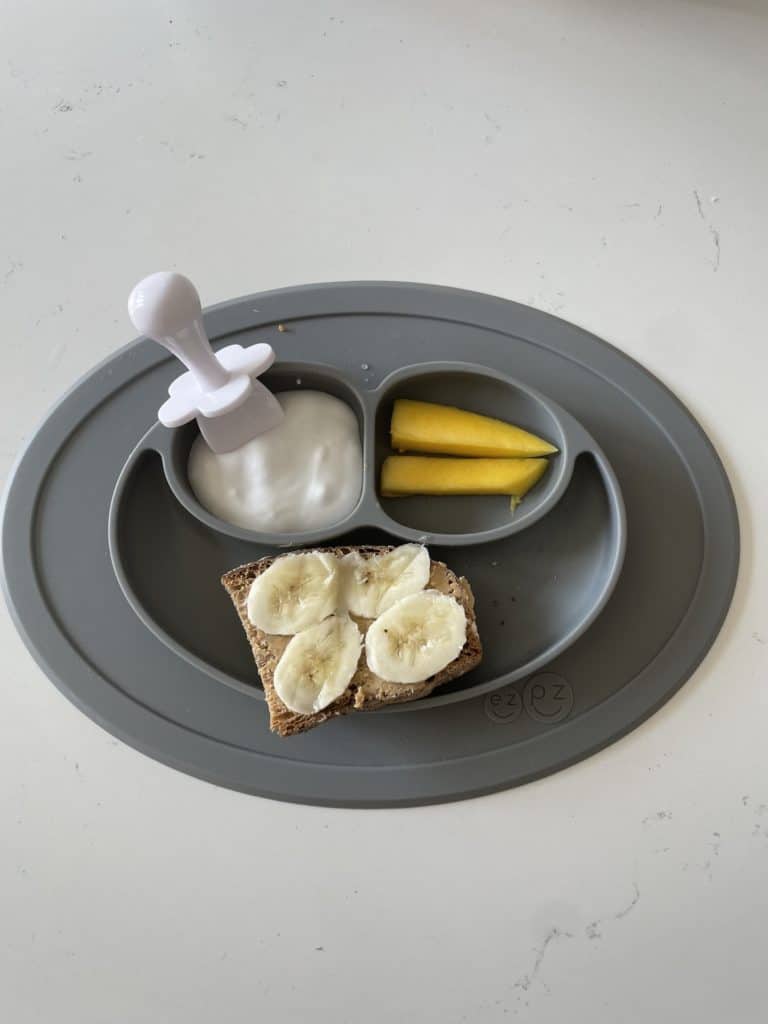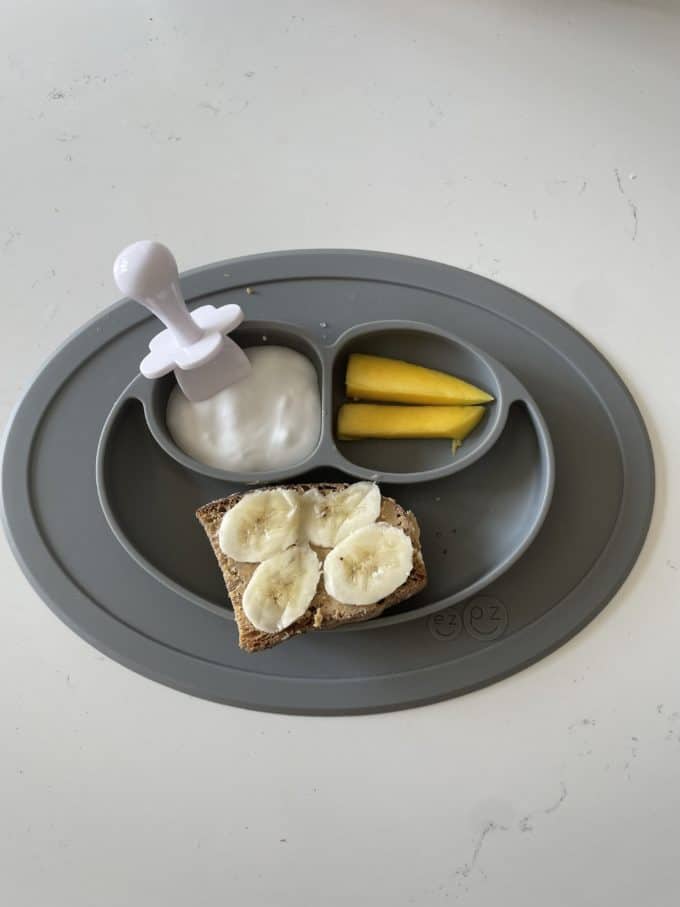 Dinner: Blackened salmon, mango, coconut rice, avocado, and kalamata olives (in the mesh feeder). (Can you tell we had a lot of mango on hand this week?)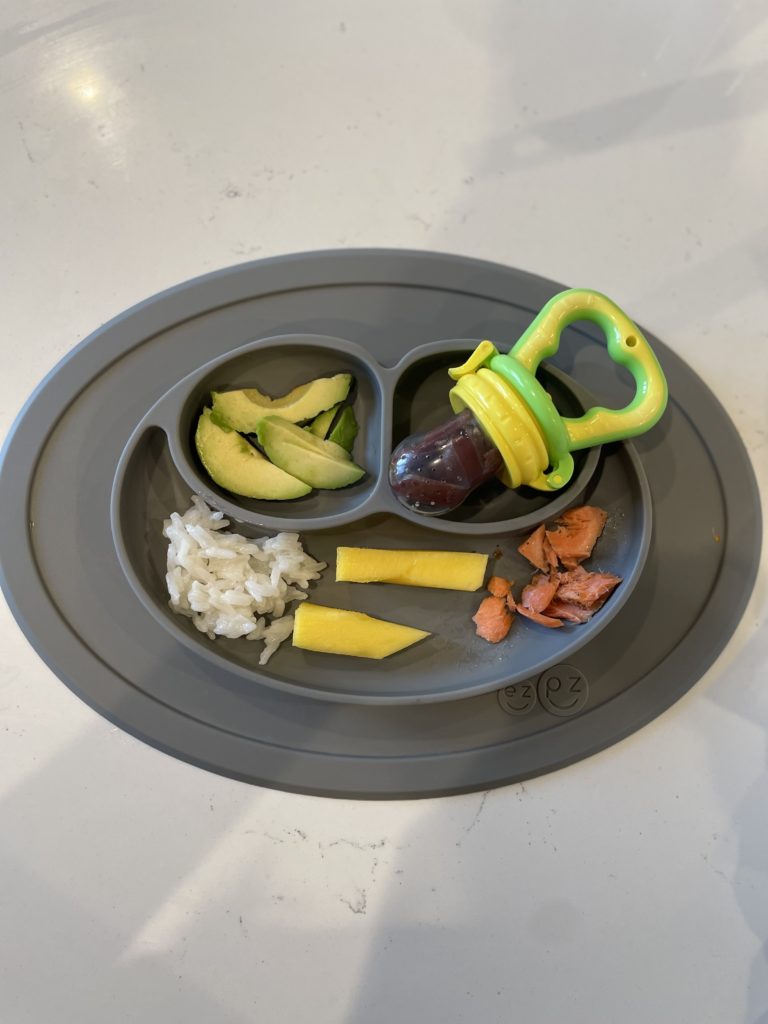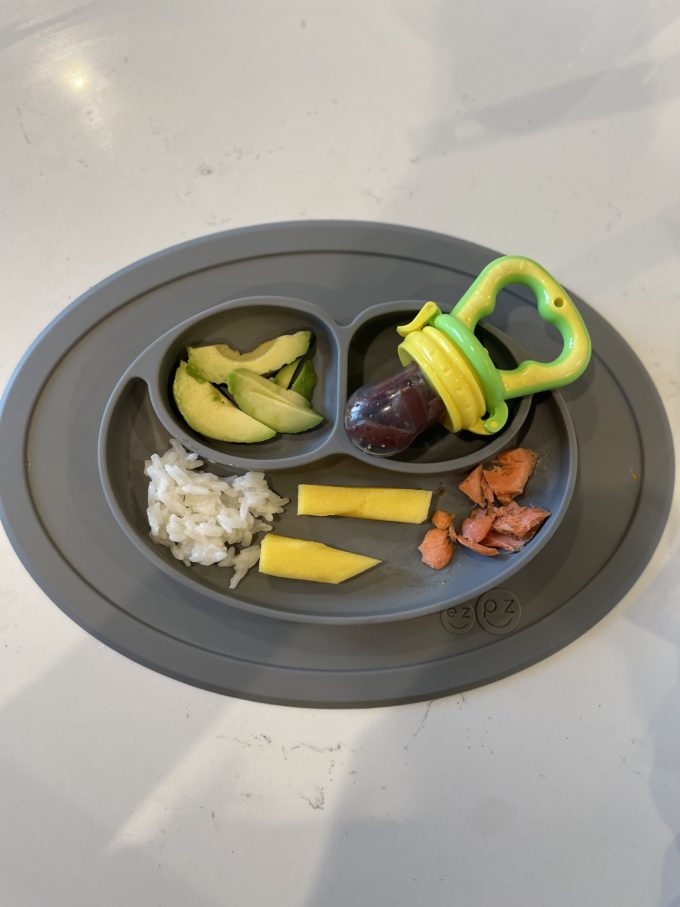 *Peanut butter and all other nut butters can be a choking hazard and should only be served if spread in a very thin layer and never eaten off the spoon.
Saturday
Breakfast: Banana-oat mini pancakes, mango (yeah I know, I'm sick of it too, just sub ripe peaches with the skin removed), and a breastmilk popsicle for teething pain.
I always get questions about these popsicle molds. They are amazing and we have gotten tons of use out of them! They're perfect for small baby and toddler hands. This exact model is no longer sold but there is nothing particular special about them, and these (affiliate link) are very similar.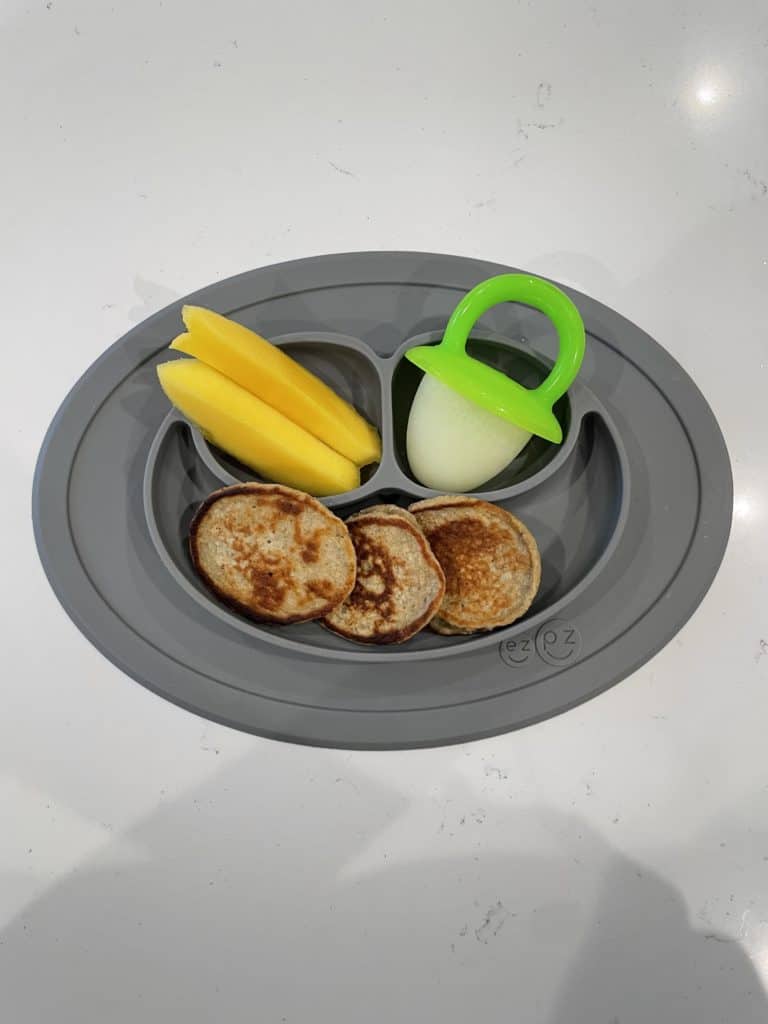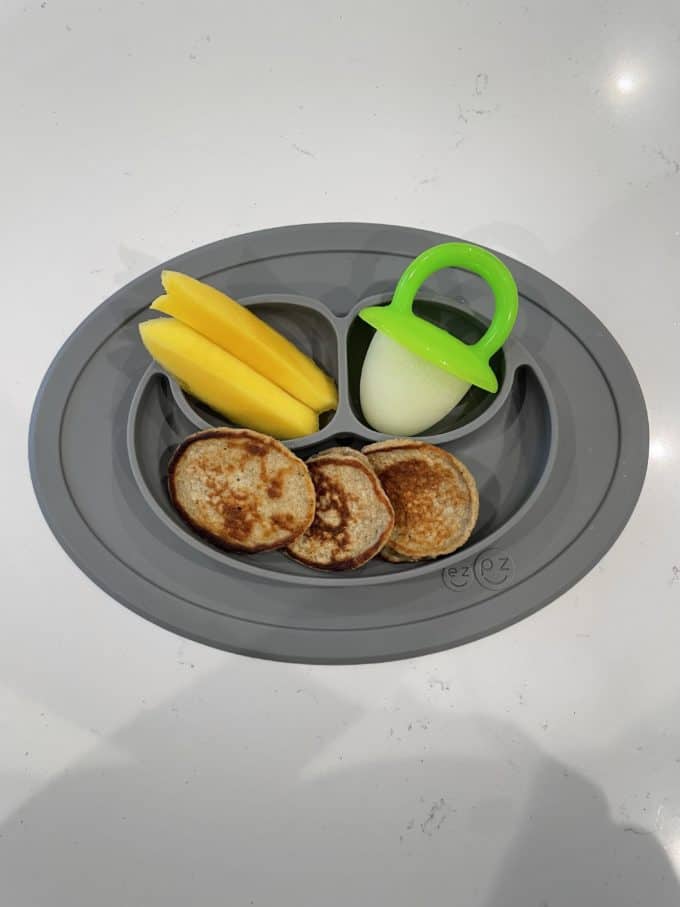 Lunch: Fried rice with peas (don't forget: choking hazard, so smash them!), scrambled egg, and cauliflower fritter (broken up to make it easier to pick up bite-sized pieces; recipe similar to this).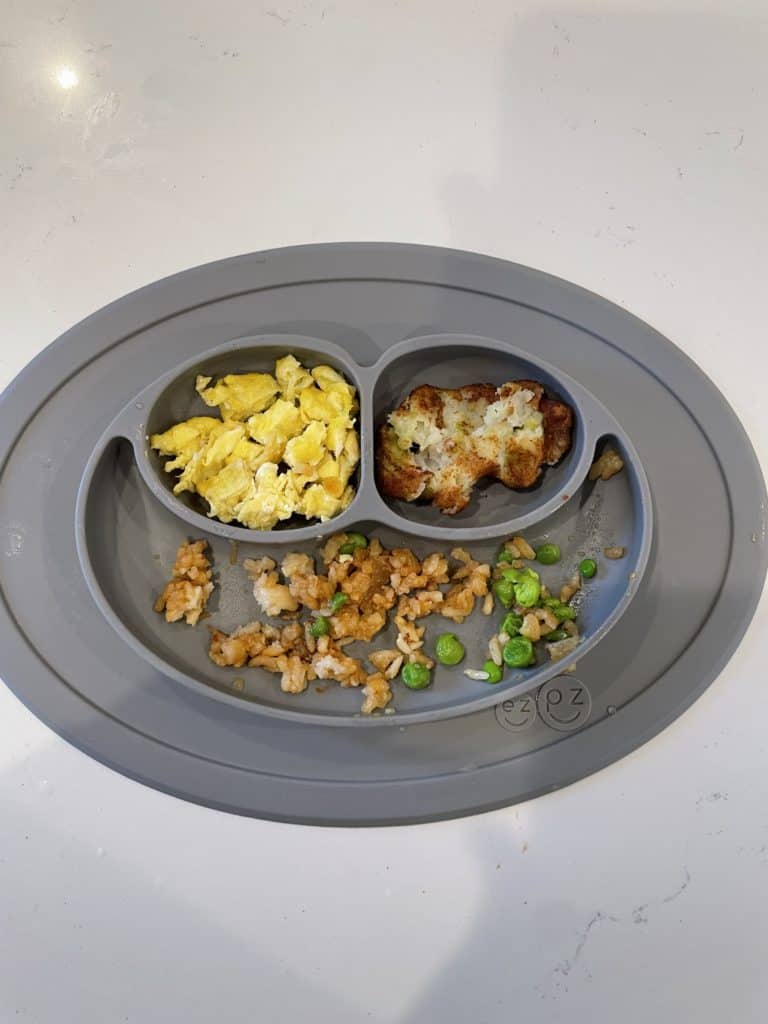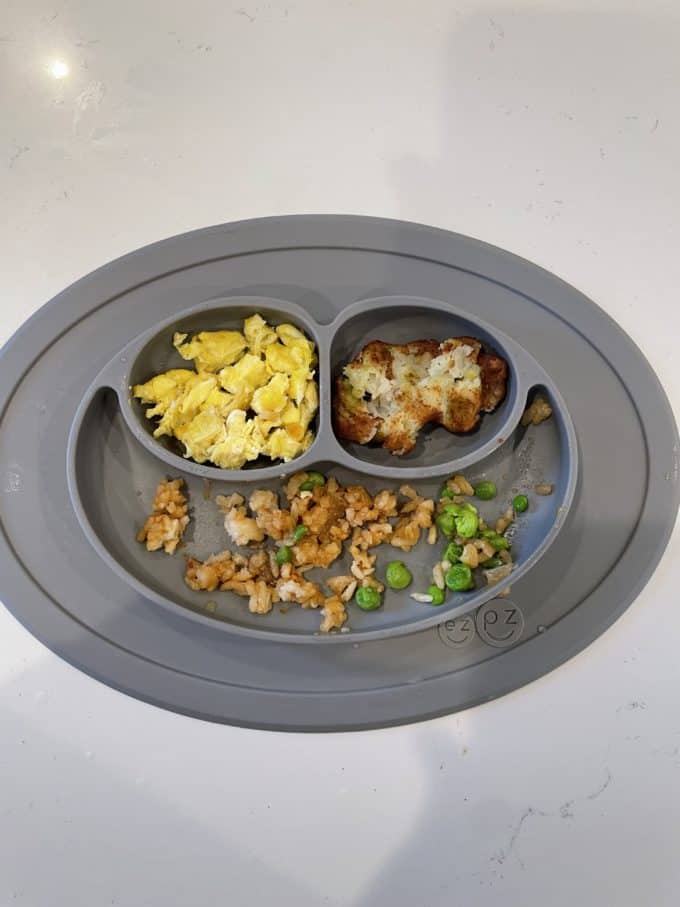 Dinner: Family pizza night! This was a photo I took of the whole meal so you can see how I adapted one meal to fit everyone's needs. The baby's meal is in the lower right hand corner.
I used my almond flour pizza crust which is gluten and dairy free, plus dairy free pesto for the pizza for me and the baby. I left the cheese off of his to keep it fully dairy free. (My husband and older son ate conventional pizza!) He also had avocado, tomato, and summer fruit (peaches, nectarines, and pears).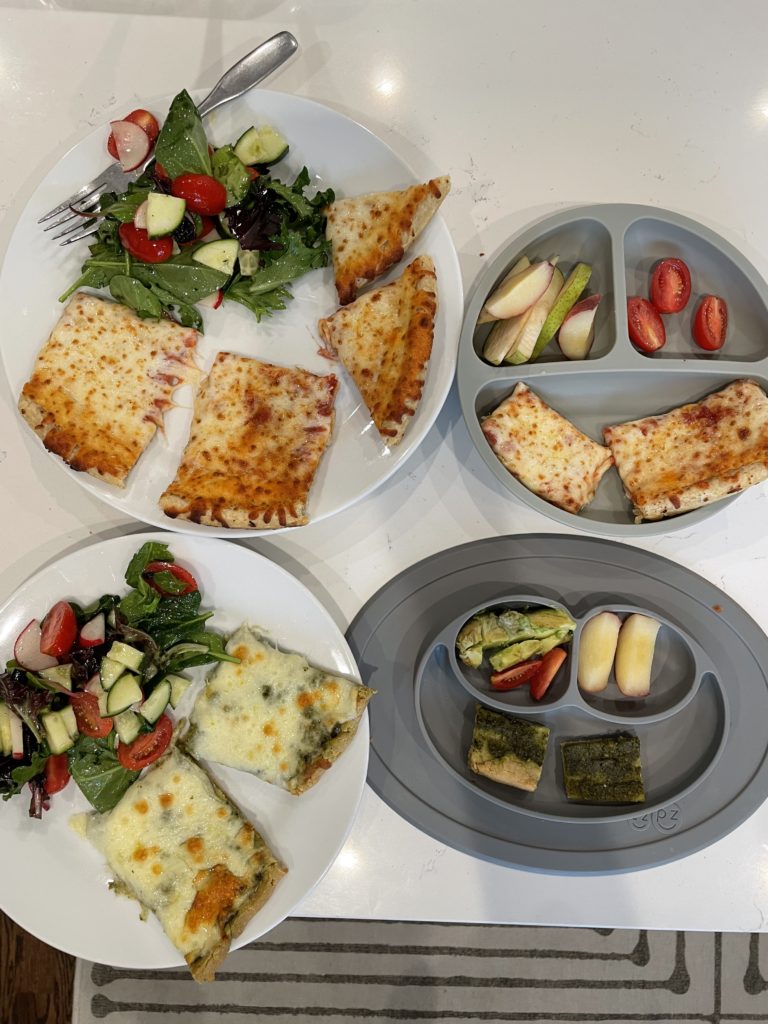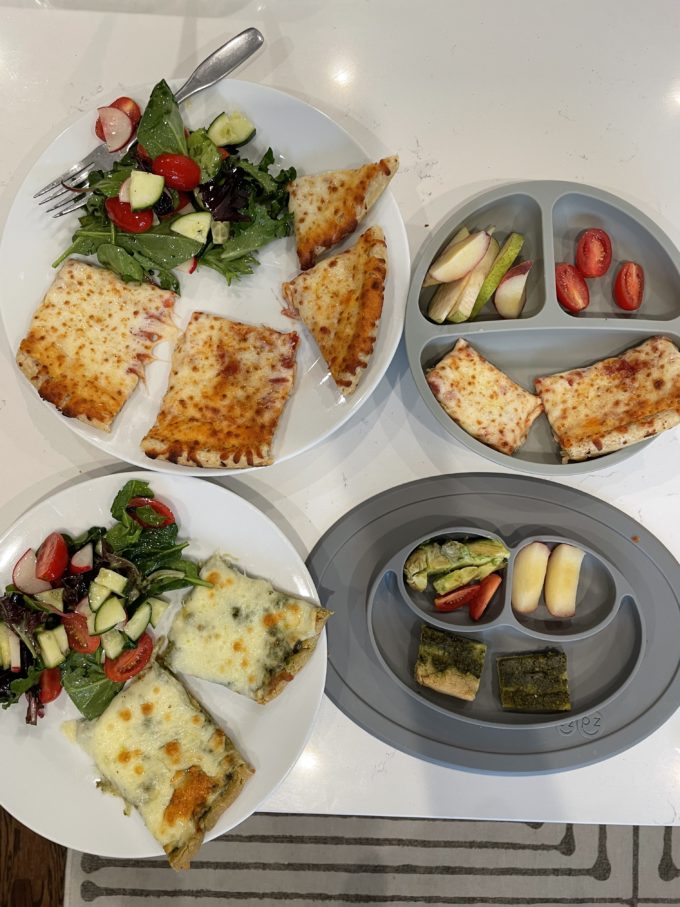 Sunday
Breakfast: French toast, fresh ripe mango, and a breastmilk popsicle.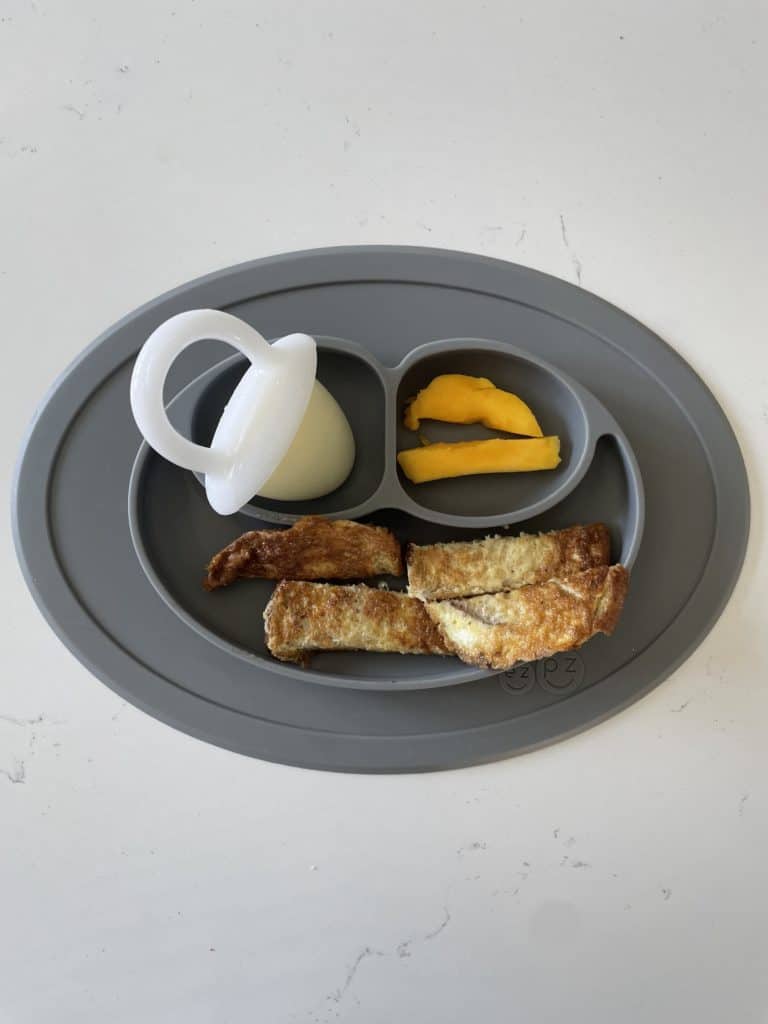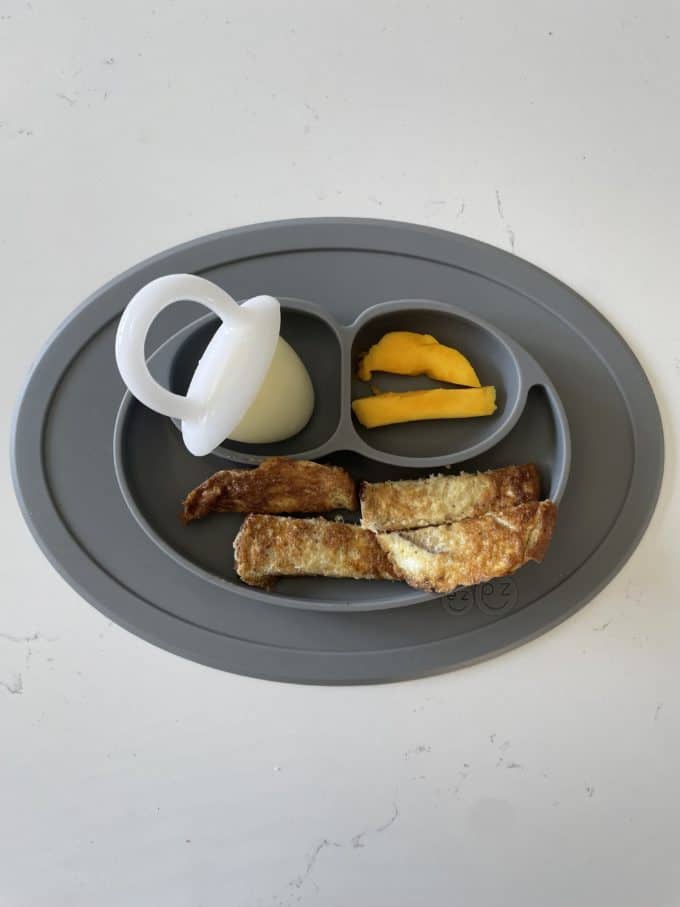 Lunch: Sourdough toast with hummus, fresh ripe mango, strawberries, cucumber (in the mesh feeder), apple-carrot puree (in the pouch), ice water*.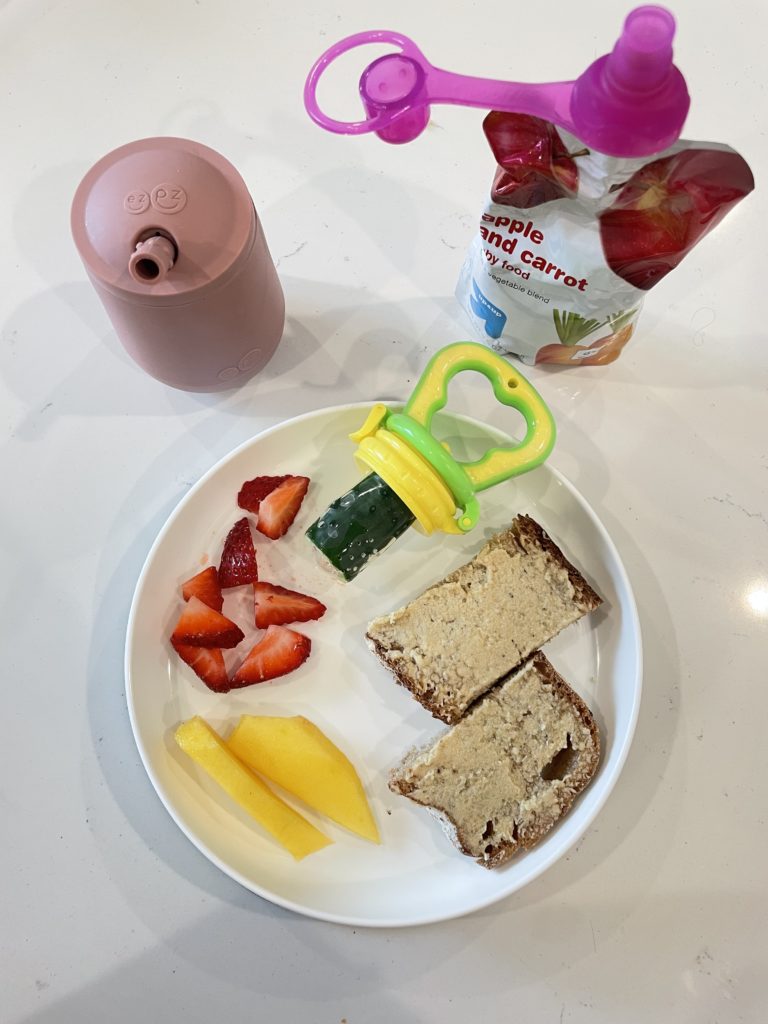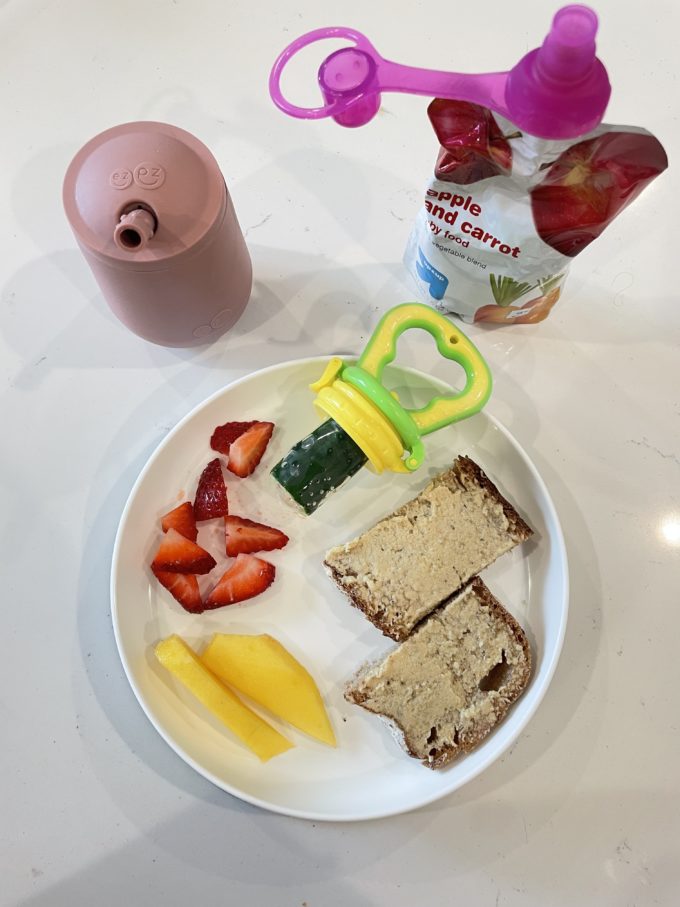 *remember to talk to your pediatrician before giving water to any child who is younger than 1. 
Dinner: Toast with hummus, steamed carrots, tomato soup, and cubed watermelon (seeds removed). If your baby is not dairy free, grilled cheese cut into spears would be a great replacement for the hummus toast here!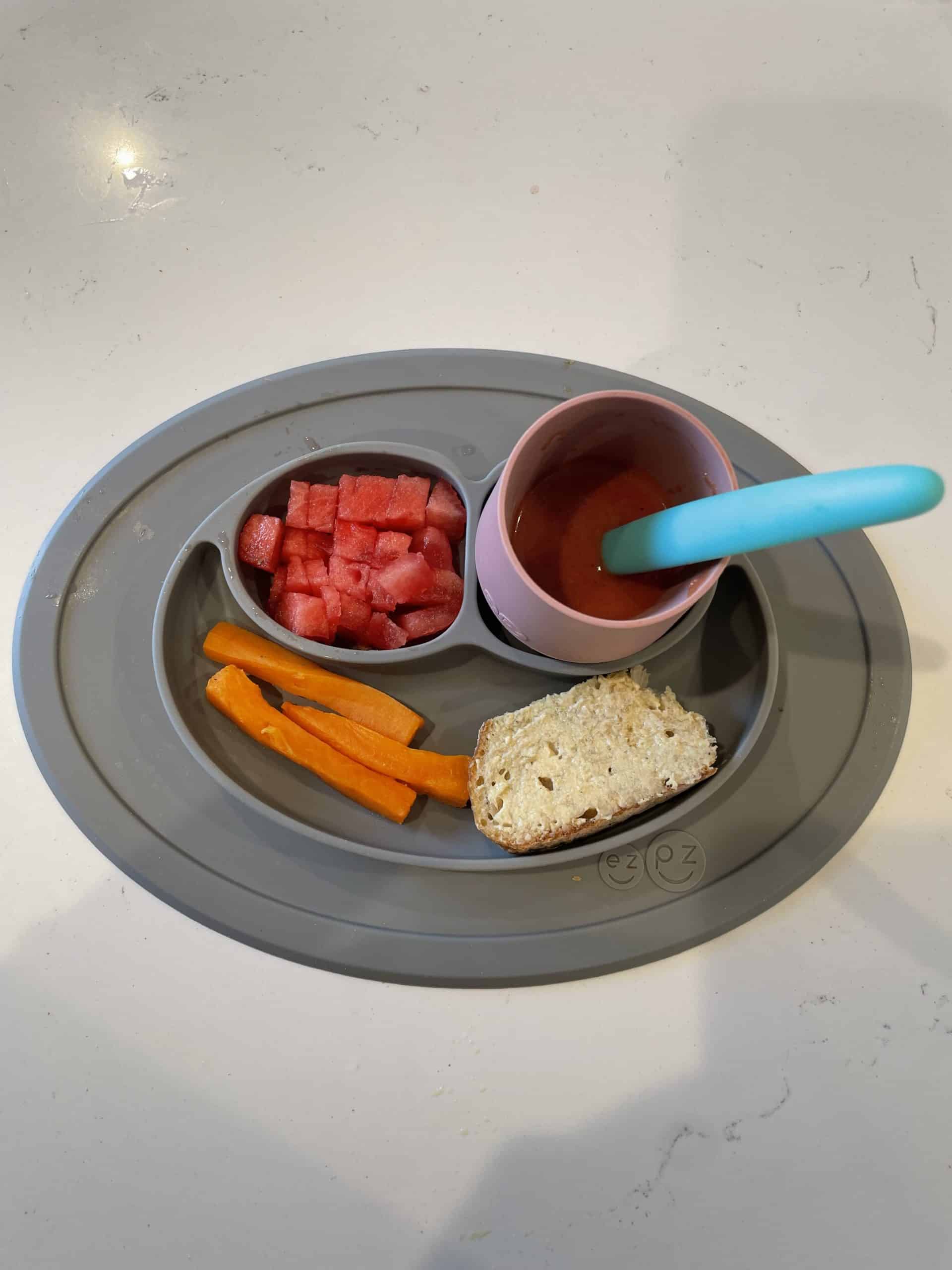 So that covers it! The meals did get repetitive at times, but I had to balance the reality of my life and how much time and energy I had to devote to making meals with my desire to expose him to the maximum number of new foods.
However, repeat exposure is an important facet of cultivating a more accepting eater, so a little repetition over the course of a week does have an upside. Don't beat yourself up if you're re-using the same ingredients or components for your baby's meals over the course of the week.
It's easy to think this is all a lot of effort for a gimmicky eating style, but at 17 months, I have a relatively open-minded eater who is used to sitting in his high chair and eating what's served at mealtime, and is relatively open to trying new foods.
Only time will tell if he will continue to be an enthusiastic eater, but I believe starting with finger foods did a lot of good when it came to helping to teach him to eat a varied and balanced diet. Overall, I am very happy with the decision to follow the baby's lead and do Baby Led Weaning, and I hope it is helpful for you too!