How to make homemade tomato soup just like Campbell's used to make! Actually, I think they still make it, but who needs it when this dairy free and real food version is just as easy, twice as good, and much better for you? This creamy homemade tomato soup is gluten free, vegan, paleo, and Whole30 compliant. Best of all? It requires just a few pantry staples to make and is perfect for dinner on a chilly weeknight!
Is there any combination of foods more familiar and soothing than homemade tomato soup?
I think we all know the answer to that: no way. Actually, maybe the only thing better than a steaming bowl of homemade tomato soup is that bowl served with a dunkable grilled cheese (or grilled cheeze, for the vegan and lactose-intolerant crowd) sandwich on the side.
As half of the country is probably still working on shoveling itself out of a snowdrift, there's no better time to re-enact that classic Campbell's commercial where the kid warms up with a steaming bowl of creamy tomato soup.
Only…let's face it, who wants to eat that shelf stable version with one million ingredients when an all-natural, homemade tomato soup made of only 3 ingredients (plus salt, pepper and spices) is just a few stirs away?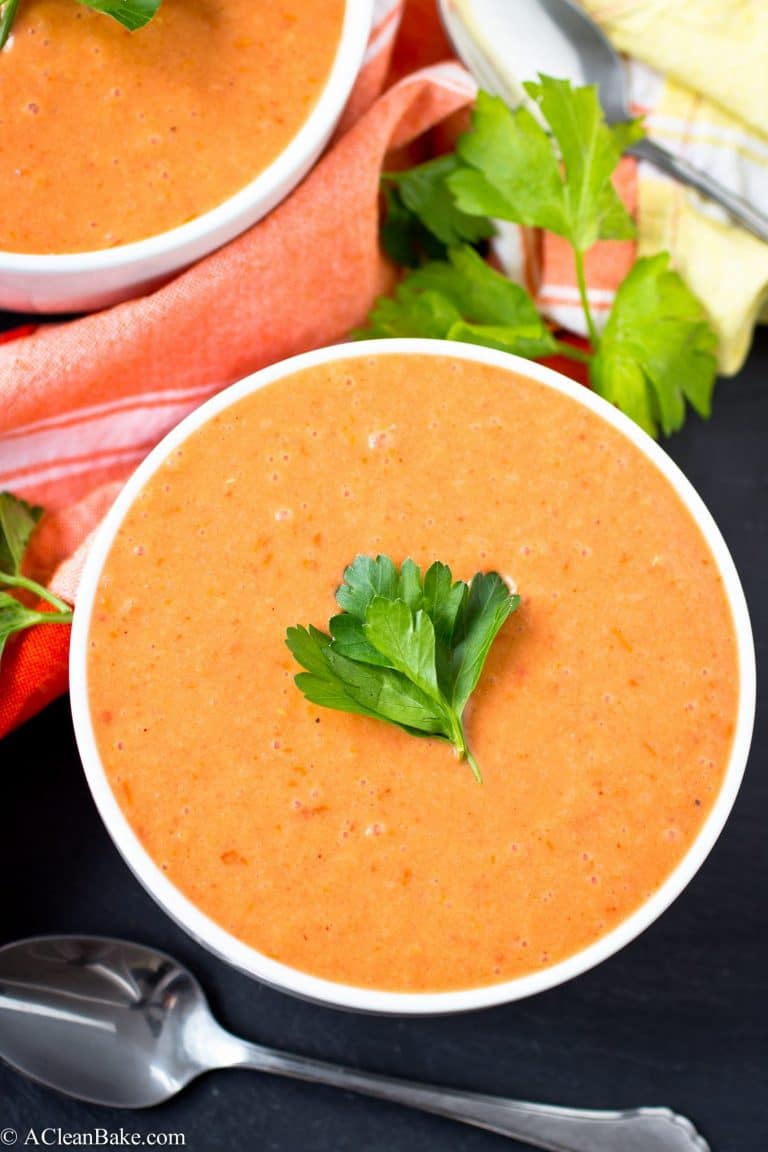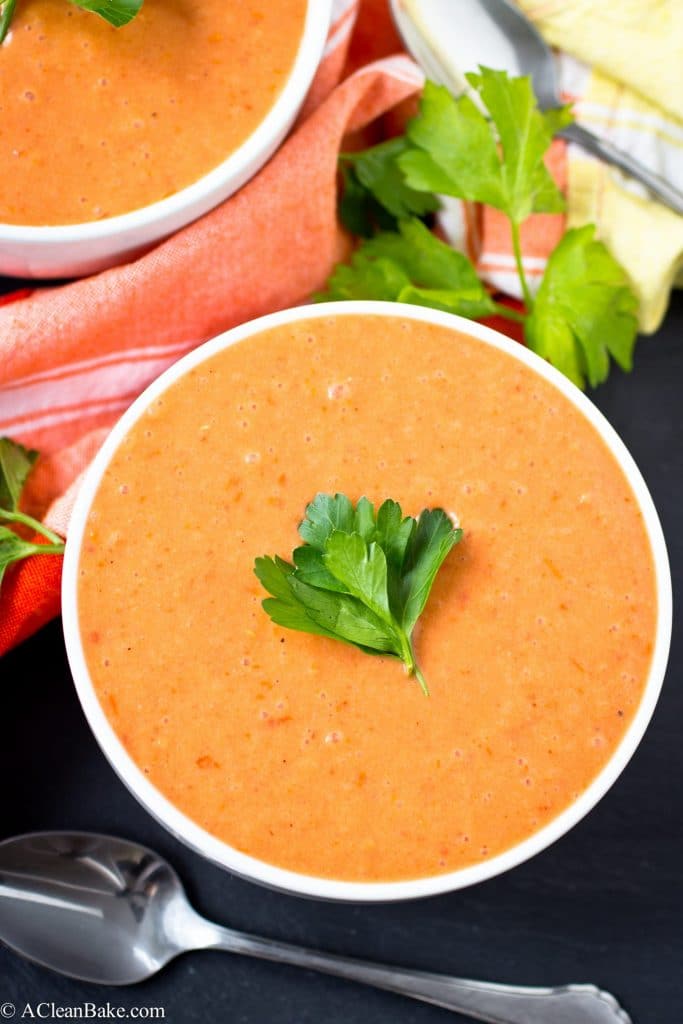 How to make homemade tomato soup
Go to your pantry. Gather:
1 large can

crushed tomatoes

(about 28 ounces, or 4-5 cups)
1 can unsweetened full fat coconut milk
Olive oil
A bunch of spices
That's really it. In the time since I originally posted this recipe, I've simplified the recipe to use onion powder instead of fresh onions, but if you prefer to go the fresh route, feel free. You can read the note at the end of the recipe for this variation.
Now, to make the soup, just heat up some olive oil, fry the spices (this helps unlock maximum flavor), and then add the contents of the two cans. Stir, simmer, serve.
OK, I think it's important to come clean about something here: this recipe is SO easy that you might think something is wrong. Or you're missing something. Or it can't possibly be healthy. You may have heard rumors to that effect…. (maybe?)
Lies! All lies!
This easy tomato soup recipe is, in fact, everything it promises to be. Dozens of happy and full readers, who have written to me or left comments telling me how often they make this in their homes, would tell you the same!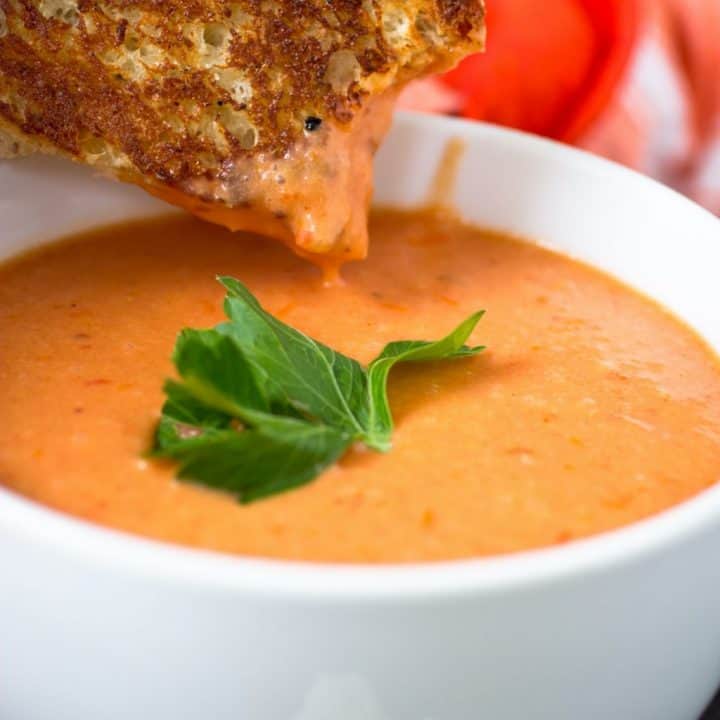 Homemade Creamy Tomato Soup
How to make homemade tomato soup! Who needs Campbell's when this super creamy homemade version is just as easy, twice as good, and much better for you?
Ingredients
2 Tablespoons extra virgin olive oil
1/2 teaspoon garlic powder
1/2 teaspoon red pepper flakes
1/2 teaspoon chili powder
1/4 teaspoon onion powder
4-5 cups tomato puree
15 ounces unsweetened full fat coconut milk, (1 3/4 cups)
1/8 teaspoon salt, or to taste
1/8 teaspoon freshly ground black pepper, or to taste
Instructions
Heat the oil in a stockpot.
Add all of the spices except the salt and pepper, and fry until fragrant.
Add the crushed tomatoes to the pot, stir to combine and bring to a simmer and cook 5 more minutes. This allows the flavors to mingle a little.
Stir in the coconut milk, salt, and pepper. Taste and adjust seasonings to your preference.
Serve immediately, or store in an airtight container in the fridge for up to five days or in the fridge for up to a month.
Notes
This recipe has been updated to make it even easier, and in doing so, the fresh onion was removed from the recipe. If you would like to use fresh onion instead of onion powder: sweat 1/2 cup thinly sliced sweet onion in the olive oil before adding the spices, tomatoes, and coconut milk, then use a stick blender to puree the soup until smooth before serving.
Nutrition Information:
Yield:

4
Serving Size:

1 bowl
Amount Per Serving:
Calories:

351
Saturated Fat:

21g
Sodium:

414mg
Carbohydrates:

21g
Fiber:

4g
Sugar:

10g
Protein:

6g
PS: don't forget your grilled cheese! In case you missed it, I have a
paleo sandwich bread
and a
low carb blender sandwich bread recipe
that might be perfect.
This post contains affiliate links, which means that if you click through and purchase a product, A Clean Bake receives a small commission. All proceeds go toward continuing to bring you delicious, healthy recipes every week, and this does not affect the price you pay. Thanks for supporting A Clean Bake!