Vegan Cream of Tomato Soup is a homemade, clean eating version of Campbell's cream of tomato soup that is gluten-free, dairy-free, vegan and paleo. Just tomatoes, coconut milk, herbs, and spices!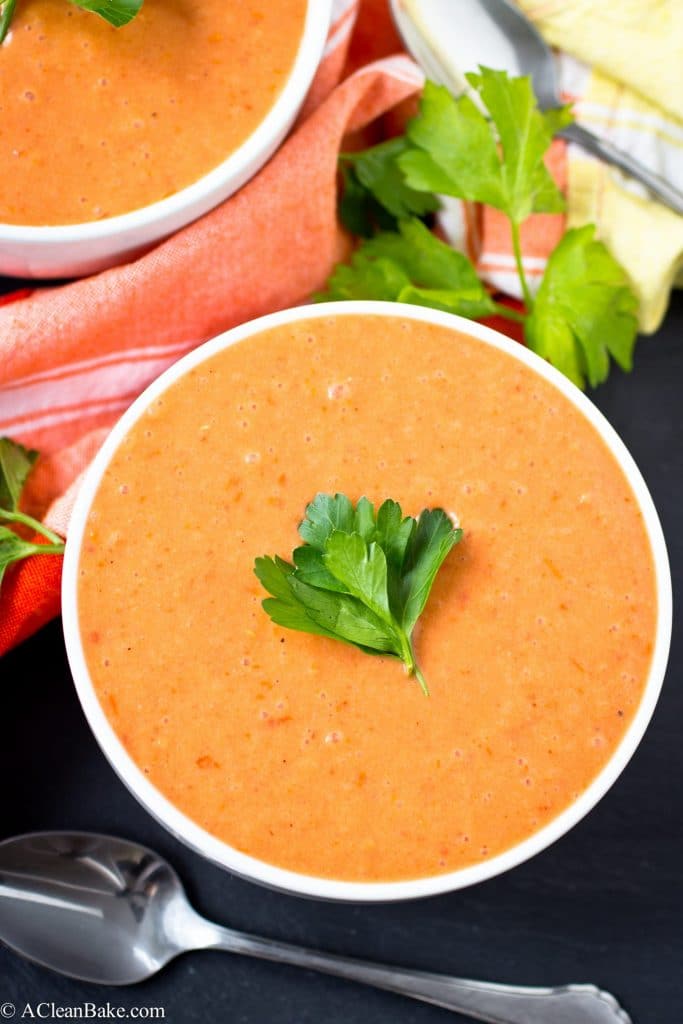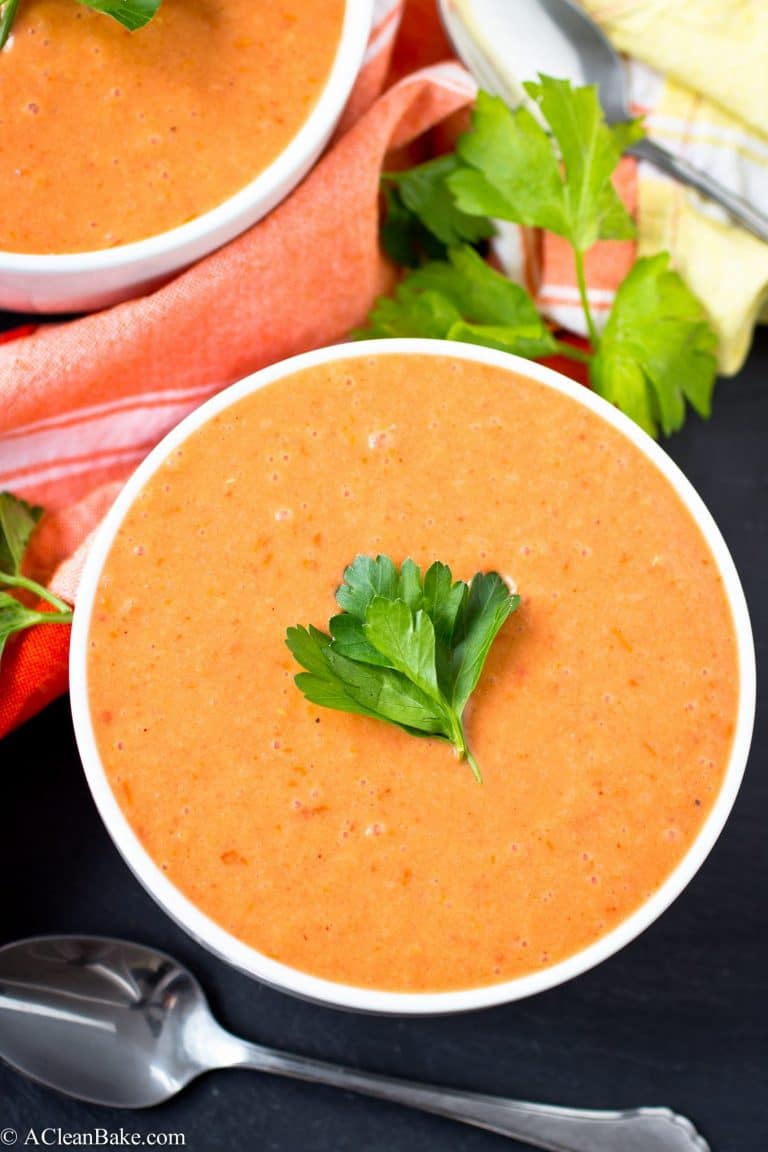 Is there any combination of foods more familiar and soothing than cream of tomato soup with grilled cheese (or grilled cheeze, for the vegan and lactose-intolerant crowd)?
As half of the country is probably still working on shoveling itself out of a snowdrift, there's no better time to re-enact that classic Campbell's commercial where the kid warms up with a steaming bowl of tomato soup. 
Only…let's face it, who wants to eat that shelf stable version with one million ingredients when a an all-natural and vegan cream of tomato soup made of only 3 ingredients (plus salt, pepper and spices) is only a blender whirl away?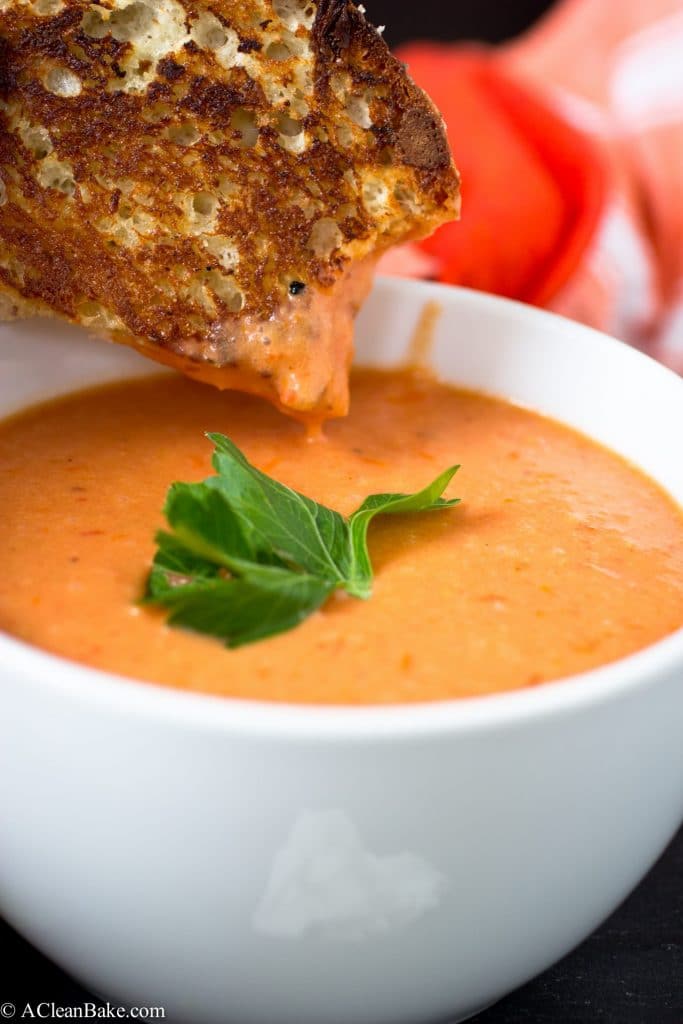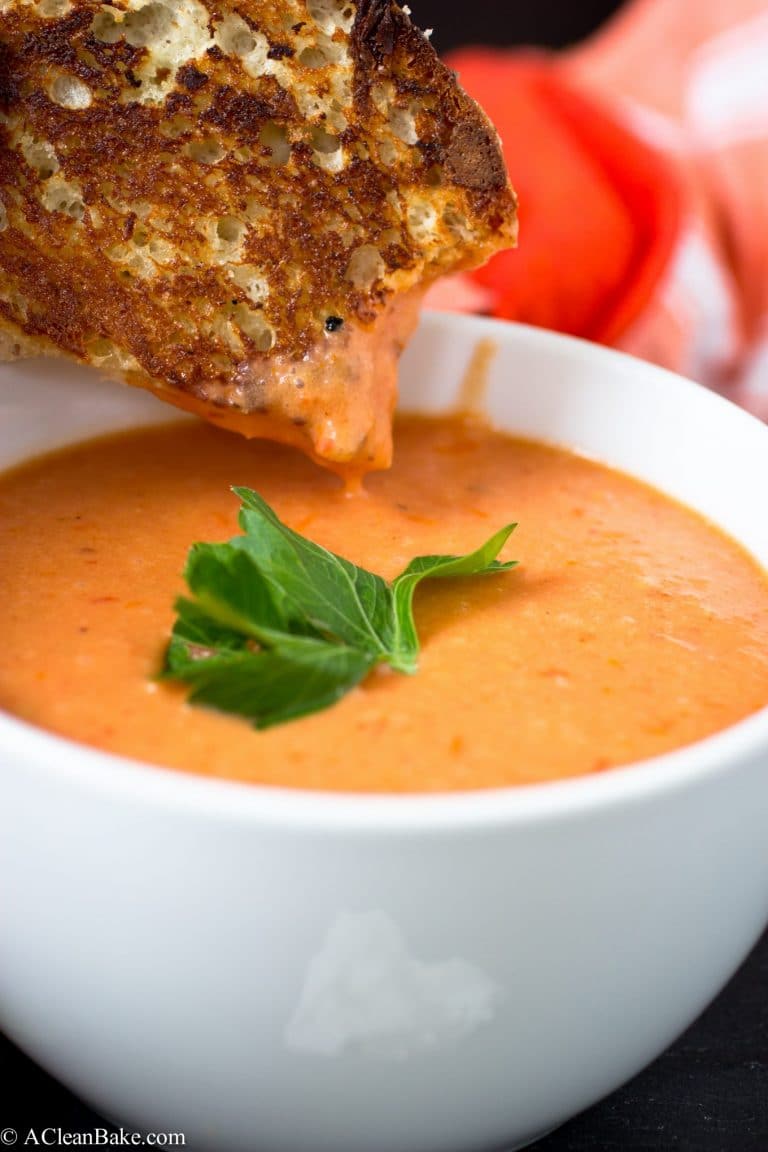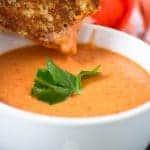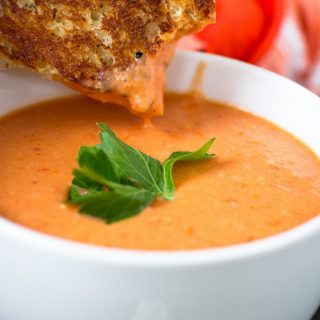 Vegan Cream of Tomato Soup
Instructions
In a large stockpot, head the oil and sauté the onions on medium high heat until translucent.

Add the spices and fry until fragrant.

Add the crushed tomatoes to the pot, stir to combine and bring to a simmer and cook 5 more minutes. This allows the flavors to mingle a little.

Turn off the heat and carefully pour the tomato mixture into the jar of a blender. Add the coconut milk, salt and pepper and blend on high/liquify setting until smooth. Taste and adjust spices to your preference.

Serve immediately, or store in an airtight container in the fridge for up to five days or in the fridge for up to a month.
Products from Amazon.com
‹
›
Nutrition Facts
Vegan Cream of Tomato Soup
Amount Per Serving
Calories 367 Calories from Fat 270
% Daily Value*
Total Fat 30g 46%
Saturated Fat 21g 105%
Cholesterol 0mg 0%
Sodium 416mg 17%
Potassium 1001mg 29%
Total Carbohydrates 24g 8%
Dietary Fiber 5g 20%
Sugars 12g
Protein 6g 12%
Vitamin A 13.4%
Vitamin C 31.9%
Calcium 11.1%
Iron 37.4%
* Percent Daily Values are based on a 2000 calorie diet.
This post contains affiliate links, which means that if you click through and purchase a product, A Clean Bake receives a small commission. All proceeds go toward continuing to bring you delicious, healthy recipes every week, and this does not affect the price you pay. Thanks for supporting A Clean Bake!