Where does inspiration come from?
Actually, let me rephrase that: Where does your inspiration come from?
Sometimes I can think of recipes faster than I can write them down. It just takes over my body and I become a machine. Last weekend alone, I made, photographed and wrote up 6 recipes (granted, it was a 3-day weekend, but still), but now I'm just … blank. 
Sometimes life takes it out of you, but by "it", I mean every ounce of energy including the positive, restful, rejuvenating energy that typically balances out a long and harried work week. All I have the inclination to do is watch Restaurant Startup marathons and eat chocolate (the latter, of course, being for doctor's orders, so I must obey). Meanwhile, my house is in shambles due to some relatively minor construction (Bahahaha. "Minor construction" is, for those of you lucky enough to not be homeowners, a ridiculous oxymoron). Everything is covered in a not-so-fine layer of plaster dust, Bryan and I are sleeping on a mattress in the living room, there is nearly nothing in the fridge, and somehow I was looking for a pair of boots and turned up…a mandoline. Slicer, not stringed instrument. Yeah, we're deep in chaos around here.
When all else fails, chop something. At least, that's what works for me. Small repetitive motions are meditative and if you start with something small, like chopping a veggie, and just let your mind clear, it usually makes room for something that inspires something else that, in turn, triggers something else and before long you have a meal/snack/treat that fulfills the exact craving that you didn't even know you had. And before long it all makes sense: the limited food in the fridge becomes a perfect meal, the mattress on the floor becomes a fun camping staycation and the house being turned upside down becomes an opportunity to finally clean out the bedroom closet. Only – can someone else come take care of that last one for me? 🙂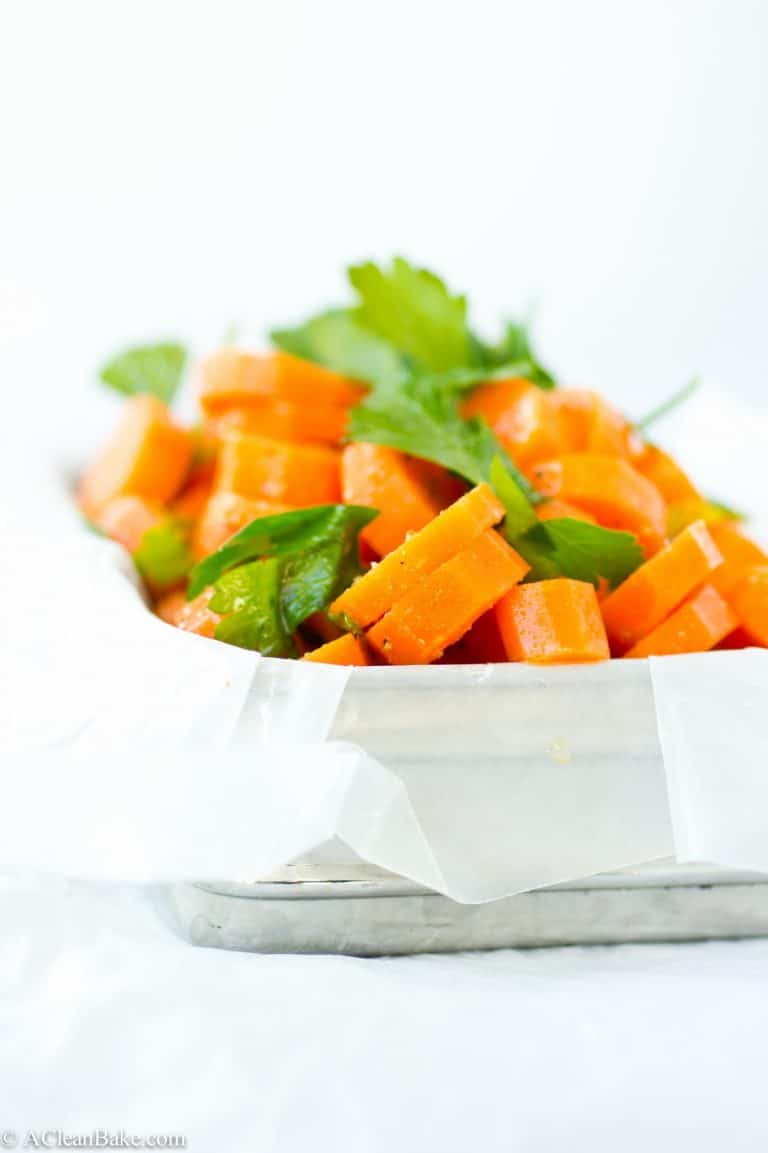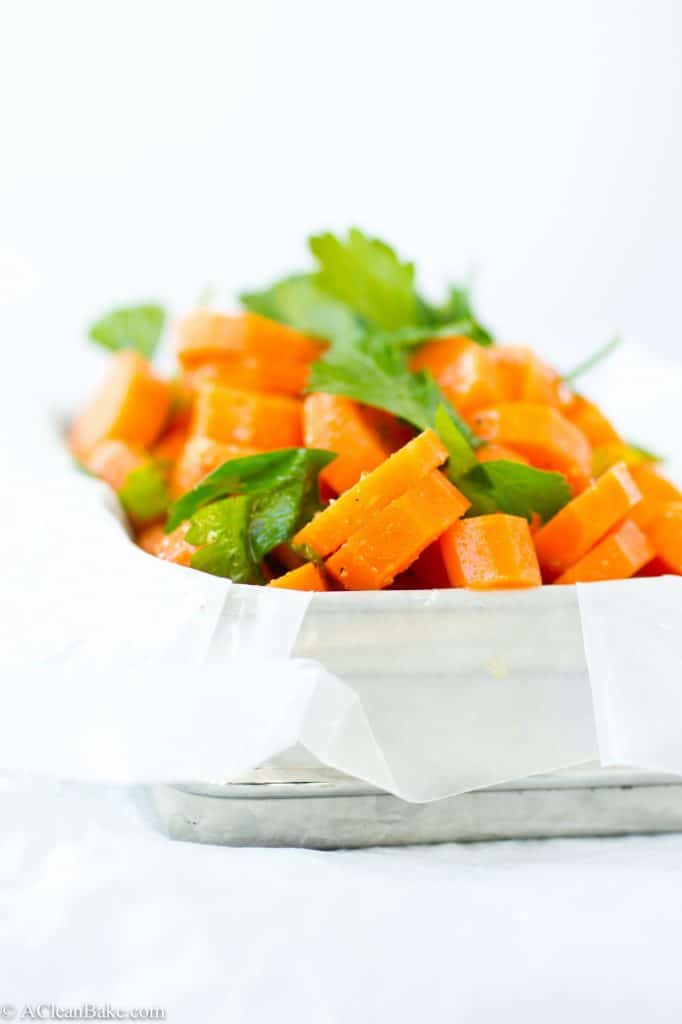 I had an elaborate post planned for today, but instead, let's chop  something, and see what happens.
These carrots rose out of the chaos [insert a phoenix-related simile here], but what they really offered was a barrier of calm. As our trusty contractor and his crew (all of whom we ADORE and who are incredibly respectful, friendly and as neat, quiet and invisible as they can possibly be) came in and out dragging drop cloths and hoisting shop vacs and bags of materials over their heads, it was a relief to turn my back to the construction highway passing behind me and ignore the gusts of frigid air from the open back door and lose myself in the smooth back-and-forth of the knife. An effective form of therapy in and of itself, and as though that's not enough, don't forget that it results in crunchy-savory-sweet-spicy snack that will transport you to out of the dreary winter and straight to sunny, vibrant northern Africa.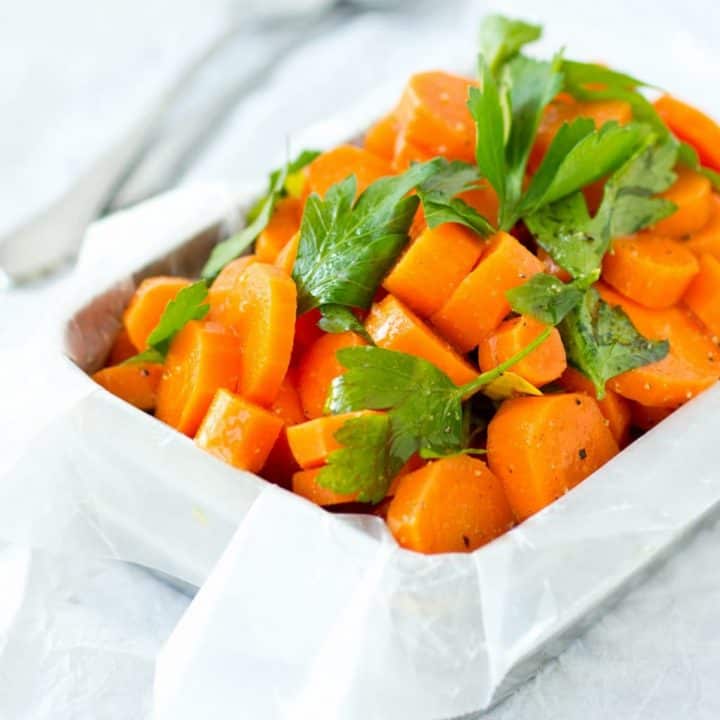 Easy Moroccan Spiced Carrots
Ingredients
1 lb carrots, peeled and ends discarded
2 Tablespoons extra virgin olive oil
1 Tablespoon fresh lemon juice
1/4 teaspoon garlic powder
3/4-1 teaspoon ras el hanout, see note
1/4 teaspoon coarse salt
1/4 teaspoon freshly ground pepper
Packed 1/2 cup fresh flat leaf parsley, chopped
Instructions
Steam the carrots for 2-3 minutes, until they are slightly cooked but still crunchy. Remove and immediately transfer to an ice bath (bowl of cold water with ice in it). This stops the cooking process so that the carrots remain crunchy and retain their color. Drain and transfer to a mixing bowl. Set aside.
Make the dressing by whisking together the remaining ingredients, except for the parsley. Adjust flavors to taste.
Toss the carrots with the parsley to combine, then add the dressing and toss again until everything is thoroughly mixed and all of the carrots are coated.
Notes
Ras el hanout is available at specialty stores and online, but if you can't find it, you can replace it with cumin, chili powder or a mixture of the two, to taste. The flavor will not be quite as complex, but it will still be good.