By popular demand (on Instagram), I tested 5 of the most popular non-toxic diapers on my baby to find out which one performs best. Here are the real life results!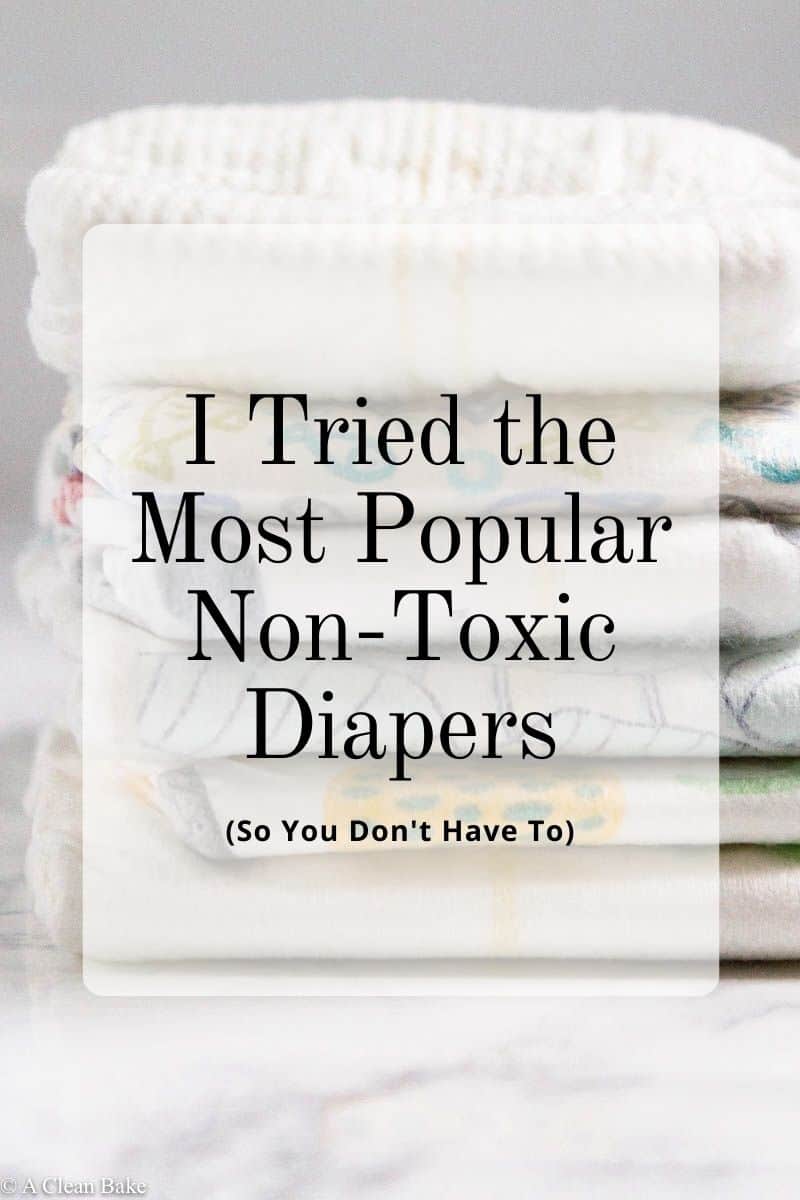 I've posted some out-there stuff on this site before but – I'll admit – this one takes the cake.
The genesis of this whole thing was definitely a "Me Problem", as they say.
I have been using Huggies for my younger son since shortly after he was born but, with every recent box, I have been more and more skeptical of them.
Each subsequent size felt flimsier, they leaked and blew out constantly, and I was paying a premium for the gentler "Special Delivery" line, which I discovered was nearly indistinguishable from the regular variety. I wanted to switch, but the options were overwhelming.
So, ~as one does~, I threw up a simple Instagram poll, which turned i nto the deepest and – dare I say? – shittiest (yes, pun intended) rabbit hole that I was not expecting.
It quickly spiraled into way too many options and too much information for my standard, hastily-assembled and typo-riddled Instagram Stories delivery method. So, I decided to put it in a post. Which brings us to today.
If you're not a parent of a kid in diapers, or not interested for any reason at all, just skip this post and go find something to eat instead!
Otherwise, let's dive right in…
Which is the best non-toxic disposable diaper?
Obviously, there is no right answer here. So much depends on your baby, their body type, your budget, and so much more. Not to mention that "non-toxic" is a nebulous term that could mean anything from eco-friendliness to plastic-free to fully compostable.
But when I asked on Instagram which diapers everyone was using, I got dozens of passionate responses advocating for their preferred brands, and almost all of the responses mentioned one of five brands, which narrowed down my test group to:
Pampers Pure
Hello Bello
Seventh Generation
Dyper
Coterie
I also got a couple of mentions of Honest Company diapers, which I did not include because of my previous unimpressive experiences with them. They felt cheap and rough, and leaked constantly, and judging from my DMs, this happens a lot.
I also did not include some of the more niche eco-friendly diapers (like Eco Boom and others), since I don't know anyone who personally recommended them. That doesn't mean they're not good diapers, but it wasn't worth testing a bunch of fringe brands.
I am including Huggies Special Delivery, mostly as sort of a baseline, since it is the brand I've been using until now. All of the diapers tested were size 4, except Huggies Special Delivery, which was a size 3 (I have tons on hand and don't want to buy more, since this is the one I am considering switching away from).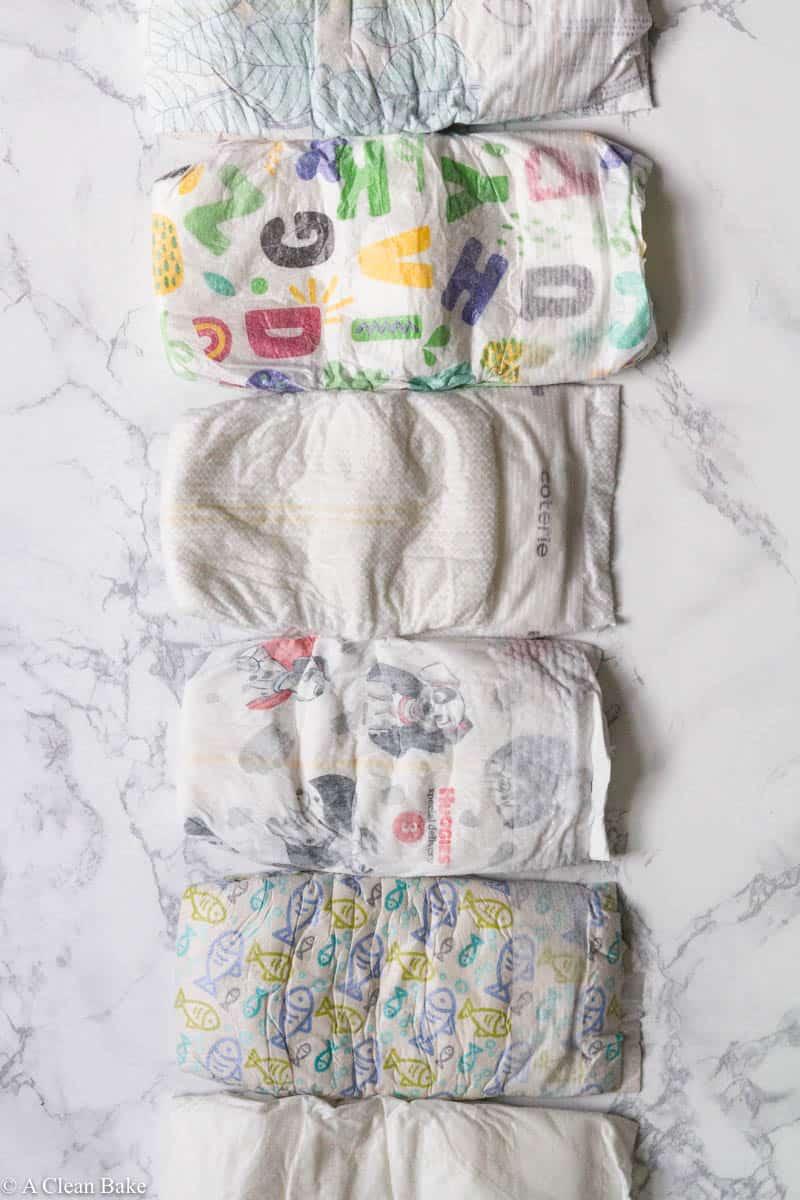 What these diapers have in common
All of the diapers in this competitive set shared a few criteria, so I won't mention any of these specifically for each diaper.
First, they all have similar non-toxic features and messaging. All of the diapers I tested are fragrance free, hypoallergenic, mostly plant-derived, and free of chlorine bleaching, lotions, parabens, and phthalates.
They all make outlandish promises about 12-hour absorbency and stuff like that, so I didn't take any of the marketing messaging into account when making comparisons.
They all have elastic around the leg with an outer seam for preventing and catching leaks, sturdy velcro tabs, and a lining that was free of anything that might irritate sensitive skin.
Most of them have a breathable outer layer and at least part of the absorbent core of each diaper is biodegradable (usually wood pulp or cotton).
All of these diapers are broadly accessible. They're all available for purchase somewhere online, and offer a subscription or auto-delivery option, either directly or through a third-party seller.
I tested each diaper for a minimum of 4 days.
I'll compare each based on fit, leak prevention, price, and how and where to buy them, as well as my own anecdotal experience with the diapers.

Huggies Special Delivery
This brand was my starting point. And, overall, they're not the worst out there, but I wouldn't recommend them.
They are adequately soft and fragrance-free, with a breathable outer layer. This diaper is primarily included in this competitive set because of its plant-based liner and (vague) allusion to being eco-friendly and chemical free. They are also FSC certified.
(I should note that Huggies has an even more direct competitor to the niche and startup diaper brands that are starting to steal their market share with chemical free and eco friendly diapers, called Huggies Pure and Natural. But they are impossible to find, so I'm not sure how much that counts. Special Delivery is included here instead of Pure and Natural because you can actually find Special Delivery.)
The Special Delivery line is advertised as their softest diaper "guaranteed". While I would strongly disagree that it's the softest diaper ever, it is one of the softer, more plush options that I tried.
I don't necessarily think the plushness was an advantage though. These diapers are so fat that it made it hard to snap my son's clothes at the crotch, and it was very difficult to see and feel when a diaper was actually full, which resulted in a lot of wasted diapers that we thought were full but were barely wet. This was a common problem with some of the other options I tested that bragged about how plush their diapers were.
My biggest issue with these was the fit and the number of blowouts and leaks I was dealing with. No one needs to do as much laundry as I have been doing. Typically, this is a sign to size up, but even when I did that, it didn't prevent the problem very well, or for long.
I am guessing that it is partly an issue of fit to my baby's shape and body type, since I also found myself pulling a little too hard at the tabs to close the diaper, even in the "right" size. Additionally, pulling that hard on the tabs has occasionally made the tabs rip off of the diaper, which is annoying and wasteful.
But issues like these make it harder to justify the premium price as, aside from marketing (the package, the designs on the diapers, etc), I absolutely cannot tell the difference between these and regular Huggies.
Plus, my most recent box came plastered with 101 Dalmatians characters which means 1) tons more dye than I'd like to see in a diaper and 2) at least part of the premium price is due to image licensing, not premium materials or better performance.
Ultimately, this brand falls short on fit, value, and the chemical-free promise.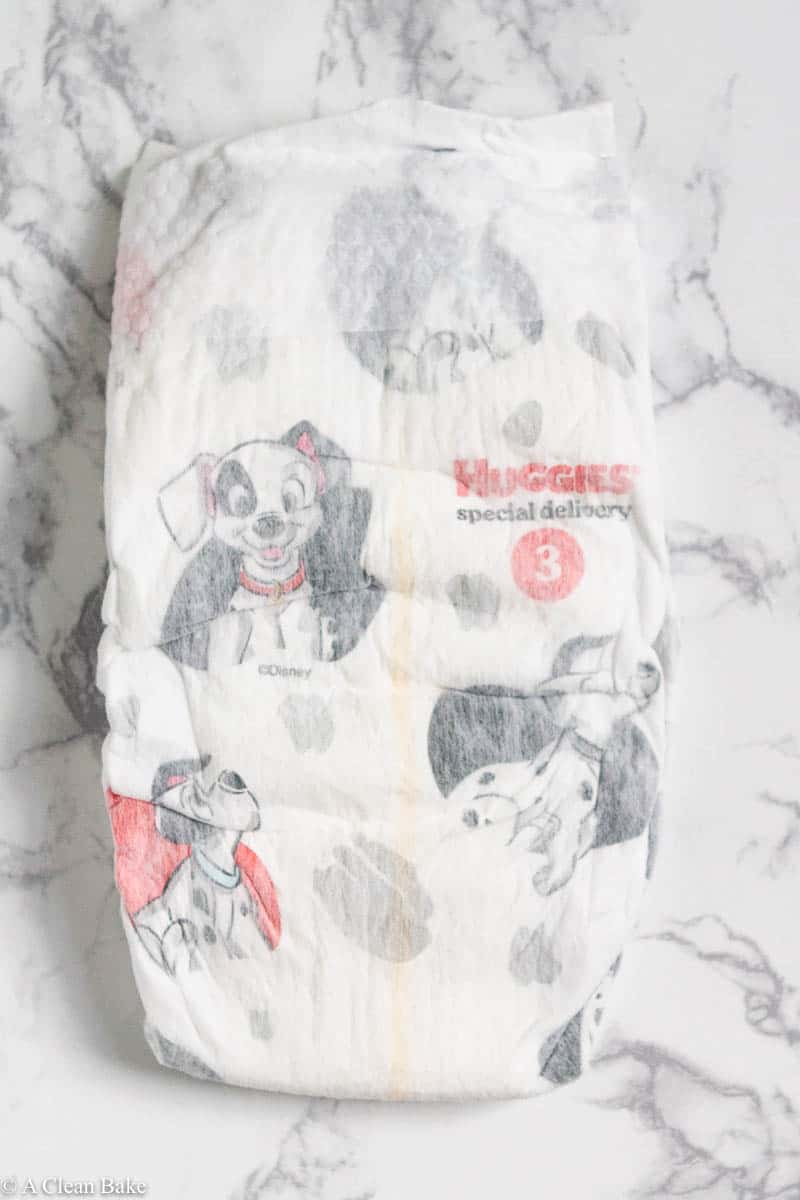 Do I recommend Huggies Special Delivery?
No.
There are better options on the market for any reason you need a non-toxic diaper. This line of diapers feels like a superficial attempt by Huggies to compete in this space, and they failed miserably by not meaningfully changing anything about their standard diaper, then charging twice as much for (seemingly) nothing more than marketing messages.
Pros:
Not a lot for me. They weren't terrible diapers, but I was so unimpressed with these that I started testing all these other brands!
Cons:
Plushness, which you'd think would be a pro, but it actually makes clothes hard to snap at the crotch, and caused lots of wasted diapers because they were so fluffy that I thought they were full before they were.
Absorbency was not great. We had frequent leaks and blowouts (in every size).
Price. This was one of the most expensive brands, per diaper, that I tested. They're also barely distinguishable from regular Huggies Snug & Dry (which I also tested, but am not including in this sample set), which are exactly half the price.
These may be "plant based" according to the packaging, but with just as much bulk, expensive licensed character images, and a lining that doesn't seem to do a great job wicking away moisture from the baby's skin, there is nothing meaningfully different about them from the regular Huggies. Nor is there anything they seem to do better than the other diapers I tried.
Diaper Height (crotch to top of back panel): 9″ (Size 3; all others are size 4)
Diaper Width (stretched tab to tab, with tabs closed): 14.5″
Exterior Wetness Indicator: Yes, in front and under the bottom
Price per Diaper: $0.68 with bulk discounts available
Where I buy: Amazon, where they are also available in larger-quantity packages, and Target. I did have a hard time finding them at the regular supermarket when my family was traveling, but I'm fairly certain you'll find that to be the issue with most of these non-toxic diaper brands.
Subscription option: Amazon Subscribe and Save

Pampers Pure
This is the brand I used when my older son was a baby. I really liked them, and they were frequently and enthusiastically recommended in my DMs over and over again.
Then, when my younger son was born, I started him in these, too. But I didn't like how they fit him (he has a very different body type than his brother), which is why we switched to Huggies in the first place.
Since this was by far the most frequently recommended brand, I decided to try them again. They fit ok, although there was a little tugging to get the tabs velcroed.
I liked how these diapers are taller and reach higher up the back than the Huggies, which made me feel like they would absorb more and prevent leaks better. He did have one poop blowout, but it wasn't nearly as bad as the Huggies blowouts.
The diaper felt thinner and less plush than the Huggies, so I was skeptical, since the Huggies leak almost every day overnight. The Pampers Pure did not. I think that the Pampers liner thickens as it absorbs moisture. I was shocked by how much it could absorb without getting really fat and restrictive.
These diapers also have a mesh liner over the absorbent layer which does a better job at keeping less moisture directly up against the skin. It does, however, leave a faint red pattern on the skin. As far as I can tell, it hasn't bothered either of my (incredibly sensitive-skinned) babies, but it is unsightly, and can look like a rash if you don't know to expect it.
They were very soft and the baby seemed comfortable in them with no scratchiness, discomfort, or restricted movement. There was one small area of the skin covered by the diaper where I noticed a very mild contact rash one day, but it didn't seem to bother him, it went away quickly, and I'm not 100% sure it was related to the diaper.
They are substantially more affordable than the Huggies, but performed better, in my experience.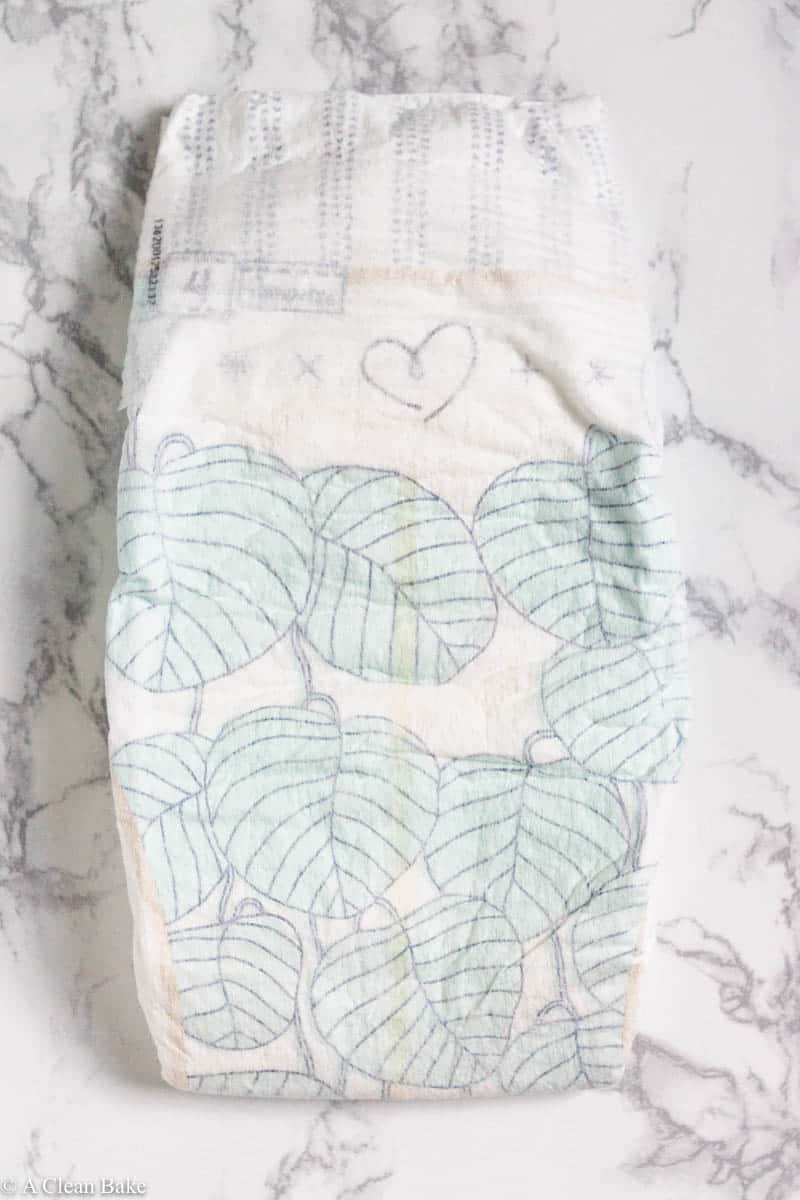 Do I recommend Pampers Pure?
Yes, especially if your baby's body type is longer and leaner, rather than roly-poly.
This is overall a very good non-toxic diaper option for both performance and value.
Pros:
Softness
Absorbency was medium. No leaks, but one blowout.
Mesh layer keeps moisture away from the skin.
Price is reasonable for a premium diaper
Simple, more subtle design (personal preference)
Cons:
Again, absorbency was medium. No leaks, but one blowout.
May not be the right shape for a sturdier, rounder body type.
Very minor contact rash but I'm not sure it was actually related to the diaper, since it only lasted a day. I tested these for about 5 days.
Diaper Height (crotch to top of back panel): 9.5″
Diaper Width (stretched tab to tab, with tabs closed): 16″
Exterior Wetness Indicator: Yes, in front. This was the only one that has a wetness indicator on the inner thighs too.
Price per Diaper: $0.52, with volume discounts available.
Where I buy: Amazon, where they are also available in larger-quantity packages, and Target.
Subscription option: Amazon Subscribe and Save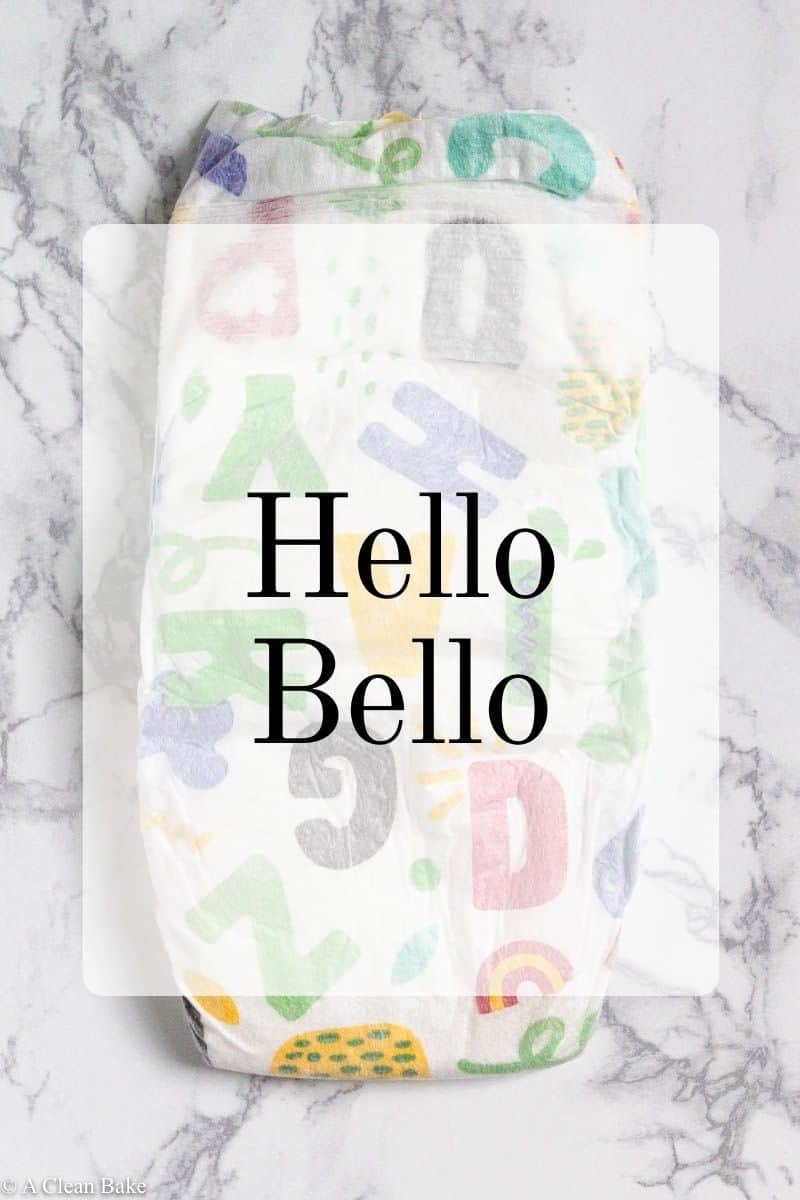 Hello Bello
I was pleasantly surprised by this brand, although perhaps I shouldn't have been, considering how many raving fans there were in my DMs when this first started.
They're so affordable and one of the least plush options in this group, so didn't have high expectations. They feel like a lower-end diaper, more than any other option in the bunch except maybe Seventh Generation. But they didn't perform like one.
The fit on these was fantastic. My baby is of the roly-poly-er body shape, so a lot of diapers, regardless of size, have to be pulled tight to get the velcro closed. Pulling that tight has resulted in a number of ripped and wasted Huggies, and a lot of annoyance and frustration. So I was relieved when these were much easier to close.
But what really impressed me about these diapers was the absorbency. Unlike a lot of the others, the insides feel like they are made from some kind of gel instead of a plus cotton lining. So when the lining absorbs liquid, it has a slightly different consistency, and is far less bulky when it is wet than Huggies, Coterie, or even Pampers.
The different lining material is – I assume – what makes the diaper thinner and less plush, but it does not affect absorbency. In fact, these were one of the most absorbent diapers I tried.
I stress tested them through a couple of tough days, including an overnight when he woke up in the middle of the night for a bottle (which is unusual; usually he sleeps through the night) but I didn't do an extra diaper change, and another day when we had family over and everyone thought someone else changed his diaper so he didn't get a dry diaper for about 6 hours. (oops.)
Not only were there no leaks or blowouts during the time I was using these diapers, there was also zero diaper rash or irritation. There was one morning when he slept late and his pajamas were slightly damp in one spot, so there may have been a leak if I'd waited longer to change him. But I'd say that is forgivable after over 13 hours (and three bottles) of wear, so I am not holding that against this diaper.
Plus, they were slimmer which made clothes easier to snap at the crotch without stretching the fabric too much or making the clothes too tight and restricting the baby's leg movement.
Finally, these also have cute, bold patterns, if you're into that! Personally, I am not, but a friend who uses these made a good point that this was a big advantage with her baby as he got older, since the fun designs made diaper changes less of a battle.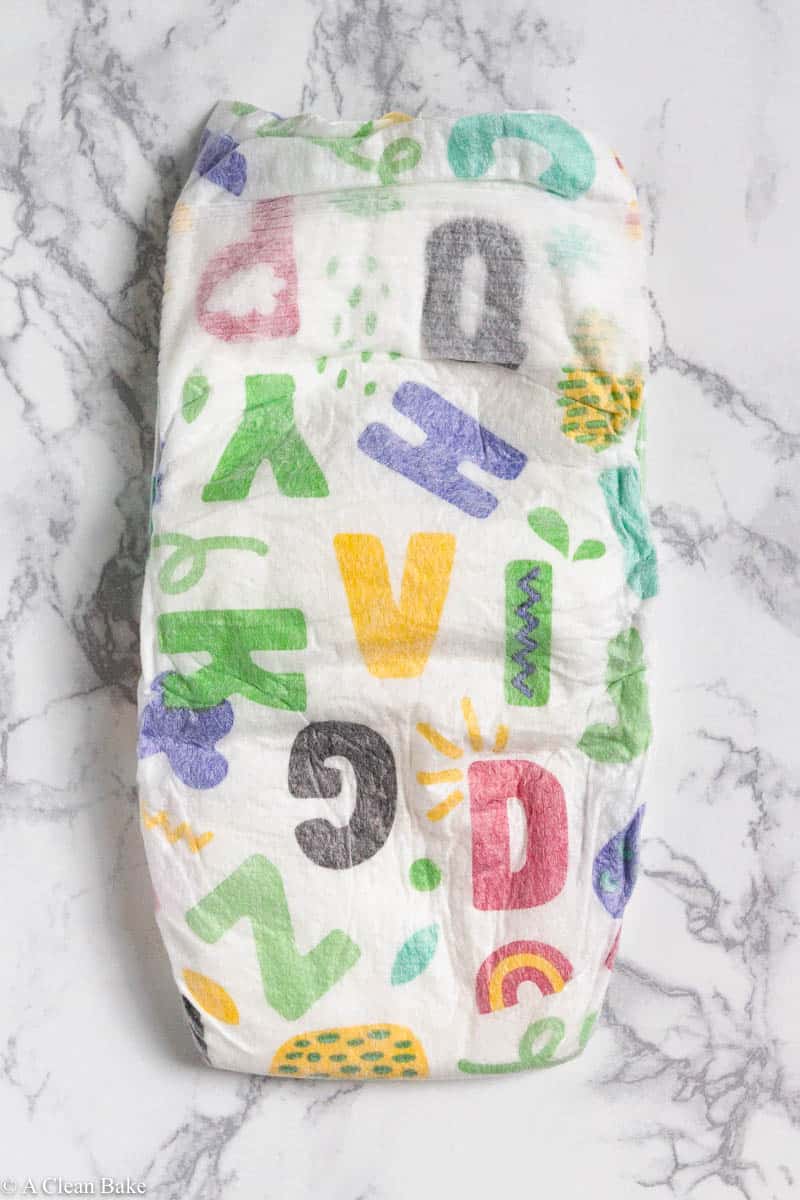 Do I recommend Hello Bello?
Yes. Without hesitation.
After my bad experience with Honest – which I unfairly but probably understandably associate with Hello Bello – I had very low expectations for this diaper.
Not only were my expectations exceeded, I felt that this diaper was one of the best I tested.
Pros:
The fit was just right for a rounder body type, but of course could be fastened tighter for a leaner baby.
The absorbency was great. We had no leaks (not counting the one almost-leak under the most harrowing conditions!) or blowouts.
The diaper was light and thin, and consistency of the lining material was more gel-like, which meant the diaper seemed to be able to absorb more without becoming as bulky as other diapers I tried. I thought less plush would be a drawback, but I think it ended up being an advantage.
These diapers are very affordable if you buy on the company's website, and they recently also started stocking these diapers at Walmart. Do not buy them on Amazon.
Cons:
Accessibility is the main drawback of these diapers. You can only get them at a reasonable price on the Hello Bello website or at Walmart. I didn't want to wait for the company to ship and don't have a Walmart near me, so I ordered from Amazon for the faster and free shipping – but ended up paying more than twice as much per diaper.
The diaper is very slightly less soft than most of the other options I tried, but not so much that it would deter me from using them. And without repeatedly rubbing the lining of these diapers, one after another, against my cheek, I never would have noticed the difference. (The things I do for science!)
People LOVE the designs on these diapers, and I agree that they're pretty cute. But my personal preference is a more subtle design or just plain material, so the big bold designs were a con for me.
Diaper Height (crotch to top of back panel): 9.75″
Diaper Width (stretched tab to tab, with tabs closed): 15.25″
Exterior Wetness Indicator: No
Price Per Diaper: $0.97 per diaper on Amazon, where I got them. However, if you purchase on their site or at Walmart, the price is closer to $0.40/diaper (not including any shipping costs).
Where I buy: I got these from Amazon, but I would not recommend it since you pay a ridiculous premium for the privilege. Instead, order from the Hello Bello website, or purchase at Walmart. I've also seen some really generous discounts on first time orders through the Hello Bello website.
Subscription: You can subscribe for monthly deliveries on the Hello Bello Website

Dyper
I wanted to like Dyper. I really did. They're an eco-conscious brand of sustainable bamboo diapers, with a composting option. That was a big draw for me and my Middle Class Mom Guilt About The Planet™️.
However, as I looked into the composting option more, I realized how unrealistic it is: you have to use their service, which (for an additional cost) only picks up every two weeks. I don't know about you, but I don't have a hermetically-sealed room in my house where I can store 2 weeks of smelly, rotting diapers between pickups, without stinking up my house.
I have one diaper pail in my house, and it fills up far more quickly than once every 2 weeks. So while I appreciate this option in theory, there is no way it is realistic – at least for my family.
It ended up being a moot point, though, once I tried the diapers. I don't know what shape babies these are meant for, but mine is not that shape.
The diapers are super long (tall), which leaves a huge amount of extra material at the crotch. And the absorbent part of the diaper is rectangular, rather than contouring to the baby's stomach and waist. There is a huge gap on either side which is covered only by the tab.
The one thing I really liked about the fit and construction was the stretchy ruching at the top of the back panel so the diaper doesn't gap in the back. But the second I put the first diaper on, it was clear these could be much more prone to leaks and blowouts, and that they definitely didn't fit my kid's body type properly – and sure enough, there was a blowout during the time we used these, because the diaper wasn't snug enough around my son's legs.
Overall, though, these diapers were very absorbent, and didn't leak the way I expected them to. Usually diapers get super saturated and leak out of the sides. These never did.
In at least two cases (one day, one overnight), the diaper leaked moisture through the front. I don't mean up and out the top of the front panel, but moisture actually oozed through the diaper until the outside surface of the diaper felt damp to the touch. It was gross, and a huge turnoff.
They didn't seem to wick moisture away from the skin as well as some of the other options I tried, but it wasn't so bad that he got a diaper rash or anything. So, I guess there's that?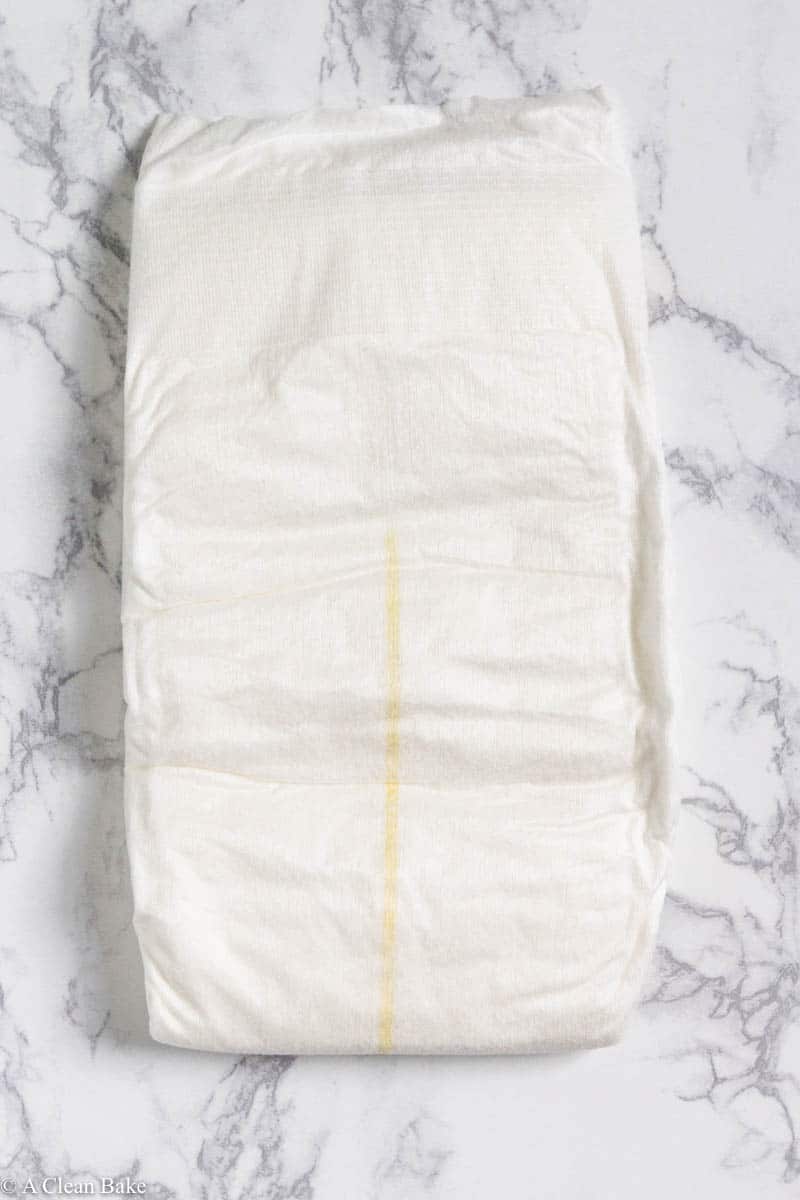 Do I recommend Dyper?
No. There are better fitting and better performing diapers out there, for less cost.
Pros:
Absorbency
If you want to feel better about using disposable diapers and have a sanitary method for storing 2 weeks of dirty diapers, they are the only brand I've seen with a composting program.
Cons:
I can only describe the cut and fit of the diaper as bizarre. Maybe if you have a very long, skinny baby, these would fit better. I have an average length, chunky baby and they fit his body horribly.
One of the more expensive options in this group.
One of the biggest differentiators of this brand is their composting option, which is great in theory, but it seems like it is very unrealistic to maintain in reality.
Diaper Height (crotch to top of back panel): 9.5″
Diaper Width (stretched tab to tab, with tabs closed): 15.25″
Exterior Wetness Indicator: Yes, all the way around
Price Per Diaper: $0.71 on Amazon, and $0.75 + shipping on their site for the equivalent package. Lower prices are available for bulk and subscription orders.
Where I buy: I got these from Amazon, which I chose because they were lower cost and free shipping for the smallest package, vs. ordering directly from Dyper.
Subscription: You can subscribe for monthly deliveries on the Dyper Website or use Amazon Subscribe and Save.
Coterie
The Coterie website brags about their "reimagined" diaper, but honestly, I didn't see that.
They were VERY soft and I liked the simpler design – white with no designs. They looked and felt elegant and luxurious.
But reimagined? Hardly. They were just very fancy diapers. Unfortunately, their ultra-premium materials didn't contribute to better performance.
Coterie's entire premium brand promise is about softness – a promise which I think they kept – and unmatched absorbency – which I don't think they kept. These diapers leaked a lot.
For as luxurious as the super soft, plush core feels, I don't think it is very functional. It doesn't seem to do a good job distributing the moisture throughout the liner. I mean, granted, I have a boy who sleeps on his stomach so a lot of the liquid is going to be distributed in a very small area in the front, but some of the other diapers' liner material did a better job at redistributing the liquid to drier parts of the lining than others. This was not one of the better ones.
We had more than one overnight leak while I was testing these, and two blowouts. In fact, other than Huggies (which, again, I hated), these were the worst-performing diaper I tested.
For an ultra-premium diaper whose entire (supposed) reason for existing is absorbency, this was incredibly disappointing.
The diaper did a reasonably good job wicking moisture away from the skin, but I did notice on a few mornings that the saturated liner started to dissolve and left little pieces of cotton on his skin. It wasn't harmful or irritating, but it was suspicious that these super-premium, super expensive diapers disintegrated after heavy use.
The other downside to the super-plush, luxurious diaper is that it was so thick that it was hard to get the baby's clothes on when it was even a little bit wet, and it felt completely full at the first sign of moisture.
So we wasted a number of diapers by changing them when they didn't need to be changed, and wasted a lot of time checking diapers that were nowhere near full but felt, from the outside, like they were soaked through because they were so thick. There is a moisture indicator that runs down the length of the diaper, but it's not very helpful when your baby is dressed. And I deeply resent having to undo and redo all those crotch snaps more than is strictly necessary!
According to the internet, these diapers run small, but I found them to be true to size – not generous, but not small either. I thought they fit really well, actually. They were snug in all the right places, with good quality elastic around the legs to catch leaks. But they weren't too tight or uncomfortable. In fact, they fit so well that I anticipate he'll be grown out of this size in a few weeks, while other brands will still fit fine.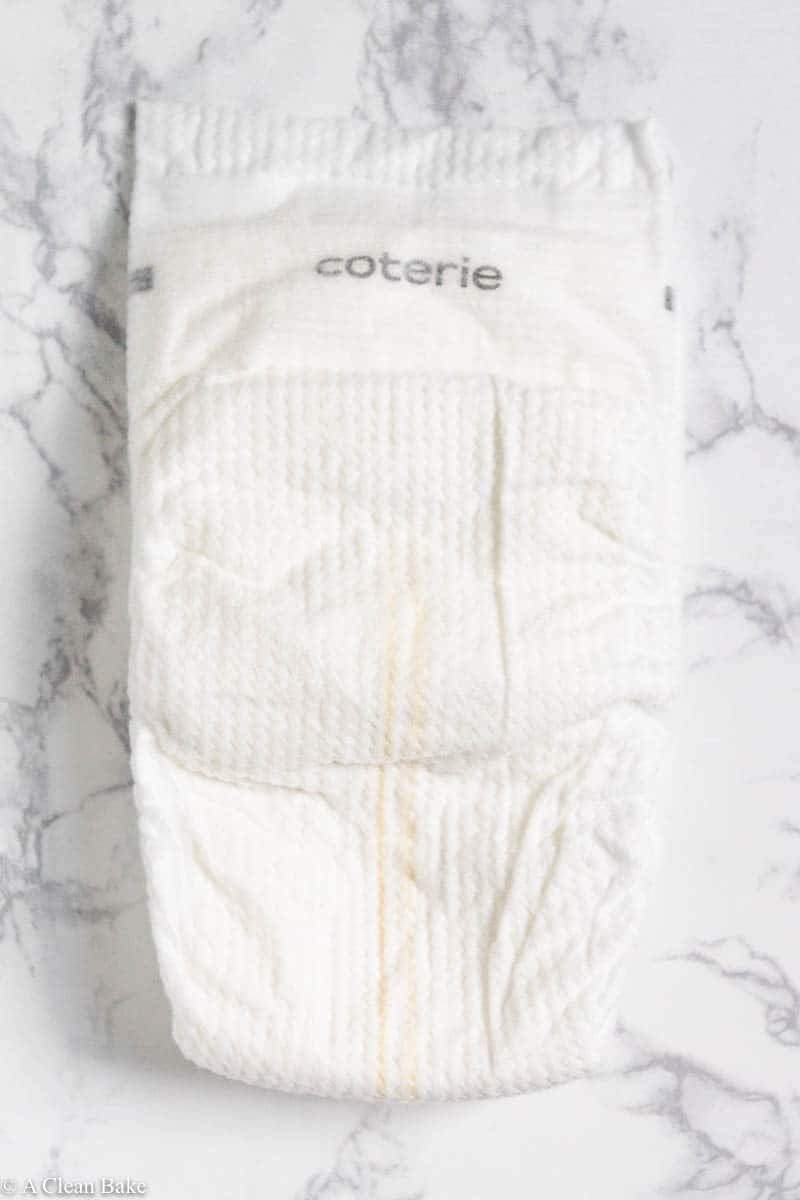 Would I recommend these?
No. I really, really wanted to love these diapers after several friends gave me glowing reviews, but I was really disappointed in their performance.
What is the point of paying up to 75% more per diaper, if they don't perform as well or better than the other brands? It seems like you're paying for the luxury materials and the marketing, which is stupid for something you cover with clothes and use to catch poop. The idea of a status diaper is absurd to be.
There were other diapers that worked better for us, at a lower price. I'm more than willing to pay for premium products but, in the end, the only job of a diaper is to catch the baby's waste. I'd rather get the cheaper option that does the job better, and spend the difference on something else.
Pros:
Fit well. Snug in all the right places to contain leaks and prevent gaping, without being too tight.
They feel amazing. They're plush, soft, and luxurious, like a pillow for your baby's bottom.
They did a good job preventing blowouts.
I thought these were the most attractive diapers, since I don't like bold designs. But that's just my personal preference.
Cons:
The plushness, while great in theory, makes for a really bulky feel when on (especially under clothes), and difficulty distinguishing between a slightly wet and totally saturated diaper.
They weren't great at preventing leaks, especially not for a diaper that brags about superior absorbency.
Given the cost difference between these and the others, I was expecting a much better performance compared to other options. It just wasn't a substantially better-performing diaper.
As I've alluded to, these were more expensive than any other option, except Dyper (which I don't recommend anyway, so the comparison is moot). As much as I liked the look and feel of these, the performance doesn't merit the price to me.
Diaper Height (crotch to top of back panel): 9.5″
Diaper Width (stretched tab to tab, with tabs closed): 16″
Exterior Wetness Indicator: Yes, runs all the way around the diaper, which I really liked.
Price Per Diaper: $0.71/diaper if you buy the smaller pack. $0.56-$0.63 per diaper when you buy a month's supply subscription through the Coterie website.
Where I buy: Whole Foods.
Subscription: You can subscribe for monthly deliveries on the Coterie website.
Seventh Generation
I threw these diapers into the experiment at the last minute, after a friend recommended them for her baby's "fluffy butt". I love that term so much, by the way.
I, too, have a baby with a fluffy butt, and as you can probably tell from the number of times I've mentioned fit, this was a major issue with some of the other brands.
A first glance, Seventh Generation leaves something to be desired when compared to the other brands I tested. It looks and feels flimsier than the other diapers: thinner, rougher, weaker-feeling tabs, and even the designs are somewhat underwhelming and the color is a just too off-white to be attractive. They were a true underdog.
But ultimately, a diaper's job is to catch waste and prevent leaks and blowouts, and that was where Seventh Generation diapers really shined. They were incredibly absorbent and secure.
I unintentionally put these diapers through probably the toughest challenges and we did not have one single leak. There was the night when my baby drank 4 bottles (20 oz of milk!!!) between bedtime and the next diaper change in the morning, which was about 14 hours. Not a drop outside of the diaper.
There was also the unfortunate afternoon where we were headed out to a local event and, well, my husband and I both thought that the other had changed the diaper before we left. And also thought that we'd replenished the extras in the diaper bag. But…surprise! Neither of us did either of those things. So the poor kid sat in a wet and dirty diaper for 4 hours – and was completely unbothered. I don't even think he noticed. These diapers almost seemed too good to be true.
The lining of these is the sort of material that becomes gelatinous when wet. Think Gak, not a saturated cotton ball. That seems to be one of the main takeaways from this experiment, because the only two diapers I was really impressed with (this one and Hello Bello) had that sort of lining.
These also did the best job in this competitive set of distributing the liquid throughout the diaper so that it all got absorbed and wicked away from the skin, rather than one third of the lining being soaked through and leaking, while the rest stayed bone dry.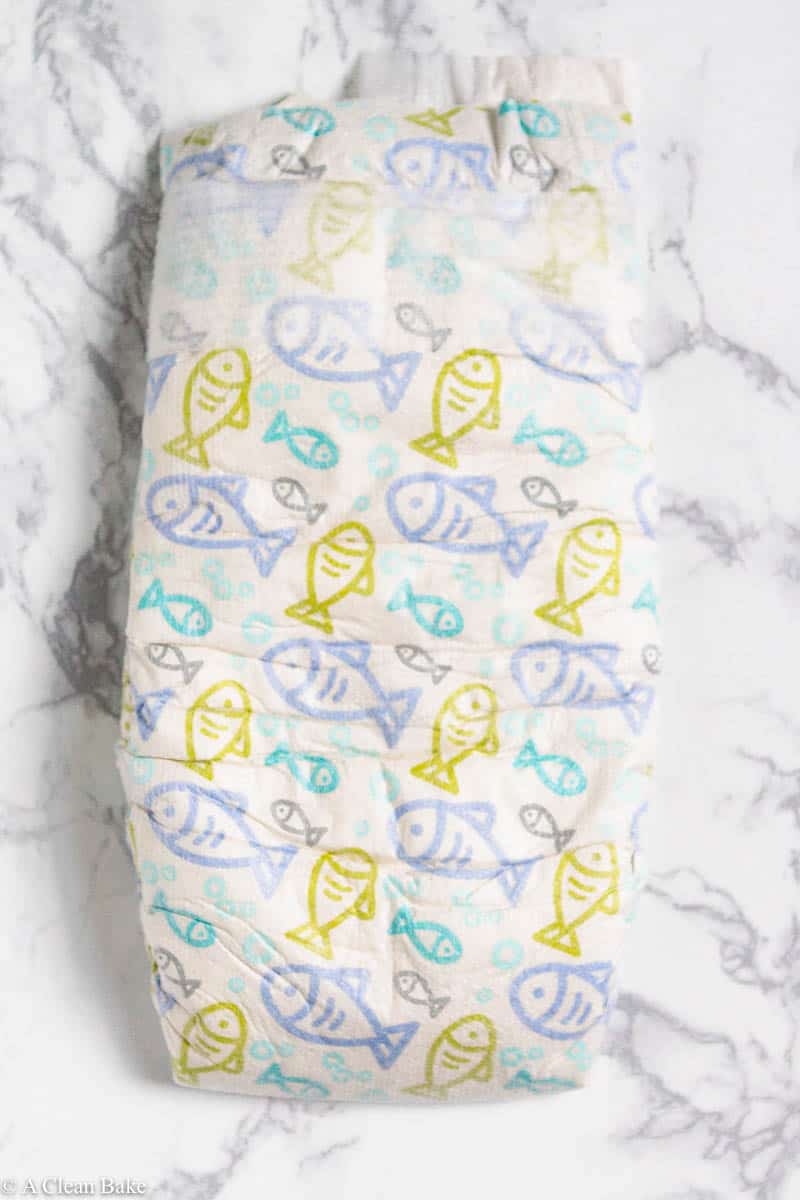 Would I recommend these?
Without hesitation, yes. These were the best-performing diapers I tested.
Pros:
Generous fit with extra elastic on the tabs to prevent ripping when stretched.
Absorbency was unmatched.
Widely available.
Great price and value.
Cons:
They're not the most attractive. Their designs are kind of lame, but they'll be covered with clothes most of the time anyway, so who cares?
They're not the softest diapers I tested, but the bar was extremely high. They seemed comfortable enough; they're not rough or irritating.
Diaper Height (crotch to top of back panel): 10″
Diaper Width (stretched tab to tab, with tabs closed): 19.25″
Exterior Wetness Indicator: None
Price Per Diaper: $0.41/diaper, with no bulk discounts
Where I buy: I got these on Amazon. But these are also the easiest brand to find in brick and mortar stores. They are usually carried alongside conventional Pampers or Huggies at Grocery stores, drugstores, and big box stores.
Subscription: Amazon Subscribe & Save is the easies subscription option for these (plus, it affords you an additional discount)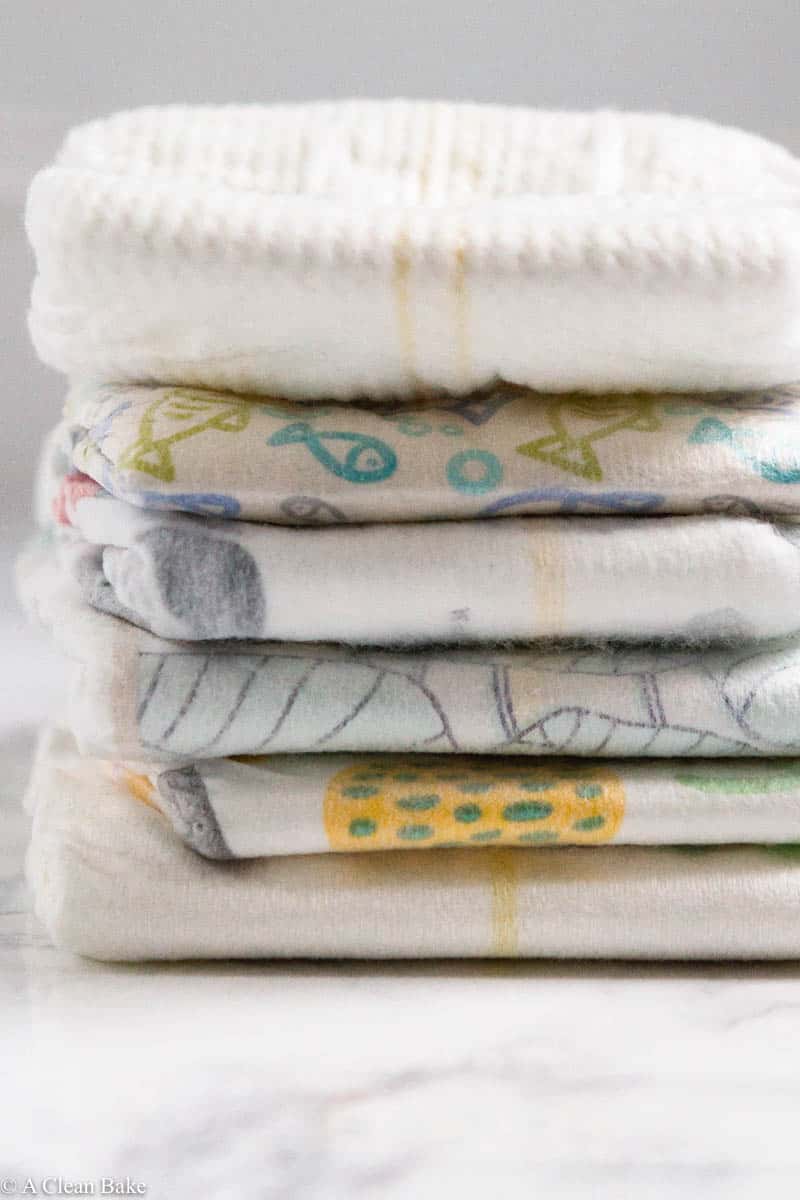 So Which is the Best Non-Toxic Diaper?
I'm sure you can find someone who will swear up and down that each one of the diapers I tested is the absolute best non-toxic diaper. And that may be true for them.
But as I compared these diapers, I discovered that the two most important factors are fit and liner material. Any diaper that doesn't tick both boxes will never be the best.
Fit is somewhat subjective, of course. My first son was long and lean as a baby, and needed a narrower diaper with a skinnier waist. My second son is the opposite. He is built like a tank and needs a little more generous sizing in the legs, hips, and waist.
But any good quality diaper should be able to mostly compensate for these differences, so even if you don't find the ideal fit for your baby's body type, you'll still have relatively few leaks or blowouts (and, of course, no diaper prevents them 100% of the time).
The real measure of the best diaper, I found, is construction: assuming all diapers are reasonably soft and chemical-free, it really comes down to the strength of the velcro and the absorbency of the lining. You don't want the velcro tabs to rip (and none have in this experiment, but I have had that happen in the past, especially on the Huggies), and you don't want the diaper to leak or blow out.
The biggest lesson I learned was that the difference in the lining material makes a HUGE difference. A gel-like lining is thinner when dry, and makes the diaper feel, frankly, flimsier and cheaper. But it performs far better than the plush, cotton-y lining of the more luxurious-feeling diapers.
That's why Hello Bello and Seventh Generation came out on top. Hello Bello was slightly softer and more attractive, while Seventh Generation had a more generous fit, extra stretchy tabs, and not a single leak despite really being put through its paces. Both are cut to fit all body types pretty well, and are very affordable at $0.40-$0.41/diaper before subscription discounts.
I think Pamper's Pure and Coterie are very nice diapers, but work better on a baby with a slimmer or leaner body type.
I do not recommend Dyper or Huggies Special Delivery.
Which diapers do you prefer?
Let me know in the comments!