So, I had a baby. And for all the warnings I got about adjusting from one kid to two, the development I was least prepared for was colic and reflux. But here we are, 8 months later, with a baby who is finally more comfortable – but only because I have eliminated dairy and soy from my diet (he's also on medication).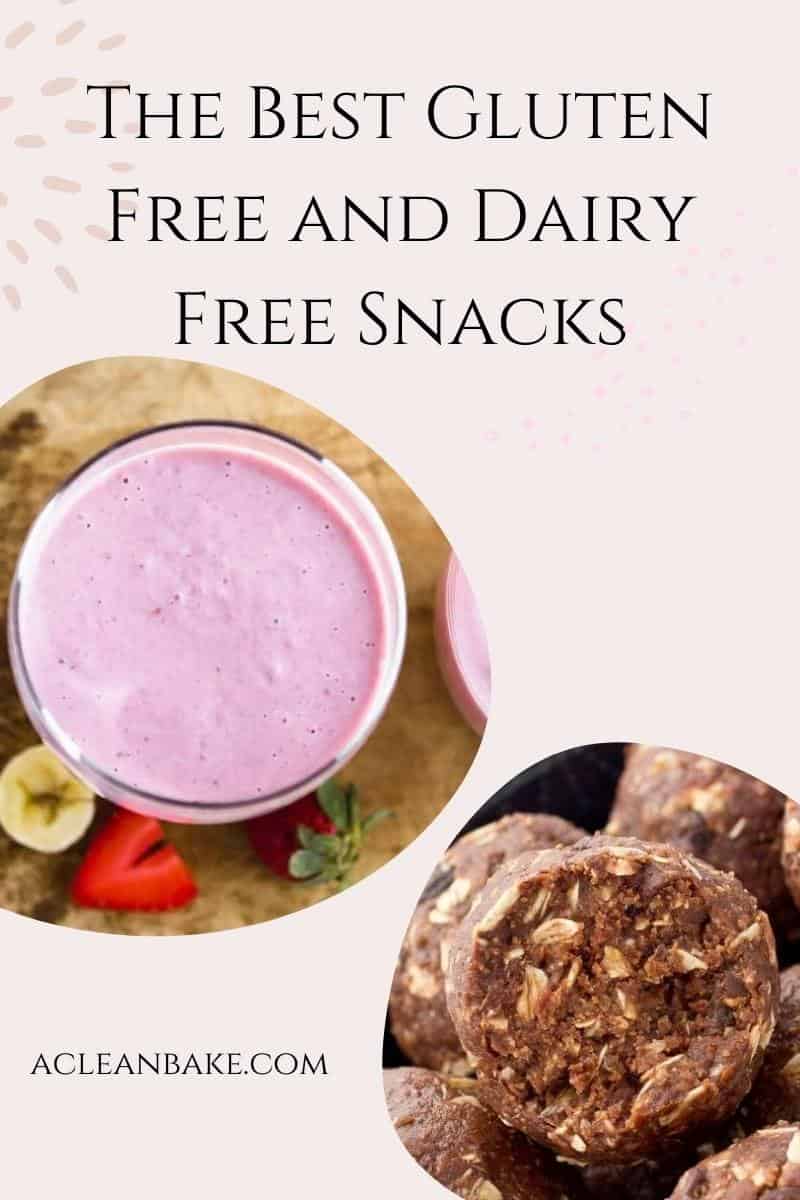 While elimination diets are nothing new to me, dairy is the one common allergen I don't have a lot of experience working around. I cut it out very briefly, around the time I started A Clean Bake, but have been happily cohabitating with cheese ever since.
So it's been a learning curve, to say the least!
Tired nursing moms know that nothing is more important than snacks, and that's why I've put together this list of the gluten free, soy free, and dairy free snacks (many of them are vegan too!) that I have been relying on to get me through the day lately.
The Best Crispy and Crunchy Gluten Free and Dairy Free Snacks
Let's start with the snackiest type of snack: the crispy/crunchy category. Nothing is more satisfying when you need a nosh than feeling that satisfying crunch between your teeth! Thankfully there are tons of options in this category that are naturally dairy free and allergy friendly. Here are a few.
Chickpea puffs or sweet potato chips
Both have a little more nutrition and staying power than regular corn or white potato-based snacks! My older son loves vegan white cheddar Hippeas, and I really enjoy Jackson's Honest sweet potato chips. Spudsy makes a variety of sweet potato snacks that are also fantastic. My favorite are Cinnamon Churro Sweet Potato Puffs.
There are tons of other options out there; check Imperfect Foods, Whole Foods, Amazon, Thrive Market, or the "natural foods" aisle of major supermarkets.
Plantain chips with Dip
Plantain chips are thicker and pleasantly tough, delivering an extra-satisfying crunch. Dip them in your favorite non-dairy accompaniment, but may I recommend Bitchin' Sauce? I especially like the thick and satisfyingly crunchy Barnana brand of plantain chips; Trader Joe's has a thinner, crispier offering.
A sliced apple with nut butter or seed butter
This one is a classic for a reason. Peanut butter, almond butter, and walnut butter are my favorites to pair with a crisp fresh apple, but apples also pair really well with tahini, chocolate hummus, or sunflower seed butter if you need to stay nut free.
Fresh Fruit
Fresh fruit of any kind is a perfect go-to snack in a pinch. In addition to apples, I am really enjoying Asian pears, Cara Cara oranges, and grapes right now. Fruit's high water and fiber content fills you up until your next meal or more substantial snack. I keep my fruit drawer stocked with a diverse selection from Imperfect Foods.
Fresh Veggies with Tzatziki
You can't go wrong with fresh veggies for a crunchy snack, but I find them sort of underwhelming on their own. Lately, my favorite dip for raw carrots, celery, cucumbers, and bell peppers (or whatever your veggie of choice) has been tzatziki, but for the longest time, I couldn't find a dairy-free version that doesn't taste like, well, chalkdust.
After several Instagram followers recommended the dairy alternatives at Trader Joe's, I took the plunge and tried their dairy-free/vegan tzatziki and it was a game changer. I'll bet you won't even know you're not eating the real thing!
Trail mix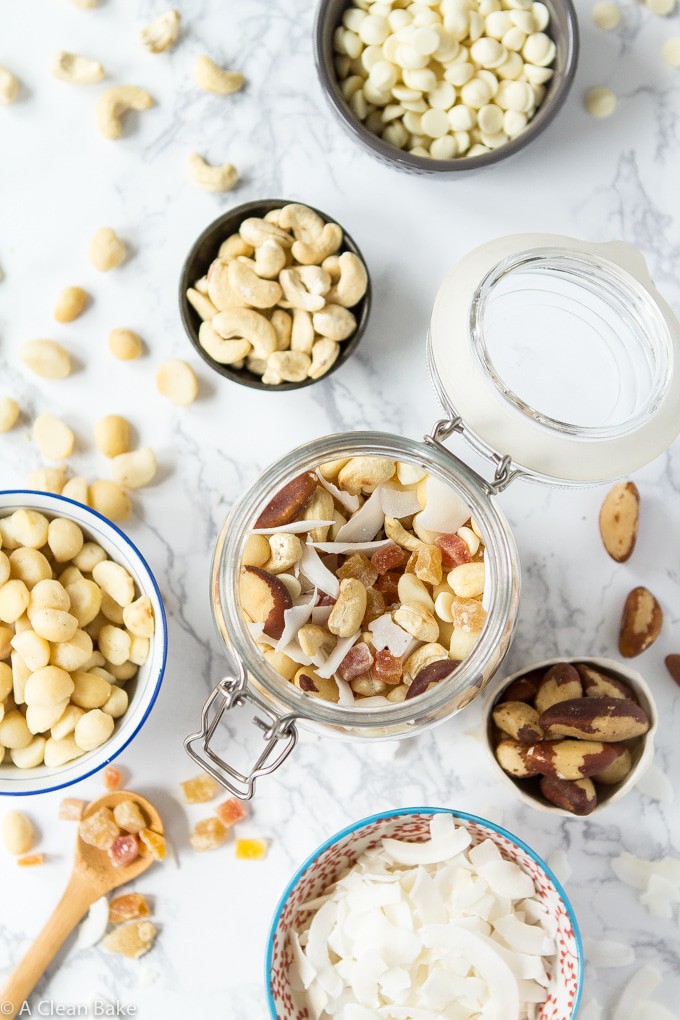 This is my absolute favorite snack lately, especially in the middle of the night when I have to wake up to feed the baby. Trail mix is a great snack that is easy to make, travels well, and fills you up with healthy fats and protein from the nuts and seeds.
I generally make my own with whatever nuts, seeds, and dried fruit I have on hand. If I have dairy-free chocolate chips, I add those too. Costco also sells some really good gluten free, dairy free, and vegan trail mix!
The Best Chewy Gluten Free and Dairy Free Snacks
Granola Bars
MadeGood is one of my new favorite brands. They make top-8 allergen free snacks with whole food ingredients that genuinely taste good. My 5 year old loves their products, even though he has no food allergies.
MadeGood granola bars have a pleasantly toothsome texture, and taste great. We also love their granola minis for an on-the-go snack. I buy this variety pack for, well, some variety!
Protein bars
As far as dairy-free snack bar options are concerned, my pick is always RxBar.
They're not only grain free and made with real-food ingredients and no added sugar, they also contain non-dairy protein, which is tough to find in a widely available protein bar (most are made with soy or whey protein).
If you're considering other options, don't forget to read the ingredient list thoroughly to confirm that the source of protein is not derived from dairy.
Dried Fruit
Sometimes you just need to chomp on something sweet! Dried cranberries, cherries, apples and pears offer the pleasantly sweet chewiness to quench that craving. I've been really loving RIND brand dried fruit lately, especially their Straw-Perry one.
Jerky
On the other hand, if your craving is for savory chewiness, jerky is the way to go. These days, there are so many options in addition to beef, like chicken and fish jerky, and brands like Chomps and Epic offer options free of added sugar and preservatives.
Cereal Bars
I don't know if the typical cereal bars, like Nutragrain – are dairy free because I know they aren't gluten free so I don't bother.
Instead, I rely on allergy friendly brands like Enjoy Life and Simple Mills bars, which have the same soft and chewy cereal bar consistency. The dark chocolate chip almond Simple Mills bars are my favorite, but there are plenty of other flavors in their and Enjoy Life's product lines!
The Best Sweet Gluten Free and Dairy Free Snacks
Chocolate Chip Cookies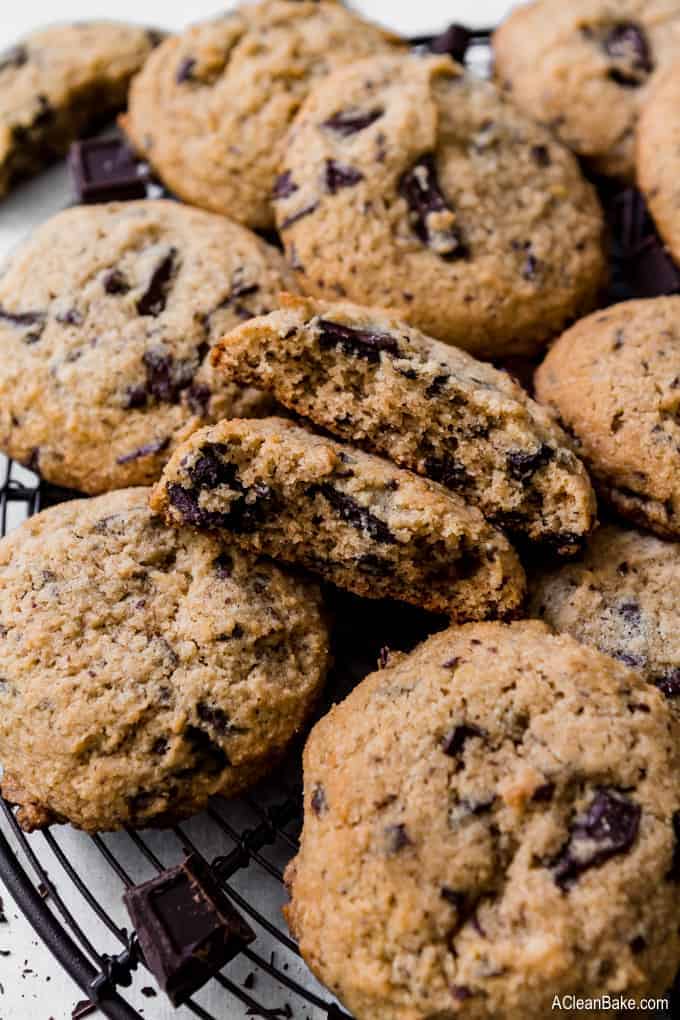 Of course this tops the list of sweet snacks. Who doesn't crave a good chocolate chip cookies now and then? If you want to make yours from scratch, my paleo chocolate chip cookies are a no-fail recipe. If you want to go the semi-homemade route, I have been using, and loving Otto's Cookie mix. I add dairy free chocolate chips and chopped walnuts, but you can actually convert it into any flavor cookie you want. My current favorite is Equal Exchange brand chocolate chips, which I get on Amazon or from Imperfect Foods (affiliate link).
If you don't feel like spending time in the kitchen, Simple Mills cookies are always gluten, grain, and dairy-free. Their crispy chocolate chippers taste like Famous Amos, and their soft baked variety tastes just like I remember Chips Ahoy. (Their soft-baked snickerdoodles are also super addictive!) I'm not being incentivized to say this – Simple mills really is my favorite allergy friendly brand, which is why I keep mentioning them!
Banana Muffins
I make these gluten free and paleo banana muffins about once a week and eat them pretty constantly for breakfast and snacks. They're super fast and easy to throw together and freeze really well. Oh and the recipe can easily be doubled!
Smoothies
I prefer a chocolate peanut butter concoction but if you're more of a fruit person, maybe this strawberry-banana combo will be more your speed?
Regardless of the recipe, I replace the yogurt with avocado for a creamy, filling, non-dairy base, and typically add egg white protein powder or collagen peptides for extra protein and staying power!
Dairy-Free Yogurt
For a quick nosh, this 2-ingredient combo is my go-to. Lots of dairy-free yogurts are super high in sugar so I make my own flavored yogurt by combining plain yogurt (Cocojune brand is my preference) with naturally-sweetened jam or applesauce.
You can use your slow cooker to make a huge batch of no-sugar-added applesauce using only apples (and you know what I'm going to say: yes, it freezes well!), or use this recipe for a very quick homemade jam using chia as a thickener instead of pectin!
Diary free yogurt also tastes great topped with granola. I make my own to ensure it only contains the ingredients I tolerate and enjoy! Here are a couple of my faves: chocolate grain free granola, classic grain free granola, and apple pie grain free granola – all of which are grain free, and the first two are customizable to be low carb and keto, if you need them to be.
Chia Pudding
Healthy and easy to make, you can customize it to your preference, or you can skip straight to this peanut butter and jelly version. You won't be sorry!
Energy bites
Energy bites are super easy to make, and there are tons of recipes on Pinterest or Google for any flavor your heart desires.
This chocolate peanut butter energy bite is a simple, crowd pleasing recipe, but it contains oats.
If you don't tolerate oats well, you can try this one (make sure you are using non-whey based protein powder and dairy free chocolate chips; Enjoy Life makes mini chocolate chips that are dairy free and work great in this recipe) or this one.
Most of them contain oats as the base, though, make your own or enjoy life has a variety of flavors that are free of the top 8 food allergy foods.
Dairy Free Ice Cream or Fruit Juice Popsicles
OK so this is not an everyday snack, admittedly, but once in awhile, you just have to go for it.
After trying lots of brands, I am confident in recommending So Delicious coconut based ice cream. They also make soymilk-based and cashew milk based frozen desserts, but I haven't tried them yet because I am too obsessed with the mint chocolate chip flavor.
No matter what brand you choose, make sure the container is labeled dairy free, not lactose free. Lactose free ice creams are usually made with a milk base, plus an added enzyme that breaks down the lactose. This will only work for you if you're lactose-intolerant, but not if you're sensitive to the protein in dairy (CMPA/CMPI).
If you're not sure what kinds of packaged ice cream are safe, you can reach for sorbet or popsicles instead. Sorbet and popsicles like Good Pop brand are fruit-based, and don't contain any kind of milk (dairy or otherwise), so it is naturally compatible with a dairy free diet.
There are also lots of great recipes online for any flavor and dairy-free base you prefer, if you want to go the DIY route.
The Best Salty and Savory Gluten Free and Dairy Free Snacks
Crackers
My absolute favorite gluten free cracker – made by Simple Mills – is also grain free, dairy free, and plant based (except the cheese flavor!).
These crackers come in a variety of flavors, and they're all made from nutritious ingredients and is, frankly, at the core of most of my savory snacking and quick meals. Simple Mills Grain Free sea salt crackers are sold in regular size boxes at the grocery store, jumbo boxes at Costco (which is the most cost effective way to purchase them), and little snack pack pouches are great to throw in the diaper bag or lunch boxes. I get the snack packs at Whole Foods or on Amazon.
Hummus and Veggies or Pretzels
Hummus is such a versatile and healthy snack base, and I am excited to be able to tolerate small portions of chickpeas again, so that I can occasionally include this one in my snacking rotation.
I love to pair it with fresh, crunchy veggies like carrots, cucumbers, celery, and grape tomatoes. And – because raw veggies can only be so satisfying – I alternate my dipping with gluten free pretzels too.
Snyder's of Hanover makes my favorite gluten free pretzel sticks for the job, and Fit Joy makes my favorite grain free twists (they also make grain free sticks).
Tortilla Chips or Plaintain Chips and Guacamole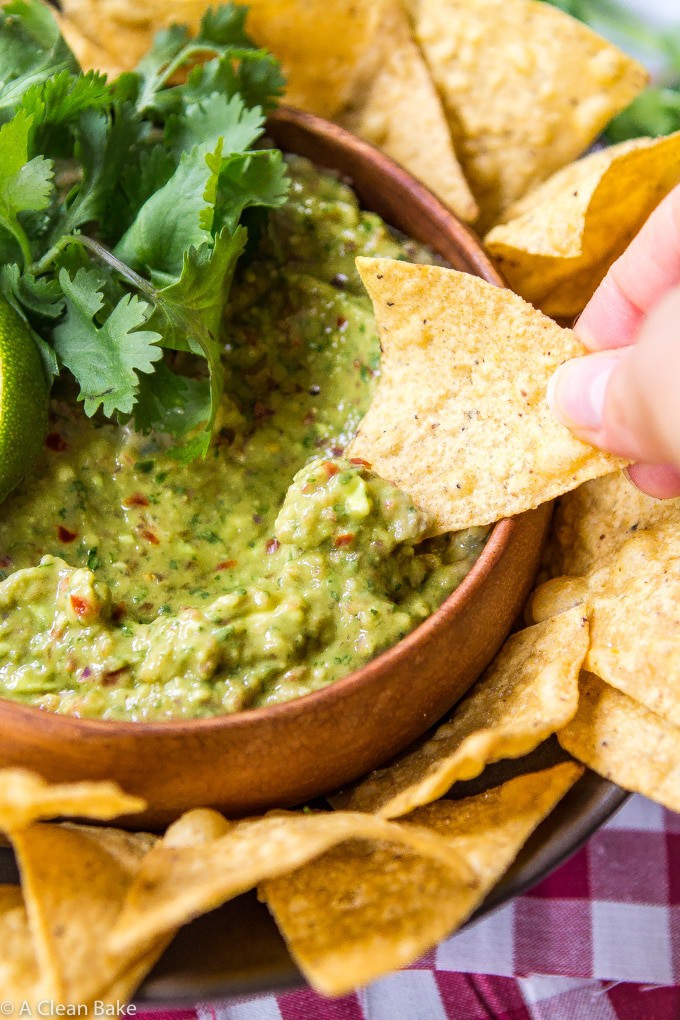 It's alarming that I didn't lead with this, because who doesn't love chips and guac? I am partial to Whole Foods's thin tortilla chips but if you want a grain free chip, I recommend the Siete Foods brand.
As for the guac, you can certainly buy it but the store bought ones are always too silky for me. Guacamole should have some texture, and luckily, it is fast and easy to make at home.
Popcorn
While, yes, you could certainly make your own, I like cheese popcorn the best, and nutritional yeast just doesn't do the job. I like this vegan cheeze popcorn from the snack brand Lesser Evil.


Nothing Turns Your Day Around like a Healthy Snack
Even if you're not a nursing mom, we all have our reasons for being hangry. I have been surprised by how challenging it is to find quick and healthy snacks that don't contain dairy. But that's why I compiled this list! So I could have lots of ideas and inspiration at my fingertips, even in my (ongoing) sleep deprived brain fog.
I hope this helps you, too!