Chocolate sunflower seed butter is a nut-free version of Nutella! This homemade version is completely sugar free, gluten free and dairy free.
Peanut butter and jelly should probably watch its back because as far as Best Nut/Seed Butter and Fruit Flavor combinations go, chocolate sunflower seed butter and apple slices give it a serious run for its money. Does that sentence not make much sense to you? Ok, no problem: just go make a batch of this sunflower seed butter, then dip an apple slice in it and come back.
I'll wait.
…
…
…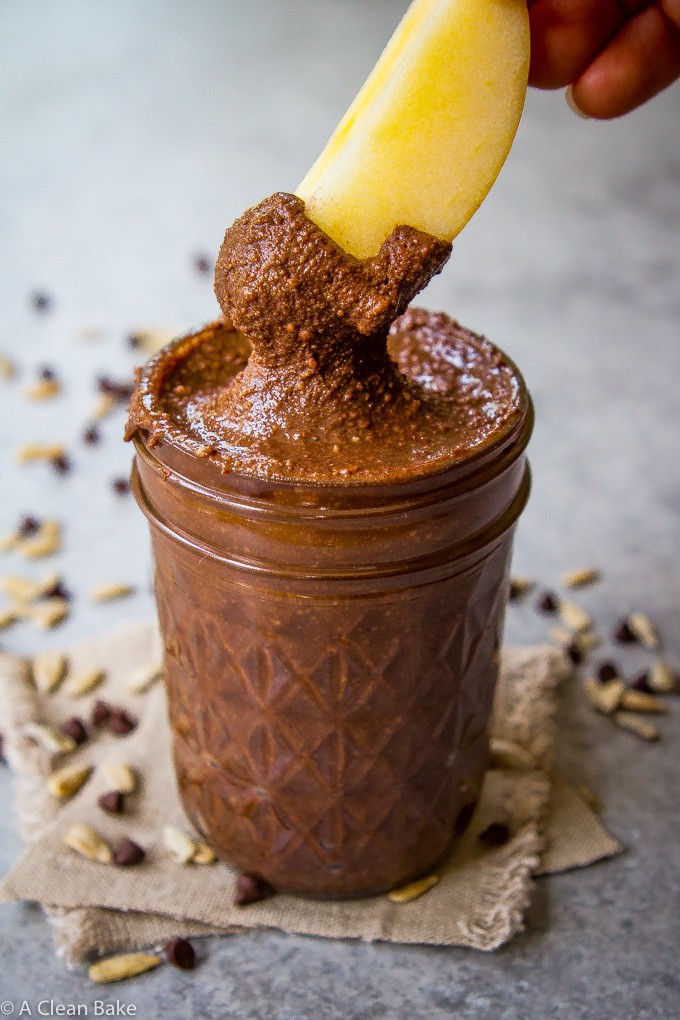 Now, do you see what I mean?
Yeah. It's basically a nut-free homemade Nutella.
Chocolate sunflower seed butter is surprisingly, alarmingly, addictively good. I'm not even sure I can tell you exactly why, but the sweetness of the apple perfectly pairs with the seedy flavor and – of course – the chocolate. (Well, what doesn't pair well with chocolate?)
This whole discovery was an fateful accident when I went to make caramel cashew butter, only to find that I was out of cashews (so switched to sunflower seeds, because I had a big bag from NOW Foods on hand), and then the caramel kind of seized up into this tasty, but weirdly textured, nut buttery wallpaper paste. Yes, that that consistency is a deal breaker for me too.
Also, caramel is good but chocolate, let's face it, is always better.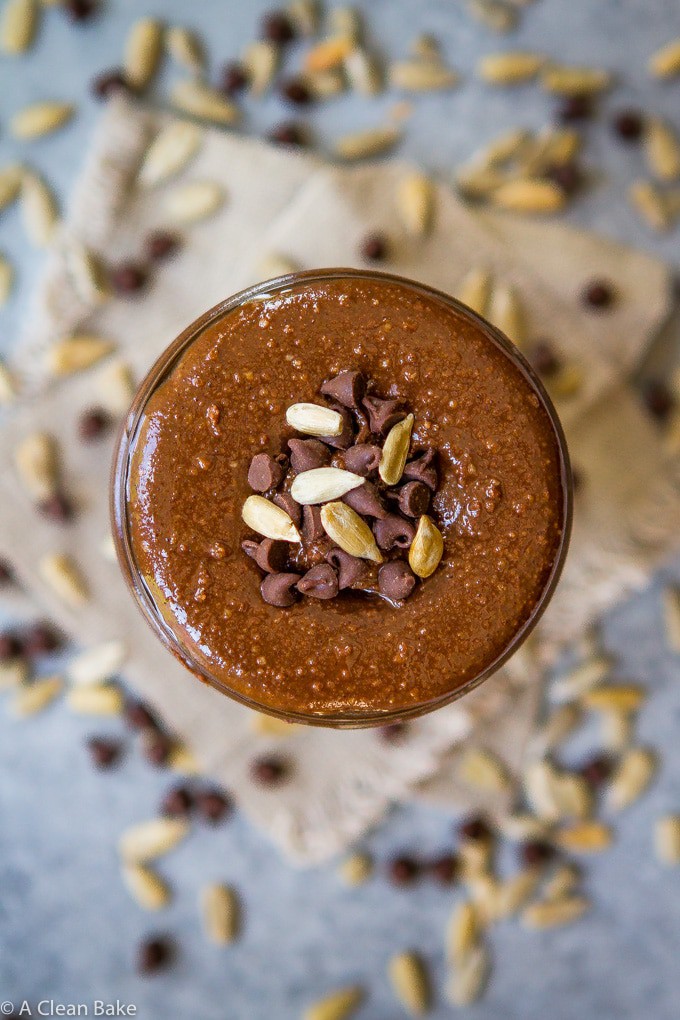 So anyway, back to the sunflower seed butter itself.
It's that magical kind of recipe that I like and – in the absence of more than 20-30 minutes to cook a dish these days – mostly post lately: few ingredients, little time, easy method, maximum flavor. Also, all the "frees": gluten free, vegan/dairy free, paleo/grain free, egg free, nut free, sugar free… But eating it feels decadent and indulgent – not like it's "health food".
Speaking of sugar free, I tried a new granulated stevia blend product for this recipe: NOW Food's Sugarless Sugar baking sweetener. It's not pure granulated stevia, but it is a 1:1 replacement for sugar, so if you prefer you can use coconut sugar in this recipe (since I know many people prefer it to stevia!).
So if you're burned out on peanut butter and almond butter, or just want to try something new, chocolate sunflower seed butter is for you! (<– rhyming unintentional!)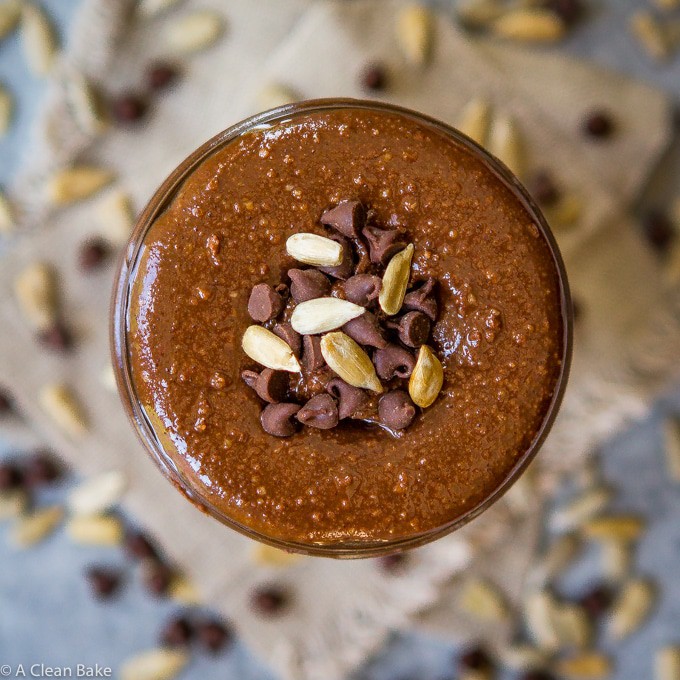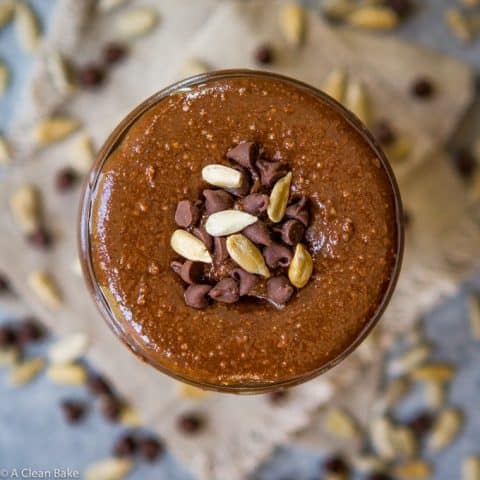 Chocolate Sunflower Seed Butter
Chocolate sunflower seed butter is a nut-free version of Nutella! This homemade version is completely sugar free, gluten free and dairy free.
Ingredients
2 cups raw and unsalted sunflower seeds
2 Tablespoons coconut oil,, melted and slightly cooled
1/4 cup cocoa powder
3 Tablespoons granulated stevia,, or your favorite granulated sweetener
1/4 teaspoon vanilla extract
Pinch fine sea salt
Instructions
Pulse the sunflower seeds in a high speed blender, such as a Vitamix, starting at low and gradually increasing the speed until they reach a course flour consistency, then a gummy ball.
Add the coconut oil, and continue to process, increasing speed to medium or medium/high until the sunflower seeds liquify. The mixture should be quite runny.
Add the cocoa powder, sweetener, vanilla, and salt and process to combine. Throughout this process, you'll need to stop frequently to scrape down the sides of the container (to make sure all ingredients are getting incorporated) and loosen the mixture from the bottom of the container. Don't let it clump around the blade too much, which strains your machine's motor.
Continue to process until smooth. Taste and add more sweetener, if you prefer.
Notes
If you don't have a high speed blender, you can do this in a food processor. 
Store leftovers in an airtight container at room temperature for up to a week, or in the fridge for up to 2 weeks (or more). 
Yield: 1 cup.
1 serving: 2 Tablespoons
Nutrition Information:
Yield:

8
Serving Size:

g
Amount Per Serving:
Calories:

36
Saturated Fat:

3g
Carbohydrates:

1g
[amazon_link asins='B0014UFXRK,B000J5EF2K,B000ISZ310,B00I53EI3O,B009NT3JD4,B00E5C51C6,B00LQT6UB2,B01AXM4VPY' template='ProductCarousel' store='butterfanati' marketplace='US' link_id='ae807121-4551-11e7-9720-0ddeb66ae57d']
[wprm-nutrition-label align="center"]
Pin this ????


Thank you to Now Foods for providing the ingredients that inspired this delicious recipe. This post contains affiliate links, which means that if you click through and purchase a product, A Clean Bake receives a small commission. All proceeds go toward continuing to bring you delicious, healthy recipes every week, and this does not affect the price you pay. Thanks for supporting A Clean Bake!