Quick and easy delicious energy bites that are so healthy, but taste a little like cake! (gluten free, paleo, vegan, raw, and low carb)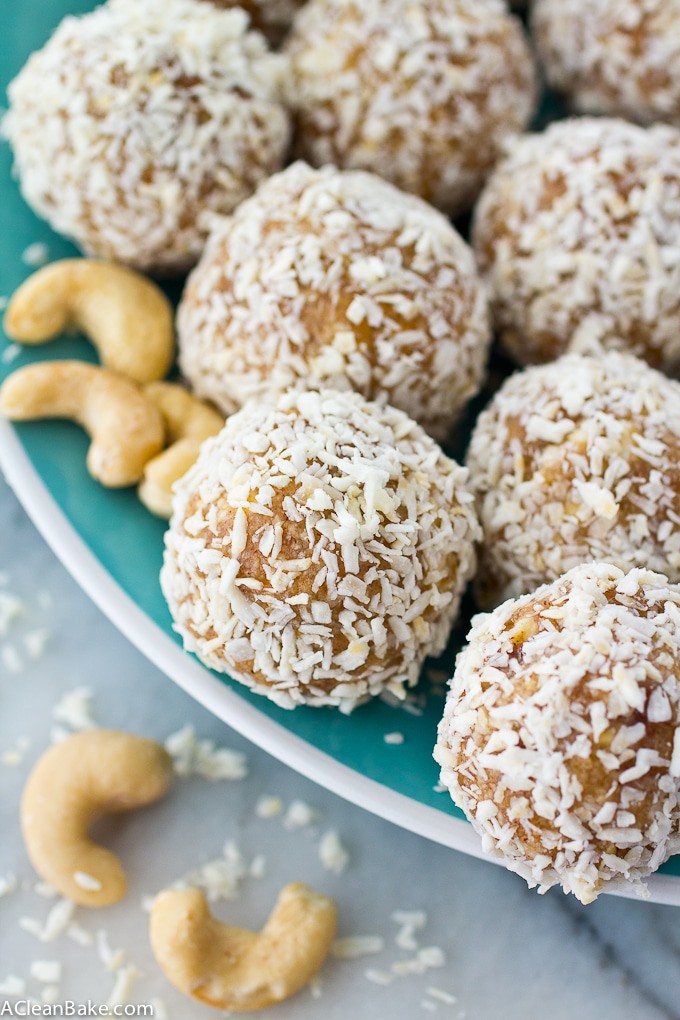 If, hypothetically, your weekend is shaping up to be cold, rainy, and cabin fever-y, the only solution might be to break out your food processor and make some snacks.
Or if, not so hypothetically, this weekend promises to offer 2 of the nicest days of the year (so far and, given that it's Chicago, potentially for the rest of the year), you might want to get outside to ride your bike, go for a run, plant things (<—- does not apply to me. I have a terrible track record at keeping things alive), or whatever you do when it's finally time to bust out of the winter rut, you'll also need some snacks.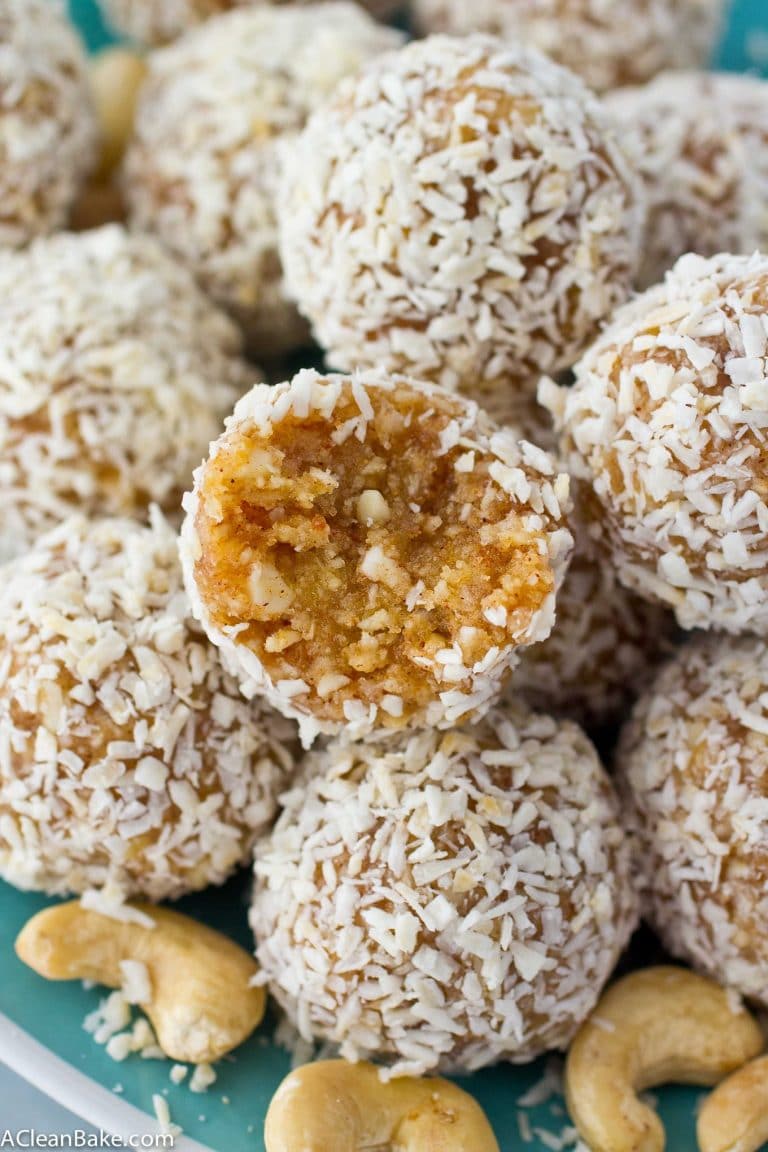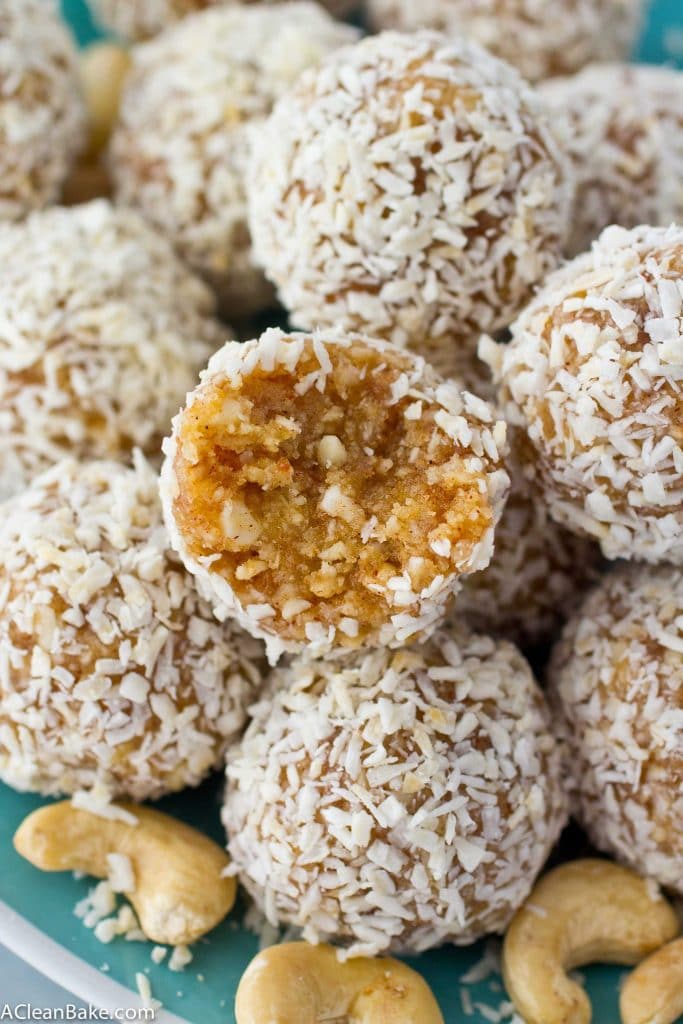 In either case, it's a good thing that these are easy – and kind of fun – to make, and pretty delicious to eat. And, to make sure you're getting optimal energy (and, ok, flavor, of course), make sure you're using top quality ingredients. This is one of those recipes where there are only a handful of ingredients and there's no baking or other witchcraft involved, so the flavor and quality of the ingredients matters A LOT. For this recipe, I used cashews and coconut from Now Foods, which is a company you know I love, and always count on for the best quality products (and – bonus! – reasonable prices).
So what do you have in store for the weekend? I'm maniacally stalking the weather report, but sure enough, it is promising reasonable weather for the next couple days so I hope to go for a bike ride, sit outside with a book, or … more realistically, because somehow the weekends always just get away from me, at least open the windows. I'm also planning to go to my first pilates class this weekend. Have you tried pilates? I've always turned up my nose at it for some reason but, having come to terms with my early-but-soon-to-be-mid-30s chicken arms, I decided that some strength training was in order, and weights are not my jam. Fingers crossed for pilates.
My point is that it's going to be an active weekend for all of us, no matter your plans (even binge watching takes energy, you know), you'll need energy and these energy bites kind of taste like caramel cake, so correct me if I'm wrong, but weekend snacks = check?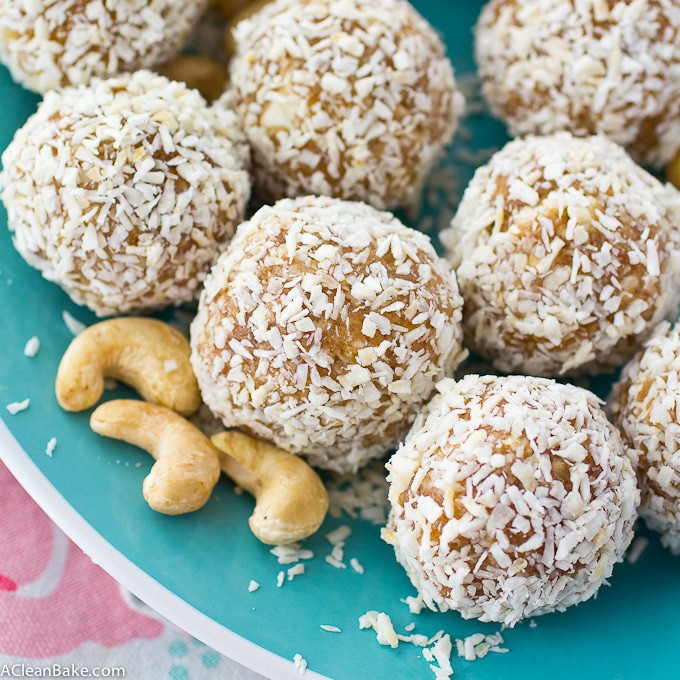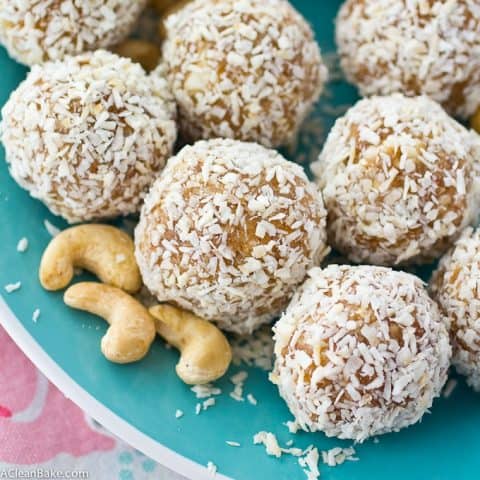 Coconut Cashew Energy Bites
Quick and easy delicious raw bites that are so healthy, but taste a little like cake! (gluten free, paleo, vegan, raw, and low carb)
Ingredients
1 1/2 cups raw, unsalted cashews
1/2 cup unsweetened shredded coconut,, plus an additional 1/2 - 3/4 cup for rolling
3 large medjool dates,, pitted
2 Tablespoons water
1 Tablespoon granulated monk fruit sweetener , or granulated stevia
1/2 teaspoon fine sea salt
1/2 teaspoon cinnamon
Instructions
In the bowl of a food processor fitted with the "s" blade, pulse the cashews, coconut and dates several times until finely chopped.
Add the water, salt, cinnamon and sweetener and process into a thick paste. A few tiny chunks of cashew will remain; that's fine.
Scoop a 2 Tablespoon portion of the mixture and roll it a ball, then roll in shredded coconut to coat.
Repeat with remaining mixture.
Notes
Omit sweetener for Whole30
Store in an airtight container in the fridge for up to a week, or in the freezer for up to three months.
Yield: about 14 bites
Nutrition Information:
Yield:

14
Amount Per Serving:
Calories:

133
Saturated Fat:

1g
Sodium:

85mg
Carbohydrates:

30g
Sugar:

30g
[wprm-nutrition-label align="center"]
Pin for later: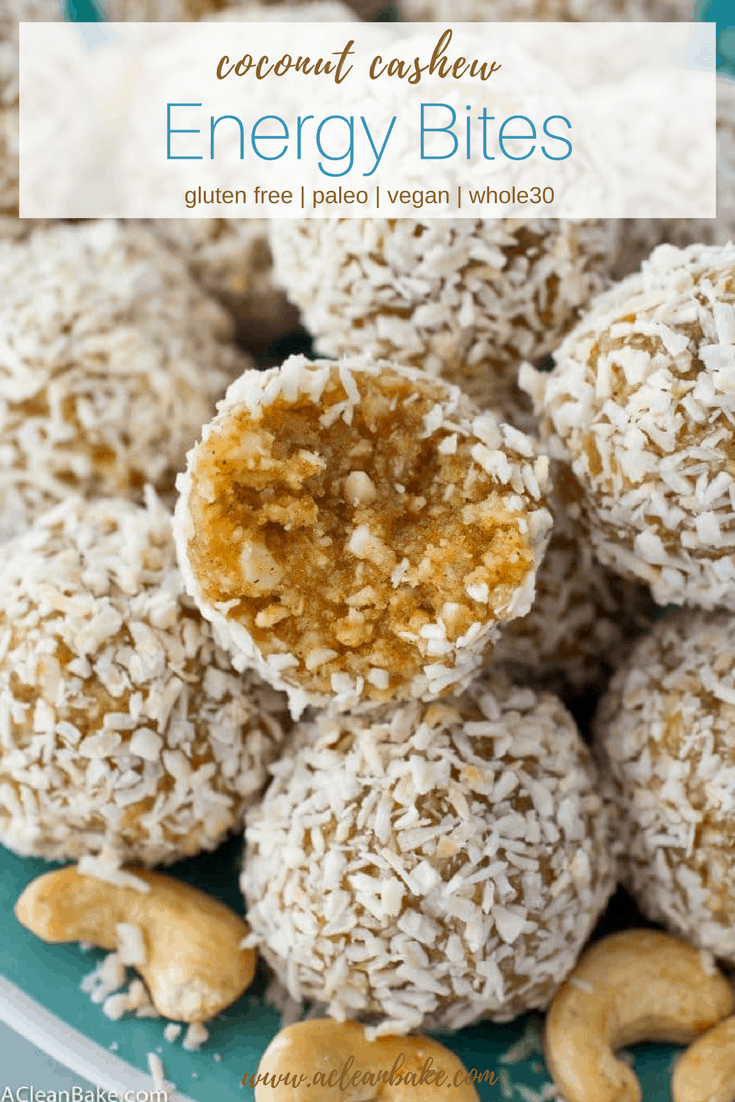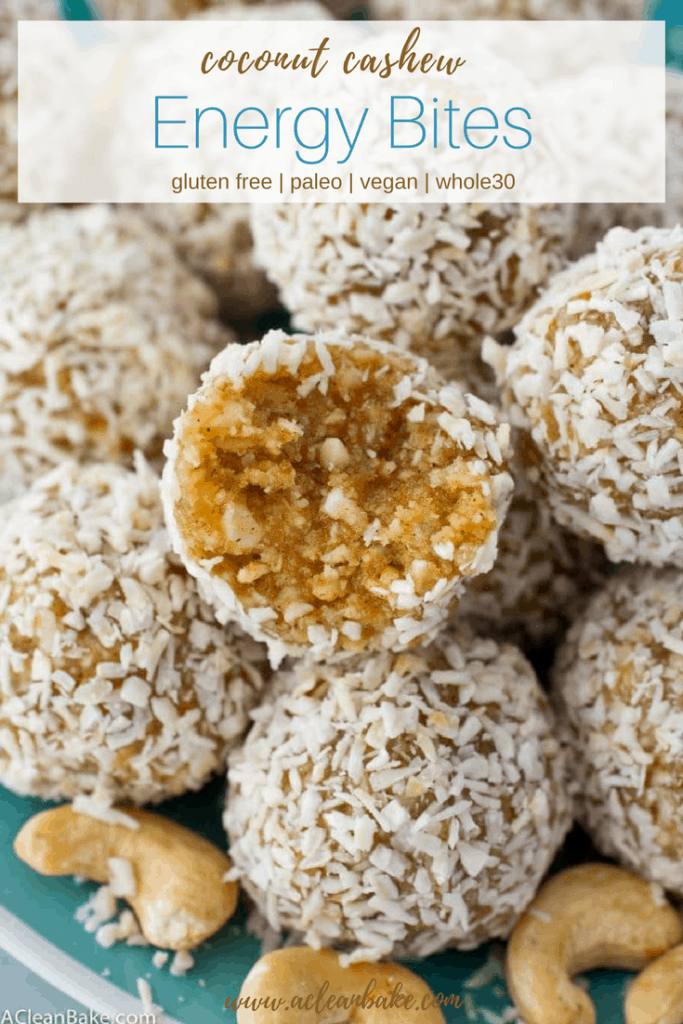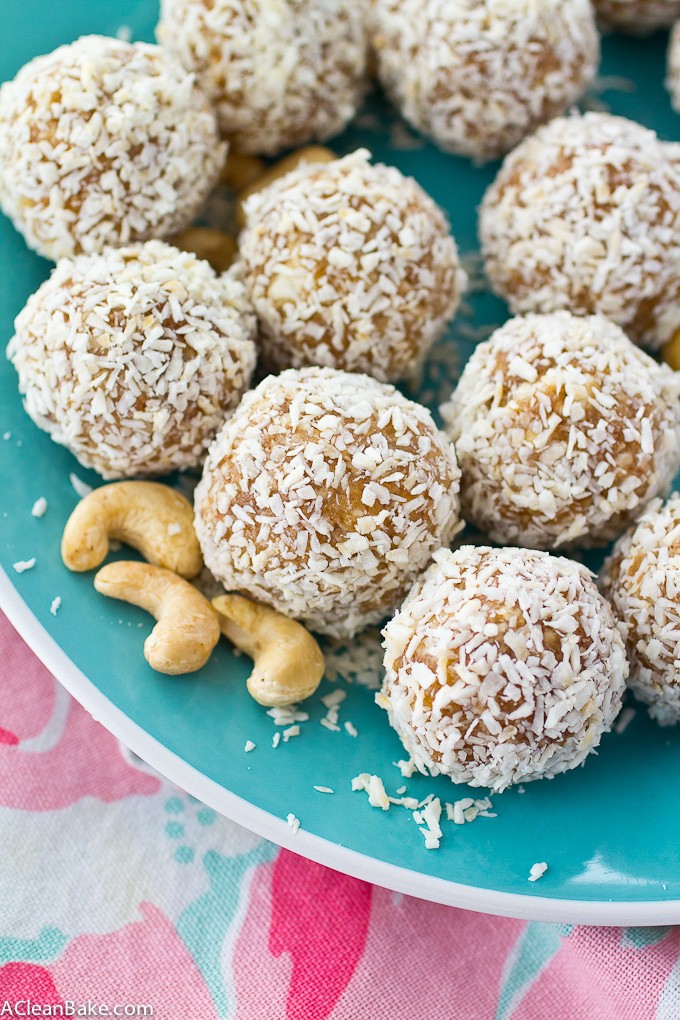 This post contains affiliate links, which means that if you click through and purchase a product, A Clean Bake receives a small commission, which goes toward continuing to bring you delicious, healthy recipes every week. This does not affect the price you pay. Thanks for supporting A Clean Bake!