If you love peanut butter and almond butter, you have to try walnut butter! This homemade walnut butter recipe requires just a few ingredients and a food processor or high speed blender. Dried apples and a generous sprinkle of cinnamon make every bite taste like fall! Walnut butter is gluten free, paleo, vegan, and full of heart-healthy fats.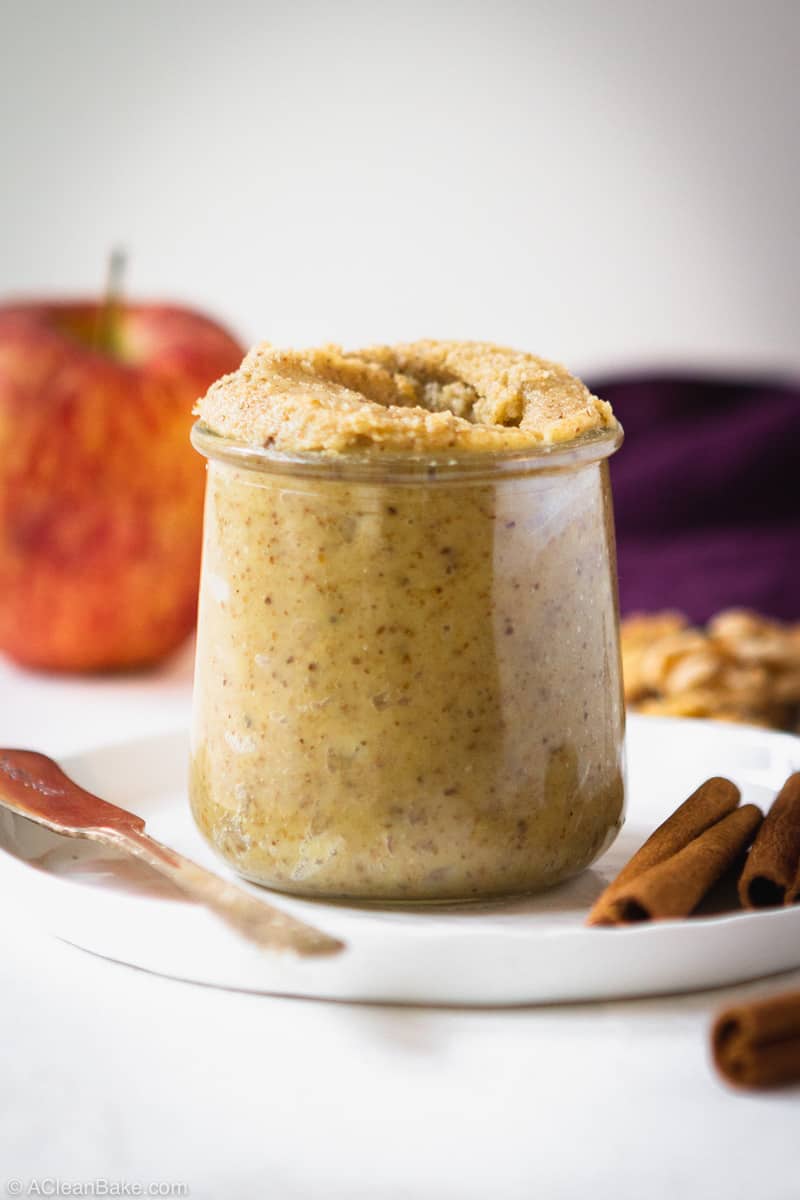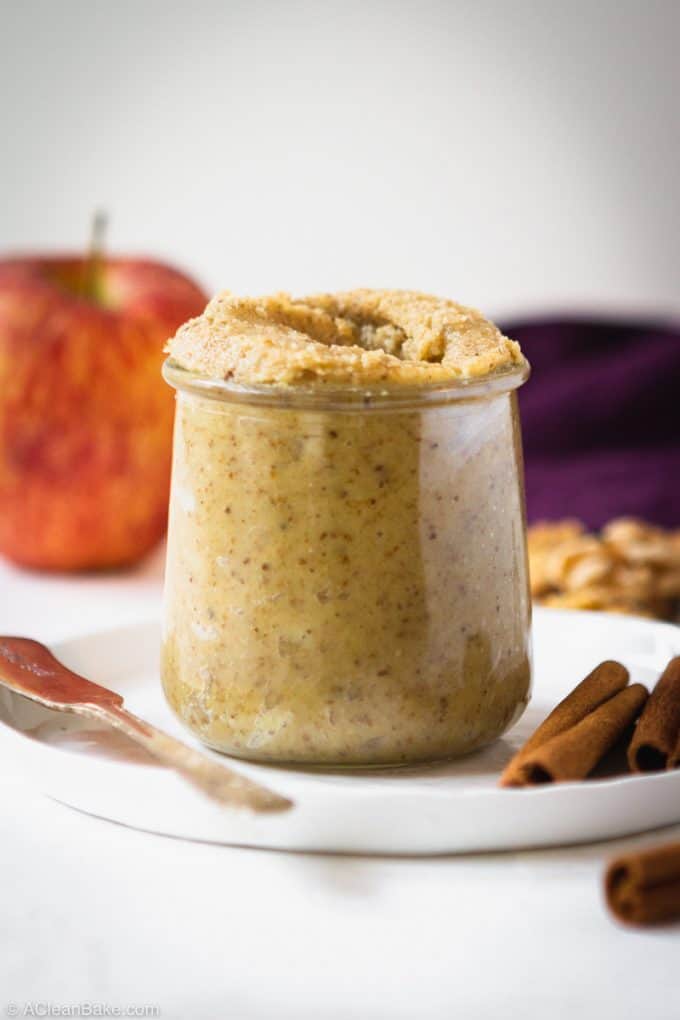 For as much as I enjoy peanut butter, and appreciate almond butter, and tolerate cashew butter, it's really important that we all understand what a revelation homemade walnut butter is.
Better yet: apple cinnamon walnut butter, because nothing spruces up a walnut like the flavors of apple and cinnamon.
You know I won't lead you astray!
Do you know how to make homemade nut butter? It's the easiest thing in the world which, at its core, requires nothing more than a bunch of nuts pulverized into a paste by a food processor or high speed blender.
But when those nuts are walnuts and they're pulverized with dried apples and a heavy-handed sprinkle of cinnamon… well, it becomes something else entirely.
How to make walnut butter
Yeah, I know, I already told you. But let's go over it again, with a little more detail.
First, select your walnuts: you can use all halves or all pieces or a combination. Use whatever is cheapest. Just make sure they are raw and at room temperature. I'm a huge proponent of keeping your nuts in the freezer to keep them fresh, but when you're getting ready to make this nut butter, take them out and leave them on the counter to warm to room temperature before you start.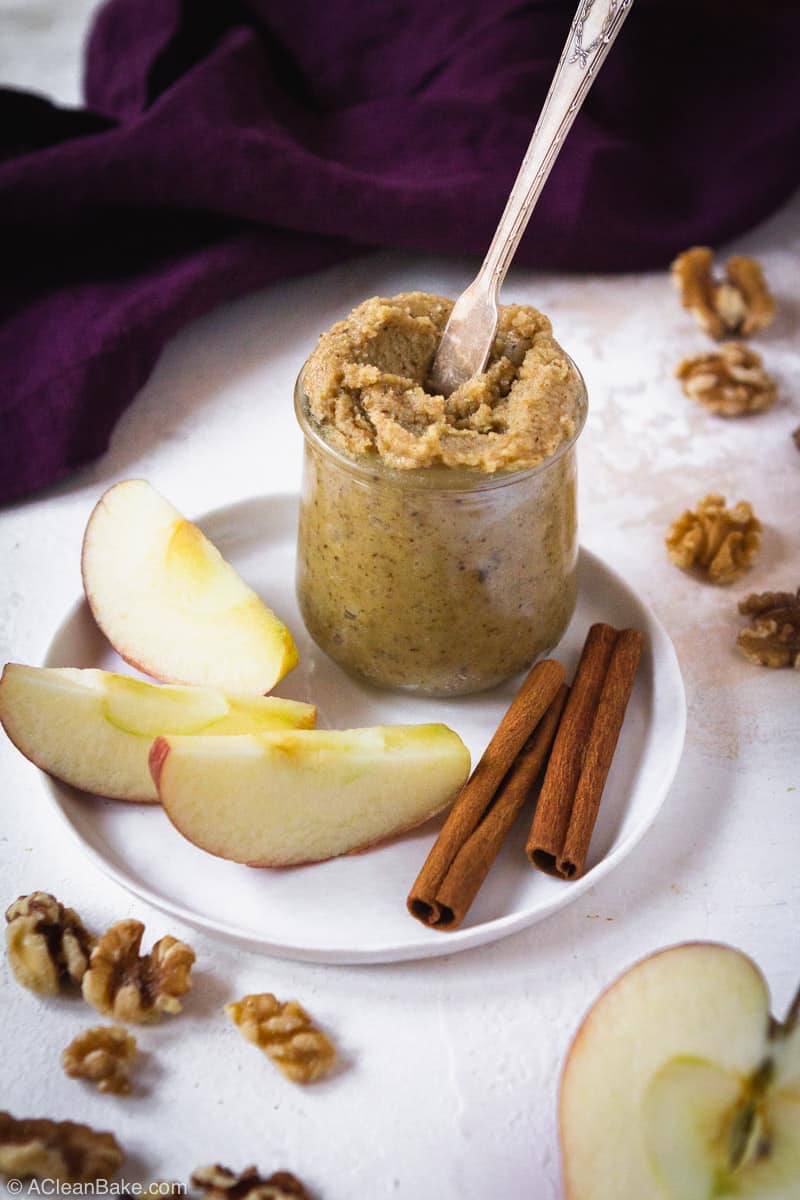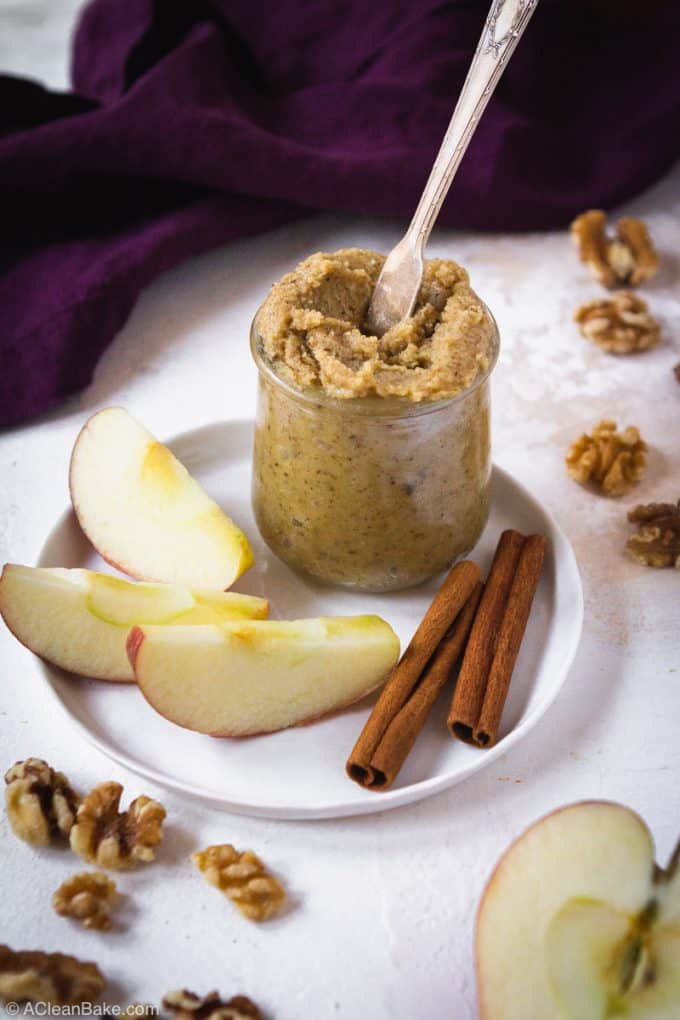 Place your raw walnuts, along with some apples, in the bowl of your food processor or the canister of your high speed blender, and pulse several times until they reach a grainy, sandy consistency. Then process until they form a kind of blob of (what looks like) dough.
At this point, with the machine running, add the oil. You may not need all of it; the recipe gives you a range. More oil means a runnier butter, less will yield a thicker butter. Once the walnut butter reaches the consistency you like, add the cinnamon and salt, process another few seconds to make sure everything is well-combined, and you're done!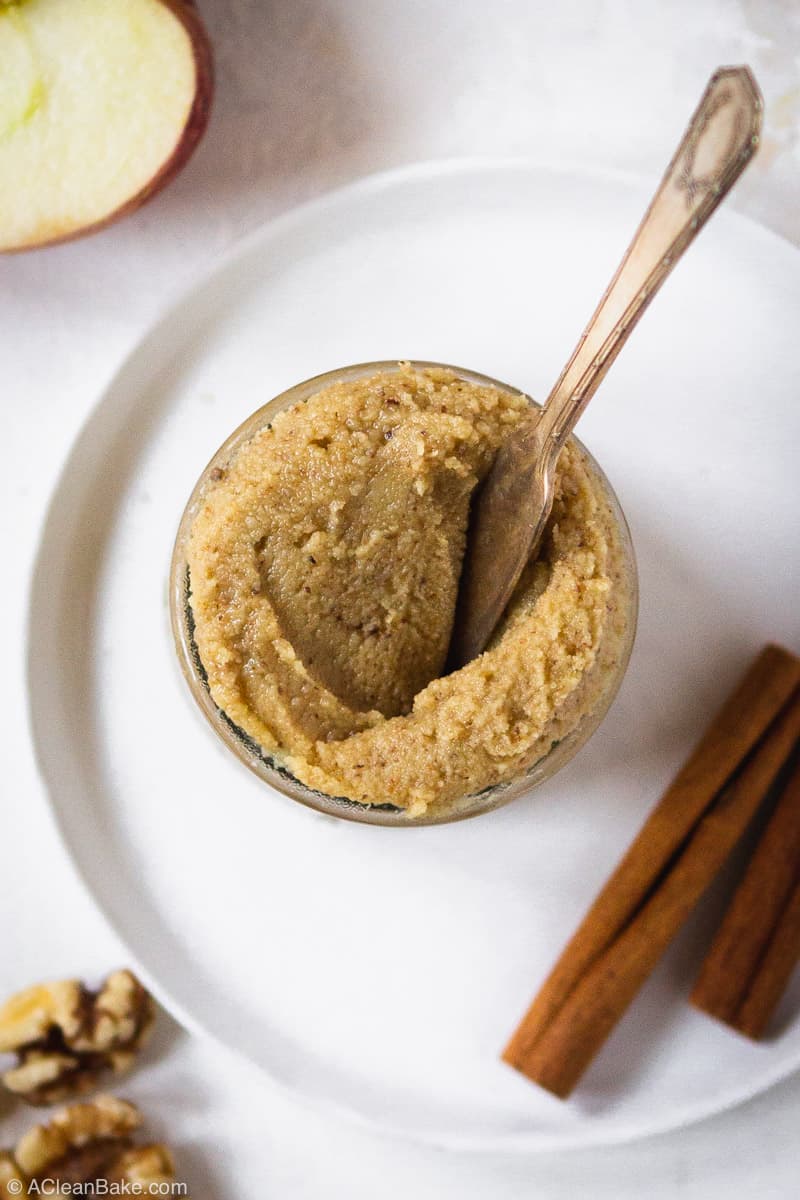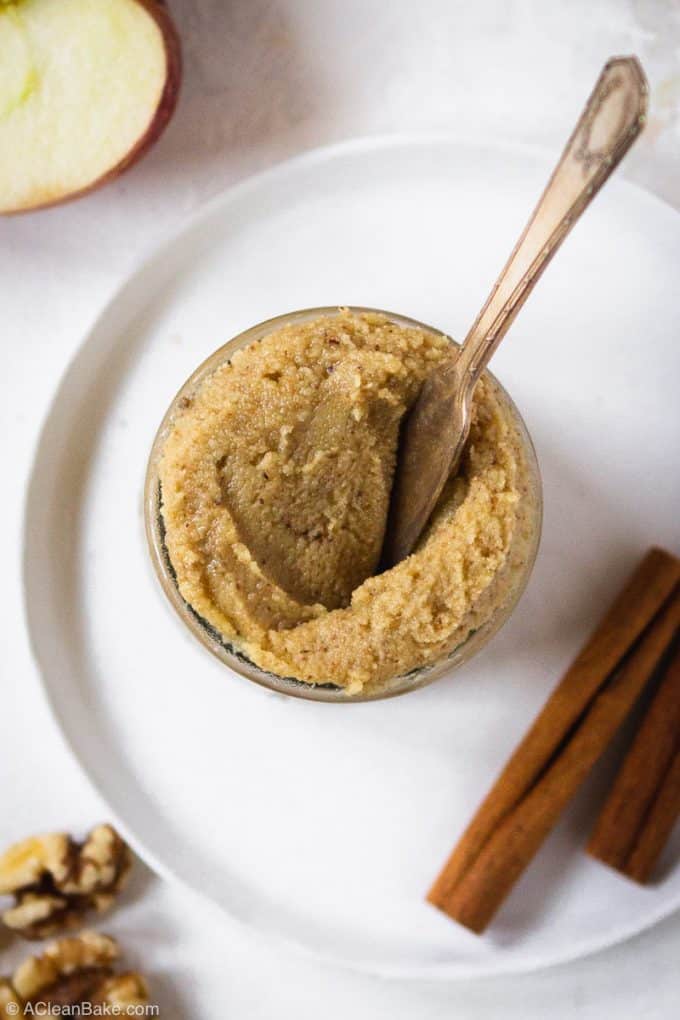 Recipe Tweaks
Even with a recipe so simple, there are numerous ways to tweak this recipe to make it your own.
First, instead of raw walnuts, you can add a toastier flavor by toasting the nuts (so simple!). This is how you toast nuts: put the nuts in a single layer in a dry pan over medium high heat, shaking the pan every few seconds to prevent burning. The second that you start to smell a deep, toasty flavor, remove the nuts from the pan and lay them on a plate or cutting board to cool. You have to act fast to make sure they don't burn!
If you don't have a pan big enough to toast all the nuts, you can do it on a baking sheet in a 400°F oven (make sure to preheat the oven before you put the nuts in). Check them frequently to prevent burning. They will only take a few minutes to toast.
To increase the apple flavor in the recipe, increase the amount of dried apples, up to 3/4 cup.
You can use pumpkin pie spice instead of cinnamon for even more warming spices in this walnut butter.
Like most nut and seed butters, the recipe is only a guideline – a suggestion at most. At the end of the day, it's your recipe, so go crazy with the spice or add more apple if that's what suits your fancy, or even double the recipe and store half for a rainy (hungry) day.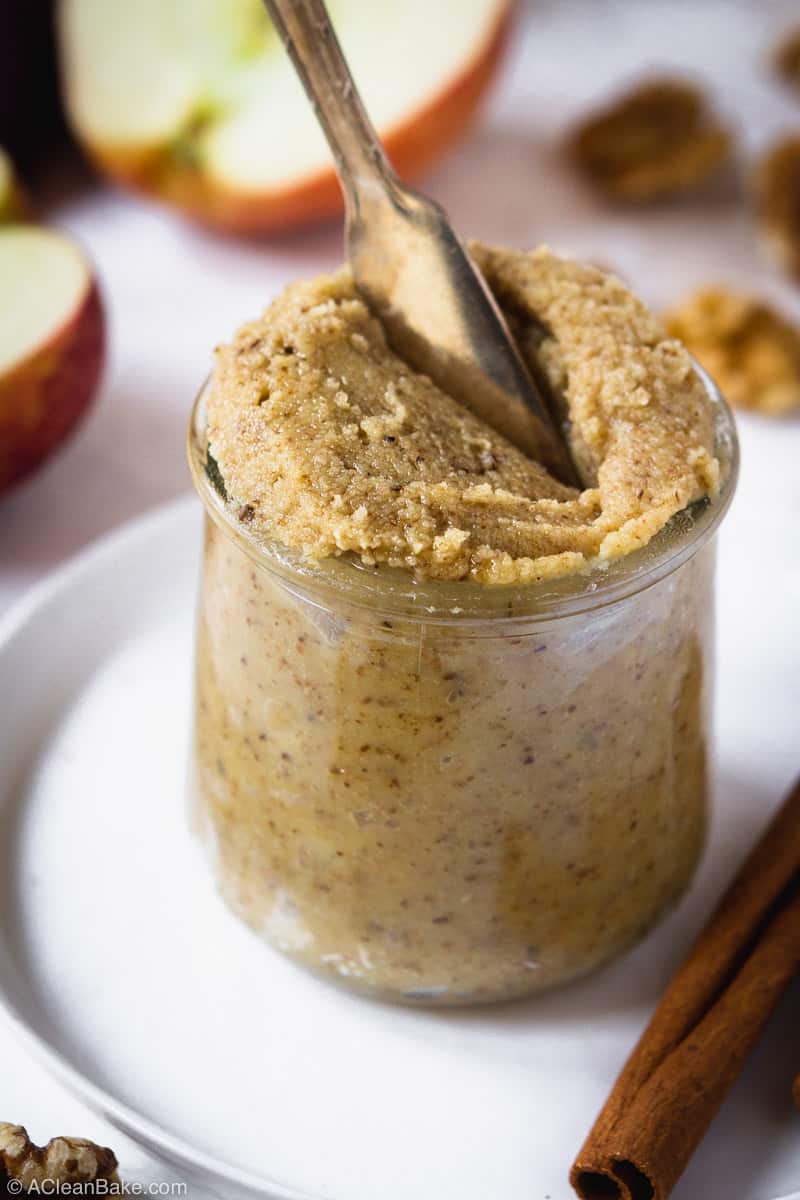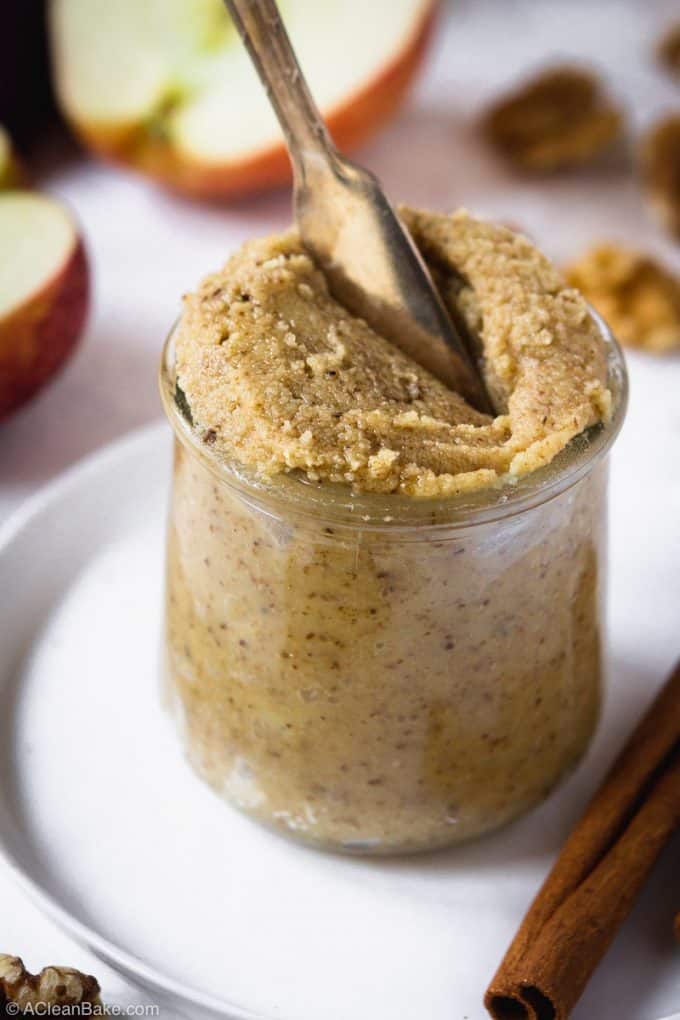 FAQs:
Can I make this sweeter? Sure! You can add 1-2 tablespoons of granulated monk fruit sweetener or stevia, or you can use maple syrup instead. If you use maple syrup, you'll need to make two changes to the recipe: first, reduce the oil, since you'll already have some extra moisture from the maple syrup (add the maple syrup first, then add oil a little bit at a time until the walnut butter reaches the consistency you like). Next, if you're using maple syrup as the sweetener, make sure to store the walnut butter in the fridge, not in the pantry.
Can I make this into basic walnut butter? Sure! Leave out the apples, and use half of the cinnamon (or as much as you want, to taste).
What is the shelf life of this walnut butter recipe? Walnut butter will stay fresh for up to a month in an airtight container in your pantry. To keep it longer than that, store yours in the fridge (or freezer). Pro tip: this walnut butter tastes even better frozen.
Can I make this nut free? Absolutely. Simply replace the walnuts with sunflower seeds to make apple cinnamon sunflower seed butter. It won't be quite as perfect, but it will be good all the same.
Can I make this with different nuts? For sure! You can replace the walnuts with whatever nuts you want. This recipe would work especially well as peanut butter, pecan butter, or hazelnut butter.
Is this gluten free? Yep! Just like all of the other recipes on the site. ????
This one is a real gem ("real gem" being a euphemism for "crack on a spoon that you just can't stop shoving in your face") because it combines the creamy richness of a nut butter with the spiced, subtly chunky texture of apple butter. It's so good that you actually probably shouldn't make it. That's a lie. Make it immediately.
In fact, go ahead and double the recipe!
After all, there is no such thing as too much walnut butter, especially when its bursting with warming spices, and double-especially on a chilly fall day!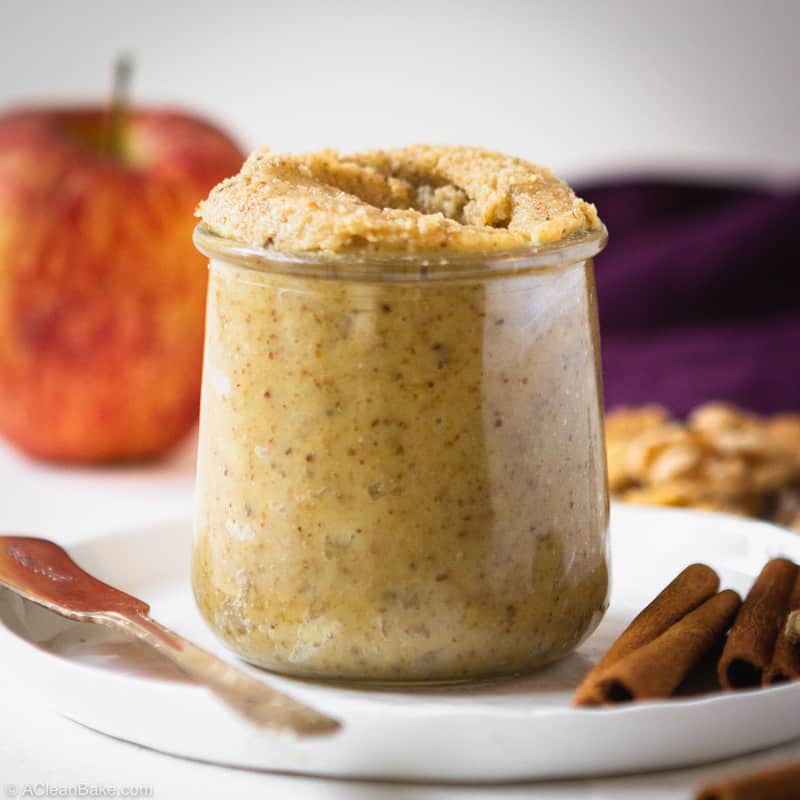 Apple Cinnamon Walnut Butter
If you love peanut butter and almond butter, you have to try walnut butter! This homemade walnut butter recipe requires just a few ingredients and a food processor or high speed blender. Dried apples and a generous sprinkle of cinnamon make every bite taste like fall! The recipe is gluten free, paleo, vegan, and full of heart-healthy fats. 
Ingredients
2 cups walnuts, (whole, raw, unsalted)
1/2 cup dried apples, packed, no sugar added
Up to 1/2 - 3/4 cup unflavored oil, preferably liquid at room temperature; i.e. not coconut oil
1 teaspoon cinnamon
1/4 teaspoon salt
Instructions
In the bowl of a food processor fitted with the "s" blade, pulse the walnuts and apples 5-6 times to chop, then process for a few minutes until a sort of flour forms, then a lump of what looks like dough.
With the machine running, slowly drizzle 1/2 cup of oil into the machine, which will loosen up the butter and allow it to continue to puree until almost smooth. You may not need the full half cup. Some readers have found that only a few Tablespoons of oil loosens up the butter to their desired consistency. If, on the other hand, it does not smooth out to your liking with 1/2 cup of oil, add up to another 1/4 cup (so, 3/4 c. total). Scrape down the sides a few times to make sure everything is well incorporated and evenly pureed.
Add the cinnamon and salt, and process for another 30 seconds or so to combine. Taste, and adjust salt and cinnamon to your preference.
Use immediately or store in an airtight container at room temperature for up to 2 weeks.
Notes
Optional steps:
 Toast the walnuts prior to using
Increase the amount of apples in the butter to bump up the apple flavor (this will make it chunkier, and less nut butter-y)
Replace the cinnamon with pumpkin pie spice
Notes:
You can, of course, replace the walnuts with any nut or seed of choice.
If you don't eat nut butter at quite the breakneck pace that I do, feel free to freeze half of this in an airtight container until you're ready to eat it, in order to keep it a little fresher. Simply defrost to room temperature when you're ready to finish it.
Yield: About 1.5 - 2 cups.
Serving size = 2 tablespoons
Pin for later: