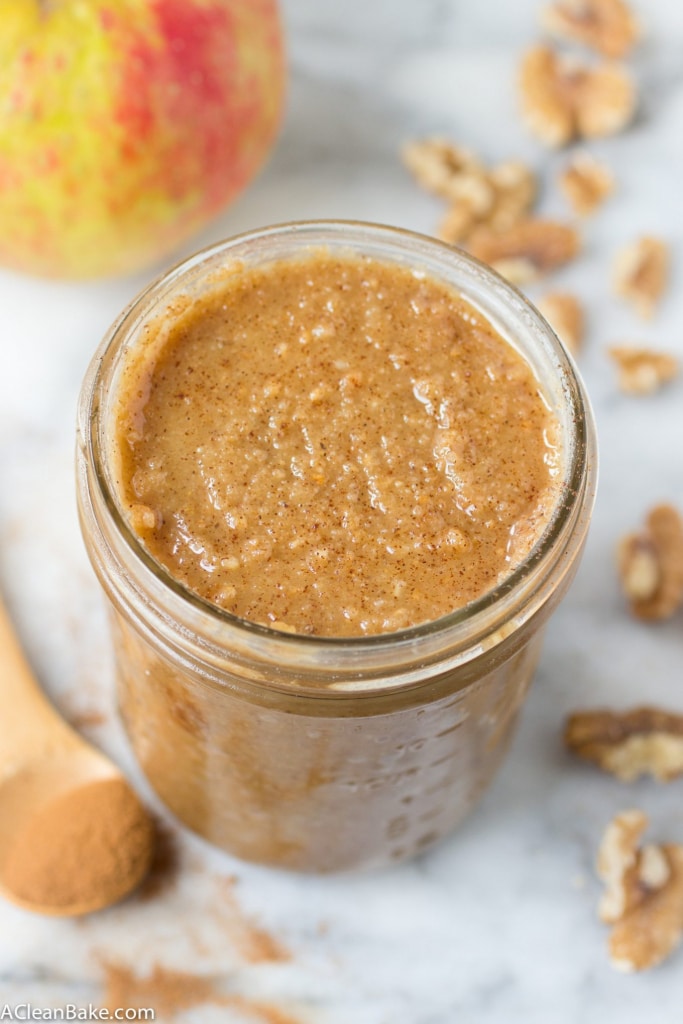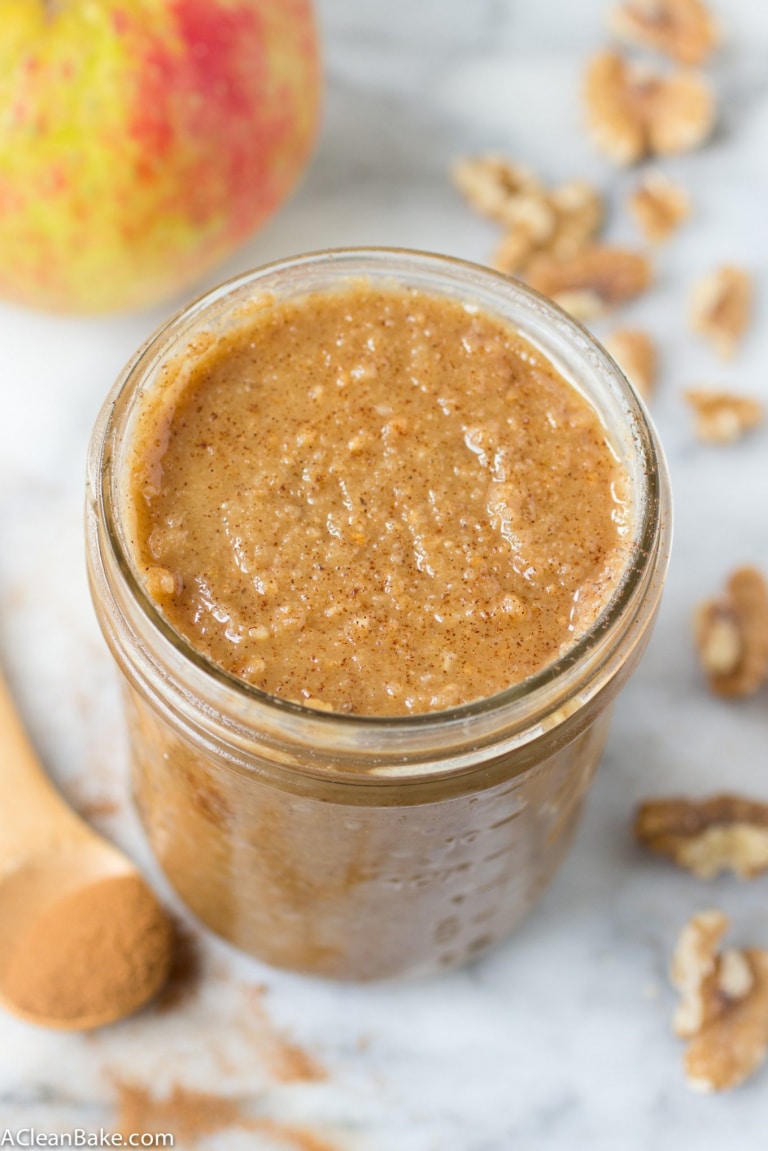 I know, I know, another nut butter. But I couldn't resist! This one is a real gem ("real gem" being a euphemism for "crack on a spoon that you just can't stop shoving in your face") because it combines the creamy richness of a nut butter with the spiced, subtly chunky texture of apple butter. It's so good that you actually probably shouldn't make it. That's a lie. Drop what you're doing and run to the nearest food processor. It's the season of warming spices and so-fat-you-can-barely-hold-onto-them crisp and juicy apples, so if not now, when?
Actually, this recipe uses dried apples (for texture and so that the butter is relatively shelf stable) so I suppose you could, technically, make this recipe any time of the year. You could also be so bold as to toast the walnuts before pureeing, replace them with your favorite nut or seed, or maybe swap in pumpkin pie spice instead of the cinnamon.
What I'm getting at is that, like most nut and seed butters, the recipe is only a guideline – a suggestion at most. At the end of the day, it's your recipe, so go crazy with the spice or add more apple if that's what suits your fancy, or even double the recipe and store half for a rainy (hungry) day. After all, there is no such thing as too much walnut butter, especially when its bursting with warming spices, and double-especially on a chilly fall day!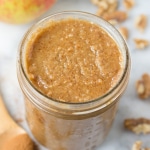 Apple Cinnamon Walnut Butter
gluten free, grain free, vegan, paleo, naturally sweetened
Ingredients
2

cups

whole raw walnuts

unsalted

1/2

cup

dried apples

packed, no sugar added

Up to 1/2 - 3/4 cup unflavored oil

preferably liquid at room temperature; i.e. not coconut oil

1

teaspoon

cinnamon

1/4

teaspoon

salt
Instructions
In the bowl of a food processor fitted with the "s" blade, pulse the walnuts and apples 5-6 times to chop, then process for a few minutes until a sort of flour forms, then a lump of what looks like dough.

With the machine running, slowly drizzle 1/2 cup of oil into the machine, which will loosen up the butter and allow it to continue to puree until almost smooth. You may not need the full half cup. Some readers have found that only a few Tablespoons of oil loosens up the butter to their desired consistency. If, on the other hand, it does not smooth out to your liking with 1/2 cup of oil, add up to another 1/4 cup (so, 3/4 c. total). Scrape down the sides a few times to make sure everything is well incorporated and evenly pureed.

Add the cinnamon and salt, and process for another 30 seconds or so to combine. Taste, and adjust salt and cinnamon to your preference.

Use immediately or store in an airtight container at room temperature for up to 2 weeks.
Recipe Notes
Optional steps:
- Toast the walnuts prior to using
- Increase the amount of apples in the butter to bump up the apple flavor (this will make it
chunkier, and less nut butter-y)
- Replace the cinnamon with pumpkin pie spice
Notes:
You can, of course, replace the walnuts with any nut or seed of choice.
If you don't eat nut butter at quite the breakneck pace that I do, feel free to freeze half of this in an airtight container until you're ready to eat it, in order to keep it a little fresher. Simply defrost to room temperature when you're ready to finish it.
Yield: About 1.5 - 2 cups