How to make your own peanut butter – it's SO much easier than it looks! Just add one simple ingredient (I bet you can guess which one…) to your food processor, and let the machine do all the work!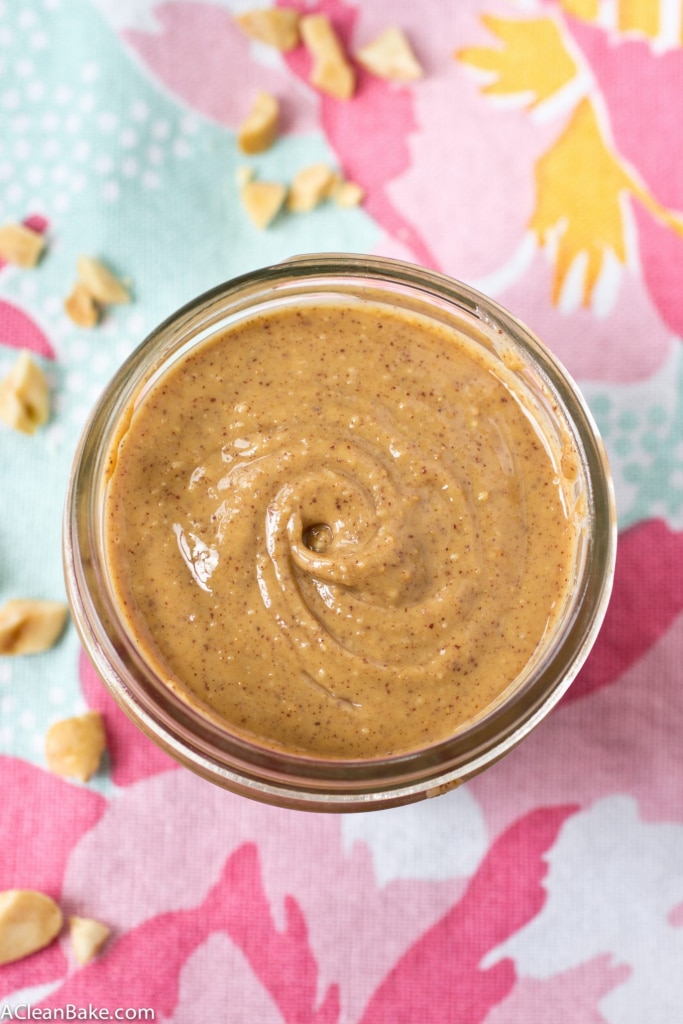 I am really enjoying these "how to" posts. Are you? Boy, I hope so. Because we're doing another one.
So far, we've learned to make oat flour, and season a cast-iron skillet. Life skills!
And quite honestly, on this site, this is long overdue: how to make your own peanut butter.
You already know by now how versatile peanut butter (or almond butter, if you don't eat legumes) is in healthy baking. It's an essential component in everything from cookies, to chia pudding, to frozen kid-friendly treats, and right back to (a bunch) more cookies.
It's filling, full of good fat (better than butter, anyway), and bulks and binds your favorite baked goods.
The advantage of making it at home is that you can control everything: saltiness, sweetness, chunkiness, and so on.
No need to choose from a crunchy-creamy binary.
You have a texture spectrum to choose from when you make it yourself.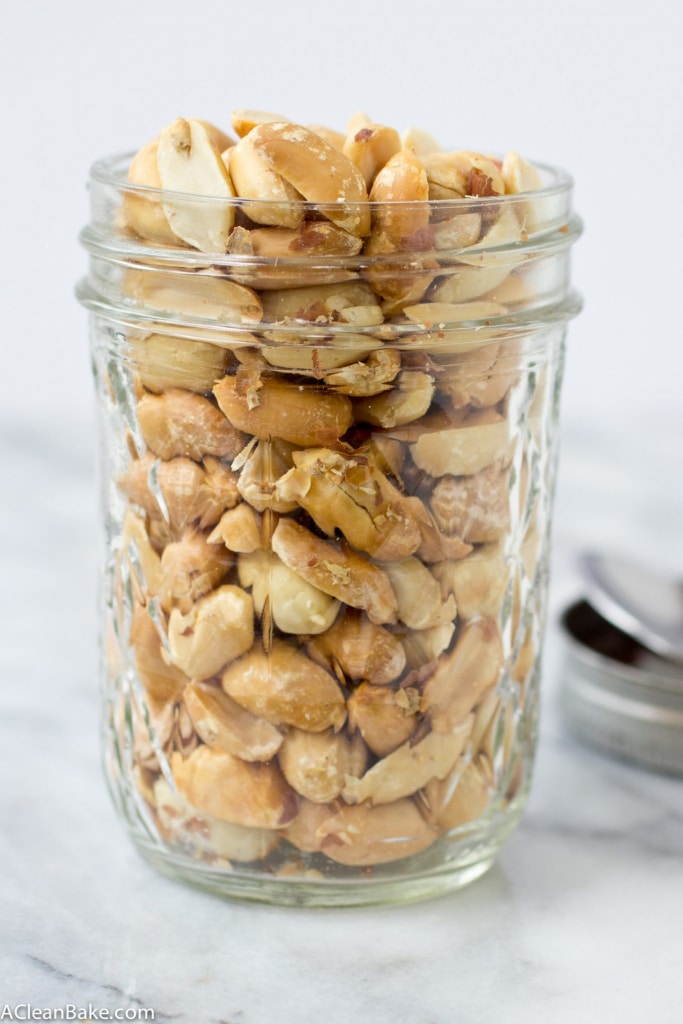 And did I mention that all you need is some peanuts and a food processor?
It helps to also have some honey, cinnamon and salt (if you're not using salted peanuts already) on hand, but you don't have to add them if you don't want to. Or add more of them if you want to.
This recipe is seriously customizable, if you can't tell. Not to mention fast, easy and cheap! Don't miss this one!
Tell me: what's your favorite recipe (sweet or savory) to use peanut butter in?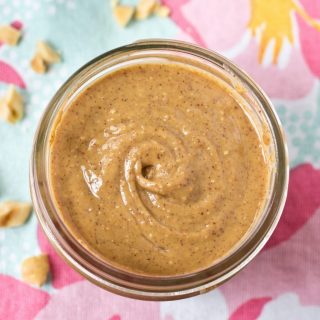 Homemade Peanut Butter
A cheap and easy way to make your own natural and unsweetened peanut butter. Replace peanuts with almonds, cashews, sunflower seeds or walnuts or your favorite nut for some variety or to make it paleo-friendly!
Print
Pin
Rate
Ingredients
Instructions
Put all of the ingredients in the bowl of an food processor. Pulse a few times to break everything up, then run consistently until the ingredients form a meal, then a meal-y mass, then a paste, stopping regularly to scrape down the sides and break up the mass that forms. It will take awhile - about 3-4 minutes or more - to reach the smooth consistency you are looking for. Make sure the butter continues to move around the bowl, and puree in halves or thirds if necessary.

Store in an airtight container at room temperature for up to a month.
Notes
If your peanuts refuse to release from the flour or lump stage into the liquid phase, first try stopping the food processor every so often and breaking up the mass. Sometimes, just loosing it up will give the machine the room it needs to move everything around and break it up.
If that's still not working, you can coax them along by adding flavorless oil (i.e. peanut, sunflower, corn, etc. Do not use coconut because it is not liquid at room temperature) one tablespoon at a time until it loosens up.
Yield: Approximately 1 1/2 cups of peanut butter