Healthy eating starts with delicious and easy recipes that are so enjoyable that you don't even notice they are healthy. Start building your repertoire with these 10 paleo ground beef recipes, many of which are meal prep friendly, low carb adaptable, and Whole30 compliant!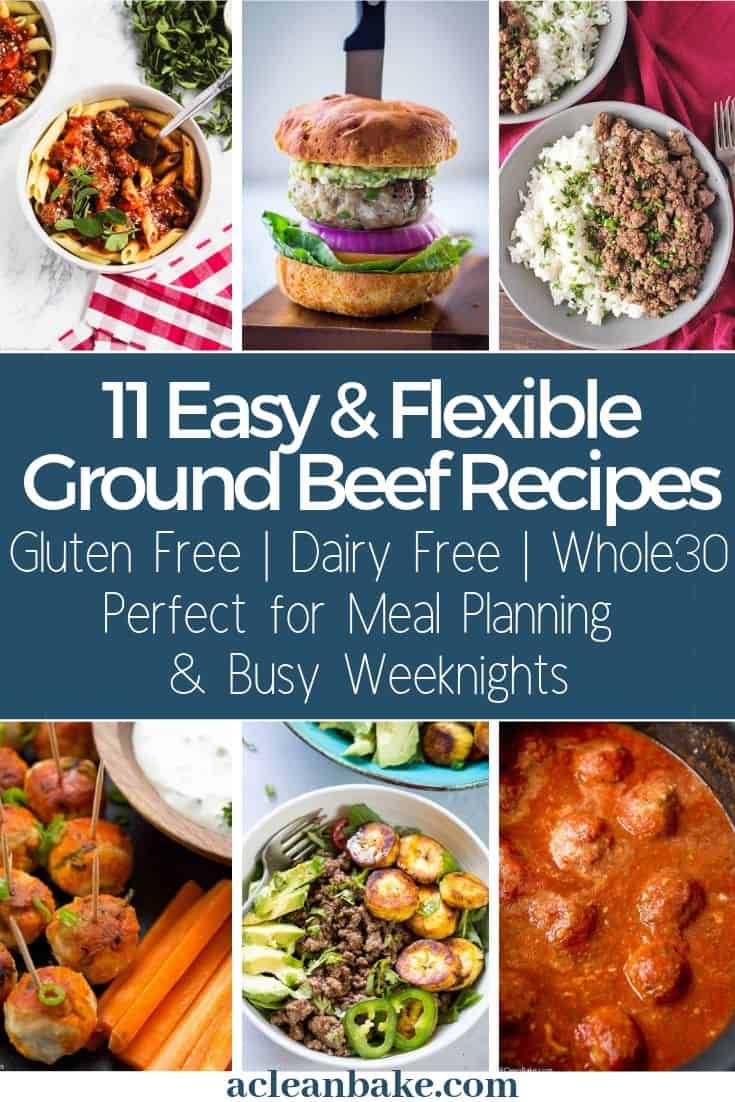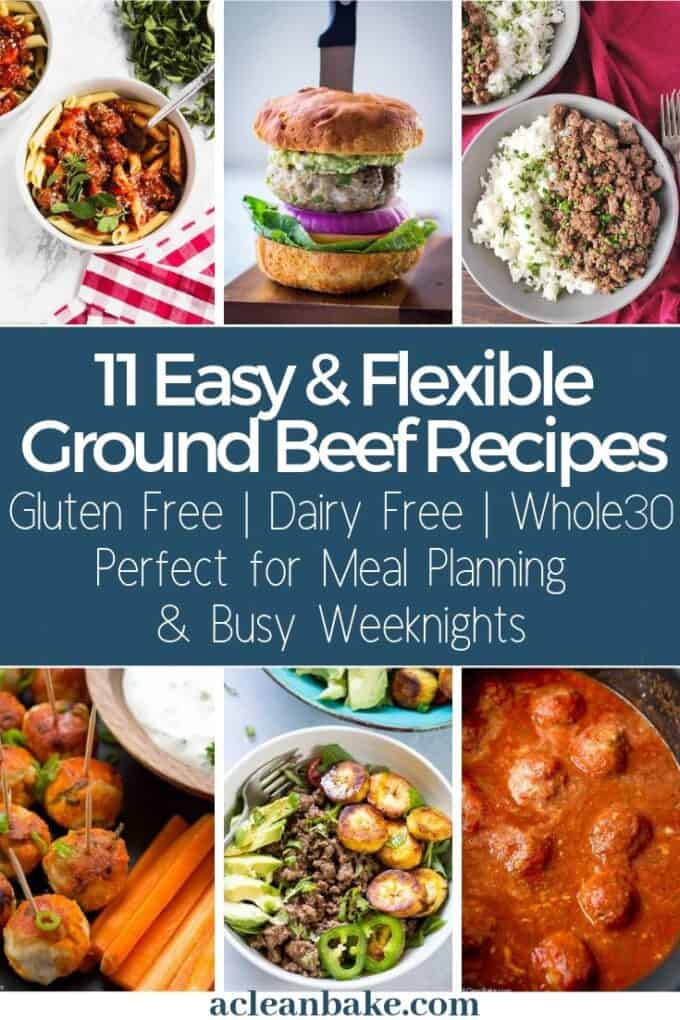 Healthy eating starts with delicious and easy recipes that are so enjoyable that you don't even notice they are healthy. Start building your repertoire with these 10 paleo ground beef recipes, many of which are meal prep friendly, low carb adaptable, and Whole30 compliant!
I'll be the first to admit that I'm not that great at cooking with ground beef. It is one of the most versatile ingredients in my kitchen, and we get a monthly shipment of grass-fed ground beef from Butcherbox, but I always have to give some careful thought to what to make with it. It's almost like there are so many options that I don't know where to start.
Don't get me wrong: there are plenty of paleo recipes out there that involve ground beef. And, sometimes, I think that most of the paleo diet (at least the public perception of it) revolves around plain ground beef cooked with some vegetables and a sweet potato on the side.
Spoiler alert: That's boring and sad, and we don't eat that way.
I think meals should be cohesive and contain a main dish, a vegetable, and a side. Don't get me wrong; I'm all for those throw-a-bunch-of-stuff-in-a-bowl meals, but I prefer them to be for lunch.
That way, dinner — even if it is just a bunch of stuff in a bowl, because who doesn't love a one-bowl meal — can feel more balanced, more planned, and more satisfying. It's the difference between "I cleaned out a bunch of tupperwares in the fridge and let's pretend it's a salad" and "I made fish taco bowls."
Exhibit A on how bad I am at making ground beef recipes: My first recipe ideas started with fish!
It also doesn't help that I don't eat beef and haven't for most of my life. I don't have a good reason, other than I don't like it and it upsets my stomach (the same reasons for everything else I don't eat!). So, all of these recipes can be made with either ground beef or ground turkey.
Anyway, here is a list of ten of my favorite paleo ground beef recipes. I hope it will provide you with some inspiration, too!
11 Paleo Recipes Made with Ground Beef

This is, without a doubt, the recipe on this website that I make for my own family most often (well, probably tied with shawarma). These recipes are like my children — don't make me pick a favorite! — so the fact that I come back to this one again and again is really saying something.
[Speaking off…] They're ultra-kid-friendly, too. My 2-year-old son — who hates meat — eats these like they are going out of style. I tone down the spice a bit for him, but otherwise, I make them as written, and he devours them! They work really well in his lunchbox the next day, too.
Cooking Tips
These paleo meatballs turn out ultra-moist from slow-cooking in the tomato sauce. They're intensely flavorful, thanks to an array of herbs and spices that go into both the meatballs themselves and the sauce. If you don't like spice, cut the red pepper flakes and chili powder in half, or leave one or both out completely. If you do, make the recipe as-is and enjoy a little kick with every bite!
The recipe for these savory meatballs originally called for turkey, but these days I make them with grass fed beef more often than I make them with turkey and they always turn out well.
Serving Tips
If you want to keep the meal strictly paleo, you can serve these meatballs over a bed of spaghetti squash or other vegetable noodles. There are also commercially-available paleo pastas out there, from companies like Capello's and Taste Republic (both are available at Whole Foods).
If you can tolerate some grains, there is nothing like a bowl of (gluten free) spaghetti and meatballs. Use your favorite gluten free pasta as a base and enjoy a really delicious bowl of comfort food! But if you want something a little different, I'm a fan of eating these meatballs over polenta, which I make dairy-free with olive oil, salt, and pepper. It's a VERY easy and satisfying meal!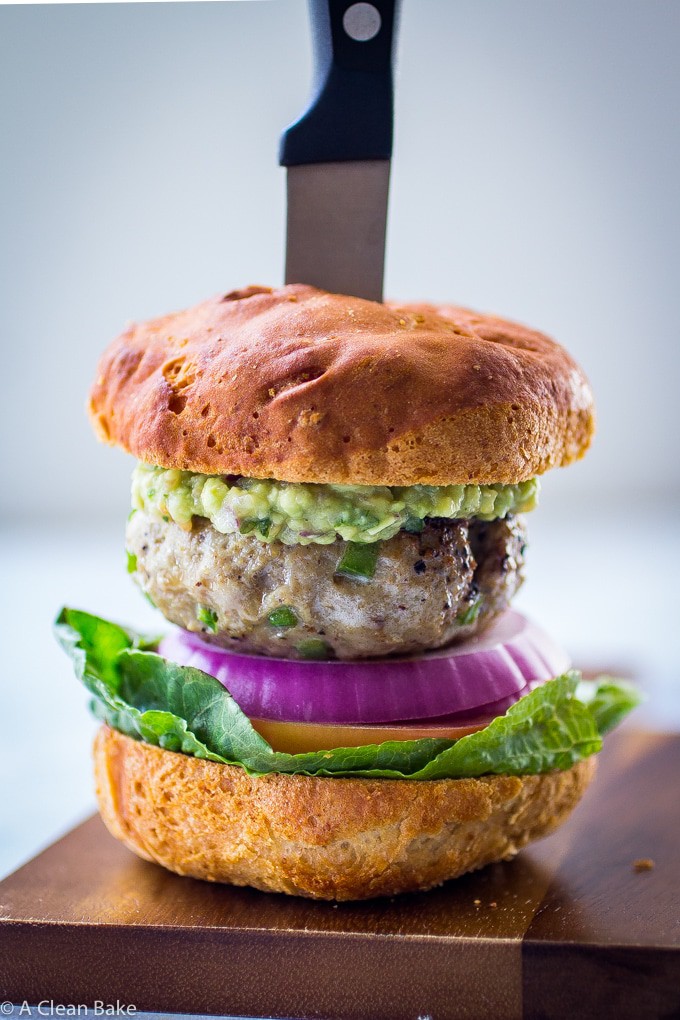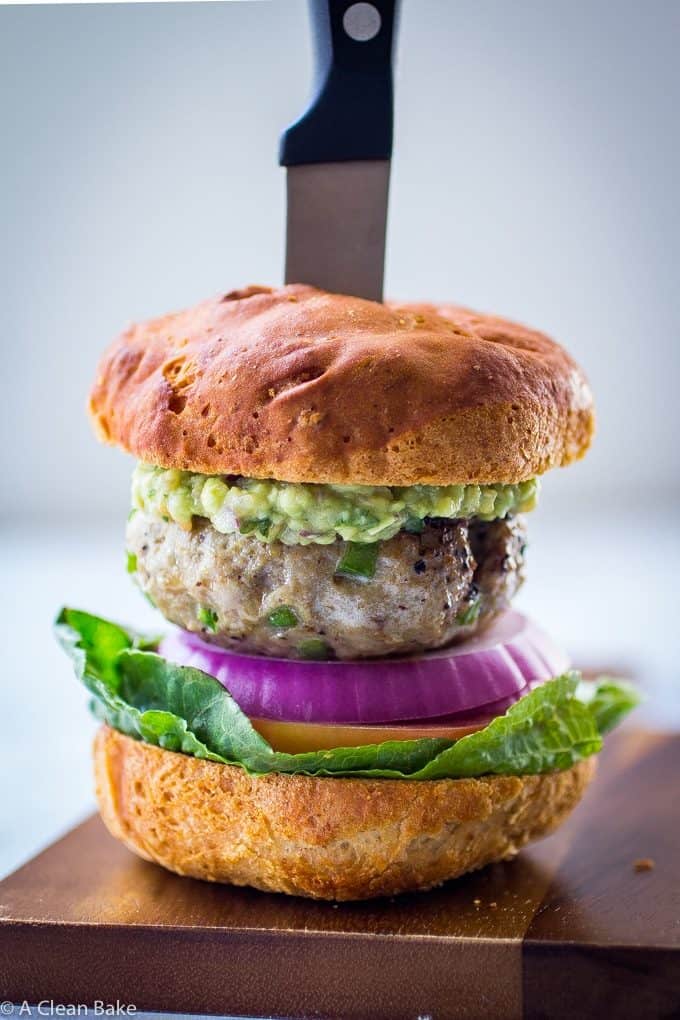 It may be a bit of a stretch to call this burger Mexican food, but if you like Mexican flavors, this one is for you. Packed with zesty minced jalapeno peppers and topped with fresh, homemade guacamole, these may look and sound like a headache — but you can put this meal together in less than 30 minutes, or make most of it ahead.
Cooking Tips
You can mix and shape these burgers up to three days ahead of time, making these a great meal prep option. Keep the uncooked burgers in an airtight container in the fridge.
When it's time to cook them, you can do so on the grill, or on the stove in a grill pan or cast iron skillet. It's as easy as that!
Serving Tips
There are a couple ways to serve these burgers, but I would recommend not skipping the guacamole.
Here are some possible topping options for this burger:
As pictured, with lettuce, tomato, onion and

guacamole

. It's simple, yet perfect!

Make it a lettuce wrap

bacon burger

Top with a runny egg and pickled jalapeños or pickled onions

Crumble it over nachos made with

gluten free

tortilla chips
As leftovers, these burgers also make great sandwiches or salad toppings for a really enticing packable lunch!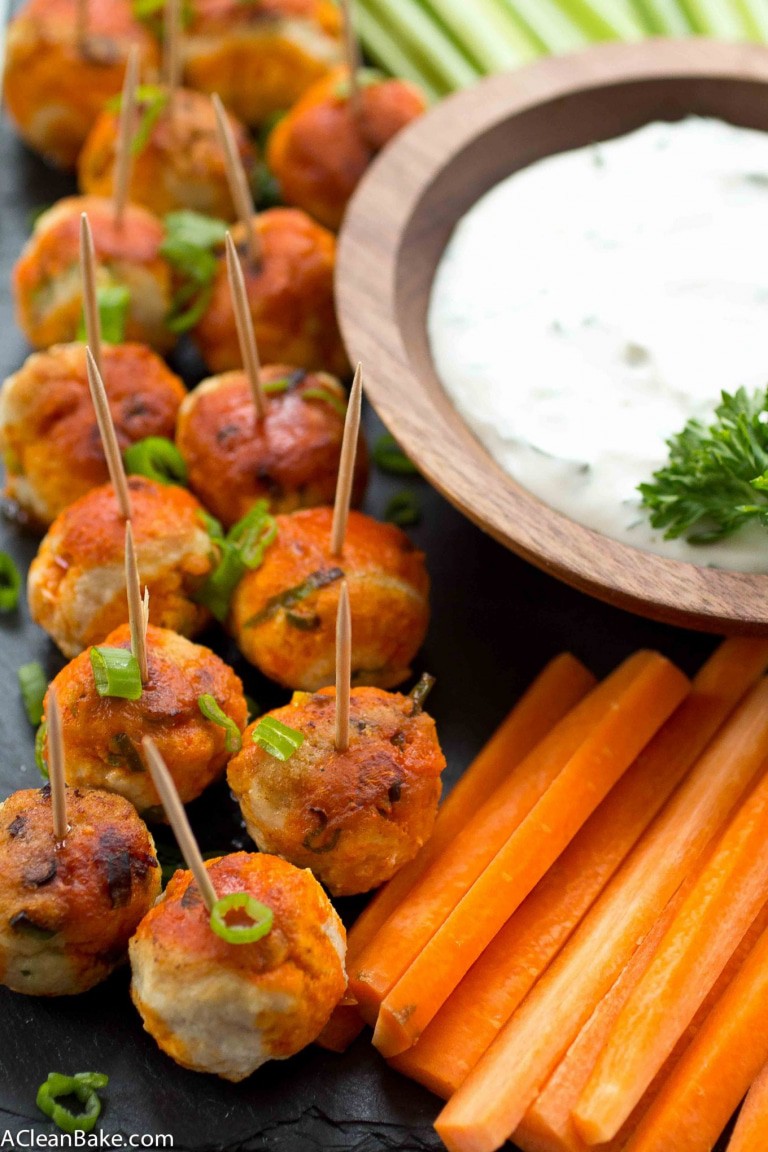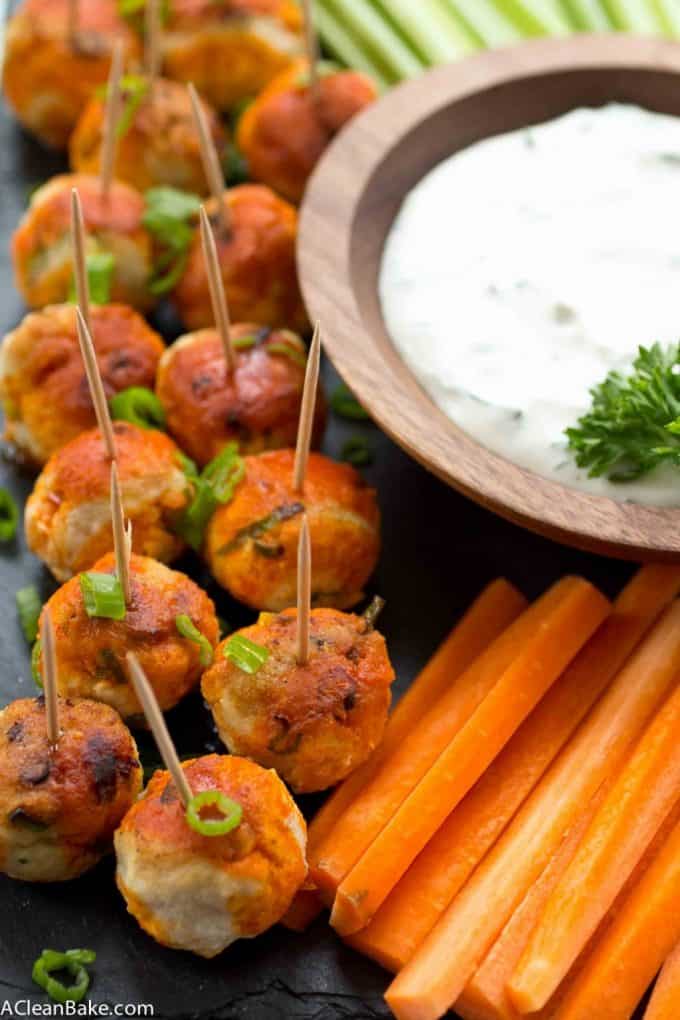 Why is mini food so easy to enjoy? I love these little meatballs, which are originally from Caroline Potter's All American Paleo Table cookbook. They're fun to make and even more fun to eat, and even though the original recipe calls for a base of ground chicken, they will work fine with beef, too.
Cooking Tips
This should-be gluten-free recipe calls for store-bought buffalo sauce so, as usual, you'll need to be cautious about reading the ingredient label for unnecessary sugar or other ingredients you want to avoid. Frank's Red Hot brand is a decent option, although it does contain xanthan gum (so, heads up if you're sensitive!).
Other than that, this recipe is easy and straightforward to make! You'll sear them first over medium to medium-high heat, then transfer them to the oven to finish cooking.
Serving Tips
There are a couple of ways to serve these. They're great for a fun family meal, party, or lunch boxes filled with chopped veggies and homemade ranch dipping sauce (the recipe is included in the post).
Or, you can make them into larger (standard-sized) meatballs and make meatball sandwiches!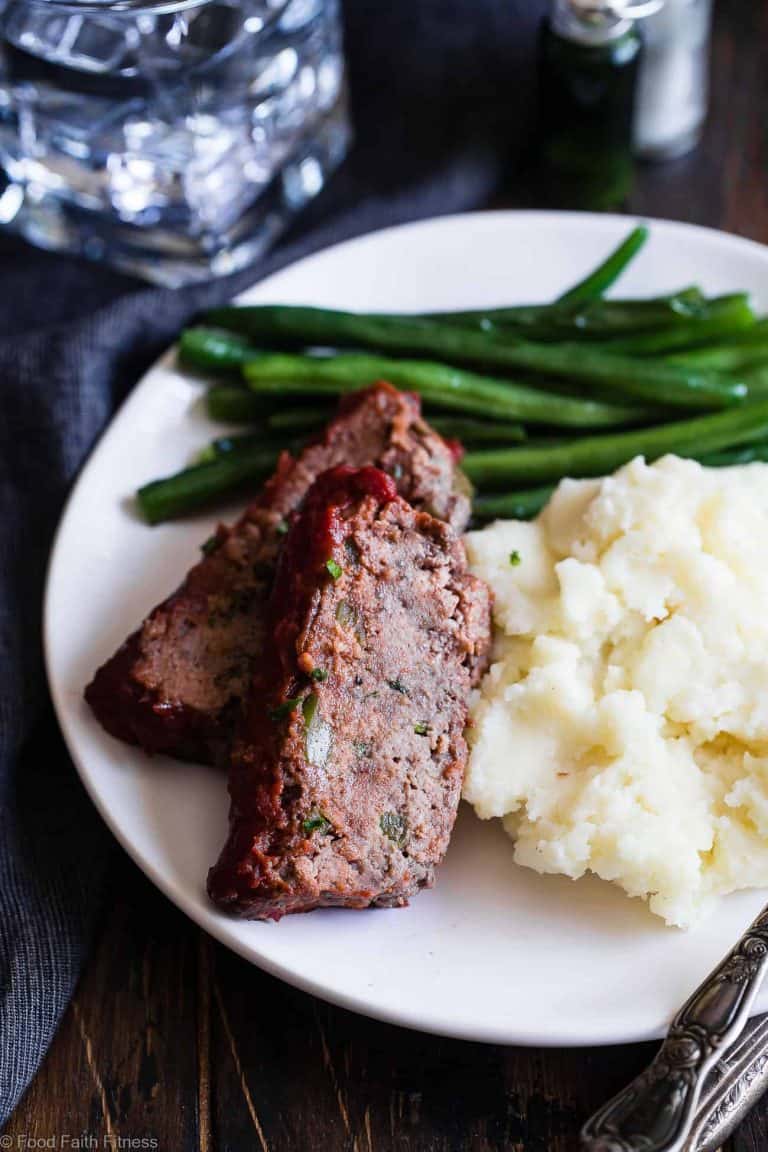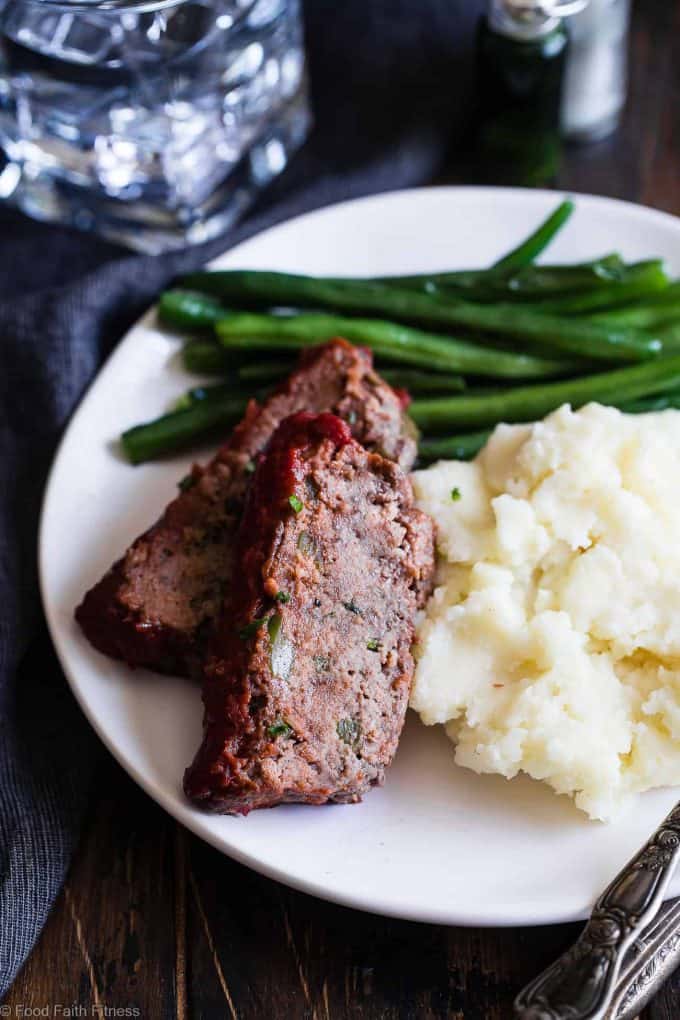 Meatloaf is an enduring comfort food for a reason, but that doesn't mean there isn't room for improvement on the original version. This version is free of refined sugar and wheat flour; the sauce is sweetened with dates and the loaf is bound with low carb coconut sugar.
Cooking Tips
You can make and shape the loaf the night before, if you want. Cover it tightly with plastic wrap and stash it in the fridge, then pop it in the oven right before the meal.
You could also easily make this ahead of time if you're looking for meal prep ideas.
Serving Tips
All you need to serve this is a side of perfect roasted potatoes and your veggie of choice. As Ina would say: "How easy is that!?"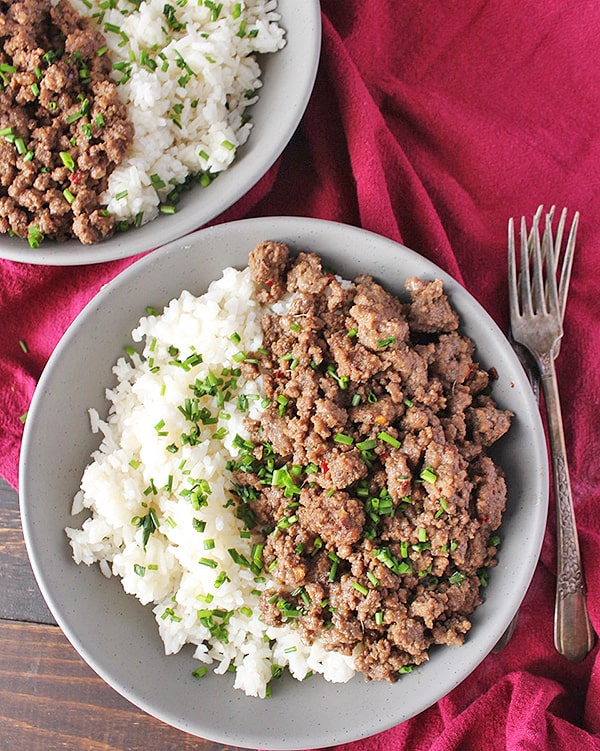 Ground beef lends itself so well to Asian flavors, and this Korean beef bowl from Jays Baking Me Crazy is no exception. These bulgogi-inspired beef bowls are ready in 20 minutes, require only 8 ingredients, and are gluten free, paleo, and Whole30 compliant.
Cooking Tips
This is a phenomenal meal prep option. Make each component of the bowl on Sunday and store them separately in an airtight container in the fridge. Then, assemble the bowl the night before, or morning of, the day you'd like to eat them for lunch (these would be a great office lunch!), or immediately before serving for dinner.
Note that this recipe calls for coconut aminos, a gluten-free and paleo alternative to soy sauce. Due to its increased popularity, coconut aminos can now be found at Whole Foods, Trader Joes, and online.
Serving Tips
Make this low carb by replacing the rice in the bowl with cauliflower rice or broccoli slaw. If you're trying to get more veggies in your diet, consider serving over a stir-fry made from sugar snap peas, carrots, broccoli, and red bell peppers.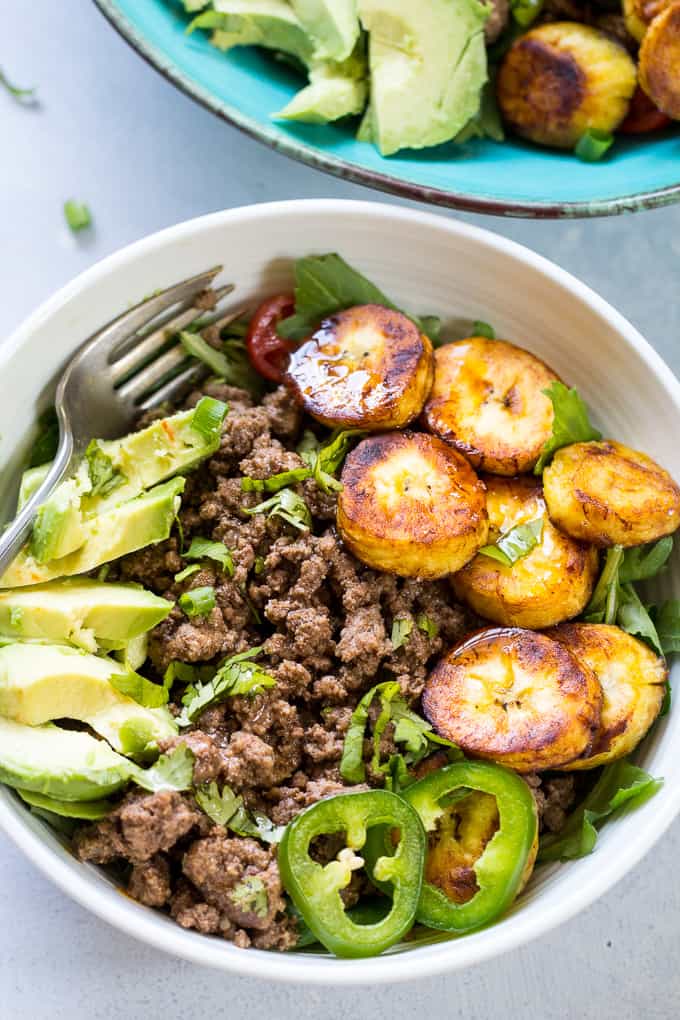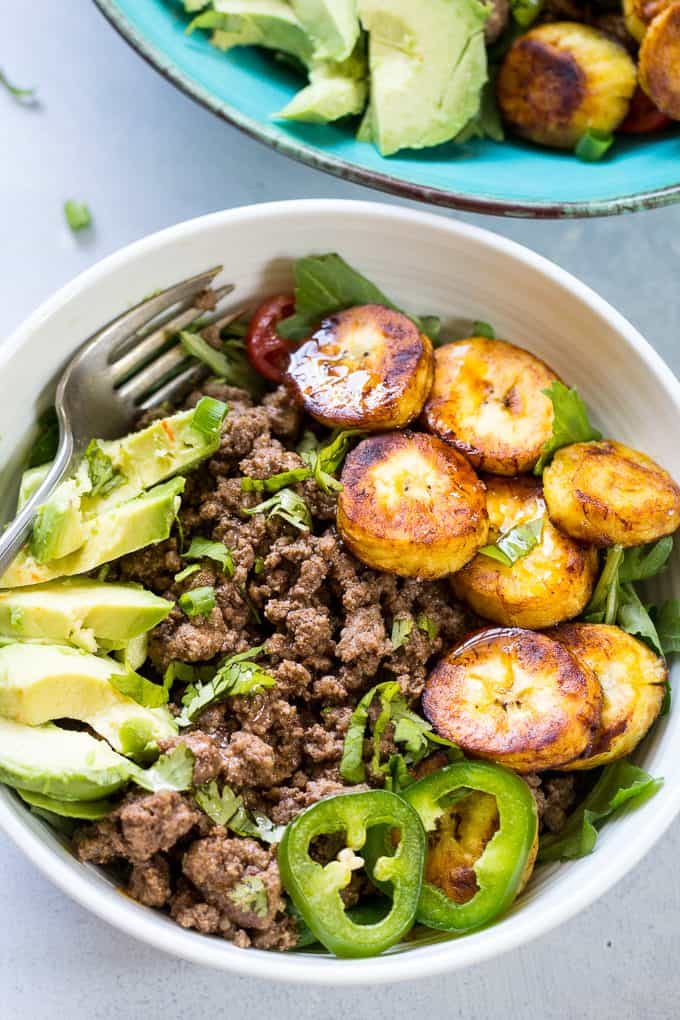 Use it in bowls, hard or soft tacos, burritos, or a taco salad. The sky is the limit with this ultra-versatile protein that is big on taste and very small on prep time!
Cooking Tips
Make this in a cast iron pan for even cooking, without drying the meat out. Cast iron is a heavy material that holds heat and distributes it evenly. Thinner metal pans tend to have hot spots that overcook the meat that is in that area, before it cooks the rest of the food through.
Even though we're talking about ground beef recipes today, you can always swap in ground turkey for half or all of the beef in this taco meat! Remember though — turkey is a lot leaner meat than beef, so you will want to add a bit of extra cooking fat (I recommend avocado oil) to make sure the meat doesn't dry out or stick to the pan.
Serving Tips
I already ruined the surprise, but there are so many ways you can serve this taco meat! If you're making it for meal prep (see notes above for Korean beef bowls for more info), you could make a different meal with it every day, such as:
Burritos

, using these

homemade coconut flour tortillas

or store bought (such as

Siete brand)

.

Tacos

, using butter lettuce leaves as the

taco

shell. Or, if you don't need the meal to be strictly

paleo

, you can find good quality

gluten free

corn-based

taco

shells at Whole Foods.

Burrito bowls

, using

rice

as the base. Or, use

cauliflower rice

for a

low carb

,

keto

, and Whole30 variation; and add your favorite

veggies

, like tomatoes, onion,

avocado

, cucumber, and

cilantro

.

Tex-Mex

casserole

, combining

cauliflower rice

, butternut or

acorn squash

, cheese, and tomatoes in a

large skillet

and cooking over

medium heat

. Top with your favorite fixings like

avocado

and

cilantro

.

Try this recipe

, leaving out the black beans to make it

paleo-friendly

.

Taco salad

, using lettuce as the base. Usually I'd recommend Romaine lettuce, which holds up well to the weight of the bowl toppings, but lately, I've been avoiding it due to all of the e.coli outbreaks that have been associated with it in the last several months. Instead, use roughly chopped butter or leaf lettuce,

kale

, or a mixture of your favorite leafy greens, as the base of your salad. Just add

taco

meat and your favorite

veggies

, like tomatoes,

bell peppers

,

avocado

, cucumber, etc. If you don't need this to be strictly

paleo

, you can add some good quality shredded cheddar and some corn kernels, too.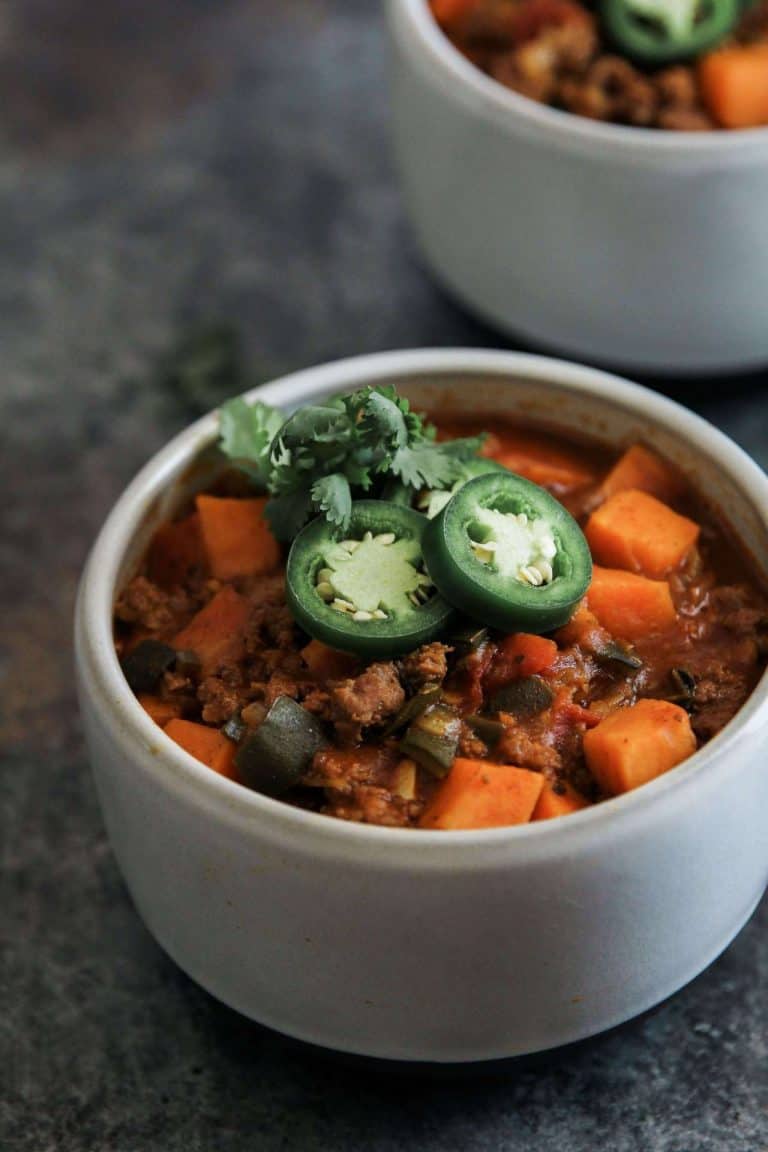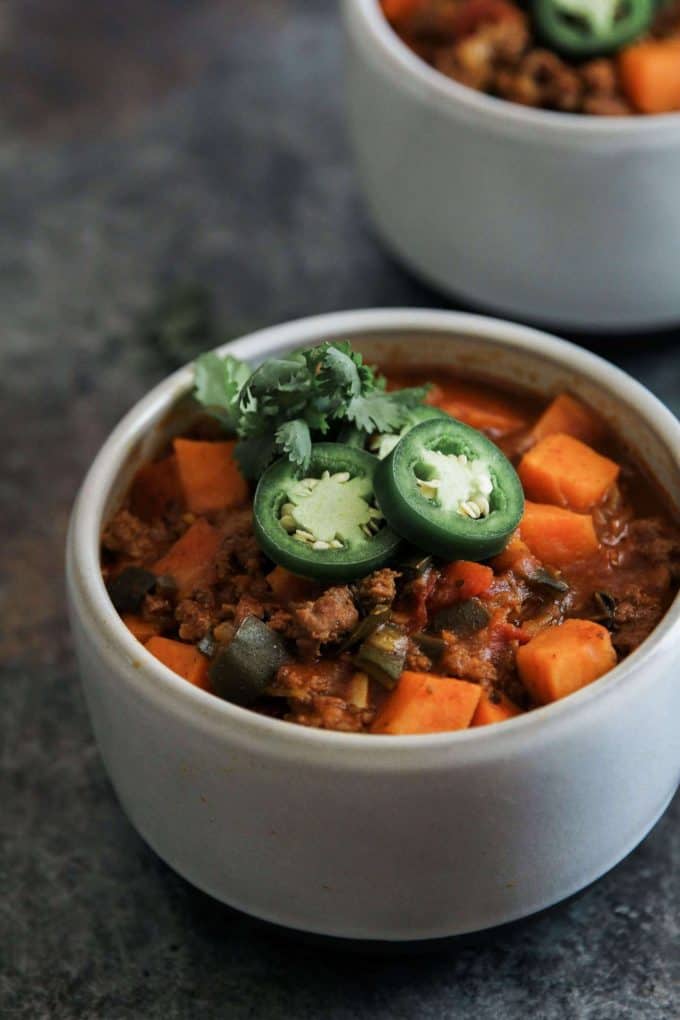 Paleo chili is the ultimate comfort food! This version, from Jessi's Kitchen, is thickened with pumpkin and uses sweet potato in place of corn and beans, ensuring that the recipe is as hearty and filling as a traditional version. Rounded out with tomatoes, poblanos, beef (of course), and plenty of fragrant herbs and spices, this will be your new go-to cold weather dinner.
Cooking Tips
This is a pretty quick recipe as it is (it takes less than an hour to pull together a big batch!), but if you want to make it even faster, do the simmering (steps 3 & 4) in the slow cooker. Just don't skip the browning steps (1 & 2), or you'll sacrifice a ton of flavor.
Serving Tips
You can serve this simply, in a bowl topped with cilantro, jalapeno, and avocado. But you can also get creative! For example, try tossing this chili with steamed spaghetti squash for a paleo version of chili mac.

These are one of those childhood favorite meals that I'll bet you thought you'd never get to eat again once you committed to Paleo. And it is another perfect warming recipe for chilly weather.
Cooking Tips
This is a very quick recipe to pull together, if you want it to be. Just cook for 10–20 minutes until the meat is cooked through. But if you have time, lower the cooking temperature and simmer over low heat for up to 40 minutes to really let the flavors deepen and meld.
Serving Tips
You could certainly serve it the classic way (on a slice of grain free bread), or as pictured (with potatoes on the side).
But you could also get creative: top it with caramelized onions for a sophisticated twist, serve it in place of regular meat sauce over veggie noodles, or use it to top a loaded baked sweet potato.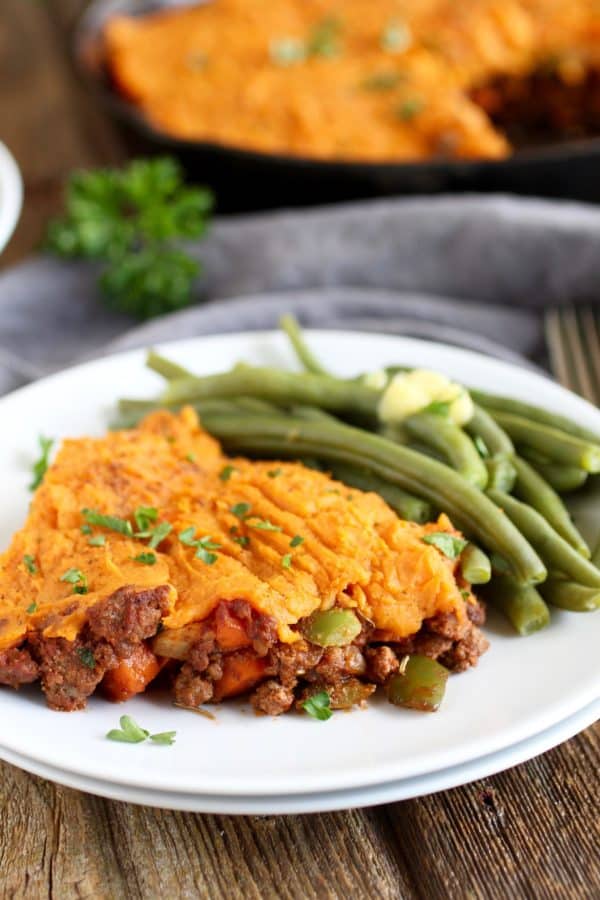 Shepherd's Pie is the epitome of real food that tastes so sinful. It's rich and filling, but it's not processed at all. It also reheats very well, making it another perfect meal prep option. Oh, and did I mention that this recipe, from The Real Food RDs, is Whole30 compliant too?
Cooking Tips
This recipe is pretty straightforward, but at the same time, quite adaptable.
You can vary the topping, replacing it with any other starchy veggie or tuber. Try mashed white potatoes, parsnips, butternut squash, or cauliflower.
Likewise, you can use a variety of veggies in the filling. Make sure you're using vegetables without a very high water content, though. So avoid: cucumber, celery, and summer squash. But you can use any sturdier veggie you have on hand. Broccoli, for example, would be an interesting and unexpected addition to the filling!
Serving Tips
Actually, this is easy: It's a balanced meal in and of itself — so don't stress too much about serving this one pan wonder! Just sprinkle it with some minced fresh herbs, if you have them, and dinner is served.
If you have leftovers, slice them into portions and store each separately for easy grab-and-go lunches over the next few days.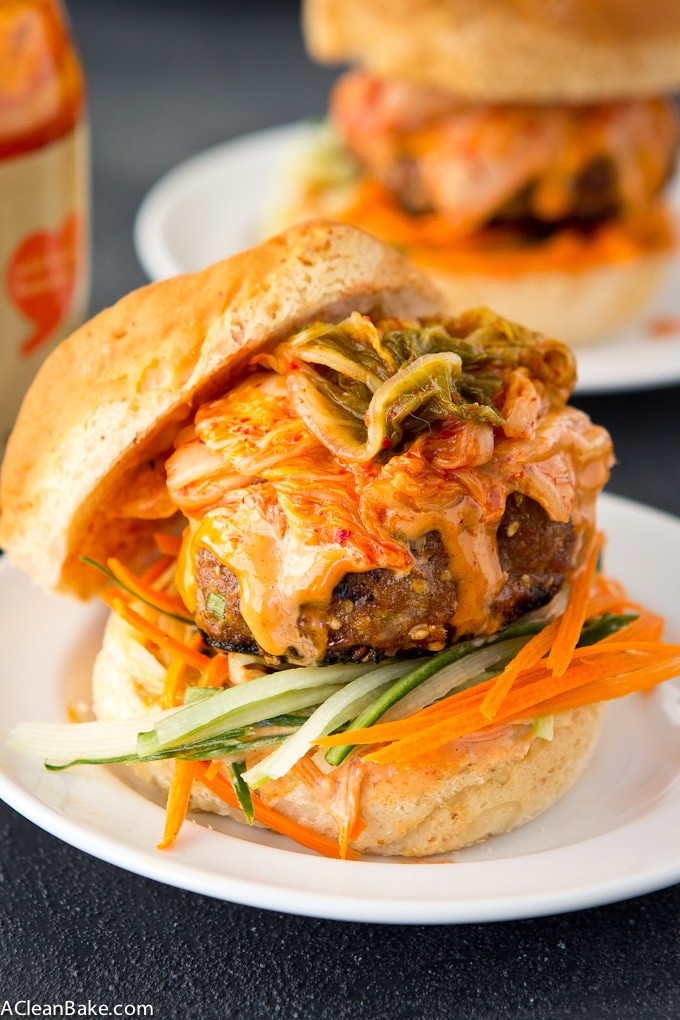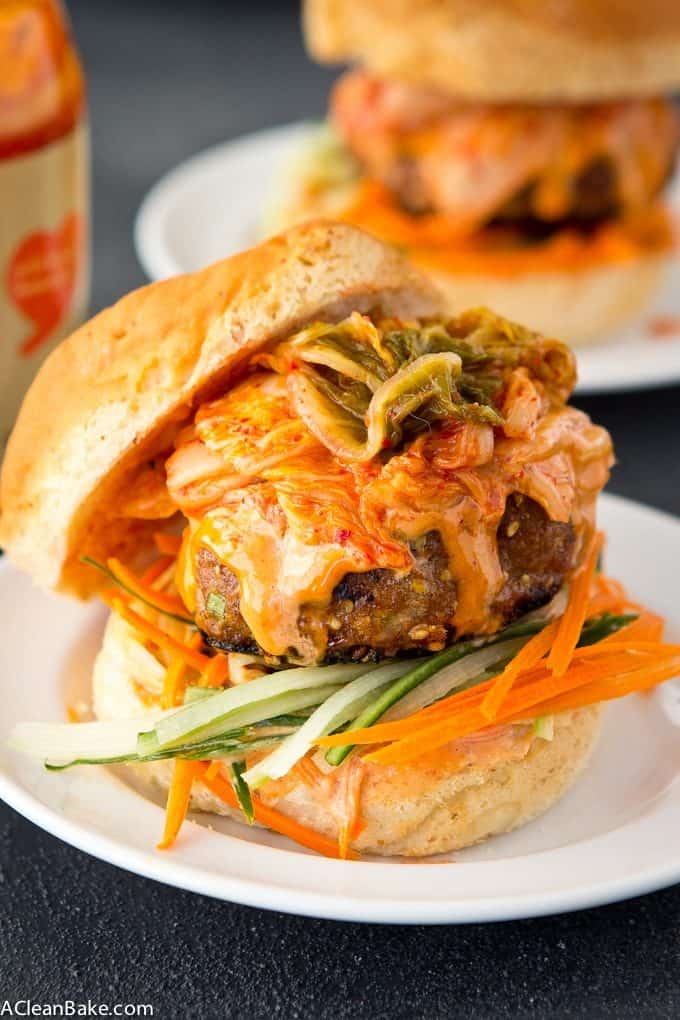 I'm a little biased here, but I think I saved the best for last. This is a recipe that has been buried in my site's archives for a long time, so it doesn't get a lot of attention. But when people do try it, they're sold. Seriously, I hear from people who make these again and again. Don't you think it's time to give it a try?
Cooking Tips
I make these a day or two ahead of time most of the time, for ease of weeknight dinner-making. If you'd like to make these ahead, do this:
Complete steps 1 & 2. Place shaped patties on a wax paper-lined dinner plate or in a wax paper-lined large airtight container. Cover the plate tightly with plastic wrap, or secure the top on the container, then store in the fridge until it's time to cook the burgers.

Make the gochujang mayo and store it in a small airtight container in the fridge. Bring to room temperature (or almost) before serving.

Make the carrot

slaw

and store in the fridge, too.
A note about the gochujang: This chili sauce is a condiment that is common in Korean cuisine. You can find it in the "ethnic" aisle at many major supermarkets, at Whole Foods, and at Asian specialty food stores. However, read the label carefully before you use this product. Many brands use gluten-containing products. This is the brand I use, which contains sugar and rice products so is not STRICTLY paleo. But personally, I let it slide because it's such a tiny amount.
If you cannot find gochujang at your local grocery store, you can substitute Thai chili paste, although only do so as an absolute last resort. This will change the flavor of your end dish considerably.
Serving Tips
I like to serve these on gluten free buns or, for a paleo option, wrapped in butter or iceberg lettuce wraps. Don't forget a generous slather of gochujang mayo, and a heaping pile of slaw!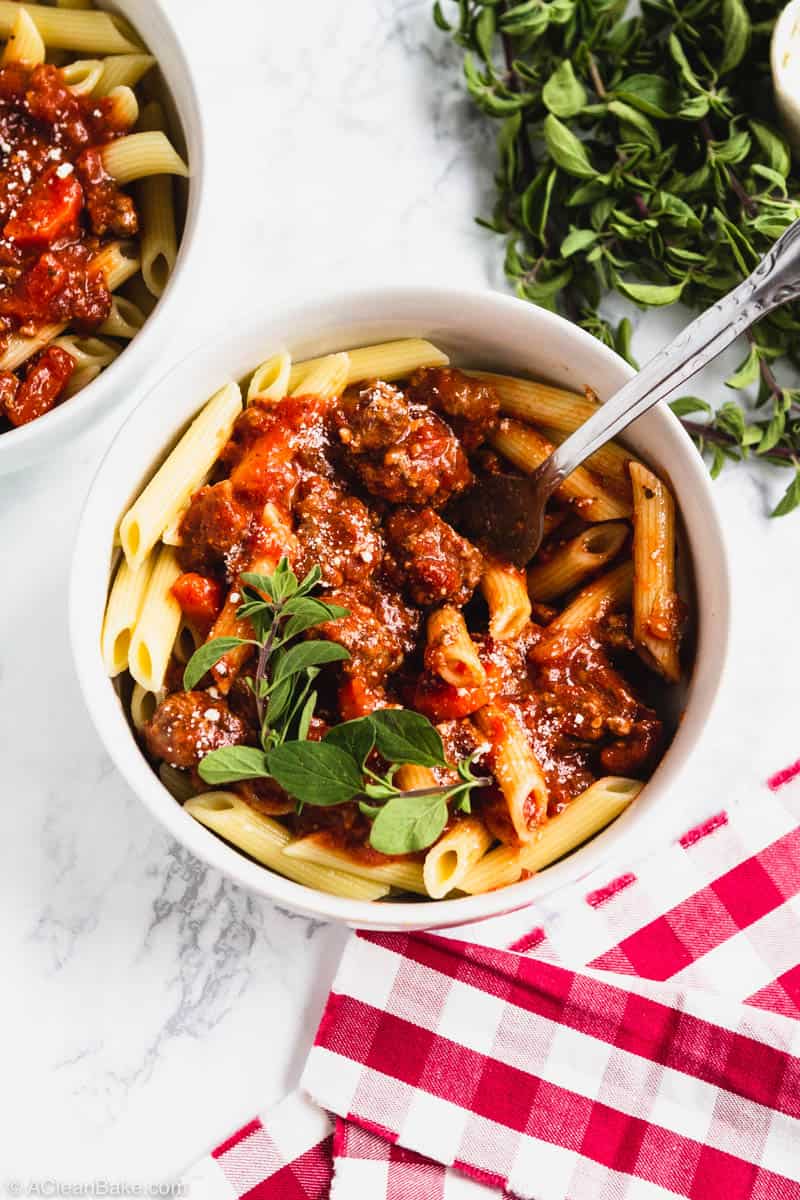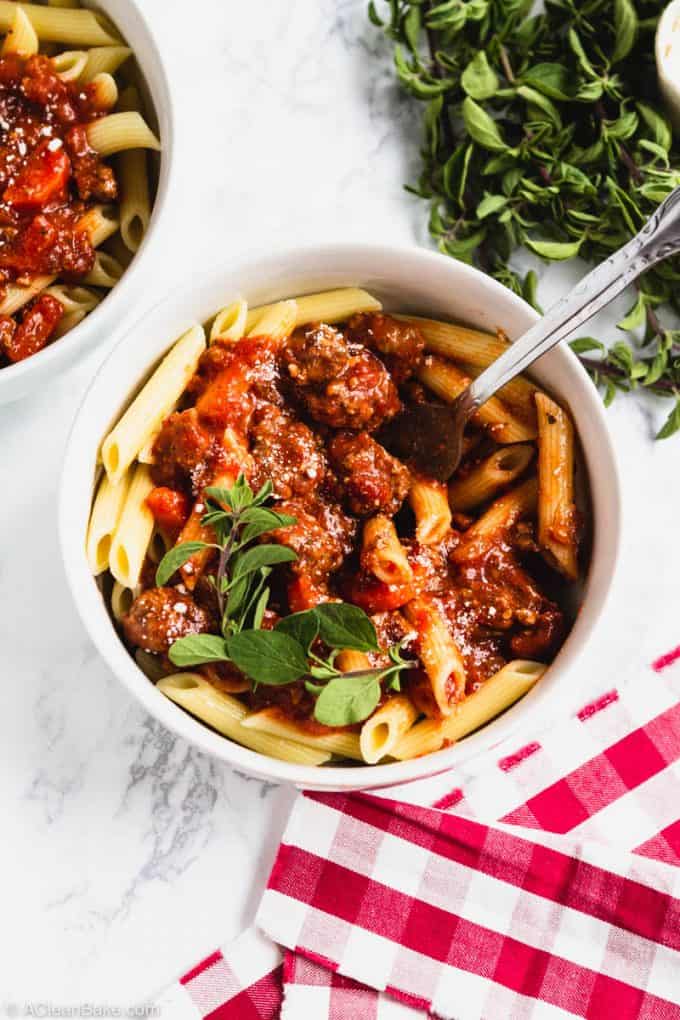 Here's the thing about Italian food: Everyone thinks theirs is the best. So, since telling you, "I make the best bolognese!" is simply an argument I will not win, I'll come at you from a different angle. I make the easiest bolognese sauce that still captures all the flavors you expect from this meaty Italian sauce.
Cooking Tips
Some bolognese recipes call for whole tomatoes, slowly simmered for a cooking time topping ten hours. I, by contrast, have a job and a two-year-old son — I don't have time for that. I use crushed tomatoes instead, allowing this recipe to be ready in a total time of 75 minutes.
Some of you asked if you could substitute tomato paste for crushed tomatoes, and I have to say I do not recommend this. If you were making a vodka sauce or puttanesca sauce where you could combine the tomato paste with heavy cream, then you'd be fine. Unfortunately, there isn't enough liquid in this recipe to make that variation work.
Serving Tips
This chunky sauce pairs well over gluten free pasta, such as rice penne. To make this meal completely paleo-friendly, you can also serve it over spaghetti squash, cabbage ribbons, or zucchini noodles.
What Else Do You Like to Make with Ground Beef?
I love everything about cooking — the challenge, the smells, the taste testing — but if there is one thing that truly makes my heart sing, it's recreating former favorites. So if there's a "secret" family recipe you'd like me to recreate, tell me about it in the comments!
So many "traditional" ground beef recipes are made with gluten-containing ingredients, from soy sauce to breadcrumbs. Usually, just a few easy swaps will allow this recipe to find its way back to your kitchen.
Which ground beef recipe would you like to see recreated next? Let's hear it!