Easy to throw together and completely unexpected, these Korean turkey burgers are a quick, easy and satisfying twist on a healthier burger!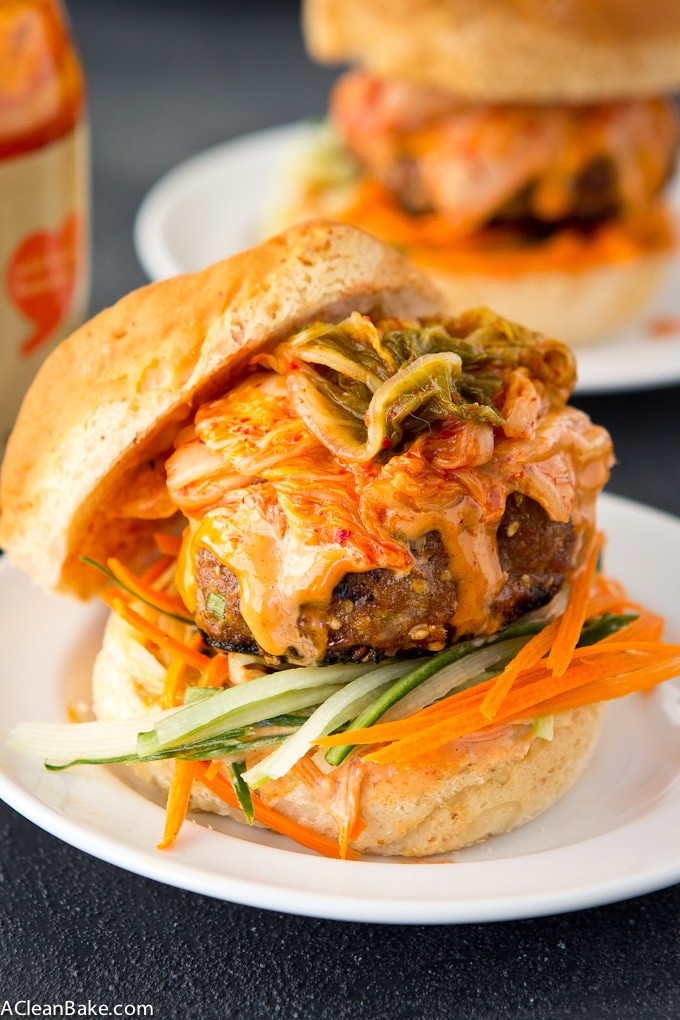 When you see a recipe with "turkey" in the title 2 days before Thanksgiving, I suppose it is reasonable to assume that the turkey is garnished, roasted, and carved in some sort of official Thanksgiving-y capacity. Uh…well, this isn't that turkey. But can we all agree that there's no such thing as too much turkey the week of Thanksgiving?
Excellent.
In a year where the Thanksgiving holiday will be, for me, anything but conventional (hello, due date.) I think it is only fitting to share a totally-in-a-different-hemisphere-from-conventional version of the holiday's famous entree. I don't think we'll be having turkey burgers for Thanksgiving this year, but literally anything could happen (I could end up having ice chips and an epidural for Thanksgiving dinner; who knows), so let's consider these burgers a really fascinating backup plan. Or, I could just stop torturing you with the idea of burgers on Thanksgiving and we could call these what they are: an unexpectedly delicious way to eat turkey the other 364 days of the year.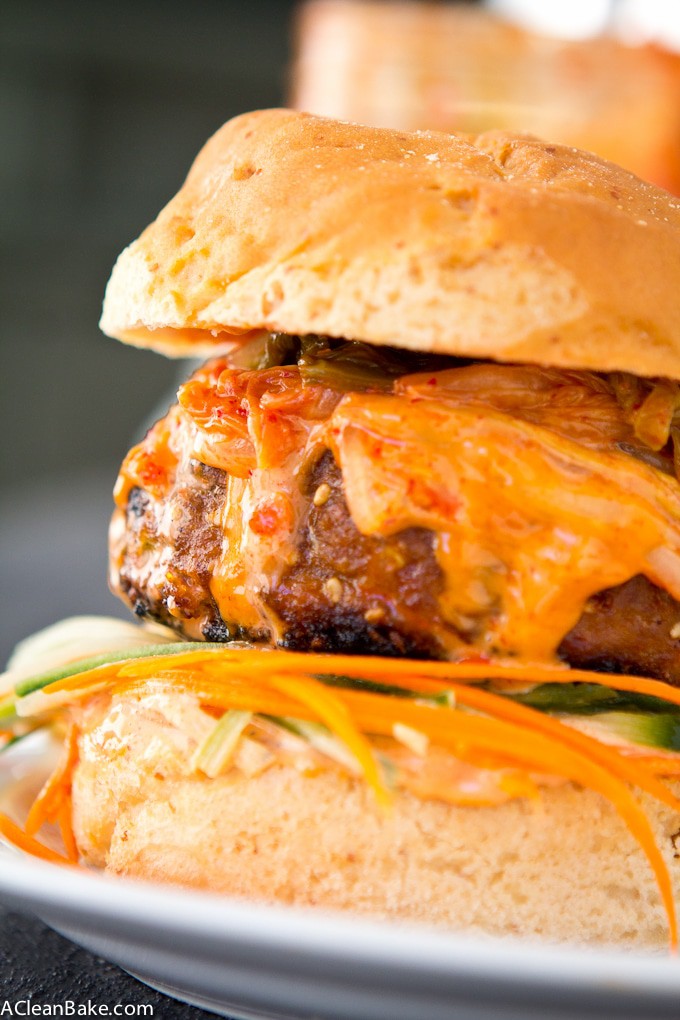 It all started with a bottle of Gochujang. Two bottles, to be precise. I don't remember why, but I put two little bottles of this Korean hot pepper sauce in my husband's stocking last year, probably in an attempt to bribe inspire him to try to cook more. He claims he doesn't know how to cook, but actually just doesn't do it very much. When there is Asian food involved, he cooks, and cooks well. But, perhaps this sauce was a little too adventurous for either of us, because both bottles sat, sad and abandoned, in our cupboard, for months.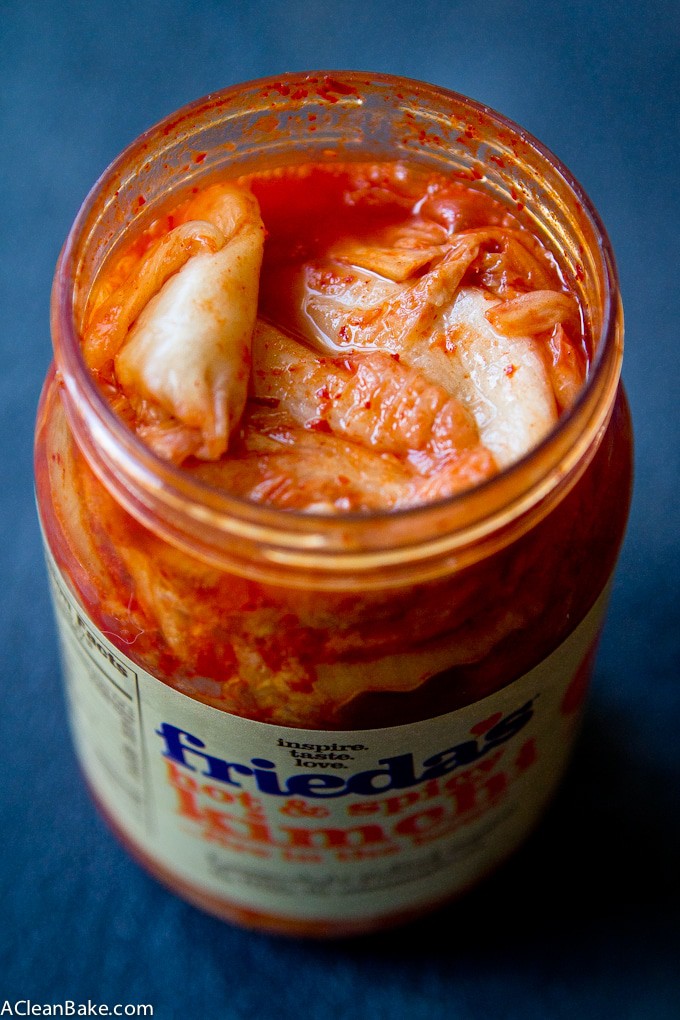 Then, at some point, in an attempt to eat more protein, I started making a lot of turkey burgers and this Gochujang seemed like the perfect flavor strategy to avoid, if only for one more meal, getting sick of them. I thought of the name of the dish, but had no idea what Korean Turkey Burgers were (a quick Google search after the fact revealed about 700 different interpretations), so I kind of winged it the first time around, and used what I had in my fridge and cabinets, like:
Almond flour, to bind the burgers together – I love the Now Foods raw almond flour for these burgers
Scallions, for that more-subtle onion-y tang
Sesame oil for depth of flavor, and some extra fat (no dry burgers here!) – Now Foods makes a really high quality, flavorful sesame oil that totally makes these burgers
Sesame seeds for even more depth of flavor and texture
Garlic and ginger because…. Korean flavors? I don't know. It just seemed (and still seems) like the right thing to do.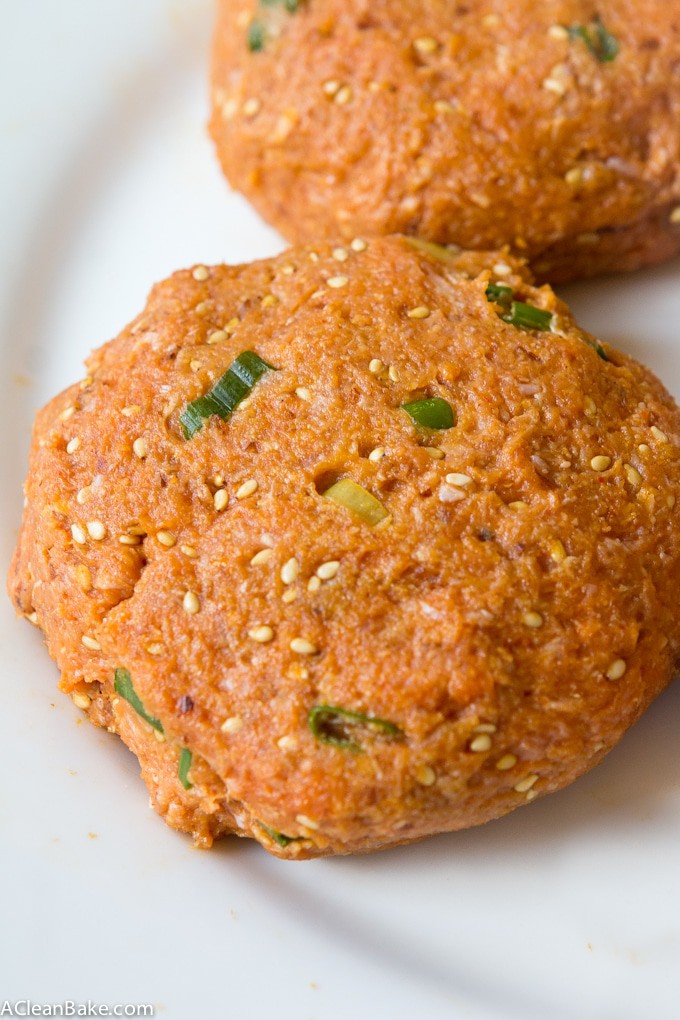 I finished the burgers by serving them on a bed of julienned carrots and cucumber (you can add or sub daikon instead, if you can find it) and topping them with a cooling Gochujang mayo and juicy, spicy (or mild, if you prefer) Kimchi for an extra burst of flavor (and probiotics!). And luckily, they turned out great and we've been making them regularly ever since.
Sorry, centuries of delicious, complex and perfectly crafted Korean cuisine, for totally bastardizing you. But just wait until you try these burgers!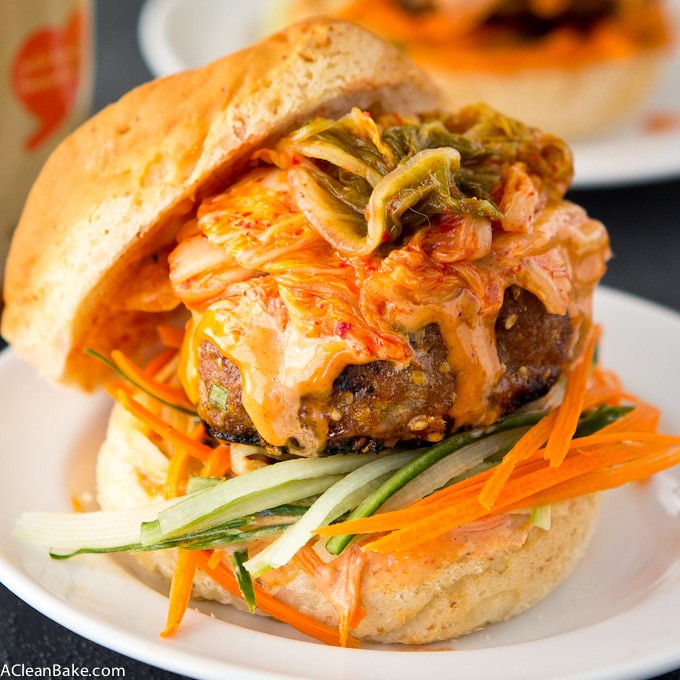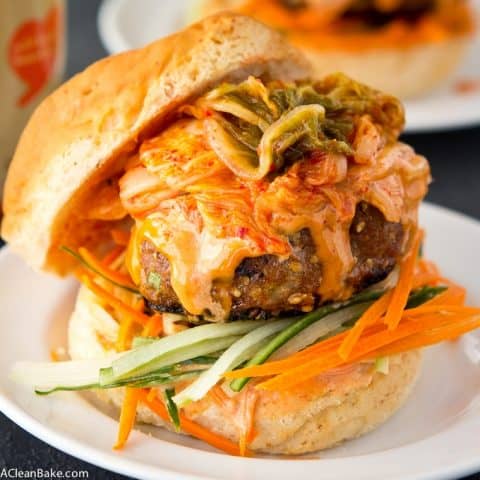 Korean Turkey Burgers
Easy to throw together and completely unexpected, these Korean turkey burgers are a quick, easy and satisfying twist on a healthier burger!
Ingredients
Ingredients for the burgers
1 lb ground turkey
2 Tablespoons gochujang Korean chili sauce
1/4 cup almond flour
2 scallions, about 1/4 cup, washed and chopped
2 Tablespoons raw or toasted hulled sesame seeds
1 Tablespoon sesame oil
1/2 teaspoon granulated garlic
1/2 teaspoon ginger powder
Ingredients for Serving
1/4 cup good quality mayonnaise
2 Tablespoons gochujang, or to taste
1 large carrot, peeled and julienned
1/2 washed cucumber and/or diakon, peeled and julienned
Spicy or mild kimchi
4 gluten free buns or 4-8 large pieces of butter lettuce
Instructions
In a large mixing bowl, mix the burger ingredients until well-combined. Use your hands if necessary to make sure everything is thoroughly incorporated.
Divide the mixture into 4 portions (about 1/2 cup each) and bake, fry or grill until cooked through.
While the burgers are cooking, prepare the toppings.
First, whisk together the mayo and gochujang. Set aside.
Next, gently toss together the carrots and cucumber and/or diakon. Set aside.
When the burgers are done cooking, assemble by placing a generous pile of the carrot mixture on the bottom half of your bun (or one side of the lettuce wrap) and place a burger on top of that. Add a spoonful of the mayo-gochujang sauce, and finish with a scoop of kimchi. Add the top of the bun, or fold over the lettuce and serve immediately.
Notes
If you are sensitive or allergic to gluten, be careful what gochujang you use, as some varieties contain soy sauce. The brand I used (this one) does not contain soy sauce. It does, however, contain some cane sugar and rice syrup (a form of sugar), so beware if you are especially sensitive to sugar. 
Nutrition Information:
Yield:

4
Amount Per Serving:
Calories:

522
Saturated Fat:

4g
Cholesterol:

68mg
Sodium:

547mg
Carbohydrates:

45g
Fiber:

3g
Sugar:

6g
Protein:

31g
Thank you to Now Foods for providing the ingredients that inspired this delicious recipe. This post contains affiliate links, which means that if you click through and purchase a product, A Clean Bake receives a small commission, which goes toward continuing to bring you delicious, healthy recipes every week. This does not affect the price you pay. Thanks for supporting A Clean Bake!